Get ready to spend a weekend enjoying all the fun things to do in Natural Bridge, VA with kids. Find out all the unique and family friendly attractions inside!
Things to Do in Natural Bridge, VA
When we were planning our Virginia road trip, we knew we wanted to stop at Natural Bridge State Park. It wasn't until we started researching nearby attractions that we realized how many amazing things to do in Natural Bridge, VA existed.
Most of them are weather dependent so try to pick a pleasant weekend. They range from a few attractions on the Blue Ridge Parkway, sampling beer and cider, feeding wildlife, exploring natural wonders, and other roadside diversions.
The best part is that everything is family friendly! What are you waiting for?
Top 15 Things to Do in Lexington, Virginia
Many of the things to do in Lexington, VA are derived from the existence of Washington and Lee University, and Virginia Military Institute. Find out how these two schools shaped the town!
Read more
Find more inspiration in one of the Virginia guide books below!
1. Natural Bridge State Park
The Natural Bridge stands 215 feet above the surrounding gorge carved out by Cedar Creek, and was once owned by Thomas Jefferson. Today, it is listed on the National Register of Historic Places.
Although you can explore Natural Bridge State Park more thoroughly, it takes five minutes to see the main attraction. It is also possible to visit the living history Native American Monacan Village and 30 foot Lace Falls on the Cedar Creek Trail.
The Natural Bridge is accessed from either a flight of stairs or a shuttle bus at the visitor center. Don't miss the small museum on the lower level to learn more about the local history. There is also a light show sporadically throughout the year.
Entrance Fee: $8
Caverns at Natural Bridge Combo Ticket: Adults $22, Children $14
Hours: 9 am – 5 pm
2. Virginia Safari Park
Virginia Safari Park is how I remember Six Flags Great Adventure Safari as a kid before they mandated that everyone has to take a company safari jeep instead of personal vehicles. It is great to know that you can still pack your family into a car and get within arm's reach of many beautiful animals.
You can actually do even better at Virginia Safari Park as many animals will stick their heads through rolled down windows to get the buckets of food inside the car. It is amazing having the animals inside your own car, but also amusing watching it happen to vehicles around you as well.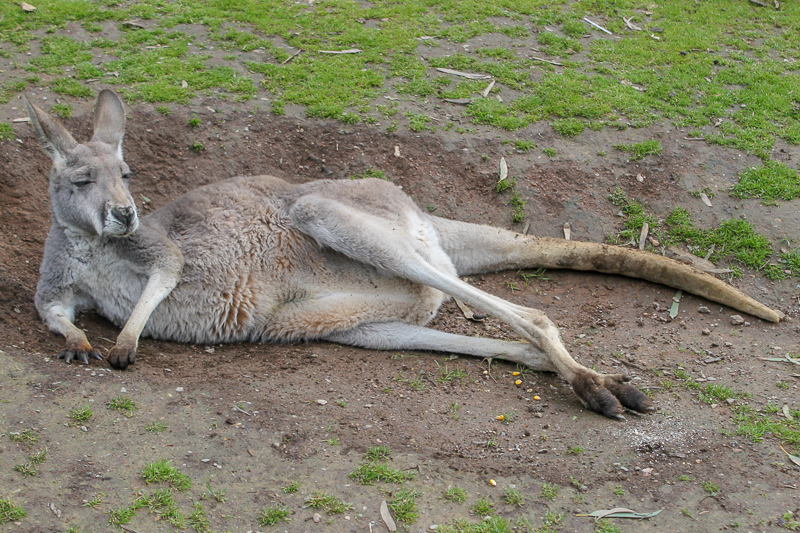 The experience is not cheap when you factor in per person admission and feed bucket purchases, but it is definitely an unforgettable moment. Try not to skimp on the animal feed as that is what takes the experience to the next level. You can also come back through the same day for free.
When you finish with the large drive-thru enclosure full of friendly animals, head over to the walking zoo. Here you will get the chance to see predators, and feed giraffes and birds as well.
Admission: Adults $22.95; Children $14.95
Animal Feed: $5 per bucket, $0.50 for goat feed, $2 per Budgie food stick, $5 romaine lettuce for giraffe
Hours: Vary by season, but at least 9 am – 5 pm March thru November with gates closing at 4 pm
3. Caverns at Natural Bridge
Although kids may enjoy Caverns at Natural Bridge, there are far better caves in the United States and around the world. We recommend Carlsbad Caverns in New Mexico. If you still choose to visit, get the combo ticket with National Bridge State Park.
On the 45 minute Caverns at Natural Bridge tour expect to descend 34 stories to the Colossal Dome Room. Other attractions include Mirror Lake, Well Room, and Canyon Room.
The tour guides are friendly and do a good job highlighting unique cave formations. Don't forget a light jacket since it is a constant 54 degrees once inside.
Admission: Adults $18, Children $12
Natural Bridge State Park Combo Ticket: Adults $22, Children $14
Hours: Vary by season, but 9 am – 5 pm daily April thru October; Friday thru Sunday December thru February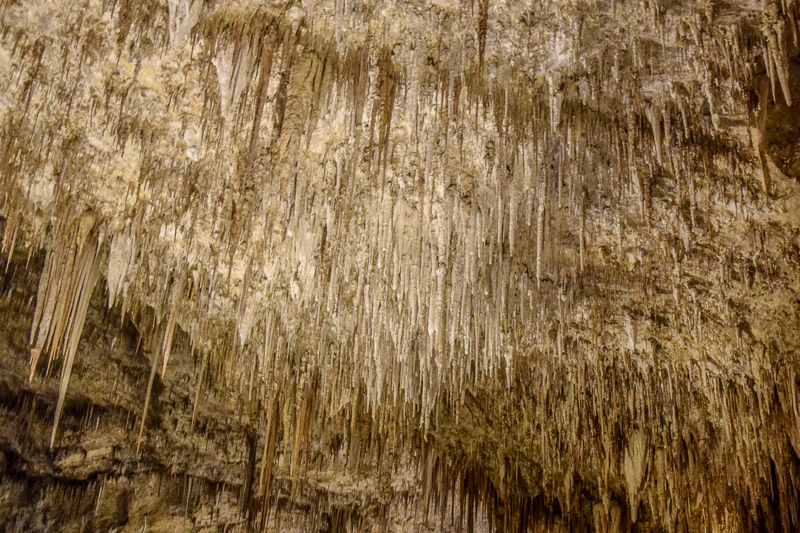 4. Halycon Days Cider
Visit Halycon Days Cider if you need to balance all the outdoor things to do in Natural Bridge, VA with a burst of flavor that will excite your taste buds. There are over 20 ciders on tap in the restored 1860's log cabin! If you can't decide on just one, try four samples on an $8 flight.
All the ciders are made from 100% Virginia apples. You can take a tour of 50 apple varieties on the 1.7 mile Apple Orchard Labyrinth that is comprised of over 2,000 trees. The path takes you through the history of apple introduction from Central Asia to America.
The ciders average 7% alcohol by volume so stop by the tasting room prior to walking the Apple Orchard Labyrinth. You can also take a cider filled plastic cup for your exploration, or bottles for the road.
Hours: 10 am – 6 pm Friday and Saturday; 1 pm – 5 pm Sunday
5. Dinosaur Kingdom II
Mark Cline is the creator of Dinosaur Kingdom II, and Foamhenge that was recently relocated from the Natural Bridge area. To the uninitiated, Dinosaur Kingdom II tells the role dinosaurs played during the Civil War.
This is a roadside attraction that stretches the realm of reality, but is so unbelievable that it makes it enjoyable. Definitely add this to your list of things to do in Natural Bridge, VA with kids. There are so many photo opportunities and chances to adlib your own story that you will be talking about your experience for years.
Admission: Adults $12; Children $8
Hours: 4/11 – 5/17: 10 am – 5 pm weekends; 5/23 – 9/7: 10 am – 6 pm daily; 9/12 – 10/31: 10 am – 6 pm weekends
6. Great Valley Farm Brewery
Another great spot to get your drink on in a pleasant environment is Great Valley Farm Brewery. The tap room is on the smaller side, but there is ample space outside with amazing views of the Blue Ridge Mountains.
A flight of four samples is $9 so you can try all eight beers on tap with a second flight, or if you visit with your partner. Great Valley Farm Brewery currently only sells growlers to go, but may be adding production in the future. They specialize in Belgian style ales, but offer a wide assortment that changes week to week.
It will also be possible to sample their wine grown from grapes located on the 27 acre farm in a few years. In the meantime, check their events schedule and visit when there are food trucks and music for an even better experience.
7. Natural Bridge Zoo
The private Natural Bridge Zoo is not good value when compared to nearby Virginia Safari Park. Both the zoo, cages, and enclosures are small overall and not worth the price of admission compared to larger city zoos.
The highlight for kids is being able to feed several animals including giraffes, llamas, deer, and camels. The Natural Bridge Zoo also offers elephant rides.
Admission: Adults $16; Children $10
Elephant Ride: $10 per person (minimum 2 people)
Hours: 5/2 – 9/7: 9 am – 6 pm weekdays and 9 am – 7 pm weekends; 9/8 – November: 9 am – 5 pm weekdays and 9 am – 6 pm weekends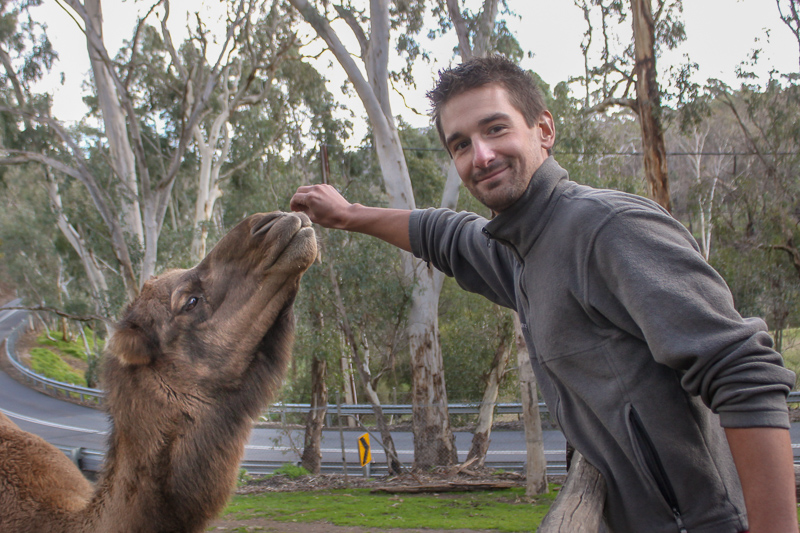 8. Devil's Marbleyard
The Devil's Marbleyard hike is located on the slopes of Blue Ridge Mountain and offers a unique vantage point. Drive east on back roads until you reach the small pull-off for Belfast Trail on Maps.me.
There are a few stream crossings, but the trail is easy to follow and not too strenuous until you reach the Devil's Marbleyard. It is only at the rock slide that the hike becomes more challenging and the majority of 170 meters in elevation change occurs.
Although the U.S. is a relatively safe country for travel, medical costs are high so if you're an international visitor we recommend purchasing travel insurance before any trip. We've been using World Nomads through 80+ countries over the past 12 years and have been really happy with their coverage and services.
Although you can scramble over the boulders early on, the thinning trail keeps running alongside Devil's Marbleyard on the right hand side. I left the trail too early and spent considerably more time reaching the top.
There are outstanding views from the top and just above the group of stranded trees amidst the boulders. Go back along the same path. You can then return for other things to do in Natural Bridge, VA, or slowly drive along the dirt road until you reach the Blue Ridge Parkway.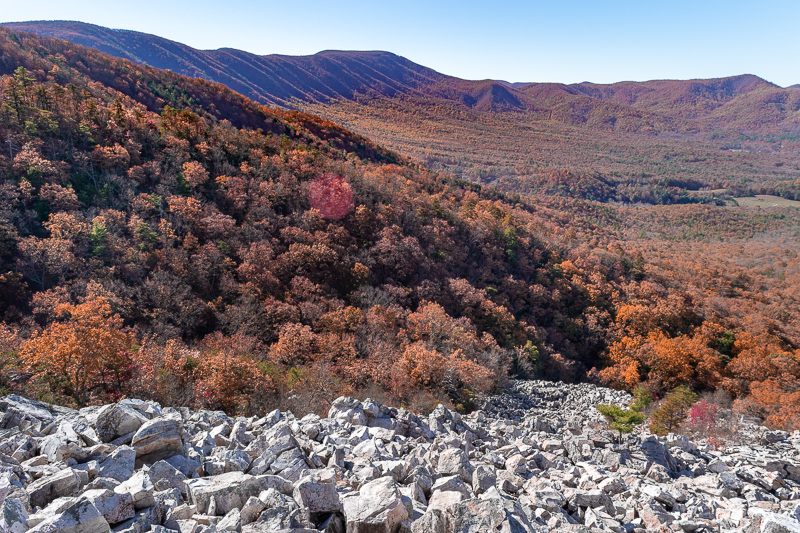 9. Blue Ridge Parkway
The Blue Ridge Parkway traverses the Blue Ridge Mountains in both Virginia and North Carolina. Most of the highlights are in the North Carolina section, but we discovered several things to do in Natural Bridge, VA on the Blue Ridge Parkway.
The beauty of all the attractions are that they are either quick lookouts, or short trails just off the road. Our favorite viewpoint was Thunder Ridge Overlook.
10. Peaks of Otter
The Peaks of Otter are the last big attraction on the Blue Ridge Parkway before you reach Roanoke, Virginia. We originally thought we could drive to the top of Sharp Top Mountain, but they block the entrance road with a swing gate. Anyone looking to climb the final stairs to the top will have to walk all the way up.
We had a tight schedule during our visit, and enjoyed our stroll around Peaks of Otter Lake instead. There are nice views from the top, but not drastically different than many of the Blue Ridge Parkway overlooks. Parking is available at the Peaks of Otter Recreation Area.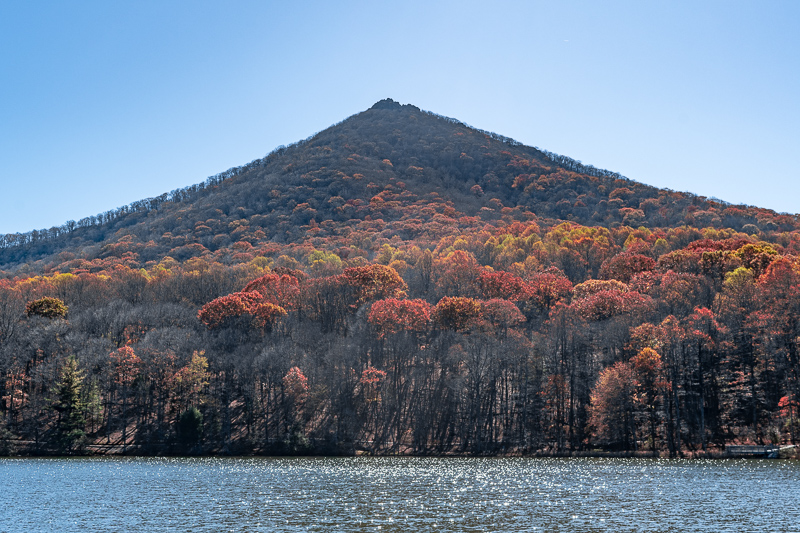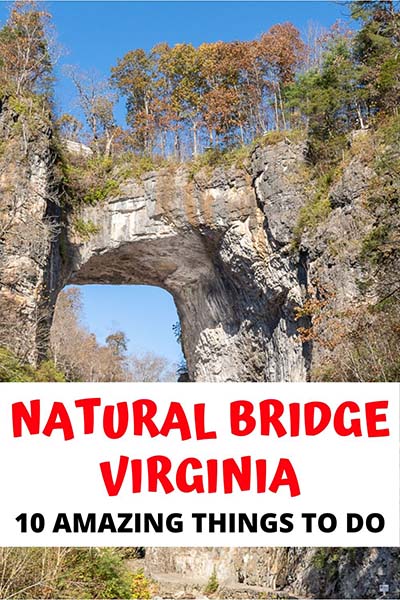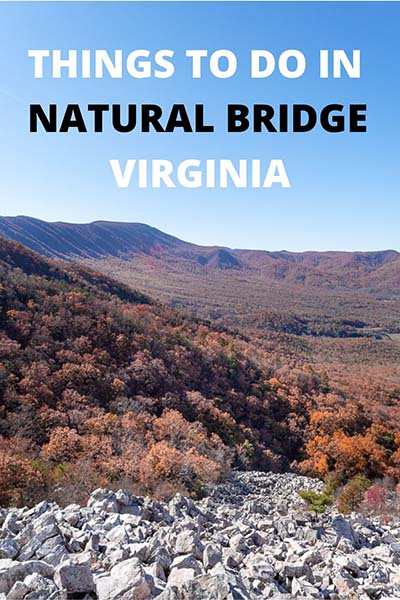 Disclaimer: This post contains affiliate links which means that we receive a small commission if you click on a link and purchase something that we've recommended, at no extra cost to you.

Updated March 2020