Backpacking Kathmandu is a rite of passage – from food & attractions to money & day trips, find out everything you need to know about visiting Nepal's biggest city.
Backpacking Kathmandu Tips
We spent around 10 days in Kathmandu before and after trekking to Everest Base Camp. Here's a list of helpful information that we wish we would've known before we traveled to the country…
#1. Entrance Fees
There are many interesting places to visit in Kathmandu. Entrance fees to Kathmandu attractions are selectively enforced, especially those at the 3 Durbar Squares. You can also avoid the entrance fees at Boudha and Pashupatinath but they're at least worth the money.
It's nice that none of the temples are fenced off but it also means that it's hard to enforce the entrance fees, for better or worse. The ticketing booths are usually only at one or two of the main entrances, manned by workers of various interest levels in issuing tickets. They can be easily avoided if you don't want to pay – look at a map and take side streets.
SAARC residents pay a minimal fee and other foreigners pay more. For backpackers in Kathmandu this kind of system can be hard to stomach and justify, especially when many of the temples are in rubble and are simply not worth the price, in our opinion.
Of course the temples are free for the local Nepalese who come and go as they like, as it should be. You could say then that it should be free for everyone but we don't want to get into that. We're just stating honestly what we did and what we observed.
However, final word – all the entrance fees to the tourist places in Kathmandu do go towards restoring the temples. It's always easier and better to do the right thing! 🙂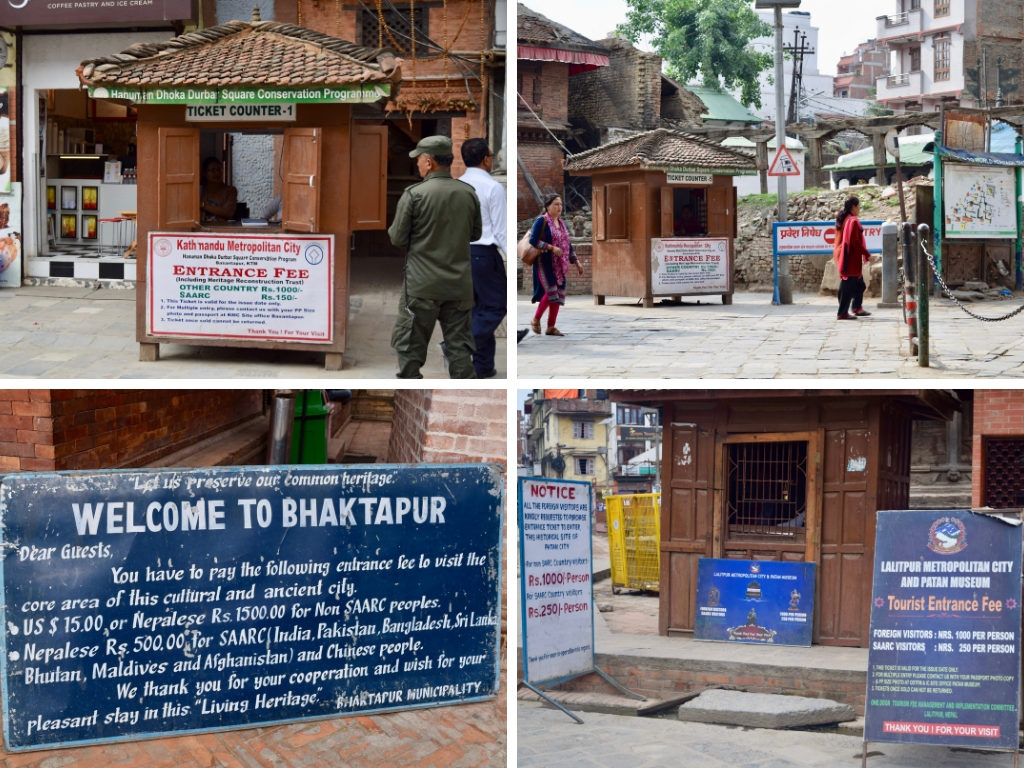 #2. Safety
We found Nepal to be really safe even though I was pickpocketed/lost my phone at the Monkey Temple! I should've followed my own advice and used a money belt when sightseeing in Kathmandu.
In Thamel you'll be offered weed and drugs on the street but say no or keep walking if you're not interested and you won't be hassled.
Accidents and crime can happen anywhere so we always have travel insurance. We've been using World Nomads for over 10 years and have been really happy with their coverage and services.
For more details check out our World Nomads review here.
#3. Tours
It's easy to visit the all Kathmandu attractions independently. Hotels can arrange a car and driver for you to save time traveling between the places outside Thamel.
Otherwise check out these tours:
12 Day Everest Base Camp Trek Tour Review
Whether you're an armchair traveller or planning your own Himalayan adventure, follow my detailed day-by-day guide on what to expect along the Everest Base Camp trek. Do you have what it takes?
Read more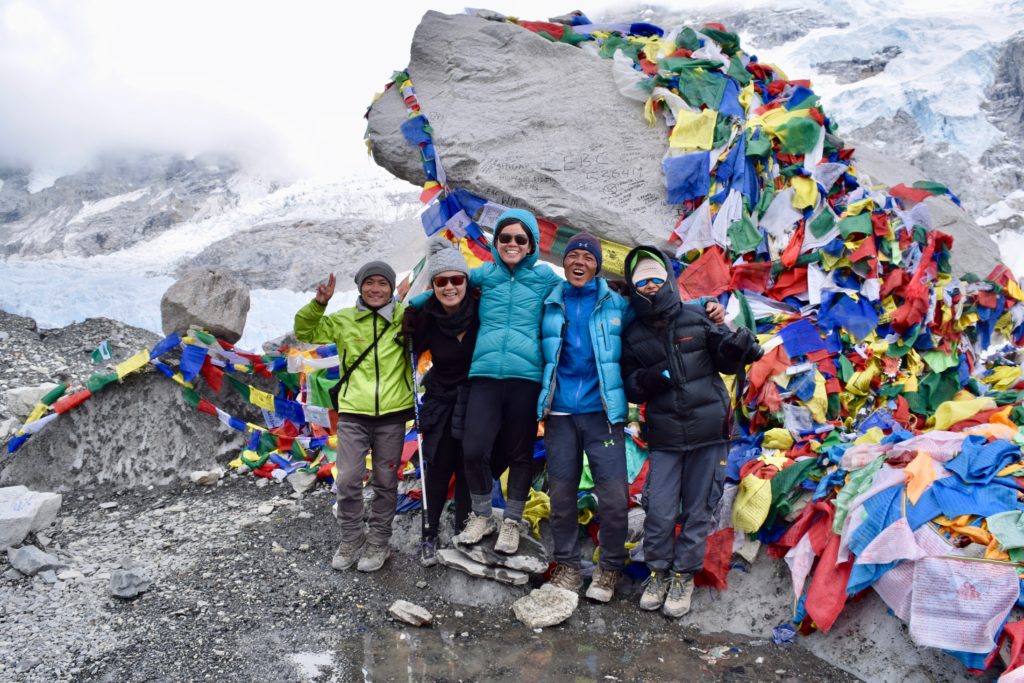 #4. Supermarket
Shoprite is in the heart of Thamel and is a 1-stop shop for everything you need. This is especially handy if you're travelling light and need to stock up on supplies before going trekking in Kathmandu and around.
Expect high quality Western brand products. The prices are comparable to what you would pay in America Europe or Australia.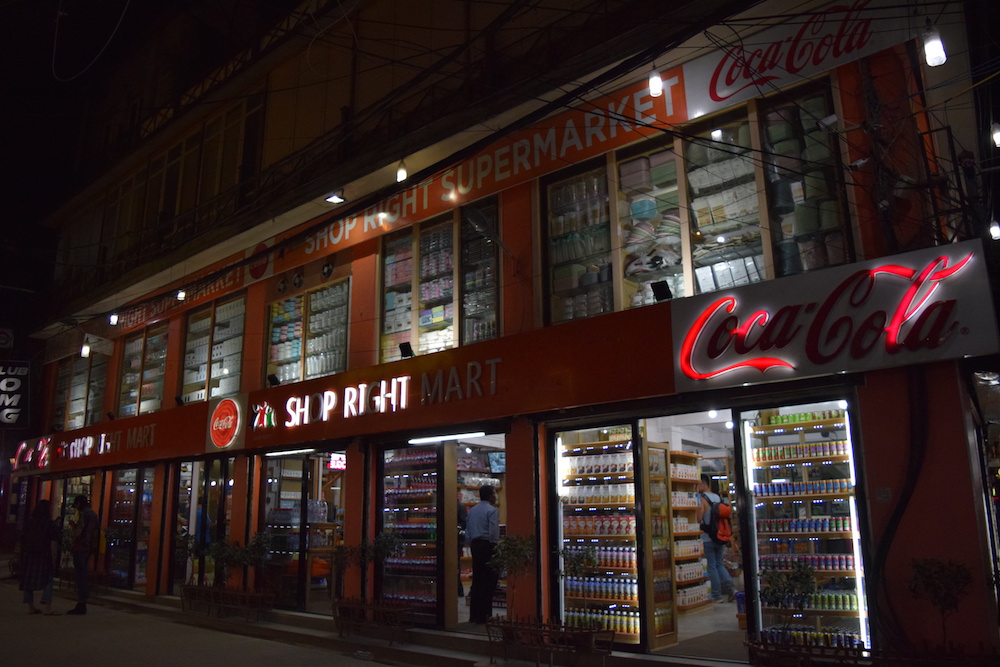 #5. ATM's
There are many ATM's in Kathmandu & Thamel.
Daily limits differ by bank however the maximum you can withdraw is Rs. 35000 / $350 by a few banks including Siddharta Bank. The transaction fee is Rs. 400 / $4. Keep this in mind if you need to pay for any expensive trekking tours.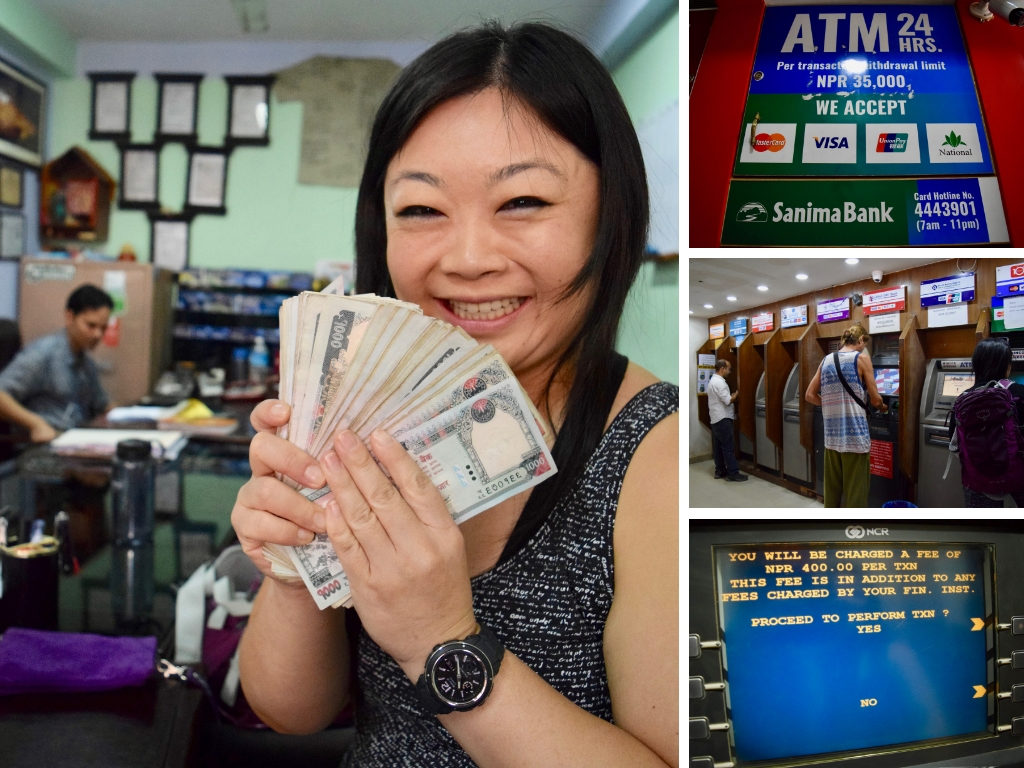 #6. Tipping
Tipping in Nepal is not customary even though it is becoming more common due to tourism.
Some restaurants will include a service tax in the bill or menu. Otherwise small change or 10% is appreciate if you like to tip.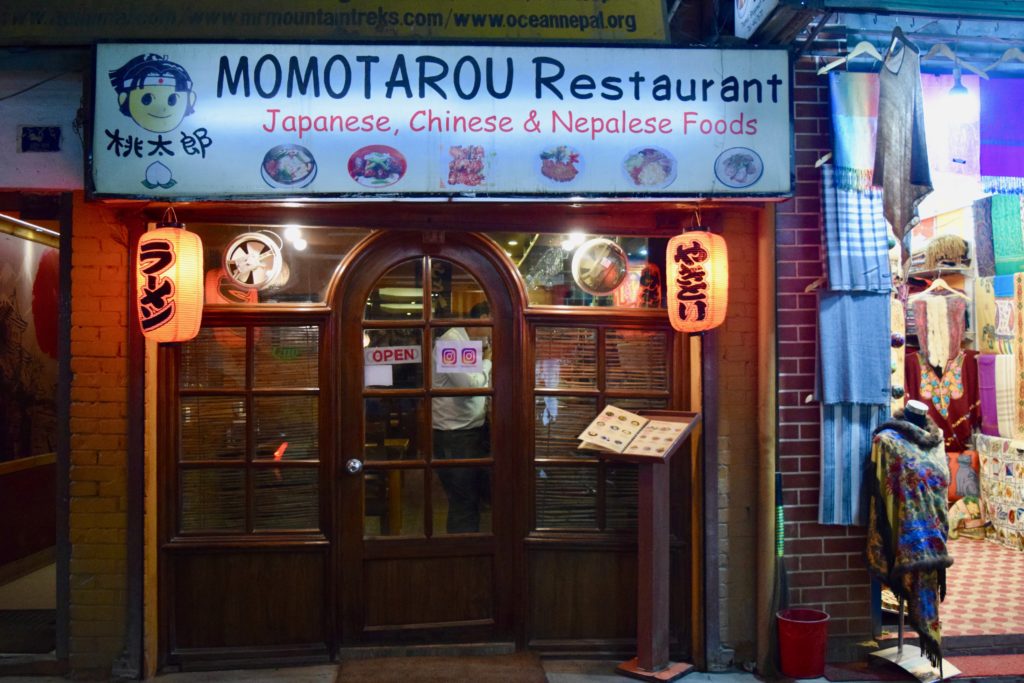 #7. Visa on Arrival
Most travelers can obtain a Nepalese visa on arrival at Tribhuvan International Airport.
The fees are:
15 days – $25
30 days – $40
90 days – $100
Citizens of China, Thailand, Brazil and Russia don't require a visa due to reciprocal agreements. Indians have free movement within Nepal. The SAARC countries of Bangladesh, Bhutan, Maldives, Pakistan and Sri Lanka can receive a tourist visa free of charge.
To receive a visa on arrival, first complete the Arrival Card issued on the plane or when you land at the airport. Then complete the visa application form on the large kiosk machines. It will issue a receipt. Line up and make the visa payment at a counter. Collect a receipt and proceed to the Immigration Desk. You will then be issued with a visa in your passport.
It's possible but not that convenient to get from the airport to Kathmandu. Taxi's are around Rs. 600-1000 but be prepared to haggle. You can book a private airport transfer here.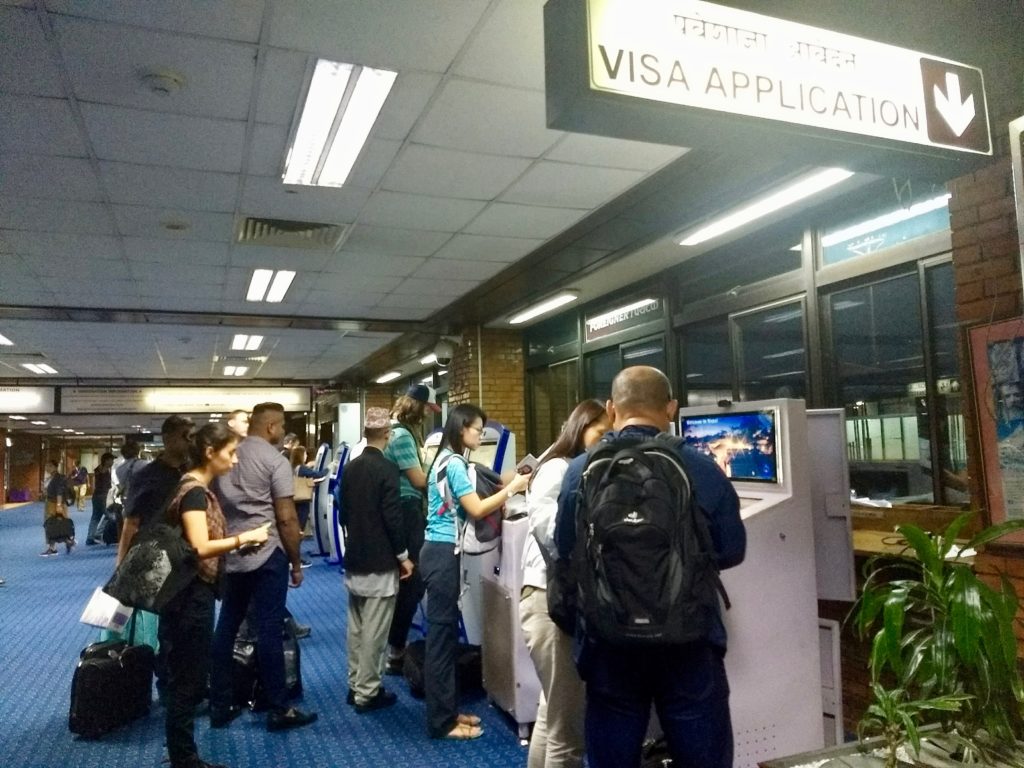 #8. Getting Around Kathmandu
It's easy to get around by foot, rickshaw, bus, micros or taxi. Nepalese people are some of the kindness and most honest I've come across in the world. I was given true prices and even change on buses and microbuses for 30 cent rides.
However rickshaw and taxi drivers universally drive a hard bargain and that's no different in Nepal. You might need to haggle hard to get a fair price and be sure to negotiate prices before a journey.
Don't forget to specify if a price is for the whole journey or per person. At Kathmandu Durbar Square we negotiated a rickshaw ride to the Monkey Temple for $4 but made the classic mistake of not specifying for BOTH of us. Managed to haggle it down to Rs. 700 / $7.
But in general, as the customer, I always felt like I had the upper hand when I was negotiating. Stand your ground but don't be too cheap either and in most cases both sides will be happy.
You can also book tourist buses on Bookaway between Kathmandu, Pokhara, and Chitwan National Park.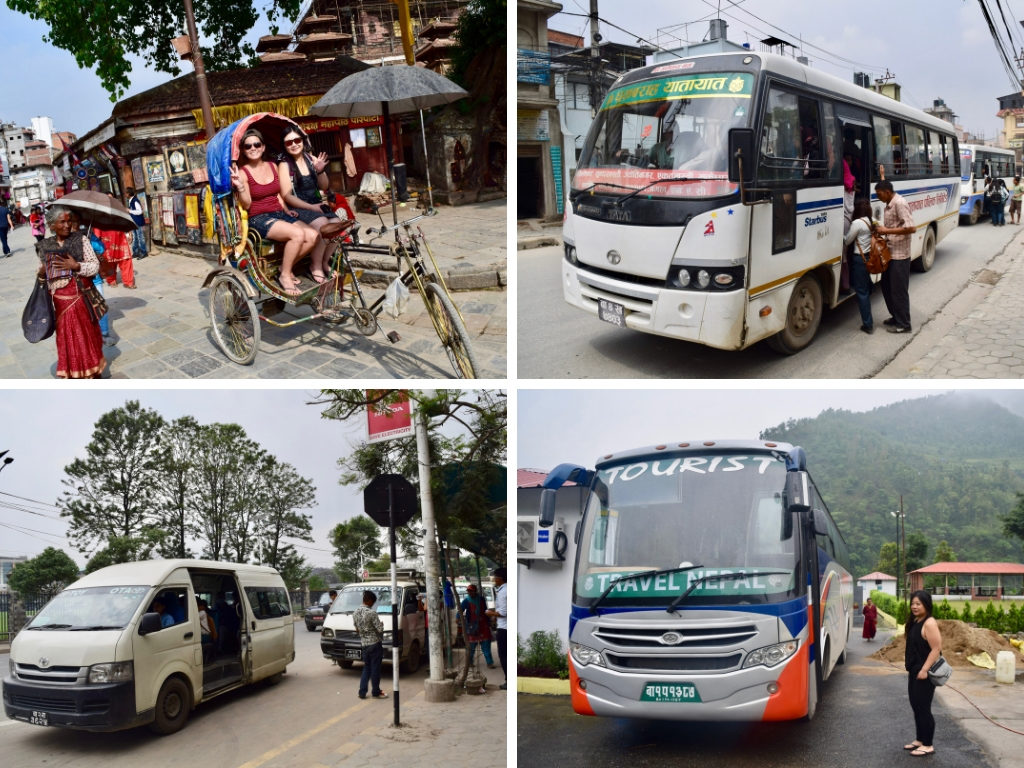 Places to Visit in Kathmandu
It's easy to visit all the major attractions when backpacking Kathmandu. They are either within walking distance of Thamel (the tourist centre of Kathmandu) or in a 5km radius.
So we've split up our list of things to do in Kathmandu into these 2 areas. We've also included several day trips, treks and other places to visit in Nepal.
Check out Lonely Planet Nepal for more tips & travel inspiration to help you plan your trip. Anyway we've got a lot to get through so without further ado, let's get into the top places to see in Kathmandu…
In & Around Thamel
#1. Thamel *
Not sure what to do in Kathmandu? Start in Thamel, the Khao San Road of Nepal. Like Bangkok's infamous backpacking strip, Thamel is a little tourist bubble of hotels, restaurants, bars, tour agencies, trekking gear stored and souvenir shops all selling the same thing.
It can be easy to get lost in the narrow winding streets but you'll either soon get your bearings or be constantly asking for directions. Technically it's meant to be vehicle-free but that doesn't always apply, especially not to rickshaws and motorbikes.
Nevertheless Thamel is still a lot calmer and less dusty than the rest of Kathmandu. We called it our "safe zone" as we were happy and relieved to retreat back at the end of each day out.
* Free attraction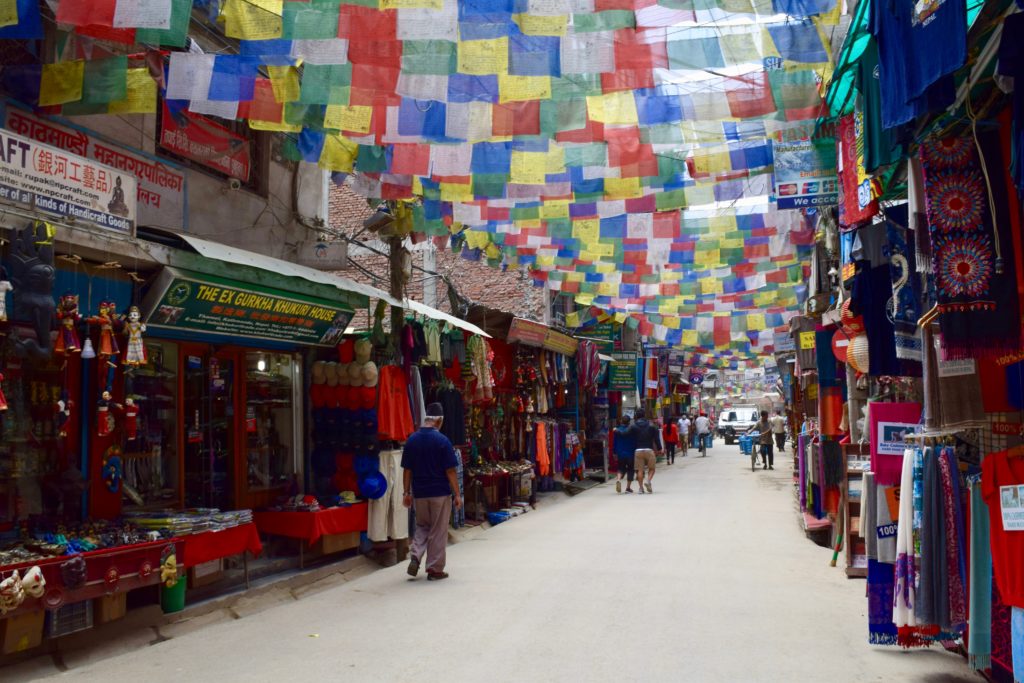 #2. Narayanhiti Palace Museum
The Narayanhiti Palace Museum was the former working residence of the Nepalese Monarchy. It was constructed in 1969 in the traditional architectural style.
The Nepalese Royal Massacre occurred here in 2001 when the Crown Prince Dipendra opened fire during a party and killed 9 members of his family, including the King and Queen. He then shot himself in the head but while he was in a coma, amazingly he was crowned King of Nepal – as he had wiped out most of the line of succession.
The Crown Prince died 3 days later and his uncle Gyanendra ascended the throne. The 2006 Democracy Movement overthrew the monarchy and the newly elected parliament declared Nepal a republic.
The Narayanhiti Palace opened as a museum in around 2010. If I had known this history before writing this, I would've definitely visited. Apparently the crime scene is marked and you can still see bullet holes. Read about the complete history here before visiting as there are no signs or explanations at the Palace.
Other highlights are the throne room and the reception hall lined with stuffed tigers. The palace has mixed reviews with many people saying that it's poorly maintained but it's got to be worth a visit for the history alone.
Narayanhiti Palace Museum opening hours: Nov-Jan 11 am to 3 pm; Feb-Oct 11 am -4 pm. Closed Tues & Wed. Ticket counter closes 1 hour prior.
Narayanhiti Palace Museum entrance fee: Rs. 500 / $5
Conditions: No cameras, phones, large bags allowed. Lockers available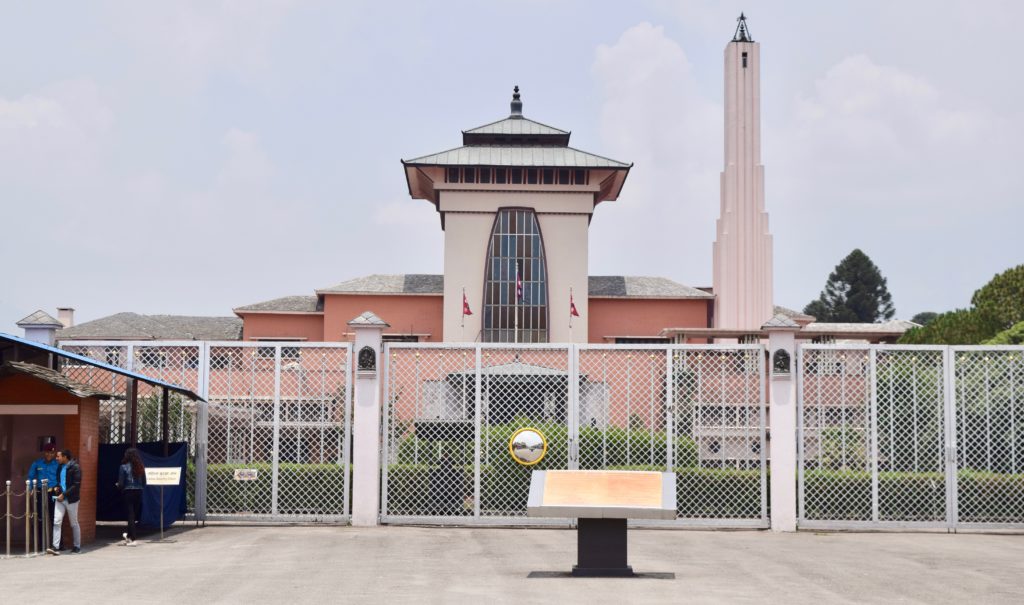 #3. Garden of Dreams
The Garden of Dreams is a peaceful escape away from the bustle and noise of the dusty streets. It's one of the best places for couples in Kathmandu. The Garden was originally created in 1920 when it was known as one of the most beautiful private gardens, designed in the Edwardian style.
It was restored between 2000-2007 in collaboration with the Austrian Government and it features pavilions, fountains, and flora and fauna from around the world.
There were quite a few other things to do in Kathmandu so we didn't visit but we did take a peak inside and it did look very green, tidy and tranquil.
Garden of Dreams opening hours: 9:00 am to 10:00 pm
Garden of Dreams entrance fee: Rs. 200 / $2
Wifi: Rs. 50 / $0.50 per hour
Kaiser Café open for breakfast lunch and dinner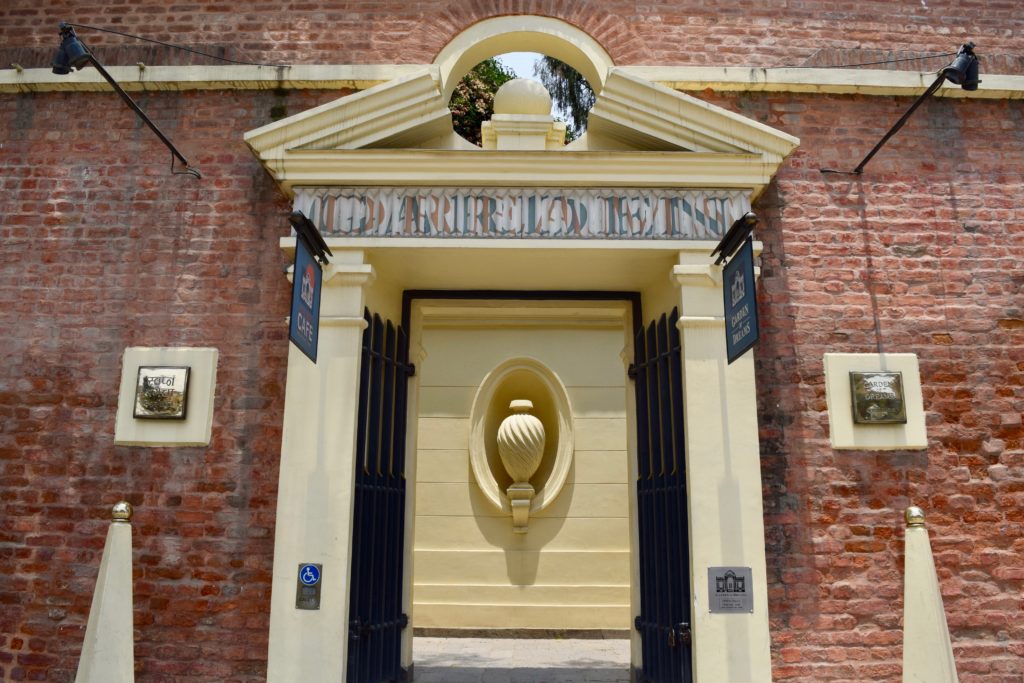 #4. Kathesimbhu Stupa
The Kathesimbhu Stupa is a smaller copy of the famous Swayambhunath complex aka Monkey Temple. Legend has it that Kathesimbhu was built from the leftover materials.
It's known as Kaathe Swyambhu Shee: Gha: Chaitya on Google Maps and it was the first temple we came across in Kathmandu. The Stupa is in a hidden courtyard surrounded itself by smaller chaitya (Buddhist shrines). Around those are shops and stalls and there is also a Tibetan-style monastery in a corner.
We enjoyed the local feel of the place, which is hard to come by in touristy Thamel. There were kids feeding pigeons, monkeys scurrying around, vendors selling tea, women making offerings and monks crossing the grounds.
* Free attraction
Walking distance from Thamel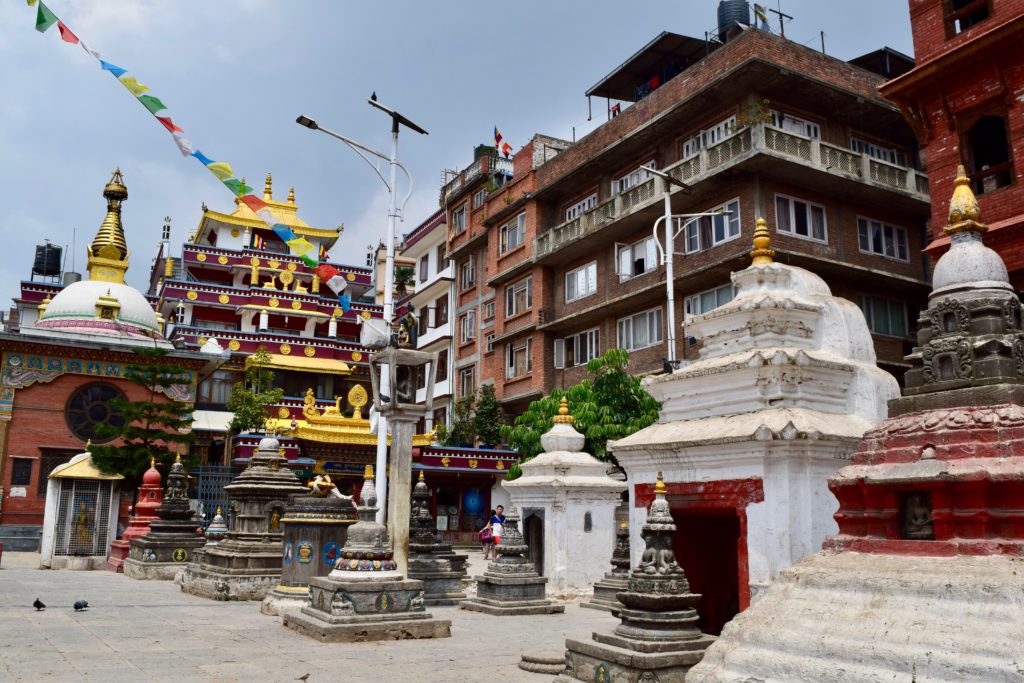 #5. Kathmandu Durbar Square
There are 3 Durbar Squares in Kathmandu Valley – located in Kathmandu, Patan and Bhaktapur. All three are UNESCO World Heritage Sites but they were heavily damaged in the catastrophic 7.8 magnitude earthquake in 2015.
Kathmandu Durbar Square is located in front of the old royal palace and was where Kings were once crowned. Construction dates all the way back to the 3rd century.
Many of the buildings and towers in the square collapsed in the earthquake, which killed almost 9000 people. There's a lot of scaffolding on the temples and the restoration work looks like it will be ongoing for many years to come. There are photos beside each structure of what it looked before the disaster.
Only one of the temples was open when we visited so there's not much to explore. It's very busy and colourful though as many locals pass through or congregate on the monuments along with many monkeys and pigeons.
We walked in without paying the entrance fee by avoiding the main entrances. It was the first major Kathmandu tourist attraction we visited and we were shock by the impact of the earthquake. If you're on a budget the entrance fee is not worth it as there are better places to visit in Kathmandu. You can see an overview of the square from the northern entrance.
Kathmandu Durbar Square entrance fee: Rs. 1000 / $10. A long-stay ticket for multiple days can be obtained at the tourism office in Durbar Square for the same price. Bring your passport and 1 passport photo.
Walking distance from Thamel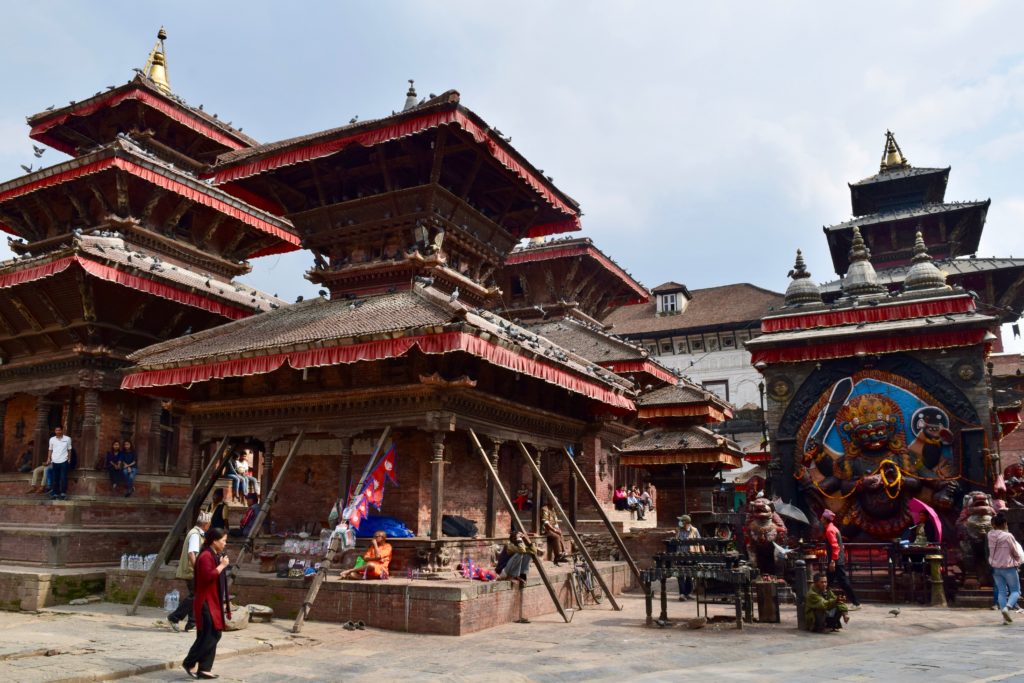 Outside Thamel
#6. Monkey Temple Swayambhunath
Still wondering what to see in Thamel? You won't be disappointed at Swayambhunath, a religious complex located on top of a hill west of Kathmandu City.
It's a steep climb to the top via 365 steps. Along the way you will see a lot of monkeys, hence its nickname Monkey Temple. Legend has it that when Manhushree (the bodhisattva of wisdom) was raising the hill, lice in his hair transformed into these monkeys.
The panoramic view at the top is unbeatable as you can see the urban sprawl of the city amidst the Kathmandu Valley.
Swayambhunath features a tall central stupa with the eyes of the Buddha painted on in four direction. Prayer flags flow down from the top. The stupa is surrounded by shrines temples and many shops. It has more of a commercial rather than religious feel however it's interesting to note that even though it's a Buddhist site, there are many Hindu worshippers.
You can't avoid the entrance fee as you climb up the stairs. There is a back road for cars but it's likely that there would be a ticketing booth there too.
Swayambhunath entrance fee: Rs. 200 / $2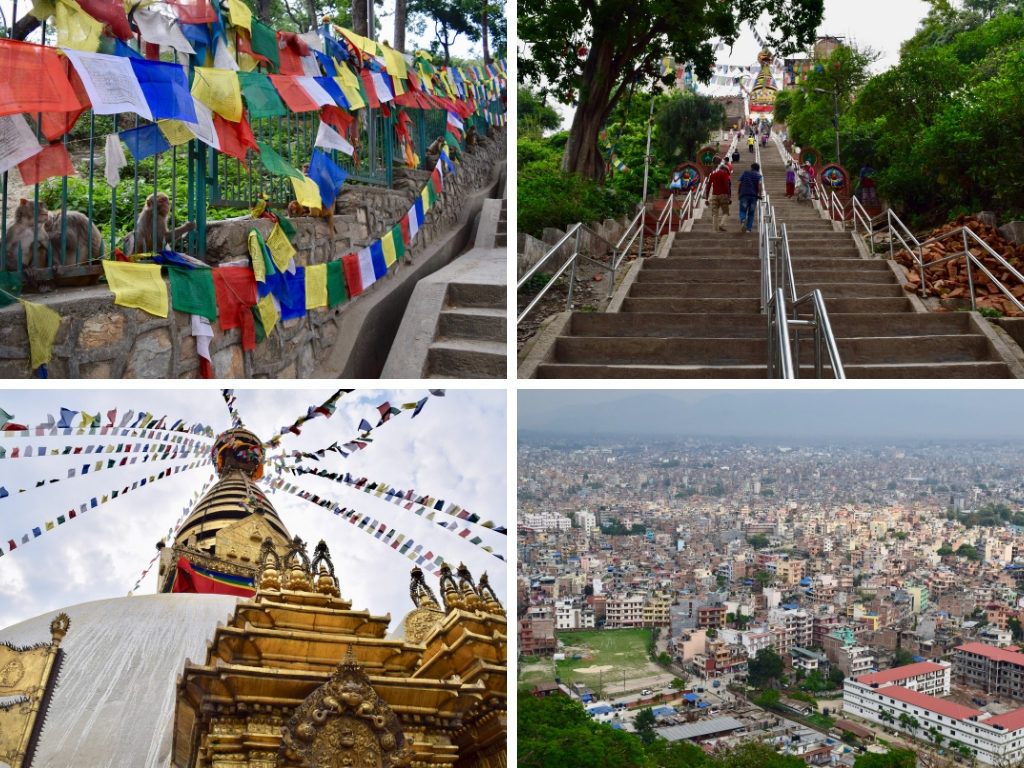 #7. Pashupatinath Temple
Pashupatinath Temple is a sacred Hindu complex located on the banks of the Bagmati River east of Kathmandu City. It's dedicated to lord Shiva, the third God in the Hindu Triumvirate (Holy Trinity) – altogether they are responsible for the creation, upkeep and destruction of the world.
Pashupatinath is a sprawling complex with some 500-odd temples and monuments. The main temple has a gold bunk roof and a golden spire which can only be entered by Hindu worshippers.
But the main attraction for visitors is the cremation ceremonies held along the river. You can observe from the bridge or the rooftop overlooking the funeral pyres, giving the family some space. It's absolutely fine to take photos.
The dead body is brought in to the temple on a stretcher carried by family members. Draped in a white sheet, the body is placed on the wooden pyre with more logs places over it. Straw is then added before the body is burned.
The whole experience can be quite confronting but it's a rite of passage for the Nepalese Hindus that can afford it. It's believed that those who die at Pashupatinath Temple are reborn as humans regardless of any misconduct. The ultimate dying wish of all is to be cremated on the banks of the Bagmati river which eventually leads to the holy Ganges in India.
There's much more to explore in Pashupatinath but you can't escape the smell and atmosphere of death. It's not too unpleasant but it's definitely distinct.
Don't miss the back of the complex where the long steps lead to Manajamana Mandir. This quiet area features many temples and ruins that reminded us of Angkor Wat in Cambodia. Continue along the path, cross the river and follow the road to Boudha. It's a 20 minute walk or there will be waiting taxis to drive you.
I blended in with the crowd, moved through quickly and avoided the entrance fee however my friend Tracy was stopped by officers. Either way Pashupatinath is worth the entrance fee.
Visitor Info
Pashupatinath opening hours: 4 am to 9 pm daily. Closed between noon and 5 pm.
Pashupatinath entrance fee: Rs. 1000 / $10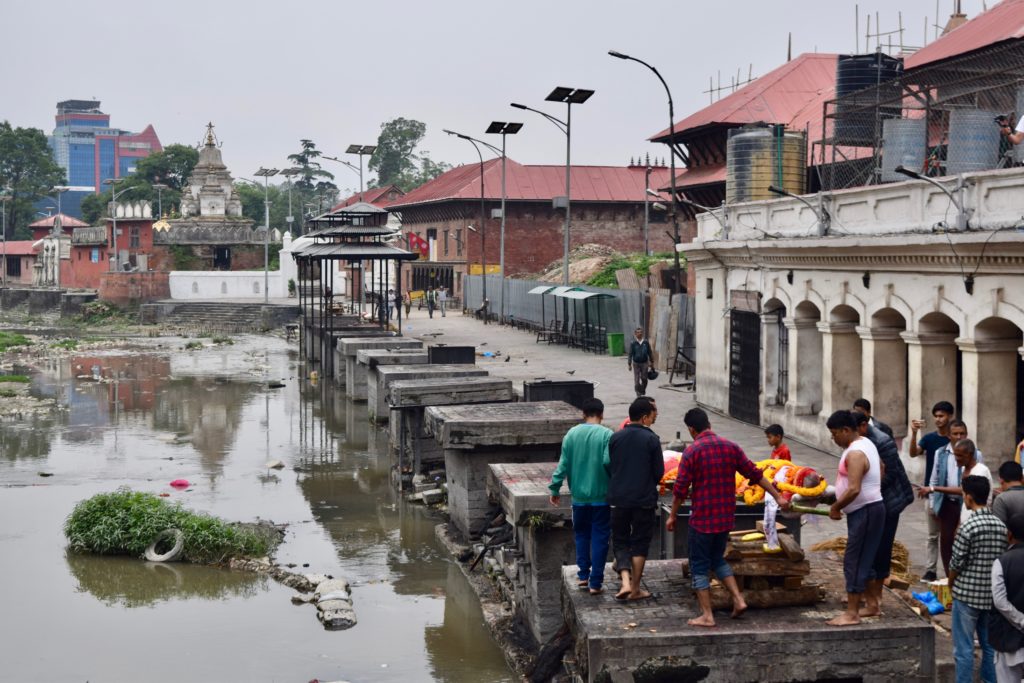 #8. Boudha
Boudha is an impressive stupa located in the northeast of the city. It's one of the most beautiful places in Kathmandu. At 36 metres (118 feet) tall, Boudha is also one of the largest stupas in the world. It was badly damaged in the earthquake but has since been fully restored.
Boudha is the centre of Tibetan Buddhism in Nepal, home to thousands of Tibetan exiles since 1959. Prayer flags flutter in the wind to the sound of Tibetan drums from as far away as the surrounding monastaries.
Boudha is a huge complex that looks and feels like a mini Tibetan Disneyland. It's a bit kitschy with all the souvenir stalls and cafes but you can't help but be swept up in all its vibrant energy. Be sure to join the pilgrims to make a kora (ritual circumnavigation) of the dome and spin every prayer wheel under the gaze of the Buddha's all-seeing eyes.
We entered Boudha through side streets and did not have to pay the entrance fee however it's worth paying for.
Boudha entrance fee: Rs. 400 / $4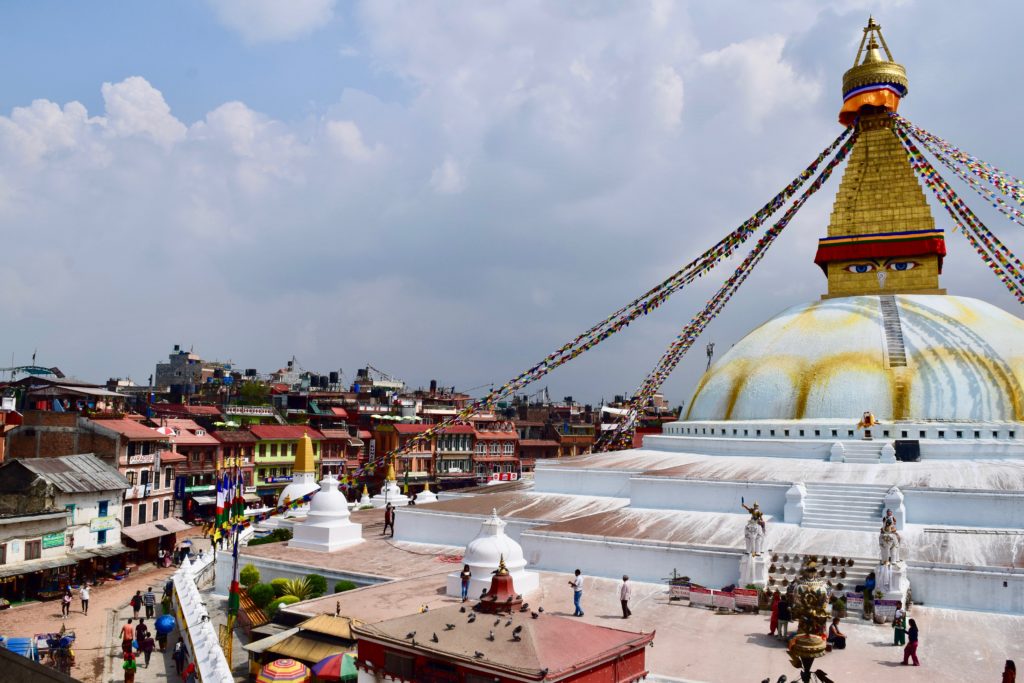 Kathmandu Day Trips
#1. Patan
The 2015 earthquake has reduced Patan Durbar Square to rubble. There is construction everywhere and all the temples are covered with scaffolding bricks and cement.
Patan is one of the top places to visit near Kathmandu. You can see everything from the outside as there's not much to explore besides the Royal Palace museum (which you will need to show a ticket for).
Don't waste a lot of time and money on your Kathmandu itinerary visiting Patan. It was ok for me as I didn't pay the entrance fee, I traveled there by microbus and I had a lot of time to kill in Kathmandu… still it was really disappointing.
On the plus side you can explore local suburban life in Nepal that's far different from Kathmandu. There's also the QFX Labim Mall with good restaurants and even a cinema!
Patan Durbar Square entrance fee: Rs. 1000 / $10
Microbus: Departs from Ratna Park in Kathmandu and the drop-off point is at Pulchowk (just pass the QFX Labim Mall). The ride is around Rs. 15 / $0.15 and takes around 20 minutes.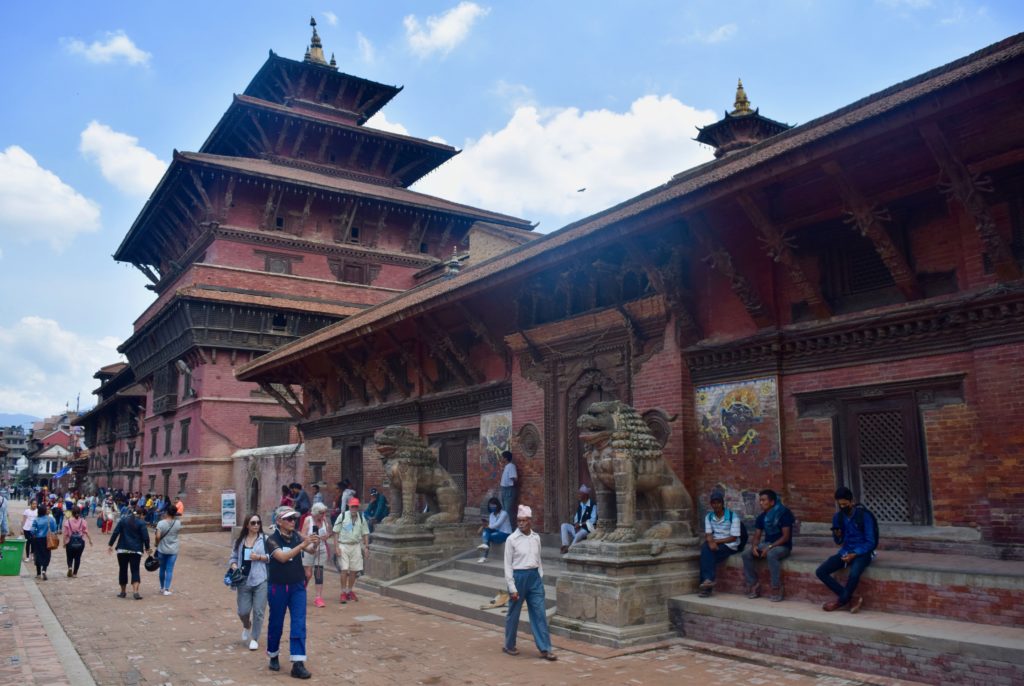 #2. Bhaktapur
Bhaktapur is the best day trip from Kathmandu – but not for its Durbar Square which was badly damaged in the earthquake.
As with the other Durbar Squares in Kathmandu and Patan, there's a lot of restoration work going on and little to explore. The detailed wood carvings on the nicer temples were superb but it wasn't worth the high entrance fee. Yes we paid this one though in hindsight it was easy to avoid.
Still we would recommend Bhaktapur overall as it's a beautifully preserved, ancient city. It has a rich cultural heritage and you can see this reflected in its architecture and craftwork.
There is another square located just next to Bhaktapur Durbar Square that is much more interesting and doesn't charge an entrance fee. Here you can find the five-tiered pagoda of the Nyatapola Temple as well as the three tiered Bhairabnath Temple.
We stumbled across it while there was a movie being filmed. The square was filled with colourful costumes and all the lights, camera and action which made Bhaktapur one of our favourite places in Nepal. We didn't seek out any other temples but there are many more to discover in Bhaktapur.
We only had to pay the entrance fee to enter Bhaktapur Durbar Square though you may be asked for it when entering the city gates.
Bhaktapur entrance fee: Rs. 1500 / $15
Local bus: Departs from Ratna Park in Kathmandu. The ride costs around Rs. 30 / $0.30 and takes around 1 hour.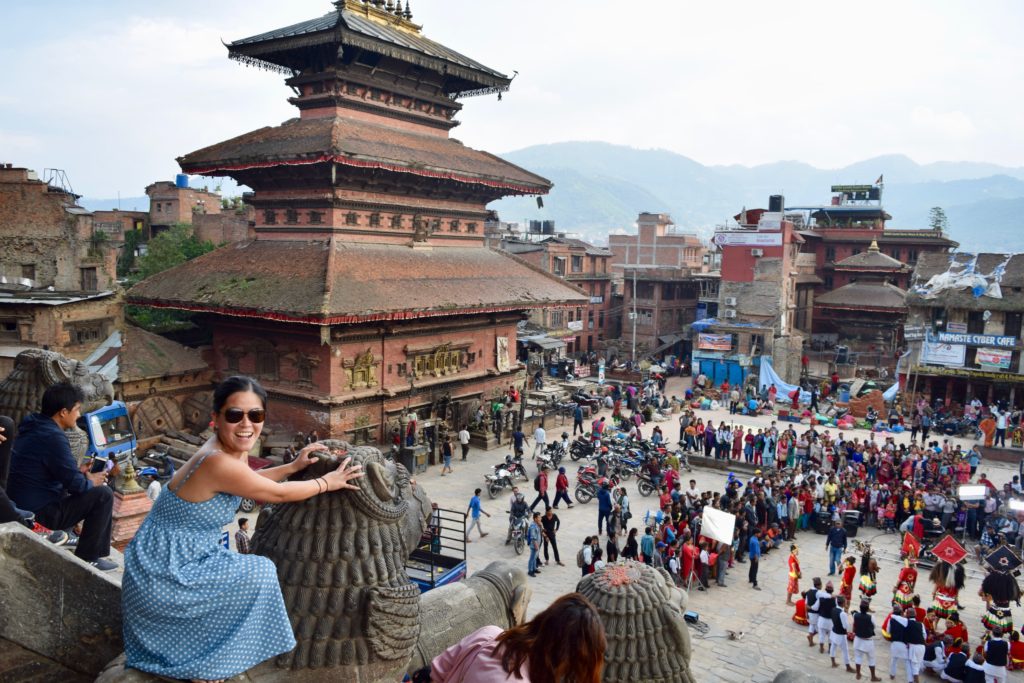 Other Places to Visit in Nepal
Pokhara
Of all the other places to visit in Nepal, we only had time for Pokhara. We took a 6 hour microbus that turned into 8 hours due to traffic. It made 1 toilet/lunch stop. The microbus is not for the faint-hearted due to the driving, the roads and the lack of ventilation/air-conditioning. I was truly shocked at how bad the road was and this was the main highway in the country linking its 2 biggest cities.
Pokhara has a seaside holiday vibe even though it only sits on a lake. Despite this it was very hot when we were there. We didn't do much besides search for places to eat in Pokhara and taking a taxi up to the World Peace Temple, which was an average attraction. The other things to do in Pokhara seemed even less exciting.
If it's in your budget, Pokhara is one of the best destinations to go paragliding and fly on an ultralight aircraft. Pokhara is also a popular base to arrange treks, such as to Annapurna and the 5 day Poon Hill trek.
We stayed at Hotel Middle Path & Spa which was excellent value. The staff are incredibly nice and the rooms and bathrooms are huge. The only disappointment was their massages which were a little weak and unprofessional (no aircon and staff talking to each other).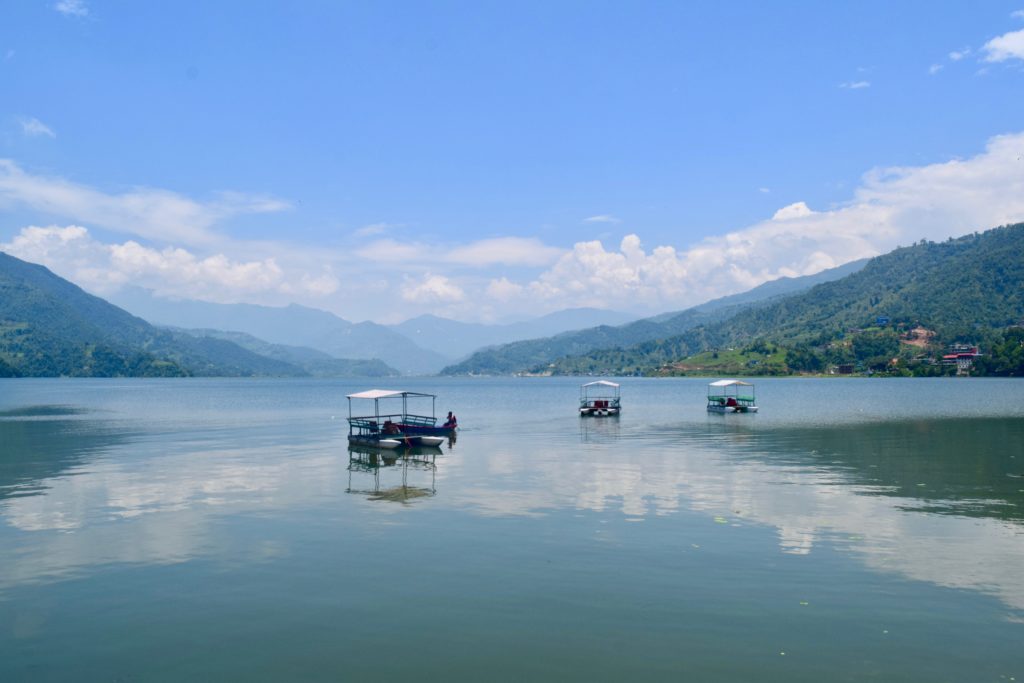 How to Get to Pokhara
Microbus: Rs. 600 / $6. Departs from Gonggabu New Park when full (approx. 30 mins). Taxi there from Thamel is around Rs. 200-250 / $2-2.50. Drop-off point in Pokhara is Prithivi Chok which is then a Rs. 150-200 / $1.50-2 taxi ride to the lakeside.
Local bus: Rs. 500-600 / $5-6. As per microbus.
Standard Bus: Rs. 8000-25000 / $8-25. Prices and standards vary.
Shared tourist bus: Check prices and reviews here
VIP Super Deluxe Bus: Rs. 25000 / $25. Includes plush seats, air-conditioning, packed breakfast, bottle of water and buffet lunch stop. Did not include soft drink and coffee mini-bar or wifi as advertised. Hotel pick-up included or can be arranged to the bus station. Drop-off point in Kathmandu is within walking distance of Thamel.
Flights: Ballers can book a flight from Kathmandu to Pokhara here
Check out our next post for where else to go in Nepal…
Top 14 Destinations in Nepal
Don't forget to enter in your text.
Enter Your Text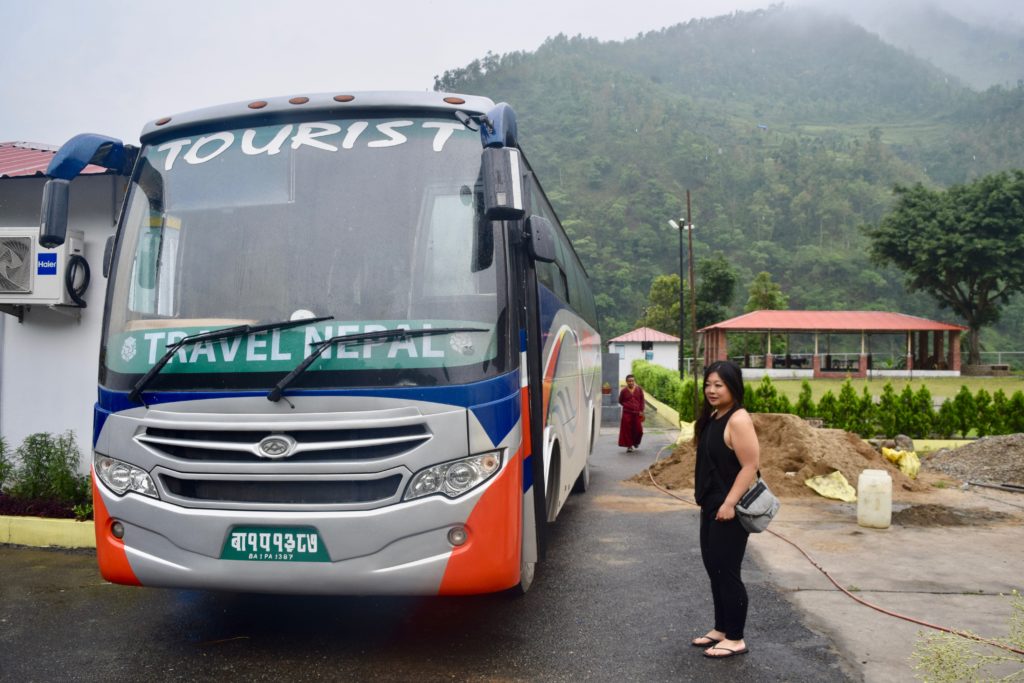 Kathmandu Trekking
#1. Everest Base Camp
No visit to Nepal is complete without trekking in the Himalayas. In fact we actually wouldn't recommend visiting Nepal unless you are trekking, as there aren't many places worth visiting. I did the 12 day Everest Base Camp trek and it was the adventure of a lifetime – check out our EBC FAQ…
EBC Trek FAQ
From accommodation & food to medication & tipping, find out everything you need to know on the road to the Roof of the World.
Read more
There are hundreds of tour agencies in Kathmandu but it's best to do some research and book before you arrive. I trekked with Green Valley Nepal Trekking who are one of the leading local operators. Their EBC tour was the cheapest I came across and they also had excellent reviews on Tripadvisor.
EBC Trek: from $1195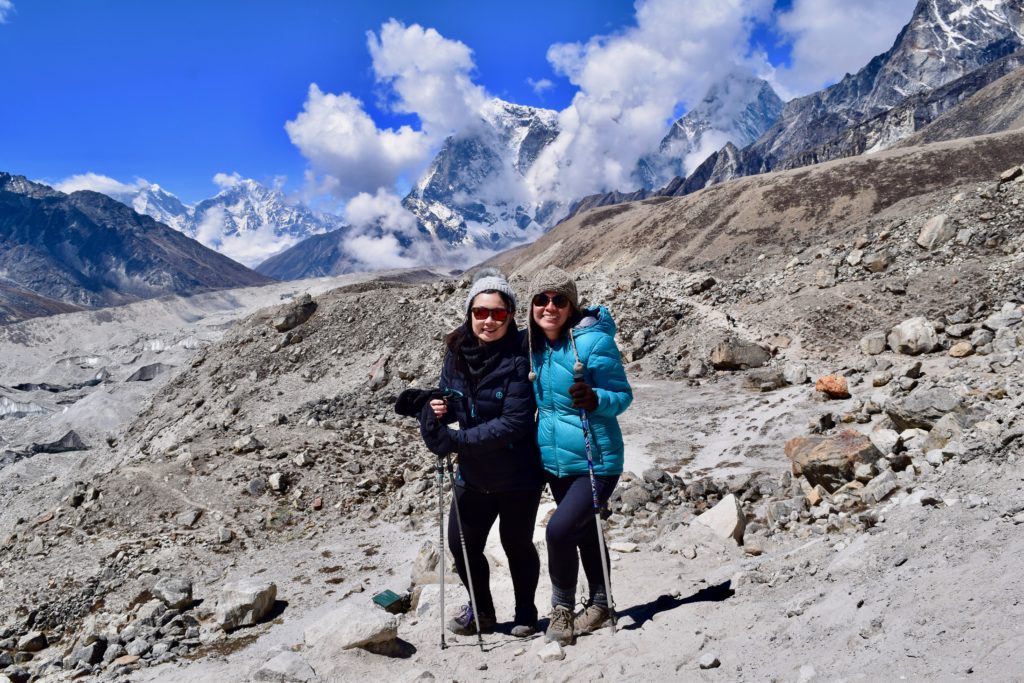 #2. Nagarkot
For a less strenuous experience, Nagarkot offers a variety of hiking trails and the best sunrise views of the Himalayas, including Mount Everest. However it's all about timing and we didn't visit as the weather forecast wasn't clear during our time in Kathmandu.
It's only 32km away but there is no direct bus – you have to first catch a bus to Bhaktapur and then catch another one to Nagarkot. This means that if you want to catch sunrise, you will have to stay the night at Nagarkot, arrange an early morning taxi from Kathmandu or book a tour.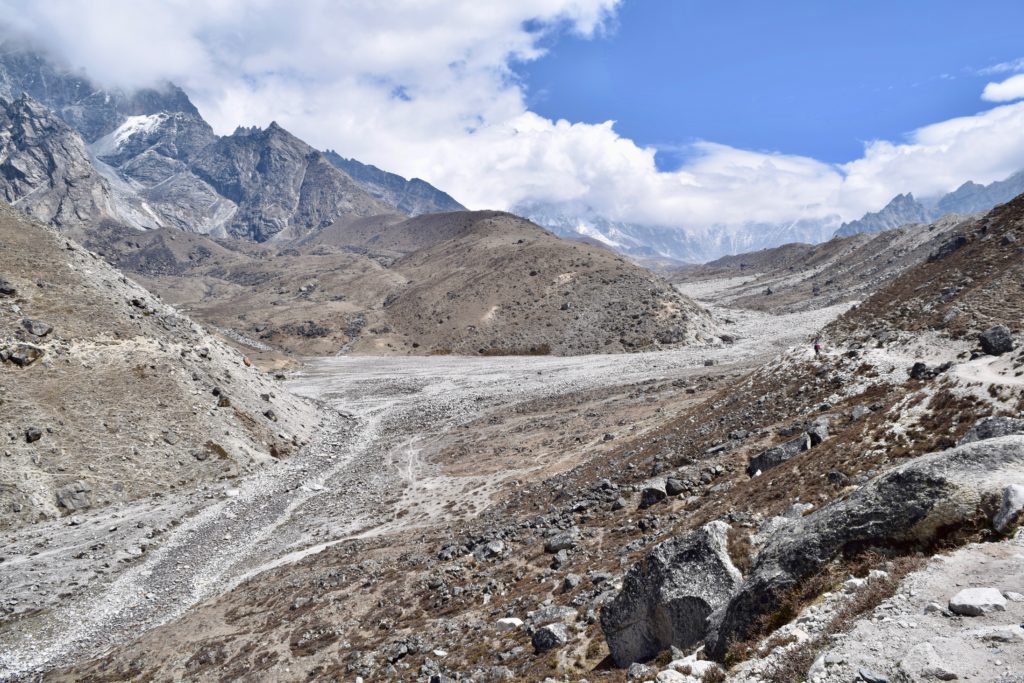 Kathmandu Food & Restaurants
Nepalese food is a mix of Indian and Tibetan cuisines. Lentils and rice form the base of most meals, along with potatoes and seasonal vegetables. Buffalo meat (or buff) is popular, especially in momos.
Typical Nepalese include:
Momos – dumplings stuffed with meat, vegetables or cheese. They can be steamed, deep-friend, pan-fried (our favourite) or in a soup. They come be a tomato-based dipping sauce.
Thukpa – noodle soup
Dal Bhat – steamed rice served with a lentil curry, mixed vegetables and a papadum.
Thali – steamed rice with various curries and condiments served on a platter with a papadum
You can find Nepalese, Asian and Western restaurants of all kinds in Thamel and even cultural dinner shows.
Our favourite Nepalese restaurant in Kathmandu was Momostar. They have a huge menu and the prices are reasonable. On my last few days, I became tired of looking for new places to eat and simply went straight to Momostar for every meal.
Nearby Momotarou is an excellent Japanese restaurant named Momotarou. It's a bit expensive if you're backpacking Kathmandu but it's worth it for the fantastic food and nice ambience. If only they had lunch specials!
Gilingche is a great Tibetan restaurant also with an extensive menu. The shabhaley (like curry puffs) are large and delicious.
Look out for Thamel Doner Kebab on Google Maps. They also serve vegetarian falafel wraps. They are huge, cheap and absolutely delicious.
You can also find street food and local restaurants in Thamel that are very cheap or take a cooking class for something different.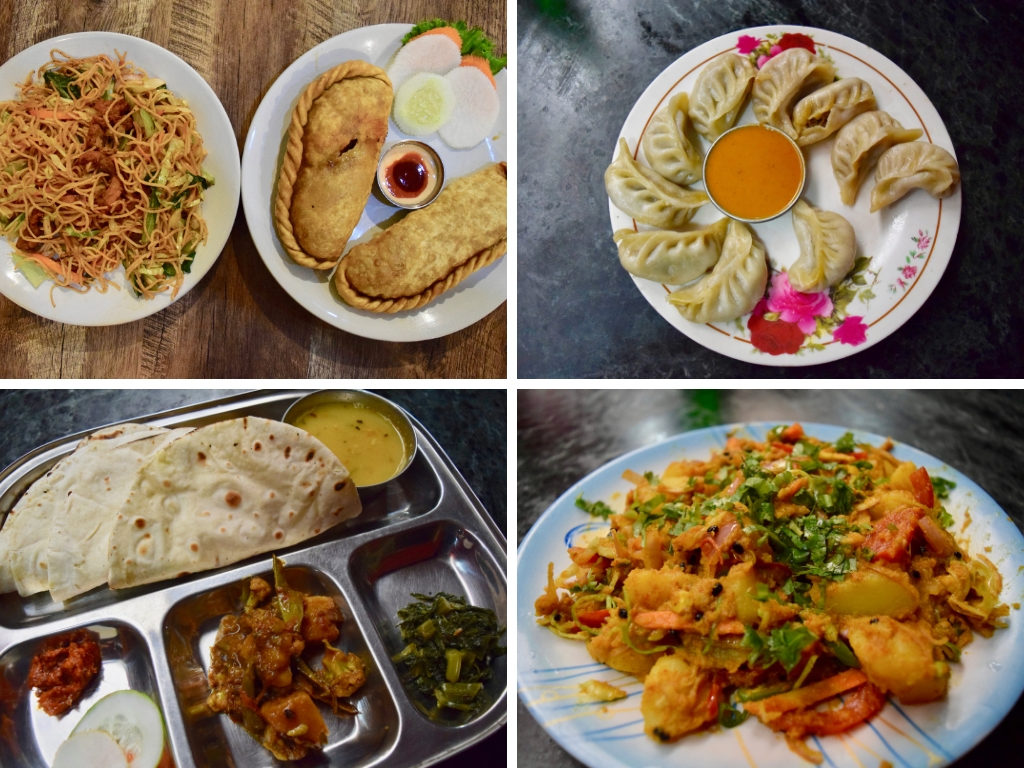 Kathmandu Accommodation
There are dorms in hostels for as little as $4 however cheap hotels in Kathmandu offer great value if you're backpacking Kathmandu in a pair. We stayed in these 4 hotels in our 2 week itinerary:
#1. Hotel Florid
My Everest Base Camp Tour with Green Valley Nepal Trekking included 2 nights accommodation at Hotel Florid. The standard room was simple and spacious. The included breakfasts were really good and I liked that I could refill my water bottle for free. I later returned for another stay in a deluxe room which was definitely worth the extra $5 – if I had known the difference earlier I wouldn't have moved hotels. The deluxe room was the best value of all the hotels I stayed in in Kathmandu.
#2. Hotel Royal Suite

Hotel Royal Suite was a very good modern hotel which offered a huge included breakfast that we picked a la carte from the menu. The ensuite was spacious however there was no window or ventilation so it became really stuffy and smelly. It's on Z street which is the best location in Thame, quiet and central.
#3. Kathmandu Guesthouse

Kathmandu Guesthouse is an icon of Kathmandu however its best days are behind it. We splurged on this as our post-Everest trek hotel but we were disappointed by the lack of a Western-style separate shower and the cramped room. The breakfast buffet has quantity but not quality. The grounds however are beautiful with lots of trees, plants and flowers which really makes it special as a peaceful oasis in the heart of Thamel.
#4. Classic Nepal Hotel

Classic Nepal Hotel was a basic budget hotel. The breakfast was very average. The room was a good size but the bathroom was tiny. There was only 1 outlet point and the wifi was unreliable, making it hard for me to work so I moved after 1 night.
Check Kathmandu hotel prices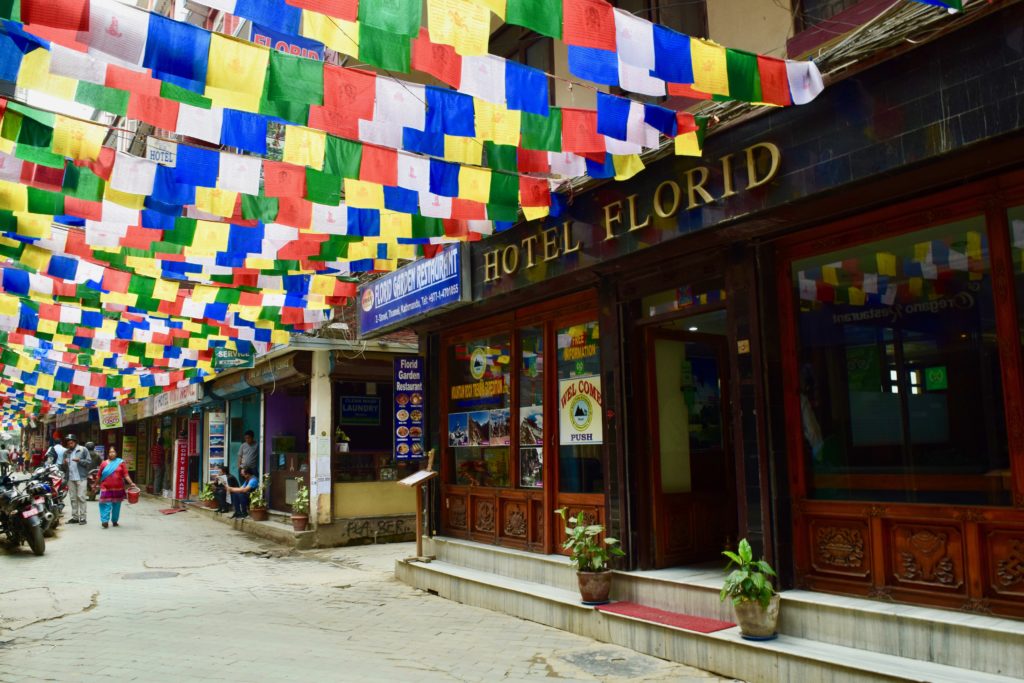 Did you enjoy reading our list of Things to do in Kathmandu?!
Pin it and help others find it too!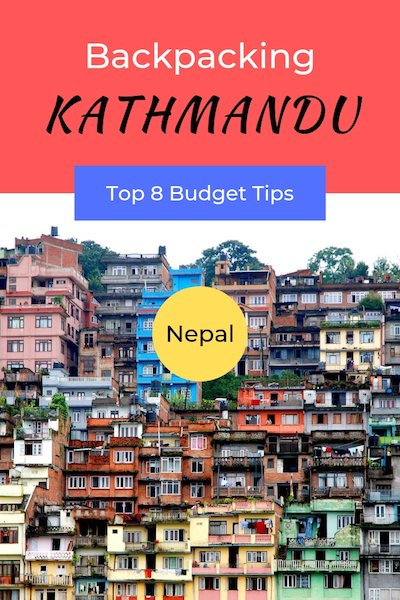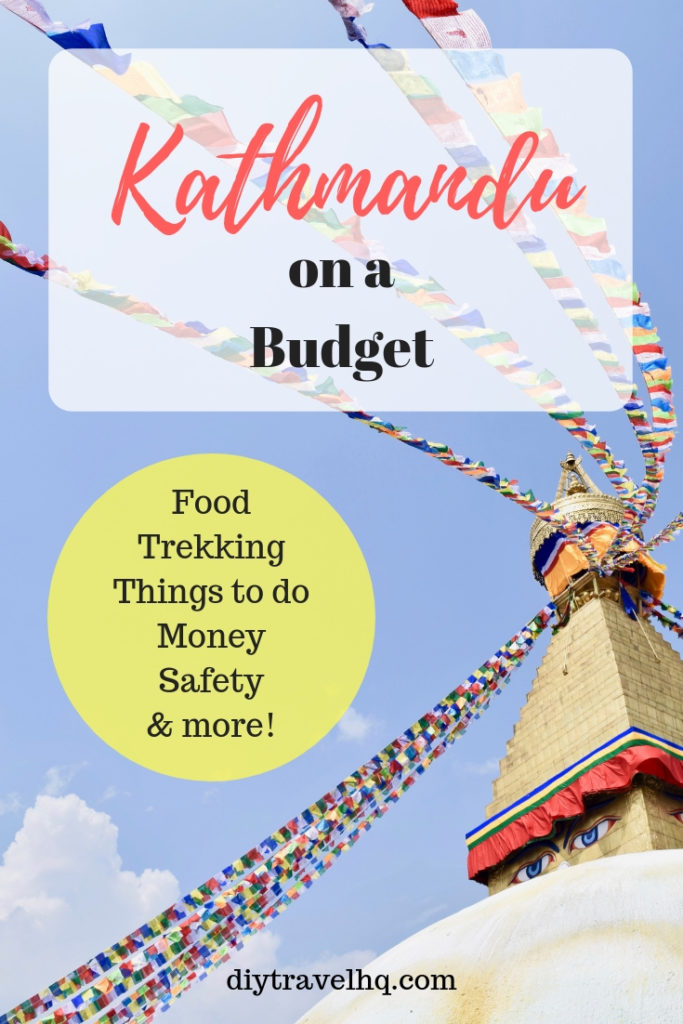 This post may contain affiliate links which means that we receive a small commission if you click on a link & purchase something that we've recommended, at no extra cost to you.
Visited in May-June 2018
Updated in May 2019