We show you the best things to do in Jakarta, along with how to get in & out of this megacity of overpopulation & urban sprawl! The capital of Indonesia is not that bad, really!
Jakarta Today
Like its fruit namesake, Indonesia's capital city is a spiky shock at first sight & smell. But we here at DIY Travel HQ discovered that there are a number of things to do in Jakarta, aka "The Big Durian," if you find yourself here.
Located on the world's most populous island (Java), Jakarta is also the country's political, economic & cultural centre.
With over 10 million people, Jakarta's population has grown faster than Beijing, Bangkok & Kuala Lumpur – in Greater Jakarta it's 25 million.
It's a mass migration magnet for people all over Indonesia & Southeast Asia looking for work & opportunity, as well as having a sizeable expat population.
Jakarta is now rapidly being depleted of its own resources – poor sanitation, lack of water, insufficient housing & transportation issues are of ever-growing concern.
It didn't always used to be the "Big Durian".
In the Dutch colonial era in the 17th century, Jakarta was known as "Queen of the Orient" for the urban beauty of its canals & mansions.
After all, its orderly city layout was designed for 800,000 people, not 10 million.
Fortunately, tourism doesn't attract all that many visitors – many find themselves here only for transportation connections but there are some interesting things to do in Jakarta.
Sure, it's scorching, smoggy & sprawling but Jakarta reveals so much about Indonesia's past, present & future.
I believe the capital of any country is a must-visit, it contributes greatly to an understanding of the essence of a nation & its people.
So in that very spirit, let's explore the top things to do in Jakarta:
Things to do in Jakarta
Jakarta has a few tourist attractions: museums, monuments & the historic Kota (Old Town) district.
We were expecting the worse in traffic & chaos but on a Sunday morning, Jakarta was a ghost town.
Many tourists will be based in the modern part of the city, to the south of the National Monument.
This area is packed with skyscrapers, shopping centers & big hotels – but where are the people?
Turns out they were all on the streets around Jalan Jaksa, closed on Sunday mornings to traffic.
National Monument (MONAS)
The "Big Apple" has Central Park & the "Big Durian" has Merdeka Square – #1 on the list of things to do in Jakarta.
It's a huge space, with the National Monument at its center, surrounded by museums & colonial buildings.
At 132m high, the National Monument is a symbol of Indonesia & the main historical landmark of Jakarta.
It was built between 1961-1975 to celebrate Independence. The sculpted flame at the peak is gilded with 35kg of gold leaf.
There are smoggy views of the city from the Observation Deck at the top of the Monument, if you can get up there.
Go early or be prepared to wait up to 2 hours, as there's only one elevator going up & down. Also, tickets are limited – avoid weekends when it's especially crowded.
Inside the base of the National Monument is the National History Museum (there is a small fee). Through 48 dioramas, it tells the story of Indonesia's struggle for Independence, catering more to local tastes.
National Monument (MONAS) opening hours: 8am-3pm/1pm on Sunday
MONAS observation Deck entrance fee: 15,000 IDR / $1.10
Built in 1862, the National Museum is one of the best of its kind in Southeast Asia & one of the top things to do in Jakarta.
It contains a huge collection of ethnographic & archaeological artifacts, particularly from the various ethnic groups around Indonesia: model houses, musical instruments, costumes, etc.
National Museum entrance fee: 10,000 IDR / $0.75
Jakarta Cathedral is a Roman Catholic church, built in 1901 on the site of an earlier church.
The gothic architecture features twin spires on the outside & stained glass windows on the inside.
Apparently the largest mosque in Southeast Asia, Istiqial Mosque has a capacity of 120,000 people.
Interestingly, it was designed by Frederich Silaban, a Christian architect.
Parts of the grounds are open to non-Muslims but be prepared to make a donation.
That's why we decided just to take a photo from the outside:
The old town of Batavia, Kota Tua was once the hub of Dutch colonial life in Jakarta.
Many of the old buildings have been destroyed but Taman Fatahillah, the cobblestone central square, remains well-preserved.
The attractions in Kota Tua certainly make the list of things to do in Jakarta.
On Sundays, there's a festive atmosphere, the area crowded with cos-play, cartoon characters & street performers, posing for tips.
Other Things to do in Jakarta (Kota Tua):
Museum Wayang: Puppet Museum
Jakarta History Museum
Fine Arts & Ceramics Museum
Gereja Sion: church
Toko Merah: formerly the home of Governor General
Chicken Market Bridge: last remaining Dutch drawbridge
For more suggestions, check out the Backstreet Nomad!
Accommodation in Jakarta
Many cheap hotels can be found in the Jalan Jaksa area, south of the National Monument.
The best value we found was at Nina's House for 140,000 IDR / $10.50 with a private bathroom.
How to Get to Jakarta
After checking out the things to do in Yogyakarta, we took a bus for 105,000 IDR / $7.85.
The ride took 17.5 hours.
How to Get out of Jakarta
From Jakarta, our next destination was exploring the things to do in Bukittinggi – here's how we got there:
Jakarta-Merak bus: 28,000 IDR / $2.10, 4 hours
Merak (Java)-Bakahueni (Sumatra) ferry: 15,000 IDR / $1.10, 2 hours
Bakahueni-Bandar Lampung bus: 30,000 IDR / $2.20, 3 hours
Bandar Lampung-Bukittingi bus: 250,000 IDR / $18.75, 24 hours
Total travel time from Jakarta to Bukittingi was around 40 hours.
Some of the bus seats are very cramped – be prepared for a long & rough trip if you choose to attempt this journey!
The ferry from Java to Sumatra was a real highlight – it was an old cruise ship, complete with bars, cafes & modern décor!
Did you enjoy reading Things to do in Jakarta: Planning Your Visit?
Pin it and help others find it too!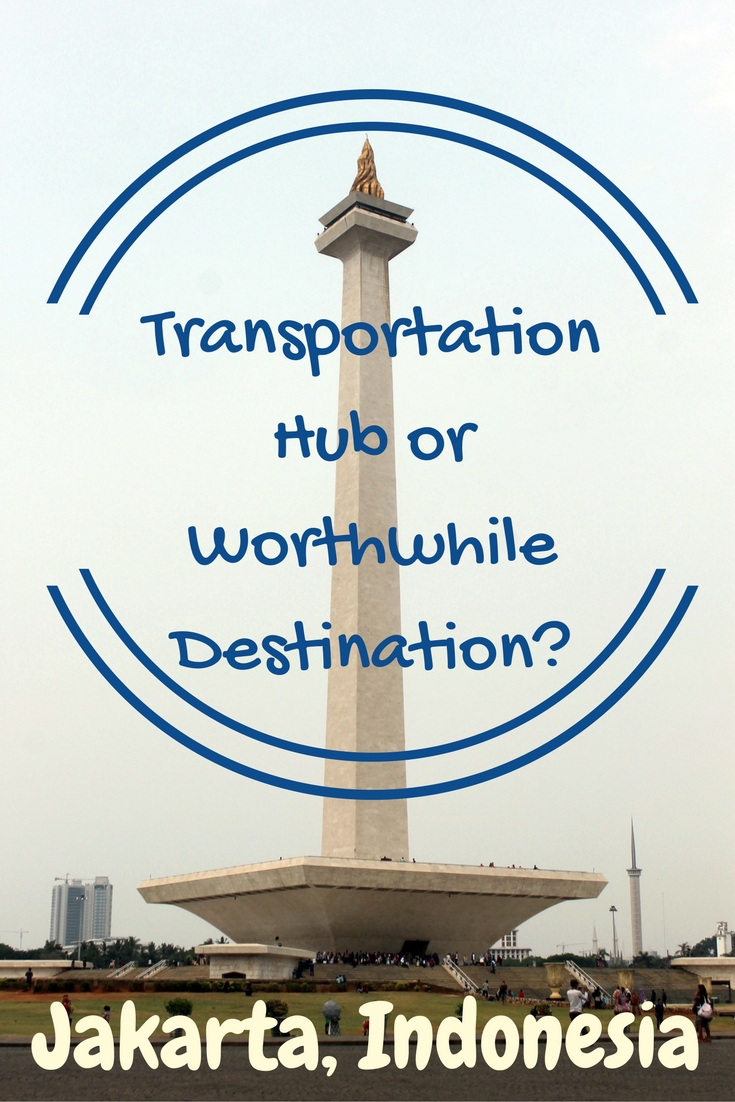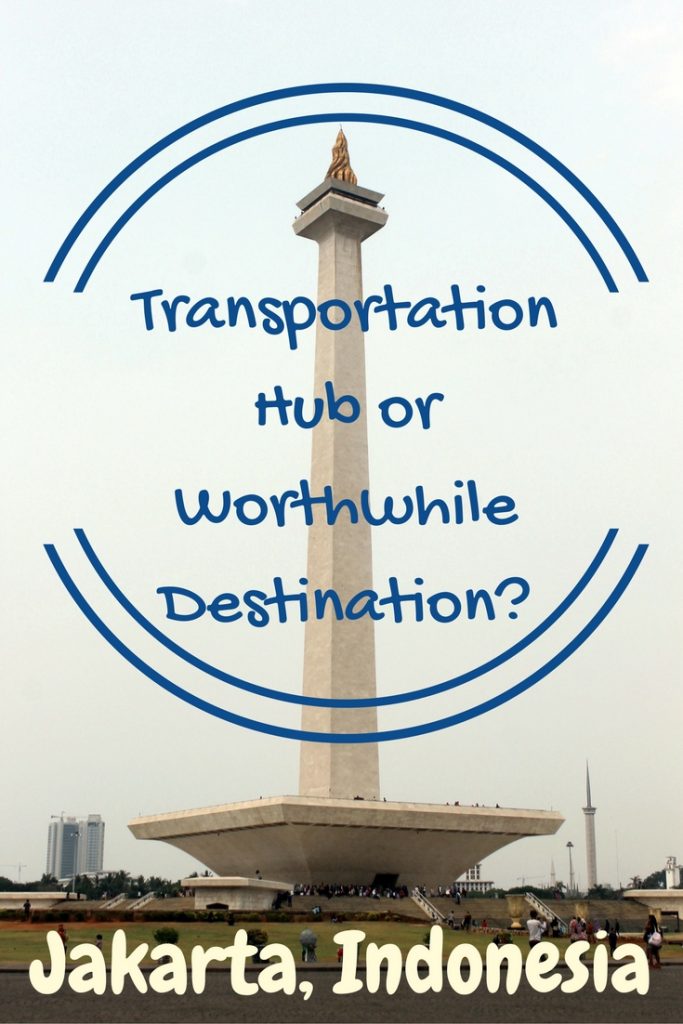 *** The Final Word: Indonesia's capital is skippable but there are things to do in Jakarta that make it ok for a day or 2 ***
Do you love or hate Jakarta?
Visited in October 2015