Visiting Shiprock, NM isn't easy, but you can see it from miles away. Find out the GPS Coordinates of the best spots to take photos of this amazing rock formation.
Visiting Shiprock, NM
Although you can still visit Shiprock, New Mexico by driving up to the base in a high clearance 4-wheel drive, you can also view the landmark from a distance with the same appreciation.
Here are the three best places that we have found to see Shiprock pinnacle, including two that are conveniently on the way to Four Corners Monument.
Having a super zoom telephoto lens helps as well. We use the budget friendly Nikon 55-300 mm.
1. Route 64 Pull-off (36° 47' 33.49" N, 108° 50' 06.33" W)
This location features a pull-off on each side of the road, and provides excellent panoramic landscapes of Shiprock Rock Formation.
Most of the remainder of Route 64 has obstructed views.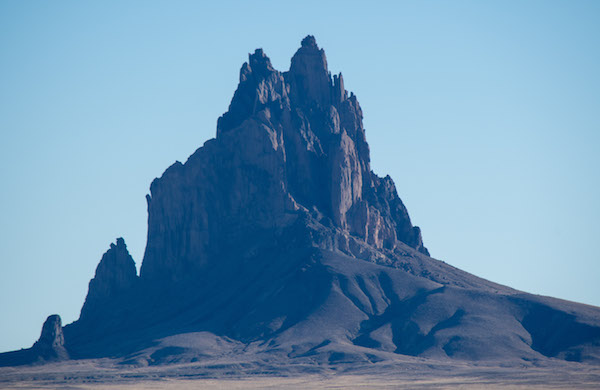 2. Route 64 Sinclair Gas Station in Beclabito (36° 49'52.07" N, 109° 00' 53.93" W)
One sensational, partially obstructed view of Shiprock Peak is from the Sinclair Gas Station in Beclabito as it sits nestled between two nearby hills.
This is also one of the cheaper places to get gas if you are visiting the remote Four Corners.
3. Route 13 Pull-offs
Heading south from Shiprock town on Highway 491, turn right onto Route 13. This road provides several pull-offs to view Shiprock with a southern perspective. This is also the way to get to the base of the rock formation.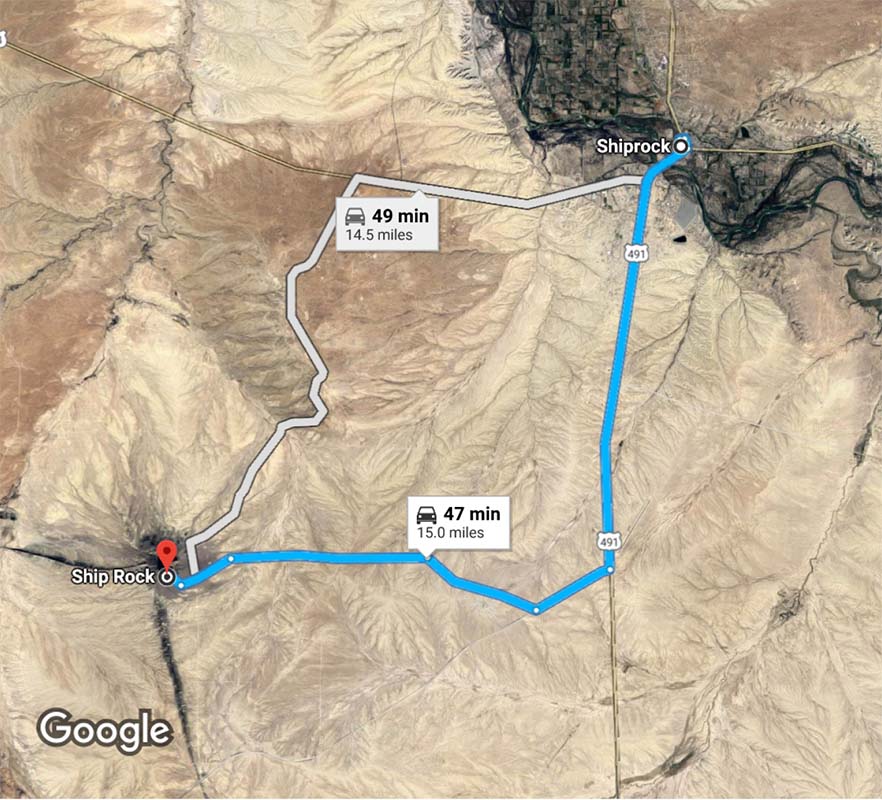 If you have a high clearance 4-wheel drive vehicle, then you can consider taking the rough dirt roads to the base. Take a look at the directions Google provides below. However, this likely wouldn't be covered by car rental insurances so drivers do so at their own risk.
Although the US is a relatively safe country to travel in, medical costs are high so international visitors should purchase travel insurance before any trip.
For more details check out our World Nomads review here.
Get a quote for travel insurance now
Navajo Nation
Getting to Shiprock, NM – the rock sculpture and not the town – is not easy for a reason. The Navajo revere the site as a spiritual place. For this reason, there are no paved roads that lead to it, or a visitor center that greets tourists to the most iconic landmark in northwestern New Mexico.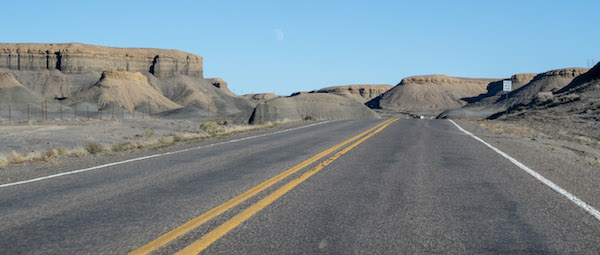 There are many legends surrounding Shiprock Peak in the Navajo culture, but the most consistent is how Shiprock brought the Navajo south from their previous location to the Four Corners region.
Similar to other cultures around the world, rare rock formations are considered mystical and not to be climbed. An excellent example on the other side of the world is Ayers Rock (Uluru) in Australia and the Aboriginals.
For the Navajo, this came to a head when a climber got injured in 1970, which led to the fear someone might die if rock climbing continued; thus making "Rock with Wings" cursed.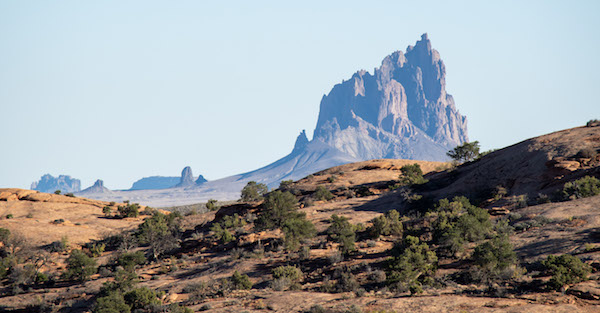 How was Shiprock Formed
Shiprock is a monadnock that towers 1,583 feet over the surrounding desert plain, and 7,177 feet above sea level.
So how did this isolated rock formation come into existence?
Believe it or not, the denser minette rock once formed the neck of a volcano.
The surrounding softer rock has since eroded away revealing what we now know as Shiprock, resembling a 19th century clipper ship.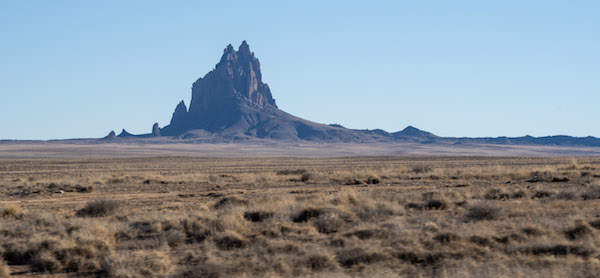 Northwest New Mexico Nearby Attractions
We researched our trip using a guide book and was surprised to find so many interesting attractions in northwest New Mexico. Click on any of the links below to explore the region further with DIY Travel HQ:
Find more inspiration in one of the New Mexico guide books below!
Know Before You Go
Hours: Dawn to dusk
Fees: Free
Duration: 15 minutes to 3 hours
Nearest Large City: Shiprock at 45 minutes by car
Best Seen From: Route 64 on the way to Four Corners
Other Considerations: Bring water, sunscreen, and make sure you have enough gas
Did you enjoy reading about Shiprock?!
Pin it and help others find it too!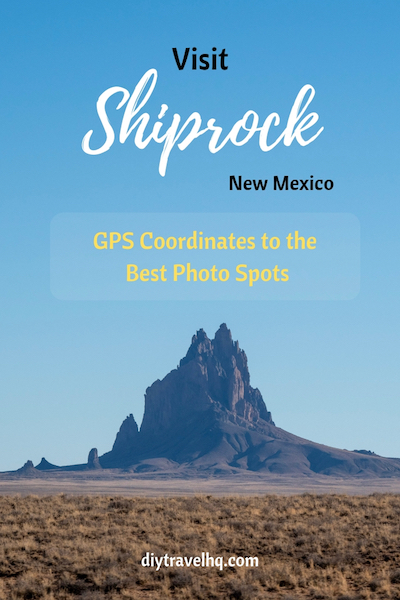 Disclaimer: This post contains affiliate links which means that we receive a small commission if you click on a link & purchase something that we've recommended, at no extra cost to you.
Visited in October 2018
Updated in July 2019