Semuc Champey is one of the top attractions in Guatemala – from transport & hostels to safety & Kanba Cave, find out everything you need to know about Semuc Champey.
Semuc Champey is undoubtedly one of the top destinations in Guatemala – whether you are an independent traveller, package tourist or someone in between. While you're there, don't miss out on the amazing candle-lit tour of Kanba Caves.
But it's pretty easy to visit Semuc Champey without a tour – as long as you have the stamina for the long & arduous road there.
In this post we'll cover:
Find more inspiration in one of the Guatemala guide books below!
Safety at Semuc Champey
Safety is the first thing most people consider before traveling to Guatemala.
As of mid 2019, the US Government is issuing a Level 2 travel advisory for Guatemala and for travelers to exercise increased caution. You can check the current travel advisory here.
Of course, you should consult your own government advice as well. Circumstances can change fast, especially during elections.
Guatamala is notorious for tourists being robbed or attacked on remote hiking trails. Although the potential still exists, Semuc Champey is very popular so the chances of something untoward happening is slim.
It's also patrolled by a division of the military and local police. They are stationed at the mirador, along the pools, and make the rounds on the paths as well.
The mirador at Semuc Champey is sometimes confused with the lost Mayan city of El Mirador in Peten – don't make that same mistake as it's a competely different hike altogether!
We recommend purchasing travel insurance before any trip to Guatemala. We've been using World Nomads through 80+ countries over the past 12 years and have been really happy with their coverage and services.
For more details check out our World Nomads review here.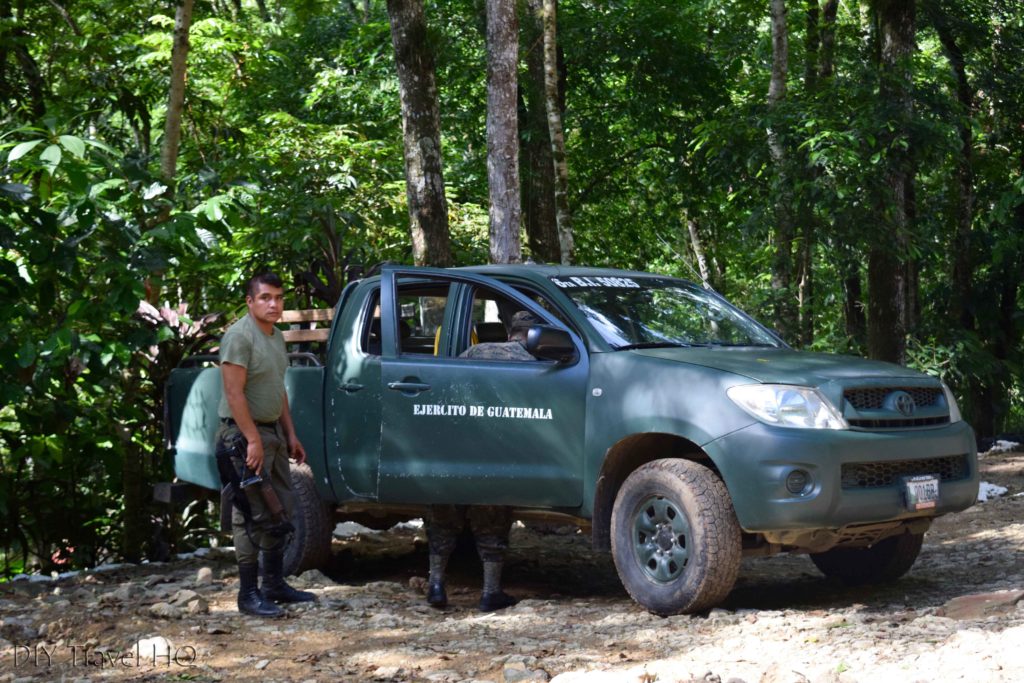 Plan Your Visit to Semuc Champey
Opening hours: 8:00 am to 4:00 pm.
Entrance fee: Q50 / $6.55.
Photography: There's no fee to use your camera. You should definitely bring one!
Duration: Allow at least 2 hour. The hike to the mirador takes 6-90 minutes.
Best time to visit: Go early in the morning so you can enjoy the views in peace and quiet. Tour buses start arriving from 9 am and continue throughout the day. Avoid the weekends and crowds of local tourists if possible.
Food & Drink: There are some street vendors around the entrance selling food, snacks, fruit & drinks. There's no food or drinks inside the park so bring your own or buy some before you enter.
Guides: There are no official guides at Semuc Champey and you don't need one at all. Explore and enjoy nature at your own pace. If you want a guide, it's best to hire one in lanquin through your hostel/hotel or go on a tour.
Toilets: The toilets are at the entrance of the park so go before you enter.
Parking: Even if you have a 4×4, driving to Semuc Champey is not recommended. The road there is extremely rough. However if do choose to drive there is a parking lot at the entrance.
What to bring: We live in our flip-flops but most people will want to wear comfortable hiking shoes to hike to the mirador. Bring sunscreen, a hat snacks and water. There are changing facilities but if you want to swim it's easier to just to wear your swimsuit.
Tours: Keep reading for how to visit Semuc Champey on your own or you can book a cheap tour here.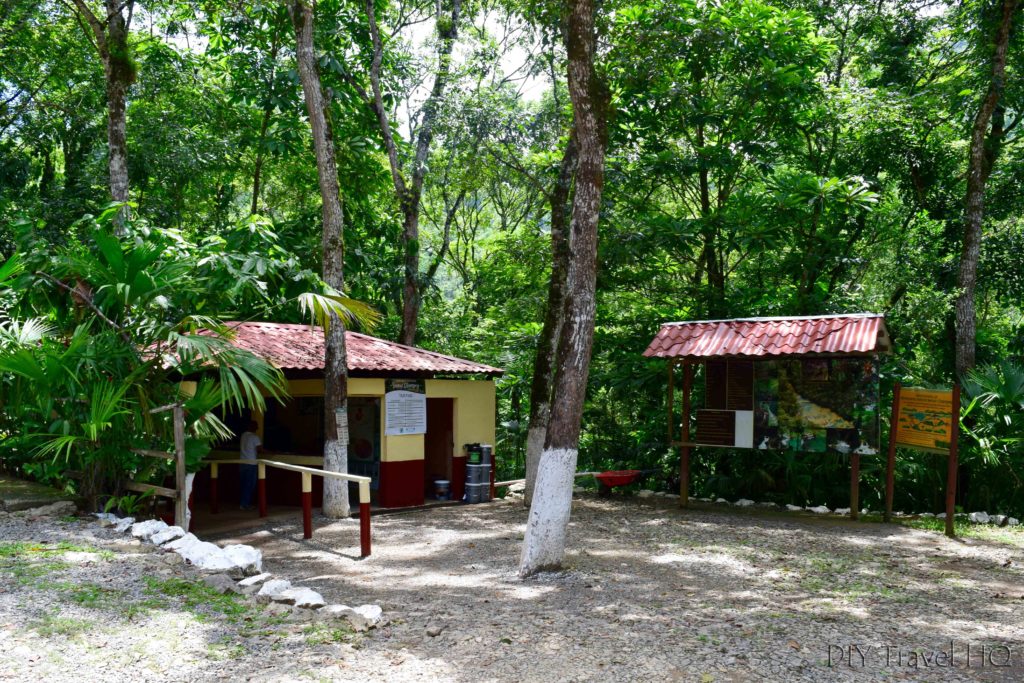 How to Get to Semuc Champey
Lanquin is the base town for trips to Semuc Champey. It's only 10 km away but the road is extremely rough and it'll take you at least 40 minutes to get there.
You can catch a ride there on camionetas, aka pick-up trucks.
When we did the trip from Lanquin to Semuc Champey in 2016 the price was Q15-25 / $1.95-$3.30, depending on your negotiating skills.
As we found out the hard way, the trucks don't run very often. It's best to leave no later than 9 am as transportation will become increasingly difficult and time consuming thereafter.
Getting back from Semuc Champey to Lanquin: The park closes at 4pm but plan on being in the parking lot shortly before that time to guarantee a ride back to Lanquin.
Here's a rundown of our difficult experience getting from Lanquin to Semuc Champey…
Waiting for a Ride from Lanquin to Semuc Champey
The road from Lanquin to Semuc Champey is not for the faint-hearted… see how sometimes the journey is as big an adventure as the destination itself!
After grabbing breakfast in Lanquin, we approached a colectivo driver that travels the road to Semuc Champey and back. A few minutes of friendly bartering knocked his Q25 / $3.30 initial offer down to Q15 / $1.95 per person. The only catch was that we needed to wait 15-20 minutes for more passengers. Fair enough.
We were surprised when he started his engine just 10 minutes later. The only other passenger explained that he was going to take a lap of the village to secure extra passengers to make the trip from Lanquin to Semuc Champey. We travelled down the left segment of the T-intersection until we reached the gas station and grabbed Q50 / $6.55 worth of gas.
Heading back to the center, and passing a few accommodation establishments resulted in no additional passengers. What to do? Well, we went down the second spoke of the T-intersection until we reached the Lanquin Caves. Still seeing no one on the road we headed back to the center again.
We expected to sit and wait at the center until more people arrived, but were pleasantly surprised when we went right at the T-intersection. We were fooled into believing he would soon depart from Lanquin to Semuc Champey and grab locals on the way. Instead, he made a loop around the market and backtracked.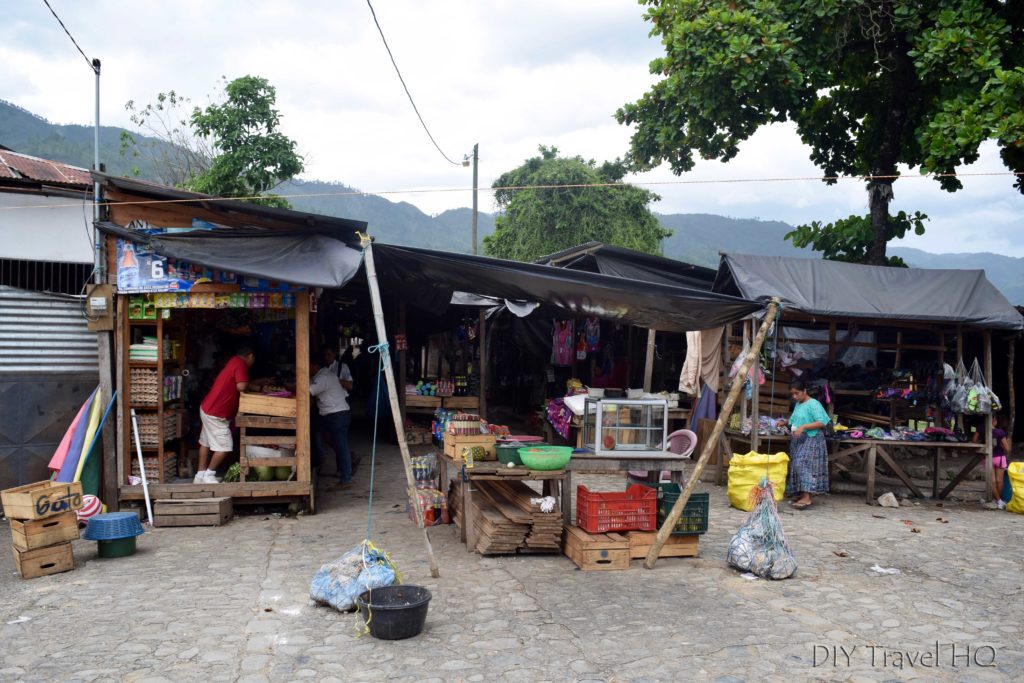 This time, he took a short cut to the Lanquin Caves road and parked the vehicle. His new strategy was to wait until the Coban bus arrived, stop it, and somehow convince the passengers to immediately visit Semuc Champey.
Semuc Champey is not a day trip destination from Coban. There is no reason any Coban passenger would want to not stop in Lanquin first, except the extremely small chance they planned on staying in Semuc Champey.
Having spent the last half hour rocking back and forth in his truck as we toured the city, we had enough. We weren't going to invest another half hour with him to achieve the same results. We were either going to hitchhike, or resolve to try again the next day as it was approaching 11 am already.
Sheena and I walked 1500 meters to where we knew all vehicles would be traveling on the road to Semuc Champey if they passed by. Luckily, there was a truck with several passengers waiting there already. The driver was picking up drinks in bulk.
He originally wanted to charge us Q25 / $3.30, but we sat on the curb until he agreed to Q15 / $1.95. In retrospect we would definitely have just paid him Q25 as it was a fair price for the rough drive ahead.
Rough Road to Semuc Champey
There was a sense of relief once our confirmed ride started on the road from Lanquin to Semuc Champey Semuc Champey. What we quickly realized was that the trip would take longer than expected.
Despite being only 10 km, the dirt road was rough. What made matters worse was that the elevation kept changing along the way. Add in the narrowness of the road, and it was the perfect storm for a long adventure.
Along the way there are some houses, but most of the road to Semuc Champey is lush vegetation.
In the beginning as we were rounding the corner of the first climb you could see the town of Lanquin down below.
The other thing smoldering in the forefront was a garbage dump that might one day fill up the whole valley.
Thirty minutes later, and only 3 km driven on the road from Lanquin to Semuc Champey, we took a mandatory break as the back of the pick-up was filled with fruits and vegetables.
The one questionable aspect was why grab so many items from a remote store while previously in town.
The store owners would then have to make a trip into town to replace everything he bought. The driver's son was very helpful packing the truck. His no nonsense attitude was amusing as well.
He hung onto the truck bed bars like a pro, and never seemed to tire. Obviously, this wasn't his first trip on the back of a truck.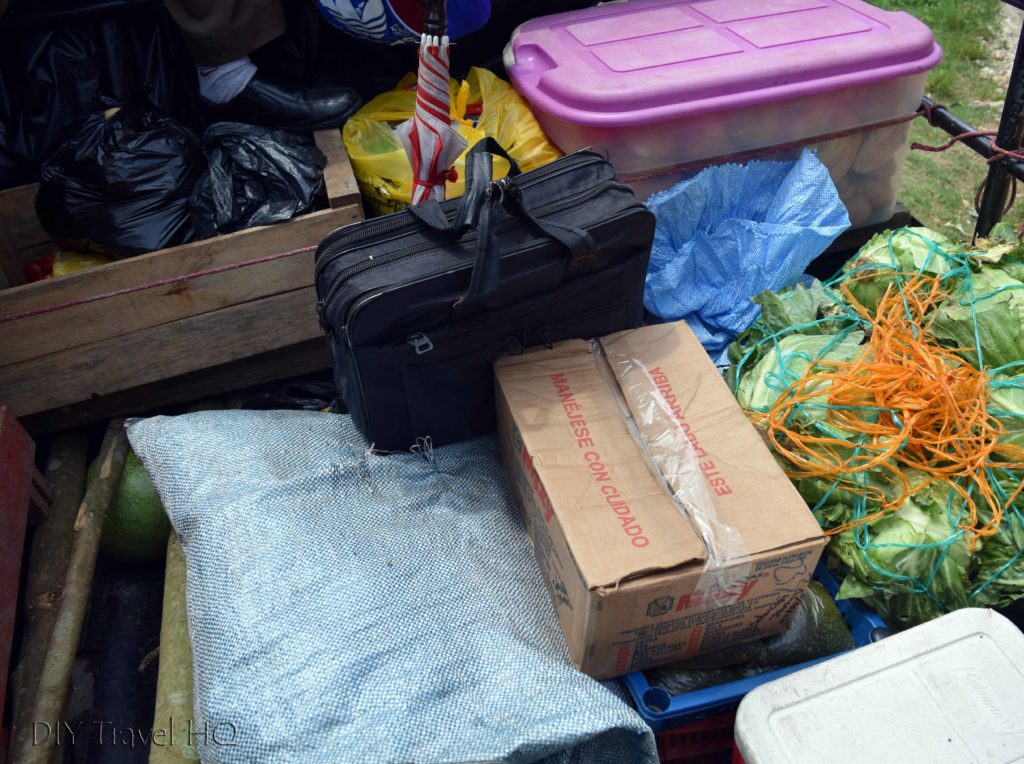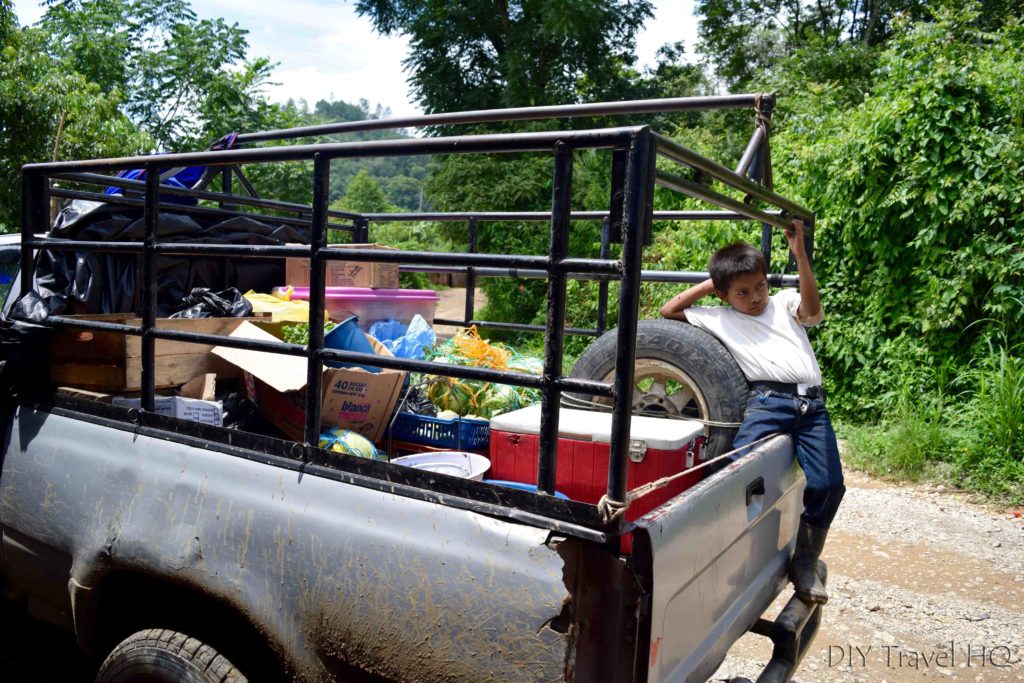 Despite enough groceries to feed an army, we somehow managed to still fit. Some passengers were sitting on the side bars, while we squeezed into the remaining floor space.
We later learned that the food would indeed feed an army that was stationed at Semuc Champey
The other highlights we came across on the road from Lanquin to Semuc Champey were women washing clothes in the stream, and the back-and-forth passing with both a cement and a bottled water truck.
We happened to pass them before stopping for groceries, and had to repass them after.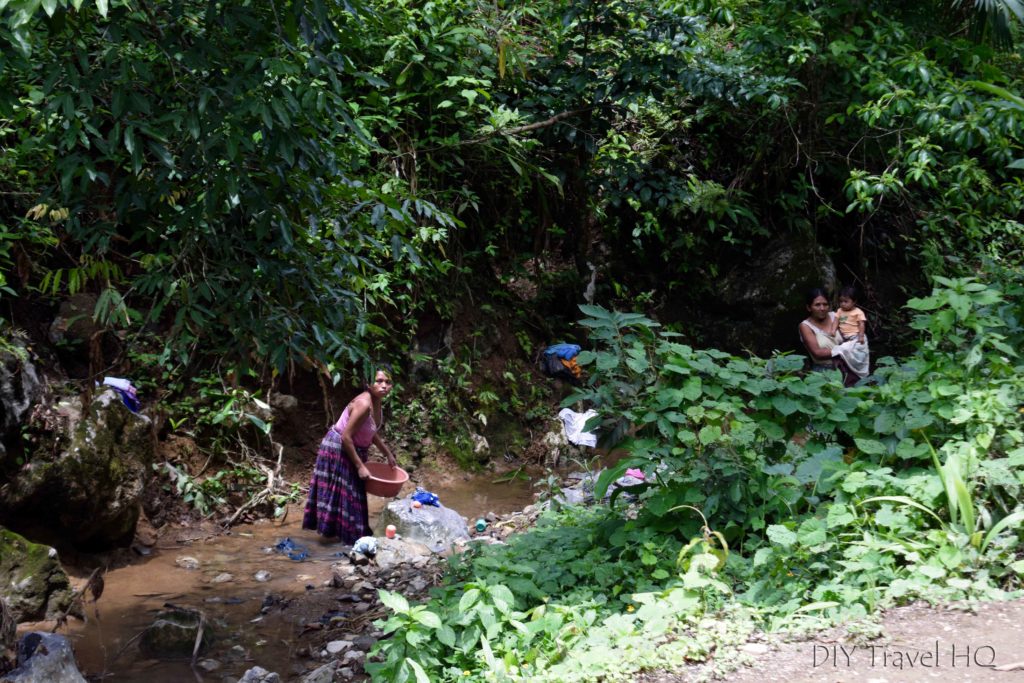 Saying goodbye to our travel companions, we eventually reached our destination & headed off to find the Kanba Caves candlelit adventure tour!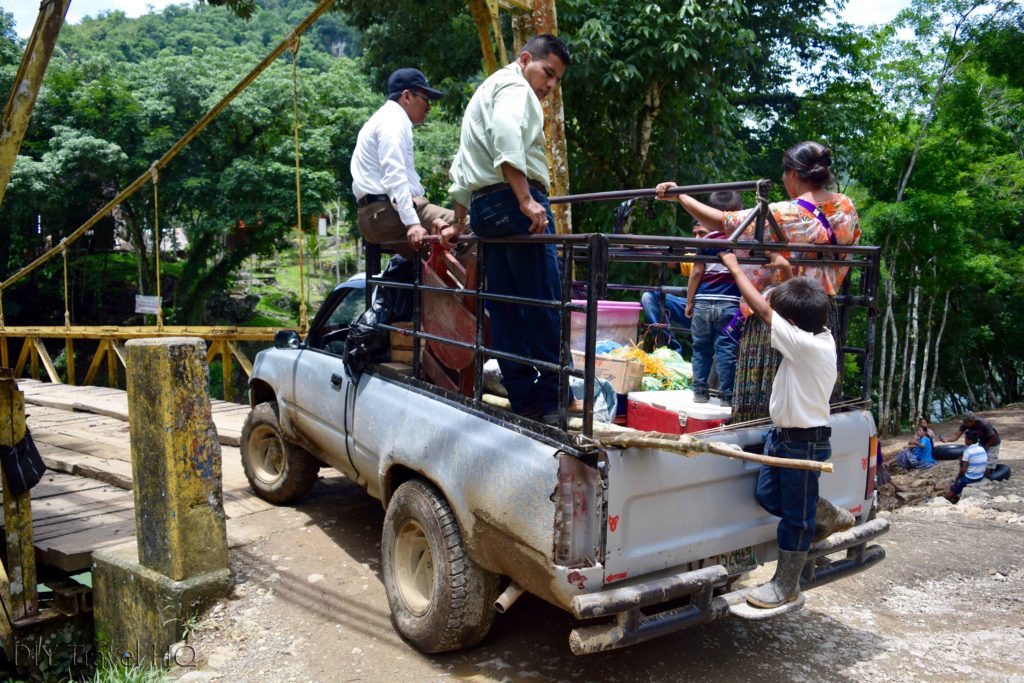 Things to do at Semuc Champey
#1. Hike to Semuc Champey Mirador
If you're an adventurous traveler we recommend doing a tour of nearby Kanba Caves first, before heading to Semuc Champey. You can read more about Kanba Caves later in the post…
Once you finally arrive at Semuc Champey, pay the Q50 / $6.55 admission fee and log your name in the guestbook.
Continue along the path for 50 meters before deciding whether to tackle the mirador hike, or head straight to the pools.
We recommend visiting the mirador first. Not only will you want to take a dip after the semi-grueling climb, but you also won't feel rushed to leave the pools. Either way, the mirador is 100% worth the effort.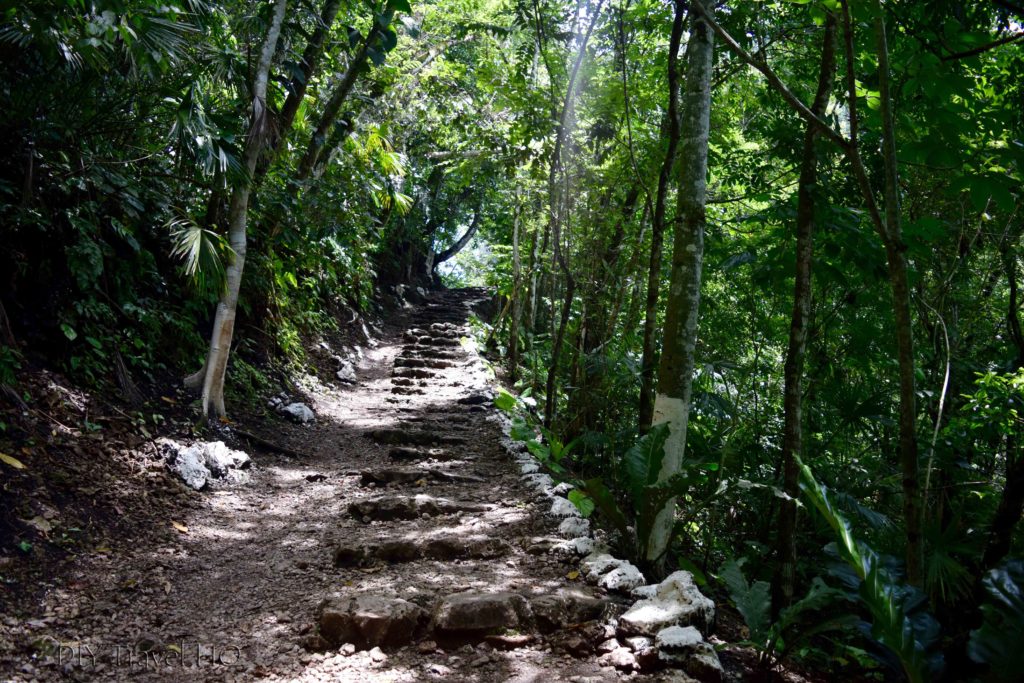 The climb to the mirador takes approximately 30 minutes. Not only is it easy to visit Semuc Champey independently but there's no need to hire a guide either.
This time is split between wooden and stone stairs. Rarely will you get to walk on a level surface.
You will be surrounded by lush jungle, but virtually no wildlife. Luckily, there aren't even mosquitoes to bother you.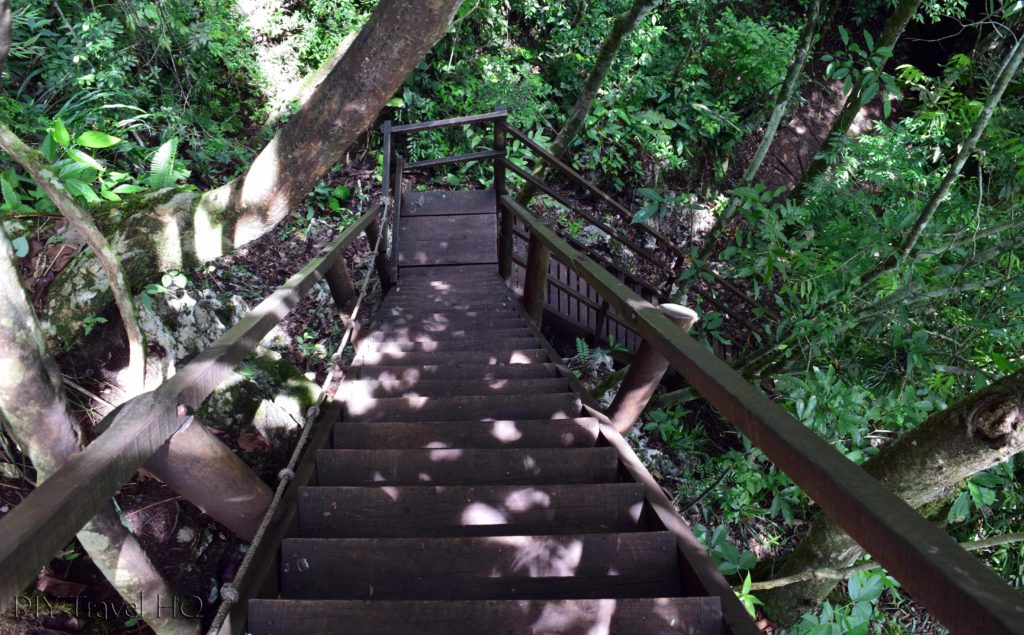 As we reached the wooden mirador platform, we were surprised to see three military and two police personnel.
From the mirador, you can capture Semuc Champey in all her glory. Pool after pool after pool awaits you. All you have to do is get down the mountain to enjoy them.
The mirador is roughly in the middle so you have another 20-30 minutes to descend.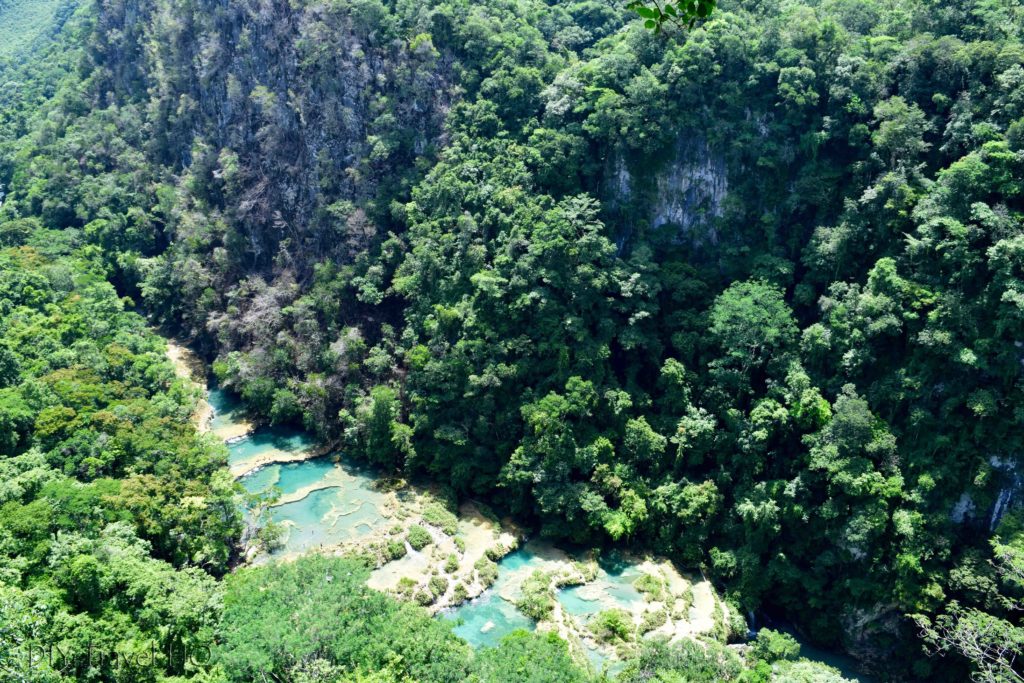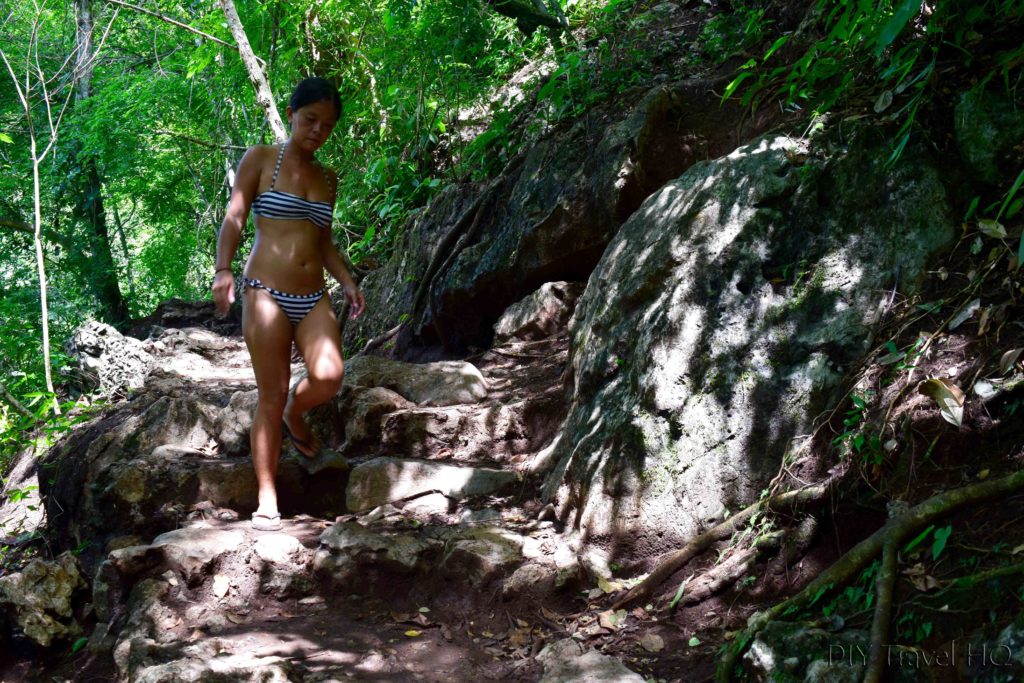 #2. Swimming in the Semuc Champey Pools
Most tourists come to Semuc Champey for a swim in the scenic pools.
However, some leave oblivious to what makes this natural attraction unique.
The pools are formed on a bridge carved out by the Rio Cahabon that flows underneath. Yes, you are actually swimming on top of a raging river!
The only evidence that this is actually occurring is at both ends of the natural bridge that are roped off. You can see just how powerful the river is as it tunnels its way through the rock formations.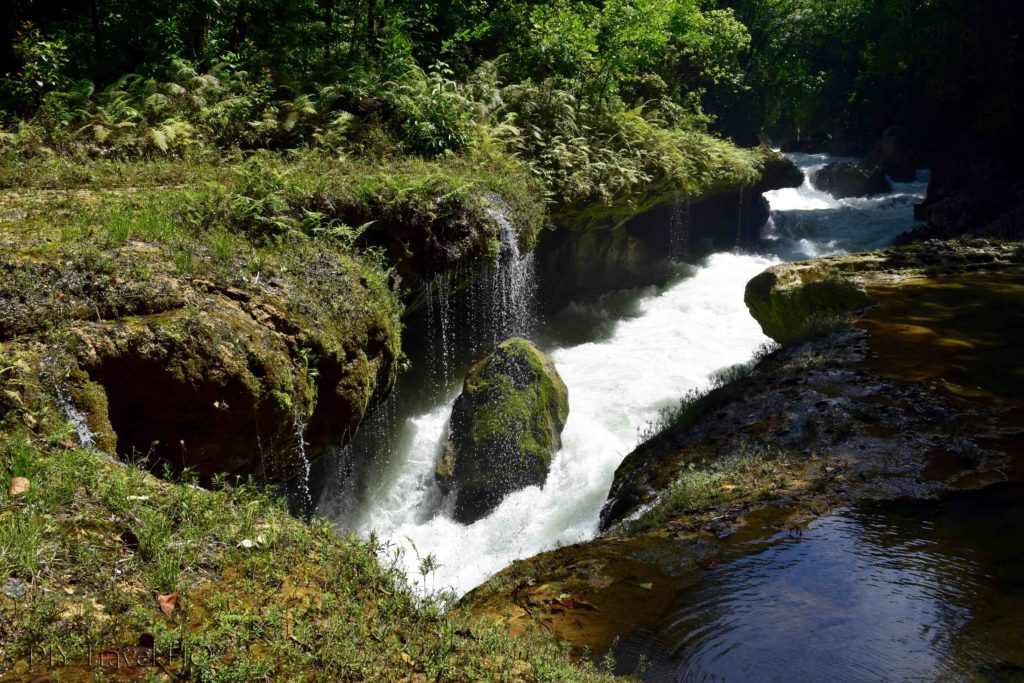 Semuc Champey's pools are filled by at least one stream that eventually winds up in Rio Cahabon.
In the process, the turquoise water creates beautiful pools to swim in as they overflow each tier.
Sections receiving less water allow for the growth of vegetation. The highlight is jumping in, and then swimming from pool to pool.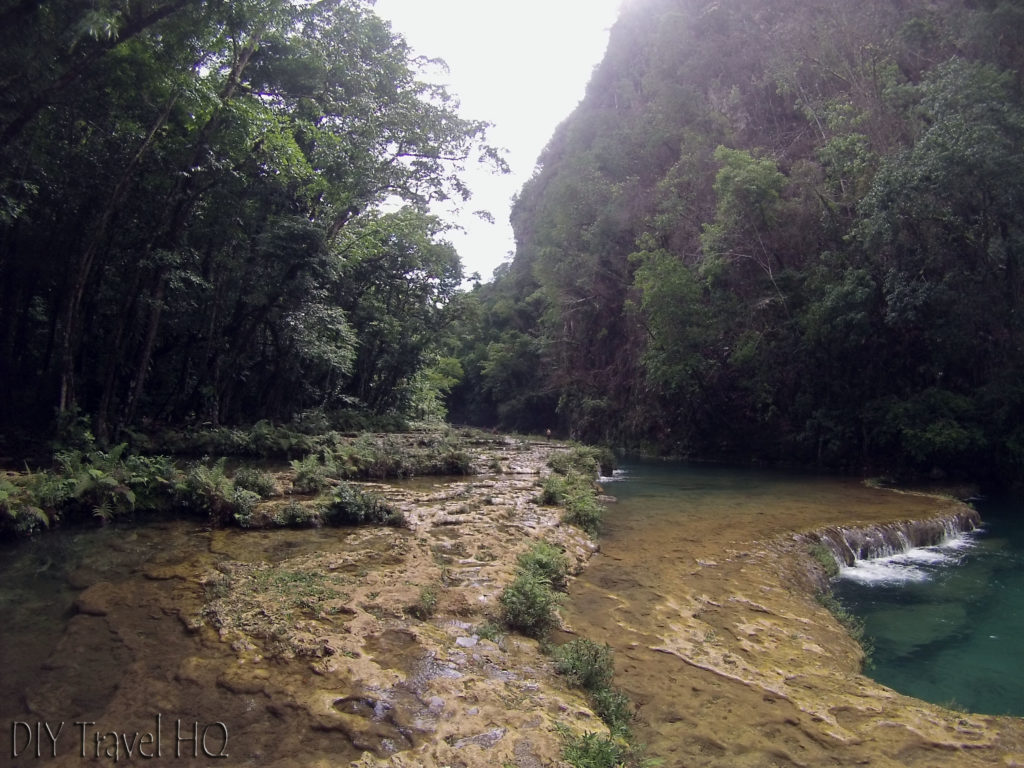 The pools stretch roughly 300 meters, and in the middle are lockers of all shapes and sizes. You can either take turns watching your bags, or bring a lock so everyone can play at once.
Very few places provide you this opportunity for free – another reason why it's easy to visit Semuc Champey without a tour, you don't need anyone to watch your stuff while swimming!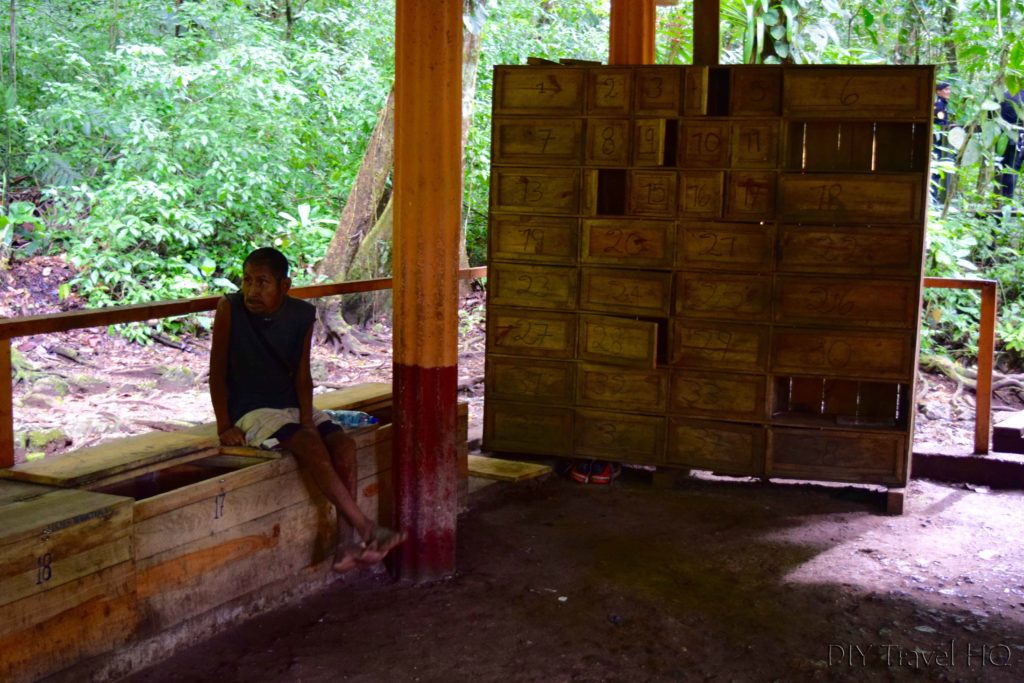 There are three main points to enter/exit the pools.
The top section allows a glimpse of the Rio Cahabon disappearing, the middle is the most popular with the nicest pools, and the bottom level is more secluded.
Try all three to see what you like best.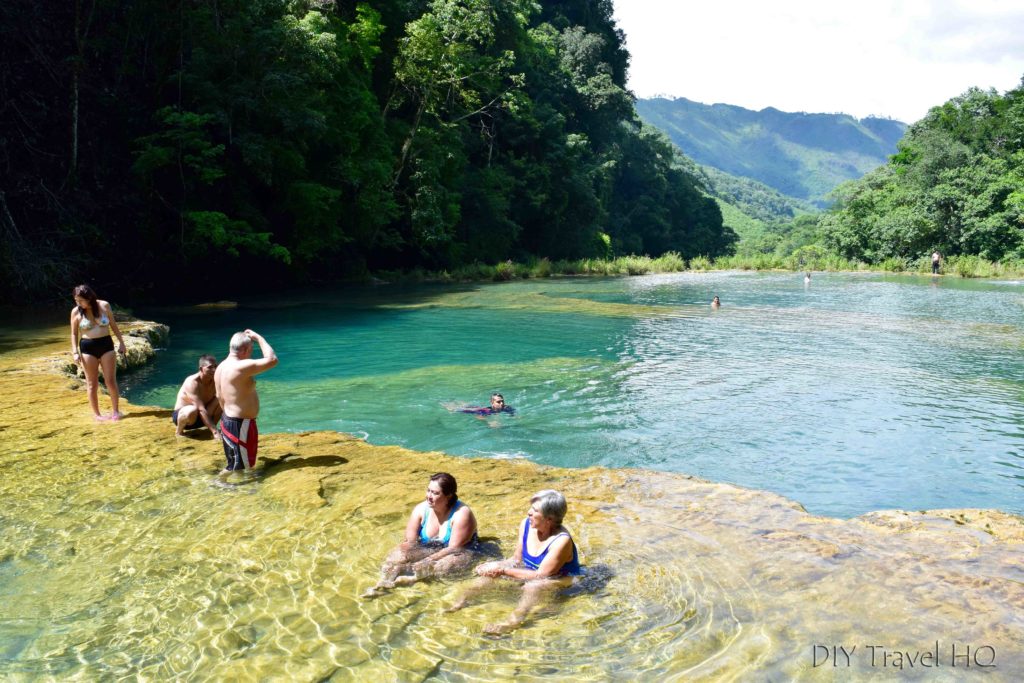 When you are done swimming, take the scenic walk along the river – visiting Semuc Champey on your own gives you the freedom to do as you like.
From a lookout, it is possible to see the Rio Cahabon emerge from the cave as the water from the pools pour down as a series of waterfalls.
It is just a 5 minute stroll back to the entrance from this lookout.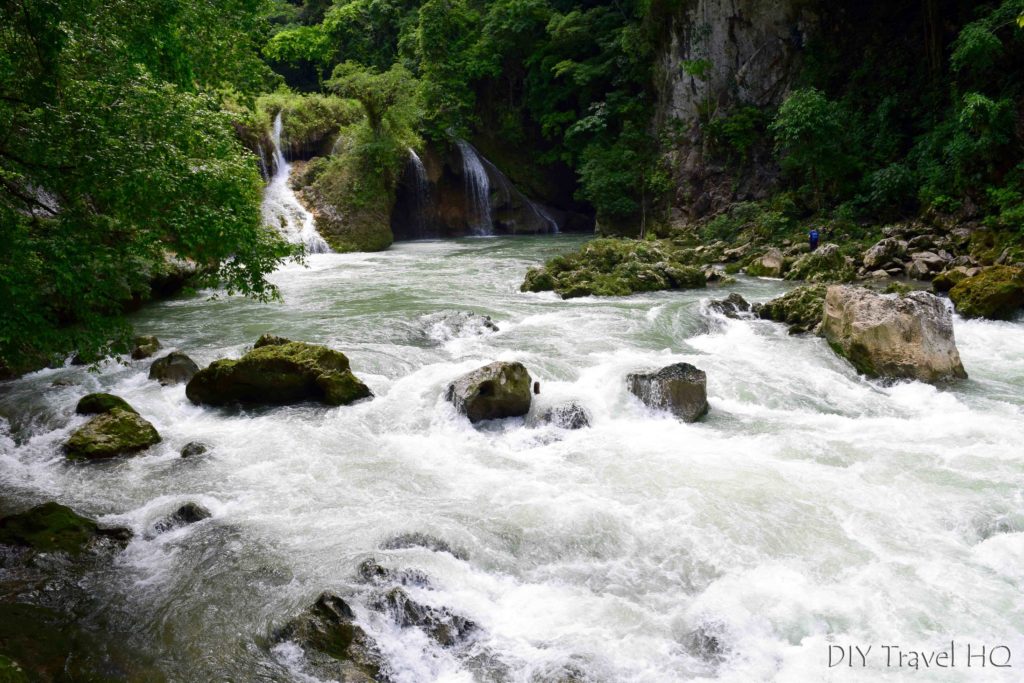 Semuc Champey Caves
Combine a visit to Semuc Champey with the amazing Kanba Caves candlelight tour.
We recommend doing Kanba Caves first so you can have the rest of the day to enjoy the park. Tours run at set times, usually on the hour. It's located before the bridge, and 200 meters down a dirt road is the office. Along the way you cross over a cascade that leads to the entrance of the cave.
Depending on your timing and how you arrive, your tour group can range from 2 to 30. We had a private tour, but saw a massive group from a hostel in Lanquin returning as we started.
Seeing a steady stream of bikini-clad women and shirtless men carrying candles in a dark cave was an unreal experience. This combination probably exists nowhere else on Earth.
Kanba Caves Tour: Q60 / $7.85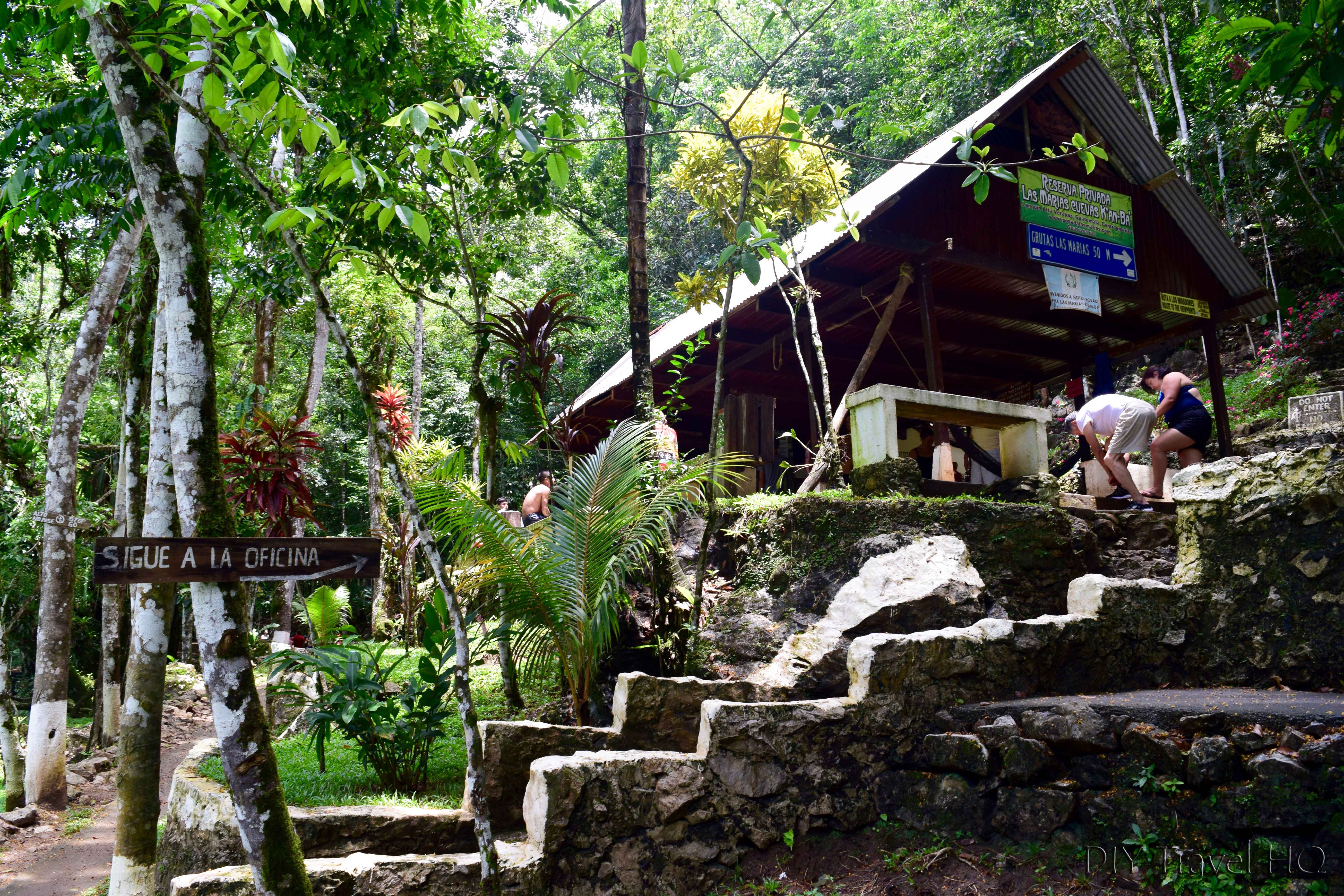 What to Bring to Semuc Champey Caves
Upon payment, you are handed a candle and nothing else. There are no hard hats, torches, or protective footwear. Life vests can be rented for Q10, but you wouldn't be doing this tour if you needed one. It is best to either wear closed shoes, or go barefoot. Flip flops are useless.
The only camera I would recommend bringing is a point-and-shoot waterproof camera. GoPro's will only show darkness unless you have a proper torch, and cellphones in waterproof cases reflect the light so all images are blurred.
Worrying about a camera while you swim one handed isn't the most enjoyable thing. If you drop it, you may never get it back. You also run the risk of damaging it as it could easily bang against rocks or the ladder as you are climbing.
Kanba Caves Candlelight Tour
The start of the tour takes you up several flights of stone stairs to the Kanba Cave entrance. It is here that you light your candle before entering the dark chambers. The first 15 meters involve wading through knee deep water, but be mindful of the stalactites while your eyes adjust.
Crossing over a sediment island leads you to your first true test. Your challenge is to swim 20 meters one handed while making sure your only source of light does NOT go out! If it does, then you have to hope you keep the person in front of you in sight.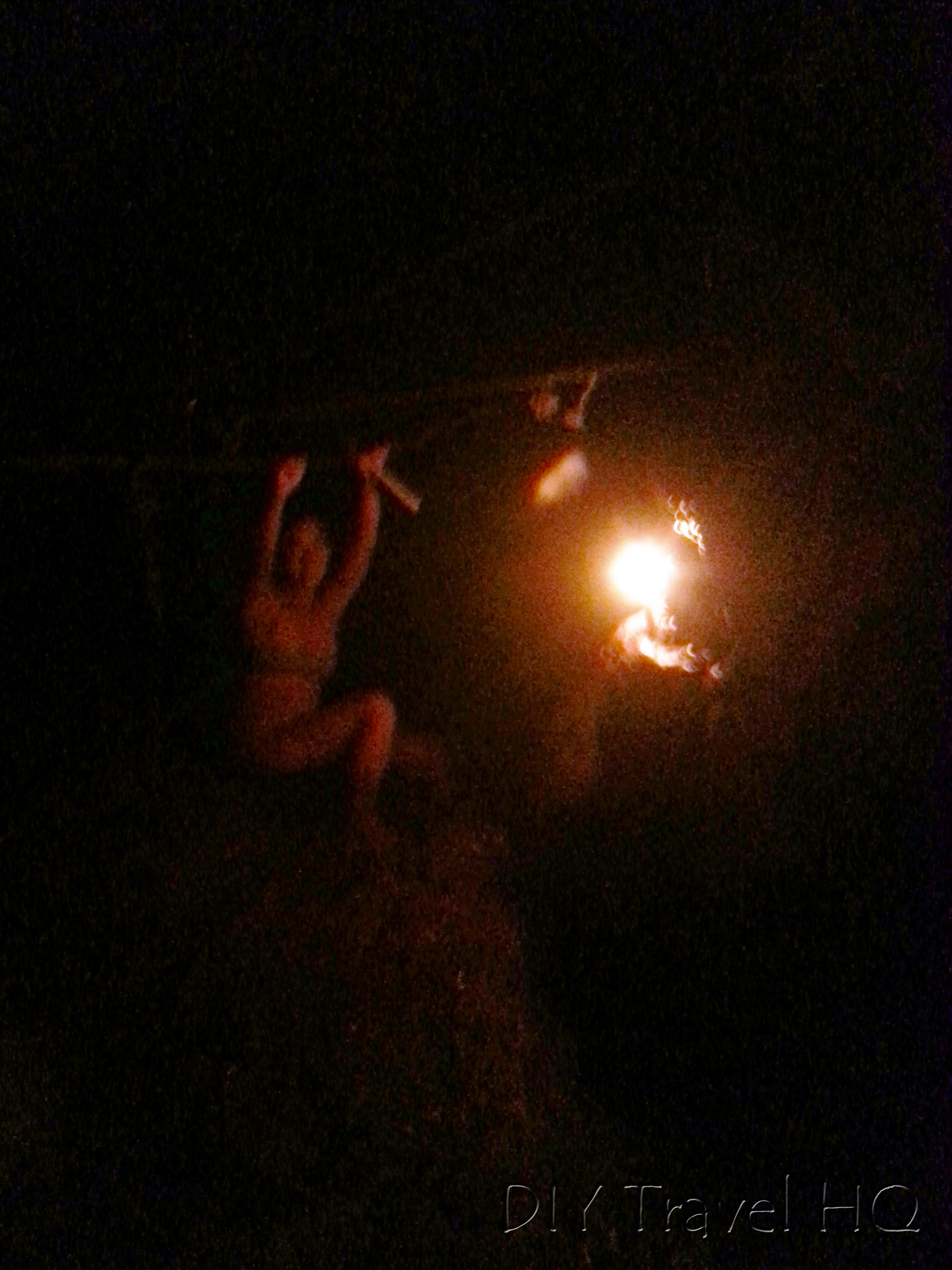 Sheena's candle went out, and we couldn't relight it despite trying for over a minute to dry the wick. Her candle then became a tasty treat as she clenched it between her teeth in exchange for a second free hand. Luckily, the tour company set up candles along the remainder of the cave to provide an easier experience. The last 100 meters consisted of a series of ladders, swims, ledge walks, and a few places you had to weasel through.
It was at this point that I felt disappointed as the reviews online seemed a lot more challenging. That is when the guide informed us we could climb the near vertical wall, and plunge into the dark pool at the bottom.
Since this was the turnaround point, there were no longer any candles clinging to the walls providing light. Instead, I was the one clinging to the wall. Making sure to duck my head as I leapt forward, I took the leap of faith. The pool was about 2 meters deep as I felt the gravel bottom upon entrance.
On the way back we were shown a few slides into shallow pools with one last test to come. We had to jump through a hole with gushing water into the unknown. The lack of light, and deafening rush of water keeps the mystery alive until after you muster enough courage to take the plunge.
The drop is 1 meter into another 2 meters of water. The initial gasp of air you take after surfacing is one of excitement and terror as you look around and try to locate your surroundings in the dim light.
In a few seconds, you realize you are back at the first ladder where the candles started lining Kanba Cave. After relighting the candles, it feels like a short swim and walk back to the entrance of the cave.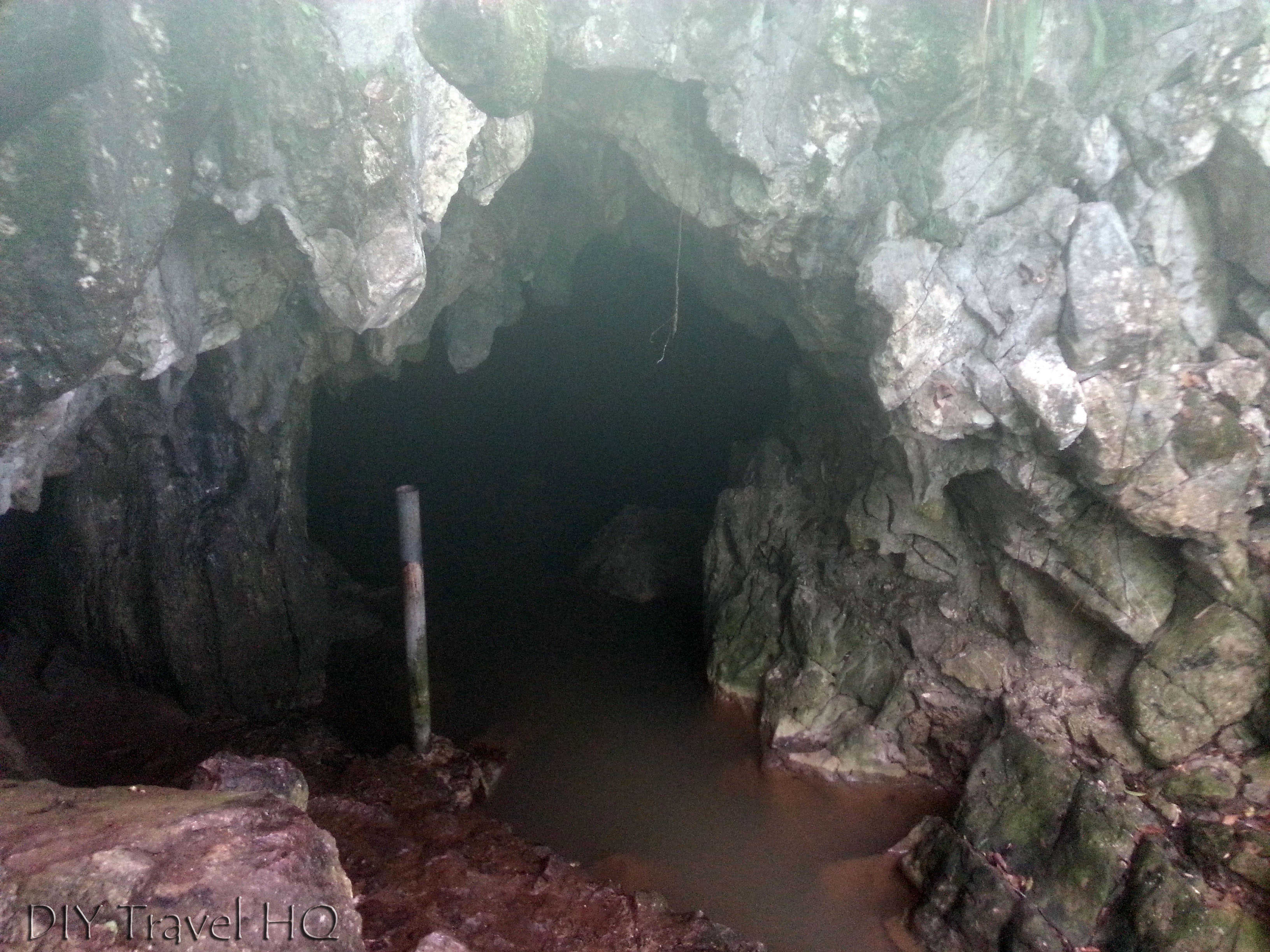 Are Semuc Champey Caves Safe?
Kanba Caves would never be allowed in the US, but it is relatively safe given the conditions. Besides the initial swim in darkness for effect, the remainder of the cave is moderately lit by candles attached to the walls. In fact, it is lit well enough that you no longer need to carry your candle.
The ladders are secure and covered with non-slippery tape. There are ropes that guide you during the walking sections, and can also be used to hold on to while swimming.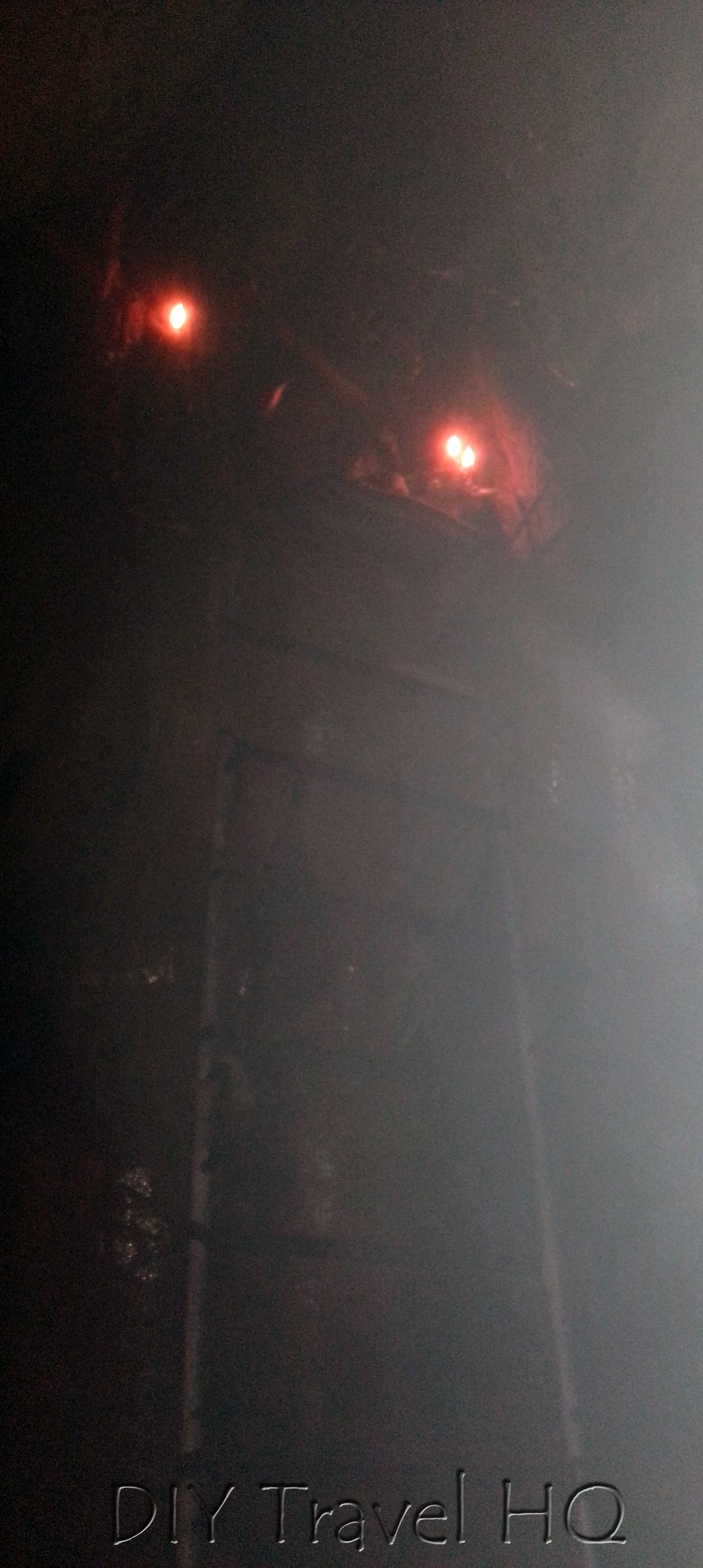 The section that leads up a ladder and along a ledge next to a drop-off has a rope webbing to prevent falling and can be used to balance oneself. The two leaps of faith are also not mandatory as those opting out of the second one can descend down the ladder instead.
The most dangerous aspects are the guide zooming ahead before waiting, and obstacles in the water that you might not see. There is a good chance you will stub a toe, bang your head, or whack your knee against something.
However, these are minor and really depend on your comfort level. Keep in mind that you enter at your own risk so travel insurance may be handy.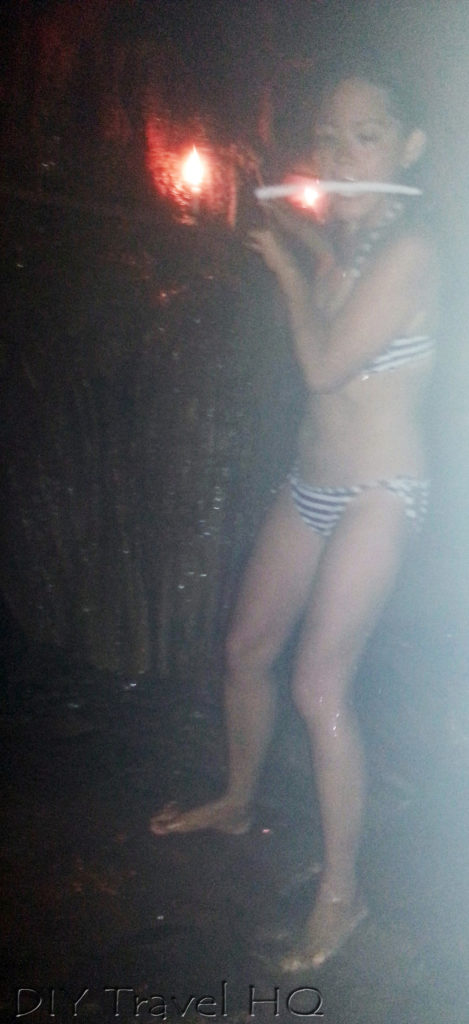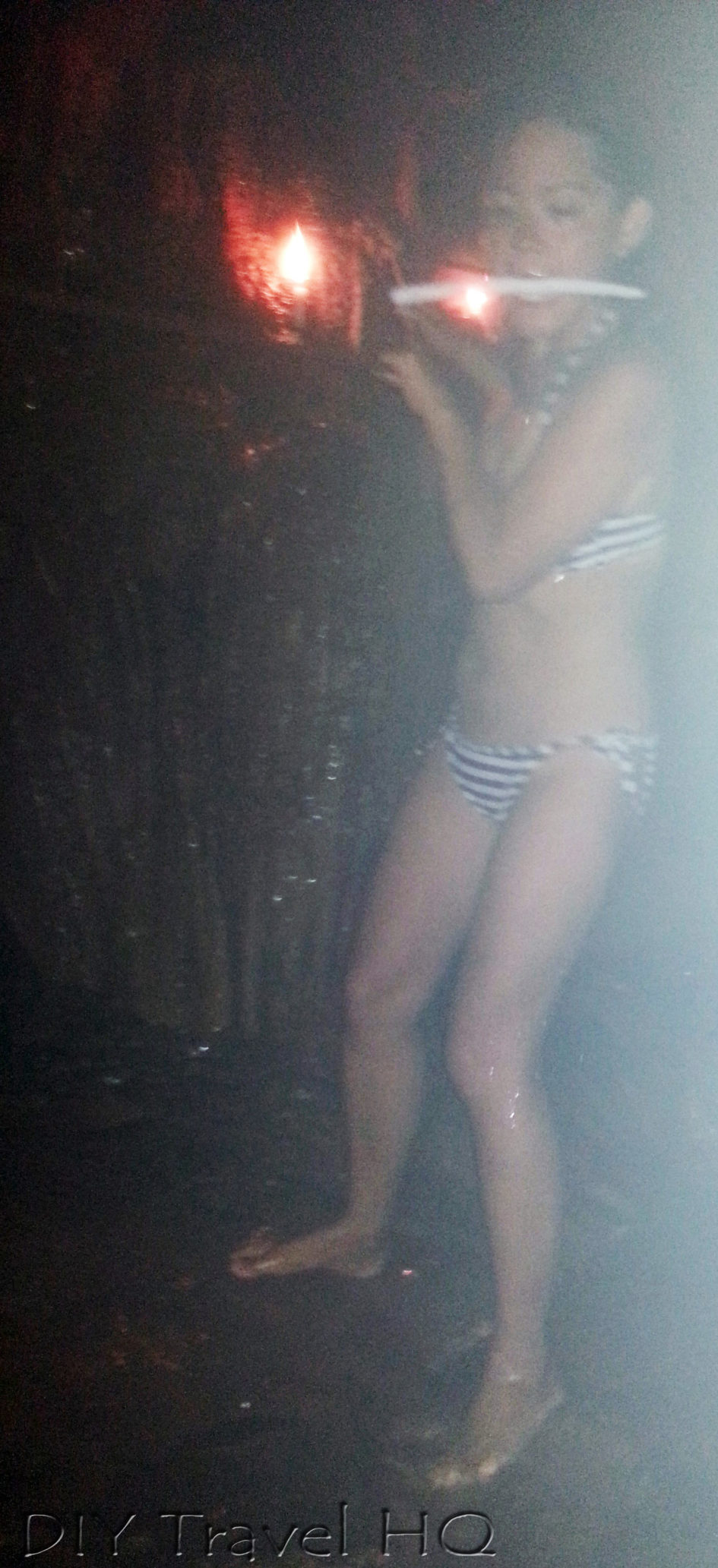 Tubing & Rope Swing
For Q10 extra, or part of an organized tour, you can also go tubing and use the rope swing at Kanba Caves. When I say swing, I really mean a swing that you launch yourself off of…
Picture yourself in a playground trying to swing around the top bar, and launching at the top. Luckily, there is a river to cushion your landing. Unluckily, many people time their departure wrong and wind up doing a gigantic belly flop. It may be funny to watch, but it also hurts!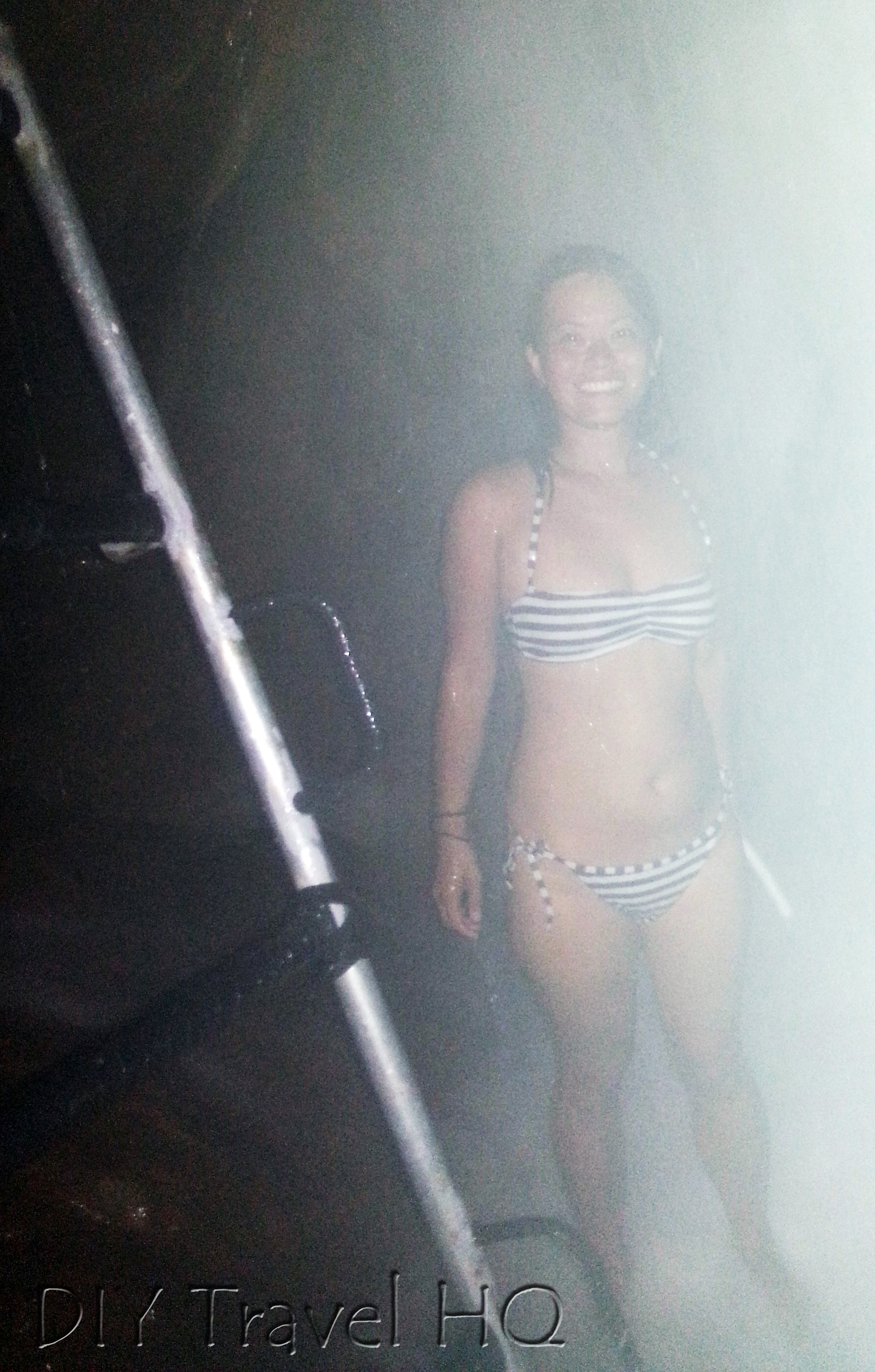 Food at Semuc Champey
There is a small restaurant at the entrance to Semuc Champey, but meals will be more expensive than in Lanquin.
Your best bet is to pack a lunch before arriving, and eat at El Shalom Restaurant when you return.
Local girls also sell chocolate (Q5 for three discs) if you need something to tide you over.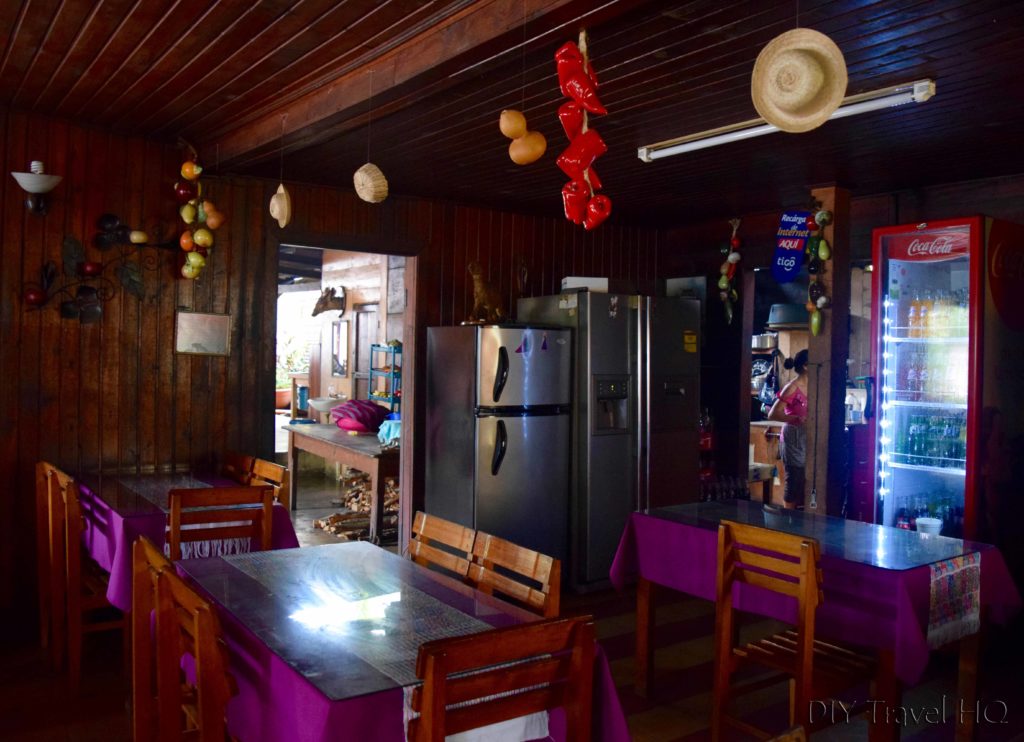 Semuc Champey Hostels
There's no accommodation inside the park but there are two Semuc Champey hostels nearby, both of which are a 10-15 minute walk to the park entrance. They are:
Greengos Hostel: This is the most popular of the two hostels and it's slightly closer to the entrance. Dorms start from Q85 / $11.15 and private rooms start from Q230 / $30.15.
Hostal El Portal: Dorms start from Q70 / $9.20 and private rooms start from Q160 / $21.00.
Around 3km from the park entrance you can find another group of 3 hostels:
Ch'i Bocol Community Hostel
Utopia Eco Hotel
Aruma Eco-Hostel
Keep in mind that if you stay at any of these places ,you'll have to eat all your meals there. Budget travelers are better off staying in Lanquin, where accommodation is cheaper and there are many cheap restaurants.
Check accommodation prices in Semuc Champey
Where to Next?
Things to do in Lanquin
Lanquin serves as the gateway to Semuc Champey & Kanba Caves – see what attractions, accommodation, transport & food options are available in our Lanquin Travel Guide
Read more
Know Before You Go
Semuc Champey Entrance Fee: Q50 / $6.85
Kanba Caves Tour: Q60 / $7.85
Pick-up truck from Lanquin to Semuc Champey: Q15 – Q25 / $2.05 – $3.45
The Final Word: With patience & an adventurous spirit, it's easy to visit Semuc Champey on your own from Lanquin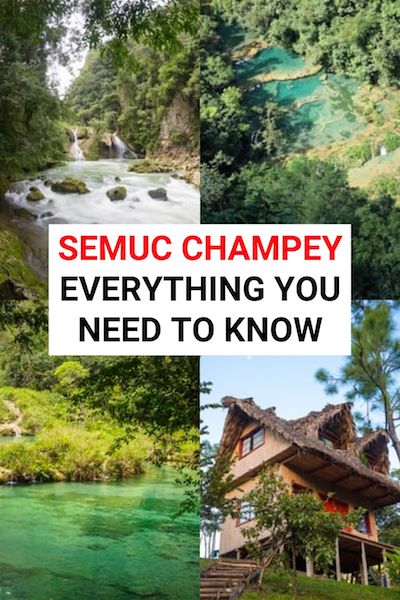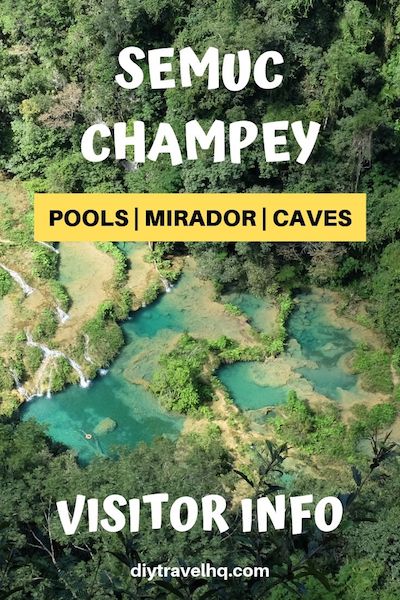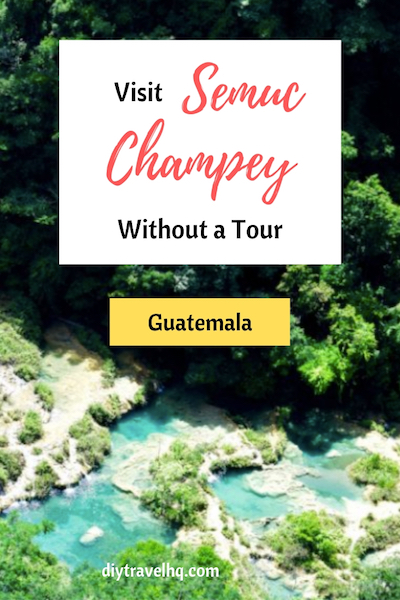 Disclaimer: This post contains affiliate links which means that we receive a small commission if you click on a link & purchase something that we've recommended, at no extra cost to you.
Visited in July 2016
Updated in July 2019