Playa Larga is best known for the Bay of Pigs invasion but it also offers great diving & wildlife opportunities – from accommodation to food, find out how to enjoy one of Cuba's best beaches.

Playa Large: Bay of Pigs History
Before we get into the logistics of visiting Playa Larga we here at DIY Travel HQ want to give you a little introduction to the history of the area, particular the Bay of Pigs.
Like all battles, the victor gets to write history as they see fit.
In this case, the Cuban government has decided to inspire the local citizens with propaganda billboards  with messages of unity and courage.
US-backed exiles invaded both Playa Larga and Playa Giron on 4/17/61 under the Kennedy administration.
Spawned in '59 under Eisenhower, and administered under CIA deputy director Richard Bissell, the covert operation became a full fledged invasion by 1961. With the only restriction being no use of U.S. troops, the CIA trained army of Cuban-exiles grew to 1,400 with a budget of $13 million. However, the mission was doomed before it even started.
The CIA did not realize they were infiltrated, and that Fidel Castro knew the details of the operation before it occurred. I was once told by a Cuban that 1 out of 4 Cubans living abroad is an informant. Regardless if this is true, there were obviously some back in the 1960's.
Fidel scrambled the air force a week prior to the bombings intended to destroy Cuba's planes. American bombers painted in Cuban colors and flown by exiles were not able to strike their targets for this reason. Two days later, the Cuban Air Force sank two supply ships that left 1,400 men stranded on exposed beaches.
Kennedy refused to provide American air support, and the CIA sponsored uprising did not occur. With no air cover, supplies, or Cuban rebels to aid in the fight the battle was lost.
Over 100 men were killed, and close to 1,200 were captured. They were later exchanged for $53 million worth of food and medicine. One of the underlying faults was the CIA's overestimation of Kennedy's commitment, and the strength of a domestic Cuban rebellion.
* Don't forget to purchase travel insurance before any trip to Guatemala. We've been using World Nomads for over 10 years – it's the best-value provider we've found but there are important things to consider. Check out our post & find out which of our claims were successful or denied.
Things to do in Playa Larga
#1. Bay of Pigs Memorabilia
Despite the Bay of Pigs notoriety, there is little in the way of attractions that pertain to the invasion in Playa Larga.
Besides billboards commemorating the victory, the only visible testaments are a tank that was used to repel the invaders, a bunker across the road, and concrete memorials along the road honoring lost defenders.
The Museo de Playa Giron (2 CUC / $2.00), 35 km south, has the best artifacts and pictures for culture vultures.
Outside is a British Hawker Sea Fury, the same aircraft type that was used to sink two supply ships.
Tucked behind a collection of administrative buildings is Playa Larga. The sand leaves a lot to be desired, but the water is ideal, making it one of the best beaches in Cuba – it's also the best way to enjoy Playa Larga!
In the morning, the bay is smooth as glass before gentle waves begin to roll in during the afternoon.
The water is pristine, and still waist deep 30 meters out. There are also a large amount of trees along the shore that provide shade.
Try to time your visit for a weekday, as what is typically a peaceful retreat can quickly overflow on weekends.
#3. Snorkeling and Diving the Bay of Pigs
For most tourists, snorkeling or diving the Bay of Pigs is the main reason for visiting.
Everything else nearby is a bonus.
There are excellent sites along the shoreline from Playa Larga to Playa Giron, and even inland as well.
Dives cost 25 CUC / $25.00 with equipment and transportation, while snorkeling can be free or 10 CUC / $10.00 with a dive shop.
You are essentially paying for a ride, and use of their facilities, however it's an affordable way to enjoy Playa Larga.
The first 50 meters of sea gradually descends to about 15 meters depth before dropping off to form a wall.
The most popular locations are in the middle of Playa Larga and Playa Giron.
Punta Perdiz has excellent snorkeling in addition to diving, and it is possible to see the wreck of a U.S. landing craft.
Inland, Cueva de los Peces is a cenote that you can snorkel or dive.
#4. Criadero de Cocodrilos
Located halfway between Playa Larga and Jaguey Grande is Criadero de Cocodrilos (5 CUC / $5.00), a crocodile breeding ground.
Included in the admission cost is a guided tour (Spanish only) around the facilities to learn about the breeding program.
The overall success of the program has reversed the fate of two species of crocodile that were on the brink of extinction in the surrounding marshes. We've heard that this is only worth it if you have never seen – or sat on a crocodile in Africa – before!
#5. Gran Parque Natural Montemar
I'm not sure visiting the Caribbean's largest swamp is at the top of everyone's bucket list instead of lounging on a beach…
Well, for bird enthusiasts this may actually be true. The most notable species are the tocororos (Cuba's national bird), flamingos, and bee hummingbirds (the world's smallest bird).
The best location is Laguna de las Salinas (10 CUC / $10.00) during the months of November to April. However, costs may be prohibitive for small groups or those looking to experience Playa Larga on a budget, since visiting requires your own transportation.
We recommend Lonely Planet's Cuba Travel Guide
to help you plan your trip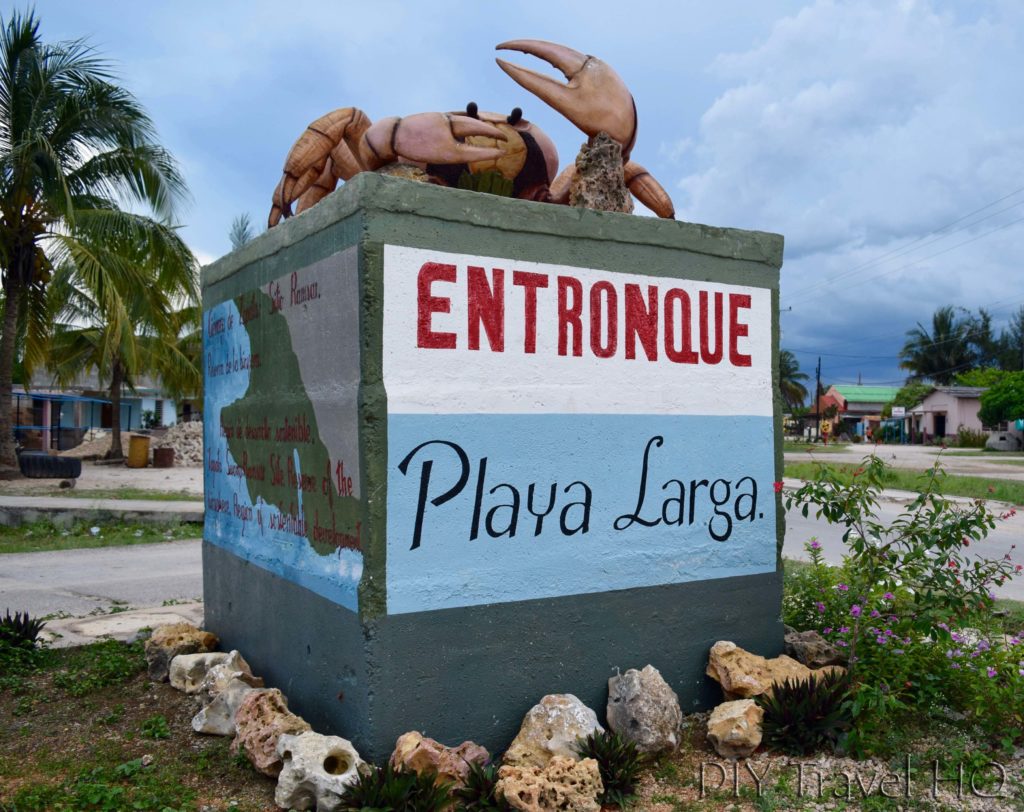 Nothing says 'Welcome to Playa Larga' like a giant crab!
Playa Larga: Accomodation
There are more casa particulares in Playa Larga than could ever possibly be filled at one time.
We recommend Booking.com as a trustworthy source of accommodation in Cuba. Make a booking with our link & receive $20 back on your card after your stay.
Most homeowners will start at 25 CUC / $25.00, but will agree to 20 CUC / $20.00 and some 15 CUC / $15.00.
Located down the road that leads to Gran Parque Natural Montemar, we discovered one casa that offered something unique.
Casa Ediena had a communal space overlooking a small inlet of the Bay of Pigs. Every other casa was cookie cutter.
Playa Larga: Food and Drinks
If you decide to stay at Casa Ediena or the numerous casas nearby, there is a small grouping of peso stalls down the road.
One specializes in pizzas, while the only stand not facing the main road was our favorite.
Besides normal 'pan con' sandwiches (5-10 pesos / $0.20-$0.40), he also served spaghetti (10 pesos / $0.40), and a complete meal for 30 pesos / $1.20.
Confused about Cuba's dual currency system? Take a look at our comprehensive guide to the difference between CUC & CUP.
Our other favorite, and cheapest in town, was the restaurant in the middle of the central fields.
Juice was 1 peso, and pan con tortilla was only 2 pesos / $0.10. You can try the hamburger for 3 pesos / $0.15, but it had the texture of fried mashed potatoes.
Next door is a small store where you can buy cheap bottles of Cuban wine (50 pesos / $2.00), and other drinks.
The best place to buy rum flasks is the store near Playa Larga. They have all four of Havana Club's aged rum varieties.
If you are serious about visiting Playa Larga on a budget, take a look at out our guide on how you can eat Cuban Street Food for $1 a Day.
How to Get to & from Playa Larga
For most tourists, the best way to reach Playa Larga is by Viazul.
However for us, after checking out the things to do in Matanzas, we took a colectivo for 2.50 CUC / $2.50 per person from the bus station, and got dropped off in Jaguey Grande.
From there it is either a 2 km walk or 5 peso horse cart ride to the bus stop on the road to Playa Larga, just south of Autopista Nacional.
The local rate is then 1 CUC / $1.00 in a colectivo to Playa Larga. Colectivo's are shared taxi's & just one of the many ways to travel around Cuba.
We originally wanted to stay in Playa Giron, but decided to stay in Playa Larga when realizing how little traffic went further down the road. The best rate we found was 3 CUC / $3.00 per person. Since everything is in the middle of Playa Larga and Playa Giron, we decided to save our money and relocate our base for the area.
In order to move on, you need to take a colectivo (1 CUC / $1.00) back to the bus stop near Autopista Nacional. The colectivos are located at the small shelter underneath a tree at the southwest of the field near the cheap restaurant.
Disregard the larger bus stop where people congregate. Despite it making sense logically, we never saw any mass transit vehicle stop there. Everyone eventually walked across the field to the colectivos.
If heading east, walk 50 meters along the highway in that direction to the cluster of people. An 'Amarillo' will assist you with getting onward transportation. Do not expect this process to happen fast as it took us nearly 2 hours to find a ride to Cienfuegos (2 CUC / $2.00).
The first bus shook their finger and refused to take foreigners. Finally, a later bus agreed to give us a ride. By law, all government vehicles are required to stop. This does not always happen in reality.
An Amarillo merely finds out the vehicle's destination and tries to match it with potential passengers. If you are going to Cienfuegos, which we don't recommend, you may have to take a Punta Gorda local bus to get into the town.
That's it from us! Interested in starting your own travel blog? See How You Can Set Up a WordPress Blog in 15 Minutes at Bluehost.com
[put_wpgm id=54]
***The Final Word – The excellent and cheap diving in the Bay of Pigs makes Playa Larga a winner! ***
What Bay of Pigs activities would you like to see? Reenactment anyone?!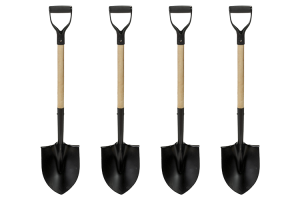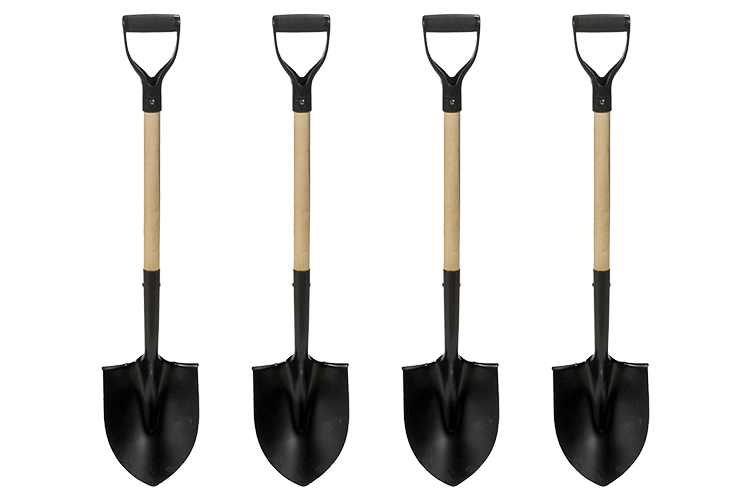 Easy DIY travel outside city centres using public transport
Visited in May 2016
Disclaimer: This post contains affiliate links which means that we receive a small commission if you click on a link & purchase something that we've recommended – at no extra cost to you. This helps us to keep our site running so we can continue to provide free content. Thank you for your support!