Hire a car in the UK and hit the road in southern England! From castles and cathedrals to history and hiking, find out the top 20 places to visit in Southern England.
Places to Visit in Southern England
We visited 19 destinations in the south of England in 8 days… this was pretty ambitious and we were exhausted by the end of it but we wouldn't have had it any other way 🙂
There were just too many things to do in Southern England!
In chronological order these were the places we visited in Southern England:
Find more inspiration in one of the England guide books below!
1. Canterbury
Canterbury has a number of attractions but none as famous as Canterbury Cathedral. It's one of the top places to visit in Southern England. Exterior work is currently being performed for future visitors to enjoy but diminishes current photographs. Luckily the inside is grand and is not being disturbed. Make sure you see the herb garden and dormitory ruins outside.
Other top attractions in Canterbury are West Gate and the West Gate Gardens for a pleasant stroll. Across the street is the Kent Museum of Freemasonry where you can learn about Freemasons and their work on the Canterbury Cathedral.
Walking down pedestrian St. Peter's Street will lead you to the Beaney Institute and Royal Museum for a quick visit for artwork and natural history.
Those that are interested in Canterbury Tales can witness costumed guides that will whisk you away to another world.
Just outside of town on St. Martin's Hill are St. Augustine's Abbey and St. Martin's Church. St. Augustine's Abbey is famous for being the center of religious learning for over 1,000 years and then brought to ruins by King Henry VIII. St. Martin's Church is the oldest church in the English speaking world.
Attractions:

Canterbury Cathedral – £12.50 or free during services
St. Augustine's Abbey – £6.90

Parking: Train station
Tour Option: Canterbury Ghost Tour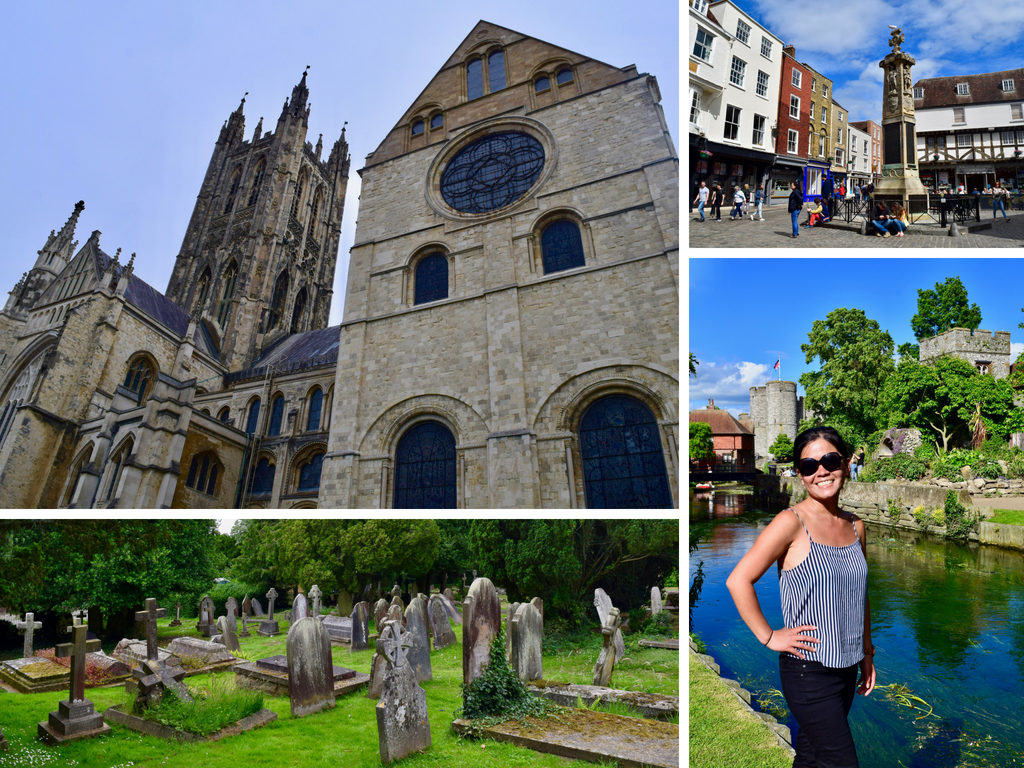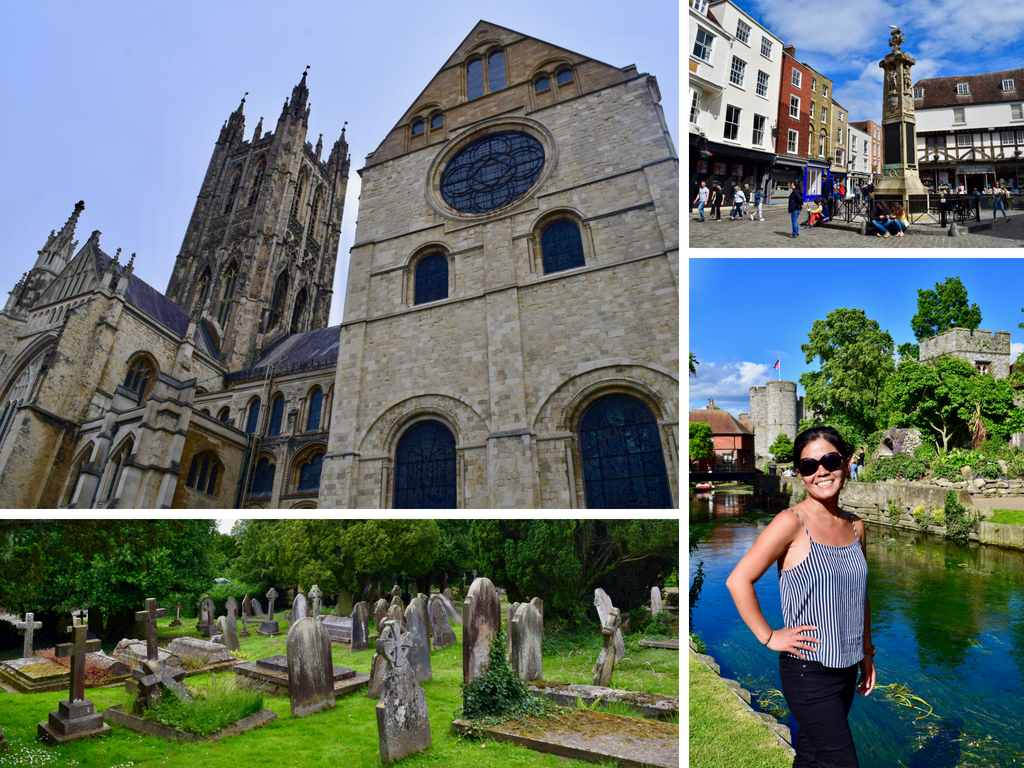 2. Dover
Contrary to Canterbury, Dover packs a powerful punch with just a trio of attractions. These include Dover Castle, White Cliffs of Dover, and the add-on Fan Bay Deep Shelter at Dover Cliffs.
Dover Castle
Dover Castle is the largest in England and coined the Gateway to England. The castle turned fort during World War II has had many modifications throughout its history. Its significance lies in the fact that Dover is the closest point from England to France and continental Europe.
Dover Castle is a worthwhile destination to blend the rich history of British royalty and military utilization. Make sure you leave enough time for the included tours Operation Dynamo and Underground Hospital.
White Cliffs of Dover
The White Cliffs of Dover are made of chalk and provide a brilliant contrast from the blue English Channel and green grasslands. The walk along the White Cliffs of Dover culminates at a lighthouse, and you can see France on a clear day.
Along the walk is Fan Bay Deep Shelter, a series of tunnels dug for defense and the use of two sound mirrors during WW II. This tour differs slightly from Dover Castle since you are required to wear a hardhat with head torch.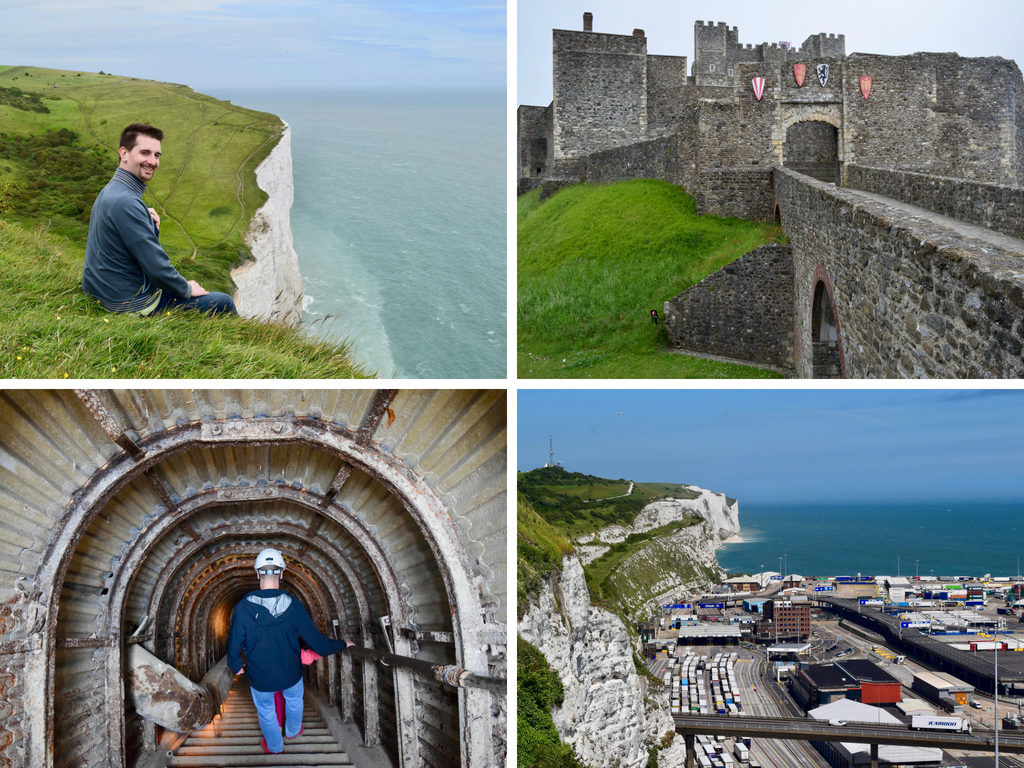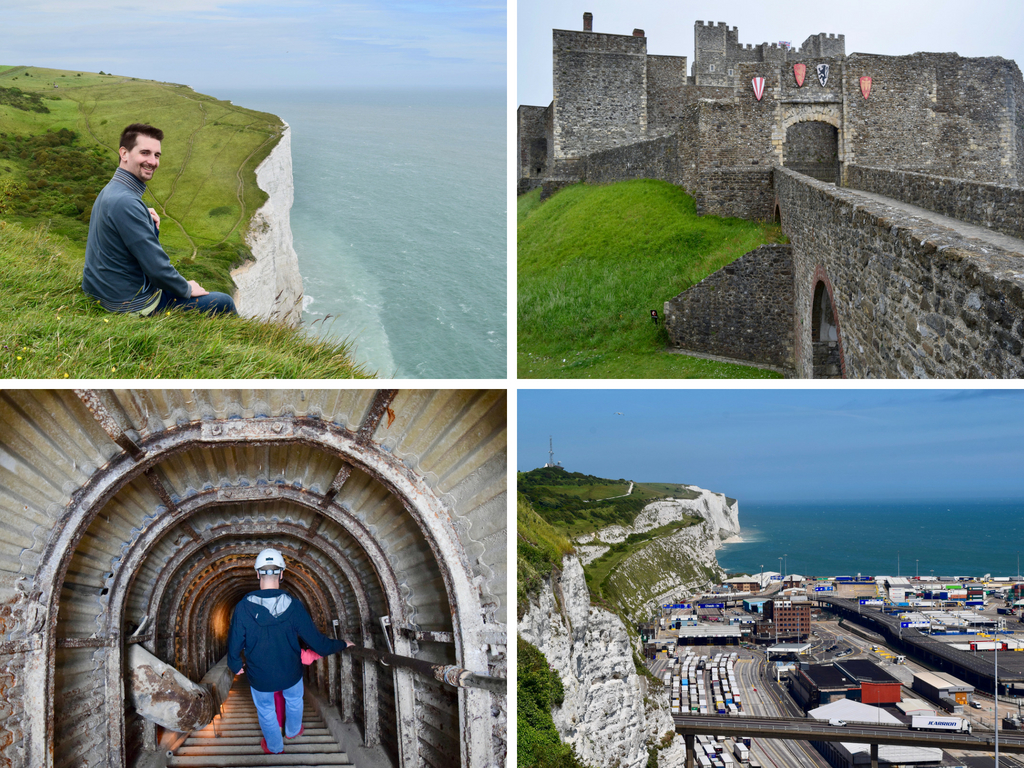 3. Rye
Rye is a small medieval town on the way to Brighton from Dover. After visiting Wells later in our week long Southern England road trip, we realized Rye is not that special. If you do visit, consider exploring the winding streets for no more than an hour.
High Street is the main street, with East Street and West Street branching off. The key attraction, if there is one, is St. Mary's church located at the end of Lion Street. It is small but worth a quick visit.
Attractions: Free
Parking: Although you may find short term parking for free in the old city, consider parking in the parking lots just outside to avoid the hassle. £1/hr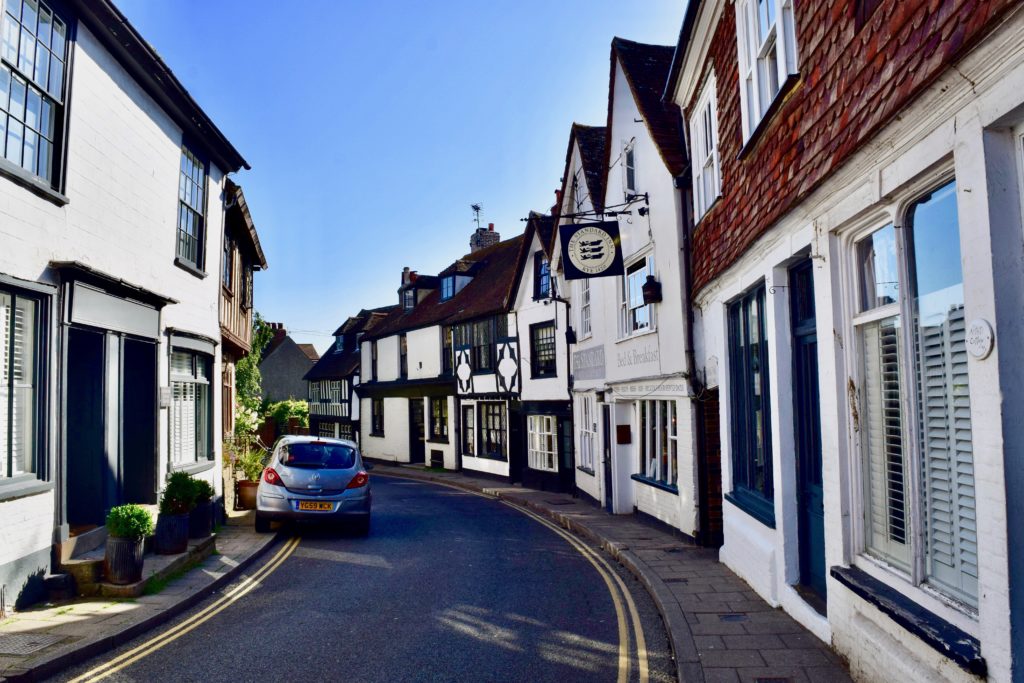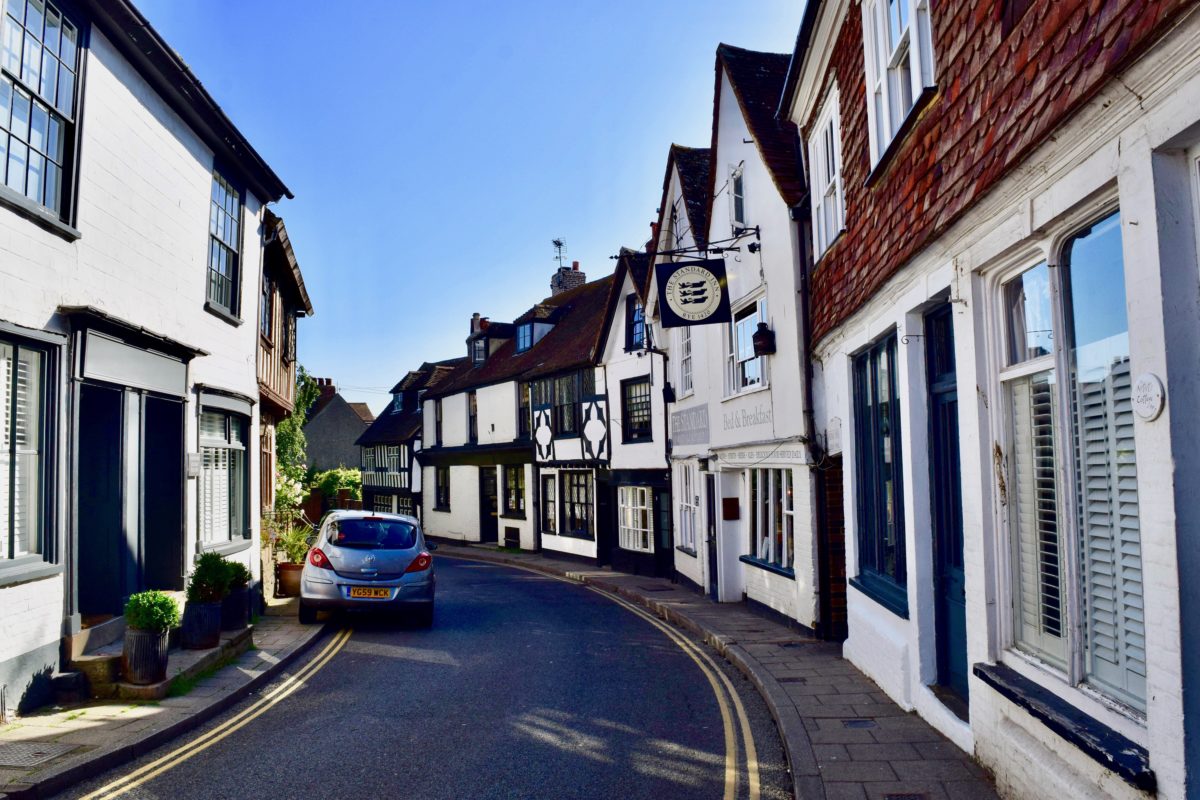 4. Beachy Head
Beachy Head was another attraction we tacked on to our road trip due to prolonged day light hours in England during the summer. Sheena recommended it and the pictures online looked more dramatic than the White Cliffs of Dover.
In hindsight, they were nice but not worth the slow roads that it took to reach the semi-remote location. The White Cliffs of Dover were enough, especially since you can see them several more times along the coastal road to Brighton.
One such place nearby we did not visit, but looked gorgeous, was Seven Sisters. We were awestruck by the winding River Cuckmere seen from the road and learned there is a nice lookout for white cliffs as well.
Attractions: Free
Parking: Paid parking at Beachy Head across from walking paths, but free after 6 pm.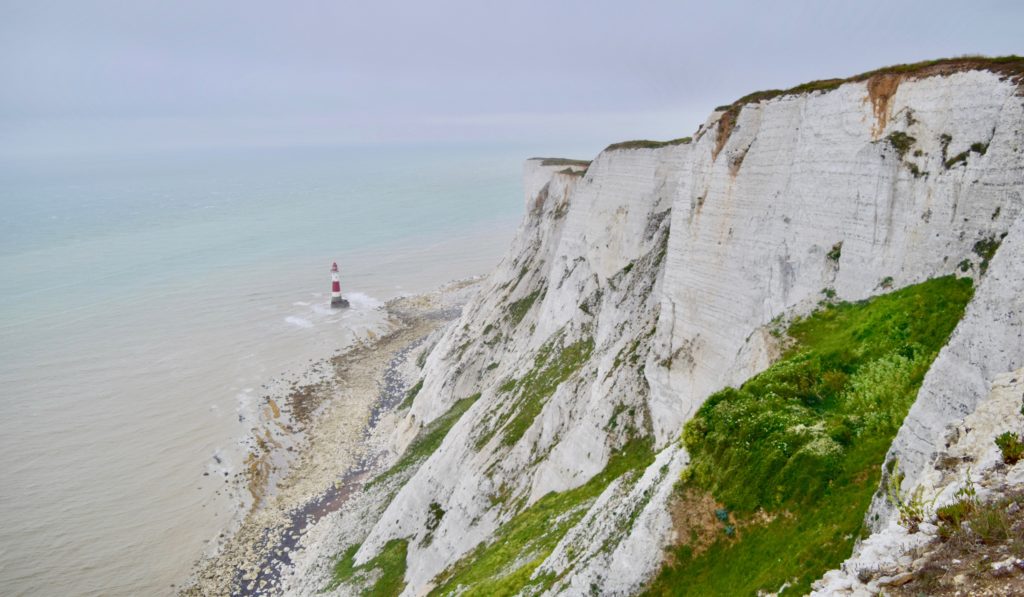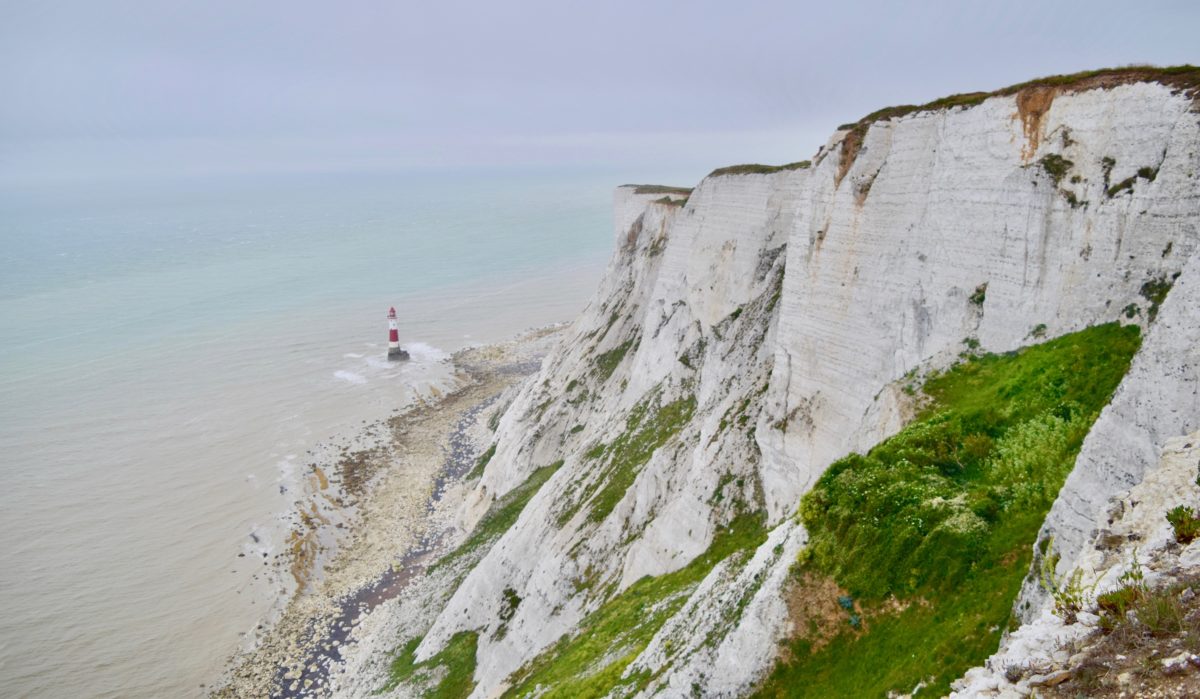 5. Brighton
Brighton is England's most popular shore destination to visit, despite being comprised of round rocks instead of sand. All of the attractions are within walking distance.
Although Brighton Beach and Brighton Pier are the reasons most locals visit, the exotic Royal Pavilion shouldn't be missed. The building was the residence of King George IV and was very extravagant. The outside resembles a mix of Indian and Middle Eastern design, while the inside has an Asian décor.
The Lanes are also worth a quick stroll to see how the original town of Brighton was laid out. You can wander the tiny lanes while shopping, or grabbing a coffee.
Attractions:

Royal Pavilion – £13.50 and £2 audio guide, £12.15 online

Parking: street parking northeast of downtown – £1/hr
Tour Option: Brighton by Bicycle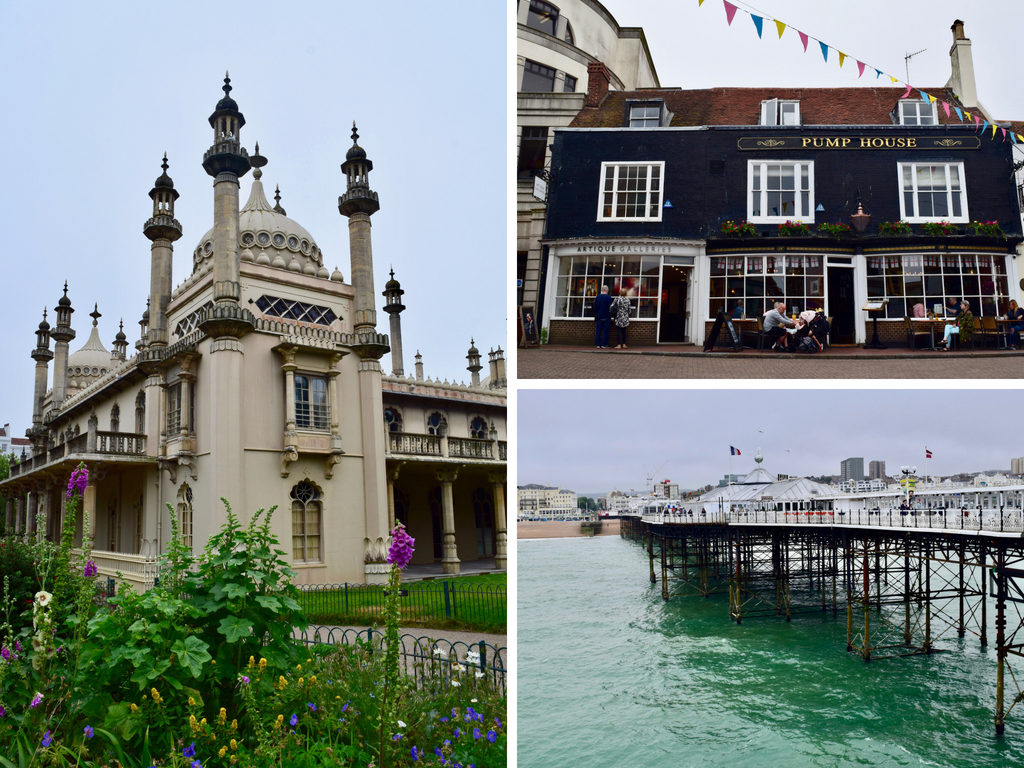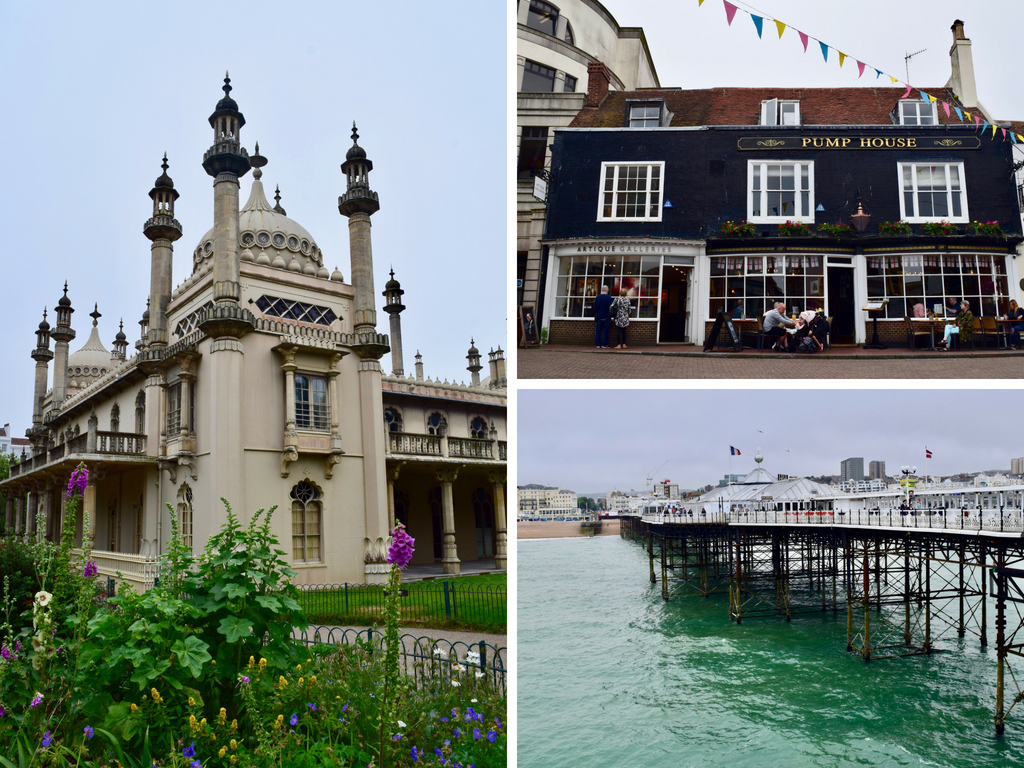 6. Hever Castle
Hever Castle was the home of Anne Boleyn, King Henry VIII's second wife, and is famous for the expansive gardens. Spend an hour or two touring Hever Castle, enjoying the furnishings and learning about England's history in the process.
Once you finish, try your luck finding the exit to either of the two on-site mazes, enjoy the gardens or a stroll along the lake or spend time playing with your kids at the playground castle. No matter what your interest is, you will find something to enjoy at Hever Castle.
Attraction: £16.25
Parking: Free on-site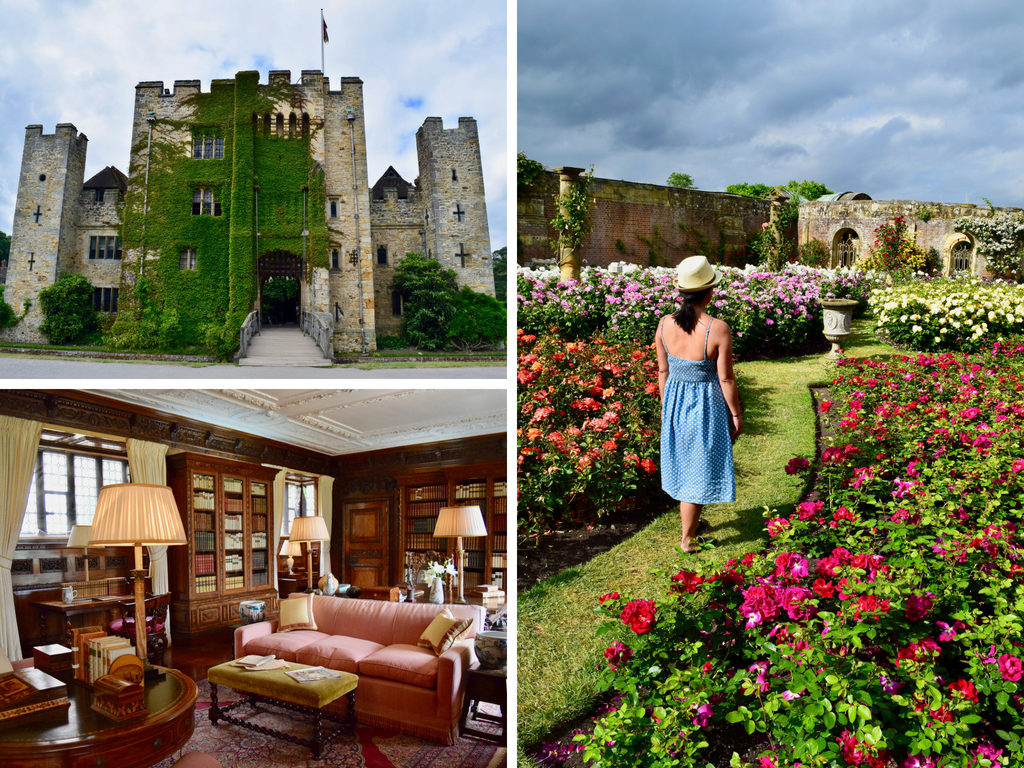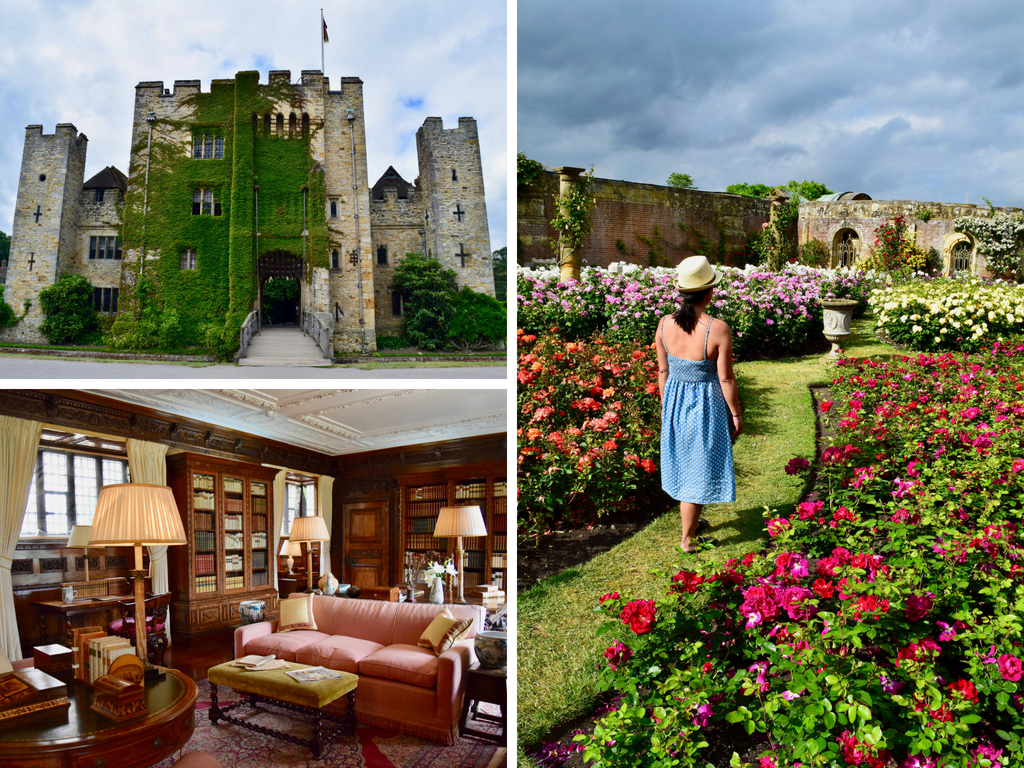 7. Winchester
Winchester is home to Winchester Cathedral which is known for having the longest nave. It's also the longest in terms of overall length for a gothic cathedral in Europe and one of the largest for any architectural design. Although grand in size, the details were lacking compared to other cathedrals.
Attraction: £7.50 or free during services
Parking: Train station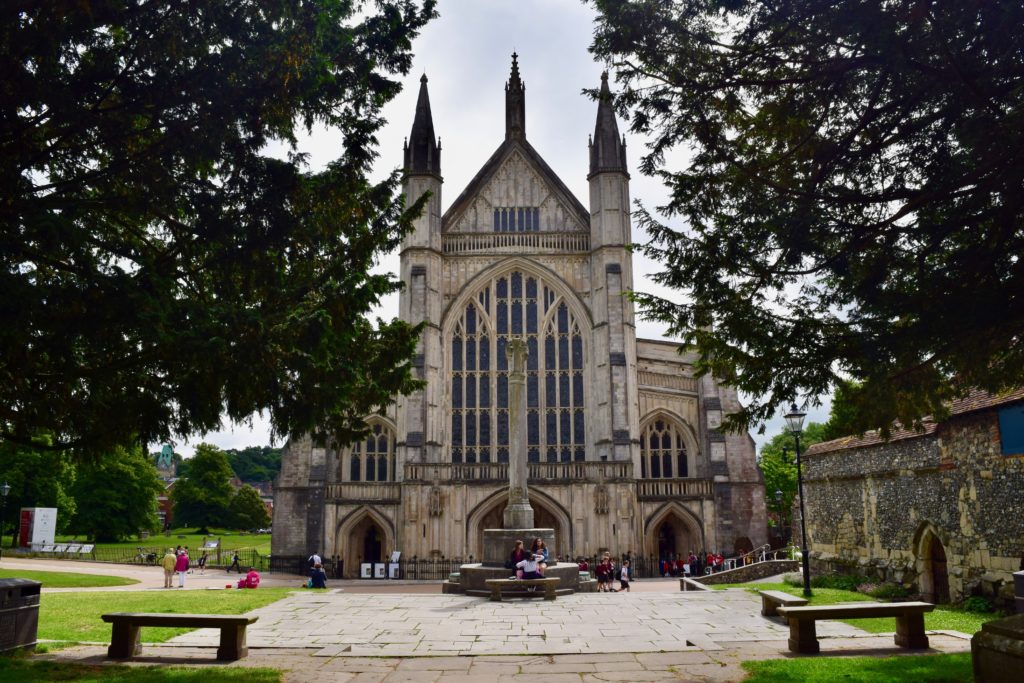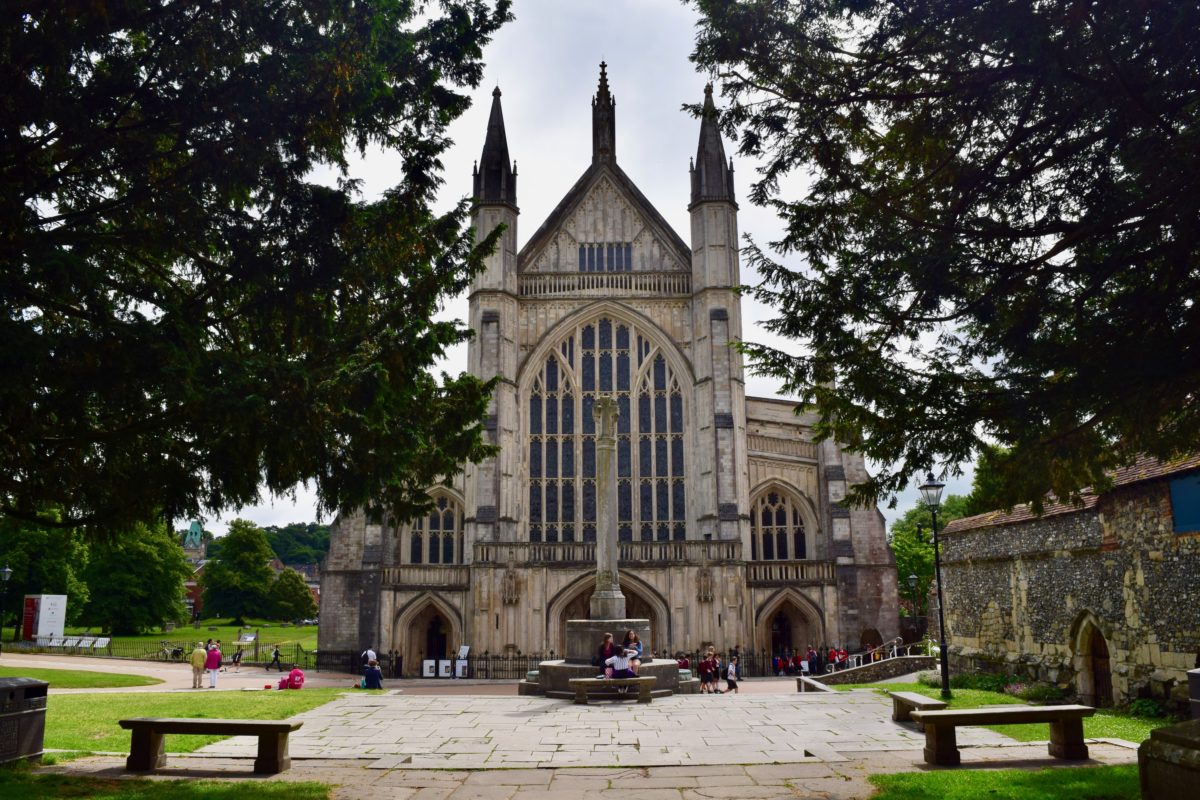 8. Avebury
Avebury is the larger version of Stonehenge, but not as impressive since the stones are spread out in a gigantic circle. Some stones are missing or replaced with markers but the ones that remain are massive. The nice part is that you can freely touch them year-round compared to Stonehenge.
Attraction: Free
Parking: £7 all day; £4 after 3 pm
Tour Option: Avebury & Stonehenge day trip from London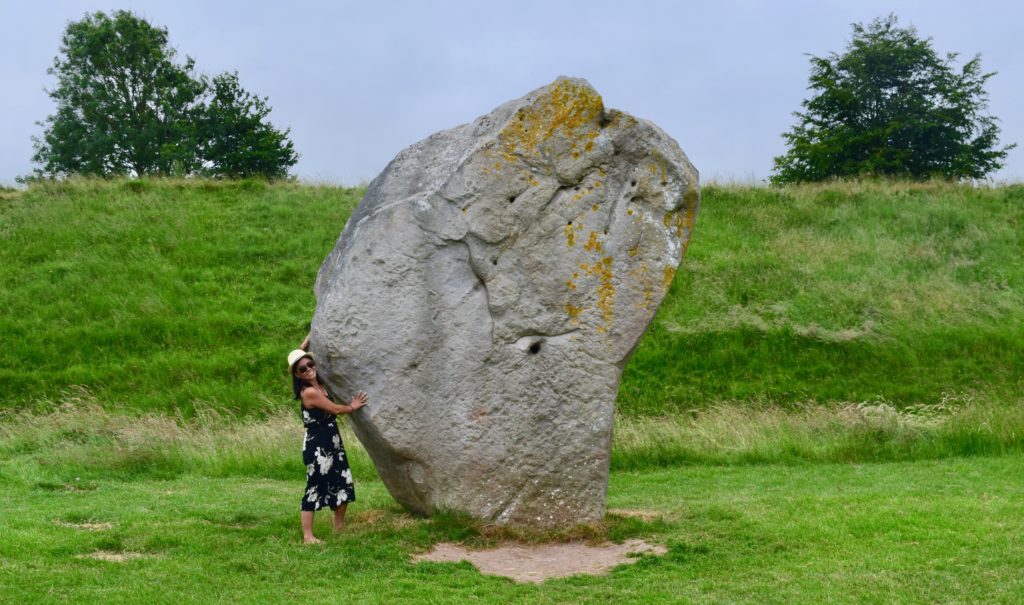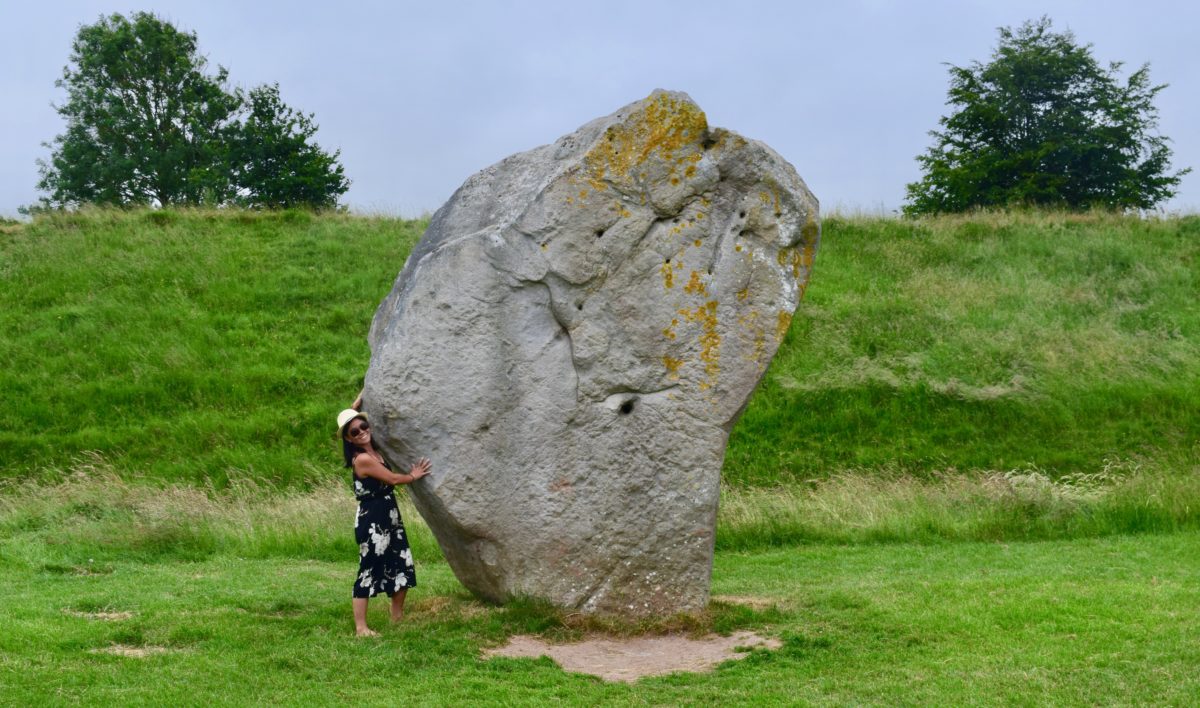 9. Salisbury
The centrepiece of Salisbury is Salisbury Cathedral. It's a gorgeous place of worship, and more importantly, it houses 1 of 4 existing original copies of the Magna Carta. Originally, the Magna Carta was issued to prevent a civil war between King John and his barons, but has since found its ideals in numerous constitutions guaranteeing certain basic rights.
Inside Salisbury Cathedral you will also find the world's oldest working clock among other ornate features. The cloisters are very pleasant to stroll around as well.
Combine Salisbury Cathedral and nearby Stonehenge for two of the best places to visit in Southern England. If you have extra time, consider checking out the best Dorset destinations nearby.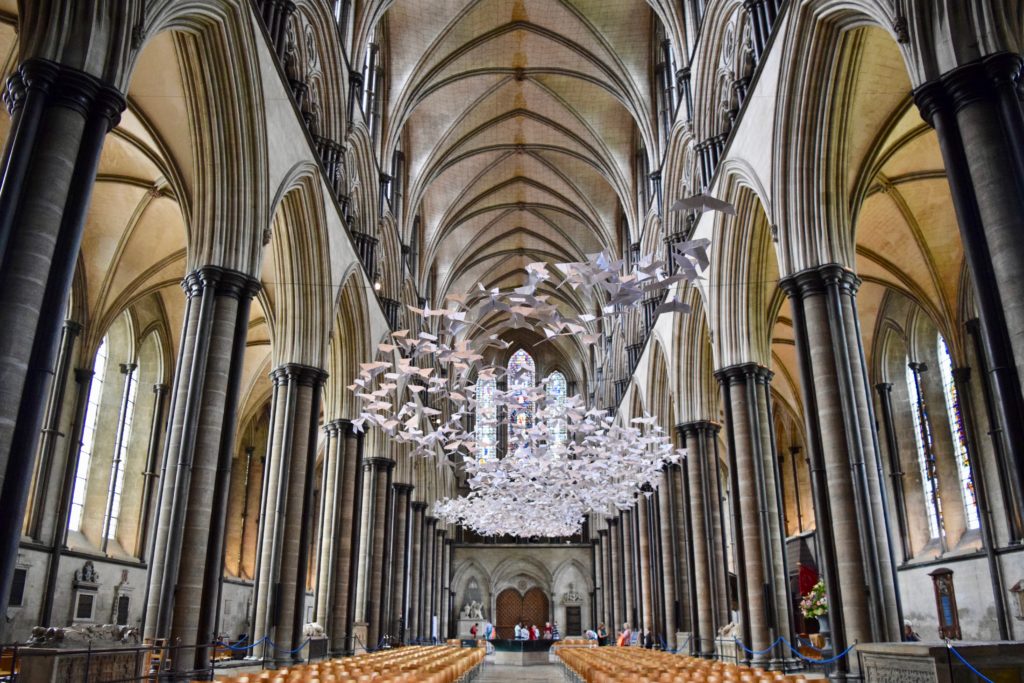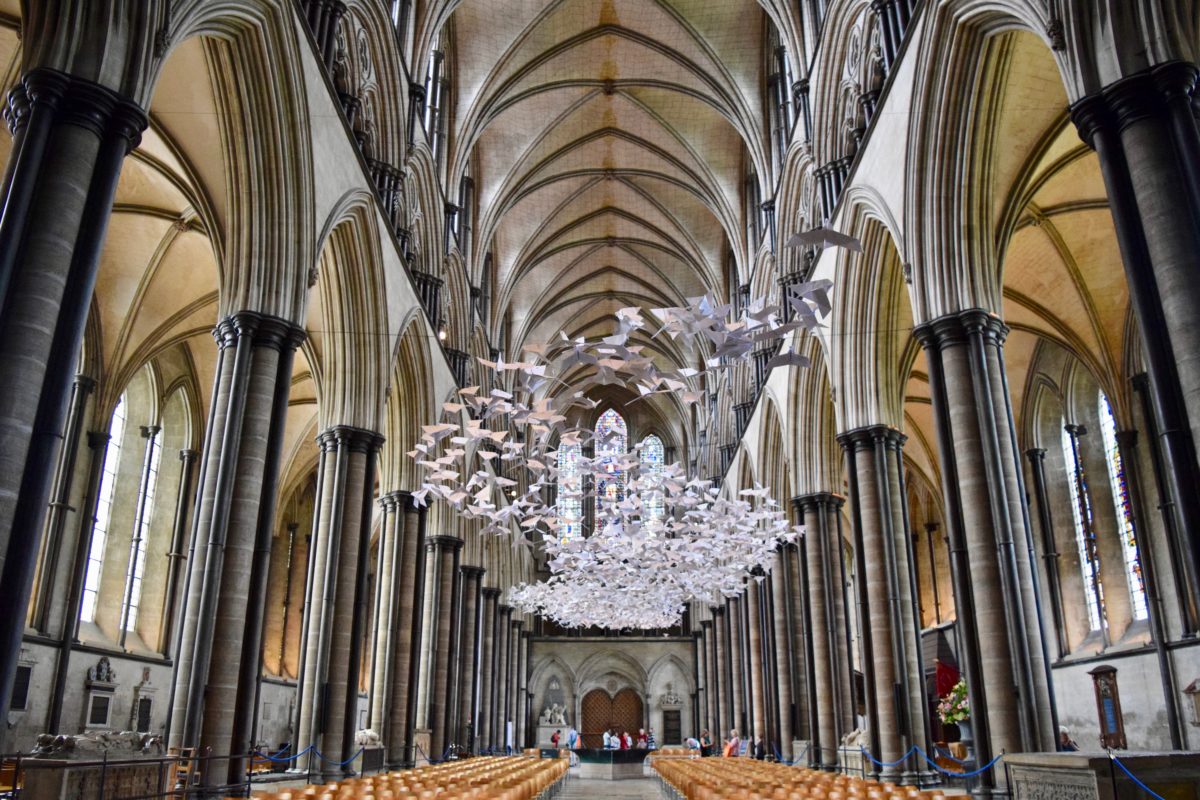 10. Stonehenge
Our whole road trip was planned around catching the summer solstice at Stonehenge. The summer solstice is only 1 of 2 days a year that you can get within the circle itself.
We shared the special occasion with 30,000 of our new friends that spent the night waiting in anticipation for the sun to rise on the longest day of the year. The English Heritage site allows visitors to arrive at 7 pm in order to catch sunset.
After watching the sun go down and listening to groups drumming and singing, we caught some shut-eye in our Europcar rented Volkswagon Golf before heading back in for sunrise.* Check out our post on how to hire a car in the UK.
Attraction: £17.50, free for the summer and winter solstices. Buy tickets here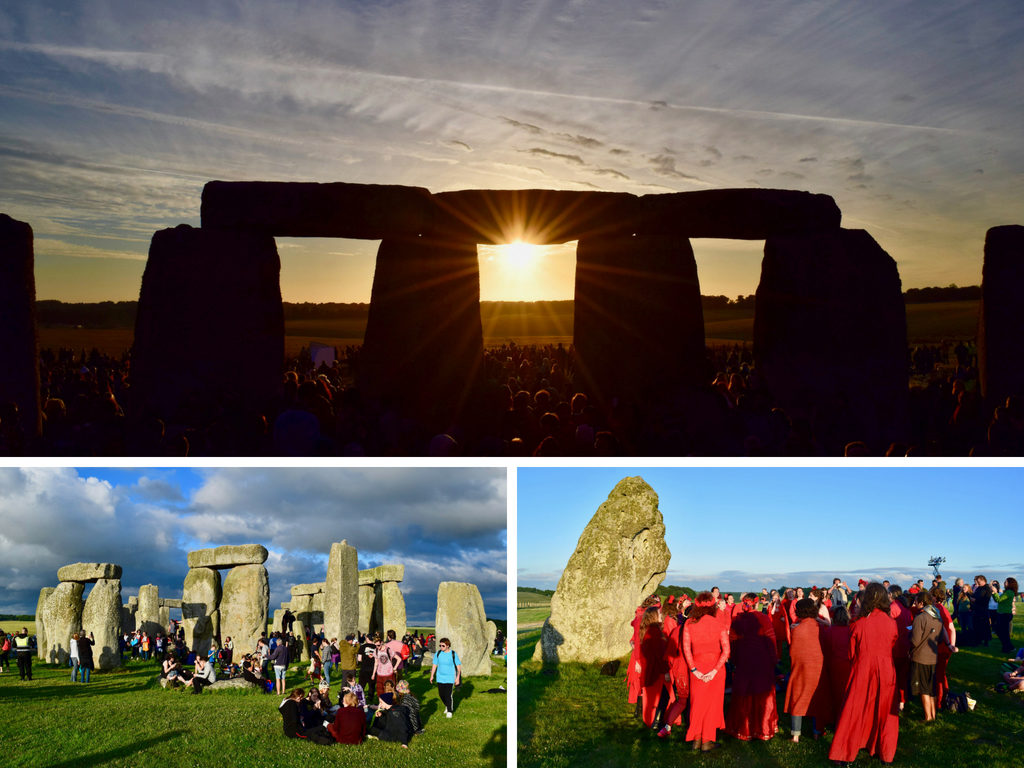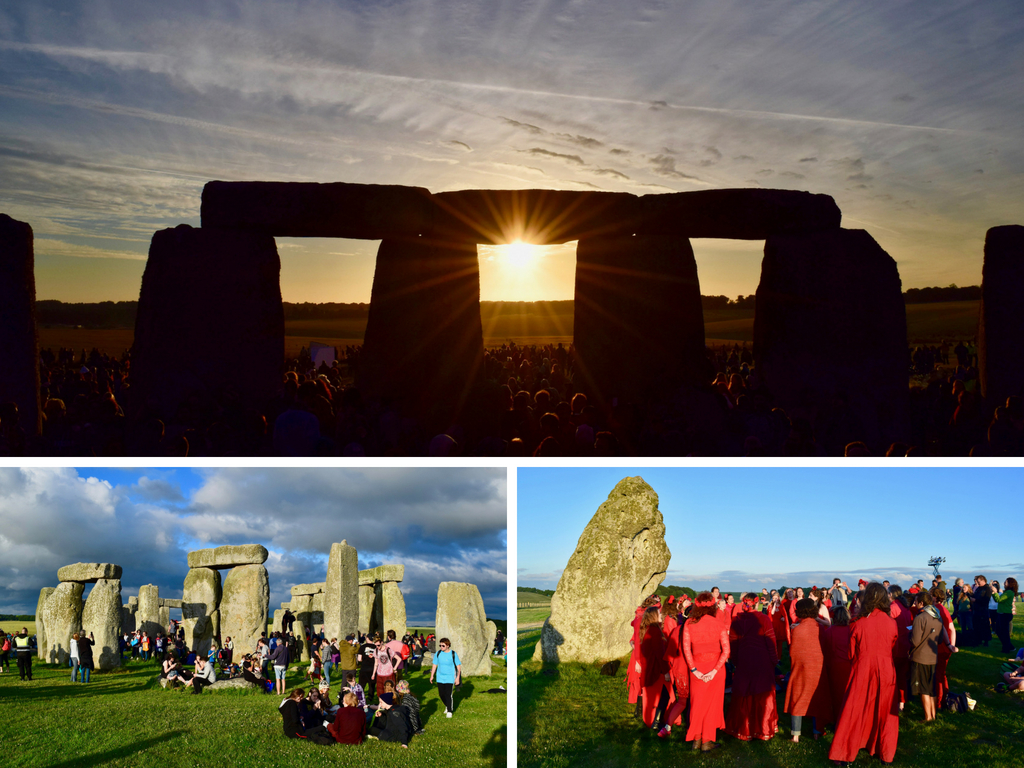 11. Glastonbury
Glastonbury Tor is a small hill in Southwestern England with 360° views over the verdant countryside. From the top of Glastonbury Tor, you can see flatlands stretching for miles filled with pastures and farms.
Sitting at the highest point is St. Michael's Tower, which is full of mystique. St. Michael's Tower and Glastonbury Tor have been associated with the fairies and the Celtic Lord of the Underworld, King Arthur, the Holy Grail, and ley lines.
Nearby Glastonbury Abbey is reportedly the burial place of King Arthur, and has Holy Thorn trees that bloom around Easter and again at Christmas.
Attractions:

Glastonbury Tor – Free
Glastonbury Abbey – £7.50 (£6.67 online)

Parking: We parked on Ashwell Lane for free, and followed unofficial paths to the top of Glastonbury Tor.
Tour option: Glastonbury walking tour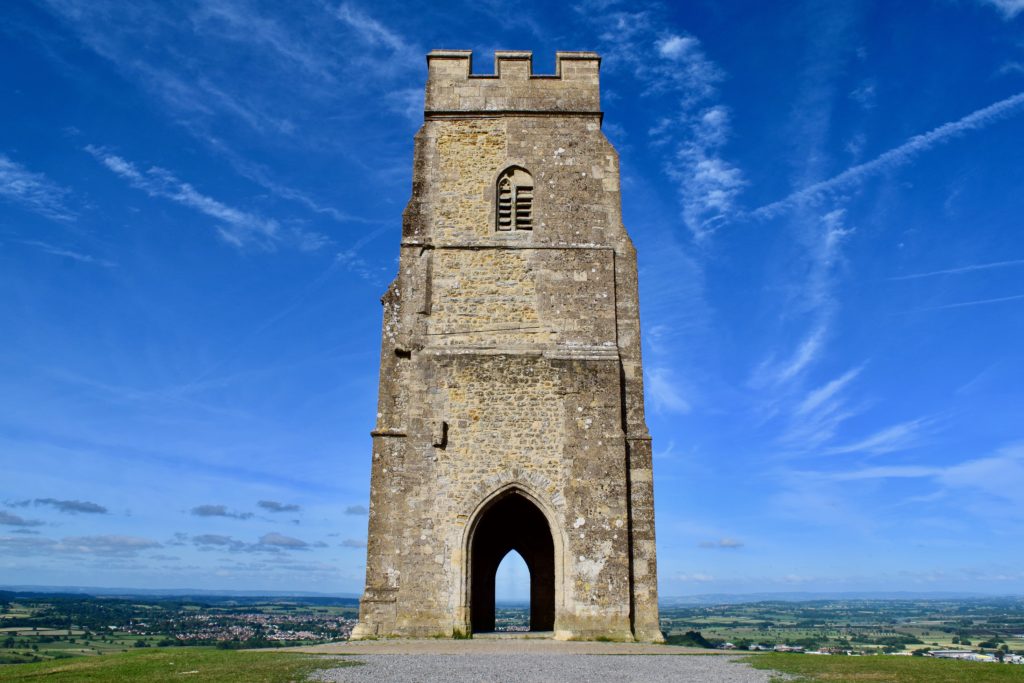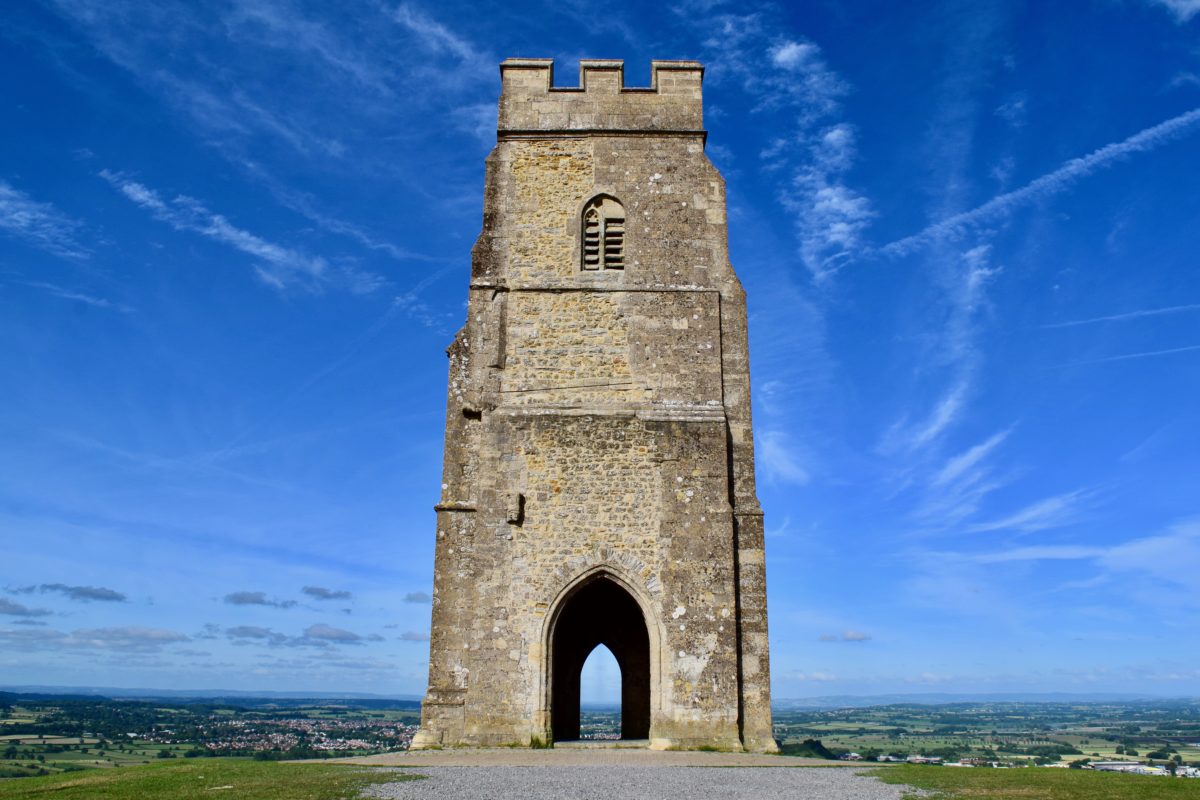 12. Wells
What do you do when you can't think of a name for a new place? You name it after the founder, or in this case the three wells that caused settlers to stay. Although Wells may be the second smallest city in England, after only the City of London (believe it or not), it packs a large punch.
Despite its small size and population, it was designated as a city during the Medieval times due to Wells Cathedral and Bishop's Palace which housed the Bishop of Bath and Wells. Wells Cathedral truly is breathtaking with their grand façade, ornate nave, astronomical clock with jousting knights every 15 minutes, gardens with port hole to view a well, and chapter house that leads to Vicars' Close via an arched gate.
Vicar's Close is the oldest intact residential street in Europe, dating back to the 14th and 15th centuries. It was originally used to house member and guest of Wells Cathedral. In order to impress on upon visitors, the street tapers to provide an illusion of being longer.
Bishop's Palace forms the trifecta of Cathredal related attractions. The only way to enter is through the Gatehouse since the Bishop's Palace is surrounded by a moat. You can see the grounds for free, but access to the Bishop's Palace requires an admission ticket.
Besides the religious attractions in Wells, walking around the winding and narrow streets is a pleasant activity. One surprising aspect is the constant flow of water along the curb due to the overflow of the three wells.
Attractions:

Wells Cathredal and Vicar's Close – Free
Bishop's Palace – £8.05

Parking: Cathedral Green has free 2 hr parking, but it is heavily patrolled. Nearby Tor street had free, unlimited parking.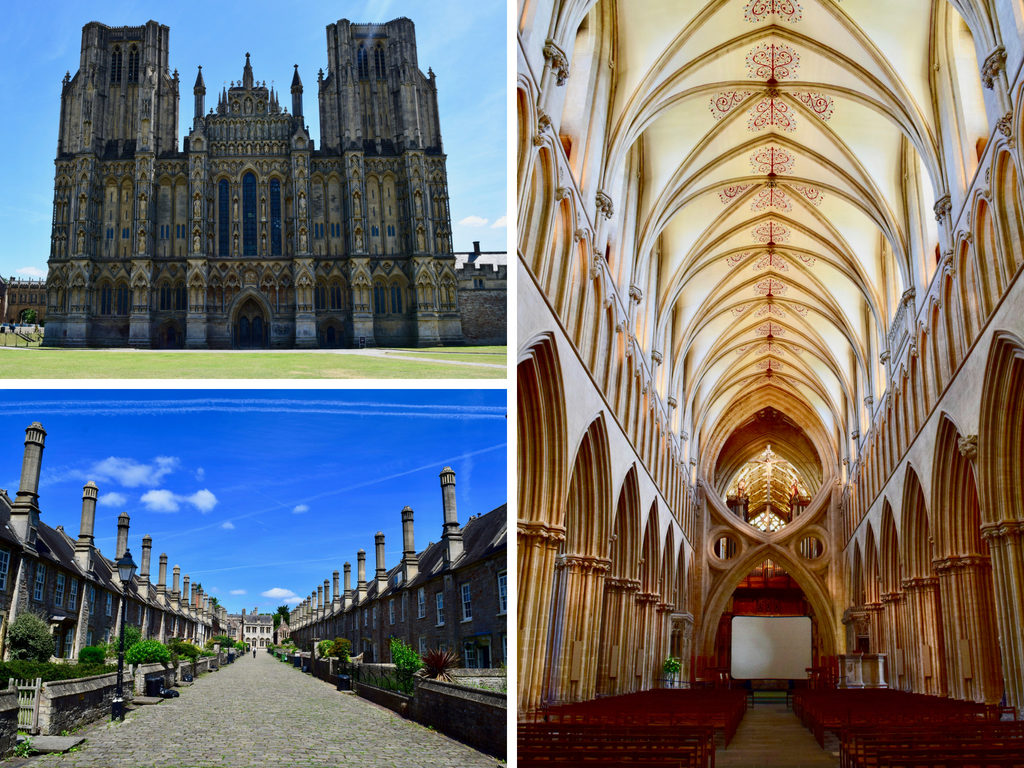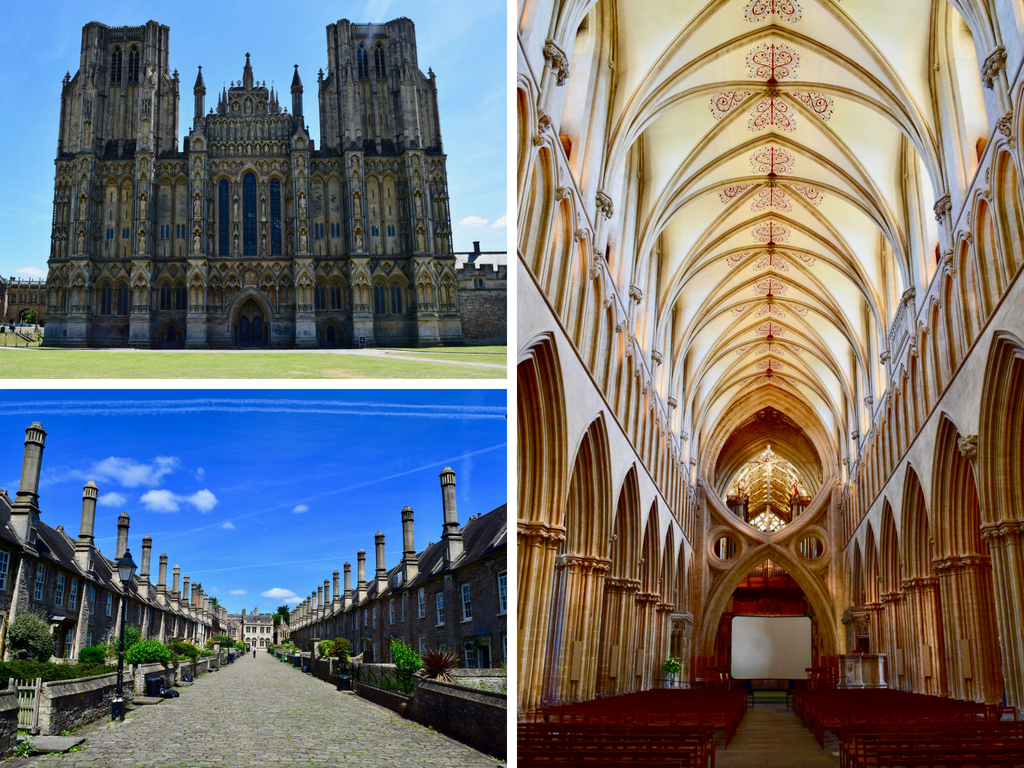 13. Cheddar Gorge
Cheddar Gorge is largely run by one company. As part of a package admission ticket, you can visit two caves, use Jacob's Ladder to access the cliff walk, visit a small museum, watch a video that flies you through Cheddar Gorge and includes parking.
We decided to DIY Cheddar Gorge since our main interest was enjoying the actual gorge. There is free parking at the top of the gorge from where we descended into the town of Cheddar. The views along the way of the cliff faces and the Cheddar Reservoir in the distance were amazing.
We included Cheddar on our itinerary because we wanted to sample the world renowned cheddar cheese. In the past, Cheddar Gorge caves were used to store the cheese made within 30 miles of Wells Cathedral during the fermentation process as the temperature was ideal.
There are also several more delicacy shops in Cheddar Gorge that will excite your taste buds.
Attractions:

DIY Cliff Walk – Free
Cheddar Gorge & Caves Package – £19.95 (£16.95 online)
Cheddar Gorge Cheese Company factory tour – £2

Parking: Parking is along Cliff Road, and can be paid at Cheddar Gorge & Caves or you can park for free further up Cheddar Gorge.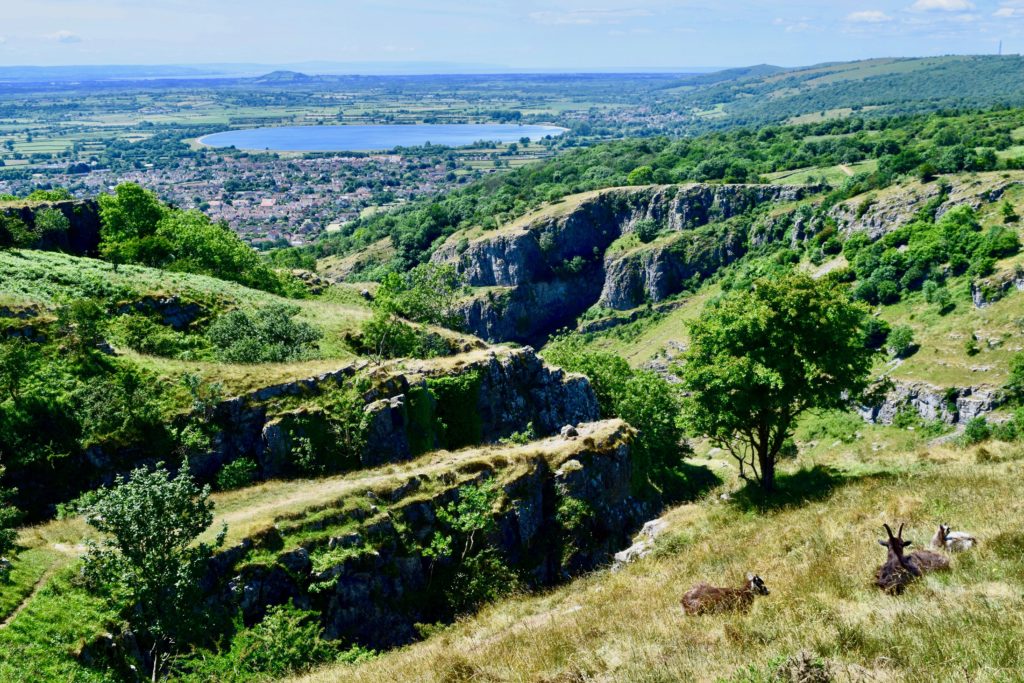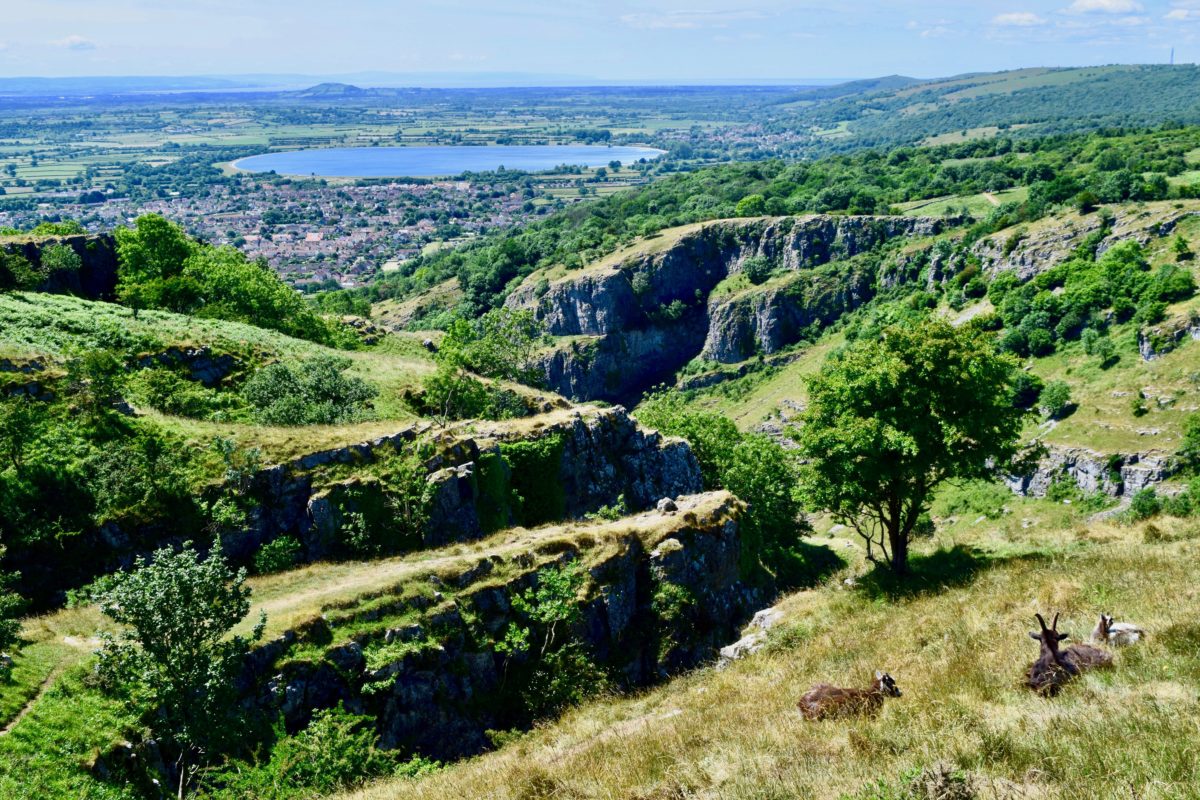 14. Bristol
Bristol is England's 8th largest city and often overshadowed by nearby Bath. Although there are no must see attractions, there are enough things to warrant a day in vibrant Bristol.
All the key neighborhoods of Bristol are in close proximity to the Floating Harbour that connects to the River Avon around the Clifton Suspension Bridge. The best views of the Clifton Suspension Bridge can be had from Clifton Downs. Special attractions at Clifton Downs are the Clifton Observatory featuring a camera obscura and Giant's Cave.
Walking along the Bristol Harbourside towards downtown is the SS Great Britain, the world's first iron hulled, steam powered passenger liner. Just off the harbor is We The Curious (formerly @Bristol) with an interactive science museum lining the square.
Heading north you will stumble across Bristol Cathedral and can check out three free Bristol museums. These include the Bristol Museum and Art Gallery, the Georgian House, and the Red Lodge. You can also gain sweeping views of Bristol from Cabot Tower on Brandon Hill.
Crossing over to the Old City, you can stop and grab a pint outside with the locals along King Street. Not far away is the covered St. Nicholas Market, the Corn Exchange and the Nails. Finishing up the top attractions is Castle Park and St. Peters Church where you can see their ruins after WW II bombings.
Attractions: Various entrance fees apply
Parking: Train station – price varies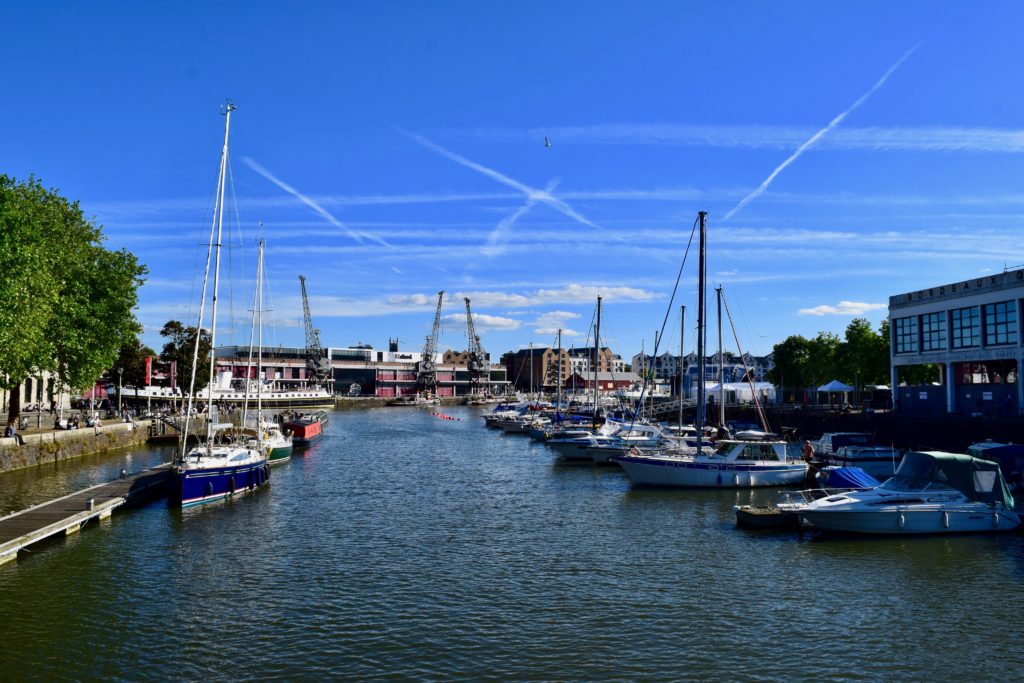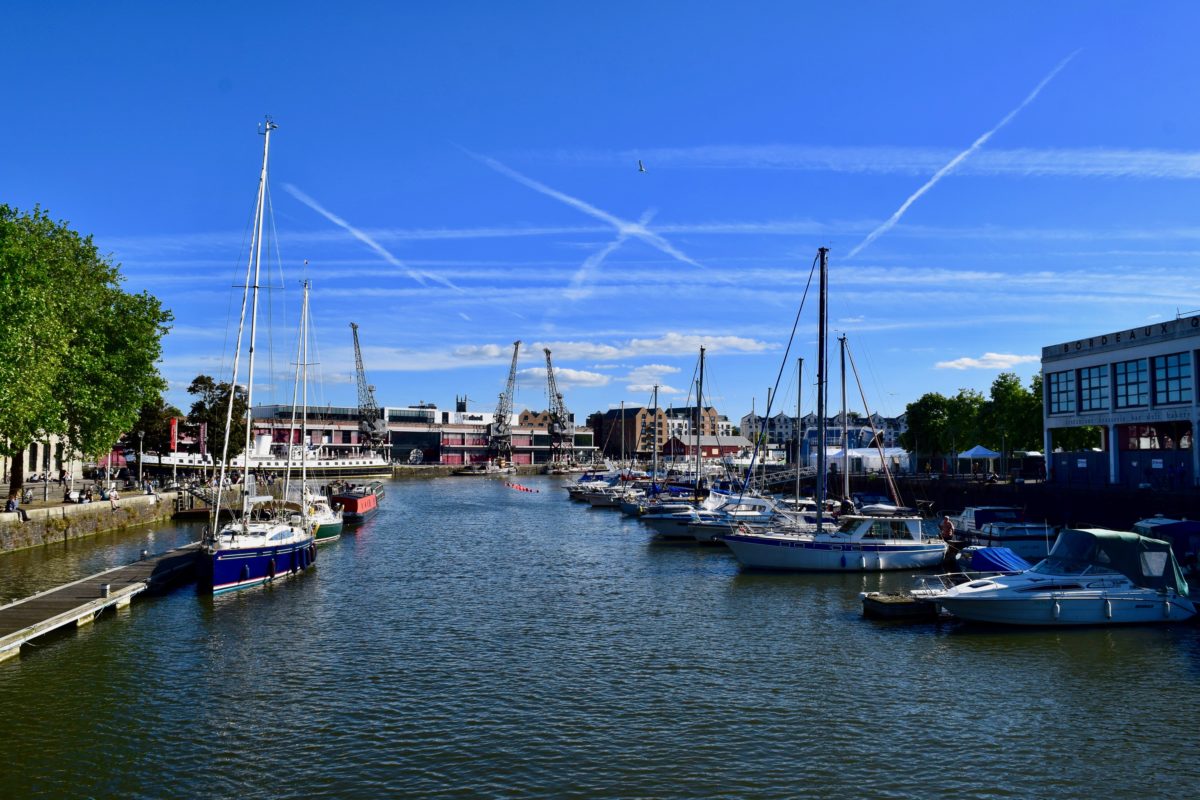 15. Bath
Bath, much like Wells, is named after the reason for its creation. By far the Roman Baths are the must see attraction in Bath and are the only hot springs in England. The tour of the indoor facility perfectly combines seeing the historic architecture with a modern day museum explaining what the Roman Baths were like.
Bath is also popular due to the buildings having a consistent limestone façade as you explore the city. Starting from the car park, you can view the expansive Royal Crescent. If you want to see what one of the houses looks like inside, then pay a visit to No. 1 Royal Crescent.
A few blocks away is The Circus, a beautiful round street filled with curved high-end residences. Heading south down Gay Street will take you to the Jane Austen Center, where she used to live.
In downtown Bath, there are a few theaters that will catch your attention or Bath Abbey where you can climb the tower. However, the real showstopper is the Roman Baths as noted above.
When you finish with the Roman Baths, take a stroll along the Parade Gardens, across Pulteney Bridge and to Beazer Garden Maze before returning.
When you get hungry, try the famous Bath bun at Sally Lunn's.
Attractions:

Roman Baths – £17.50
Various entrance fees apply

Parking: Charlotte Street Car Park – £6.40/6 hrs
Tour Option: Stonehenge & Bath day trip from London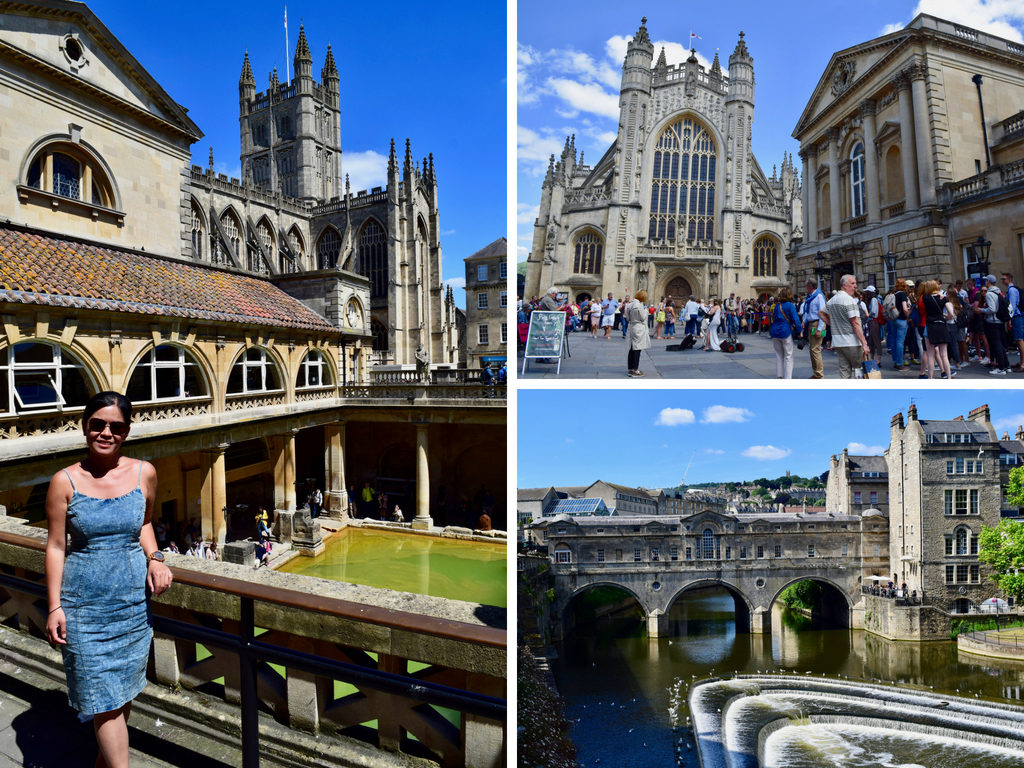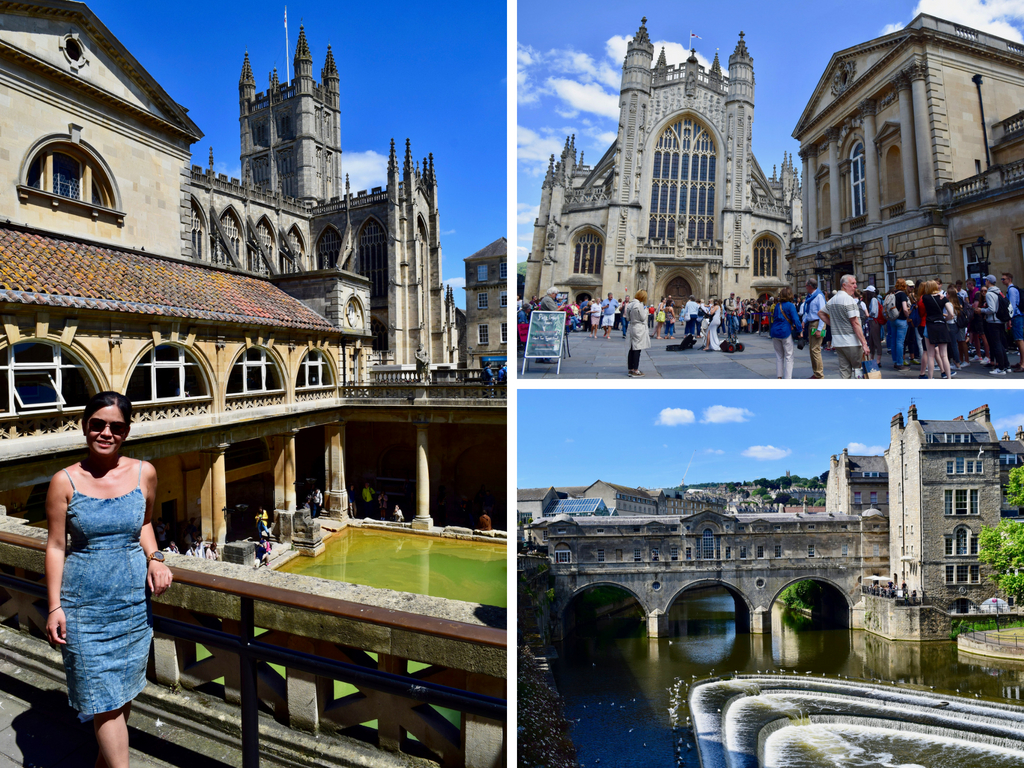 16. Bradford-on-Avon
Bradford-on-Avon is a quant village on the River Avon. Although the center of town is picturesque with old fashioned buildings and winding streets, it was the houses on the adjacent hill that were most alluring.
These houses were only accessible by foot paths, with each house having their own garden and sitting area in the front. Being just a hundred feet up also provided a panoramic view of Bradford-on-Avon.
Attractions: Free
Parking: We parked on one of the side streets off Winsley Road for free.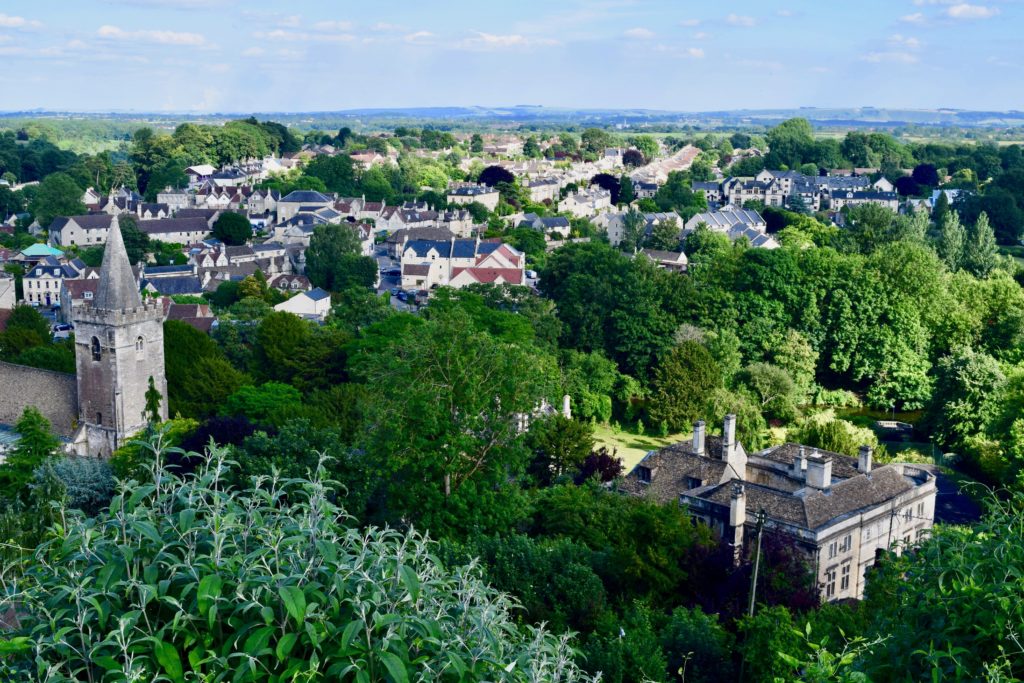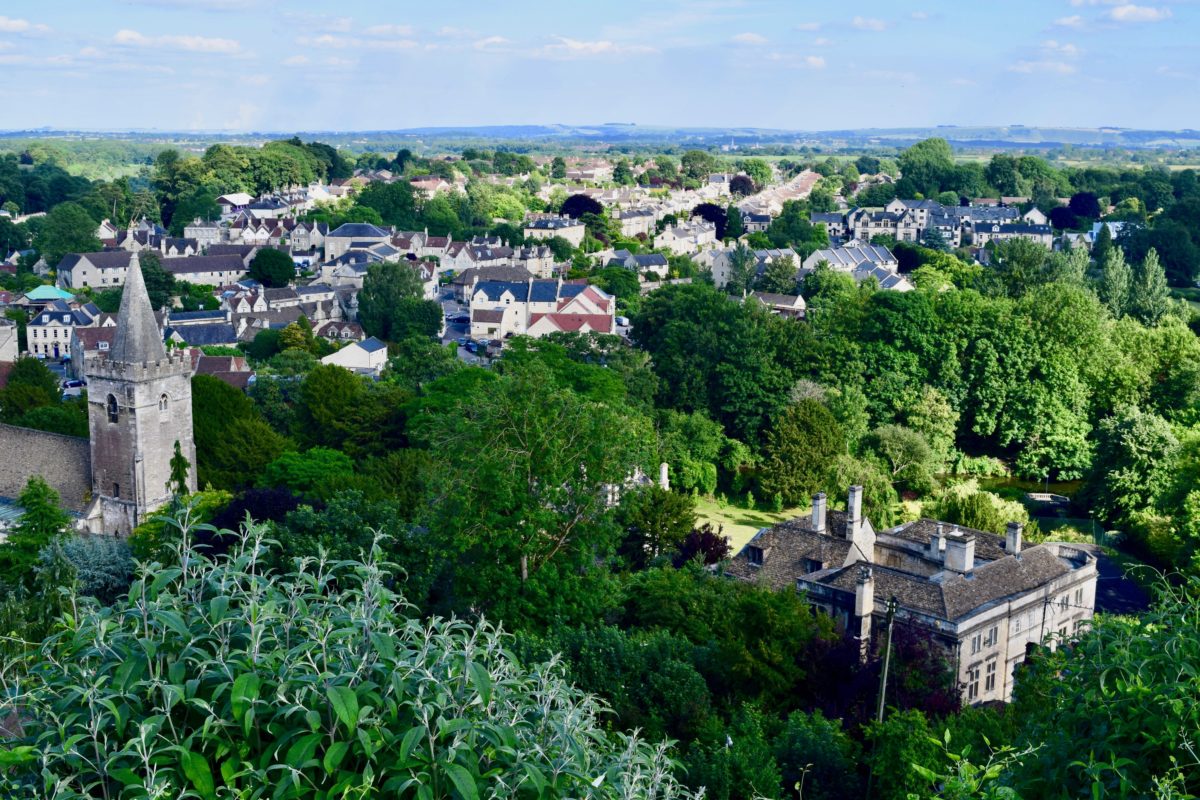 17. Uffington White Horse
Uffington White Horse is a 110 meter Bronze Age chalk figure best seen from the sky. It was created by digging large trenches and filling them up with crushed white chalk. Although you can't see the entire Uffington White Horse figure, it is worth a quick stop on your way from Bath to Oxford.
Other attractions accessible by foot are Dragon Hill where England's patron saint St. George allegedly slew the dragon, Neolithic period burial mounds and Uffington Castle.
Attractions: Free
Parking: £2 for 2 hours, or £4 for all day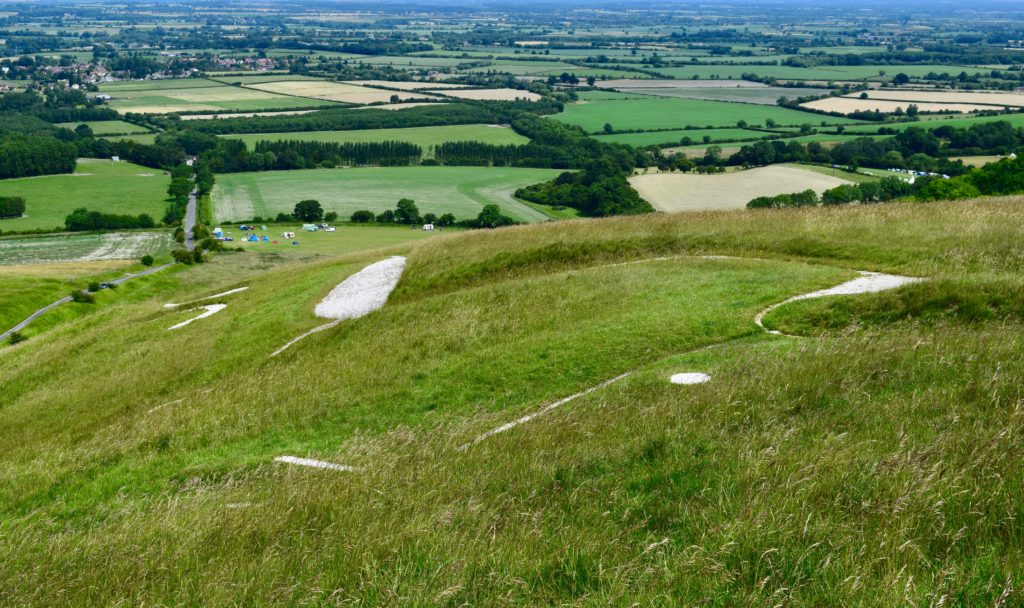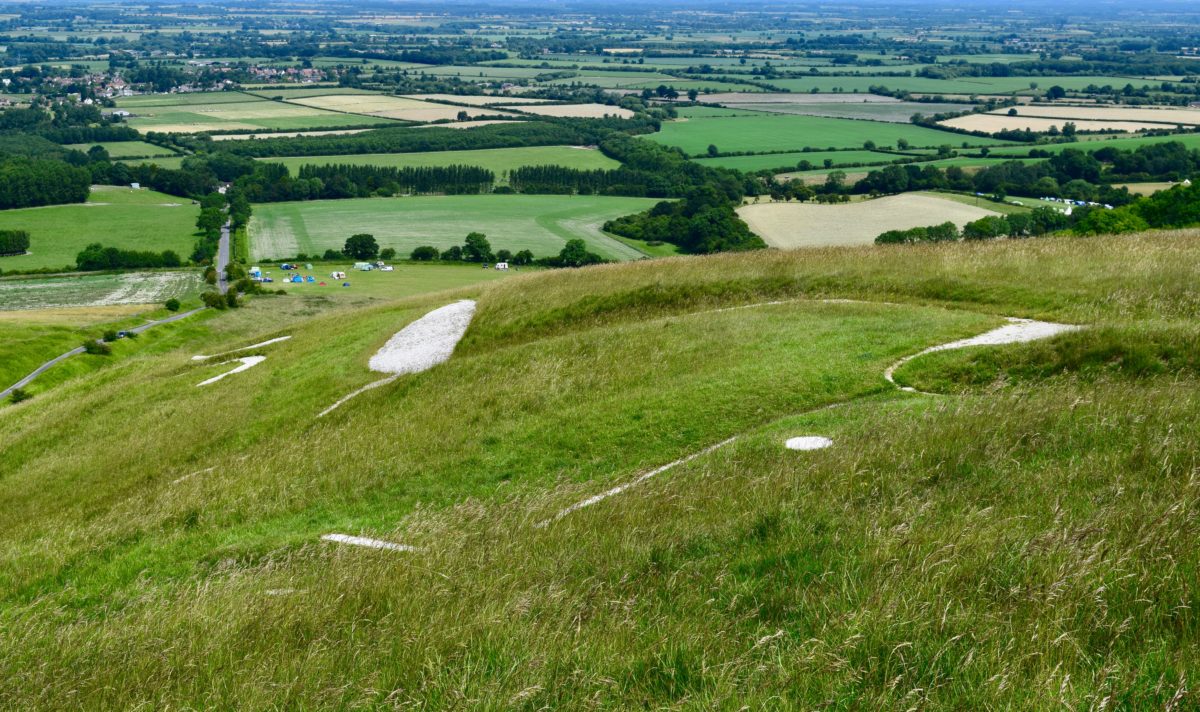 18. Oxford
Oxford is best known for Oxford University, which has an extensive list of accomplished alumni that include politicians, authors, and actors. More recently it has become even more famous for having Harry Potter film locations or at least inspirations for the movie.
Besides ambling around Oxford, be sure to find Divinity Hall, Duke Humfrey's Library, and the Great Hall in Christ Church College if you are fans of Harry Potter. Make sure you get your tickets early for Duke Humfrey's Library as they sell out several hours before the last tour begins.
Other attractions in Oxford include seeing Radcliffe Camera, the Bridge of Sighs, Christ Church from the far end of Christchurch Meadow and trying your hand at punting.
Attractions:

Bodleian Library's Divinity Hall and Duke Humfrey's Library – £6
Christ Church grounds including the Great Hall – £8 to £10

Parking: We parked on Osney Mead for free, which was one of the few places near downtown that wasn't restricted to residents. The parking lot near the train station can only be paid by phone.
Tour Option: Harry Potter film locations tour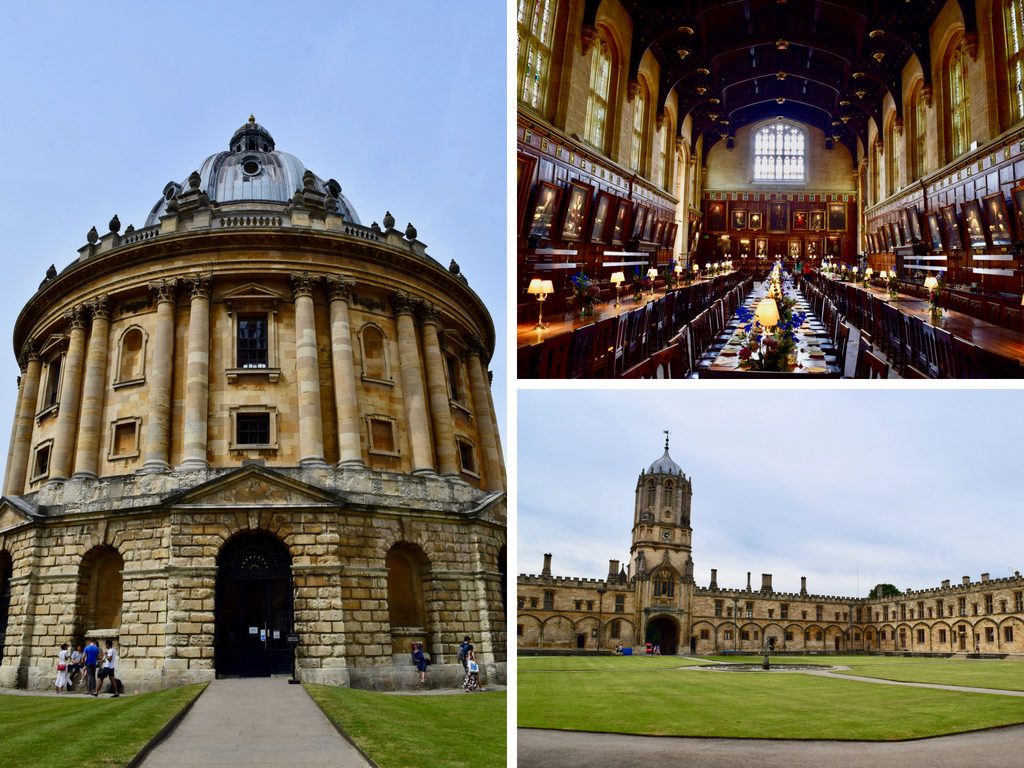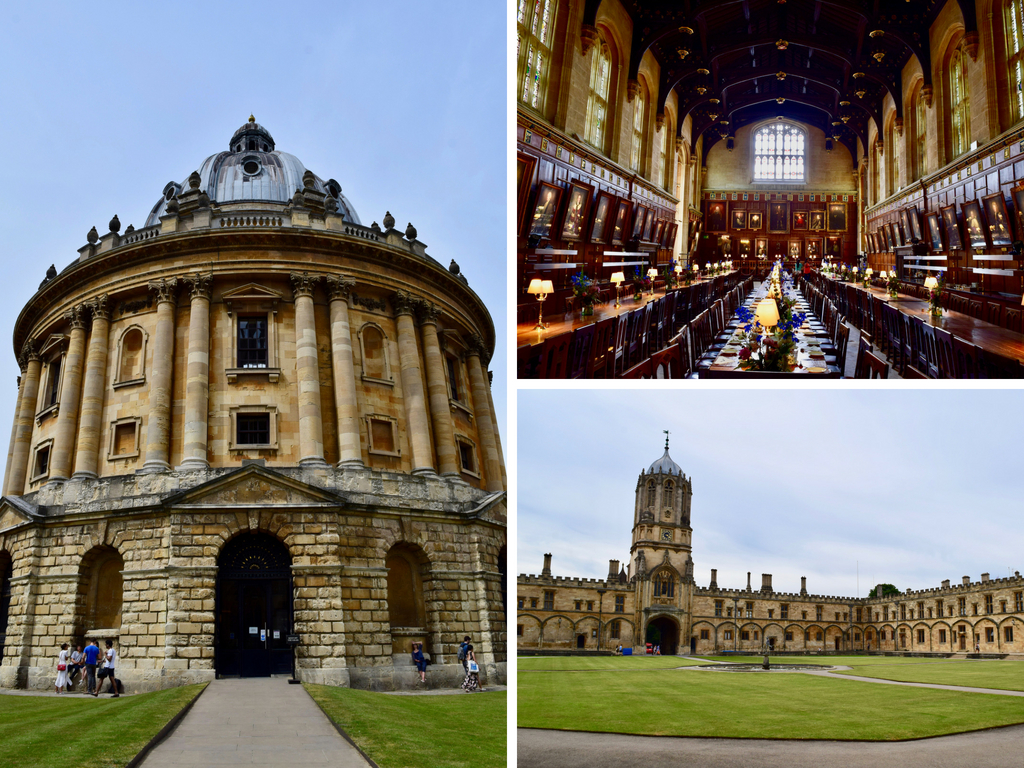 19. Cambridge
Cambridge is another top-notch university with colleges spread throughout the city. Each college charges their own admission, and has notable attractions besides enjoying the grounds. The most noteworthy are King's College for King's College Chapel, Queen's College for the Mathematical Bridge and Old Hall and St. John's College for the Bridge of Sighs.
Other attractions in Cambridge include walking along The Backs running parallel to the above colleges, a different form of punting than Oxford and exploring Fitzwilliam Museum.
Attractions:

King's College – £10
Queen's College – £3.50
St. John's College – £10
Fitzwilliam Museum – Free (£1 for bag locker)

Parking: Parking along Carlyle Road is free on Sunday.
Tour Option: Cambridge punt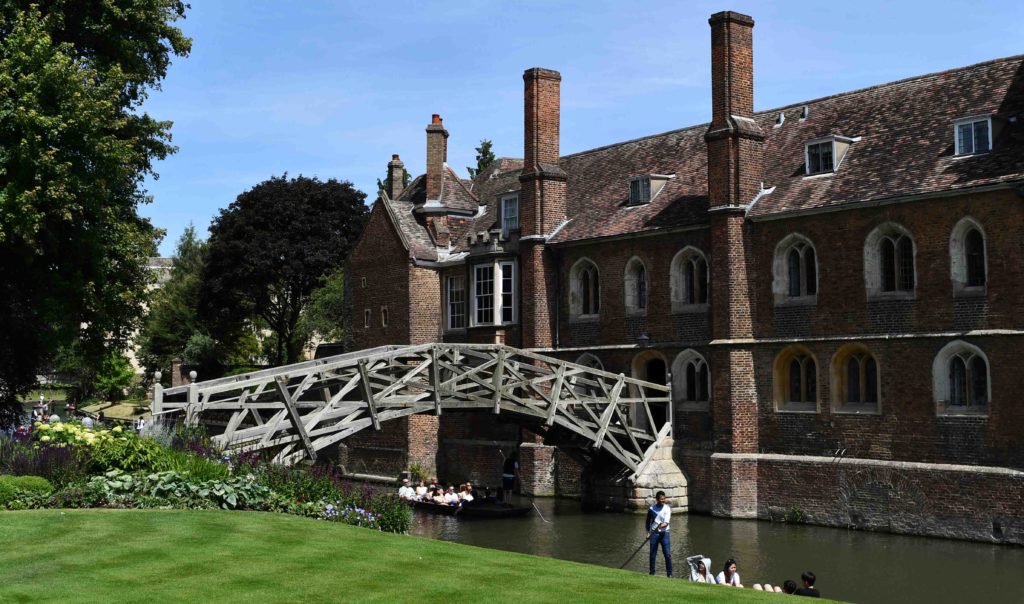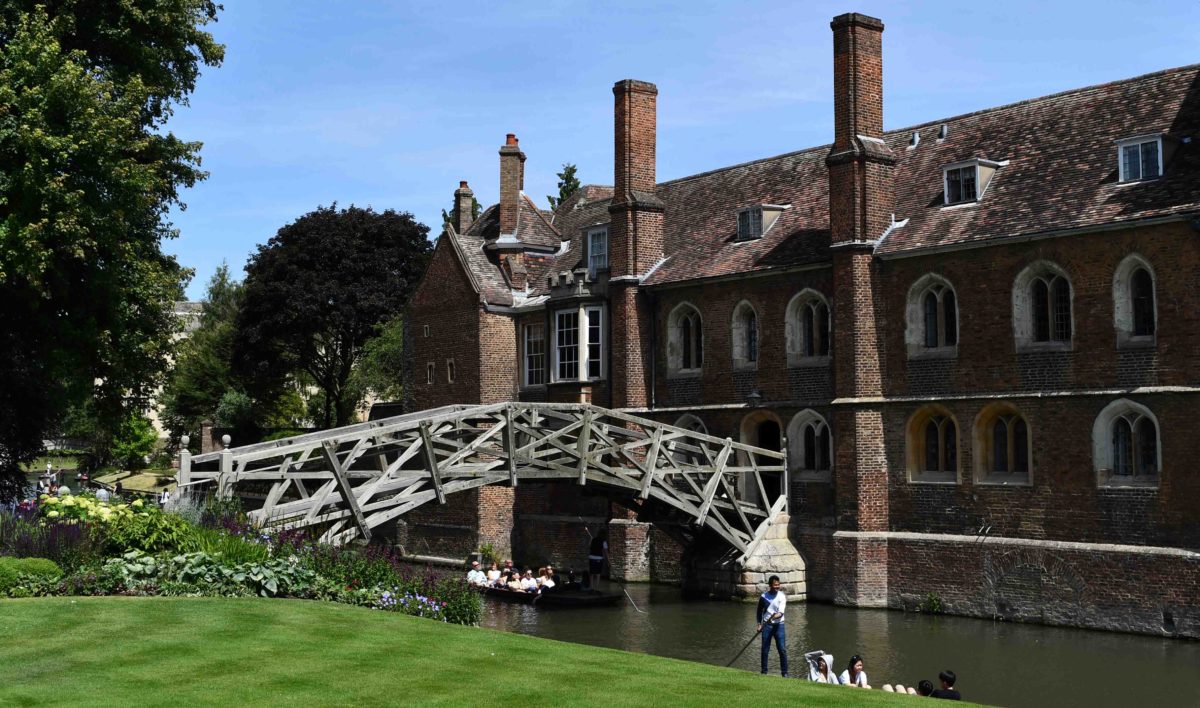 20. Cornwall
We didn't have time to visit Cornwall region but it looks like a fantastic destination if you have another week. We're saving it for another trip!
Explore the largest indoor rainforest in the world at the Eden Project. The botanical gardens and two huge bio domes contain thousands of plant species from a diverse range of climates and environments.
Surf in Newquay or see where Britain meets the Atlantic at Land's End.
And finally don't miss a trip to the ruins of Tintagel Castle, the legendary birthplace of King Arthur.
Plan a UK Road Trip
As you can see we had a busy time exploring the south of England! Even if you prefer to travel at a slower pace, we recommend hiring a car in the UK – it's hands down the best way to explore the country. Book your car hire in advance and choose a manual transmission vehicle for the cheapest rates.
Most car hire companies include basic insurance but your own home, health or travel insurance (as well as credit cards) may also cover you while driving abroad.
Remember that cars drive on the left in the UK!
The speed limit is 30 mph in urban areas and 70 mph on motorways. Parking can be a nightmare. If you don't want the hassle, save time and money by heading straight to the local train station from where it's usually just a 15 minute walk to the city centre.
How to Hire a Car & Plan a UK Road Trip
Planning a UK road trip in 2019? Find out the top 8 ways to save time & money on the road...
Read more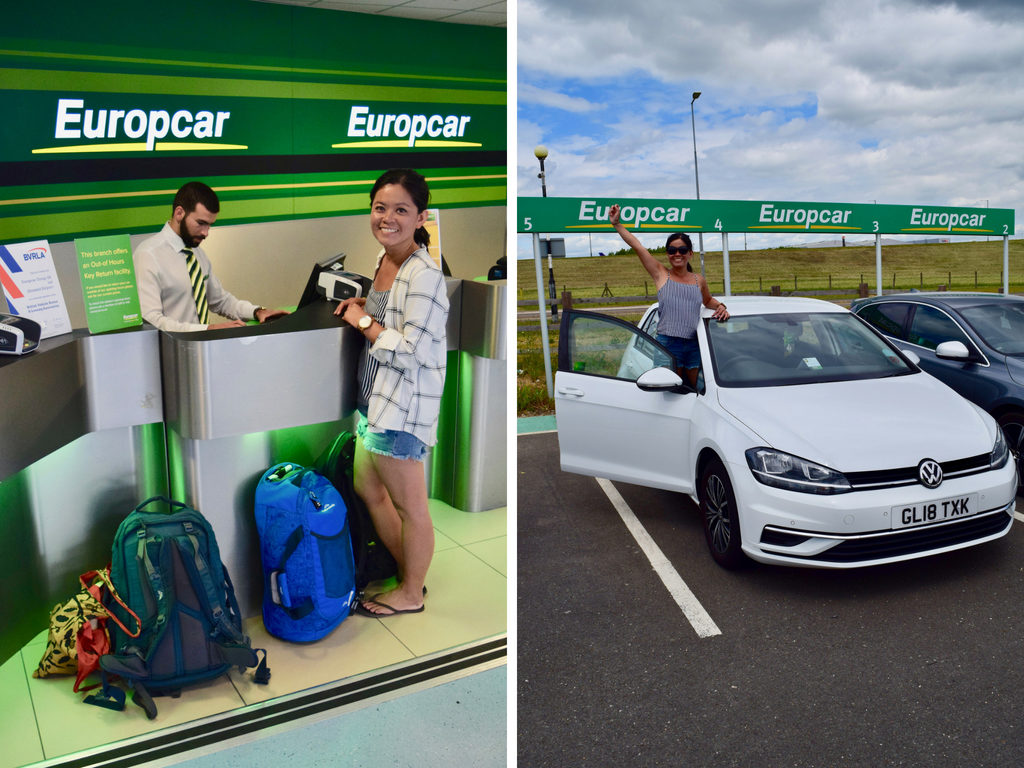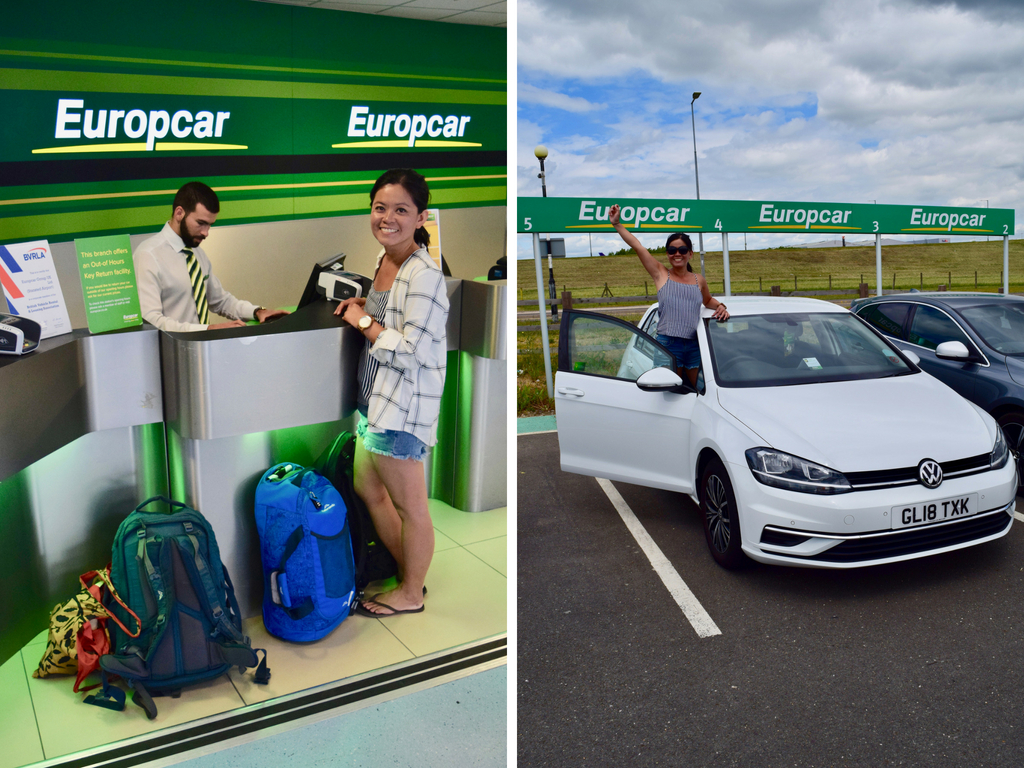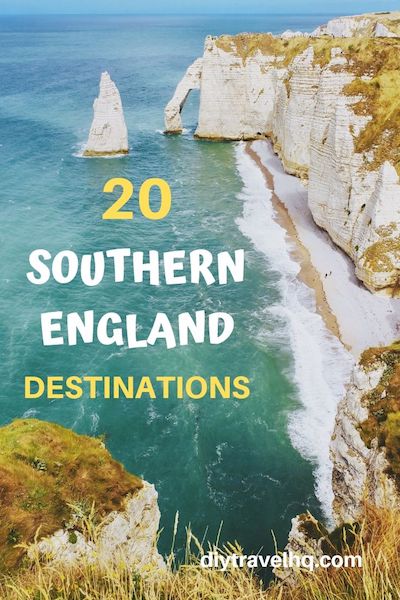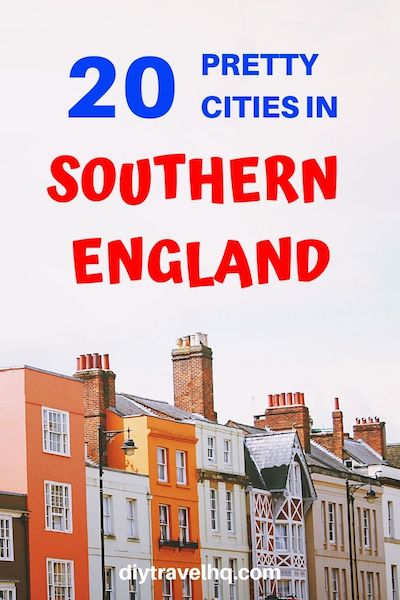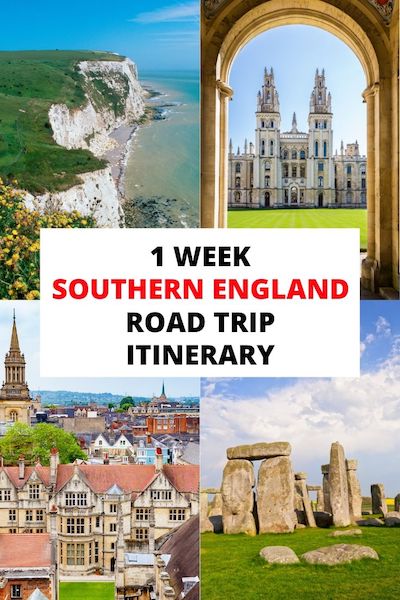 Disclaimer: This post contains affiliate links which means that we receive a small commission if you click on a link and purchase something that we've recommended, at no extra cost to you.

Our car hire was sponsored by Europcar; thank you to Jasmine for facilitating the collaboration. We only recommend value for money services & experiences that we believe would benefit our readers. As always, all opinions are our own.
Visited in June 2018
Updated February 2020