Bago is a city of superlatives … visit the tallest stupa in Myanmar, two of the longest reclining Buddhas & one of the largest Burmese pythons in the world – see it all on our 1 day Bago Itinerary!
Bago is a hectic town, set in an odd location – the main highway runs through its city centre. 
The ubiquitous market, just over the bridge, and a cluster of hotels and accompanying motorbike touts, all off this main arterial road, adds to the central commotion.
The concentration of Buddhist religious sites in Bago is one of the greatest and most expansive in Myanmar.
Indeed, it is one of the country's major historical cities, flourishing as the capital of the 2nd Myanmar Empire.
Here at DIY Travel HQ we also put Bago on our list of top destinations in Myanmar.
1 Day Bago Itinerary: Attractions
There is a $10 admission fee covering the major attractions of the city:
Shwethalyaung Buddha
Shwemawdaw Paya
Kanbawzathadi Palace & Museum
Mahzedi Paya
Kyaik Pun Paya
You can also visit the Kha Khat Wain Kyaung monastery for free.
1 Day Bago Itinerary: Motorbike Tour with a Tout
A tout offered to take me on a motorbike tour, bypassing checkpoints for the ticket by using alternate entrances, for 12,000 kyat / $12 in 2014.
I went with him for 10,000 kyat, though 8,000 kyat is standard & for a longer tour.
My tour took 4 hours. In the end, only 2 places visited required the combo ticket, and I wasn't taken to some important sites.
Regardless, it was an excellent half-day tour, with diversity in the points of interest, not just the usual stupas and pagodas.
The 114m high stupa of Shwemawdaw Paya looms high over Bago and is in fact the tallest in Myanmar, 14m higher than the famed Shwedagon Pagoda in Yangon.
Also known as the Golden God Temple, it was originally built by the Mon in the 10th century to enshrine 2 hairs of the Buddha.
Since then, at the mercy of earthquakes and other natural disasters, it has been rebuilt, re-razed and reconstructed numerous times, along with the addition of other holy and royal relics (2 sacred Buddha teeth and a crown from King Bayinnaung).
Bago's old reclining Buddha, reputed to have been built in 994 and housed in a durable iron shed.
At 16m high and 55m long, it is one of the largest of its type in the world.
Depicting the Buddha in a relaxed mode, with its eyes wide open and slightly spread feet, it is believed to me one of the most faithful depictions.
The latest reclining Buddha, down the road from Shwethayaung, built in 2002 and also amongst the largest in the world.
Stretched out in the sun amid palm trees and opposite a garden pagoda and lake, the new kid on the block strikes quite a pose.
The alfresco setting accentuates the Buddha's serene composure and beauty, while the superb detailing is striking in the natural light, as different angles evoke different emotions.
From the accented facial features and make-up to the folded, flowing lines of the golden robe and the auspicious markings on the feet, the size and craftsmanship of the statue is imposing, from head to toe, front to back.
A 126 year old boa constrictor python is the centre of worship at this small temple.
Legend has it that the snake is a reincarnation of a revered monk or a nat spirit, however the story I received from the snake-keeper is that it is in fact a reincarnation of the monk's daughter.
The monk had a dream in which he saw the snake travelling to him from Shan State (a long way away) and whereby the snake also told him exactly where it could be found.
Whatever the story, since its miraculous journey and appearance, the ancient snake has been an important subject of devotion for local Buddhists.
* 1 Day Bago Itinerary Fun Fact: the snake is under 24hr guard and eats some 5kgs of chicken every 50 days.
One of the biggest Burmese pythons in the world, it is more than 5m long and 30cm thick – even coiled, this sacred serpent site is certainly a salient sight.
The reptile has free reign to roam around a relatively roomy room, though it appears to spend most of the time curled in a corner, in the company of cash and coins from a consecrated clique.
For outsiders, it is not somewhat but substantially surreal to see the seriousness of service and homage: believers praying, chanting and bowing to a snake, epitomizing the intensity of Buddhist devotion in the country.
Many Bago women work in cheroot factories, rolling traditional cylindrical Burmese cigars.
On a dried cheroot leaf, tobacco and fragrant woodchips are mixed and rolled, together with a filter of dry corn husks or sugar cane fibers, for a stronger smoke.
They pack a punch, a powerful aroma and longer lasting that regular cigarettes – combined with a low price point (25-50 kyat for 2), the cigars remain popular amongst locals, men and women.
There are around 15 large workshops and many smaller ones.
At this shop, the women work from 6:30am-6:30pm, rolling 1,000 cigars for 3,000 kyat a day.
There's also the opportunity to visit a cheroot factory on Inle Lake.
1 Day Bago Itinerary: Transport 
After visiting the Golden Rock you can take a bus from Kinpun heading to Yangon and get off at Bago
Buses depart approximately every hour, at some hours longer, from 8am. Travel time is 2.5hrs to Bago.
Touts crowd you on arrival.
One took me to Emperor Guesthouse, lying to me about the price of Myanada Guesthouse, which I initially wanted to stay at.
1 Day Bago Itinerary: Accommodation 
Single room w/ air-con, w/ and w/out ensuite: 8,000 kyat / 10,000 kyat – $8.00-10.00
Double room w/ air-con & ensuite: 18,000 kyat / $18.00
The owner of Myananda is lovely and has an admirable attitude, not concerned with lying touts steering customers away from his business.
His guesthouse appears to be full most nights anyway. We had breakfast together at the charming Hadaya Cafe, a teashop with pastries and snacks, one of the few dining options in town.
Double room w/ ensuite: 12,000 kyat / $12.00
Did you enjoy reading 1 Day Bago Itinerary: Top 5 Attractions on Motorbike?
Pin it and help others find it too!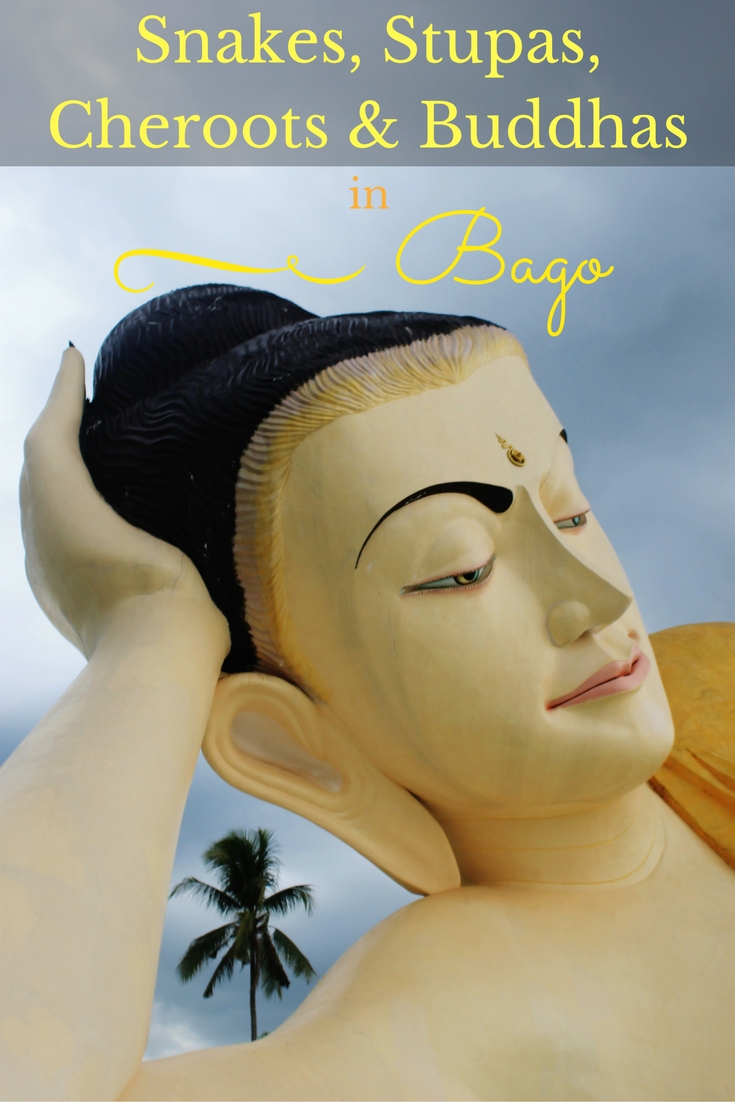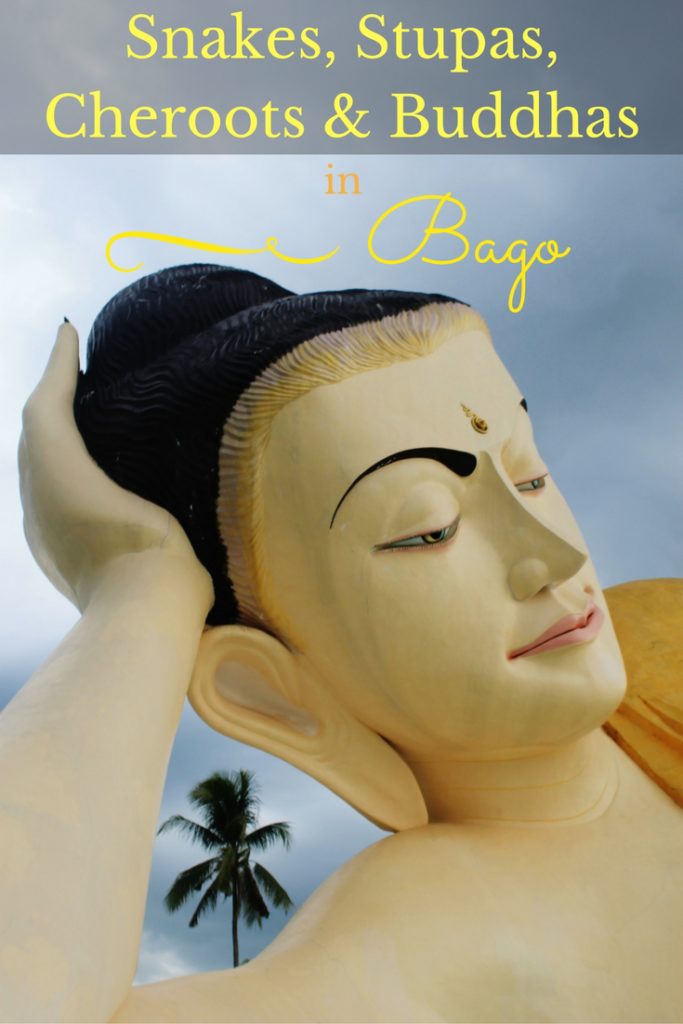 [put_wpgm id=116]
*** The Final Word – There are lots of diverse attractions in Bago that make it worth visiting! ***
Do you like smoking cheroots (Burmese cigars)?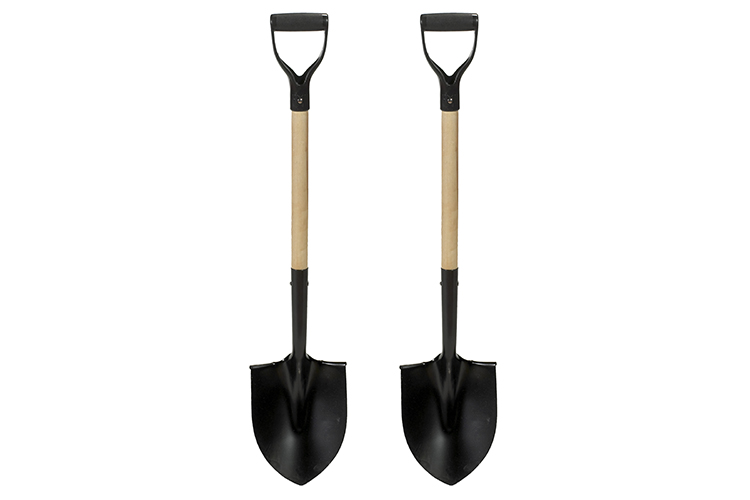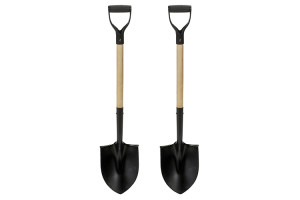 Not recommended DIY travel; take a tour instead
Visited in June 2014