See the courthouse where Billy the Kid was sentenced to hang and find out what else there is to do in Las Cruces and Old Mesilla, New Mexico.
Old Mesilla is the highlight of visiting Las Cruces. Come for the ambiance surrounding the plaza and stay for dinner!
It's home to New Mexico State University, but there aren't many things to do in Las Cruces for tourists. The exception is Old Mesilla Village, which is a 15 minute drive from downtown. It was very pleasant when we visited in the early morning before all the businesses opened.
Sheena and I arrived too late the night before to enjoy authentic Mexican food there, but we've also included a few places to eat that were on our list.
Without further ado, let's see what Old Mesilla has to offer…
Things to do in Old Mesilla, New Mexico
#1. Old Mesilla Plaza
The center of the old town and starting point for any visit is Old Mesilla Plaza where everything is no more than two blocks away.
Depending on your interests, a good time to visit may be during the Mesilla Farmers and Craft Market (11 am to 4 pm Friday, 12 pm to 4 pm Sunday).
There are also other events throughout the year.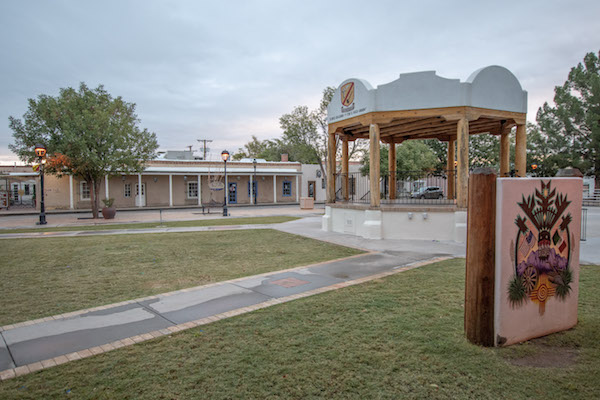 #2. Billy the Kid Courthouse
As fans of the two Young Guns movies, we were excited to visit the courthouse where Billy the Kid was sentenced to hang, and has since been turned into a gift shop.
It's one of the most popular things to do in Old Mesilla, New Mexico.
The poster outside commemorates this piece of local history.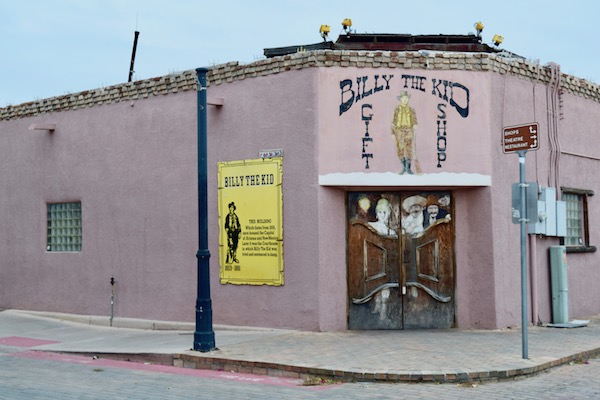 #3. Basilica San Albino Catholic Church
The other key site to visit is the Basilica San Albino Catholic Church on the north end of Old Mesilla Plaza.
The religious institution towers over all the surrounding adobe buildings. Check the website for mass and other times they are open to the public.
Walking around the rest of Old Mesilla consists of admiring the adobe buildings and shopping for local products and souvenirs before heading to dinner.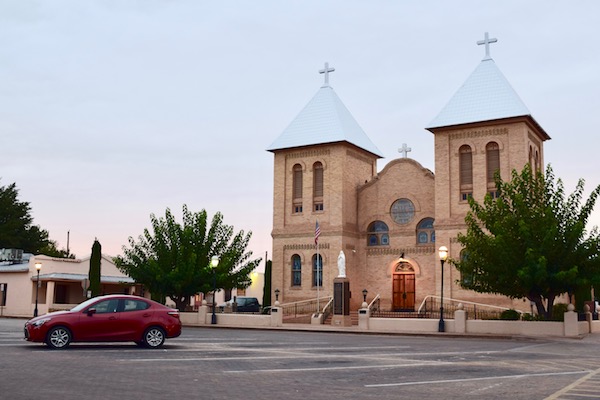 #4. Grab a Bite in Old Mesilla Restaurants
If you are in the mood for Mexican food, you came to the right place at Old Mesilla. Depending on who you ask, there are two fan favorites – La Posta de Mesilla and Andele Restaurante.
La Posta de Mesilla is the classic choice and has a great ambiance inside the large restaurant featuring live birds and fish. For many, La Posta offers nostalgic memories that keeps customers coming back. Although the food is generally okay, the new favorite is Andele Restaurante.
Andele Restaurante comes highly rated from locals and guests alike. Compared to your mom and pop Mexican restaurant, they have streamlined the process while keeping quality tasting food on your table. Start off with free chips and your choice of salsa at the salsa bar. Follow this up with the popular combination of posole and green chile enchiladas.
If you are looking for a change from Mexican food, sample the creative menu at Salud de Mesilla. They have put an American spin on the tapas small plates.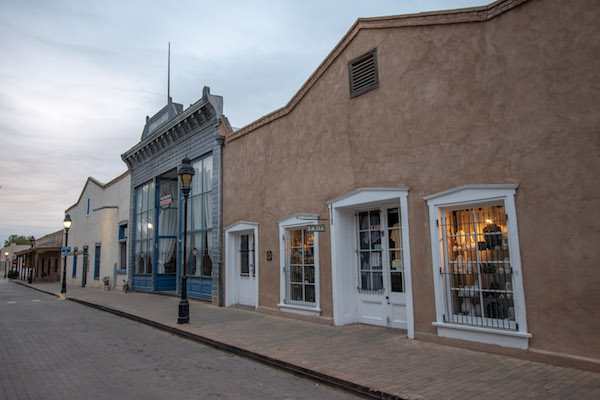 Parking in Old Mesilla
Each restaurant generally has their own parking lot.
However, there is a large free public parking lot on Calle de Medanos and Calle Principal.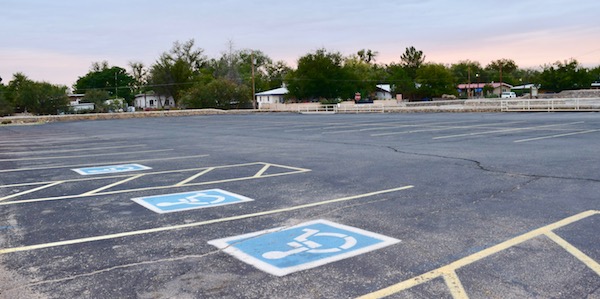 Las Cruces Hotels
There are over a dozen hotels near Old Mesilla.
The best value was Super 8 just off Route 10. The price was the best available, and the room offered all the amenities we were looking for. Similar to past experiences, prices were better online than in person.
Airbnb lists over 150 places to stay in Las Cruces, but there are no hostels.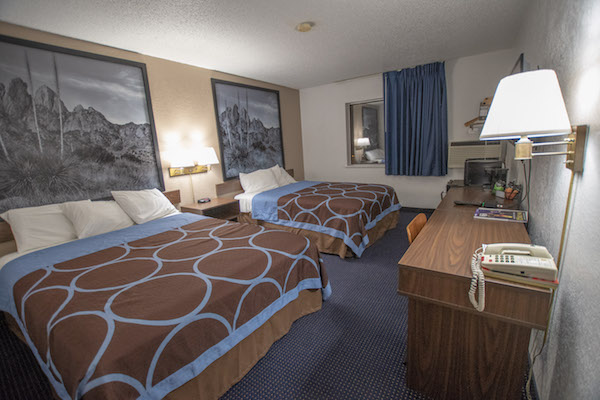 Attractions Near Old Mesilla
We ultimately decided not to go due to a packed week on our New Mexico road trip, but the Organ Mountains – Desert Peaks National Monument with Dripping Springs was on our short list.
Instead, our schedule included:
Dog Canyon Trail in Oliver Lee Memorial State Park
Find more inspiration in one of the New Mexico guide books below!
Although the US is a relatively safe country to travel in, medical costs are high so we always recommend purchasing travel insurance before any trip. We've been using World Nomads in our travels through 80+ countries over the past 12 years. It's the best-value provider we've found in terms of price and coverage and we haven't had any issues when we've had to make (fortunately) minor claims.
For more details check out our World Nomads review here.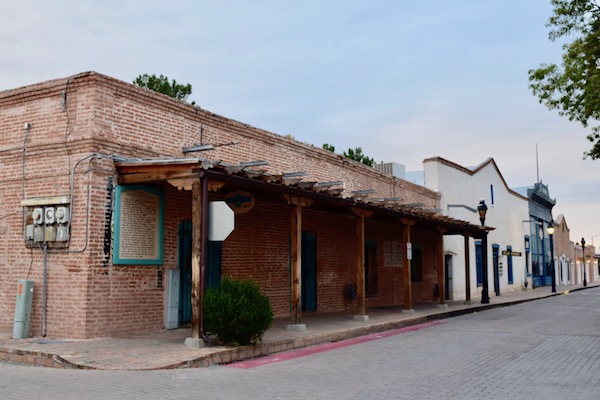 Know Before You Go
Hours: 11 am to 9 pm when restaurants and businesses are open
Duration: 1-3 hours
Parking: Free parking lot on Calle de Medanos and Calle Principal
Accommodation: Super 8 Las Cruces or vehicle camping at Walmart
Did you enjoy reading our post on Old Messila, New Mexico?
Pin it and help others find it too!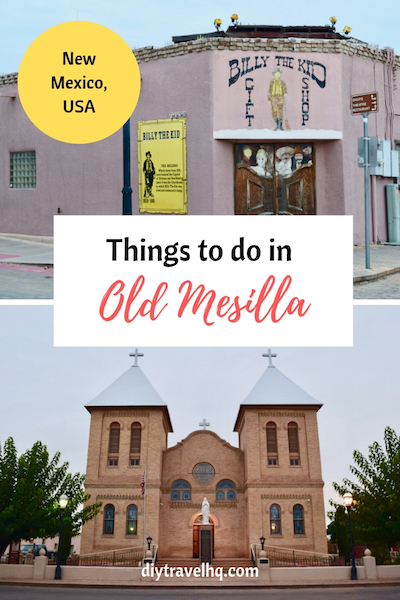 Disclaimer: This post contains affiliate links which means that we receive a small commission if you click on a link and purchase something that we've recommended, at no extra cost to you.

Visited in October 2018
Updated July 2019