The Mandalay Archaeological Zone ticket covers all the things to do in Mandalay – find out what's included & see for yourself which temples are worth visiting.
Things to do in Mandalay
A Mandalay Archaeological Zone combo ticket (10,000 kyat / $10.00 in 2014) is required for the following sites:
Atumashi Kyaung
Cultural Museum Mandalay
Kuthodaw Paya
Mahamuni Paya
Mandalay Palace
Paleik Paya
Shwenandaw Kyaung
Entrance to the ancient cities of nearby Amarapura and Inwa

Of them all, only Mandalay Palace and Shwenandaw Kyaung checked for tickets.
But we here at DIY Travel HQ feel that they are both outstanding attractions, making the ticket somewhat necessary if you want to cover all the best things to do in Mandalay.
Besides, the many things to see & do is one big reason why Mandalay is better than Yangon 🙂
* Don't forget to purchase travel insurance before any trip to Myanmar. We've been using World Nomads for over 10 years. It's the best-value provider we've found but there are other important things to consider. Check out our post and find out which of our claims were successful or denied.
#1. Mandalay Palace & Fort
Like Beijing's Forbidden City, the Mandalay Palace & Fort complex was more than just royal living quarters, it was a walled city within Mandalay.
However, unlike its Chinese counterpart, little of the original palace survives today.
First, British colonial forces arriving in Mandalay in 1897 looted and pillaged the buildings, then in World War 2, it was completely razed to the ground.
A faithful, yet controversial, reconstruction process began in 1989, with the use of modern techniques and materials, particularly corrugated metal and concrete, rather than the original teak wood.
The main palace platform includes the great audience hall, lion throne room and glass palace, with little to no replicas, furnishing and signage.
On the grounds are a hluttaw (Supreme Court), royal mausoleums, royal mint, clock tower, relic tower, and watch tower – from which there are wonderful views.
For Mandalay's most visited and historically important site, the compound is rather underwhelming and uninspiring – we preferred the ancient royal cities of Sagaing & Inwa outside of Mandalay.
However, against a backdrop of bright blue skies and glistening green grass, the ochre roofs, golden spires and white buildings evoke the regal magnificence of yesteryear.
Visitors may enter only from the east gate.
* Mandalay Archaeological Zone ticket was checked * 
We recommend Lonely Planet's Myanmar Travel Guide
to help you plan your trip.
Mandalay Hill stands at 240m high.
Here, the best viewpoint in the city can be accessed via a long stair climb or a taxi, escalator and lift option to the top of the Hill.
Either the way, the journey is thoroughly rewarded with an incredible panorama of Mandalay:
the old city walls and moat
stupas
temples and pagodas
the commercial centre
the Irrawaddy river and mountains on the horizon.
Taking the more demanding option, under the covered stairway of the Mandalay sun, the way up by foot is laborious and seemingly unceasing.
At every landing which appears to be the summit is, just, yet another pagoda or monastery – and more stalls and sellers of snacks and souvenirs.
It is a cultural, social and physical exercise, as much about the journey as the destination. Don't miss one of the best Mandalay attraction.
* Mandalay Archaeological Zone ticket was not checked * 
According to ancient history, only five likenesses of the Buddha were created in his lifetime – 2 in India, 2 in paradise and the 5th in Myanmar.
It is housed here at Mahamuni Paya, cast in bronze and weighing 6.5 tonnes.
Seated on a throne upon a 6-ft high pedestal, the Buddha measures 3.8m in height.
Together with Shwedagon Pagoda and the Golden Rock on Mount Kyaitiyo, it is a major pilgrimage site for Burmese Buddhists & one of the top things to do in Myanmar for tourists.
The entrance leading to the Buddha image is lined with shop stalls, crowds, noise and blasting music.
Such overt displays of commerce and enterprise is commonplace in pagoda's across the country, where Buddhism is completely intertwined with day-to-day life.
Yet, for many foreigners, it can be a somewhat confronting and uncomfortable experience, challenging assumptions and associations more commonly associated with religious reverence.
The temple is part of a larger complex set on pleasant grounds, with stone carving workshops in the behind the the complex.
* Mandalay Archaeological Zone ticket was not checked * 
Roaming lost in the pages of the World's Largest Book is one of the top Mandalay attractions.
Each of the 729 marble slabs at Kuthodaw Paya are inscribed with a page of the Buddhist canon Tripitaka.
They are housed in an individual stupa, surrounding a central 57m high golden stupa. A 730th slab lies in one of the corners, telling its own story of the site's construction.
Each stone contains 80-100 lines chiselled in Burmese script, on both sides, originally in gold.
It is said that, reading for 8hrs a day, it would take 450 days to complete reading of the entire "book".
* Mandalay Archaeological Zone ticket was not checked * 
Still wondering what to do in Mandalay?
In the shadow of Kuthodaw, this similar site is underrated and, if visited first, overwhelming.
It is comprised of 1773 marble slabs of Buddhist script – more than Kuthodaw.
However, its inscriptions are commentaries on the Tripitaka, not the official text itself, thus disqualifying it from holding Kuthodaw's famous title.
The stupas are also placed closer together than those at Kuthodaw.
Set amongst palm trees and overgrown bushes, and attracting few visitors, Sandamuni feels almost abandoned, offering a rawer and more intimate experience.
* Mandalay Archaeological Zone ticket was not checked * 
Shwenandaw Kyaung was originally part of the royal palace where King Mindon lived, and is the only major original building that remains.
The elaborate detail of the wood carvings, symbolising Buddhist myths, possess incredible depth and character.
Inside, the golden pillars and ceilings definitively display their age and history – it is a fragile, and fine, masterpiece in Burmese teak wood architecture.
* Mandalay Archaeological Zone ticket was checked * 
Unlike Mandalay's other primary monasteries, the grounds of Shwe In Bin Kyaung remain inhabited with live-in monks.
Visit the Mahagandayon Monastery in Amarapura (outside Mandalay) if you're interested in seeing monks receiving lunch.
Shwe In Bin is another stunning teak structure: the main building is raised on poles, with a large balustrade stairway.
With thin, soaring spires and equally ornate engravings and detailing, Shwe In Bin is constructed in the fashion of Shwenandaw, evoking too, the same awe-inspiring wonder of skill and beauty.
* Mandalay Archaeological Zone ticket was not checked * 
Notable for its yellow, ochre and white five-tiered wedding cake structure, the monastery was originally built from teak wood, before being heavily damaged in an 1890 fire.
Inside it is a large, largely empty hall with a Buddha statue; outside, the peeling stucco reveals its brick foundations.
* Mandalay Archaeological Zone ticket was not checked * 
In a city of exceptional monuments, the temple would be of lesser interest – save for an 8m tall, 900 tonne Buddha carved from a single block of marble.
This makes it one of the most impressive Mandalay tourist attractions.
Legend has it that the marble originated from a nearby canal, requiring 10,000 men 13 days to transport it to its current site.
* Mandalay Archaeological Zone ticket was not checked * 
Did you enjoy reading Top 9 Temples & Things to do in Mandalay? 
Pin it and help others find it too!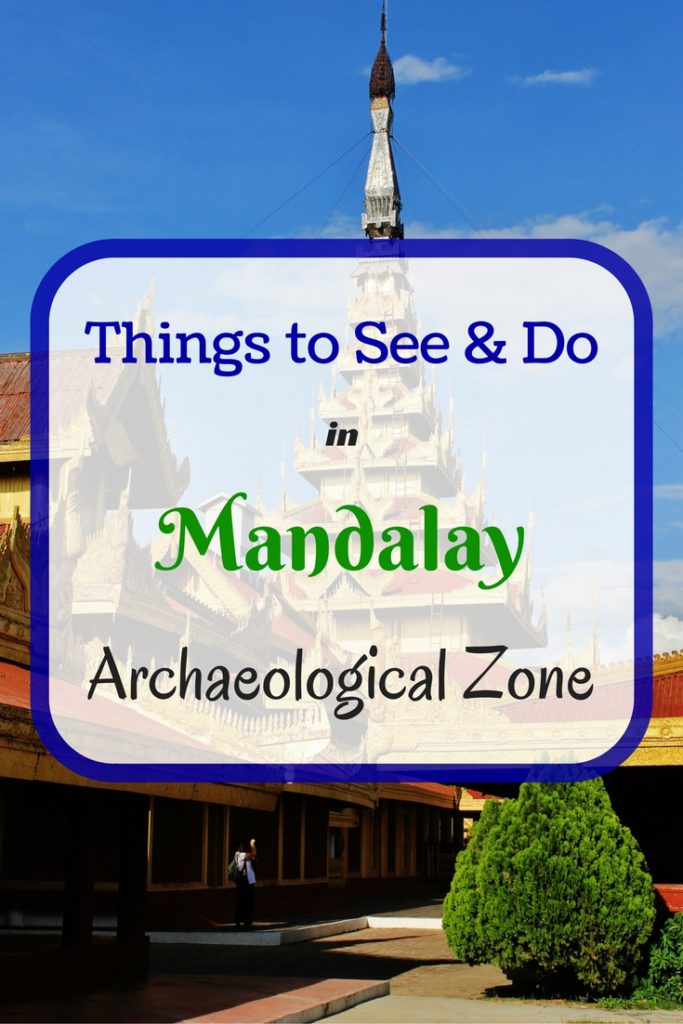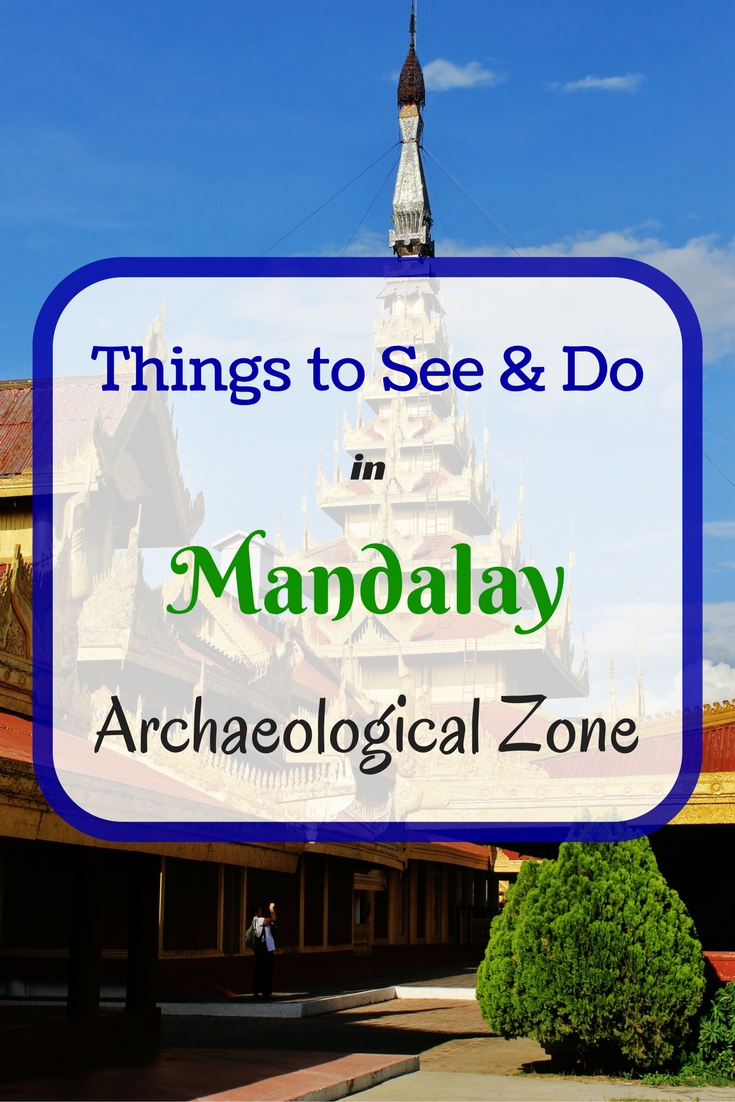 *** The Final Word – You don't need the Mandalay Archaeological Ticket if you don't plan to visit Mandalay Palace and Shwenandaw Kyaung (but they're both highly recommended) *** 
What was your favorite tourist attraction in Mandalay?
Disclaimer: This post contains affiliate links which means that we receive a small commission if you click on a link & purchase something that we've recommended – at no extra cost to you. This helps us to keep our site running so we can continue to provide free content. Thank you for your support!
Visited in June 2014