Experience the true taste of Maya cooking with Ixiim Cooking School where traditional methods are mixed-in with fun & learning to create one of the most delicious experiences in Guatemala!
There are a lot of things to see & do in San Pedro such as:
kayaking in Lake Atilan
soaking in thermal pools
But after reading amazing reviews on Tripadvisor, the one thing we didn't want to miss was taking a cooking class with Ixiim Cooking School!
Ixiim Cooking School is run by two young women, Angela from Spain & Li from San Pedro.
Angela fell in love with San Pedro when she was passing through a few months ago – it is one of the best places to visit in Guatemala.
She met Li & they became fast friends through their mutual love of Guatemalan food – from there, Ixiim Cooking School was born!
Ixiim Cooking School is located on the main traveller's strip, alongside restaurants, cafes & Spanish schools. With its bright yellow gates, it stands out from the crowd!
Stepping into Ixiim Cooking School is a breathe of fresh air. It's set in a beautiful, green oasis surrounded by trees & plants.
We here at DIY Travel HQ haven't seen many gardens in Guatemala so this was a real treat & I have to admit I felt a little homesick – my mum has a beautiful backyard with a vegetable garden just like this 🙂
Angela showed us around the kitchen & explained the 6 dishes we would be cooking:
Pepian chicken
Handmade tortillas
Rellenitos de Platano
Beetroot salad
Yellow rice
Rosa de Jamaica
It sounded so good!
The prep station had already been set up for us. Ixiim Cooking School has only been open for 3 months so the walls are freshly painted and the crockery & equipment all looked really clean & new.
Angela also took us on a short tour of the garden. It's a work in progress but plots have already been cleared to grow lots of different types of herbs & vegetable. I love that idea, there's nothing better than being able to go into your own garden to pick out what you need for your cooking.
Oh & there's already a chicken coop set-up & ready to go!
We caught a glimpse of where we would be having dinner after the class too. The rustic wooden table was laid with a beautiful patterned tablecloth and pottery bowls & cups to eat & drink from. With all the flowers & plants surrounding it, it looked so pretty!
Back in the kitchen, it was time to put on our aprons & start cooking! We were the only people taking the class so that made it feel extra-special.
A young Guatemalan woman named Shenni introduced herself as our teacher for the class – we have almost the same name so I immediately loved her 🙂
Shenni is from an Indigenous Mayan family, living in San Pedro La Laguna. She was wearing a traditional red & pink multi-striped huipil, pronounced "wee-pee". A huipil is a woven blouse that is typically worn in the Guatemalan highlands, such as the town of Todos Santos.
Many towns and villages have their own distinct style but in San Pedro, the women wear what they like. Also, huipils are traditionally made with fabric woven on a backstrap loom… but that's for a different class altogether!
Now back to the cooking class…
The class was run in Spanish but Shenni spoke very clearly & slowly so we understood most of what she was saying, even though our Spanish is quite basic.
There was also a volunteer with us the whole time, the amazing Paola, who translated anything we didn't understand. Angela was also often in the background to answer any questions or make clarifications.
All the ingredients we would be using were laid out for us – it was amazing that we would be making 6 dishes mainly using only these ingredients!
We talked about the recipes in general & how we would be cooking them. Shenni explained that we would be preparing one dish at a time but then cooking some of them at the same time.
Then we made our way to the chopping boards & started cutting up some vegetables: carrots, onions, beetroot, potatoes & guisquil (similar to a zucchini).
After we finished slicing & dicing, we put the vegetables aside & turned our attention to the main dish, Pepian Chicken.
Pepian Chicken
Pepian Chicken is one of the oldest dishes in Guatemala's culitary heritage. Like many traditional meals, it has pre-hispanic origins & was served during religious Mayan ceremonies.
Pepian Chicken also represents a fusion of Spanish & Mayan cuisine, a cross between a Guatemalan stew (recardo) & a Mayan curry.
Pepian Chicken's distinctive flavour comes from a rich sauce made from ground seeds & spices: black & red chillies (called guaque & pasa), raw pumpkin seeds, black peppercorns, sesame seeds & a cinnamon stick.
We watched Shenni roast the chillies, sesame & pumpkin seeds. The tomatoes were also roasted, then everything was mixed together in a blender.
Tomatillos were also added which are, as its name suggests, tiny tomatoes – they're also known as the Mexican husk tomato. Tomatillos are native to Central America and were cultivated in the pre-Columbian era.
The seeds, spices & tomatoes were blended for around 1-2 minutes, which created a really rich & fragrant sauce. This was added to a pot on the stove, which was already boiling with chicken and the potatoes & guisquil which we chopped up earlier.
Handmade Tortillas
Leaving the Pepian Chicken to boil, we started working on making our own very own tortillas!
Corn is absolutely fundamental to Guatemalan culture & Ixiim Cooking School pays tribute to it in many ways.
The name Ixiim means corn in the Mayan language, the yellow walls symbolize the colour of corn & the Mayan god of corn is the Ixiim Cooking School logo.
Check out our video for more on Ixiim Cooking School!
Legend has it that when the Mayan gods decided to create man, they tried different materials like wood & clay but nothing worked. Then they tested corn & it was successful – so it goes that the Mayans are "men of corn", not only in mythology but also very much in reality.
Quite simply, a meal in Guatemala is not a meal without tortillas – and here, they are, of course, made with corn!
Tortillas are eaten with almost everything and they are can also be used to replace a fork & spoon.
At our class with Ixiim Cooking School, we learnt to make tortillas the traditional way. The corn was already husked and the kernels were already boiled but we got to use the grinding machine.
We put the cooked kernels into the machine, grinded it by hand and then the dough flour (masa harina) came out at the bottom.
We repeated the process a few times to make enough tortillas for the two of us.
Then we went over to the weaved mats on the floor. Here, we used a traditional stone grinder called piedra de mole, which has been in (the co-owner) Li's family for generations.
We used a stone rolling pin on the stone grinder, rolling it back & forth, to further grind the flour mixture into a dough.
I wasn't very good at this but Erik did a little better!
He was eventually able to roll the dough into a few small balls.
Then we went back to the table & started shaping the dough into palm-sized patties.
Finally, I got to fulfill my Guatemalan dream of slapping my hands together to make tortillas!
You hear this sound of applause all over the country, as women make tortillas in shops & on the streets all day long. Now was my chance to do the very same thing & congratulate myself on a job well done… clap clap clap! 🙂
The tortillas should be flat, thin & round. After we ran out of dough & there was no more reason to clap our hands, we put the tortillas onto the top of the comal.
A comal is a traditional stove with a sheet of heavy steel instead of a grill. It is heated with firewood (lena) which gives the tortillas a slight smoky flavor.
We let the tortillas cook for awhile, turning them back & forth, until they was golden-brown & even slightly burnt in parts.
The beauty of Guatemalan tortillas is that, because they are home made, no tortilla is the same. When they are cooked using traditional methods, the taste is very different to those made my machine.
We couldn't wait to taste them!
Rellenitos de Platano
Our next dish to conquer was Rellenitos de Platano.
Rellenitos are a sweet dish of mashed plantains filled with a mixture of refried beans, melted chocolate & cinnamon.
First, we cut the bananas in half & put them in to a saucepan to boil. After they cooled down, we mashed the plantains into a thick paste – that was fun!
Then we rolled the paste into little balls in our hands, before shaping them into small tortillas. We made a small indentation into the paste to add the stuffing.
Finally, we folded the Rellenitos over a few times, to resemble short, fat bananas, before putting them into a saucepan to deep-fry.
Rosa de Jamaica
I was hoping to have drinks included in the cooking class but I didn't expect to be making our own! Rosa de Jamaica (or Jamaica Juice) happens to be one of my favourite drinks too, so I was excited to learn how to make it!
It's a simple recipe, using dried hibiscus flowers, cloves, cinnamon, water & sugar.
You can drink Rosa de Jamaica hot or cold. It has a slight tart but refreshing taste, similar to cranberry juice. I love it!
The Finished Meal at Ixiim Cooking School
The cooking class took approximately 2.5 hours.
Along with Pepian Chicken, handmade tortillas, Rellenitos de Plantano & Rosa de Jamaica, we also made yellow rice & a beetroot salad.
The dishes were brought out to the lovely table setting in the garden. There was so much food & it looked amazing! I couldn't believe we made all of it ourselves!
And the presentation was superb – the pottery bowls & cups really enhanced the food & the atmosphere.
It was around 6:30 pm at this time & it was the perfect time to sit down for dinner. The sun was going down & the fairy lights were turning on.
The sky takes on this beautiful blue tinge & the garden begins to shimmer in the light. It's my favorite time of the day.
The food looked almost too nice to eat but we had worked up an appetite! We were ready to taste our cooking! 
We started with the Pepian Chicken, the aroma was too good to resist. We had ordered it in restaurants before but this tasted a lot different. The flavours were much stronger, we could pick-out all of the seasonings, because we knew exactly what went into it.
We had the Pepian Chicken as a sauce with rice but you can also have it separately as a soup.
Either way, you must have it with tortillas! I really savoured the tortillas because of all the work that went into it.
They also tasted different from usual – cooking them on the traditional fire-stove really brought out the smokiness, they were delicious.
Beetroot is not common in Guatemalan cooking but the salad we made was so good! It's often the simplest dishes that are the tastiest.
At this stage we were pretty full but there's always room for dessert! The Rellenitos de Platanos with the bean & chocolate filling tasted warm, soft, sweet & rich. It was the perfect dish to end on.
There was a lot of food, more than enough for 4 people but we ate it all between the 2 of us!
In 6 weeks travelling around Guatemala, the food we made at Ixiim Cooking School was the heartiest & most delicious meal we've had!
Ixiim Cooking School Wrap-Up
Our experience at Ixiim Cooking School was everything we were looking for in a cooking class in San Pedro La Laguna.
We learnt how to make Guatemala food, using traditional methods in a beautiful outdoor kitchen. To top it off, we enjoyed our meal in a beautiful garden with fairy lights, as the sun was going down.
We often have long days travelling or working, and usually just have quick & easy meals.
So we felt spoilt & relaxed in this romantic setting, it was so nice to be able to spend quality time together over a lovely meal.
Angela was a very friendly & professional host. She really made us feel welcome in her home & epitomizes the phrase "Mi Casa es Su Casa".
Shenni was an incredibly helpful & patient teacher. We never felt rushed & when we were unsure about what to do, she always worked with us until we got it right.
If you're looking to have fun, learn new skills in the kitchen & gain a better understanding of Mayan culture, sign up for a class with Ixiim Cooking School – it will probably be one of your best things to do in Guatemala!
Know Before You Go
Location: Ixiim Cooking School – San Pedro La Laguna, Guatemala
Cooking Class Times: 11:00 am & 4:00 pm, Monday to Saturday
Duration: 3 hours including meal time
Dishes: Pepian Chicken, handmade Tortillas, Rellenitos de Platono, Yellow Rice, Beetroot Salad & Rosa de Jamaica
Price: Q280 or $35
Contact:
Did you enjoy reading about Ixiim Cooking School in San Pedro La Laguna? Pin it, and help others find it too!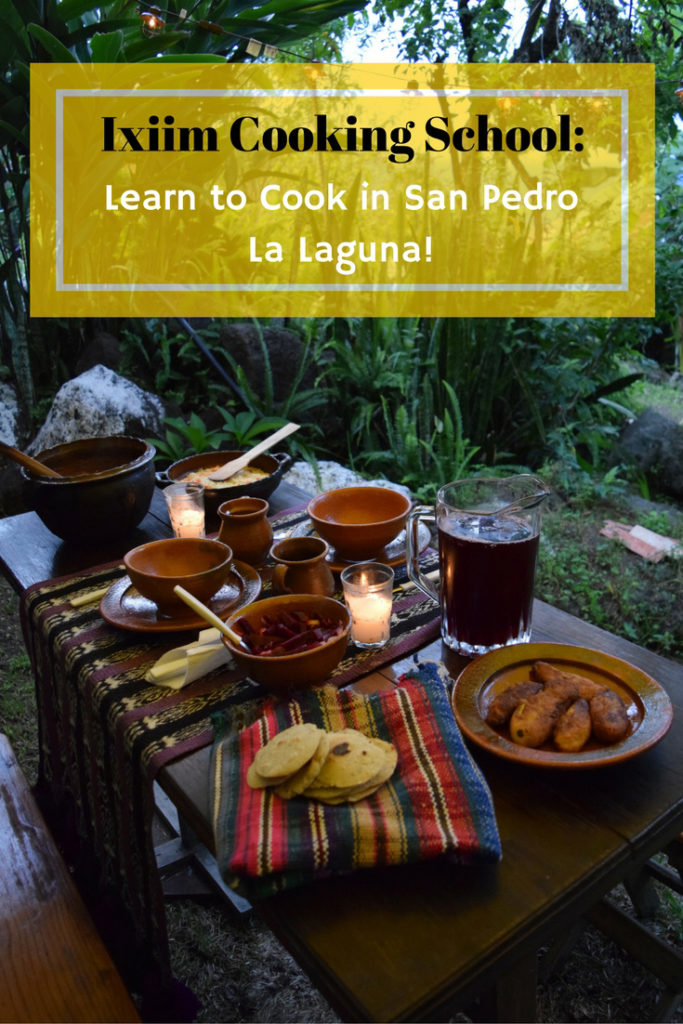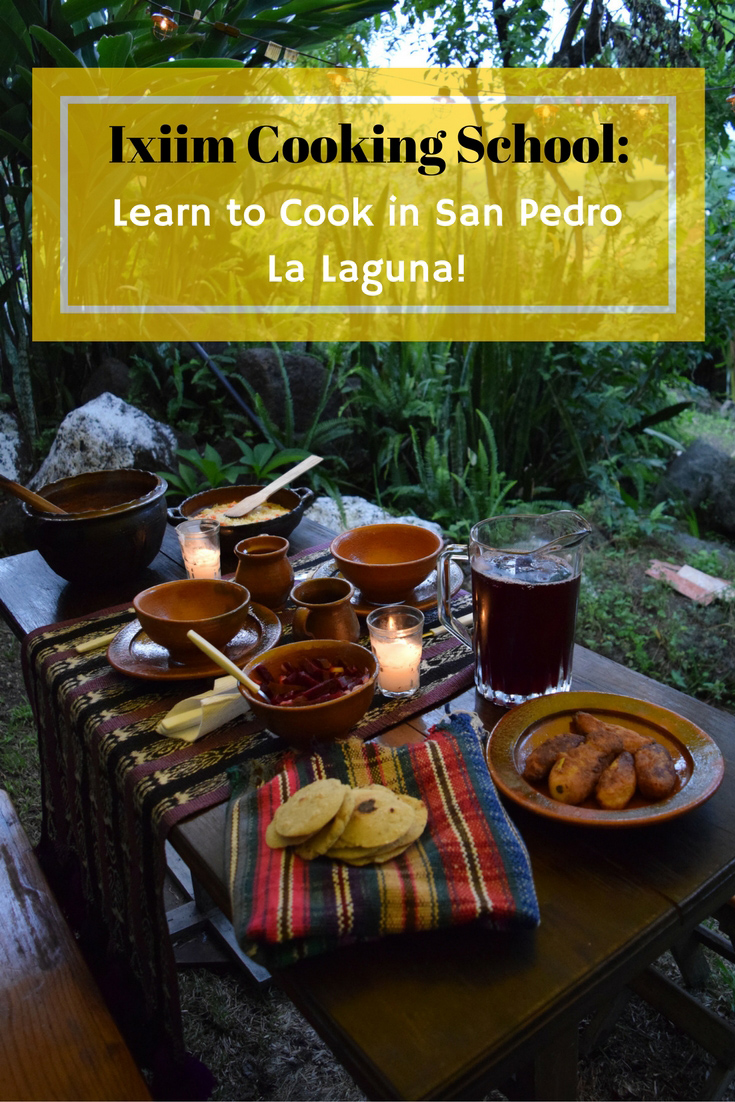 Thank you to Ixiim Cooking School for hosting us & giving us the opportunity to experience true Guatemalan cuisine & hospitality. 
Visited in August 2016