Volcanoes, beaches, diving, temples, rice fields, villages… Indonesia has so much to offer & in 60 days you can see it all. From Sumatra to Timor, find out where to go in Indonesia!
Where to Go in Indonesia
Indonesia is chock full of places to visit with unique attractions on every island. During our two month trip we island hopped along Sumatra, Java, Bali, West Nusa Tenggara, Flores, and West Timor. You can see the highlights below.
With the capital being moved to Kalimantan on Borneo we will need to see how it compares to Jakarta after it is built. Our next Indonesia trip will also take in all the amazing things to do in Sulawesi, and explore remote Papua.
* Don't forget to purchase travel insurance before any trip to Indonesia. We've been using World Nomads for over 10 years. It's the best-value provider we've found but there are other important things to consider. Check out our post and find out which of our claims were successful or denied.

Places to Visit in Indonesia
1. Banda Aceh
It's not one of the top places to visit in Indonesia but fly into Banda Aceh & go on a DIY tour of the major sites from the 2004 Boxing Day Tsunami like we did here at DIY Travel HQ.
It may seem tasteless but seeing the impact with your own eyes helps to understand the scale of the disaster.
Don't miss the Aceh Tsunami Museum – the huge building was built as a symbolic reminder & education center but it also functions as an emergency shelter incase of another catastrophe.
2. Pulau Weh
Take the ferry to Pulau Weh for a rustic island experience.
The cheap food & accommodation makes it a backpacker's paradise – you may well find yourself here longer than you intended…
The diving is spectacular & the tours are a bargain on any Indonesia itinerary.
* Top Tip: If you have your own snorkel, you can jump right in from the shore & see interesting coral & fish.
3. Medan
There's no reason to visit Medan except that it's the biggest transport hub in Sumatra.
It's fast-developing so you'll find many modern comforts such as cinemas, malls & chain restaurants.
If sightseeing is your thing, you'll find the Grand Mosque & some run-of-the-mill attractions to keep you busy.
Medan is also the perfect base for visiting Bukit Lawang, the best place to see Orangutans in Southeast Asia.
4. Bukittinggi
Bukittinggi is a short flight or multiple, long bus rides away… either way, it's worth a visit.
Take in the views of the Sianok Canyon, explore the network of Japanese WWII caves & experience a Padang restaurant feast.
Head out to the Batang Palupuh Nature Reserve to search for the elusive Rafflesia flower & try organic Kopi Luwak on site.
5. Jakarta
There's no need to brace yourself for Jakarta because it's not that bad… the population & pollution is growing at an alarming rate but for now, it's contained.
In fact, when we visited on a Sunday, Jakarta felt like a ghost town.
There are a number of interesting tourist attractions in this megacity: monuments, museums & the historic Kota (Old Town) district.
6. Yogyakarta
Most people base themselves in Yogyakarta to visit the ancient ruins of Borobudur & Prambanan, so it's an extremely touristy city and one of the top places to visit in Indonesia.
There are markets, restaurants, accommodation & tuk-tuk drivers all hustling for the tourist dollar around Jalan Malioboro.
But Java's 2nd largest city has more to offer…
It's the centre of arts & culture in Indonesia, home to many local galleries & museums – don't miss a free performance of a Javanese court dance at the Kraton Palace.
Tour options:
7. Borobudur & Prambanan
Borobudur & Prambanan are two UNESCO World Heritage Sites, located near Yogyakarta.
You can reach them via public transport but most people visit on a cheap tour.
Both temple complexes have similar histories but are different in architecture & style.
Buddhist Borobudur is one huge temple with 9 platforms whereas Hindu Prambanan is a collection of tall, vertical towers.
Tour Options:
8. Mount Bromo
Any visit to Indonesia must include a visit to Mount Bromo & its 5 volcanoes, 4 lakes & 50 rivers.
Take a jeep tour & watch sunrise over volcanoes, cross the Sea of Sand on horseback & look into the mouth of an active crater.
For the more adventurous types, high on spirit but light in the wallet, Mount Bromo can also be explored on foot and without paying the entrance fee – if you're a little lucky or sneaky…
9. Mount Ijen
Mount Ijen is another must-do experience, but it's more strenuous than Mount Bromo.
The adventure begins with a steep & dusty uphill climb, in the middle of the night, alongside miners carrying 70-90kg loads of sulphur up & down the mountain.
Then you descend down into the crater of Mount Ijen, still in darkness. The reward is like nothing else – blue lava flames, something you'll have to see to believe…
10. Ubud
Ubud represents idyllic Indonesia: rice terraces, temples & kind-hearted locals.
The best sights are outside the town centre – rent a motorbike for the day & explore the best of Bali's countryside.
Ubud town gives you the opportunity to relax & indulge.
It's very touristy, with hotels, restaurants, massage parlours to suit any budget.
Check out Lonely Planet
for more travel inspiration!
Tour Options:
11. Kuta
Kuta lives up to its heady reputation but if you're seeking a calmer holiday experience, it's still got you covered.
That's the appeal of Bali's #1 destination, it has something to offer everyone from partygoers & surfers to families & couples.
Tour options:
12. Nusa Lembongan
Choose Nusa Lembongan for a perfect holiday getaway – this is island paradise at its best.
You can easily spend all your time at the relaxing on the beach or having cocktails in a hotel pool but there are plenty of things to see & do too.
Explore the island on foot or motorbike & you'll come across seaweed farms, villages, mangroves, lookout points & more.
Tour option:
13. Gili Islands
The Gili Islands are a collection of three car-free islands, each with their own appear & identity:
Gili Trawangan is the largest, extremely popular with backpackers for its social scene
Gili Air is the middle island, with a mix of travellers & locals
Gili Meno is the smallest, calmest & most isolated
Tour option:
14. Senaru & Mt Rinjani
Senaru is a relaxed mountain town, centered around two beautiful waterfalls.
It's also the base for challenging hikes to Mount Rinjani, Indonesia's 2nd highest mountain.
Hike it yourself of take a tour, either way make sure you spend a night camping at the crater rim, to catch an incredible sunrise over the crater lake the next morning.
15. Labuan Bajo & Komodo National Park
Labuan Bajo is not the most attractive town but it attracts loads of tourists – by necessity.
It's the base for visits to Komodo National Park, one of the natural treasures of Indonesia.
On land, it's the only place you'll find Komodo Dragons, the largest lizard on Earth.
* Top Tip: Underwater, Komodo National Park offers some of the best diving in the world.
17. Ruteng & Lingko Spiderwebs
Keep moving east across Flores Island, stopping at the Lingko Spiderwebs near Ruteng.
A short 10 minute climb takes you to a view of these unique rice fields, based on a traditional agricultural calendar of ceremonies & rituals.
* Top Tip: There's nothing to see or do in Ruteng so try moving on as quickly as possible.
18. Bajawa & Villages
Bajawa is a pleasant hilltop town that's surprisingly developed, with cooler weather, lively markets & laid-back people.
It's an excellent base town to visit traditional villages like Bena & Wogo & the natural attractions in the surrounding area – rent a motorbike & see where the day takes you!
19. Mt Kelimutu
Make the easy climb to the summit of Mount Kelimutu for an unforgettable sunrise over its three coloured crater lakes.
Admire the scenery & spot wild monkeys, while waiting for the haze & the clouds to clear.
Once the sun has risen high enough, you'll really be able to see the different colours of the 3 lakes: green, turquoise & milky-blue.
20. Kupang
Take a ferry or flight across to Kupang, the charming seaside capital of West Timor.
Enjoy fresh seafood on the streets or at the night market, along with the usual Indonesian favourites.
Take a lively microbus ride out to Crystal Cave.
* Top Tip: If you're heading into East Timor, you can apply for a visa in Kupang to cross the border.
21. Tamkessi
You've reached the end of the line at Tamkessi, a remote tribal village in the middle of West Timor.
It's one of the few attractions on the Indonesian side of the island, with it's bee-hive shaped huts built into bedrock.
22. Dili, East Timor
It's not Indonesia but it's so close that we can't leave it out of our list of where to go in Indonesia.
If you've made it all the way to West Timor, take a few extra days to visit East Timor & the capital of Dili.
There aren't many attractions in the city except for a few museums & government buildings from the colonial area.
Do head out along the coastal road to Cristo Rei, for the 27m high statue of Jesus on top of a globe, on top of a hill.
Did you enjoy reading our list of Places to visit in Indonesia?!
Pin it and help others find it too!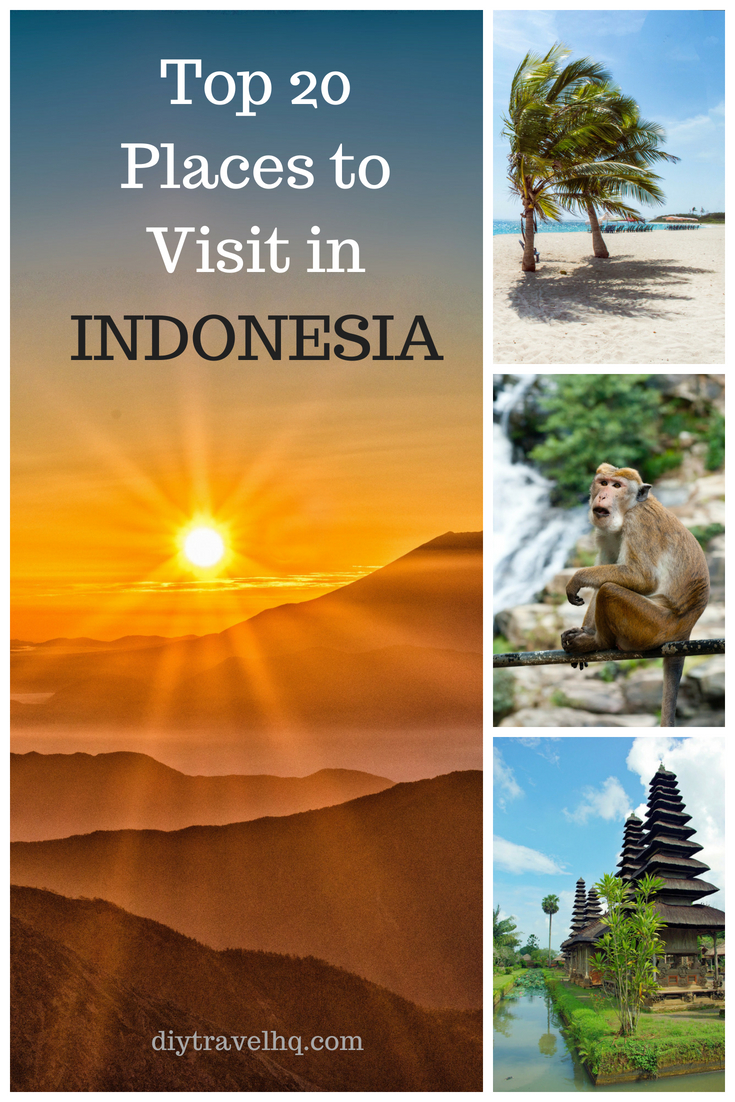 *** If you've gotten this far in our Indonesia Budget Travel Guide, congratulations! *** 
You've just completed 60 Days On The Road in Indonesia (& East Timor)!
Disclaimer: This post contains affiliate links which means that we receive a small commission if you click on a link & purchase something that we've recommended – at no extra cost to you. This helps us to keep our site running so we can continue to provide free content. Thank you for your support!
Visited in September-October 2016