Forget the tours & guides – read about the history of Indonesia's biggest Hindu temple and find out the Prambanan temple entrance fee & how to get to there for as little as 25 cents!
The magnificent Prambanan complex is just 17km northeast of Yogyakarta, easily accessible on the city's excellent & cheap local bus network.
So do you want to know exactly how to get to there?! We here at DIY Travel HQ will get straight to it…
Find more inspiration in one of the Indonesia guide books below!
Time needed: 1 hour.
How to Get to Prambanan by Bus from Yogyakarta
Find a Koridor 1A or 1B bus stop in downtown Yogyakarta

These bus stops are named Halte Malioboro 1 and 2, and Halte Ahmad Yani on Jalan Malioboro.
There is also Halte Senopati 2 on Jalan Panembahan Senopati.

Ride the bus to the final stop, Terminal Prambanan


Local bus tickets cost 3,600 IDR / $0.25.
Do you want to know the Prambanan temple entrance fee?
It was 252,000 IDR / $18.50 for foreigners when we visited in 2016. In May 2017 it was raised to 325,000 IDR / $23.85.
The price of admission to both Prambanan & Borobudur was 420,000 IDR or US$30 combo ticket, valid for 2 days, when we visited in 2016. In May 2017 the Prambanan & Borobudur combo ticket was raised to 520,000 IDR / $38.15.
We recommend purchasing travel insurance before any trip to Indonesia. We've been using World Nomads in our travels through 80+ countries over the past 12 years. It's the best-value provider we've found in terms of price and coverage and we haven't had any issues when we've had to make (fortunately) minor claims.
For more details check out our World Nomads review here.
Get a quote for travel insurance now
So what's so special about the Prambanan?
Well, it's the biggest Hindu temple site in Indonesia & one of the largest in Southeast Asia.
It's a UNESCO World Heritage Site, of special significance for its tall & pointed temples, characteristic of Hindu architecture but unique for Java during its ancient Buddhist era.
Prambanan Temple vs Borobudur
In almost any other place on Earth, Prambanan would be a national treasure.
However in Indonesia, it stands in the shadow of Borobudur, just 51kms away – it's also simple to get to Borobudur by bus from Yogyakarta.
Visit Borobudur Without a Tour
Read facts on the world's largest Buddhist temple, find out the entrance fee & how to get to Borobudur by bus from Yogyakarta
Read more
Both sites have similar histories but are quite different in architecture & style.
Buddhist Borobudur is one massive, bulbous temple whereas Hindu Prambanan is a collection of sculpted, vertical towers.
The contrasts & comparisons between the temples are as interesting as they are contentious. Often overlooked, Prambanan is an incredible monument in its own right & an ancient wonder of the world, not to be missed!
These photos were all taken with my old Canon Rebel T3 but I have since upgraded to a Nikon D3300 DSLR.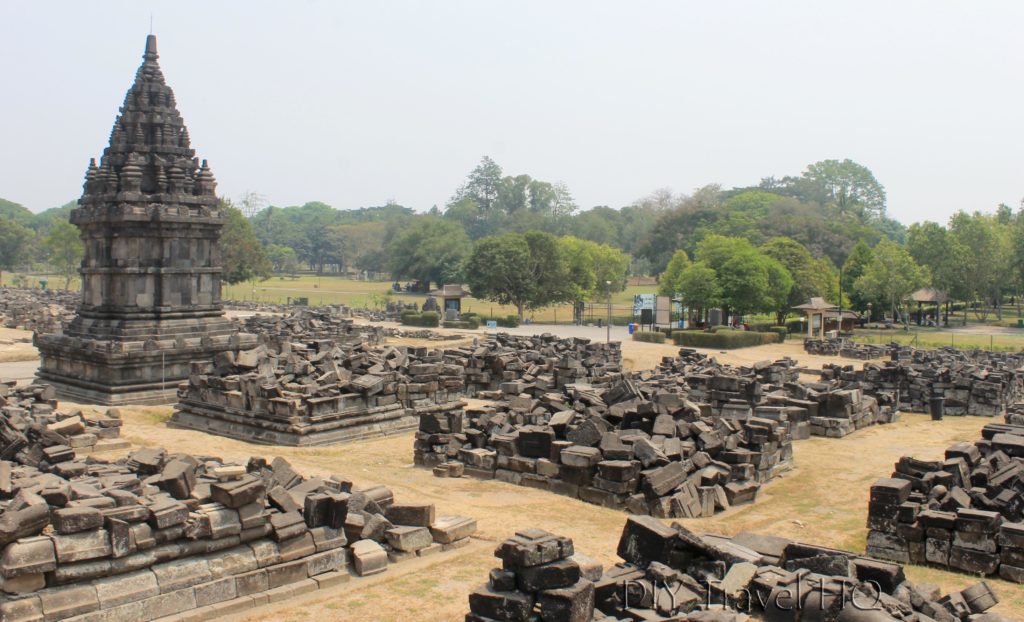 History of Prambanan
Prambanan was built between the 8th & 10th centuries by the Mataram Kingdom, rulers of central Java & conquerors of the Buddhist Sailendra Dynasty (who founded Borobudur some 50 years earlier).
Not long after it was established, the Hindu-Javanese Kingdom shifted to East Java around 930 AD.
This marked the start of the decline of the site, which reached its ultimate end in the 16th century when a devastating earthquake caused most of the temples to collapse.
Like Borobudur, the Prambanan temples laid hidden in the jungle until the short-lived British occupation of Indonesia in the early 19th century. A surveyor working for Sir Thomas Stamford Raffles (founder of modern day Singapore) stumbled upon the ruins by sheer chance.
Not much was done with the discovery during the 5 years of colonial rule.
When the British left in 1816, the complex was left in the hands of locals & looters – Dutch residents took statues for their gardens & villagers used its stones as building material.
Attempts were made to uncover the site in 1885 but it wasn't until 1937 that proper restoration efforts began, which continue to this day.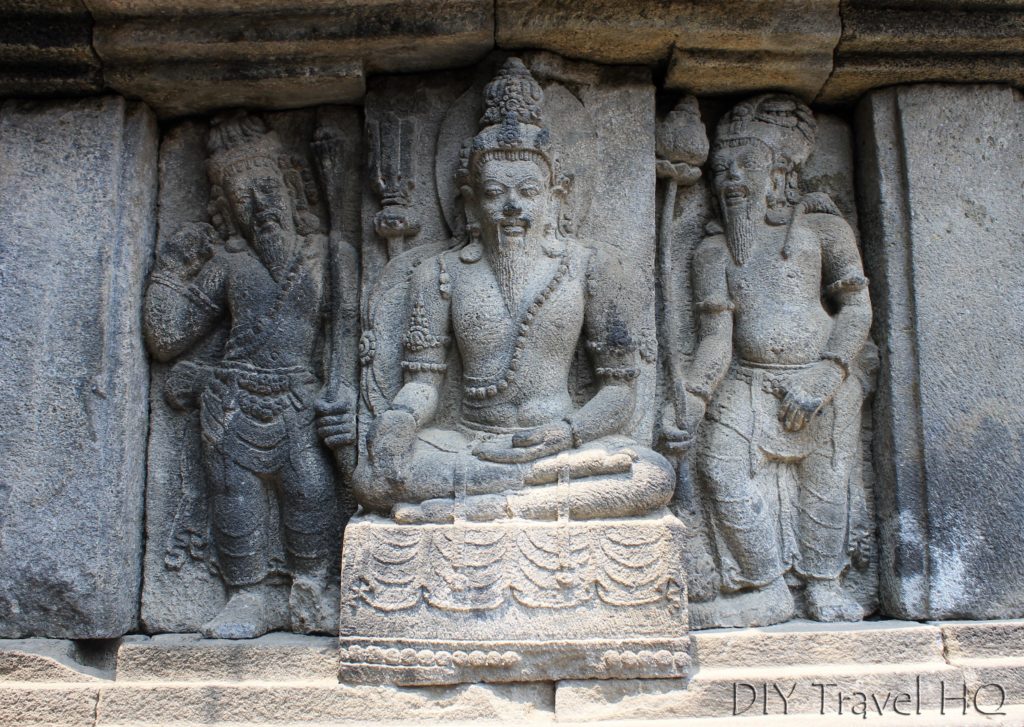 Prambanan Complex
Prambanan was originally a complex of 244 temples.
Most have been destroyed or deteriorated, with the temples still standing arranged in 2 sections:
The inner zone
This is the most popular & holiest area in the complex.
It consists of 8 major temples & 8 small shrines on a square elevated platform.
The 3 main inner shrines are dedicated to Brahma the Creator, Vishnu the Keeper & Shiva the Destroyer.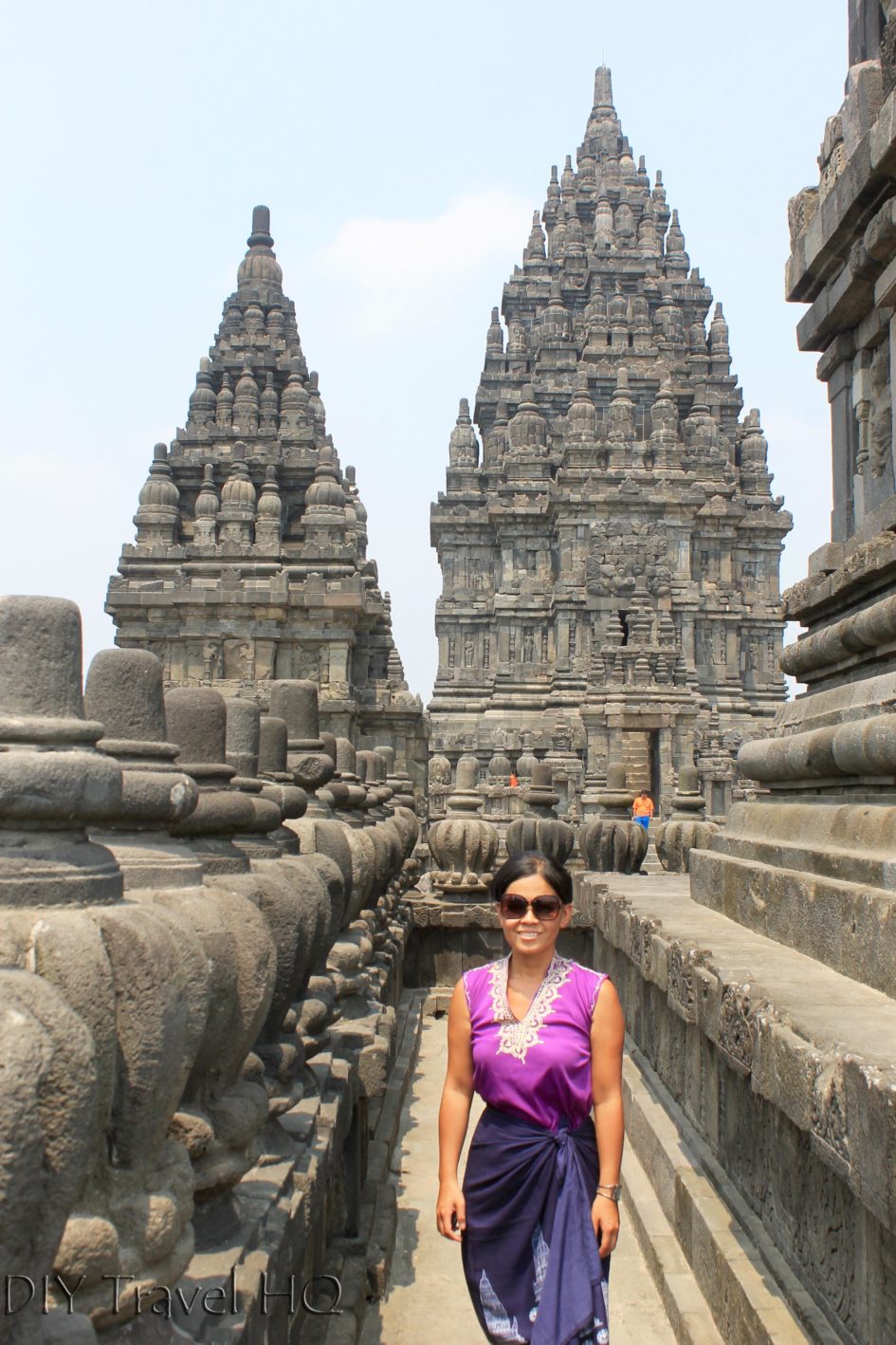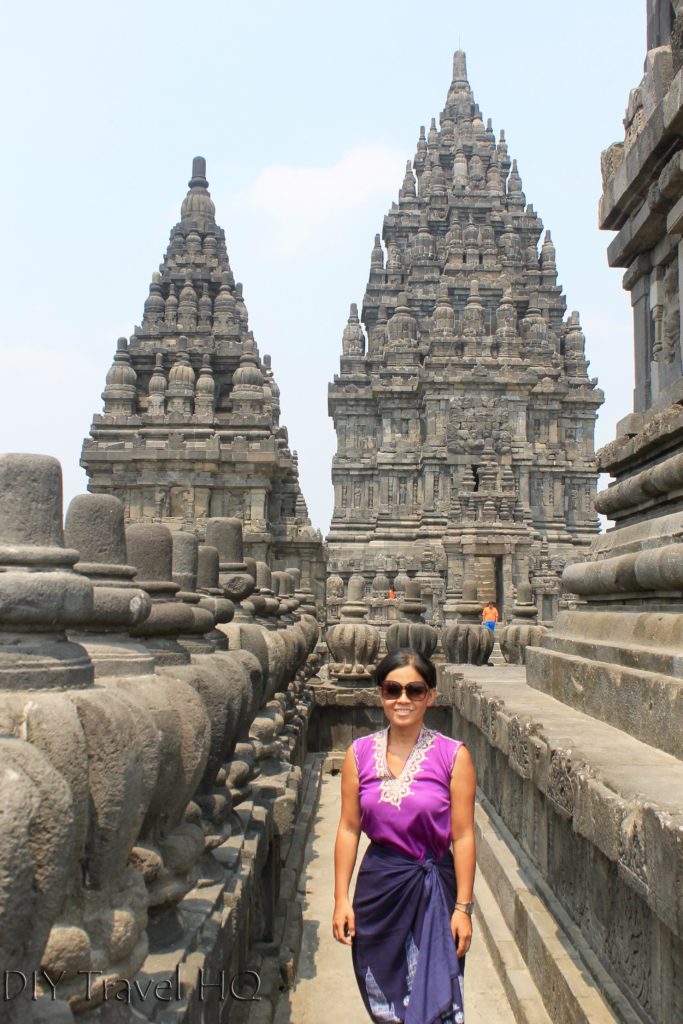 Candi Shiva Mahadeva
Candi Shiva Mahadeva is the largest of the temples, with its main spire reaching 47m high.
Dedicated to Shiva the Destroyer, it features vibrant, carved reliefs of the Ramanaya – they tell the story of how Lord Rama's wife, Sita, is abducted & how Hanuman (the monkey god) & Sugriwa (the white monkey general) find & release her.
To follow the story, start from the top of the main eastern stairway & go around the temple clockwise.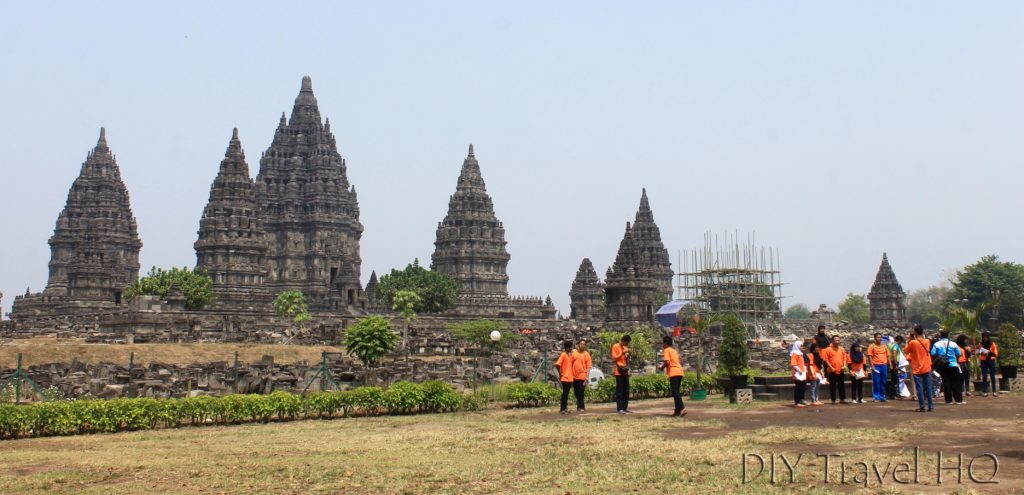 The outer zone
This large space features 4 rows of 224 identical shrines.
A few are fully restored but most lie in ruins.
These shrines are called Candi Perwara, Guardian Temples.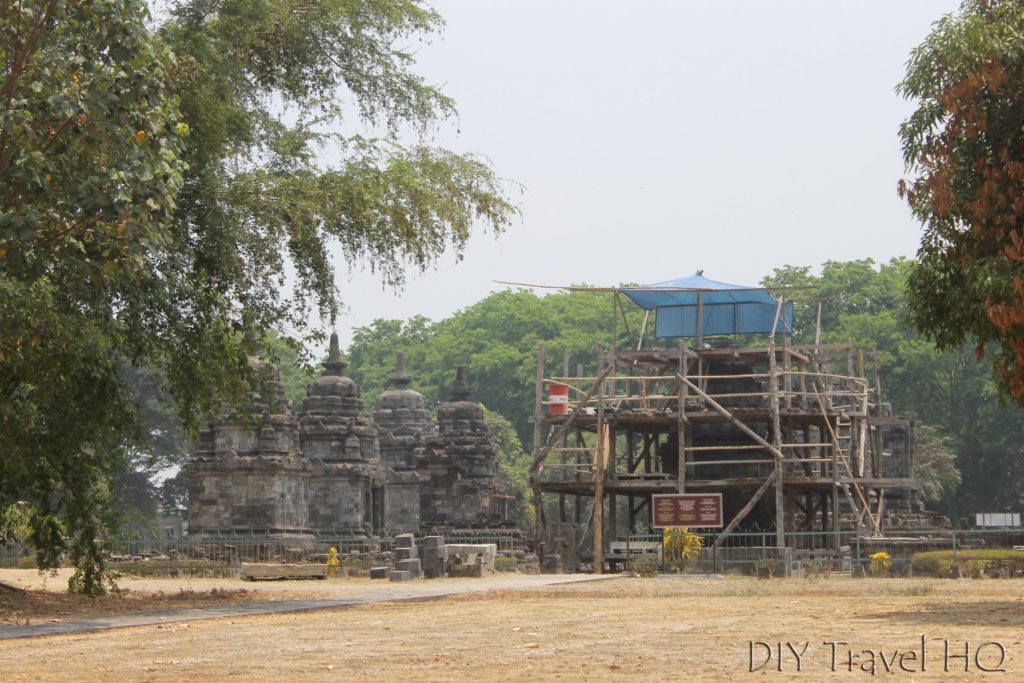 Candi Sewu
Candi Sewu, or the "Thousand Temples," consists of a large central temple surrounded by 4 circles of 240 smaller "guard" temples.
It's been recently renovated but much of it remains in ruins.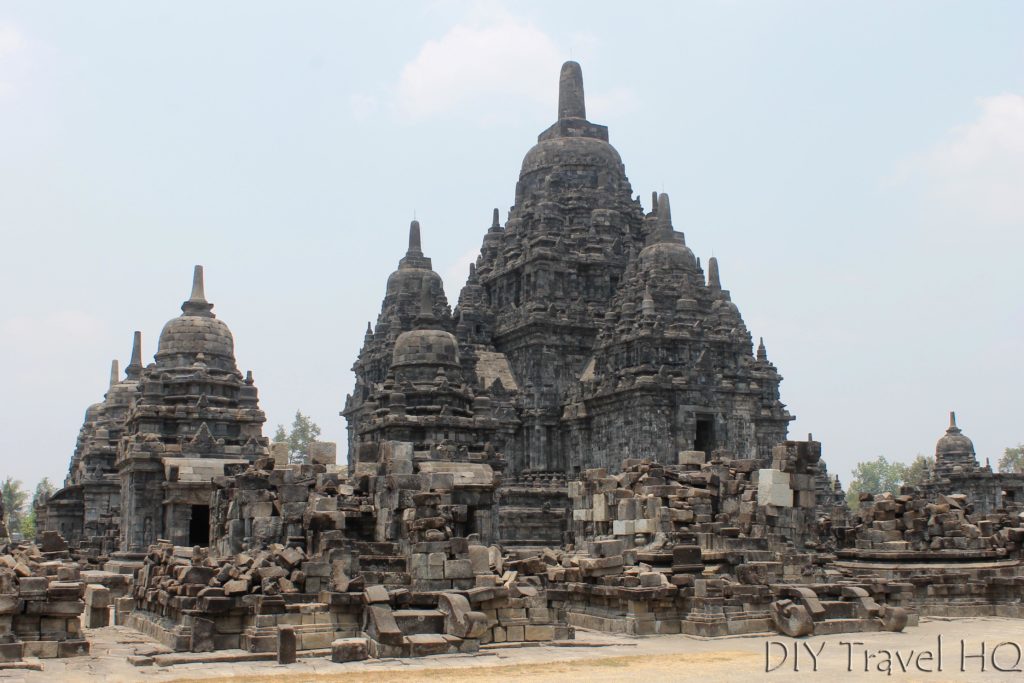 Candi Sewu is 1km north of Candi Shiva Mahadeva.
It's seldom visited by tourists but definitely worth the short trek, or you can hop on a toy train.
Candi Sewu is a huge monument, with finely carved niches around the inner gallery, reminiscent of similar-style stupas found at Borobudur.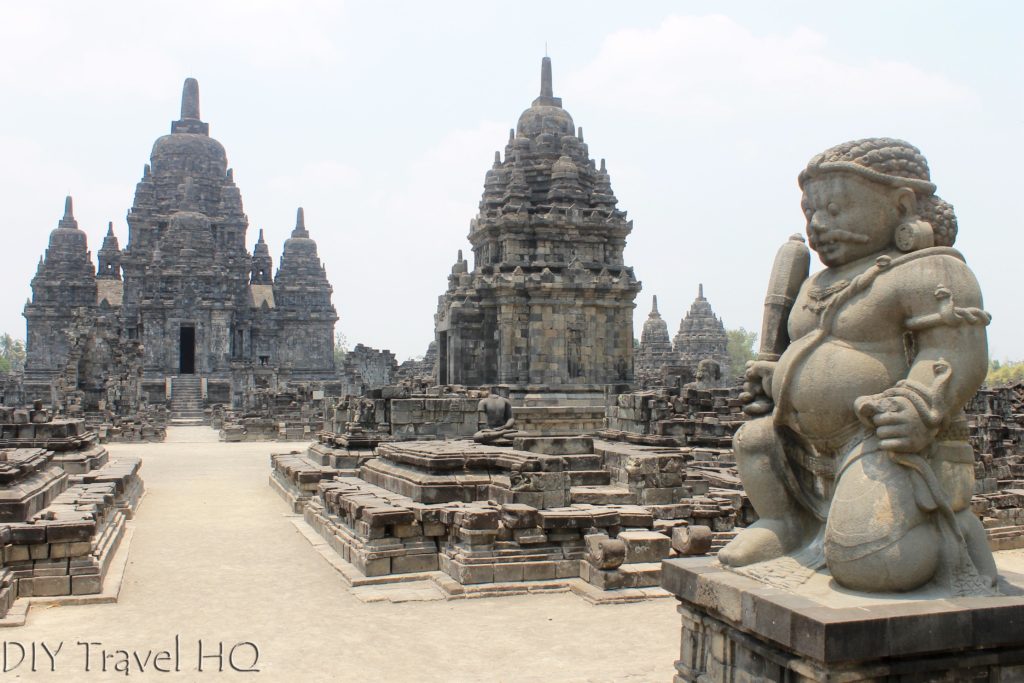 Entrance Fee & Visitor Info
Prambanan opening hours: 6am-6pm
Entrance fee for Prambanan temple only: 325,000 IDR / $23.85. (foreigners)
Entrance fee to both Borobudur & Prambanan: 520,000 IDR / $38.15 combo ticket, valid for 2 days
Foreigners enter through a separate entrance with a shorter queue. Complimentary coffee/tea/water is provided on request. A sarong is provided & must be worn.
Always be aware of pickpockets. We recommend wearing a money belt with RFID blocking & traveling with an anti-theft daypack.
A toy train runs from the museum to Candi Sewu – there may be a small fee or possibly free.
Arrive as early as possible – though it's not a renowned place for sunrise or sunset like Borobudur, tour groups start arriving from 9am.
Many locals & students will approach you to practice English & take photos with you!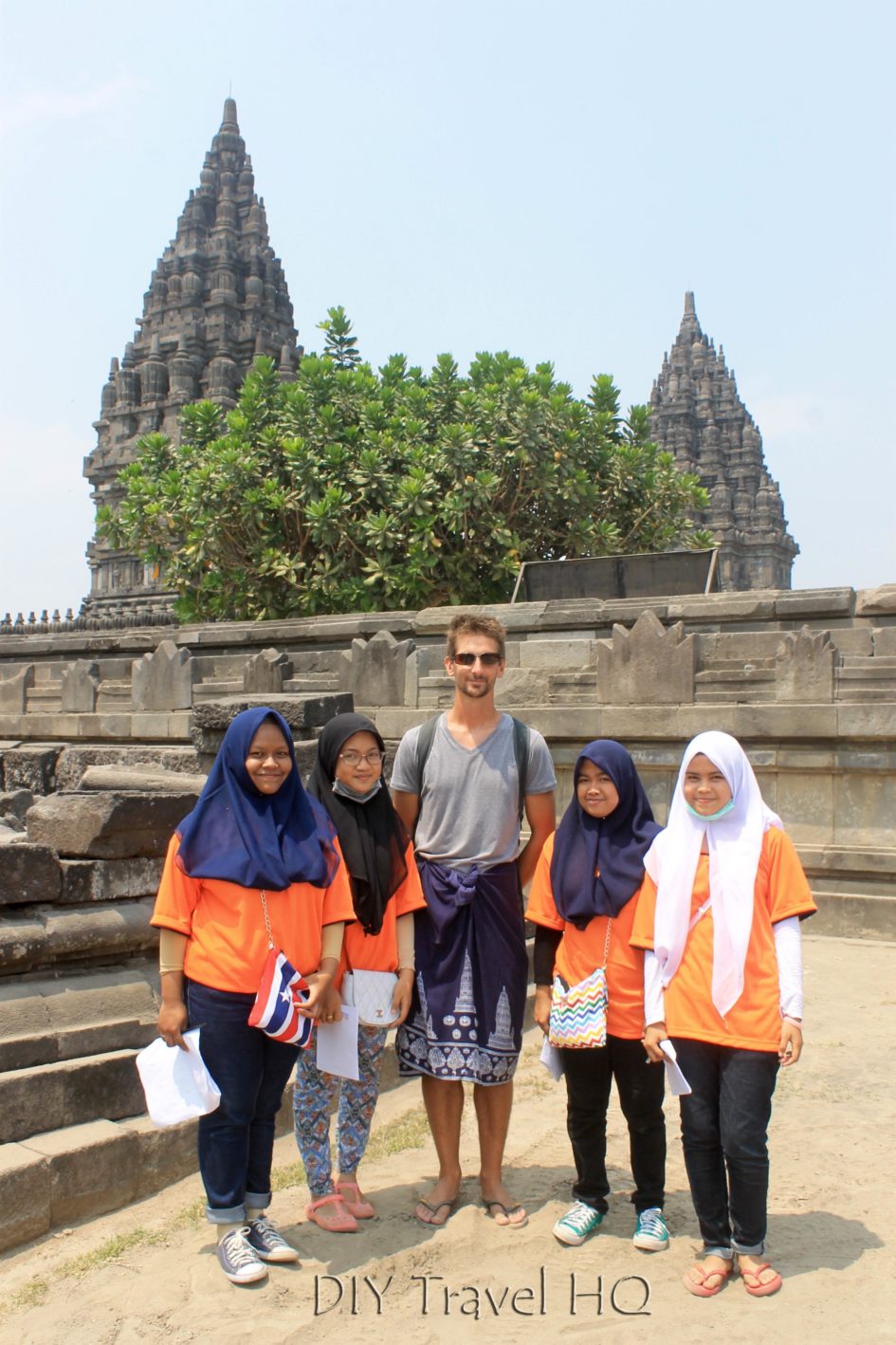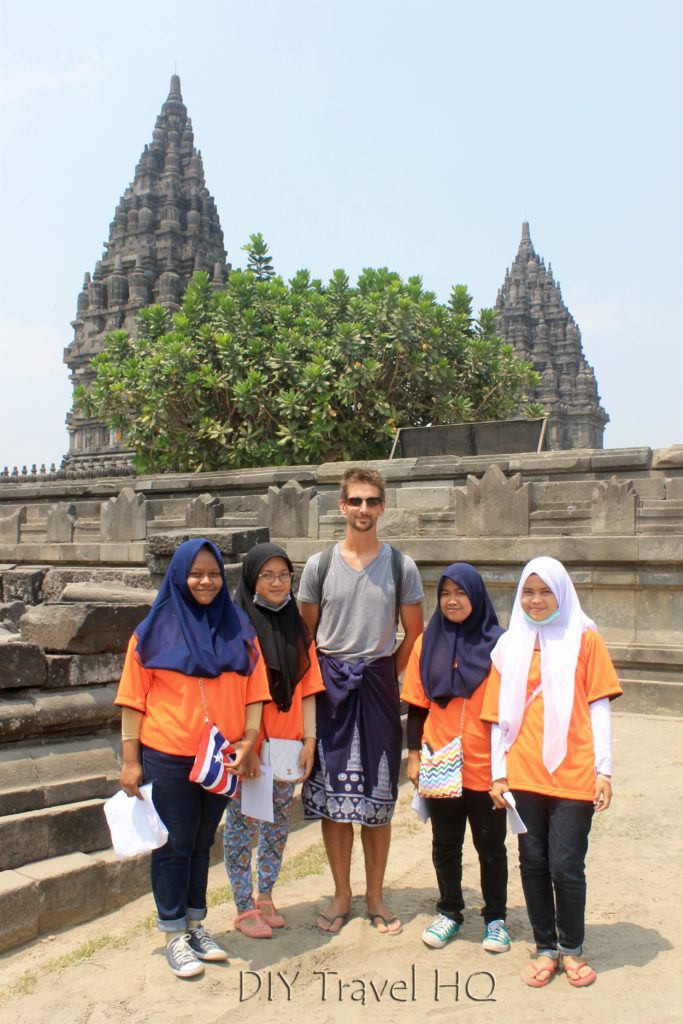 Prambanan Tours
Along Jalan Sastrowijayan in Yogyakarta, many vendors offer tours to Prambanan & Borobudur, the best things to do in Yogyakarta.
We took a "tour" from an agency associated with our accommodation, Hotel Dewa, which was actually just private transportation to Prambanan & Borobudur. This cost 100,000 IDR / $7.50 each. It did not include the Prambanan admission fee.
*** The tour allowed us to visit both Prambanan & Borobudur in 1 day but it was a lot more expensive than going by public transport ***
Visiting both temples in 1 day via public transport is also possible but not recommended.
Instead, spend a full day each at Borobudur & Prambanan (though half a day is enough for Prambanan) – after all, you've paid a lot of money for the entrance fee & there are many other temples around each area to explore.
Tour option: Prambanan Sunset Tour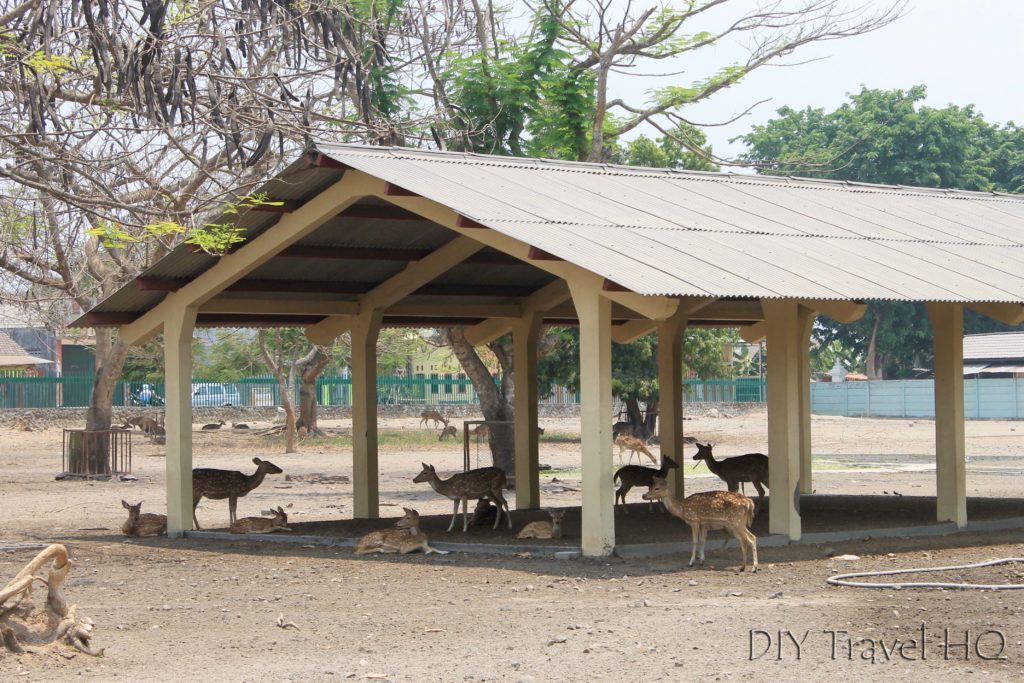 How to Get to Prambanan: Buses
We took a tour because we researched the bus times & prices incorrectly of how to get to Prambanan from Yogyakarta.
Here's the accurate information you need to travel from Borobudur to Prambanan:
Take a bus from Borobudur back to Yogyakarta's Terminal Jombor
Route 2B from Terminal Jombor to Terminal Condong
Route 3B from Terminal Condong to Maguwo (Jalan Solo)
Route 1A/B from Maguwo to Prambanan
Local bus tickets cost 3,600 IDR / $0.25.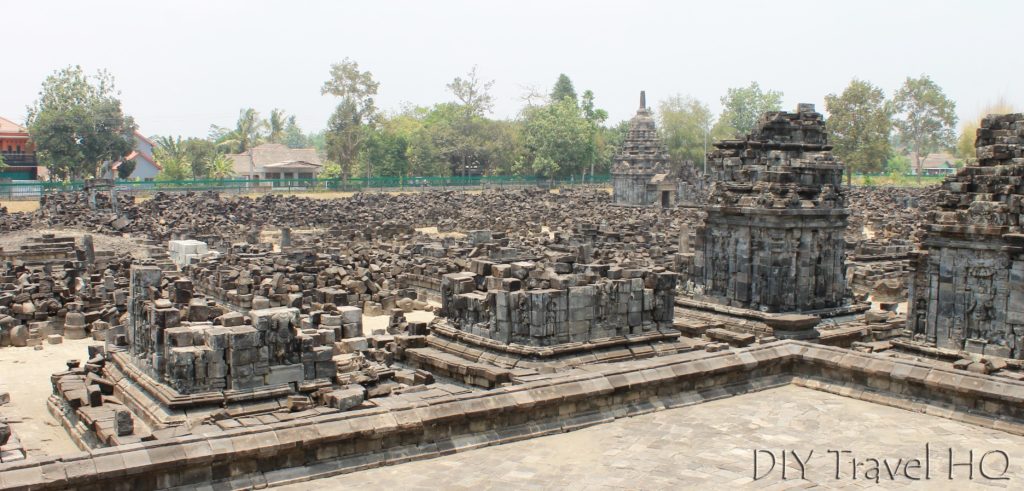 Know Before You Go
Prambanan entrance fee: 325,000 IDR / $23.85
Combined Borobodur & Prambanan entrance fee: 520,000 IDR / $38.15
Tour/Private transport: 100,000 IDR / $7.50
Local bus ticket: 3,600 IDR / $0.25
The Final Word: Prambanan is an easy & fascinating half-day temple trip from Yogyakarta
Which temple do you prefer – Prambanan or Borobudur?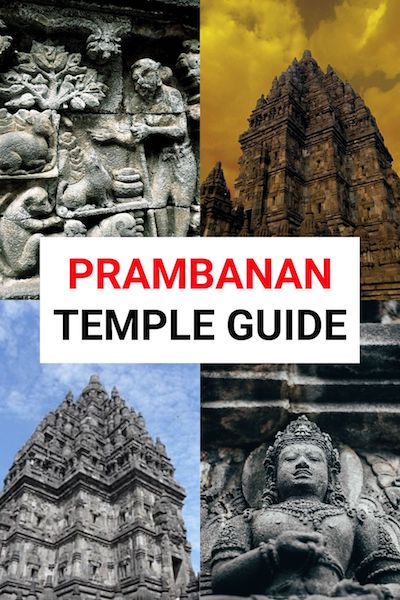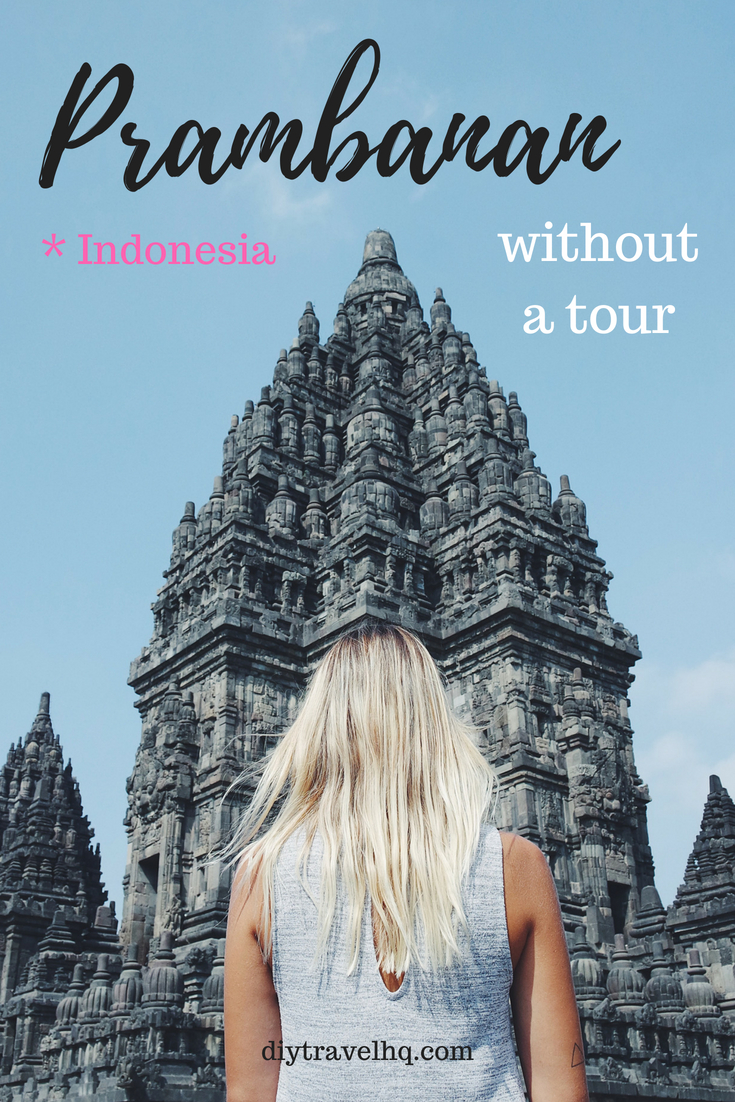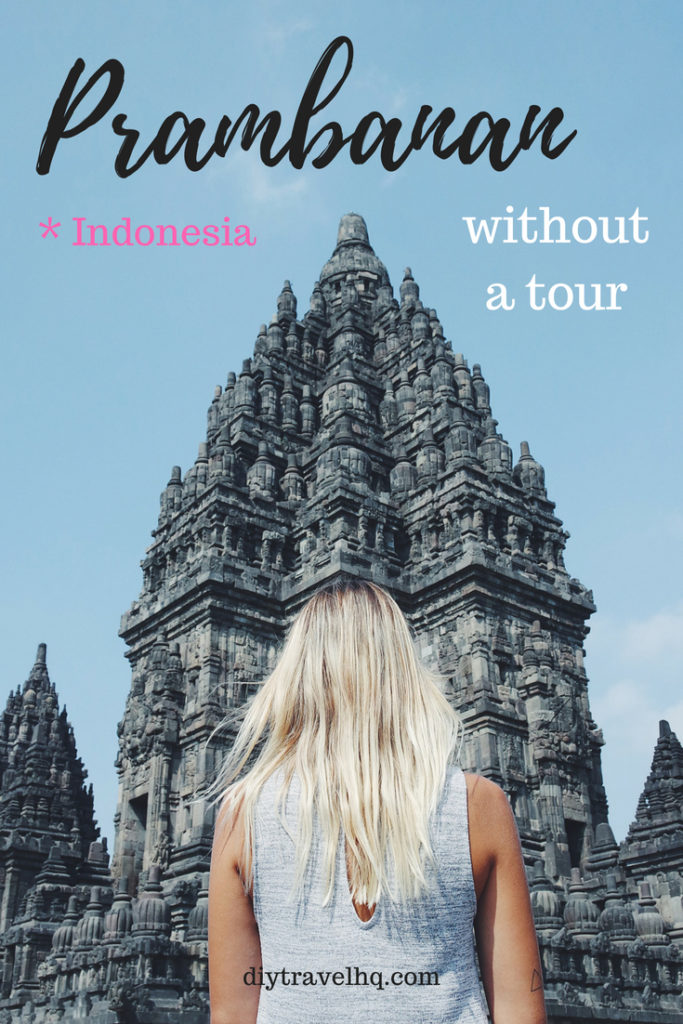 Disclaimer: This post contains affiliate links, which means that we receive a small commission if you click on a link & purchase something that we have recommended – at no extra cost to you.
Visited in October 2016 (Prambanan entrance fee prices updated in May 2017)