Forget the Borobudur tours & guides – read about the facts of the world's largest Buddhist temple, find out the entrance fee & how get to Borobudur by bus from Yogyakarta.
Sunrise and Sunset at Borobudur
Borobudur History
Before we get into the logistics, let's take a look at a few facts & history behind the Borobudur temple compounds:
When was it built?
Who built it?
Why was it built?
There are no written records to answer these questions for certain but evidence suggests that construction of Borobudur, Indonesia began in the 8th century, lasting around 75 years.
This was the era of the Sailendra Dynasty, a maritime empire that not only ruled the seas of Southeast Asia but also pursued agricultural farming in Central Java.
We recommend purchasing travel insurance before any trip. We've been using World Nomads in our travels through 80+ countries over the past 12 years. It's the best-value provider we've found in terms of price and coverage and we haven't had any issues when we've had to make (fortunately) minor claims.
For more details check out our World Nomads review here.
Get a quote for travel insurance now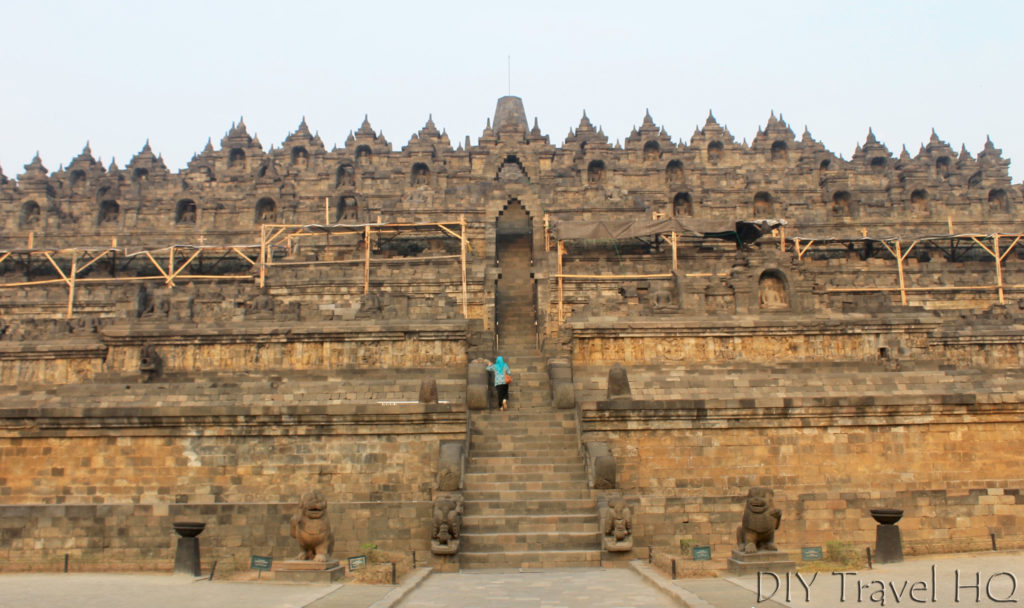 Is Borobudur a Hindu Temple?
The Sailendra are said to have been followers of the Mahayana strain of Buddhism, but they may also have been Hindus. In fact, there were many royal marriages between Hindu & Buddhist nobles at the time, too.
The Sailendra are believed to be responsible for the religious monuments found across all of Central Java, including Buddhist Borobudur & the nearby Hindu Prambanan – it's also easy to get to Prambanan by bus from Yogyakarta.
Visit Prambanan Without a Tour
Find out the Prambanan entrance fee & how to get to there by local bus for 25 cents!
Read more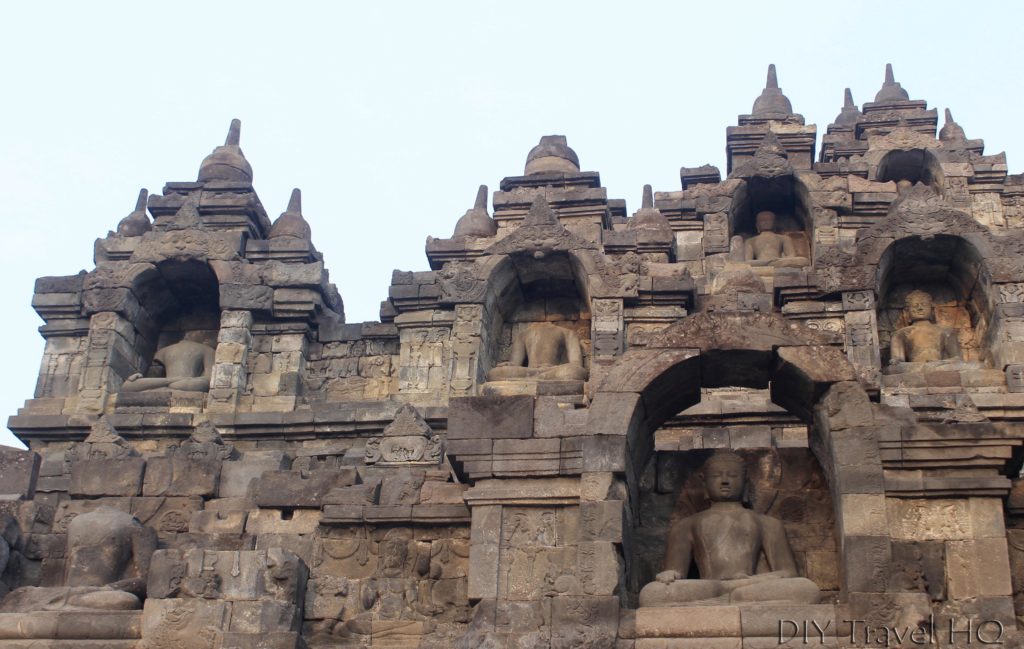 Alongside its Buddhist core, the monument features many Hindu elements, particularly in the carvings & reliefs featuring Hindu gods.
In fact, the world's largest Buddhist temple was even built on Hindu foundations. Three stone terraces were already on the site when the Sailendra's laid eyes on it – he simply decided to build Borobudur over it.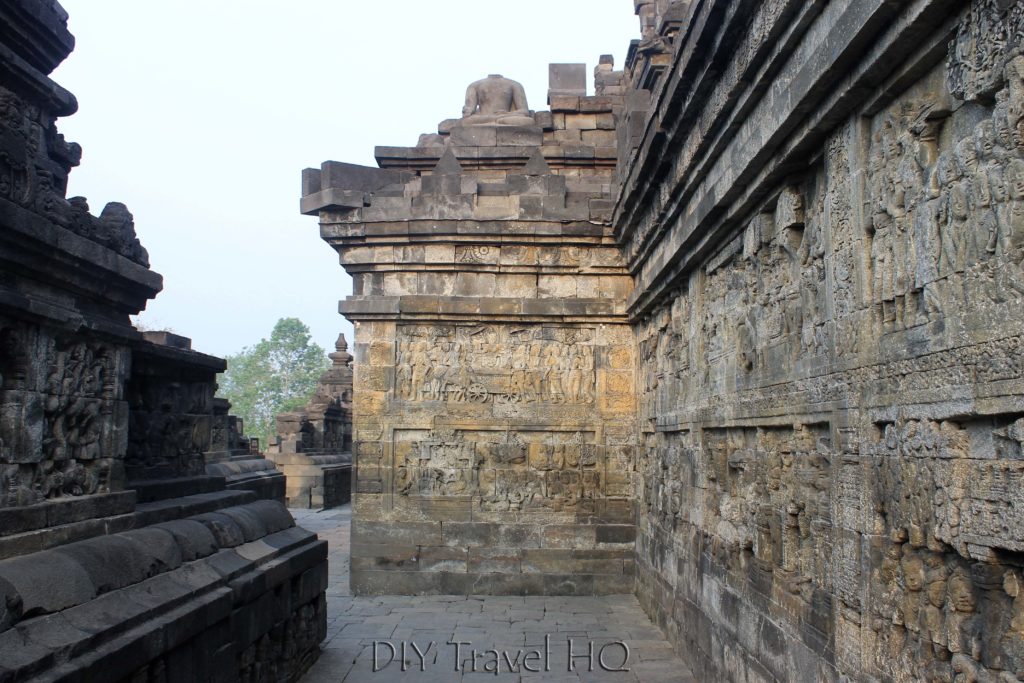 Abandonment of Borobudur
The centuries that followed saw a shift of power to the East of the country & the arrival of Islam on Java Island, so that by the 16th century, Borobudur had been mysteriously abandoned.
Again, there's no written evidence however it is likely that the locals were either driven away by a large volcanic eruption and/or when there were mass conversions to Islam.
In any case, Borobudur laid hidden under layers of volcanic ash & jungle growth for centuries, until it's discovery by General Thomas Stamford Raffles in 1814!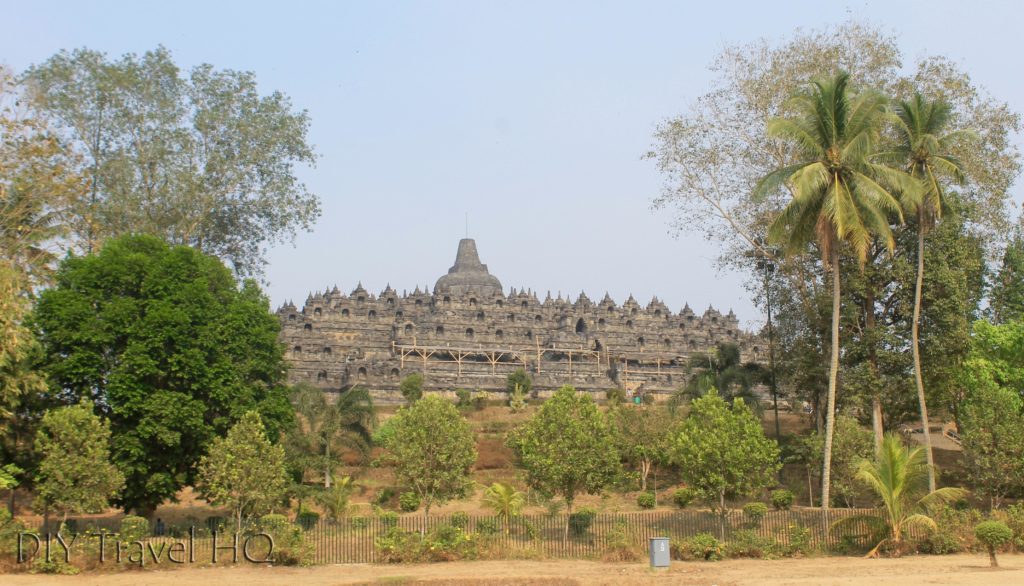 Recovery of Borobudur
After the Anglo-Dutch Java war in 1811, Java was controlled by the British.
The British governor at the time was Thomas Stamford Raffles (founder of modern-day Singapore), who was particularly interested in the history of Java.
He was informed about a massive, secret monument deep in the jungles near Yogyakarta but unable to attend himself, Raffles sent a Dutch engineer to explore the site.
It took two months to clear the jungle – Borobudur was rediscovered. Excavation continued until 1885 before the entire complex was revealed.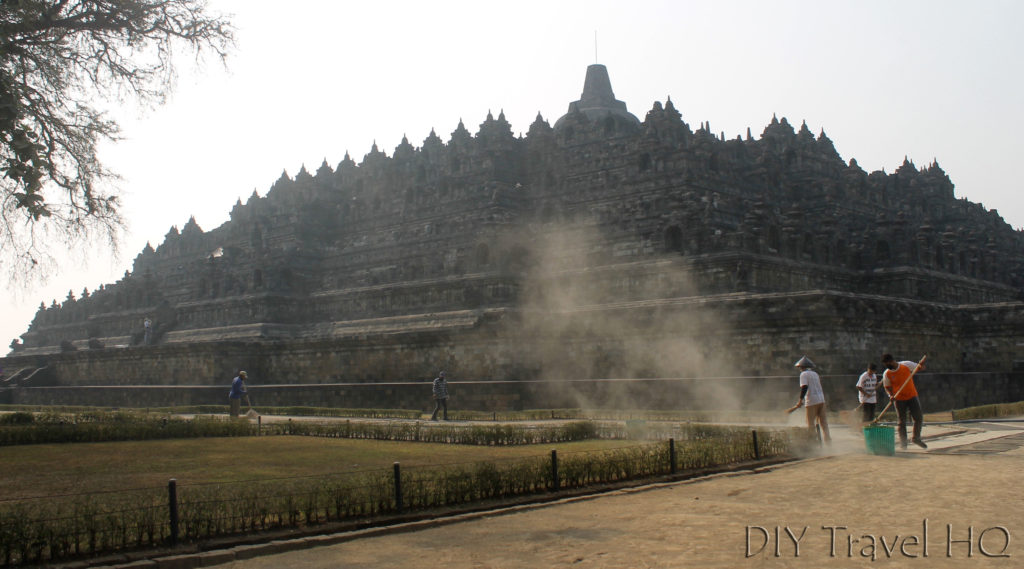 Design of Borobudur
To start planning your own trip, you should know that it consists of nine raised platforms topped by a central dome.
The square base is 118m in length on each side & the highest point is 35m tall. The first six levels are square platforms, connected by staircases.
Each level features carved bas-relief panels & sculptures depicting the life story of the Buddha, his teachings & path towards enlightenment.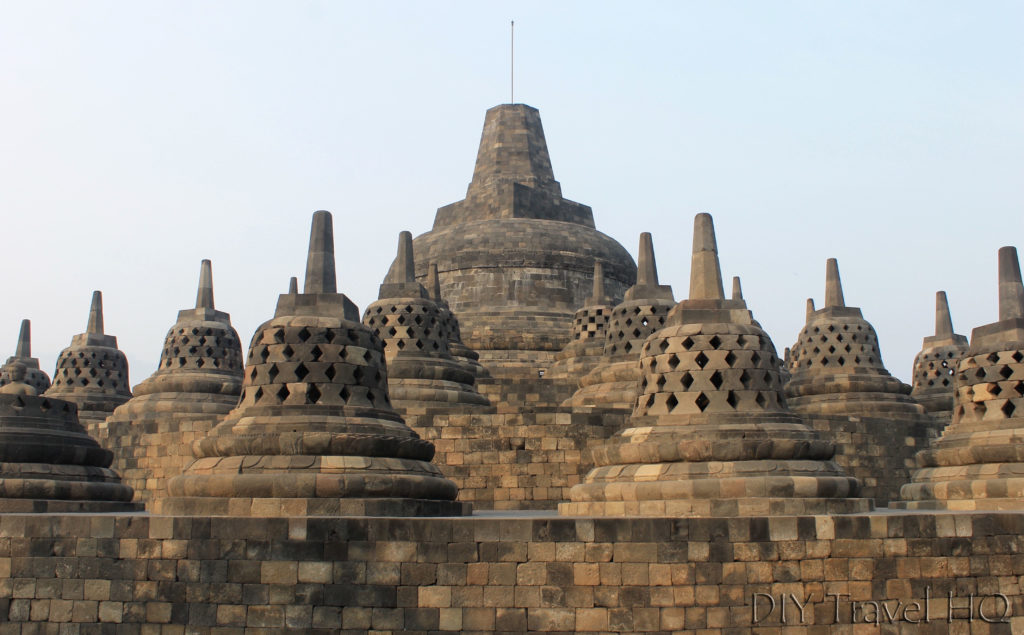 All together, there are 2,760 reliefs recounting the four key stories:
The law of karma
The birth of Buddha
The stories of Buddha's previous life
The journeys of Sudhana search for the Ultimate Truth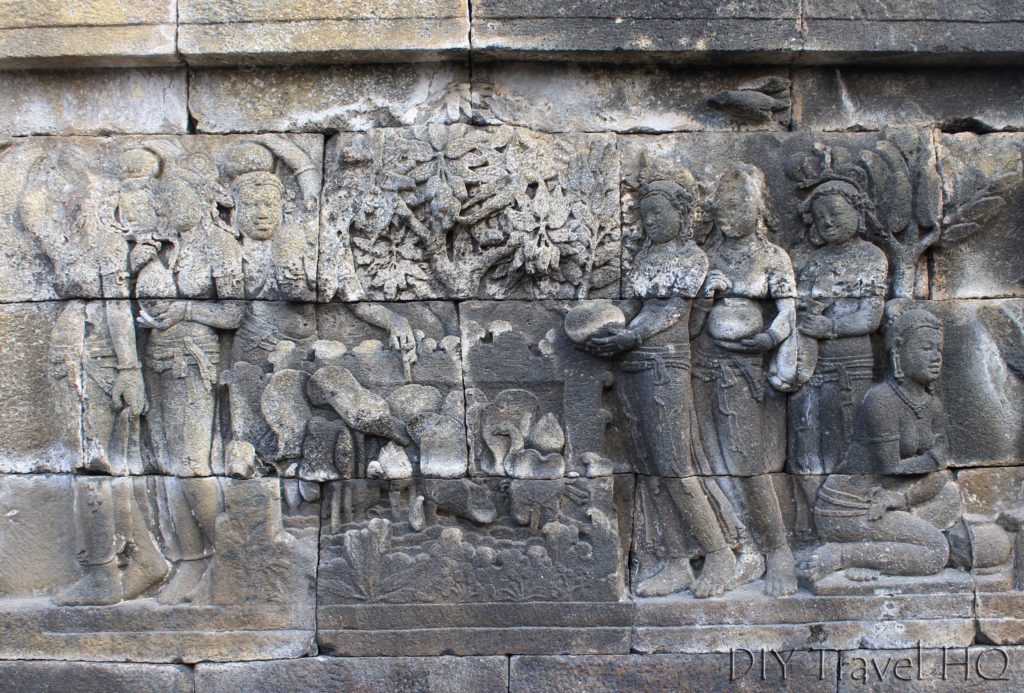 The reliefs depict scenes of daily life in ancient Java, from courtly palace traditions to the villagers going to the marketplace.
The nobility & common folk are both depicted: kings, queens & soldiers alongside servants, priests & hermits.
Of course, Buddhist gods & imagery also feature prominently.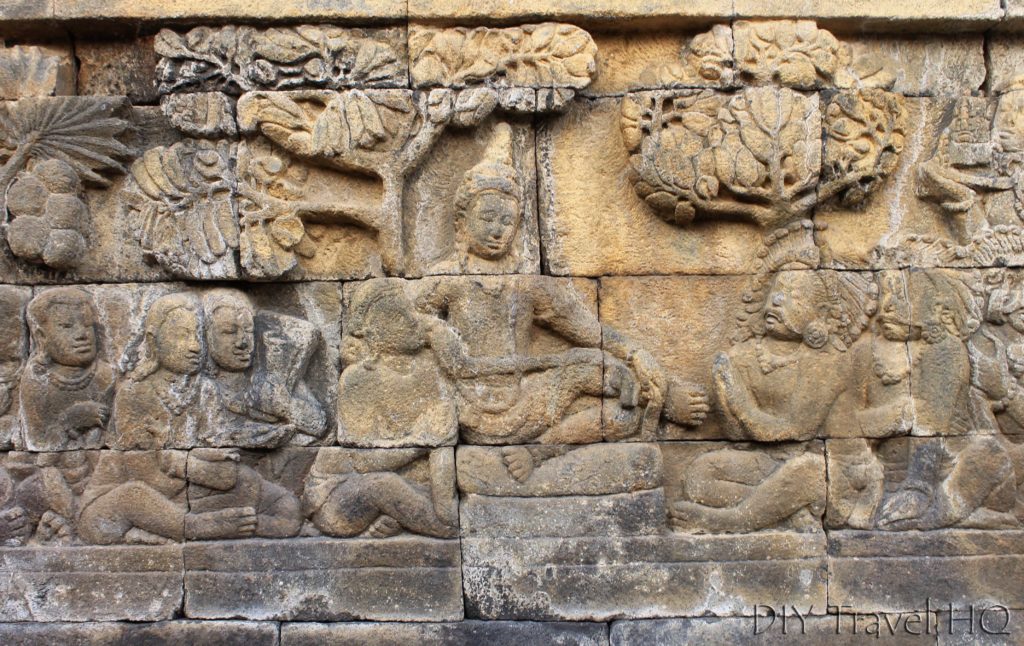 The final three levels are open circular terraces, without reliefs. Instead, they feature 72 lattice-work stupas, domes housing half-hidden & half-headed Buddha statues.
These amazing structures make the price of visiting Borobudur worth it.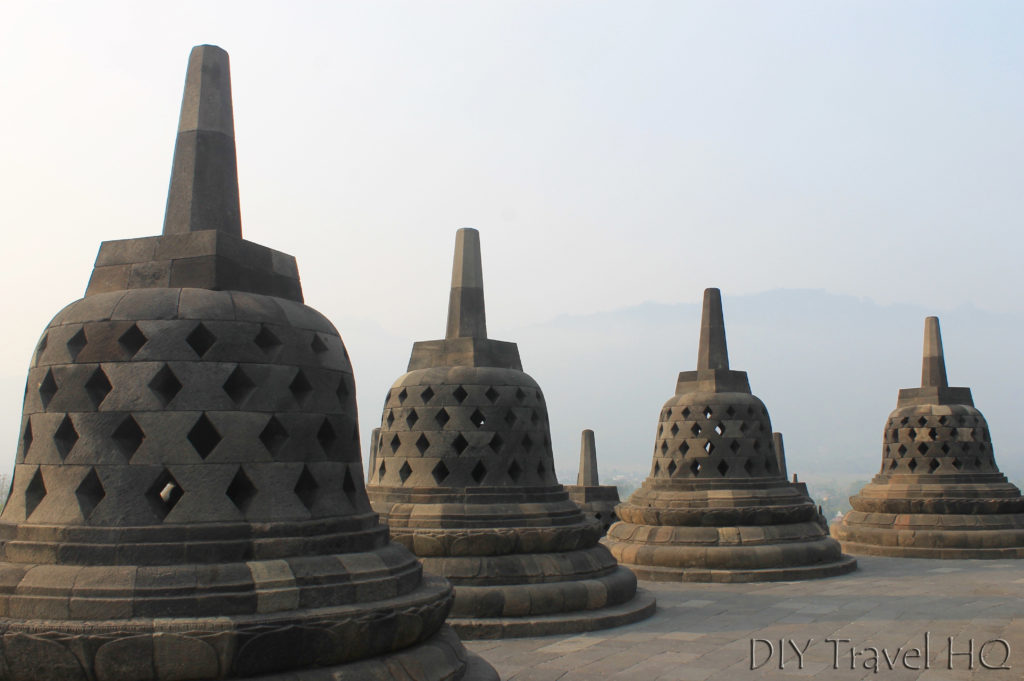 Of the original 504 Buddha statues that featured across all the platforms, over 300 are damaged & 43 are missing.
The Buddha statues in the niches on the circular terraces are arranged in rows, with the number of statues decreasing with each higher level.
Cross-legged Buddha statues seated in the lotus position appear on the square platforms & the top level.
They are almost identical, except for the position of their hands, which represent the 5 cardinal compass points according to Mahayana Buddhism.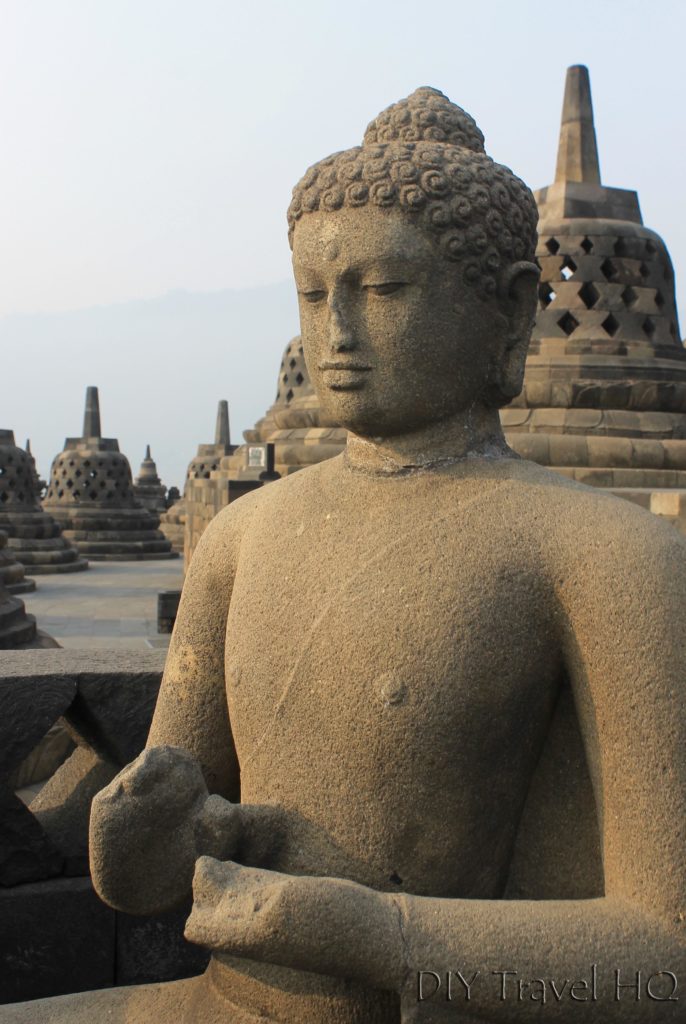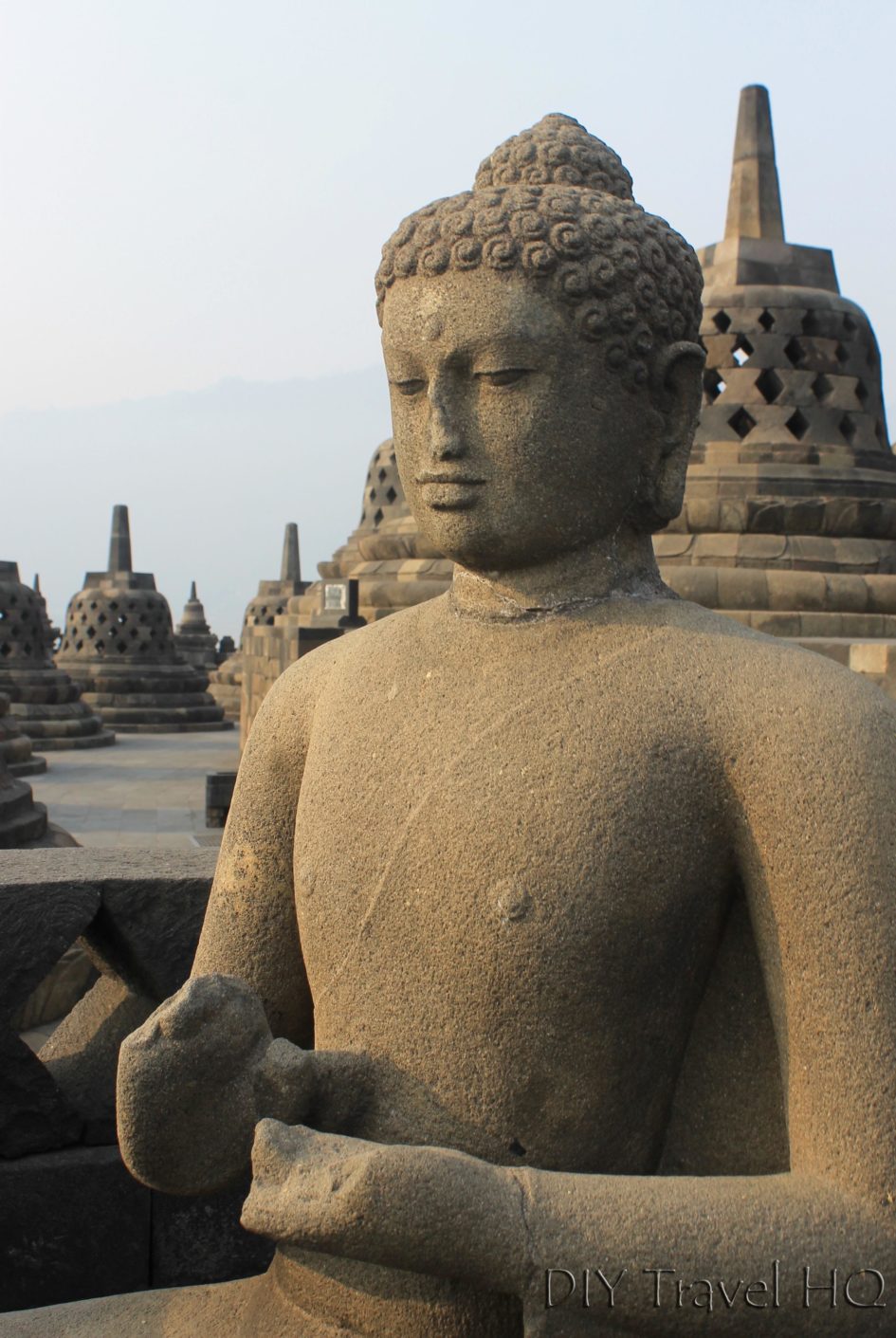 Borobudur Tours 
Along Jalan Sastrowijayan in Yogyakarta, many vendors offer tours to Borobudur & Prambanan, top of the list of things to do in Yogyakarta.
We took a "tour" from an agency associated with our accommodation, Hotel Dewa, which was actually just private transportation to Borobudur & Prambanan. This cost 100,000 IDR / $7.50 each.
The entrance fee to visit both Borobudur & Prambanan is now 520,000 IDR / $38.15 (May 2017).
Check hostel prices in Yogyakarta now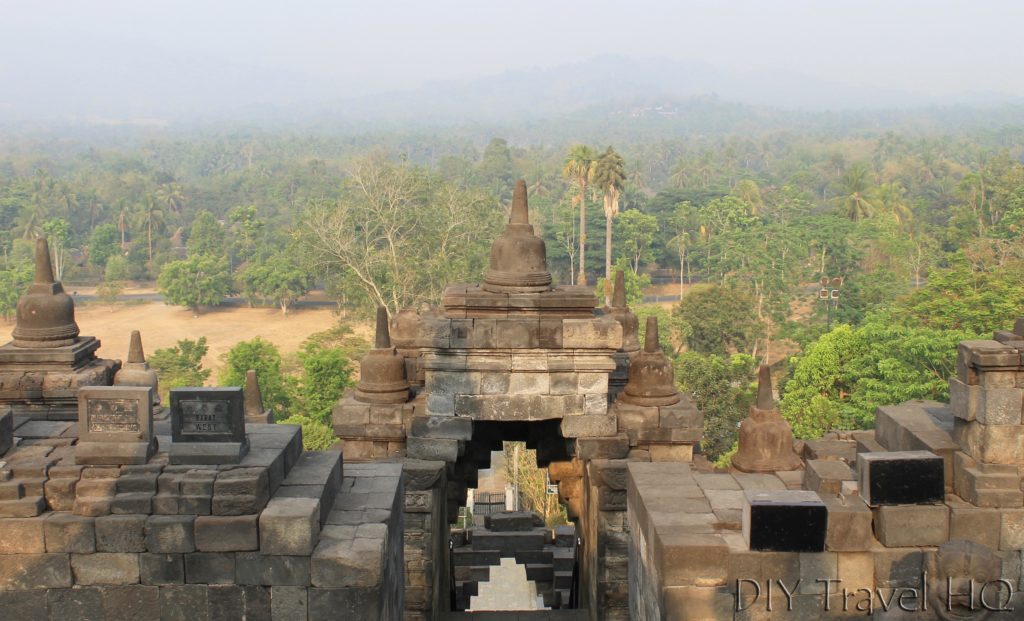 Advantages
Able to visit both Borobudur & Prambanan on the same day, which would be difficult (but not impossible) to do using public transport
Disadvantages
Lack of time at Borobudur… we arrived just before gates opened at 6am & had to leave at 8am. 2 hours was just enough time to explore the temple but not enough to take our time, visit the museum, climb a nearby hill for views or explore the grounds (which included a zoo….)
Not maximising the value of the high Borobudur ticket price
More expensive than going by public transport
Final Verdict
A tour lets you visit Borobudur & Prambanan in 1 day – there's enough time for Prambanan but not Borobudur & it's more expensive than going by bus
Tour option: Borobudur Sunrise Trip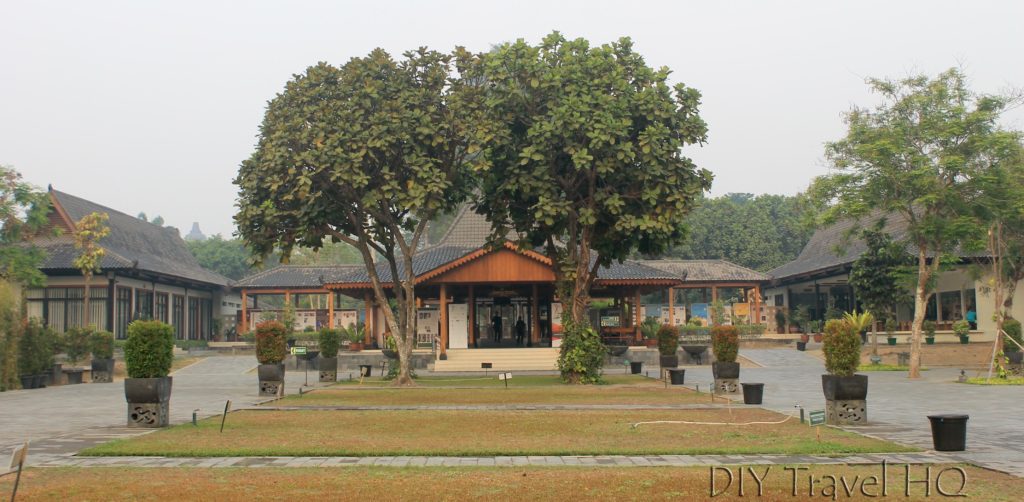 Sunrise & Sunset at Borobudur
You can view sunrise & sunset at Borobudur outside opening hours, for an additional fee.
We visited just after sunrise, when the gates opened at 6am. It wasn't all that spectacular, as the sun rises in the East.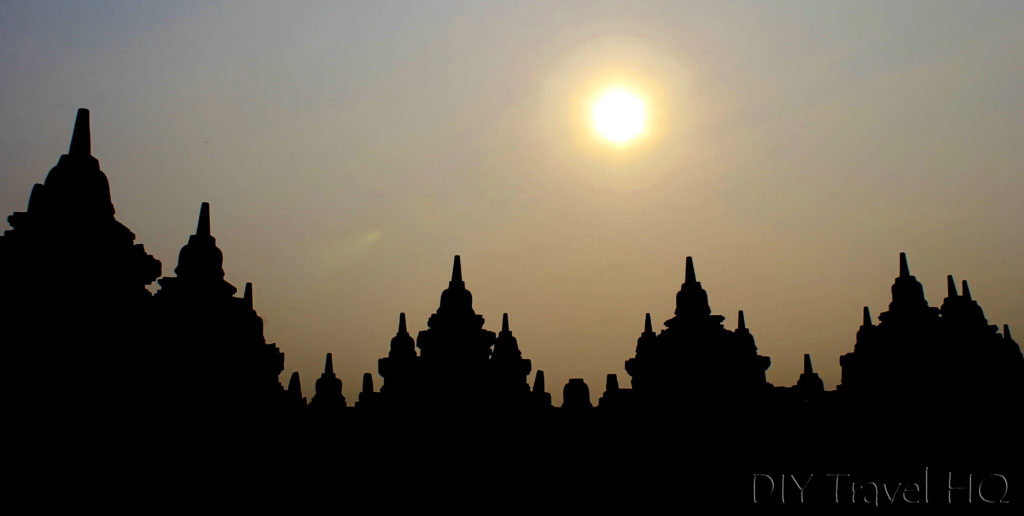 If you're willing to pay extra, we would recommend staying for Sunset over Sunrise – we've seen far more impressive photos of sunset at Borobudur than what we saw at sunrise.
Arriving right at the beginning or staying until the very end of the day will give you the best experience, without the tour groups & far fewer crowds.
In the morning, tour buses start arriving at 8am.
And in case you were wondering, we often get asked what camera we use. All the photos in this post were taken on a Nikon D3300 DSLR.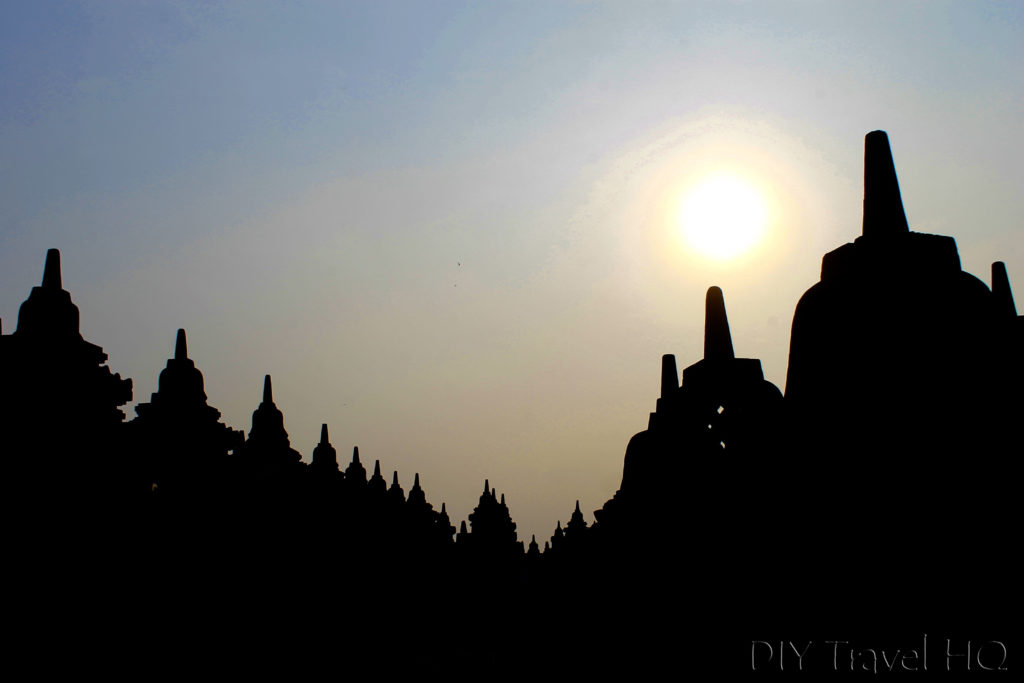 You can visit both Borobudur & Prambanan in 1 day with a tour – & even by yourself using public transport. We will tell you exactly how to reach Borobudur later in the post…
But there are enough things to do at Borobudur for a full day trip:
Borobudur monument
Borobudur museum
Climb a hill in the park for views
Explore the extensive grounds
Spend time with the animals at the zoo
Visit the nearby candi's & temples
Annoyances: many Indonesian students will want to practice English with you. Also, it'll take at least 30 mins to exit through the never-ending maze of markets. That's a Borobudur fact!
And always be aware of pickpockets. We recommend wearing a money belt with RFID blocking & traveling with an anti-theft daypack.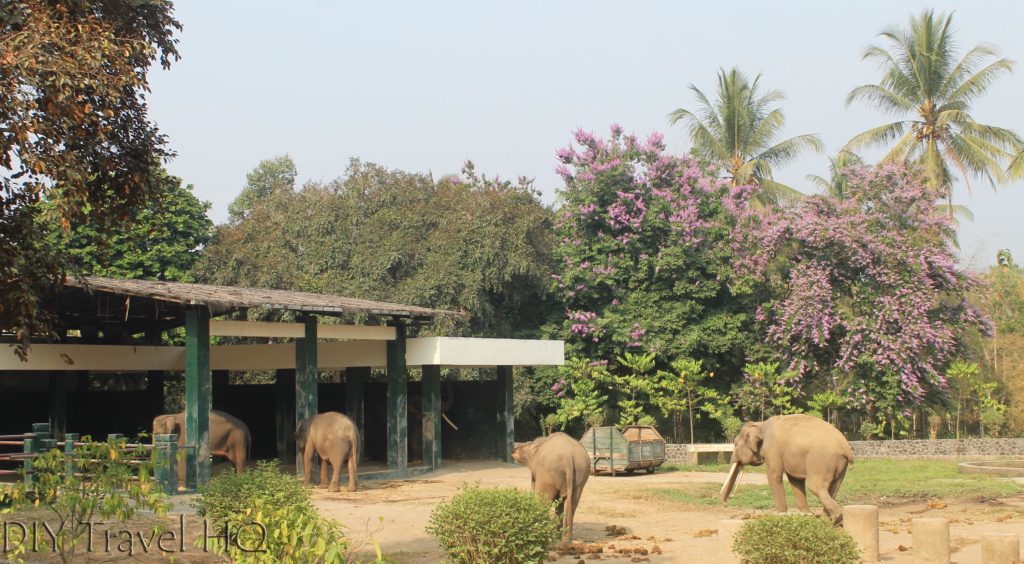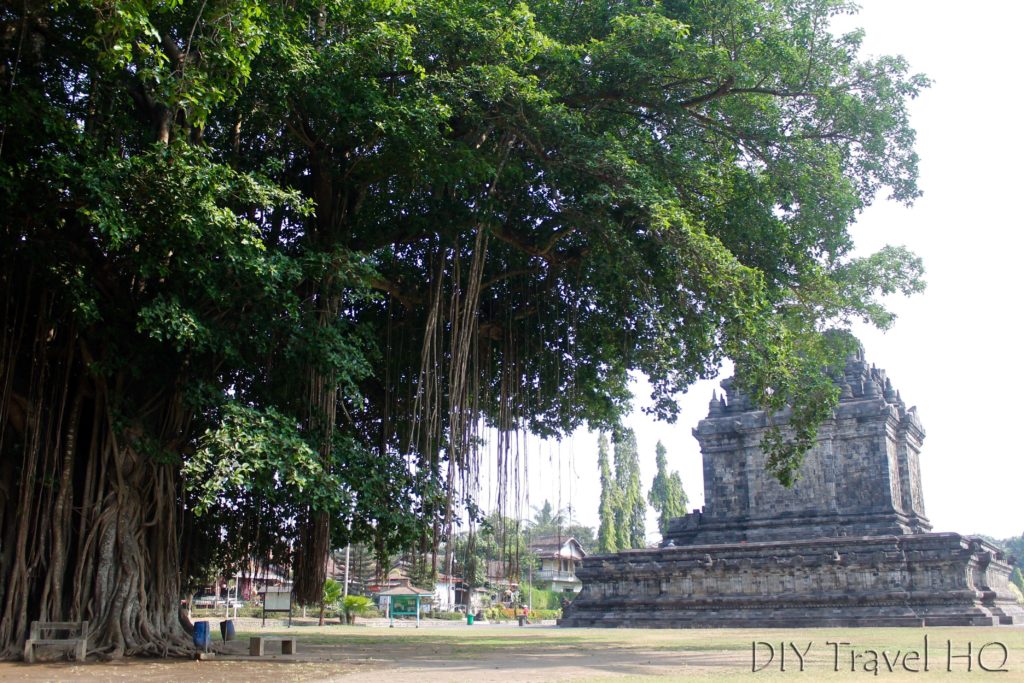 How to Get to Borobudur
We took a tour because we researched the bus times & prices incorrectly. Here's the accurate information you need to know:
Yogyakarta to Borobudur
Buses to Borobudur leave from Yogyakarta's Terminal Jombor bus
The ride takes 60-90 minutes
Local bus tickets cost 3,600 IDR / $0.25. The Yogyakarta bus could cost more, we're not sure
Borobudur to Prambanan
Take a bus from Borobudur back to Yogyakarta's Terminal Jombor.
It will 3 bus changes to get from Yogyakarta to Prambanan
Route 2B from Terminal Jombor to Terminal Condong
Route 3B from Terminal Condong to Maguwo (Jalan Solo)
Route 1A/B from Maguwo to Prambanan
Local bus tickets cost 3,600 IDR / $0.25.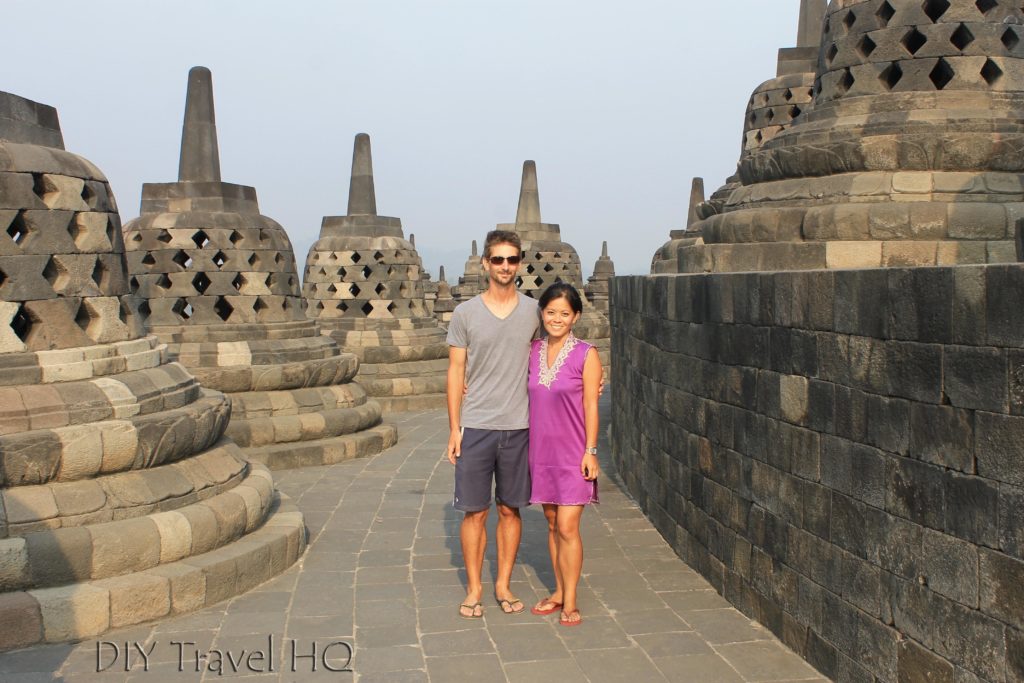 Know Before You Go
Borobudur & Prambanan Combined Entrance Fee: 420,000 IDR or US$30.00
Borobudur & Prambanan Tour/Private transport: 100,000 IDR / $7.50
Local bus ticket: 3,600 IDR / $0.25
The Final Word: Set aside a whole day for Borobudur. Go during the very start or end of the day for fewer crowds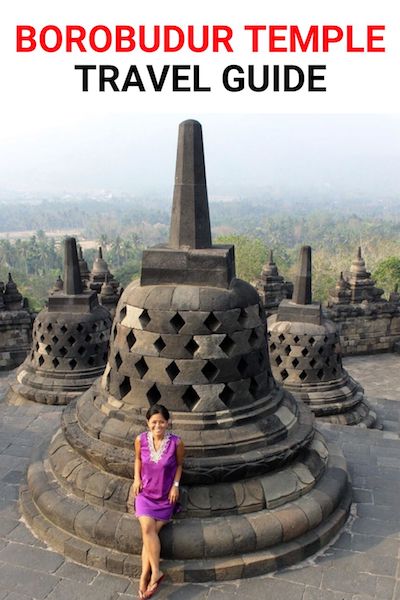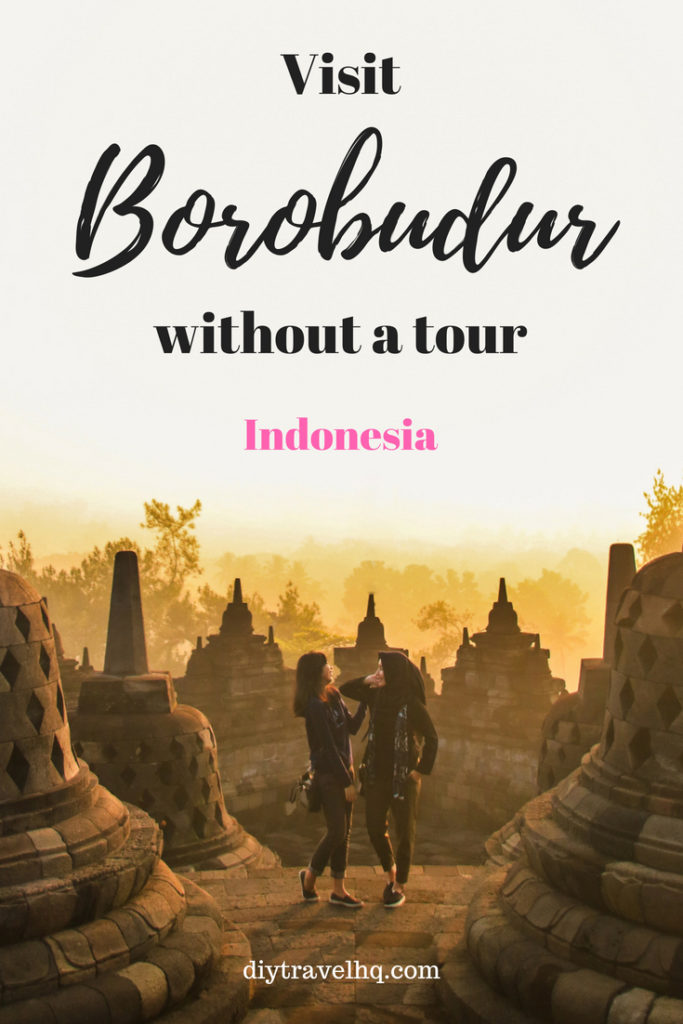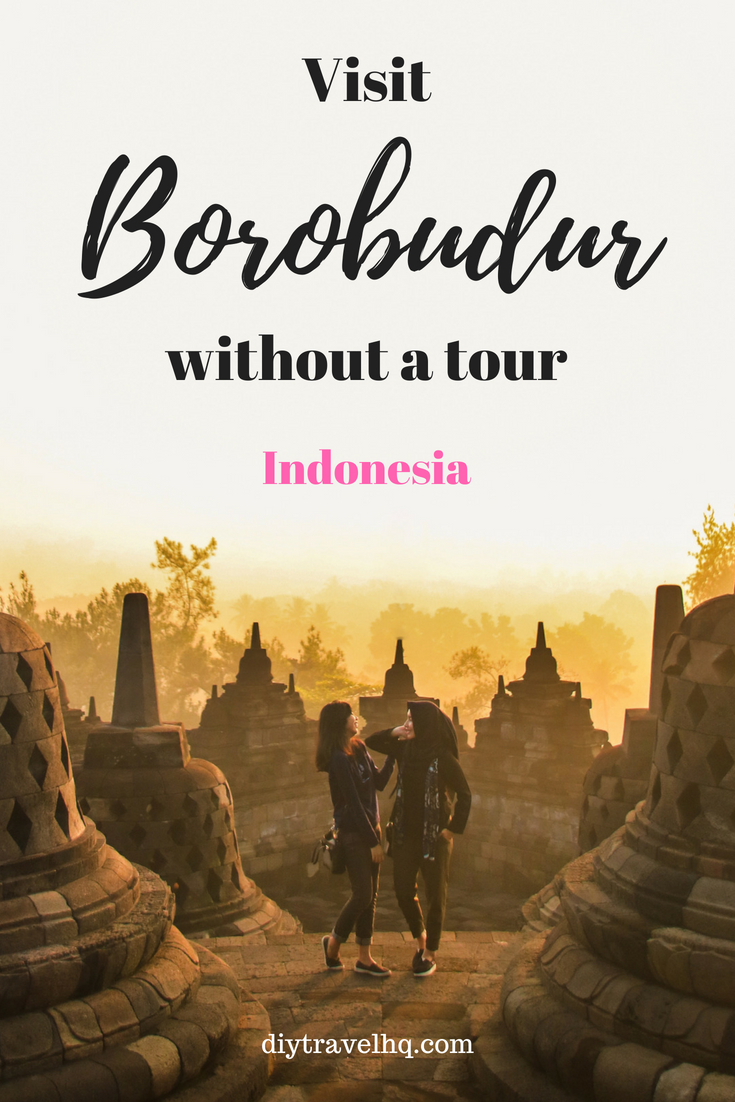 Disclaimer: This post contains affiliate links, which means that we receive a small commission if you click on a link & purchase something that we have recommended, at no extra cost to you.
Visited in October 2015