Choosing a profitable niche is more important than you think when starting a travel blog – learn from our mistakes and get started on changing your lifestyle NOW!
Starting a Travel Blog
Have you read or heard about the success stories of travel bloggers that live life on their terms and make 5 figures a month? Although they make it seem effortless, a lot of work does go into creating a travel blog and keeping it interesting for readers.
The good news is that you can be one of them too even if you don't yet know everything about how to start a travel blog. Before you begin, you need to start planning on how to become one of these successful bloggers with travel websites. You can start by reading Blogging For Dummies
(seriously!) and choosing a travel niche that allows you to make money.
Oh, no! Did I say something inappropriate? Don't worry, most bloggers decide to start a blog to change their lifestyle and that involves making money. What only experienced bloggers know is to carefully choose how to narrow your focus in the beginning so that you WILL make money.
Find out how we chose our blog niche, and how you can avoid the critical mistake we made.
Our Travel Blog Niche
When Sheena and I started DIY Travel HQ, we were flying by the seat of our pants. We knew we wanted to start a travel blog and share our experiences with friends and family, as well as to help like-minded travelers.
We started by looking up some travel writing tips but in the beginning, we didn't think about choosing a profitable niche. We're long term, independent travelers that are always looking for the best value so we don't feel comfortable promoting a lot of tours and hotels.
We are also minimalists and we like to travel with everything on our backs. That reduces the amount of useful products that can be recommended.
Choosing a Travel Blog Name
Picking a travel blog name seems so simple, but there are many things to consider. Find out what it takes to pick a travel blog name with longevity!
Read more
Another obstacle we encountered were potential partnerships that associated independent travel with budget backpackers. We are backpackers that know how to stretch a dollar, but we are also willing to open our wallets for unique or good value experiences.
Take a look at these three examples, and tell me you wouldn't do the same:
We also recognise that everyone deserves to splurge, whether that is on accommodation, food or tours. And sometimes it's not worth the time & effort to save a few dollars. So while we are budget-minded, we try to give different options for our audience.
It was tough overcoming these obstacles, but luckily we did and hopefully you won't have to. Having a game plan from the start is priceless, and will help you on the way to profitability.
Let's get started with all the information we wish we had!
Three Reasons to Choose a Travel Niche
You can start a blog based on:
what you are passionate about
what you are knowledgeable on
in a profitable niche
The Holy Grail is to combine all three, but don't worry if you are lacking knowledge or passion on a subject. It is a lot easier to be passionate and gain knowledge when you are making money!
The main objective is to provide quality content that your readers enjoy and find useful. Over time, they will know if you aren't passionate or knowledgeable. This will ultimately be the beginning of the end.
In order to keep your readers coming back or purchase affiliated products, you need to be an authority for focus area.

#1. Passion for Travel
Blogging is a full-time job in the beginning if you want to be successful. Having passion for your niche is critical to overcoming the down days and muscling through. You need to be devoted for at least the next 2-5 years and hopefully more.
As an economist by education, I like to think of the time and money devoted to a blog as an opportunity cost. If you aren't going to be making money from your travel blog, wouldn't you rather be earning a salary or relaxing?
Having passion keeps you motivated, focused, and willing to continue creating high quality content.
#2. Knowledge on Travel 
Knowledge is power, and it makes you an authority for your blogging niche. Readers may find you once based on your SEO, but your expertise for informative articles is what keeps them returning.
For this reason it is ideal to choose a topic that you are already familiar with. In time, your followers will come to trust you and your recommendations.
This is important as not only are you helping them choose products you genuinely value, but they are helping fund your lifestyle that allows more articles to be published. This is a win-win for everyone!
#3. Profitable Niche
Unless you want to blog purely as a hobby, choosing a profitable travel niche is critical. Any subject that allows you to recommend products that you genuinely believe in is a start, but it will not be enough to live comfortably. You have to be able to create and sell your own product.
Find an area of expertise where you can help to solve a problem, and help people work to improve their lives.
Travel Niche Ideas
Travel Blogging is already a niche, but you want to narrow it down one more level. Think about what excites you, how you travel, and go with it.
Do you travel with kids?
Are you an adventure addict, or specialize in a certain activity like mountain climbing, diving, or rock climbing?
Do you enjoy the finer things in life on vacations?
Are you a weekend warrior?
Do you travel the world on a bicycle, motorbike, or by hitchhiking?
All these things help refine your niche, and create your audience. Just remember that you may not always travel this way so a broader niche might be better. You can always create categories for different aspects you want to blog about.
How to Tell if a Niche is Profitable
The short answer is by the amount of competition. Believe it or not you want to have competition as that means others are making money from the same blogging niche you want to enter!
The tough part is knowing if there are too many big players already in the market that will outrank you for keyword searches. A useful tool is Google Keyword Planner. You can enter keywords and find out the estimated number of searches each month.
The goal is to find keyword searches that are large enough to keep growth possible, and allow for a steady amount of interesting articles. The next step is to search Google for those exact keywords to see what websites pop-up.
Large and popular websites are hard to outrank as their domain ranking naturally elevates them to the top. Ideally you will see some smaller blogs mixed into some of the keywords you searched, which tells you that it is possible to claim part of the travel niche for yourself.
Another useful tool is Google Trends. By entering keywords, you are able to see if your intended travel blogniche is gaining or losing popularity.
Testing a Travel Niche
Before you invest a lot of time and money into getting your blog up and running, try these simple steps to make sure you can check off all three requirement.
Brainstorm at least 20 articles that you want to write first.
Not only should this be easy but it helps you focus your niche in the beginning.
From the list of 20 blog article ideas, write five to ten articles that you want to publish when you first go live.
Not only does this create needed content but it allows you to see if you enjoy, and can effectively write for. Struggling in the beginning is not promising, and you really need to ask yourself if you should continue.
While you are writing, consider what problem you are solving for the reader:
Are you providing humor?
Do you have a new travel routine that is more effective?
Can you help them save money on a flight?
As a writer you don't have to be unique, but you do need to do it better than the rest of your competition. This will help you move up Google's rankings, and keep readers returning. If you already thought the perfect website existed for a travel niche, then you should probably choose a different niche.
Did You Choose the Right Niche?
If you don't think you can outcompete the larger brand's websites or offer something new, it will be difficult to attract partnerships, advertisers, or make enough money off affiliated products from readers.
Everyone would love to have a popular blog, but monetizing it puts food on the table. It allows you to live the life you always dreamed, and provide valuable content to followers.
For this reason, you need to be honest with yourself if you have the passion and knowledge to keep the blog running until it reaches the profitability you are happy with and dreamed of.
On the flip side, you can't chase only profitable niches with no passion or knowledge on the subject. That is a recipe for failure too.
Check out our next post in our Starting a Travel Blog Series: Choosing a Website Name, or skip ahead to see how you can set up a WordPress Blog in 15 minutes at Bluehost.com
.
Did you enjoy reading our guide on Choosing a Travel Blog Niche?!
Pin it and help others find it too!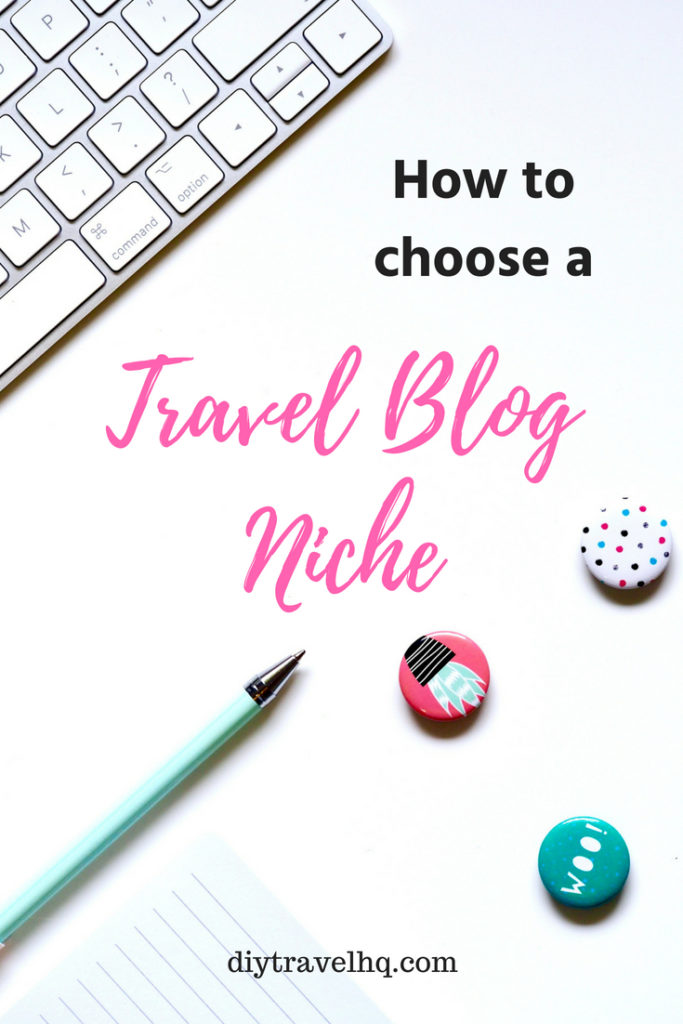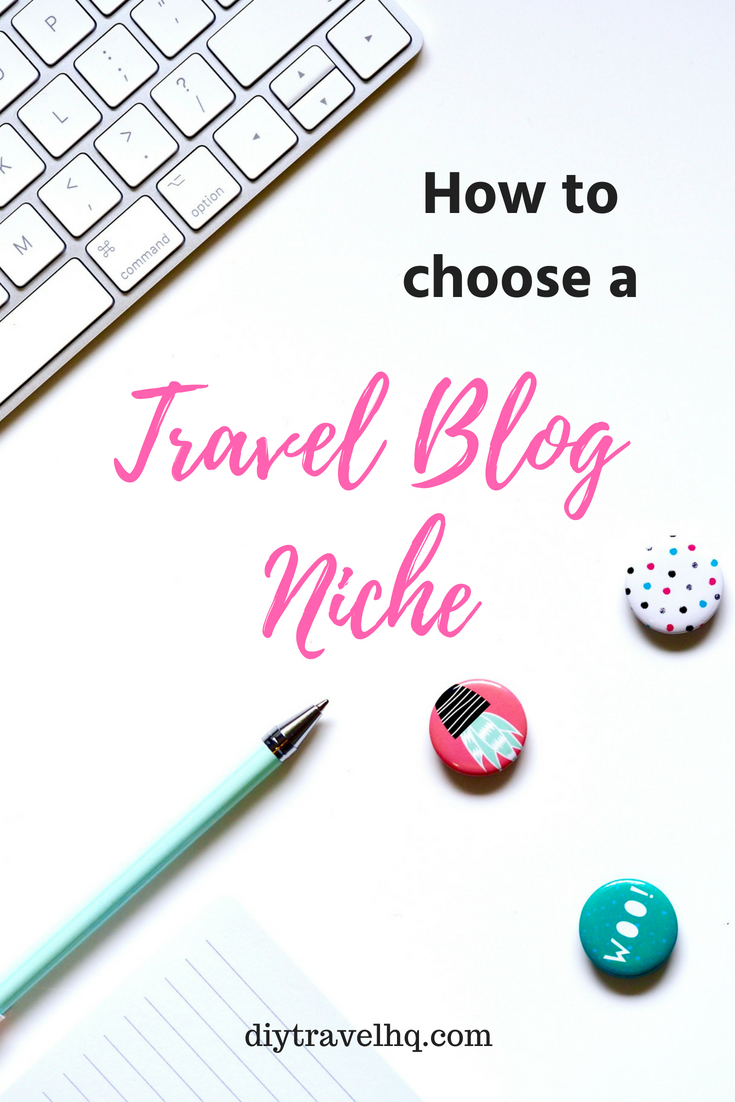 Disclaimer: This post contains affiliate links which means that we receive a small commission if you click on a link & purchase something that we've recommended – at no extra cost to you.