Get off the beaten track in Central America – find out the top things to do in Honduras and helpful tips to plan your backpacking adventure.
Backpacking Honduras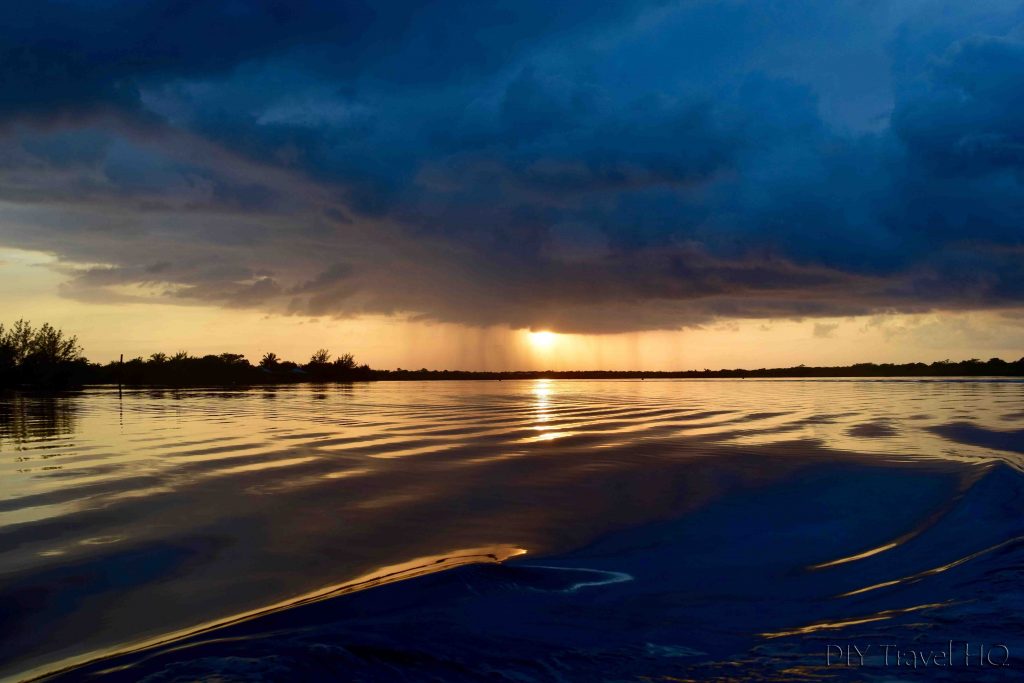 Honduras was our least favourite country in Central America but it's still worth a visit. We travelled slower than usual in Honduras, spending about 1 month in 8 cities. The weather was unpredictable due to Hurricane Otto, so we ended up spending about a week waiting it out for good weather to dive in Utila Island & go white water rafting in La Ceiba.
Travellers with limited time need only to visit the Copan ruins. There are quite a lot of things to do in Honduras but no other major tourist attractions.
Otherwise, Honduras is best suited to those who like to travel under the radar, off the beaten track. There aren't many tourists, even in the most popular destinations.
Honduras certainly has a bad reputation & violent crime is an issue, but it doesn't necessarily have to deter you from visiting, depending on the level of risk at the time. Check out this list of the most dangerous countries in the world & things to consider.
As with elsewhere in Central America, we took local transport, ate local food & stayed in locally owned budget accommodation, without any safety problems. Just be aware of your surroundings & use your street smarts when backpacking Honduras.
For more information, pick up a guidebook and keep reading for more Honduras travel inspiration…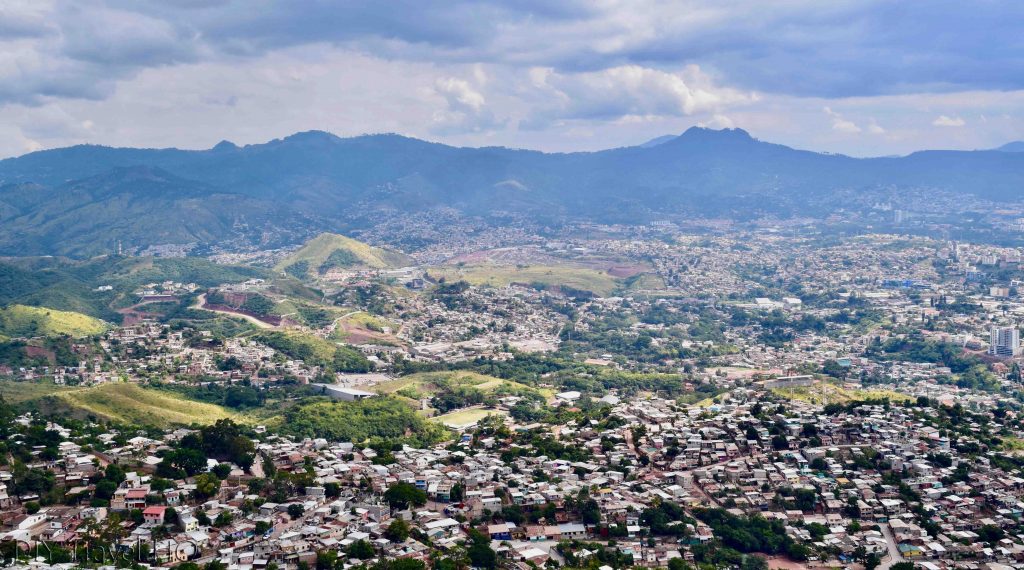 Is Honduras Safe?
We traveled around Honduras in October 2016 without any issues. Things have changed somewhat since then.
As of mid 2019 the US Government is issuing a Level 3 travel advisory for Honduras. Travelers are advised to reconsider travel to Honduras due to crime, especially in the Gracias a Dios Department.
You can check the current US travel advisory here and of course, you should consult your own government advice as well. Circumstances can change fast, especially during elections. Road blocks may appear and limit availability of food and fuel.
Violent crime, such as armed robbery and pickpocketing, is common. Whether you choose to visit Honduras now or in the future (the better option), we recommend wearing a money belt with RFID blocking and traveling with an anti-theft daypack.
We recommend purchasing travel insurance before any trip to Honduras. We've been using World Nomads through 80+ countries over the past 12 years and have been really happy with their coverage and services.
For more details check out our World Nomads review here.
Things to do in Honduras
#1. Explore Maya ruins in Copan
If you only visit one place in Honduras, it's got to be Copan. It's one of the top Maya archaeological sites in the world, famous for the artistic craftsmanship of its stelaes & stone heads.
Quirigua is a similar UNESCO site in Guatemala but there's no need to pay a visit there if you're headed to Copan.
Don't miss the Hieroglyphic Stairway – made up of more than 2,000 carved blocks over 72 steps, it's the longest Maya hieroglyphic text.
And be sure to get there early too for the daily macaw feeding at 8:30am.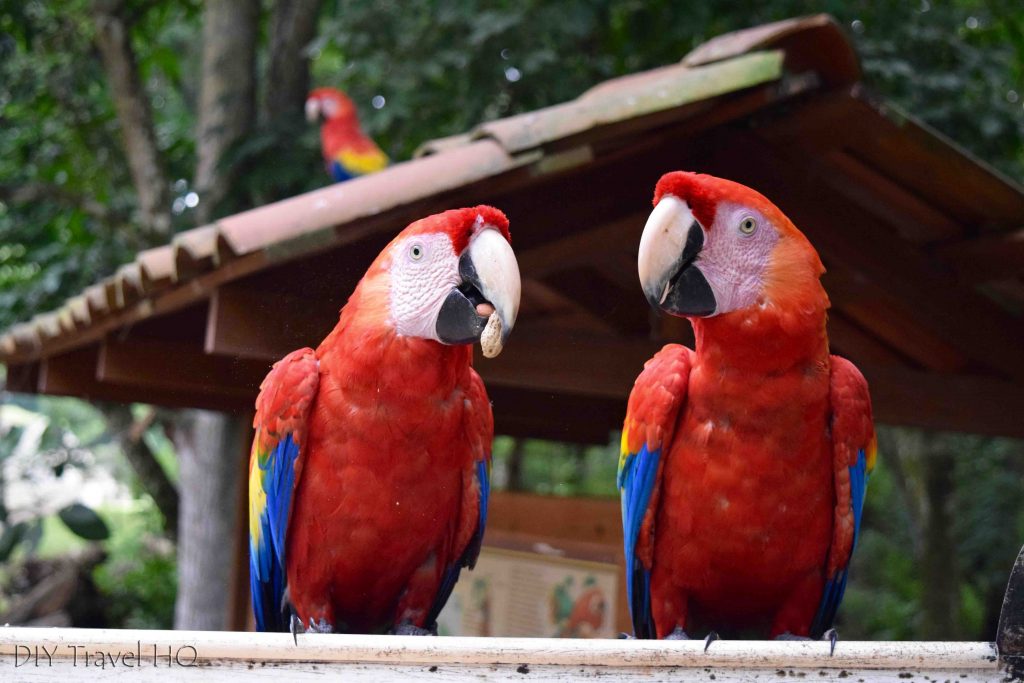 The entrance fee also covers the Sepulturas ruins, 1.5km away. It's not a big Honduras tourist attraction but it won't cost you anything extra, so why not?
The Museum of Sculpture is worth the additional fee, but we gave the tunnels a miss – most reviews generally say they are not worth it.
Entrance fee: $15.00 (you can also pay in Honduran Lempiras)
Museum of Sculpture: $7.00
Tunnels: $15.00
Accommodation: We stayed at Iguana Azul in Copan Ruinas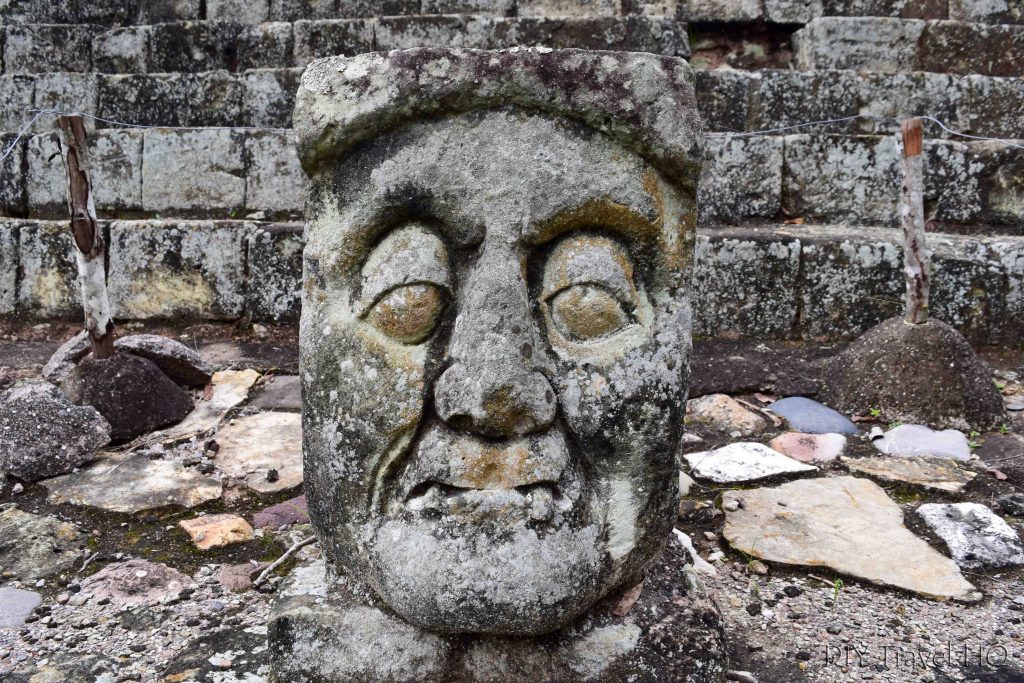 #2. Tour the Flor de Copan cigar factory
We stopped at Santa Rosa de Copan on the road between Copan & Gracias, hoping to visit the Flor de Copan cigar factory. It seemed like one of the better places to visit in Honduras but it didn't work out.
It is located 2km outside the city centre but less than 1km from the microbus station.
Apparently tours in English are conducted at 10:00am & 2:00pm on Monday to Friday, but you should make a reservation at least 1 day in advance. Our host in Copan told us this wasn't necessary but it is.
We simply arrived at the door & while one of the workers there made enquiries to try to accommodate us, there wasn't an English-speaking guide around. You must also wear pants & closed-toe shoes for the tour.
Good luck! We would've loved to compare it to our Fabrica de Tabacos Francisco Donatien Tour in Cuba so if you've been, let us know in the comments how it was!
Flor de Copan Cigar Factory Tour: Free
Reservations: +504 2662 0185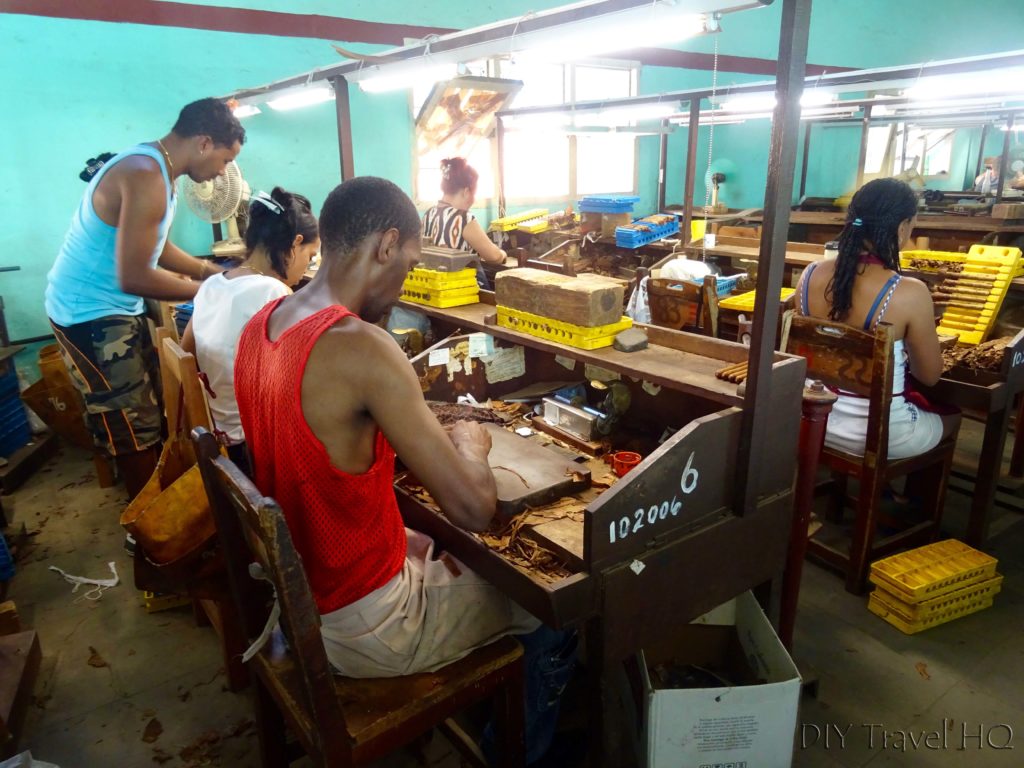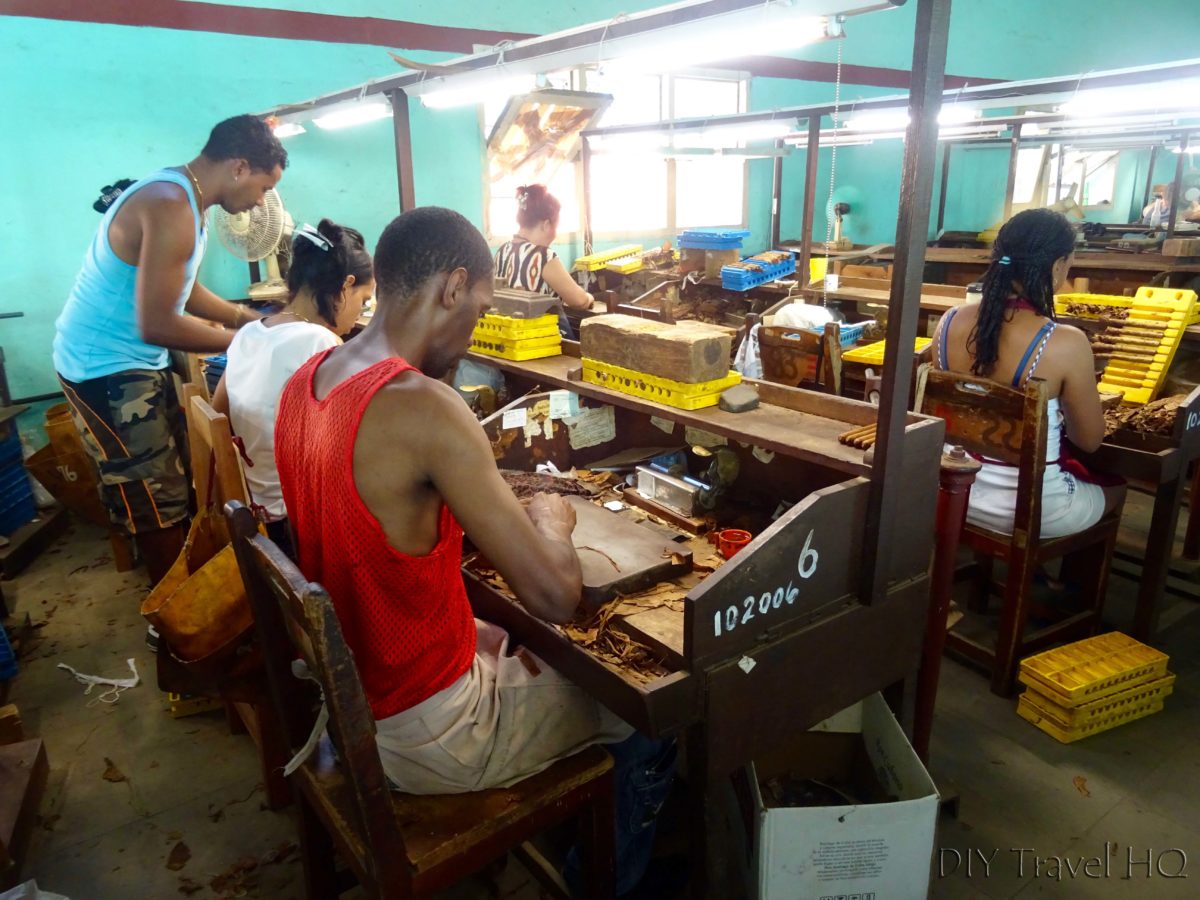 #3. Stroll around the cobblestone streets of Gracias
There aren't many tourist attractions in Gracias but we stopped here to break up the journey between Copan Ruinas & Marcala.
It's a small, cobblestone town that was impressively once the capital of all Spanish-conquered Central America – there was a lot of construction on the streets so perhaps it's being returned to its former glory.
The main attraction is Fuerte San Cristobal, a small fort on a small hill. We didn't visit but the entrance fee of Lps/60 (US$2.50) can be negotiated, or so the ticket seller tried with us!
For fantastic, free views of the city, climb up to the bell towers of San Sebastian church instead.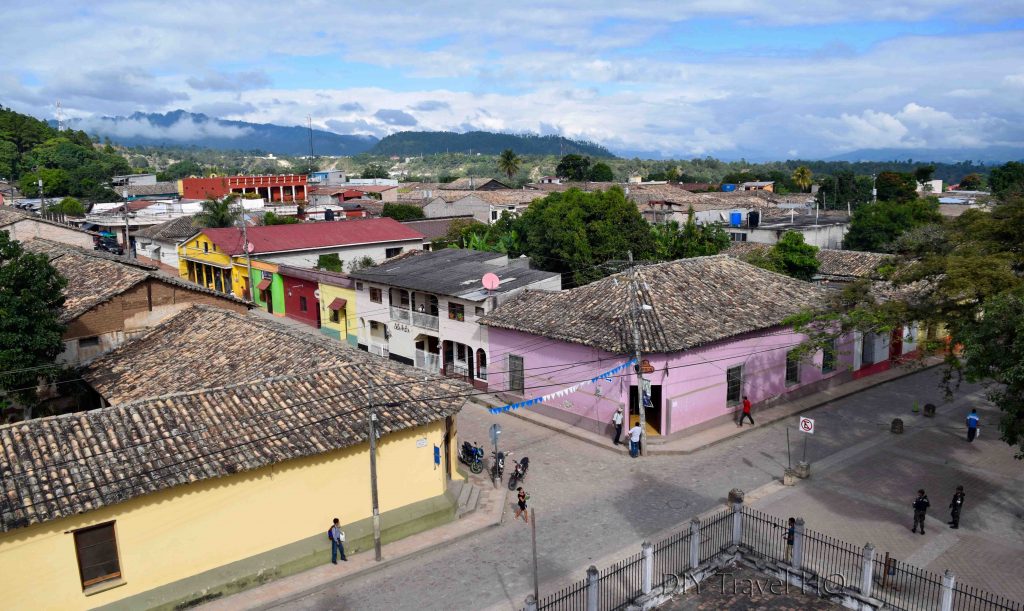 #4. Enter the Cave of the Giant in Marcela
We visited Marcala for La Cueva del Gigante, or The Cave of the Giant.
It is believed to be the site where the 1st settlers of Honduras lived, and maybe all of Central America. But for a place with such lofty claims, there's little information on how to visit, even from the tourist information office.
However, it's actually very easy to get to one of the best attractions in Honduras. Just take a taxi or microbus to the town of La Estanzuela & ask locals for directions once there. There are also a few signs around.
First, you'll come across a beautifull waterfall, Cascada La Estanzuela. Climb to the top for awesome views.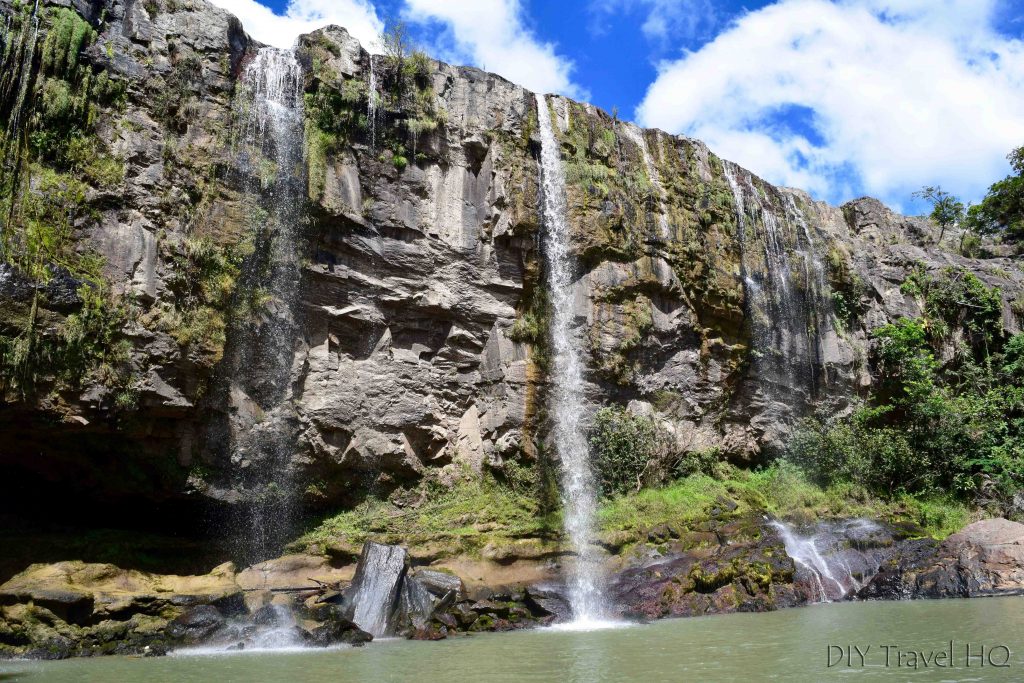 La Cueva del Gigante is further up ahead, it's not marked so you'll probably get lost a few times before finding it. There's a sign that prohibits climbing the cave, so if you follow rules like that, there's not much to explore…
Microbuses are limited so heading back to Marcala; we took a shared taxi for a reasonable fare.
The Honduras Institute of Anthropology & History are trying to get a UNESCO World Heritage listing for La Cueva del Gigante, so get here before it becomes big.
La Cueva del Gigante Entrance Fee: Free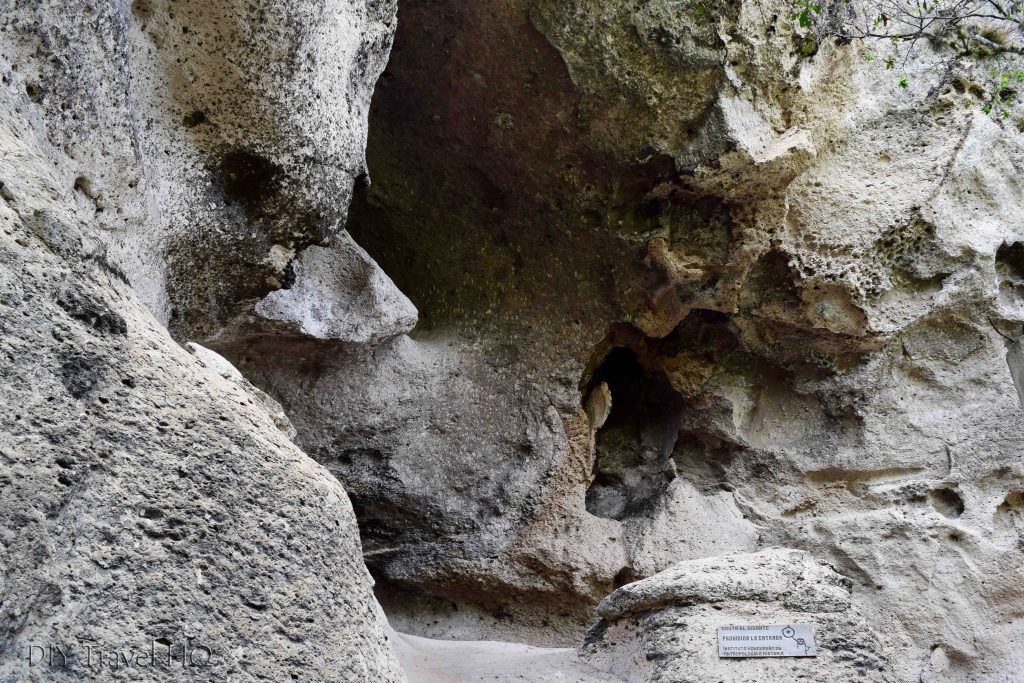 #5. Pray at a historic church in Comayagua
We stopped at Comayagua for a couple of hours on the road between Marcela & Lake Yojoa.
The bus terminal is 800m from Plaza Colonial, the heart of the city with the impressive Catedral de la Immaculada Concepcion, one of the oldest cathedrals in Central America. The clock on the cathedral is said to be the oldest in the Americas.
We took turns sitting in the square watching backpacks & walking around the city, a ghost town on a Sunday afternoon. Comayagua seemed pleasant but apart from the Cathedral, there's no real reason to visit.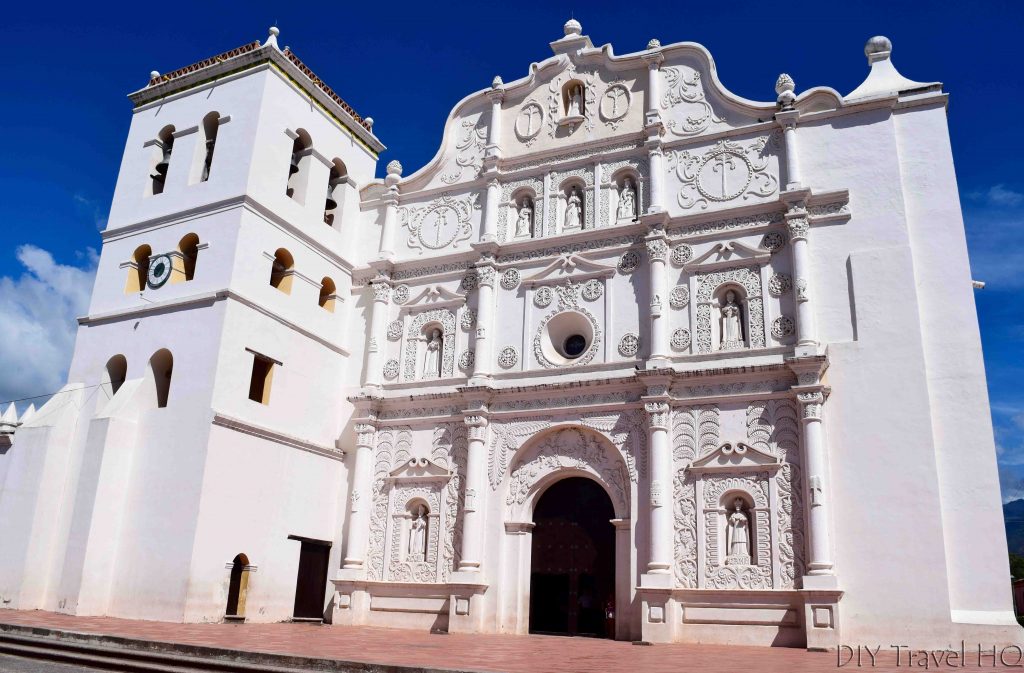 #6. Go behind the falls at Pulhapanzak Waterfall
D&D Brewery, Lodge & Restaurant has single-handedly put the Lake Yojoa region on the map.
We weren't sure how remote it was & didn't want to have to have all our meals there, so we stayed in Pena Blanca instead for town conveniences. However if you want to stay at D&D Brewery, know that there are a few local shops around & it's just a walk or short bus ride to Pena Blanca.
The highlight of the area is Pulhapanzak Waterfall, one of the most impressive Honduras attractions. It's an easy bus ride + walk to get there & back.
Just seeing the massive waterfall is impressive enough though we'd also recommend the "Behind the Falls" Guided Tour. It's a little expensive & short on time but the experience is unique, as you literally get to go behind the falls – it's deafening!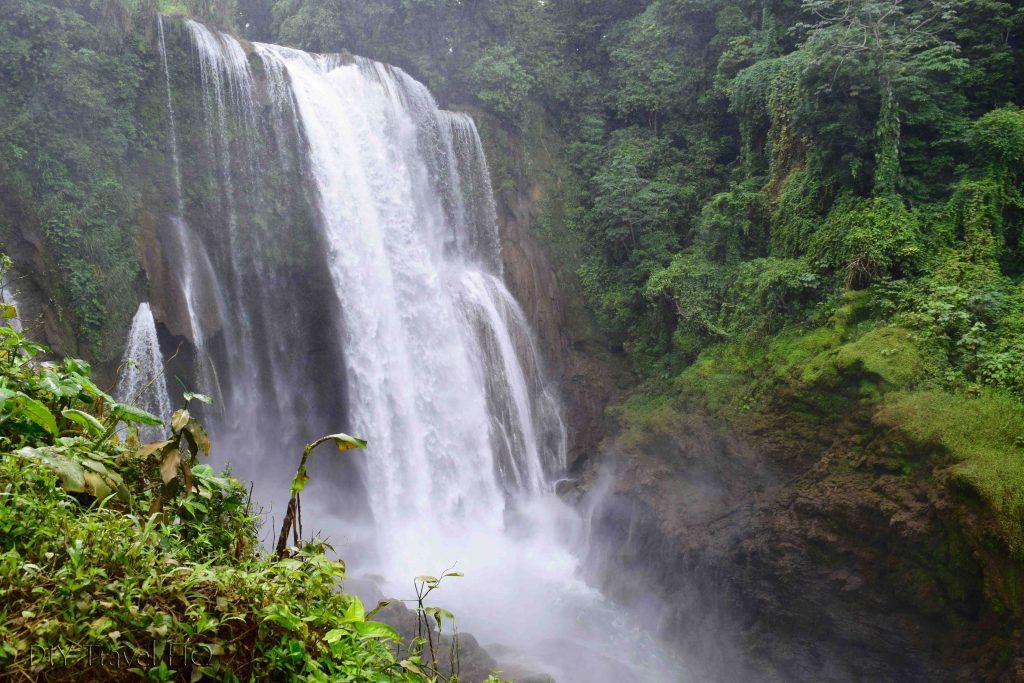 Other amenities at Pulhapanzak include a ziplining canopy tour, restaurant & cabin accommodation.
Lake Yojoa is a good base for other eco-adventure activities though we didn't do anything else. We tried to hike to a lookout point near D&D Brewery but we got lost, so ask for directions if you plan to do the same.
Pulhapanzak Waterfall Entrance Fee: Lps/70 ($3.00)
"Behind the Falls" Guided Tour: Lps/250 ($10.65) – say you're staying at D&D Brewery for a Lps/50 discount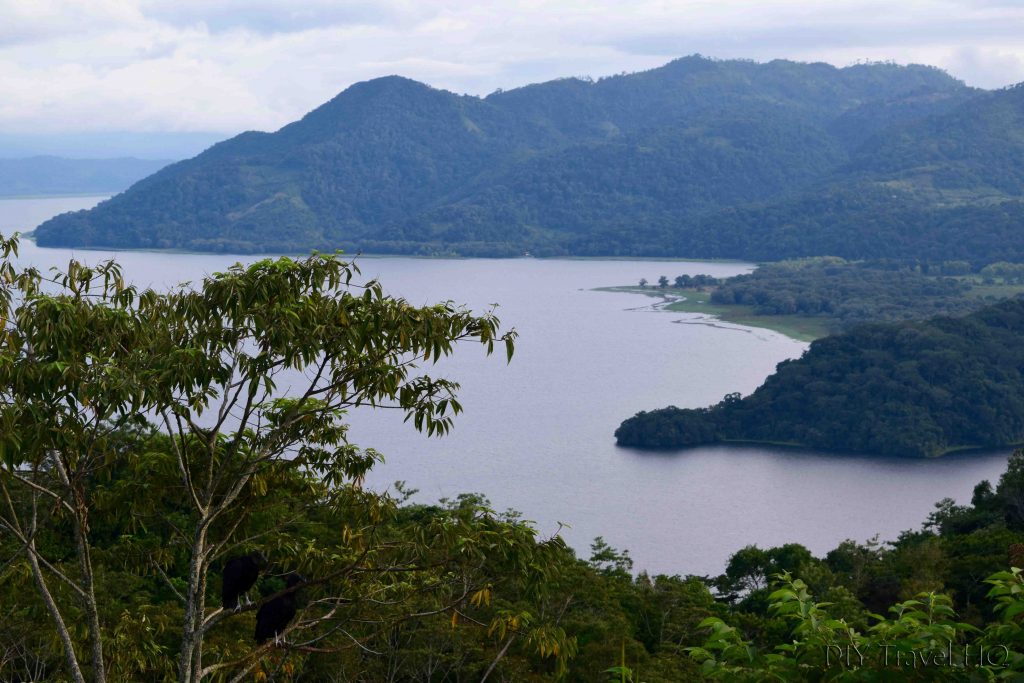 #7. Soak up the Garifuna culture in Trujillo
Trujillo was a long bus journey to get to & we can't really say it was worth it. The beach was a disappointment as there was no golden sand or turquoise water as the guidebooks promised, but this may have been due to the coming onset of Hurricane Otto.
Trujillo is home to the native Afro-Caribbean Garifuna people so the culture is different from elsewhere in Honduras, though similar to what we experienced in Hopkins, Belize.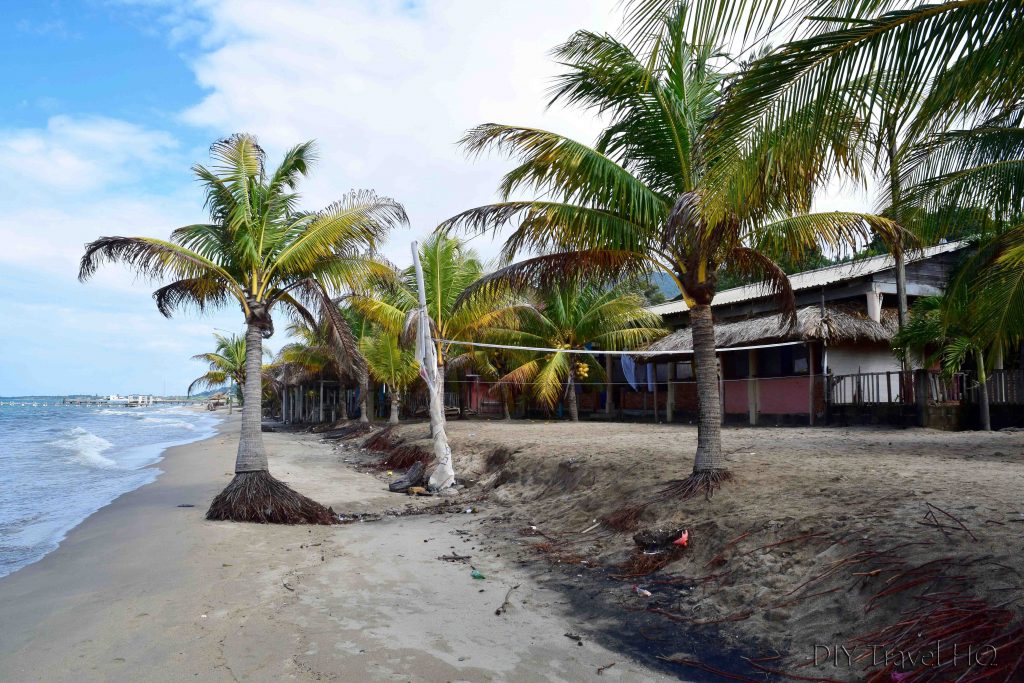 You can visit Fortelza Santa Barbara or simply wander the grounds & check out the crumbling walls, cannons & views of the sea before a guard asks you to leave.
The Trujillo Cemetery is free, although it's often locked. Here lies the grave of William Walker, the American adventurer who took over Honduras in 1856 with an army of 60 men (+110 locals)! His rule lasted 1 year before he repatriated back to the States. A few years later he sailed back to Honduras to try to conquer it again but this time he was captured & executed by firing squad – a crazy piece of history.
Fortelza Santa Barbara Entrance Fee: Lps/100 ($4.25) or $3.00 (unsure)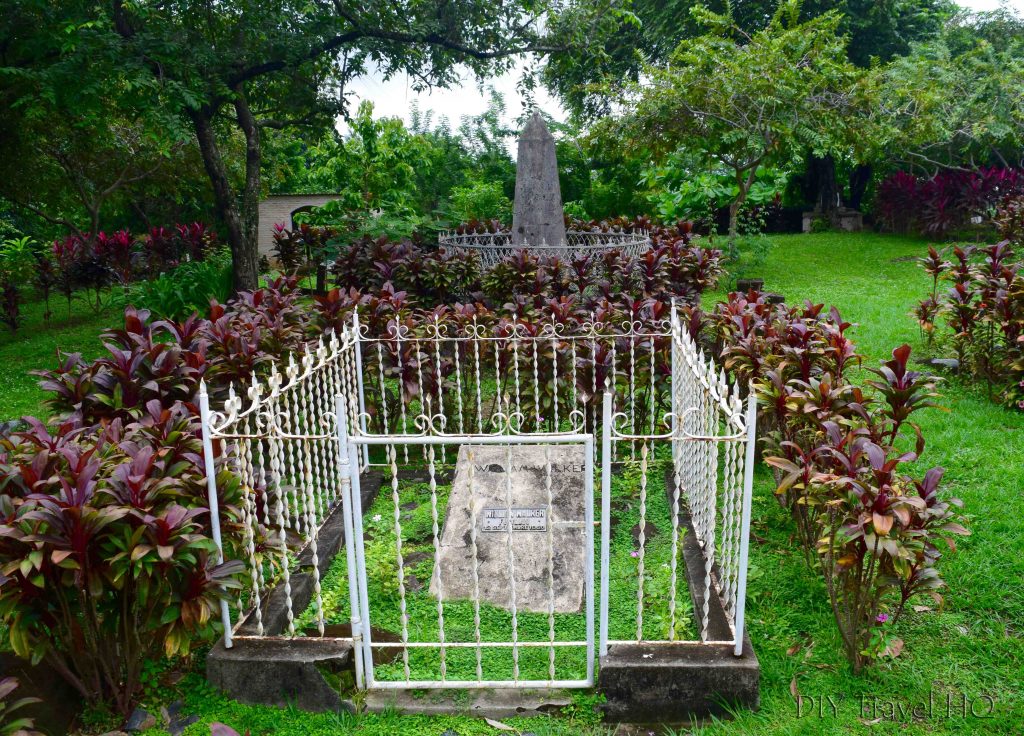 #8. Learn to dive in Utila
Utila Island is promoted as one of the cheapest places in the world to learn to dive – and with PADI Open Water courses from $269.00, that may be true. Diving on Pulau Weh in Indonesia is also just as affordable.
However, fun dives start at $35.00, which isn't that cheap (it's $25.00 on Pulau Weh) though discounts are offered for multiple dives. Gunter's Ecomarine Dive Shop are the cheapest on Utila but their laid-back style might not be for everyone.
Most of the dive centres also offer accommodation, so shop around. In the off-season, you can negotiate excellent deals. We weren't that impressed with the dive sites on Utila but no doubt Hurricane Otto affected the conditions & visibility.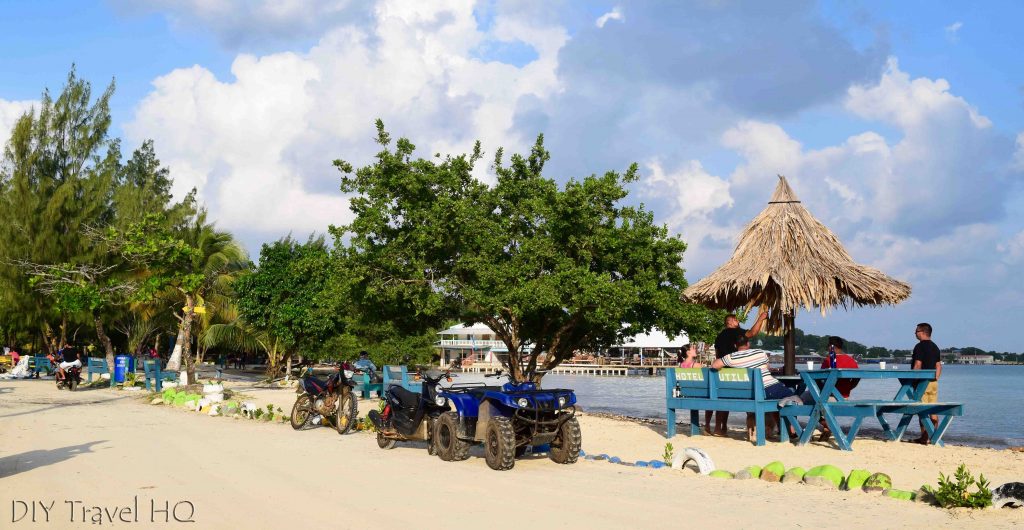 We'd like to go to nearby Roatan Island. Its said to have excellent diving and the best beaches in Honduras though the cost of everything there is more expensive.
Utila is very backpacker-friendly, with prices to match. Apart from diving, there are other things to see & do such as kayaking, hiking, fresh water caves & visiting the crash site of a drug smuggling plane. It's also a lovely place to enjoy the slow pace island life, with lots of good cafes & restaurants.
Ferries to Utila Island depart from La Ceiba & cost Lps/575.00 ($25.00) each way.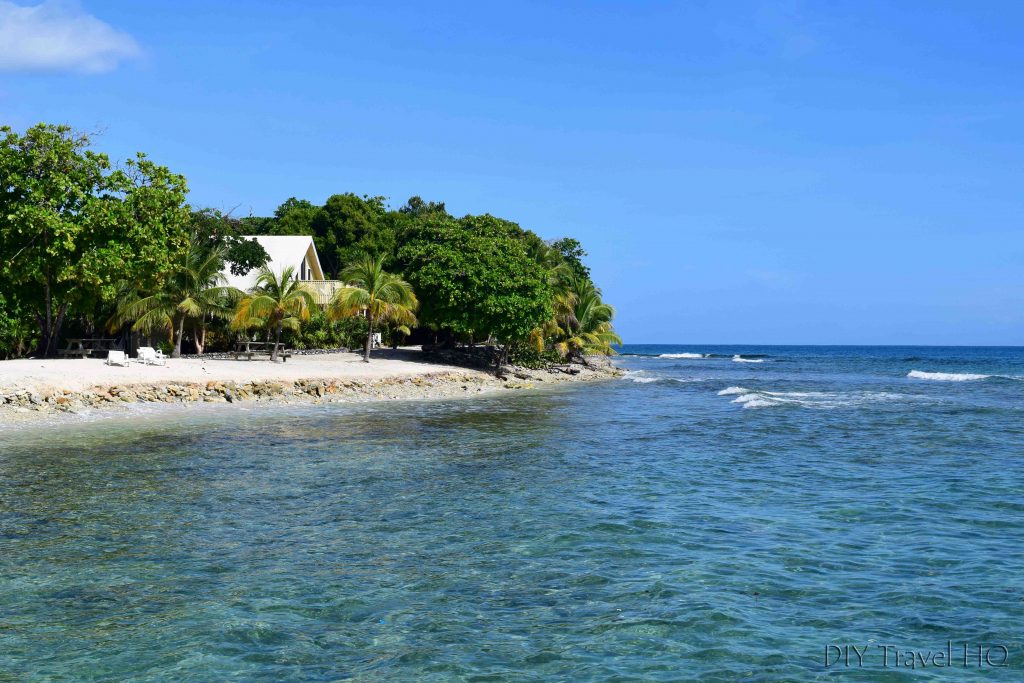 #9. Go white water rafting in La Ceiba
La Ceiba is the base town for ferries to Utila Island, so chances are you may have to spend a night or 2 here. Nothing more is really necessary as there's not much going on, though the nightlife is apparently some of the best in Honduras.
We went white water rafting with La Moskitia Ecoaventuras on the Rio Cangrejal which was awesome.
We wanted to snorkel & search for pink boa constrictors in Cayos Cochinos but that didn't work out. Day trips start from $39.00 + $6.00 entrance fee.
Hiking in Pico Bonito National Park is also worth considering for the nature views & wildlife spotting.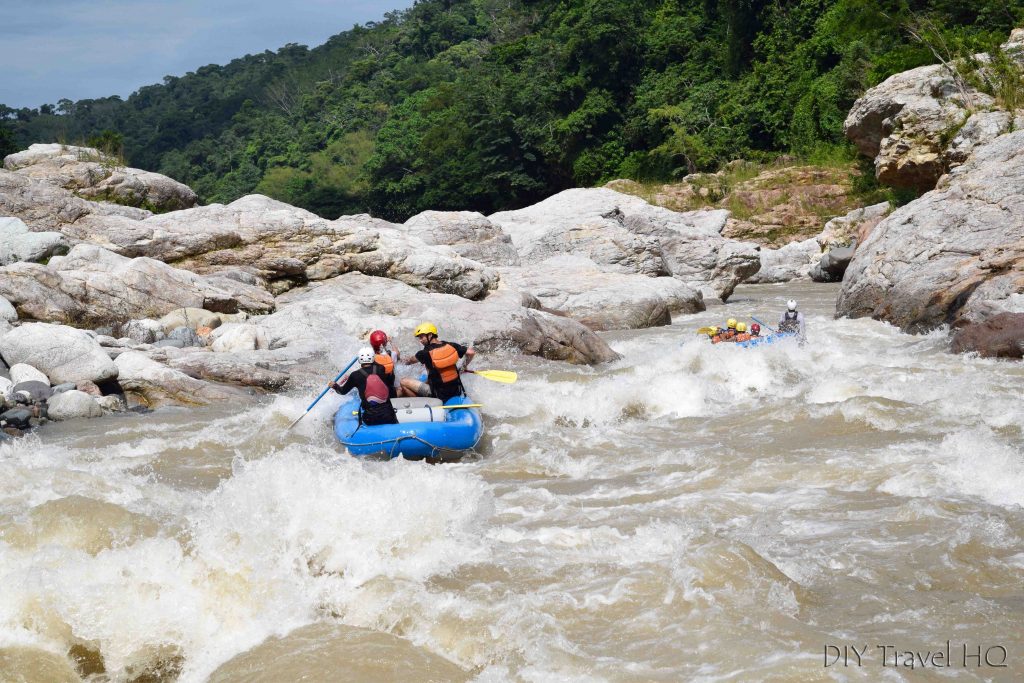 #10. Stroll the colonial streets of Tegucigalpa
Most travellers end up spending a night in Tegucigalpa on the road between Honduras & Nicaragua but it's not a bad idea to stay longer if you have an extra night or 2 to spare.
You can get a good feel of the capital with a couple of hours in the colonial centre, with its numerous churches, museums & plazas.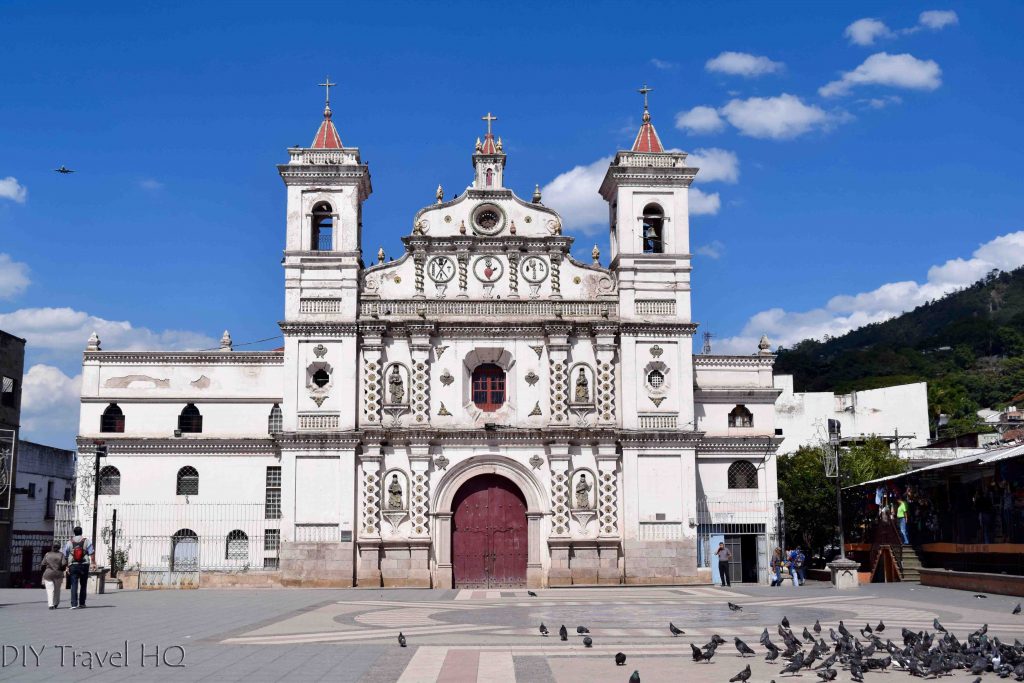 Take a taxi or microbus to El Picacho for an escape to nature, with fantastic views of the city & a statue of Christ at the top of the mountain – since we visited Cristo Rey in Dili, East Timor we like collecting them in our travels.
Parque Nacional La Tigra is one of the most popular spots from Tegus, for hiking, waterfalls, birdwatching & cloud forest highs.
Accommodation: We stayed at Palmira Hostel in Tegucigalpa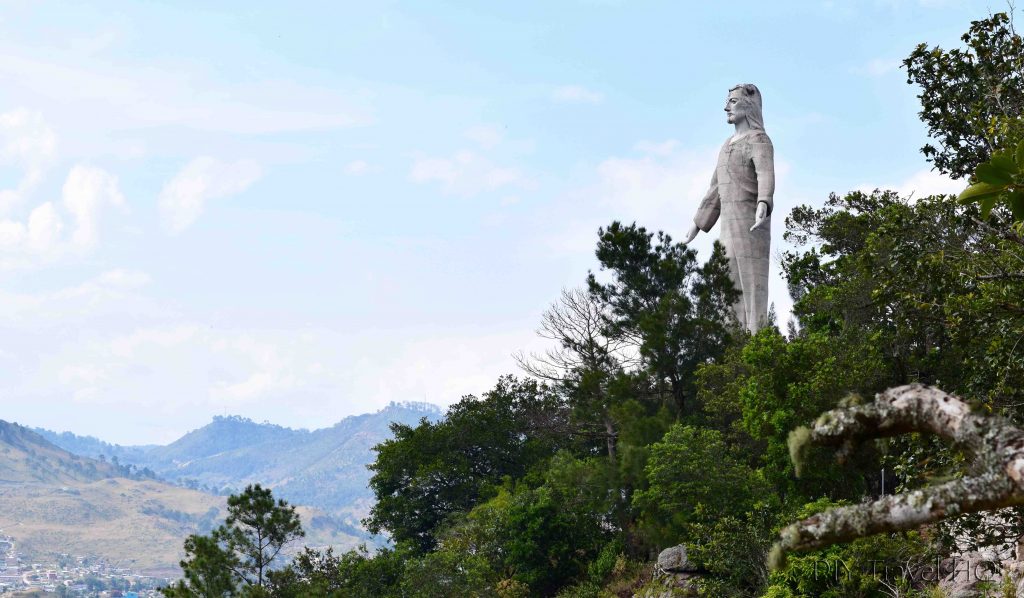 Places to Visit in Honduras
We ticked off those 10 things to do in Honduras in 1 month of travels. In chronological order, the towns and cities we visited were:
Copan Ruinas
Santa Rosa de Copan
Gracias
Marcala
Comayagua
Lake Yojoa
Trujillo
Utila
La Ceiba
Tegucigalpa
Honduras Accommodation
We booked our accommodation as we traveled. The cheapest places to stay aren't usually listed in guidebooks or available to book online.
If you prefer to book ahead Hostelworld has dorms from around $8.
Airbnb is another good option. You can stay in private houses apartments with local hosts from $10. Click here for $40 off your first booking.
Booking.com lists hostels along with great value budget hotels and guesthouses.
Check hostel prices in Honduras
Did you enjoy reading our list of Places to Visit in Honduras?!
Pin it and help others find it too!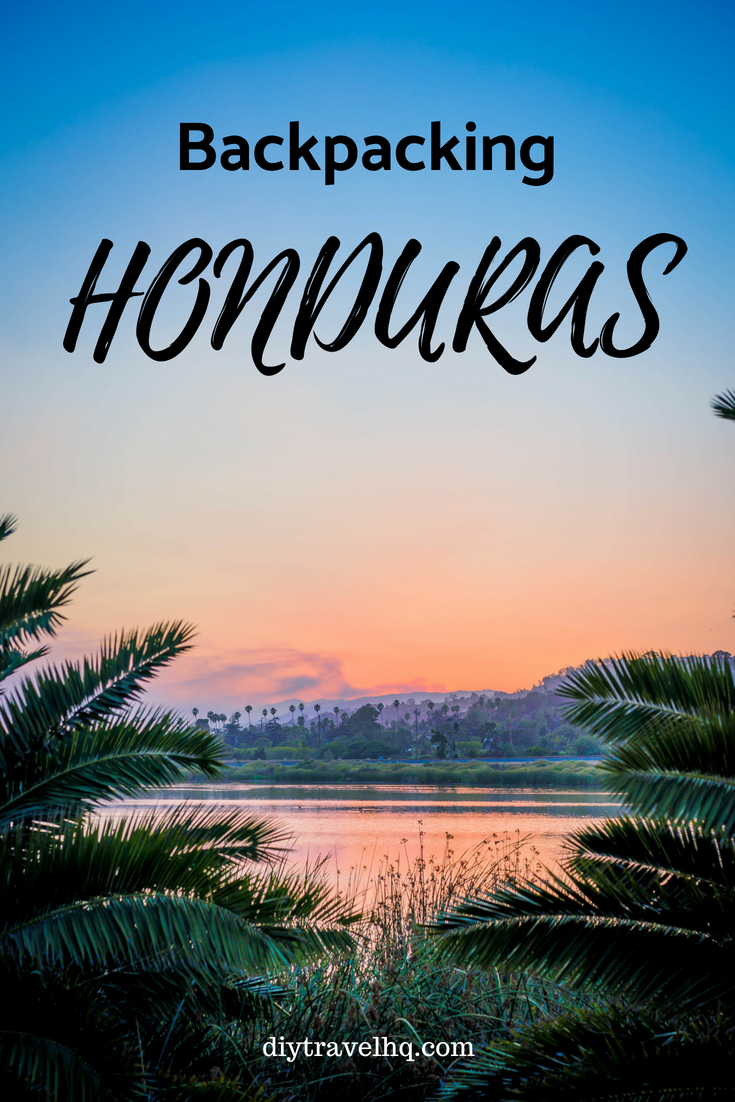 *** The Final Word: Honduras is a low-key country with small-scale tourist attractions – visit for Copan, Utila & more if you have time ***
Have you traveled in Honduras? Would you consider it?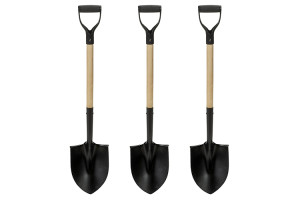 Accessible DIY travel to more distant locations via multiple connections or longer forms of transport
Disclaimer: This post contains affiliate links which means that we receive a small commission if you click on a link & purchase something that we've recommended, at no extra cost to you.
Visited in October 2016
Updated in May 2019