With its perfect cone, Santa Maria volcano can be seen from anywhere near Quetzaltenango, Guatemala – find out how to hike Volcan Santa Maria without a tour for less than $1!
Hiking Volcan Santa Maria was our most rewarding experience in Quetzaltenango, and it cost us less than 1 dollar!
Instead of taking an overnight tour, you can hike Volcan Santa Maria independently as a daytrip and enjoy the comfort of your hotel before and after.
You might even consider visiting Zunil the next day to soak in the spas of Fuentes Georginas.
Find more inspiration in one of the Guatemala guide books below!
Join us as we walk you through all the steps to successfully hike Volcan Santa Maria without a tour!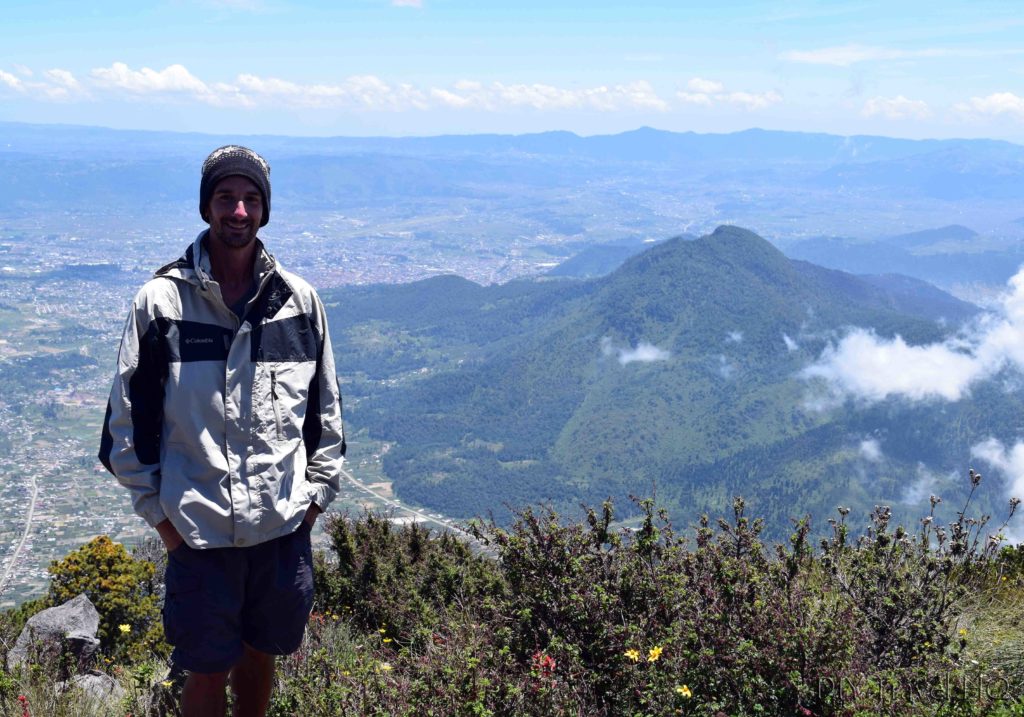 How to Get to Volcan Santa Maria
For some, the hardest part about hiking Volcan Santa Maria is getting up at the crack of dawn.
You need to catch the chicken bus from Quetzaltenango to Llanos del Pinal (Q2, 45 minutes) no later than 6 am. That means getting up at 5 am, and leaving your hotel at 5:30 am.
The bus stops across the street from Iglesia El Calvario in Quetzaltenango. This is very important since the bus only passes by on the way back from Llanos del Pinal.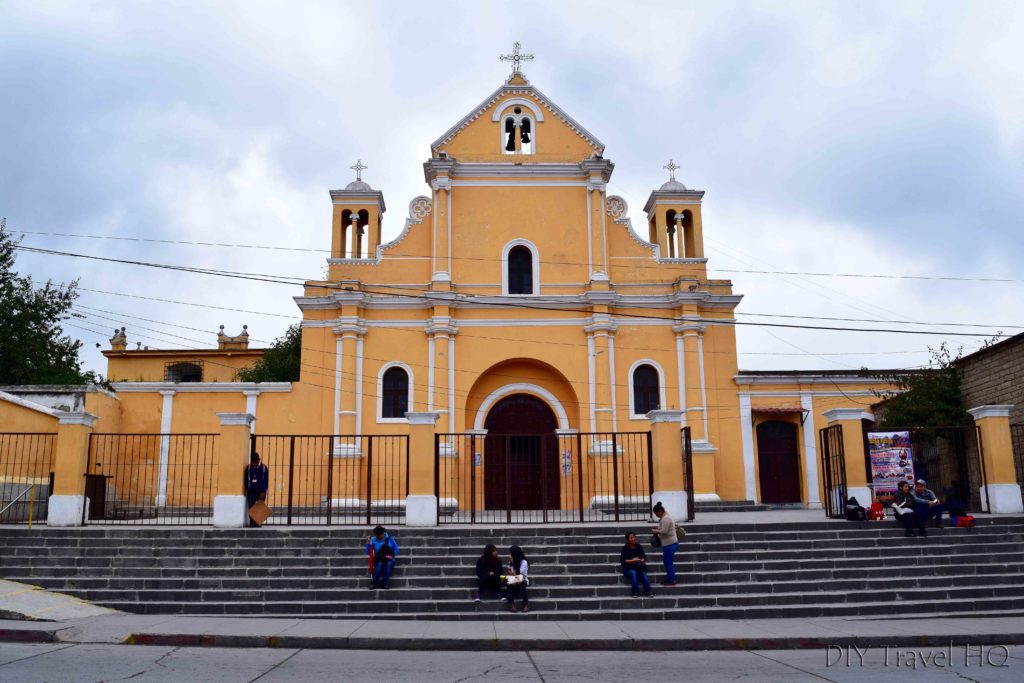 The bus stops near Minerva Terminal for a few minutes before heading back to Volcan Santa Maria.
You should be listening for Pinal as that will be how Llanos del Pinal is referred to on the bus, and by the screaming driver's assistant.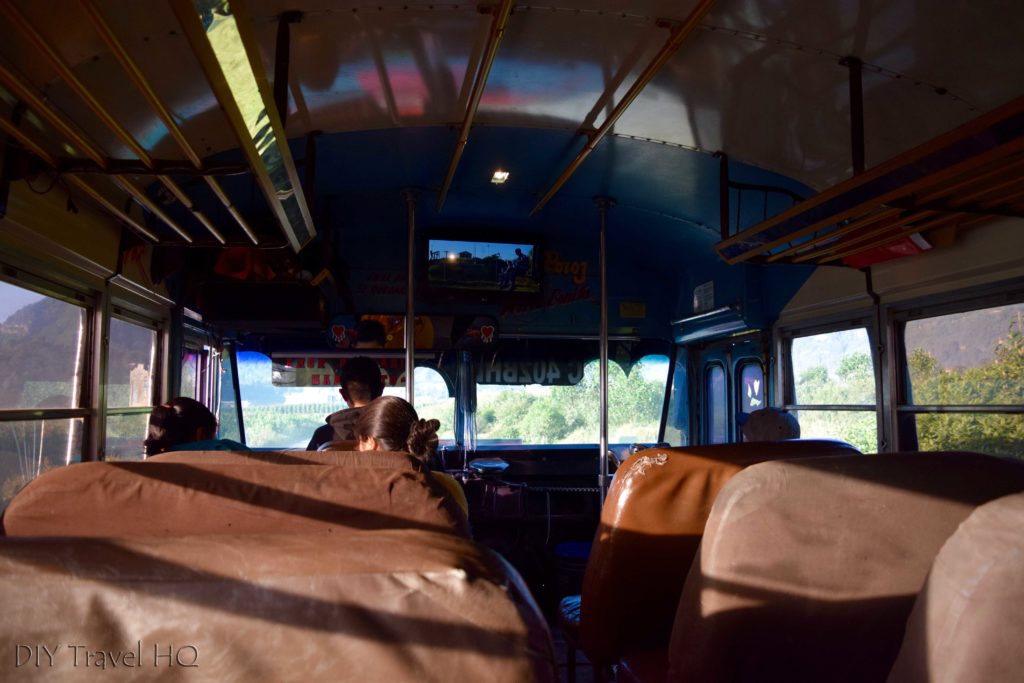 If you did not catch a direct bus, you will be let off at the main intersection to Llanos del Pinal. Direct buses go further down this road instead of just passing by.
Either way, the volcano will be in sight. Start your hike to Volcan Santa Maria by continuing down the main street of Llanos del Pinal.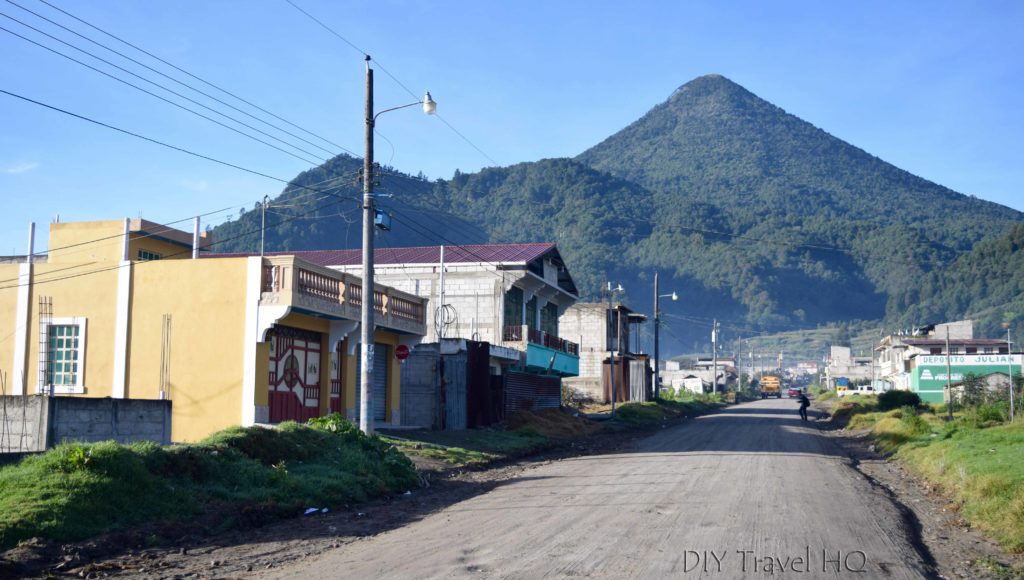 Hiking Volcan Santa Maria
The most confusing section of the climb to Volcan Santa Maria is getting to the base. There are a number of paths that branch out that farmers use.
If you stick to the largest path that largely goes straight, then you should have no problems until you need to the turn off.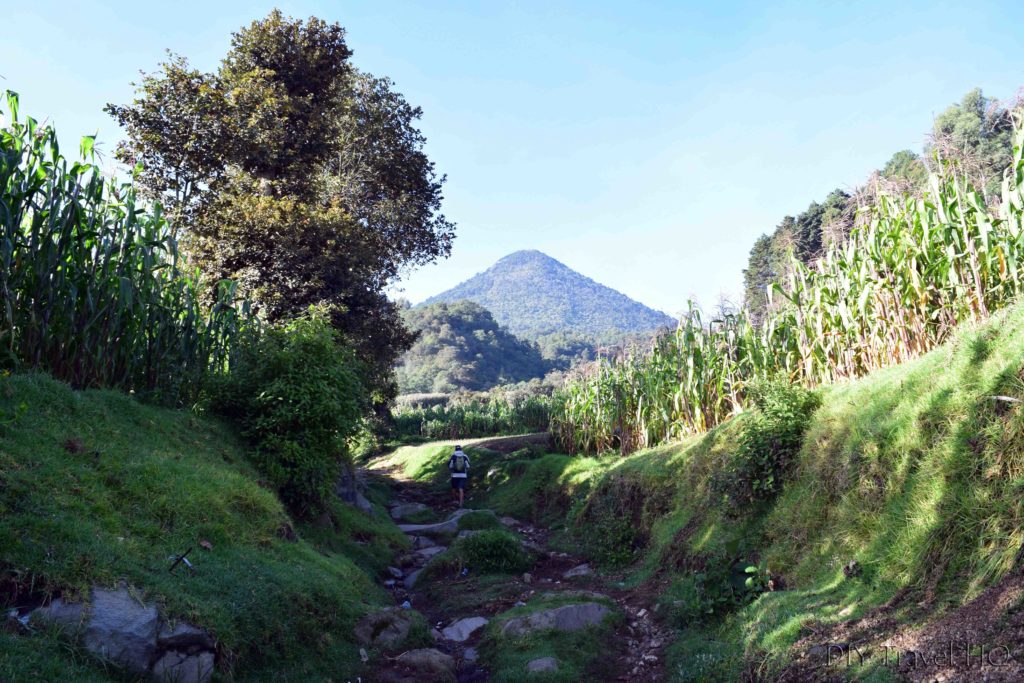 Getting to the Base
The main road in Llanos del Pinal leads directly to the path that leads to the base of Volcan Santa Maria. You will originally be surrounded by fields of corn as you hike along a grassy path.
The trail will then become a bit more rocky and steeper before becoming grassy again. At this point, you will be able to see Llanos del Pinal, but not Volcan Santa Maria.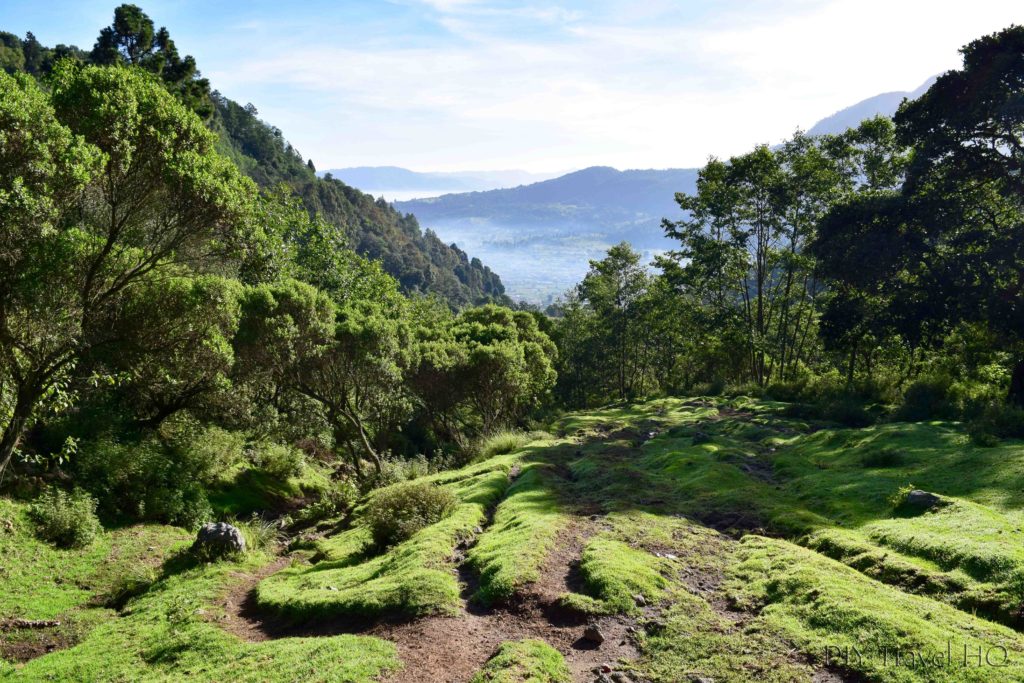 Keep hiking until you can see Volcan Santa Maria again, and there is a split path. We originally kept following the grassy path to the right, but you need to follow the rocky path to the left.
If you are worried about getting lost, download the app Maps.me, which shows the trail all the way to the top of Volcan Santa Maria.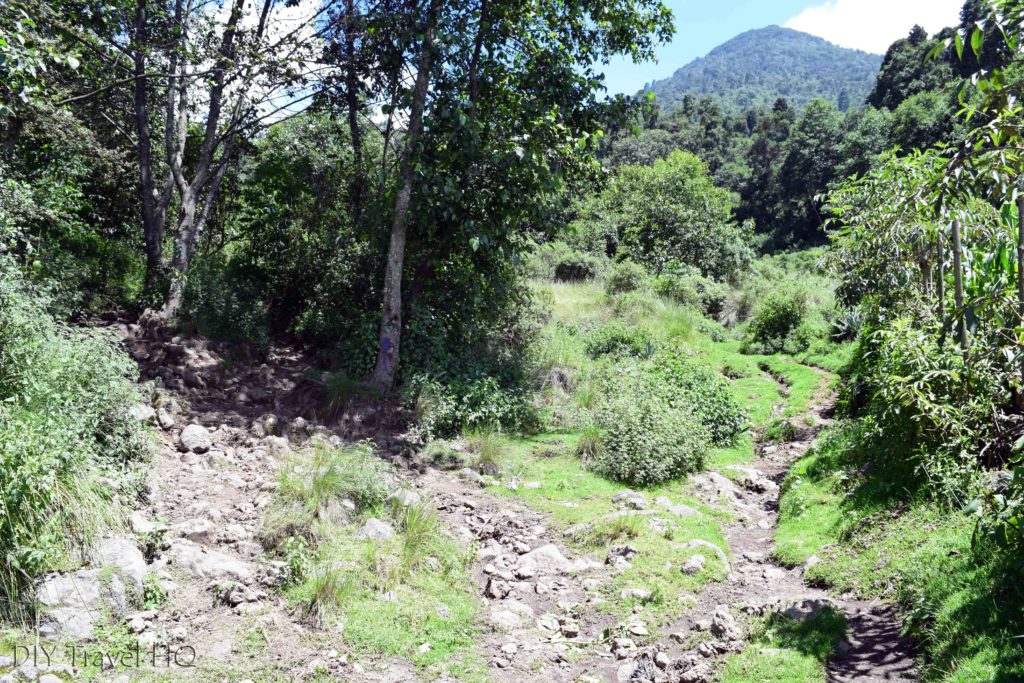 Heading left at the 'Y', continue all the way until you reach a grassy clearing. There are multiple places where the path splits, but they all reunite from what I gathered. This is the base of Volcan Santa Maria.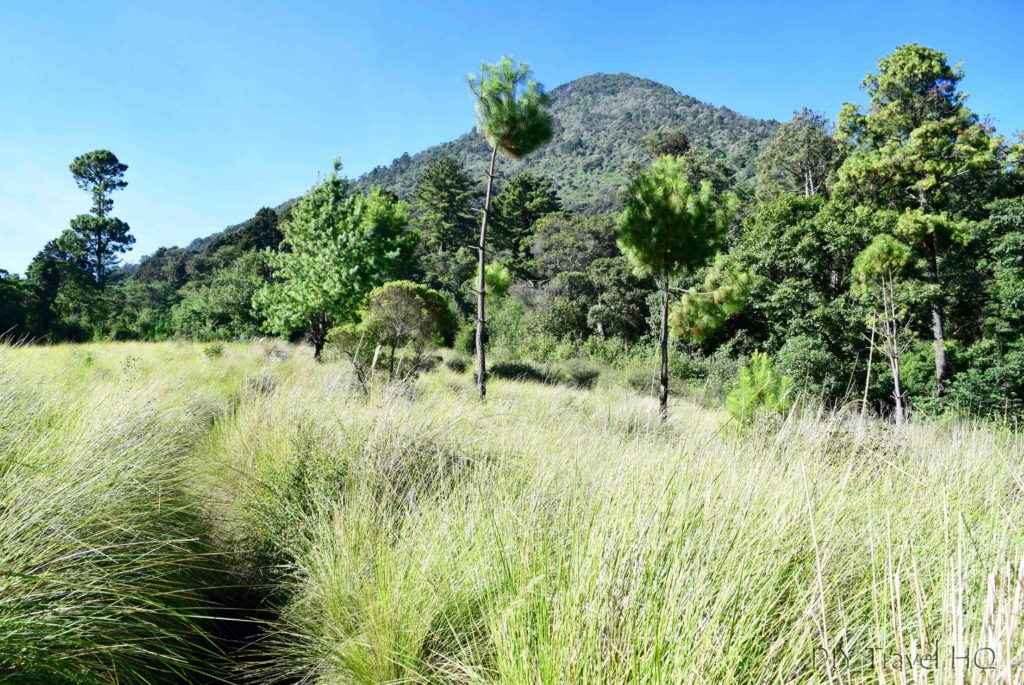 Climbing Santa Maria Volcano
The hike to the base of Volcan Santa Maria is where you could have gotten lost, but now the hard part looming in front of you is the climb.
Follow the paths through the shrubs to the right, and begin your ascent. The climb is straightforward as long as you follow the worn path.
The gradient is relatively consistent as you continue to take switchbacks up the entire way.
Along the way are some short cuts that are more vertical, but save time and distance. Consider taking these if you are in good shape, or running behind schedule.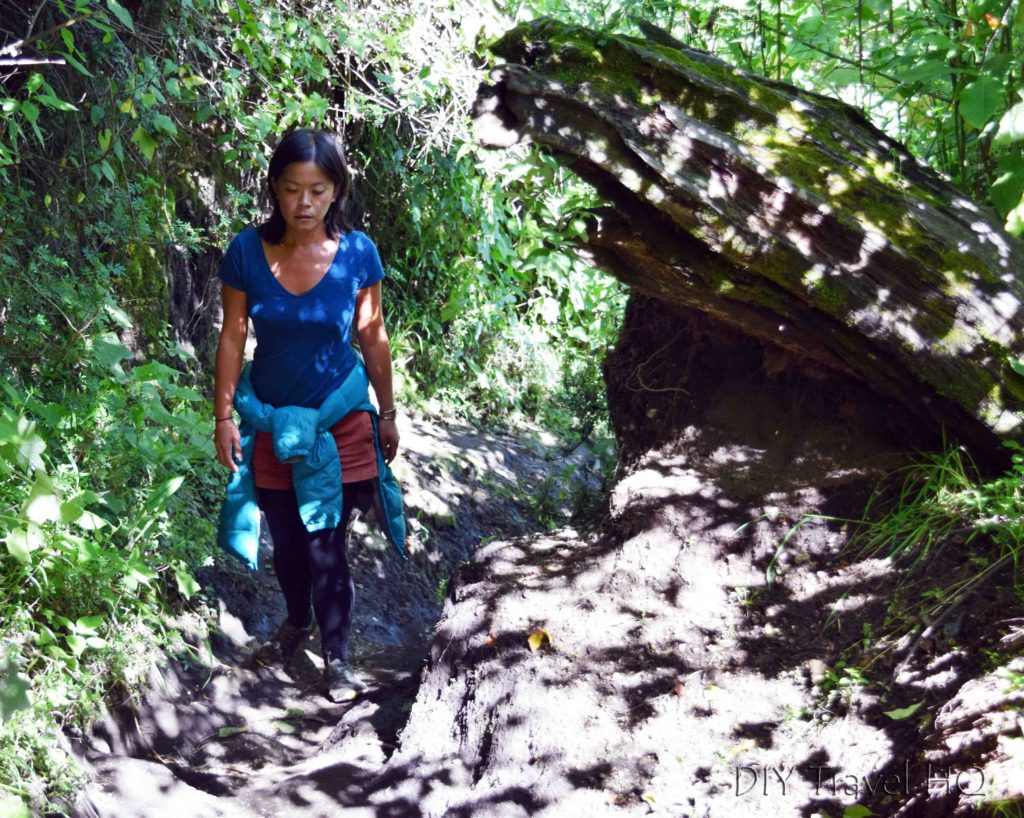 You know you are near the top of Volcan Santa Maria when you get above the tree line. However, don't be fooled by the first, or second, and maybe even third time this appears to be the case.
Many tourists find the hike challenging, but the truth is it is just consistent. There are no level sections, but also no loose rocks that leave you repeating steps. For this reason, I would rate the hike difficulty average.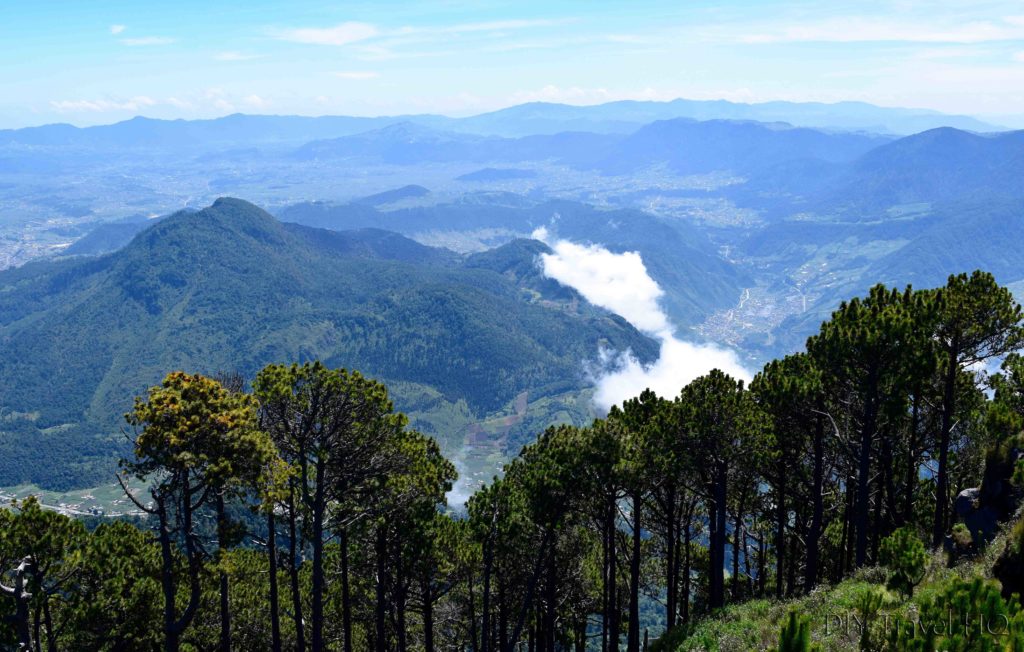 There are a few clearings along the way to take pictures and catch your breath. Take advantage of these opportunities as you never know when the clouds may start obstructing your view. It is better to have bad pictures than no pictures.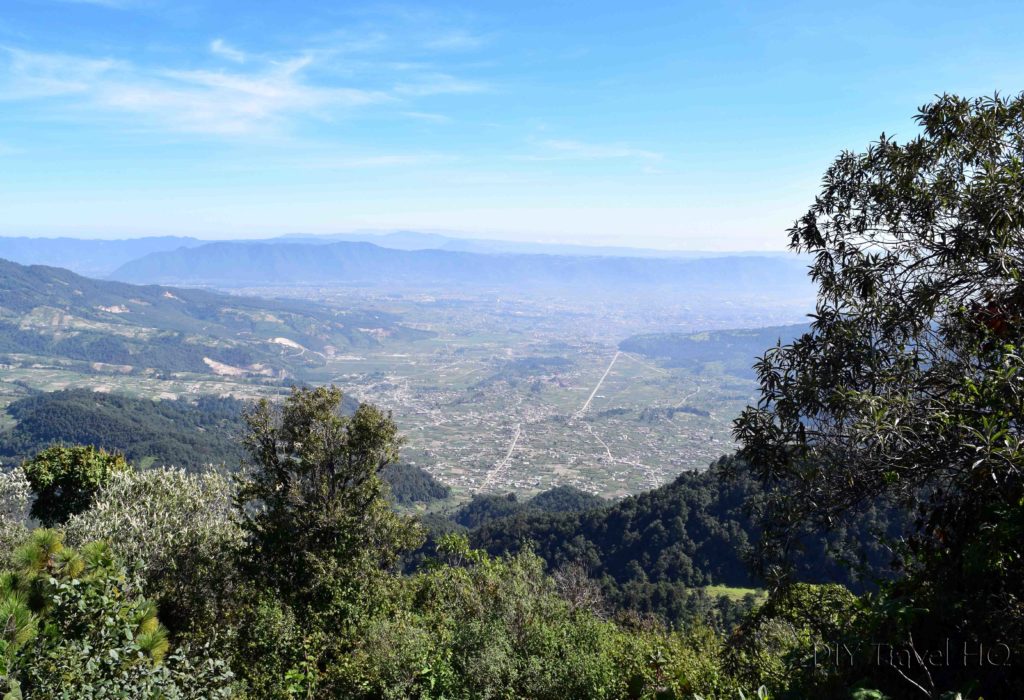 The peak of Volcan Santa Maria is marked by a pile of boulders. Congratulations, you have arrived!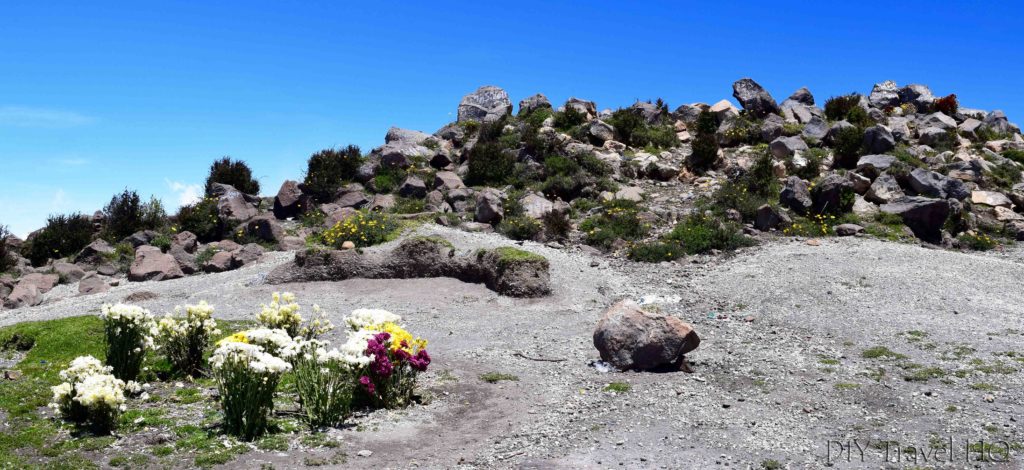 The Peak
There are a few attractions at the peak of Volcan Santa Maria. Most will want a picture on top of the volcano, and the view over Quetzaltenango.
On clear days, and early in the morning, it is possible to see Zunil tucked behind Volcan Almolonga. The hike to Volcan San Pedro de Laguna in Lake Atitlan also delivers epic views.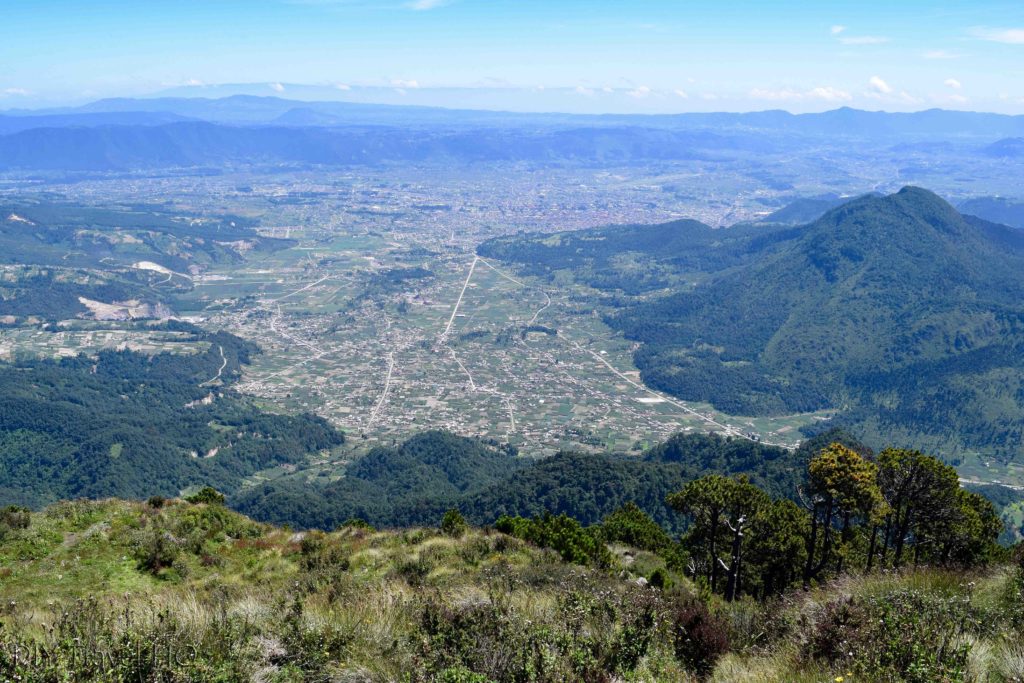 If you look east and west, you can see the peaks of nearby volcanoes. Welcome to volcano alley in Central America.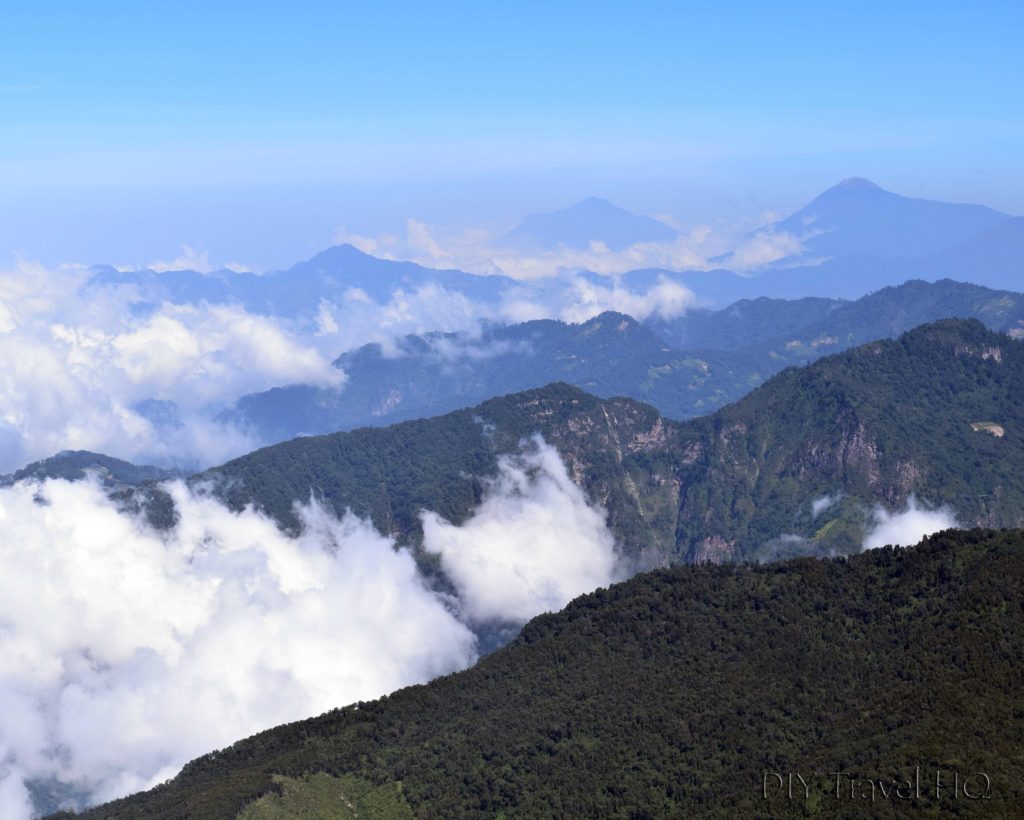 At the peak are several Maya offerings in the form of flowers. Some have been planted, and others grace a fire pit. As you can guess, this is a very spiritual place for Mayas.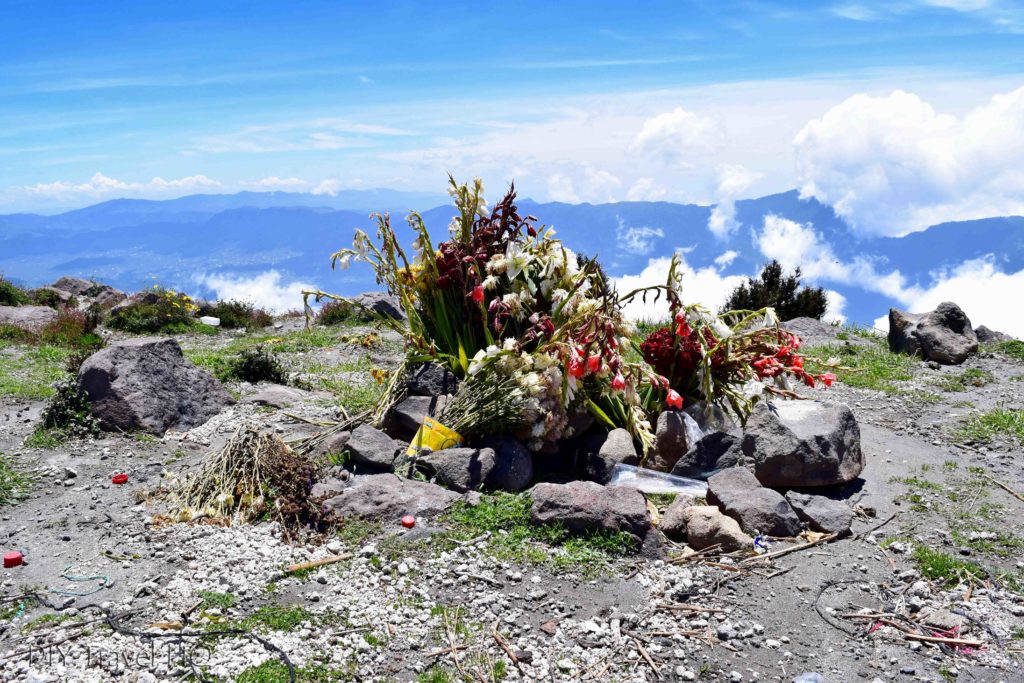 Enjoy these aspects of Volcan Santa Maria, but remember the highlight of this hike is watching Volcan Santiaguito erupt if you get the chance.
This has become more challenging lately. Whereas Volcan Santa Maria used to erupt every 45 minutes, it has decreased to every 2 hours at best. On the bright side, each eruption is more intense.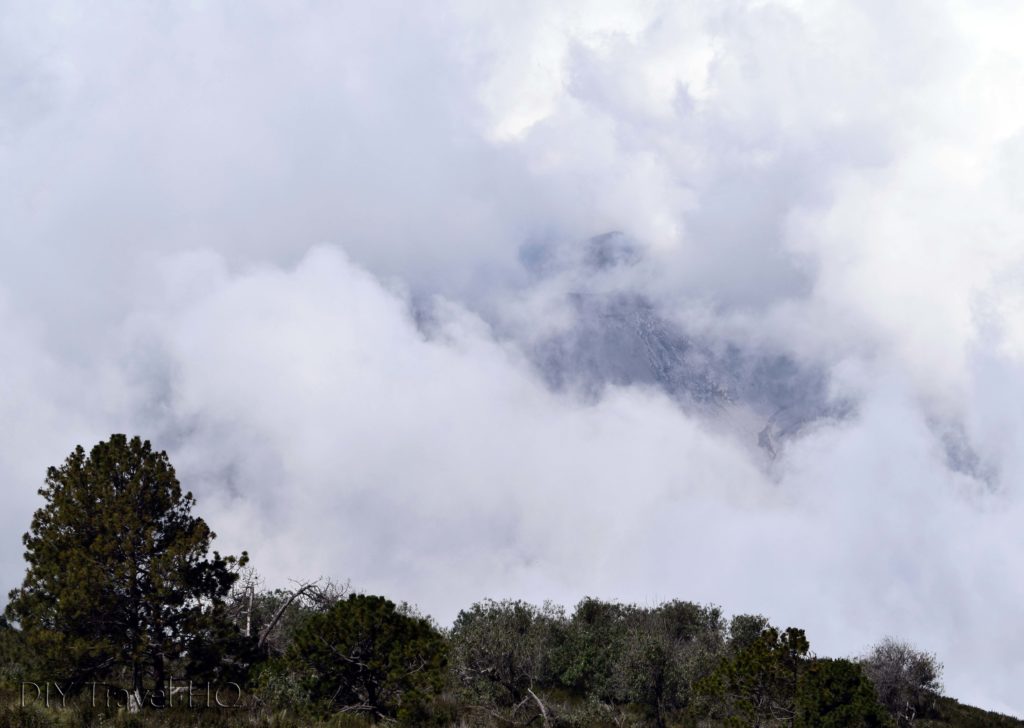 It took us 3.5 hours to walk to the base and climb Volcan Santa Maria. If you want to see Volcan Santiaguito's crater, then you need to arrive before 10 am.
We got to the top around 10:20 am, and it was only visible for a few seconds. Despite Quetzaltenango being clear, there was a stream of clouds covering the volcano.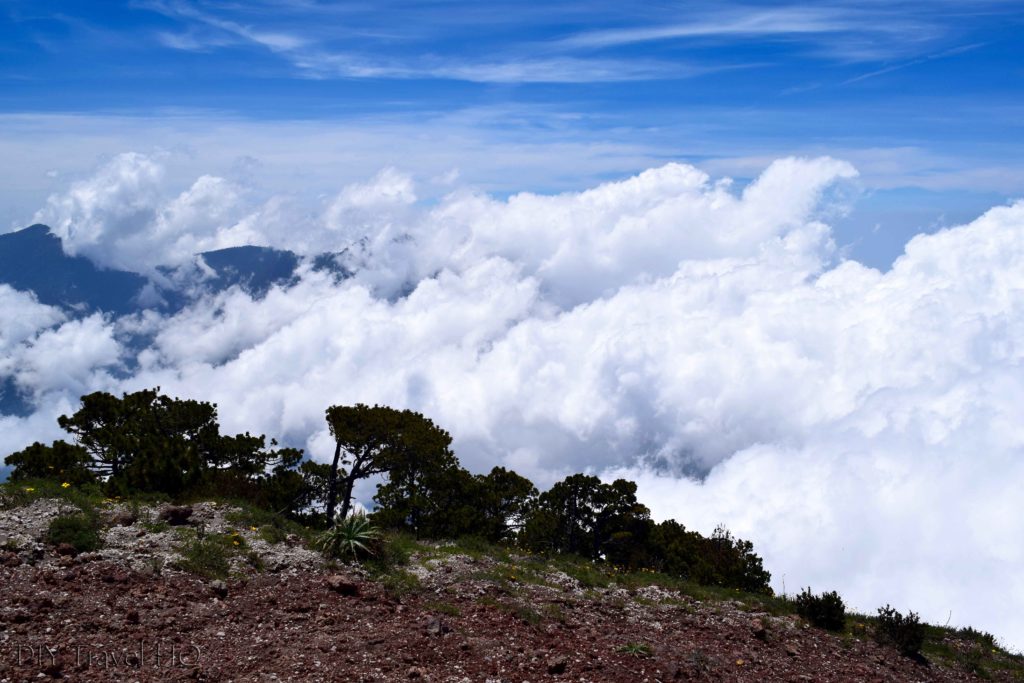 Timing an eruption with clear visibility is very difficult if you have limited time. Consider camping overnight on this grassy patch if you have your own equipment.
Otherwise, you can try climbing Volcan Acatenango near Antigua to see Volcan Fuego erupt.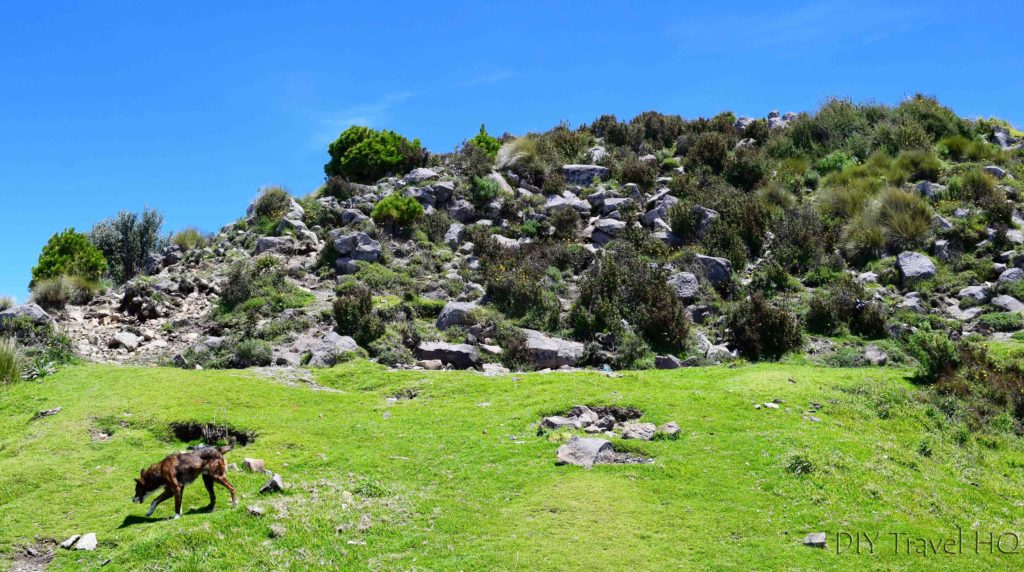 Return to Llanos del Pinal
Returning to Llanos del Pinal is straightforward. Just follow the same path you hike up. It should take about half the time since gravity is assisting you.
At the peak of Volcan Santa Maria, we picked up a guide for the return. We aren't sure where this dog came from, but it led us all the way back to town.
The only problem was how aggressive he was when we tried to eat. He would literally circle us, take the high ground, and lunge at our sandwiches. I guess all guides need to be paid somehow.
He received two sandwiches that didn't taste as well as we had planned.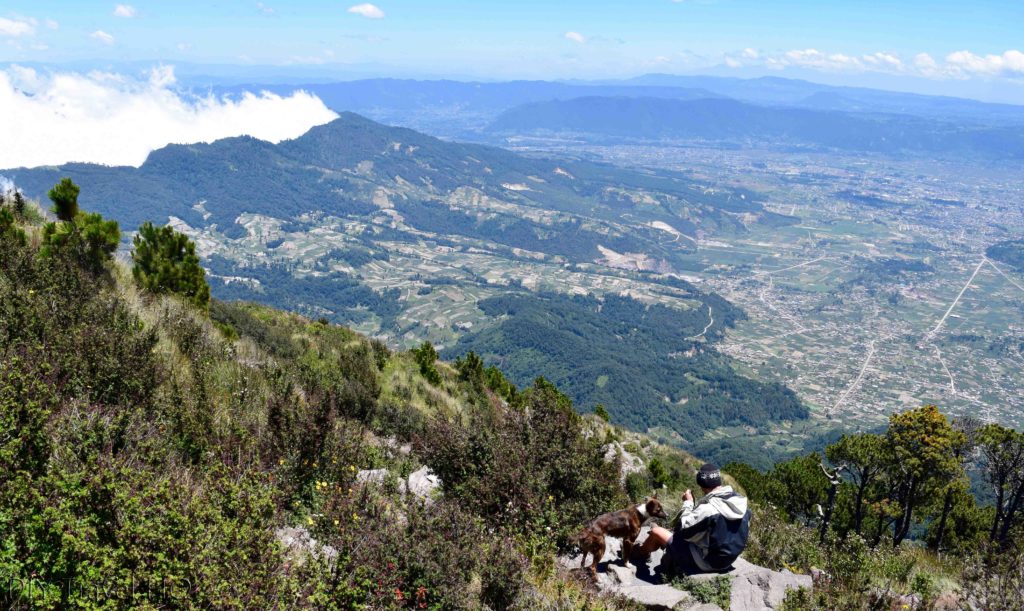 Security on Volcan Santa Maria
Remote hiking in Guatemala always contains some risk. Although there have been incidents in the past, security over the past few years have improved on Volcan Santa Maria. There are police patrols, and we saw two officers at the summit.
That being said, use your best judgment:
Wear a money belt and don't take anything you are not ready to part with
Back up your photos before you climb
Hike in a large group if possible. If not, then inquire about tours and plan to go the same days they climb even if hiking independently.
Don't forget to purchase travel insurance before any trip to Guatemala. We've been using World Nomads for over 10 years. It's the best-value provider we've found but there are other important things to consider. Check out our post and find out which of our claims were successful or denied.
Plan Your Santa Maria Volcano Hike
Hiking Volcan Santa Maria can be done in 9 hours from door-to-door so little planning is required.
Weather
Check the weather to make sure it will be sunny. Mountain-Forecast provides weather specific to Volcan Santa Maria, and is a great resource.
There is no point in making the ascent if the weather is poor. You will not see anything including the path, and it will be cold and wet.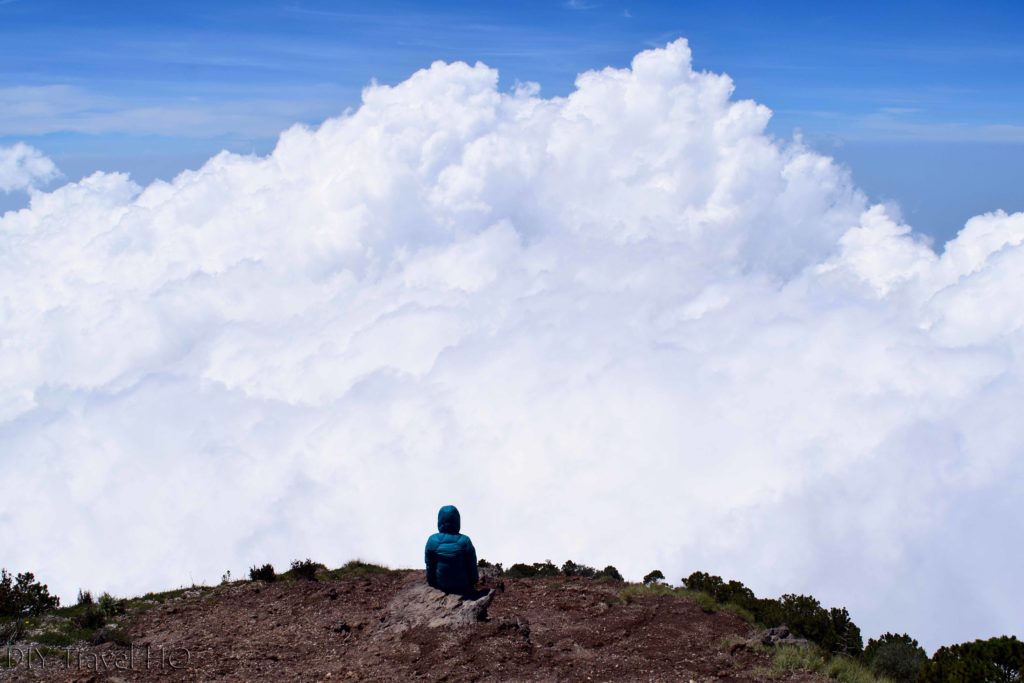 Clothing
The temperature is very chilly in the morning, but heats up quickly when hiking. The top of Santa Maria Volcano may be windy and cold too. However, a windbreaker should suffice with normal clothes underneath.
You are more likely to be too hot than too cold for most of the hike. Consider bringing sunscreen lotion for the descent as the sun finally clears the volcanoes by midday.
Bring an emergency poncho if your jacket is not waterproof as storms approach rapidly.
Essential Hiking Gear List
Feel confident & prepared to hike in all-weather conditions with our ultimate hiking gear list – find out what to bring on a hike for safety & survival in the great outdoors!
Read more
Food
Prepare your breakfast and lunch the day before for the hike. Bananas and pastries are great for breakfast. Sandwiches are good for a picnic at the peak.
You should be back in Quetzaltenango by 3 pm so dinner is not required.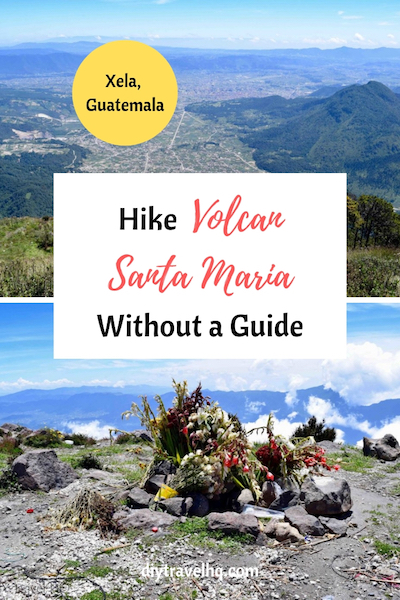 ***The Final Word – Volcan Santa Maria is a great day hike from Quetzaltenango. Get off your butt and climb it!***
Did you do any hikes around Quetzaltenango?
Visited in August 2016
Updated February 2020
Disclaimer: This post contains affiliate links which means that we receive a small commission if you click on a link and purchase something that we've recommended, at no extra cost to you.