The legendary Hershey Train in Cuba runs 3 times a day from Havana to Matanzas – find out what to expect onboard, along with the Hershey Train schedule, prices & more!
History of the Hershey Train
The Hershey train was built in 1921 by Milton S Hershey (1857-1945) to transport sugar & workers from his operations in Havana to Matanzas.
After the revolution, the Hershey factory was nationalized & renamed Central Camilo Cienfuegos after Cuba's rebel commander.
The train remains Cuba's only electric railway – as do the same tracks, carriages, stations & signals, frozen in time, ala 1959.
Still running 3 times a day along a 90km route, the Hershey train connects the big cities with the surrounding rural communities, otherwise forgotten by Castro's transport planning.

The Hershey Train has long been glorified by Havana day-trippers seeking an authentic Cuban experience – is it worth the trip or have we all been taken for a ride? Besides, there are many things to do & places to visit in Cuba.
Let us here at DIY Travel HQ give you the rail truth & nothing but the truth… including the Hershey Train schedule & more!
* Don't forget to purchase travel insurance before any trip to Cuba. We've been using World Nomads for over 10 years – it's the best-value provider we've found but there are important things to consider. Check out our post & find out which of our claims were successful or denied.
Hershey Train Journey
If the Hershey train is an insight into everyday local life, Cuban's sure are boring!
From the moment you step onboard, nothing really happens:
You choose a seat
The inspector checks your ticket
All that's left for you to do is kick back, enjoy the countryside & people-watch. This is some of my favourite kind of travel but on the Hershey Train, both were lacklustre.
The scenery is unchangingly uninteresting, just flat land with palm trees & the odd livestock grazing.
The landscape was nicer on the road from Hershey to Matanzas, with greener & wider fields of tall swaying palms.
As for the locals, they just don't really interact – with you or each other. People were only talking to those they were travelling with.
Unlike on Asian trains, there weren't any snack vendors onboard or at any of the many stops, which usually makes a journey livelier. People weren't eating or sharing food with you, though in Cuba food is for survival, not social interaction.
The train itself is functional & nothing more, though the metal seats were not uncomfortable. Oh & you should take the Hershey Train schedule with a grain of salt…
It's definitely no bullet train – slow for the most part but when it's not halting at every house or hut, it can surprisingly pick up speed.
And rock around a fair bit. I stood up & walked around at some of these times, if not emotionally, then just to physically feel some kind of energy onboard.
Which is also why I liked the loud horns that sounded fairly regularly, every time a horse, cattle or goat wandered on or close to the tracks.
Sure, for tourists, a ride on the Hershey Train can be somewhat of a novelty, and even a fun local experience if you have some eventful characters & circumstances onboard.
But perhaps the authenticity lies in the fact that nothing interesting happens – for the locals, the Hershey Train is simply a form of transport in Cuba, a way of getting from point A to B.
If you're feeling as bored as the Cubans look onboard, that's as real as it gets.
We recommend Lonely Planet's Cuba Travel Guide
to help you plan your trip
Old Hershey Chocolate Factory
Just as it did in its heyday, the massive Hershey Chocolate factory dominates this one-time prosperous sugar town.
Before the revolution, it stood as a success symbol of American capitalism in the Cuban fields but today, it's a sad remnant of the heyday of the sugar industry.
Two huge smoke stacks loom over the disaster area.
The entire factory operations have been left to abandon & decay.
You're free to walk around the wreckage but be mindful of your environment.
For the most part, you just need to watch the broken glass on the ground but the buildings – or what remains of them – look like they could come crashing down at any moment.
Many parts have also been fenced off as being too dangerous.
While the Hershey Train still runs between Havana & Matanzas, the other tracks, locomotives & station houses around the town lie in the open fields as deserted museum pieces.
I can't helping feeling sorry for the Hershey's – sure they built an empire around Cuba's sugar but they also brought in a lot of jobs & built infrastructure for the locals.
In an instant, everything was taken away from them & they were driven out of the country.
It must be heartbreaking for the Hershey's to see everything they created become so recklessly neglected, without having any say in the matter.
The factory has corroded & rusted to such an extent that it's hard to believe the factory was still operating until 2002.
The town & populace have somehow survived but judging by the number of peso stores around & people sitting around doing nothing, it's not doing so well.
How can you progress with such a colossal, corroded steel corpse in your backyard?
Whatever side you're on, it's a hard place to visit without seeing it as striking example of the failure of Castro's regime.
Jardines de Hershey
These gardens were also part of Hershey's Cuban kingdom. They're located about 1.5km north from the train station.
We're not sure if there's an official admission fee to get in.
The parking man at the entrance charges 3 CUC, and that's even without a car – he's open to negotiation…
There are a couple of restaurants inside the gardens so perhaps if you say you're going in to eat, you can get away with not paying.
Hershey Train Schedule
From Old Havana, take the 5 minute ferry across to Casa Blanca train station on the other side of the harbor.
It costs 0.40 pesos or pay 1 peso for 2 people.
As soon as you exit the ferry terminal, you'll see the train station immediately on your left.
Most tourists travel between Havana & Matanzas but you can stop anywhere along the way.
We recommend Booking.com as a trustworthy source of accommodation in Cuba. Make a booking with our link for 10% off your stay.
Here is the Hershey Train schedule from Havana, with the most common destinations & their prices:
Guanabo – $0.75 CUC, 25km
Hershey – $1.40 CUC, 46km
Jibacoa – $1.65 CUC, 54km
Canasi – $1.95 CUC, 65km
Matanzas – $2.80 CUC, 90km
Cubans pay the same prices, but in pesos – so around 25x less. Check out our comprehensive guide to Cuba's dual currency system for more information.
This is the Hershey Train schedule between Havana & Matanzas:
Things to Know About the Hershey Train Schedule & More
The only reasonable train you can take from Havana is the 12:20pm. If it's on time, you'll arrive in Hershey around 2pm.
From there, the next train back to Havana or onwards to Matanzas departs around 6pm.
The train is notoriously slow & often delayed but on a good day, you can get there in less than 2 hours.
We made it in 1 hour & 40 minutes but it's common for it to take 5 hours or more.
This gives you 4 hours at Hershey, which is more than enough time. So take your time exploring the town slowly:
Stop at one of the peso stores for a pizza or pan
Stop regularly at more peso stores for refresco, jugo or sugar cane juice
Strike up conversations with local people
Walk to the Jardines de Hershey – treat yourself to a sit-down restaurant meal
Because you have 4 hours to essentially look at the rusted vestiges of 1 old factory (the gardens are a side note), it's not too tiring to walk around with your bags.
Use the Hershey train as a form of transport from point A (Havana) to point B (Matanzas), like the locals would do, and not just as a tourist day trip.
Alternatively, just jump onboard for a quick look before the train departs in Havana at 12:20pm.
Then visit the other, more interesting, attractions on this side of the harbour: Cristo Rey & the forts around Casablanca.
Did you enjoy reading Hershey Train Schedule from Havana: All Aboard!?
Pin it and help others find it too!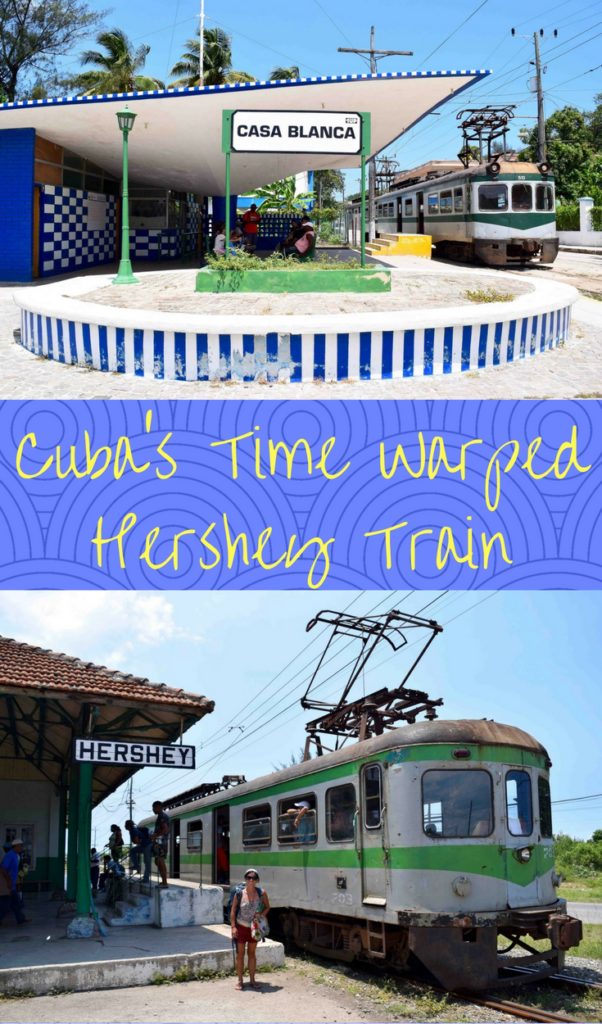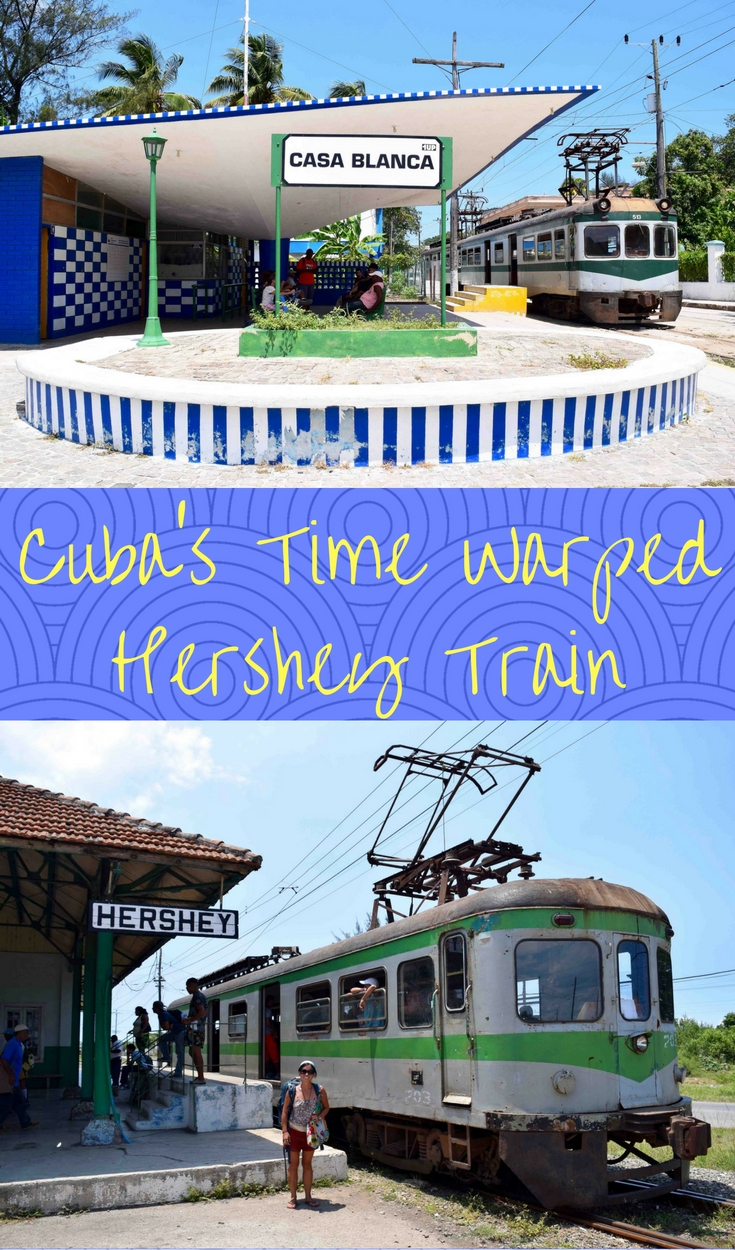 [put_wpgm id=57]
*** The Final Word – Check the Hershey Train schedule & jump onboard if you're a train/history buff or simply want to get to Matanzas ***
What classic train journeys have you been on?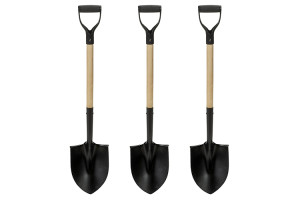 Accessible DIY travel to more distant locations via multiple connections or longer forms of public transport
Visited in May 2016
Disclaimer: This post contains affiliate links which means that we receive a small commission if you click on a link & purchase something that we've recommended – at no extra cost to you. This helps us to keep our site running so we can continue to provide free content. Thank you for your support!