Should you visit the Gran Cenote in Tulum, Mexico? See photos, find out prices & decide for yourself if it's worth a visit.
The name says it all – the Gran Cenote is indeed a big, beautiful sinkhole, that's part of a system of underground rivers in the Yucatan. It measures 202 m in diameter & we found it to be a nice place to spend a couple of hours cooling down from the Tulum heat.
The Gran Cenote is located 5 km from Tulum Village & 7 km from Tulum Ruins so it's an easy day trip. You can choose to walk, hitchhike or take a taxi – more information below.
Gran Cenote, Tulum Visitor Info
Opening Hours: 8:00 am to 4:45 pm every day
Address: Quintana Roo 109, 77796 Tulum, Q.R., Mexico
Gran Cenote Entrance Fee: MXN $180 pesos / $9.50
Gran Cenote Facilities
From the entrance it's a short walk to the actual cenote. Bathrooms and changing rooms are on your right.
There's a small shop selling drinks and snacks. You can bring your own food inside and there are picnic tables available.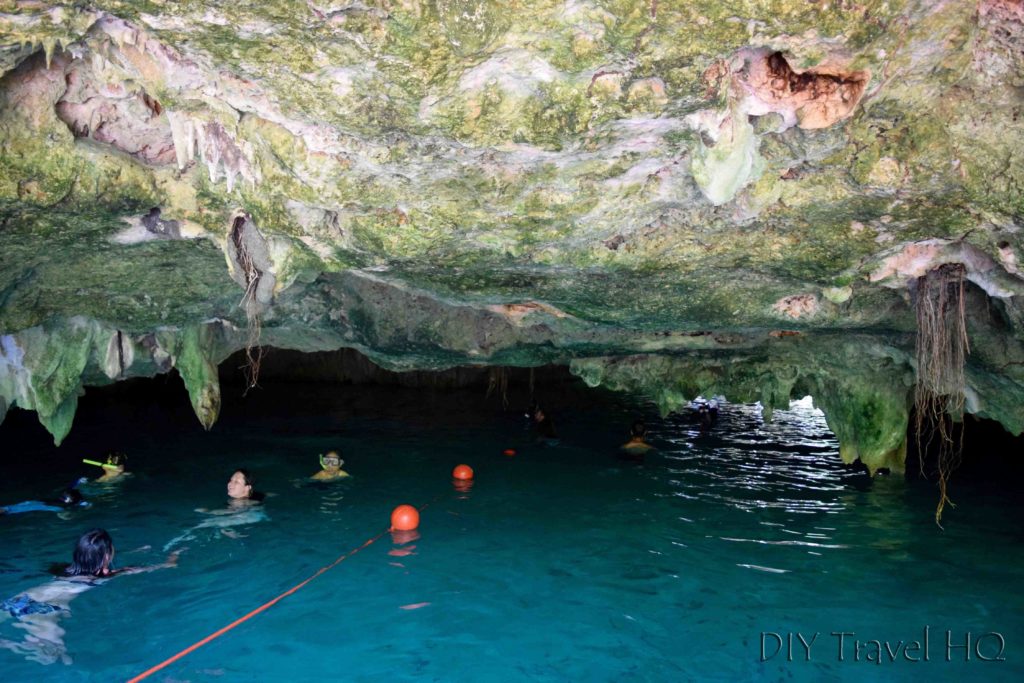 Gran Cenote Rentals
We recommend bringing your own snorkel set to the Gran Cenote but there are also rentals available. You'll need to leave your ID with the staff as a deposit:
Snorkel Mask & Fins Rental: MXN $80 / $4.20
Life Jack Rental: MXN $50 pesos / $2.65
Locker Rental: MXN $30 / $1.60 (you can't use your own lock)
Getting to/from Gran Cenote
The Gran Cenote is located 5 km from Tulum Village & 7 km from Tulum Ruins. Backpackers can choose to walk & hitchhike between the 3 in 1 day, like we did.
Depending on your negotiation skills, taxi prices start from:
Gran Cenote – Tulum Village: MXN $60 / $3.15
Gran Cenote – Tulum Ruins: MXN $110 / $5.80
Gran Cenote – Highway near Tulum Ruins: MXN $80 / $4.20
Renting a bicycle for the day is also a great option to get from place to place, but there may be extra hassles & costs with 'parking' it. Bicylce rentals from Tulum go for around MXN $100 for the day.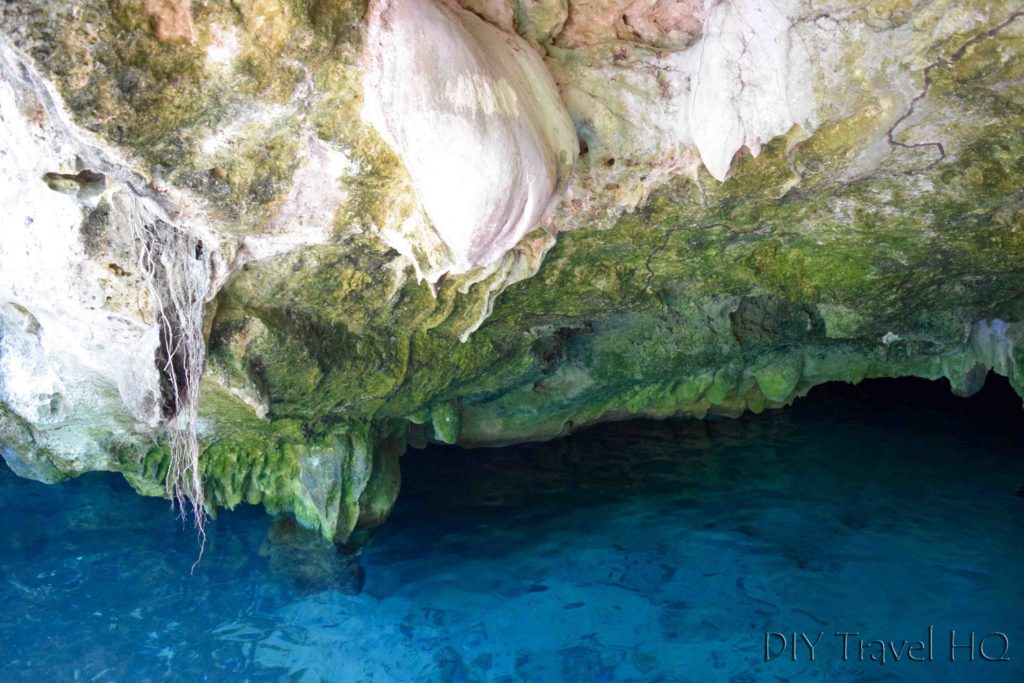 Gran Cenote Tours
If you're short on time consider joining a hassle-free tour to the Gran Cenote, Tulum. Many of them include return transport from Cancun Playa del Carmen or Quintana Roo.
Most tours start with a visit to the Tulum Ruins where you'll learn about the ancient Mayan civilization as well as enjoy spectacular views of the Caribbean Sea. Then you'll continue on to the Gran Cenote for a swim and snorkel.
We couldn't actually find any Gran Cenote tours online but no doubt your hotel or hostel will offer a few options. Choo Ha Cenote is another popular place to visit, and is located northwest of Tulum.
If you're interested in visiting other cenotes around Tulum check out these tours:
Is Mexico Safe to Visit?
Safety is the first thing most people consider before traveling to Mexico.
As of early 2020, the US Government is issuing a Level 2 travel advisory for Mexico and for travelers to exercise increased caution. The Australian Government advises travelers to exercise a high degree of caution across the country.
You can check the current travel advisories of both governments here and here. Of course, you should consult your own government advice as well. Circumstances can change fast, especially during elections.
Like the rest of Central America, Mexico has a reputation for crime & violence but we didn't have any problems in our 3 months in the country. Nevertheless, always be aware of pickpockets. We recommend wearing a money belt with RFID blocking and traveling with an anti-theft daypack.
We recommend purchasing travel insurance before any trip to Mexico. We've been using World Nomads in our travels through 80+ countries over the past 12 years. It's the best-value provider we've found in terms of price and coverage and we haven't had any issues when we've had to make (fortunately) minor claims.
For more details check out our World Nomads review here.
Safety at Gran Cenote
Gran Cenote is located in Tulum on the Yucatan Peninsula, the most touristy region in Mexico. As a result, it's also one of the safest parts of the country.
The main safety concern you'll have at Gran Cenote is keeping your personal belongings safe. If you're in a group, have someone sit out of the water at all times to watch your things. Even better, simply rent a locker for MXN $30 / $1.60.
If you can't swim, you should also rent a life jacket for MXN $50 / $2.65 and stick to the shallow parts of the cenote.
What's it Like at the Gran Cenote?
As you enter the Gran Cenote, you'll pass through some nice gardens. Take a rinse at the open shower space before entering the cenote.
There are also toilets, changing rooms, free water refills & plenty of grassy spots to relax or have a picnic on the grounds.
Take in the view of the whole sinkhole before going down the wooden stairs.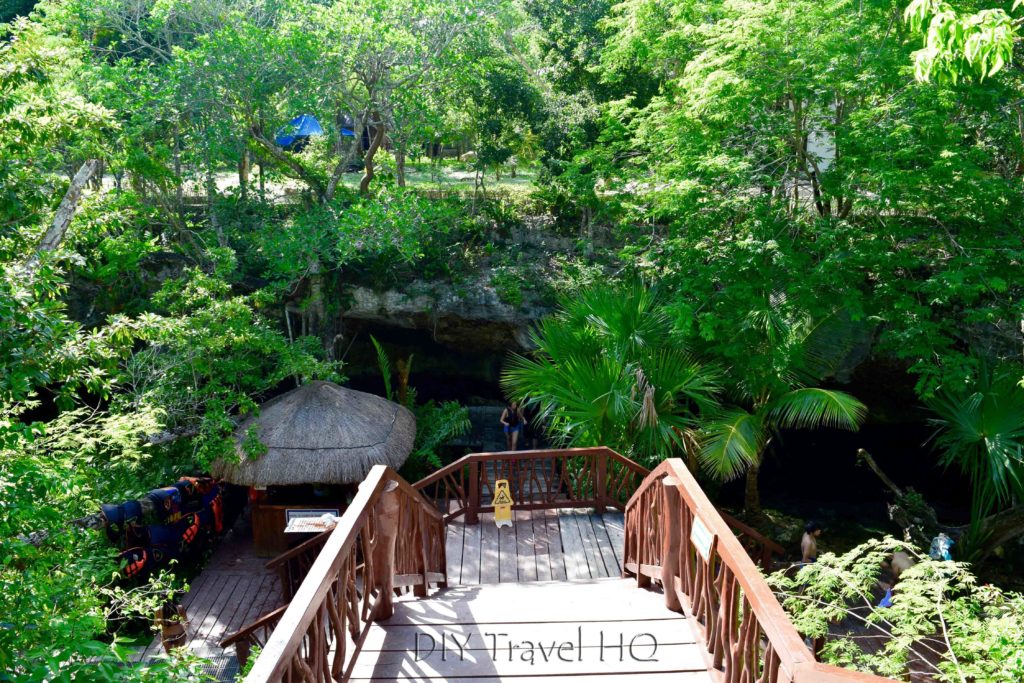 Straight ahead is a rental station where you can hire snorkel masks, fins, life jackets & lockers. We always travel with out own snorkel set as an ill-fitting mask can really ruin the experience.
We didn't use the lockers. Instead we kept everything in our dry bag & took turns in the water.
Start at the left of the stairs to ease yourself into the cenote experience at the turtle pond! Dip your toes into the cold water & watch the little creatures swim by – if you have any kids with you, they'll love it.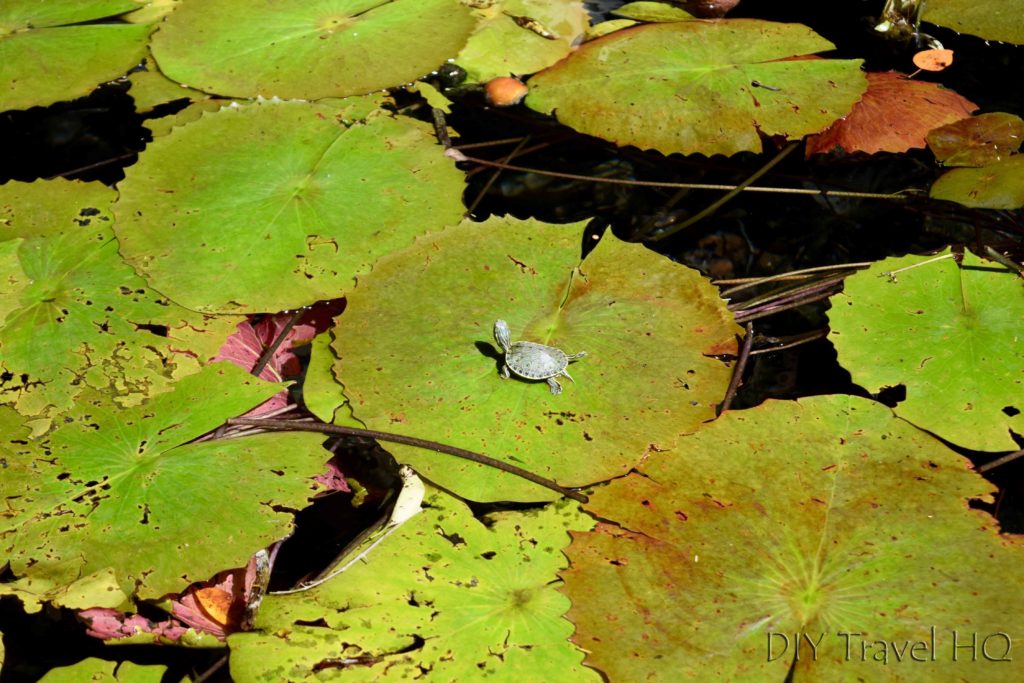 Now it's time to enter the cenote for real!
You can climb slowly down via a lader or dive straight in – did I say that the water is cold?! I found it super chilly!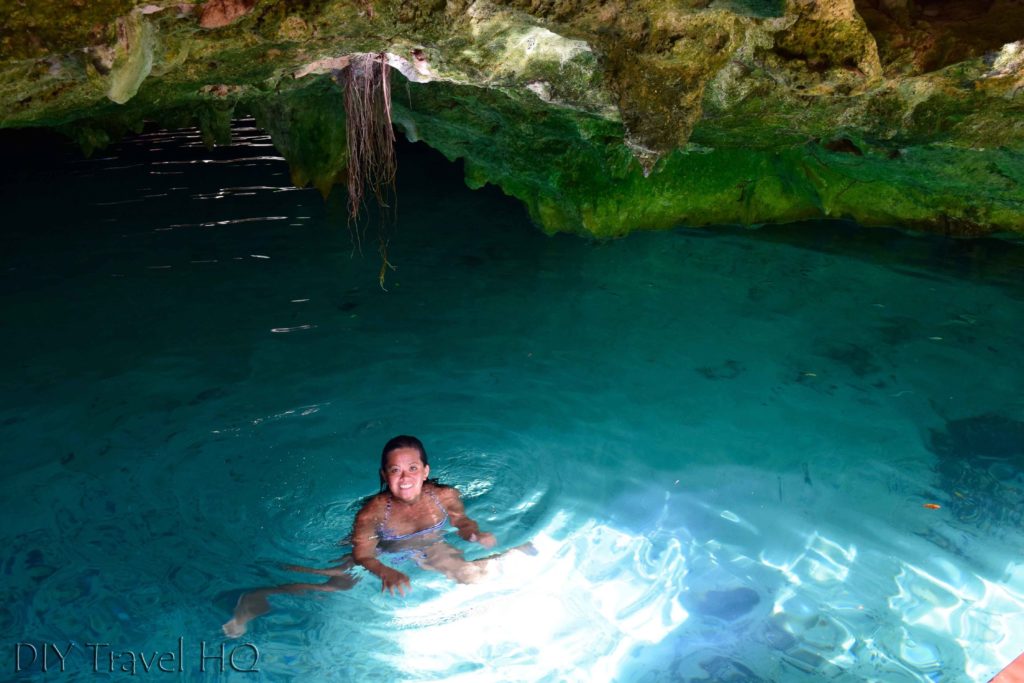 A short swim will take you into a large cave that goes back more than 15 meters in complete darkness. Swim to the left if you want to explore some of the stalactites underwater. I did a little but the dark made it a bit spooky for me!
Lie on your back & look up at the bats & swallows on the roof. Dip your head underwater & swim alongside fish in the dark.
You emerge from the cave into light on the other side. The water is shallower here & the space is more cramped, but you can still swim around a small rocky island.
Swim back through the limestone cave & take a break back on land.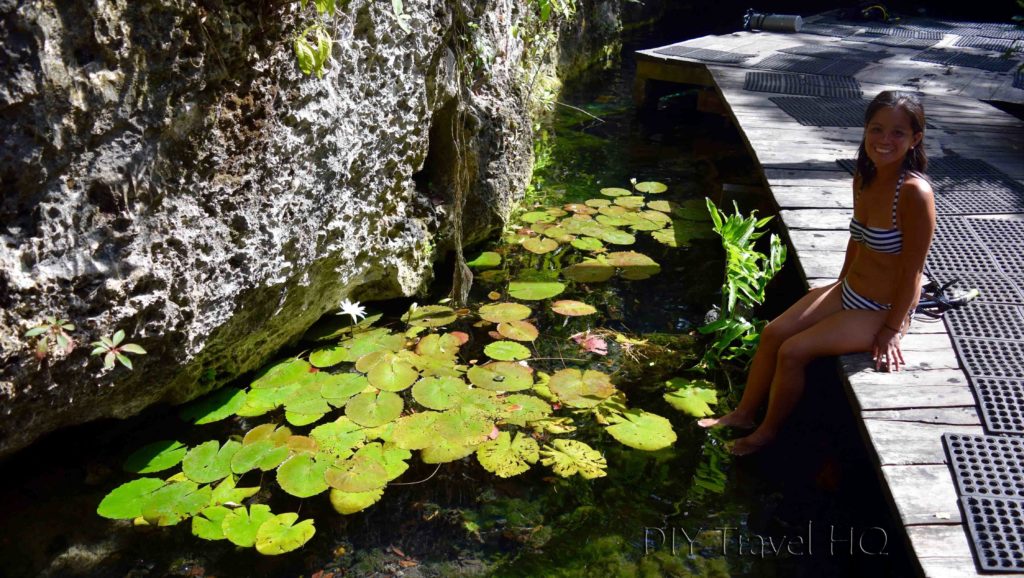 Then make your way over to the other side of the cenote. This section isn't as deep & the clear water in the sunlight makes it awesome for snorkeling.
You can explore columns of stalagmites & stalactites, along with twisting vines & roots connected to the trees above. There are schools of fish scattered around which fun & cool to swim with.
If you free dive, you'll love the Gran Cenote even more!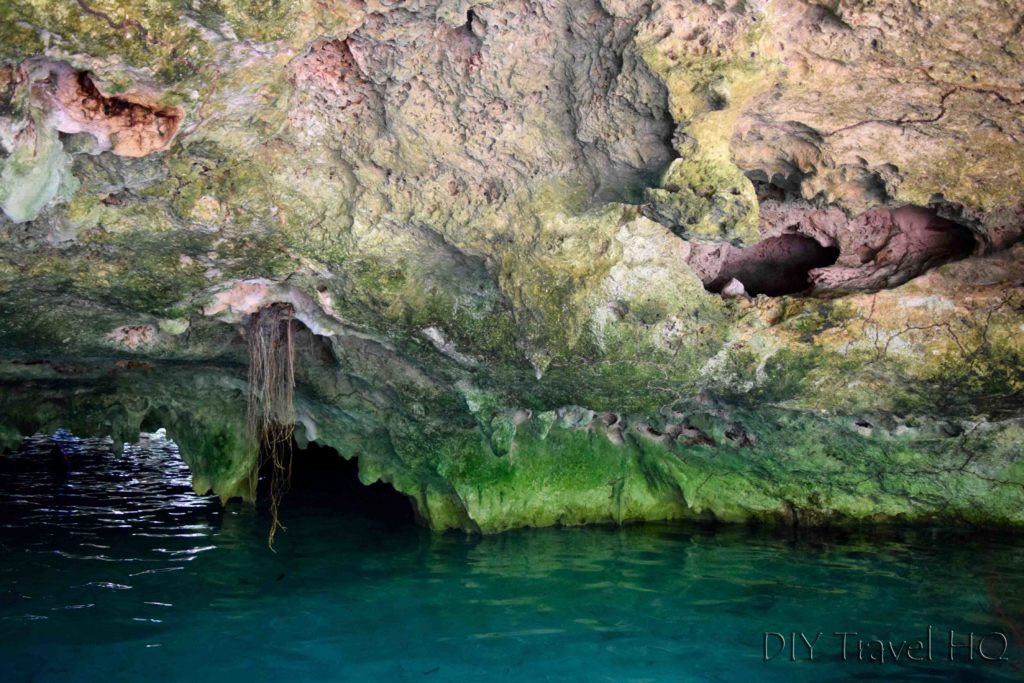 Is the Gran Cenote Worth it?
You can enjoy the Gran Cenote by simply swimming & floating but it's better to have a snorkel mask so you can also explore underwater too. Cenote diving trips are also available.
Overall the Gran Cenote is more expensive than many other sinkholes in Mexico & it's not a very large site. But if you're not on a shoestring budget, it offers a cool & unique experience that's worth the money.
Combine it with a visit to the Tulum Ruins & beach & you have the perfect Tulum excursion!
Visit Tulum Ruins
The cliffside, beach setting of Tulum ruins is so spectacular that even the crowds can't ruin in – find out what not to miss, tourist information & prices
Read more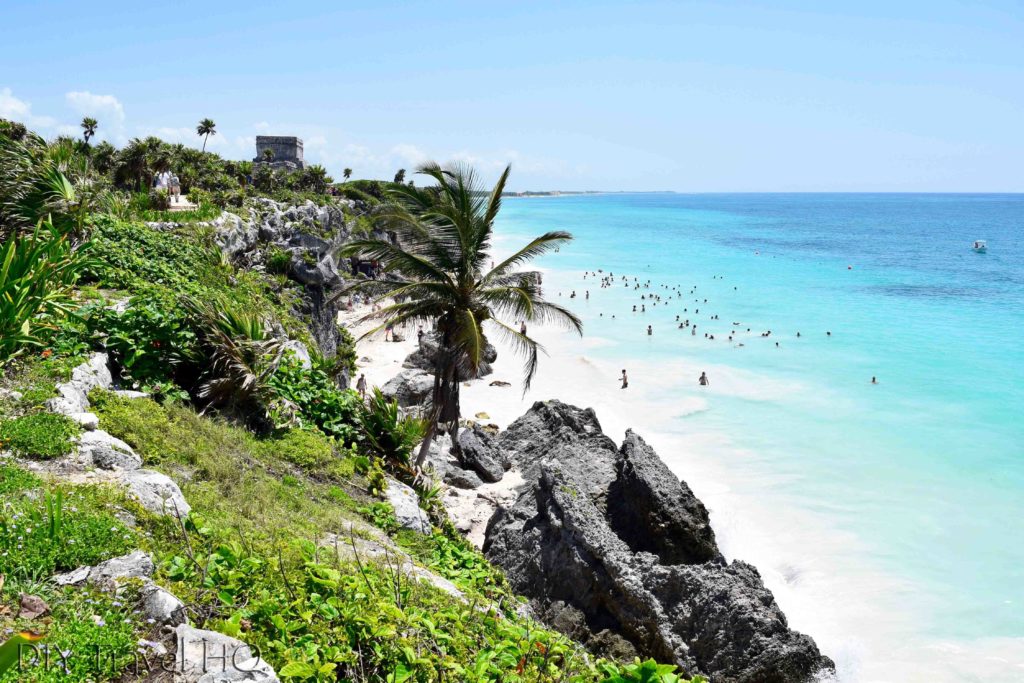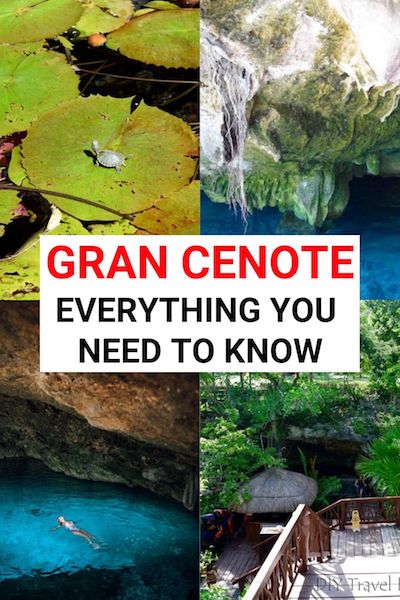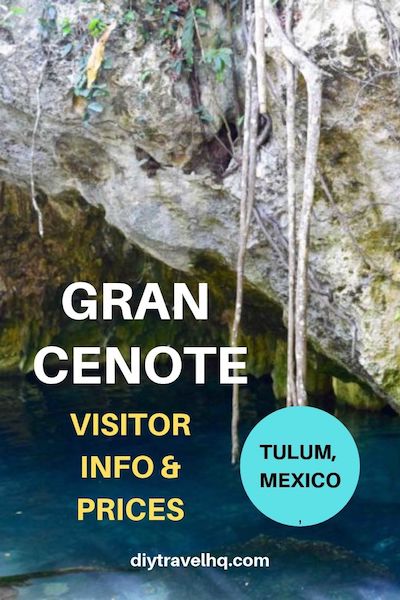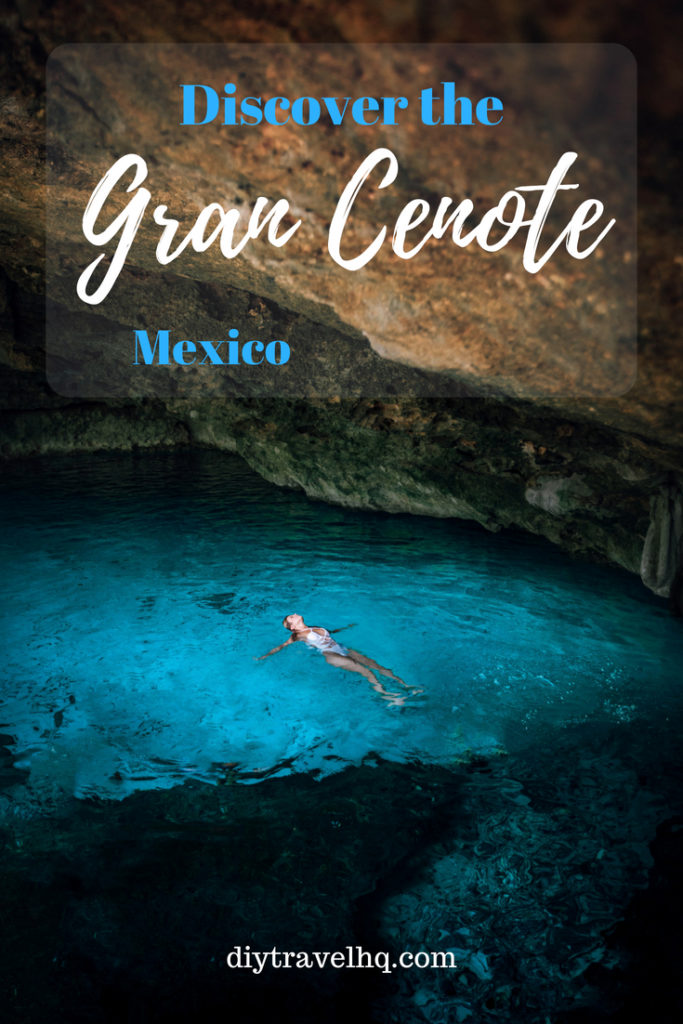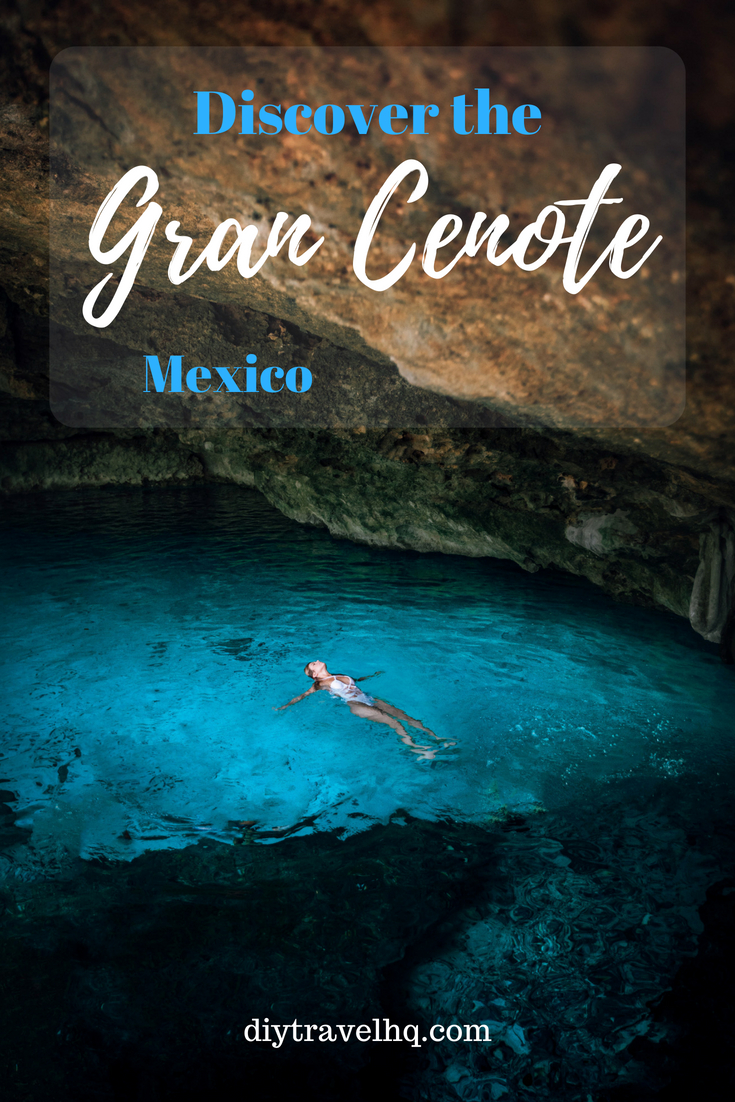 *** The Final Word – Bring your own snorkel for the best experience of the Gran Cenote! ***
What's your favourite cenote in Mexico?
Disclaimer: This post may contain affiliate links, which means that we receive a small commission if you click on a link & purchase something that we have recommended, at no extra cost to you.
Visited in June 2016
Updated in February 2020