Check out our complete guide to diving Pulau Weh – from transport, accommodation & food to snorkelling & diving, find out everything you need to know about staying on this backpacker island.
The beaches are crystal clear aqua blue but don't expect luxury at Pulau Weh – this is well-trodden backpacker territory.
After 2 months of exploring temples, visiting villages & hiking the best volcanoes in Indonesia, we here at DIY Travel HQ were ready to celebrate the end of our trip with a few relaxing days of island bliss.
* Don't forget to purchase travel insurance before any trip to Indonesia. We've been using World Nomads for over 10 years. It's the best-value provider we've found but there are other important things to consider. Check out our post and find out which of our claims were successful or denied.
What we envisioned of diving in Pulau Weh was a lot different from reality.
The long & torturous journey to get there probably left us a delirious & overly optimistic.
After checking out the things to do in Bukittinggi, it only took a total of 1,170km & 47 hours to reach the Banda Aceh ferry terminal… more on that in the transport section further down if you'd like to try this overland nightmare!
We recommend Lonely Planet's Indonesia Travel Guide
to help you plan your trip.
How to Get to Pulau Weh (Iboih)
Pulau Weh is a little island off the very top tip of Sumatra, a 1 to 2.5 hour ferry ride away from Banda Aceh, depending on if you choose to travel by fast or slow ferry.
Once you disembark, your main destination options are the beach villages of Iboih or Gapang – backpackers head to Iboih, glampackers to Gapang.
The choice was a no-brainer for us DIY travel cheapies: Iboih it was & of course it had to be one final transport ride away.
The bemos & becaks on Pulau Weh are a total rip-off (again, see the transport section) but that's island prices for you.
We took a becak to Iboih & the jungle & ocean scenery was awesome! Now we were really looking forward to diving Pulau Weh!
The driver was also happy to stop at this particular lookout spot:
Riding in the becak was also super fun!
The becak drops you off at the start of Iboih village – it's a cramped, busy space of cars, restaurants & souvenir stands.
Pulau Weh Accommodation
Head onwards & upwards to start your Pulau Weh accommodation search.
There are a mix of budget & really budget places, ending with the most comfortable/expensive bungalows at Yulia's at the very end of the path – find about more about accommodation later in the post.
Our first impressions of Pulau Weh were soul-crushing.
Being far away from the tourist beaches of Kuta & Nusa Lembongan in Bali and the Gili Islands in Lombok, we were expecting empty, sandy beaches & cute beachfront shacks. Instead, Iboih was a hot jungle mess.
The accommodations were spaced apart & only 100m from the water – this would be awesome if you could jump straight into the water but the village is built-up & THERE IS NO SAND!
So there's nowhere you can really swim or even relax by the water…
What to Expect on Pulau Weh
Being in the jungle, there are also trees, roots, leaves scattered everywhere, along with humidity & mosquitos.
It's not all so bad, not at all, just very different from what we expected – these are the good points:
The water is clear, calm & blue, with good conditions for snorkeling & diving Pulau Weh
The local people are friendly & unobtrusive. No-one is pushy & trying to sell you things all the time, like almost everywhere else in Indonesia
It's a Muslim village & there are signs up to cover-up when you go into the main "town". Away from this small area & around your accommodation, it's okay to walk around in beach gear
Pulau Weh accommodation & food is inexpensive & good value
It's busy on the weekends with local tourists (& Singaporeans apparently) but low-key, quiet & relaxed during the week.
We stayed for 3 days & while it didn't quite win us over, we came to accept & acknowledge its appeal, especially in regards to diving Pulau Weh.
Going up & down the same path everyday, eating more or less the same food at the same restaurants… this kind of small-knit community living & routine is what many backpackers love.
If you've been on the road for awhile & are looking for a cheap, rustic, village vibe coastal spot, Iboih on Pulau Weh could be your type of beach getaway.
Things to do on Pulau Weh
Kilometer 0 is the most Northerly point of Indonesia, about a 90min walk from Iboih village.
You could also get there by renting a motorbike for the day & riding around the island. Kilometer 0 is marked by a big sign – don't forget to do as the locals do & snap a selfie!
The best spot for swimming on the island is at Long Beach, a 4km walk north of Iboih – again, you could visit by renting a motorbike.
It's an easy walk though & good exercise after a few days beach bumming. Along the way you'll pass a durian farm (1km in from the main road) which you may be able to visit.
Here, there are fancy resorts & luxury accommodation. There's also a famed Italian restaurant named "Bixio Café", right on the beach but when we were there in the low season, it was closed.
The beach is nice, walk out onto the jetty & jump in from there – if you dare to brave the jellyfish. When we were there, there were just too many of them – DIY Travel HQ 0, Jellyifish 1.
Diving Pulau Weh
Situated at the most Northerly point in Indonesia, where the Indian Ocean meets the Andaman Sea, Pulau Weh promises world-class diving – & delivers.
It's little-known & off the beaten track so the waters remain quite pristine & unspoiled, even in spite of the Boxing Day Tsunami in 2004.
On Iboih, there are 2 main dive companies:
Rubiah Tirta were the 1st dive operators on Pulau Weh. They have a huge dive shop of the seafront, which always seemed to be busy – it's the diving hub of Iboih.
We signed up for a couple of dives with them the day before, but on the morning, we found them extremely disorganized.
Our names weren't on any lists & everyone seemed to be running around with their heads cut off. The wetsuits we were given were old, worn & had holes in them.
If they were like this above water, what would they be like under water? I'm sure it would've been fine but we had absolutely no confidence in them & quickly cancelled our dives.
We then moved on to Iboih Dive Center & came across a totally different ambiance – it was quiet & calm.
There were a lot of locals/workers around the shop but no clients.
But we chatted with the dive master & found him very experienced, knowledgeable & trustworthy. We discussed the dive sites we were interested in & arranged a dive there on the spot.
Iboih Dive Center is new on the diving Pulau Weh scene so all their equipment, including wetsuits, are new or in excellent condition.
Pulau Weh Dive Sites: Batee Tokong
Heading out on the water, it was just Erik & I, the dive master & the boatman.
We didn't go very far from Iboih beach to reach our site. 20 minutes by boat & we were at Batee Tokong, the most popular spot for diving Pulau Weh.
Batee Tokong is known for its amazing scenery & rich marine life, especially moray eels.
We descended down a shallow wall & immediately we saw many different types of moray around a giant gorgonian sea fan.
This was a highlight of the dive along with seeing many varieties of trevallies, dartfishes & lionfishes.
The water was very warm, 29 degrees Celsius, & the visibility was around 15-16m.
The current was quite strong but I'm a newbie & it was fine – however, I don't think I know any different after diving on Komodo Island straight after getting my PADI Open Water certification on Gili Air!
Fun Dives, Courses & Prices on Iboih
Single dives are offered from 21-23 Euros or 320,000-340,000 IDR.
The more dives you do, the cheaper it gets.
Pulau Weh is also a popular place to take PADI dive courses. The PADI Open Water certification takes 3-4 days & generally includes 4-5 dives.
These are the listed online prices for the PADI Open Water certification:
Rubiah Tirta: 268 Euros / 400,000 IDR
Iboih Dive Center: 250 Euros / 370,000 IDR – of course, we recommend Iboih Dive Center & the fact that it's the cheaper option makes it even better.
For some reason, all dive prices are listed in Euros – perhaps Pulau Weh receives a lot of European divers? Payment is accepted in IDR, at the current day's exchange rate.
Snorkeling Pulau Weh
If you're not interested in diving Pulau Weh, the best spot for snorkeling is Rubiah Island, on the other side of Iboih beach.
You may be able to swim across or you can rent a boat to take you there in less than 10mins for around 100,000 IDR / $7.50.
Snorkel set rental is available from many shops for around 30,000 IDR / $2.25.
Good snorkeling can be found on Iboih beach itself, at the very end of the village, at Yulia's Bungalows.
You don't need to be a guest, just walk through & down to the rocks by the restaurant.
Accommodation on Iboih
For a small place, there's a decent choice of budget Pulau Weh accommodation at Iboih beach.
As you walk up from the village, you'll find the following places to stay:
Erick's Green House – wifi & nice common area
Fatimah's Bungalows – couldn't see any rooms
Mamamia – big treehouse
Olala – nice waterfront bungalow w/ balcony
Oong (Norma's Place) – big concrete hotel room
Iboih Inn – n/a
Yulia's Bungalows – mid-range/expensive
All had their pros & cons but the best value we found was at Mamamia's.
We had our own private tree house, a huge room with a hammock, bathroom & breakfast for 70,000 IDR / $5.25.
Mama herself is loud, talkative & likes to refer to herself in the 3rd person… She's always sitting in the dining hut in front of her place so she's gonna know all your tracks 🙂
Rooms can be booked out on weekends but during the quieter week, or if you plan on an extended stay, you should be able to negotiate a pretty good rate.
Food on Iboih
Deedee's is the best restaurant in town – it overlooks the water & there's good wi-fi.
At Deedee's, we tasted the following dishes, all of which were delicious:
Chicken Tortilla Wrap – 40,000 IDR / $3.00
Vegetable Spaghetti – 35,000 IDR / $2.60
Chapatti Guacamole – 28,000 IDR / $2.10
Mie Aceh – 17,000 IDR / $1.30
Tempe Wrap – 30,000 IDR / $2.25
We enjoyed a great communal dinner at Oong's (Norma's) for 25,000 IDR / $1.85. T
here were about 10 of us, everyone was staying at Oong's except us, but there's no problem in joining them for dinner, just let them know a few hours beforehand.
Food at Mamamia's is also great, for cheaper prices than Dee Dee's.
How to Get to Pulau Weh
We reached Pulau Weh from Bukittinggi – it was a long, rough road… here's how we did it:
Bus from Bukittinggi to Medan – 185,00 IDR / $13.85, 28.5 hours
Bus from Medan to Banda Aceh – 125,000 IDR / $9.40, 17.5 hours
Becak to Banda Aceh ferry terminal – 20,000 IDR / $1.50
Slow ferry to Pulau Weh – 25,000 IDR / $1.85 + 15,000 IDR / $1.10 island tax, 2.5 hours
Becak to Iboih – 60,000 IDR / $4.50, 40mins
How to Get Out of Pulau Weh
We took the slow ferry back to Banda Aceh – it cost 25,000 IDR / $1.85 but I believe the tax was less. It took around 2-2.5 hours
The fast ferry option costs 80,000 IDR / $6.00 & takes 1 hour.
We spent half a day visiting the tsunami sites of Banda Aceh.
In the evening, we took a semi-deluxe bus (the only option at the time) from Banda Aceh to Medan – it cost 135,000 IDR / $10.10 & took 12 hours.
Did you enjoy reading Diving Pulau Weh on a Backpacker's Budget?
Pin it and help others find it too!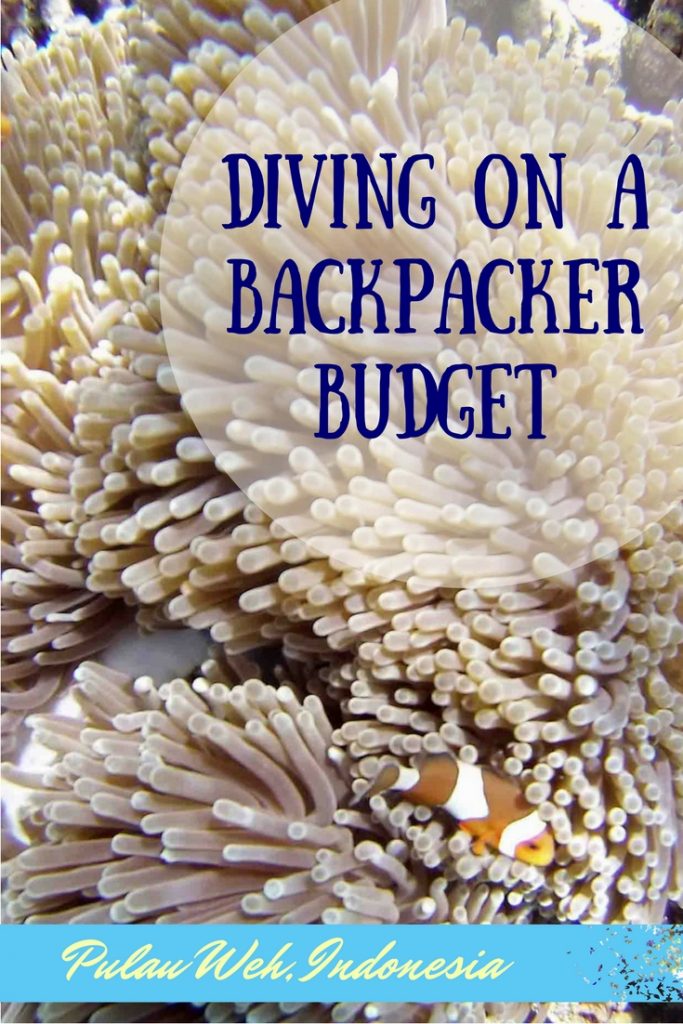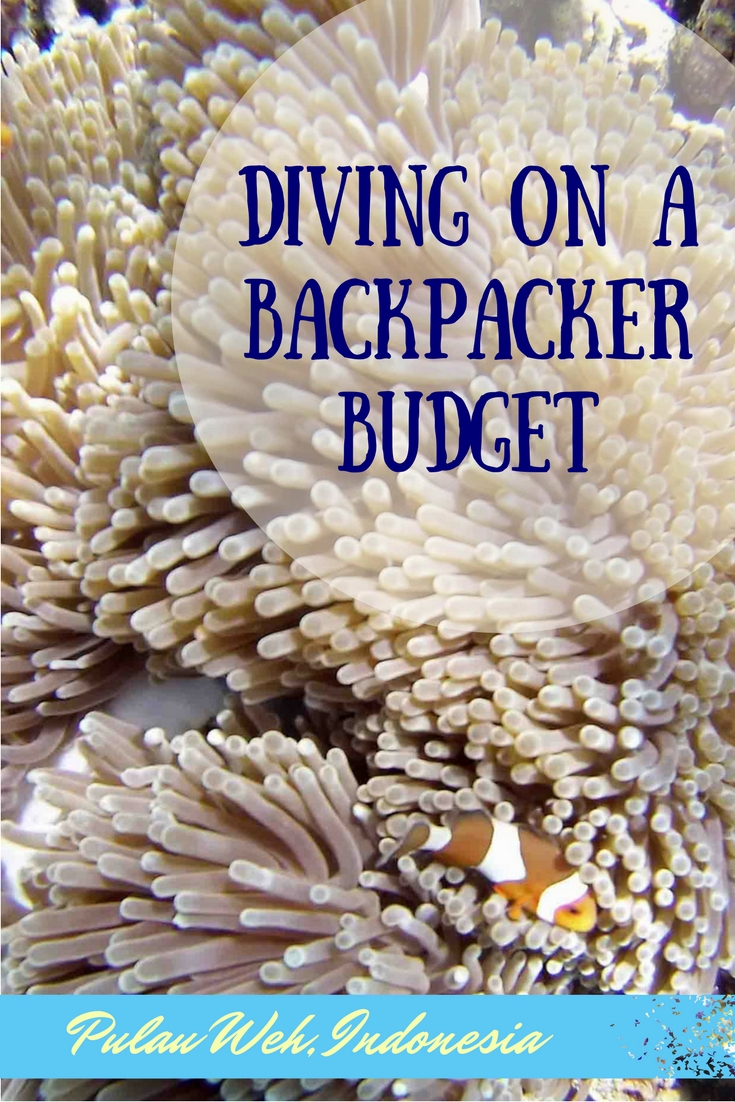 *** The Final Word: Don't expect luxury when diving Pulau Weh, which is best suited to diving backpackers ***
Do you think Pulau Weh is overrated?
Visited in November 2015
Disclaimer: This post contains affiliate links which means that we receive a small commission if you click on a link & purchase something that we've recommended – at no extra cost to you. This helps us to keep our site running so we can continue to provide free content. Thank you for your support!