Get off the beaten track and experience a day in the life of a farmer on the De la Gente Coffee Tour. Find out how this cooperative is changing the lives of local communities around Antigua, Guatemala.

Understanding De la Gente
De la Gente means "from the people" in Spanish and that's exactly where their coffee comes from.
De la Gente coffee is a non-profit organization based just outside Antigua, Guatemala. They work with local coffee farming communities under a cooperative venture to improve production and reap better rewards from their harvest.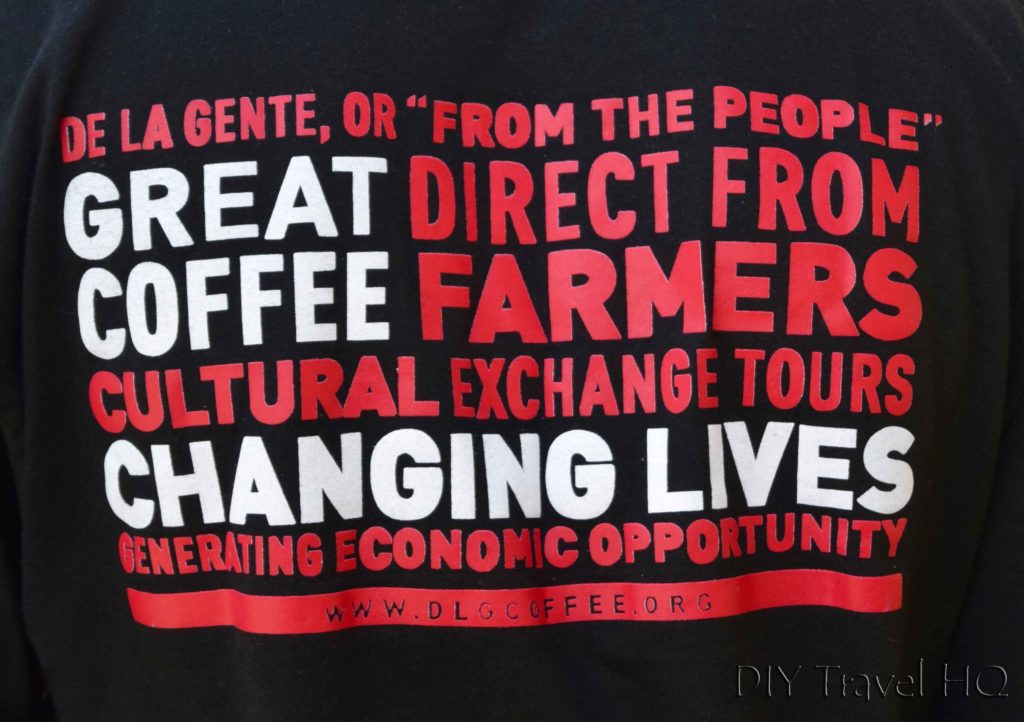 By connecting members of the cooperative directly to consumers and roasters, De La Gente helps farmers receive up to 250% more for their coffee than they otherwise would receive.
Along with assistance through training and financing, De la Gente also offers local farmers the opportunity to supplement their income through tourism.
The community is involved in running De la Gente Coffee Tours, giving them the opportunity to share their stories and connect directly with interested patrons.
At the same time, visitors learn more about coffee production in Guatemala and contribute financially to improving the local quality of life.
While in Antigua, Guatemala we here at DIY Travel HQ took a De la Gente Coffee Tour. Find out how it went!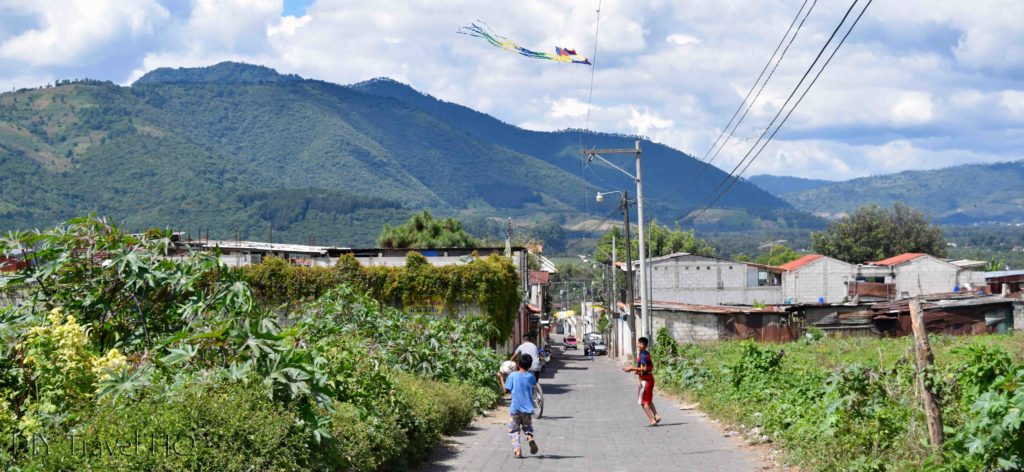 Find more inspiration in one of the Guatemala guide books below!
De la Gente Coffee Tour
The meeting point for the De la Gente Coffee Tour is the main plaza in the town of San Miguel Escobar. It's just 6 km from Antigua, Guatemala and easily accessible by taxi, tuk-tuk, or chicken bus.
Our tour started at 1:00 pm and we were greeted by Gustavo, a local farmer, and Joe, his Spanish-English translator. Together with a group of four Americans, there were seven of us on the tour altogether.
Gustavo gave us a brief introduction to the De la Gente cooperative and then we headed for the hills – literally!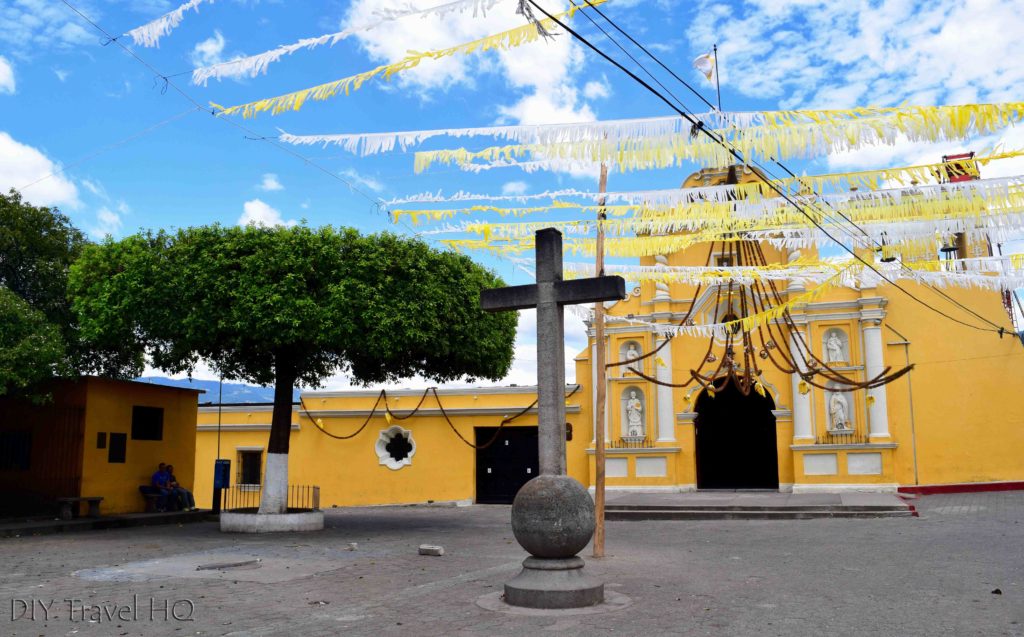 Coffee Fields
We started walking through town from the plaza towards Agua Volcano, and heading up the slopes of the mountain!
It's an easy-to-moderate walk though, taking around 30 minutes with several breaks in between where Gustavo stopped to talk about certain aspects of the coffee farming process.
It's on the slopes of Guatemala's volcanoes that 100% Arabica, De La Gente coffee is grown.
Farmers work hard planting, cultivating and harvesting coffee year-round, although the harvest season is only from November to March, depending on the altitude of the crops.
Finally, at the end of the walk we reached some farming plots where coffee was growing.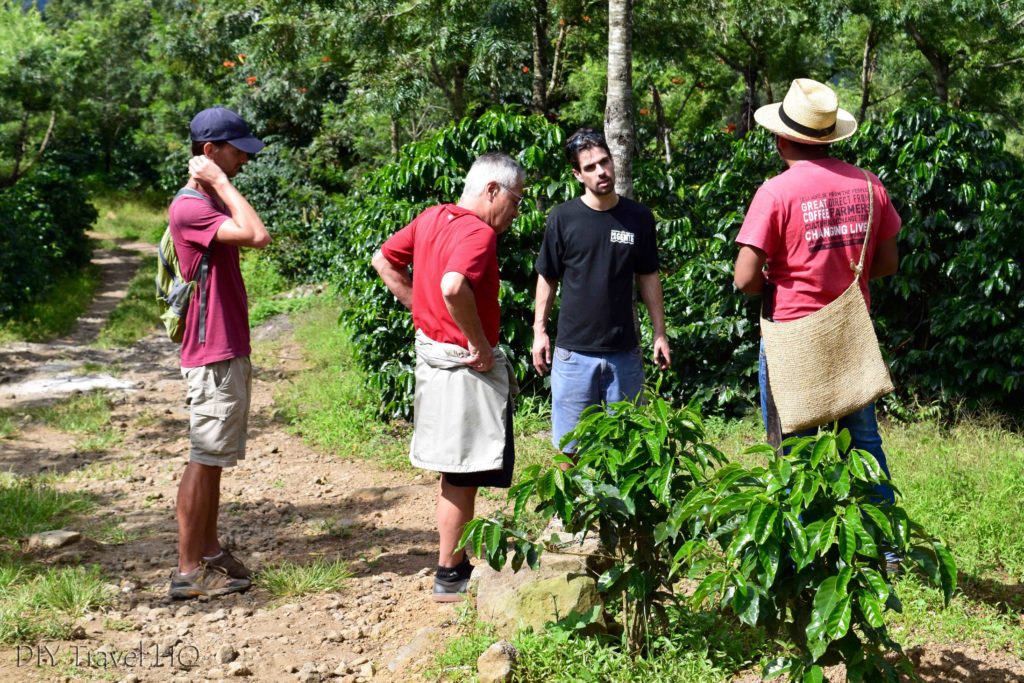 How Coffee is Planted and Grown
As we were in the wet season, the beans weren't ripe yet, but Gustavo was able to vividly explain the whole process of how coffee is planted and grown:
Pick the ripest, red coffee fruits from the plants – called "cherries"
Pop out the beans and let them grow for 6-8 weeks
Put the beans in plastic bags (pilones) to grow for another 10 months before planting
The coffee plant should now be about 1 meter long – make a deep hole in the soil and plant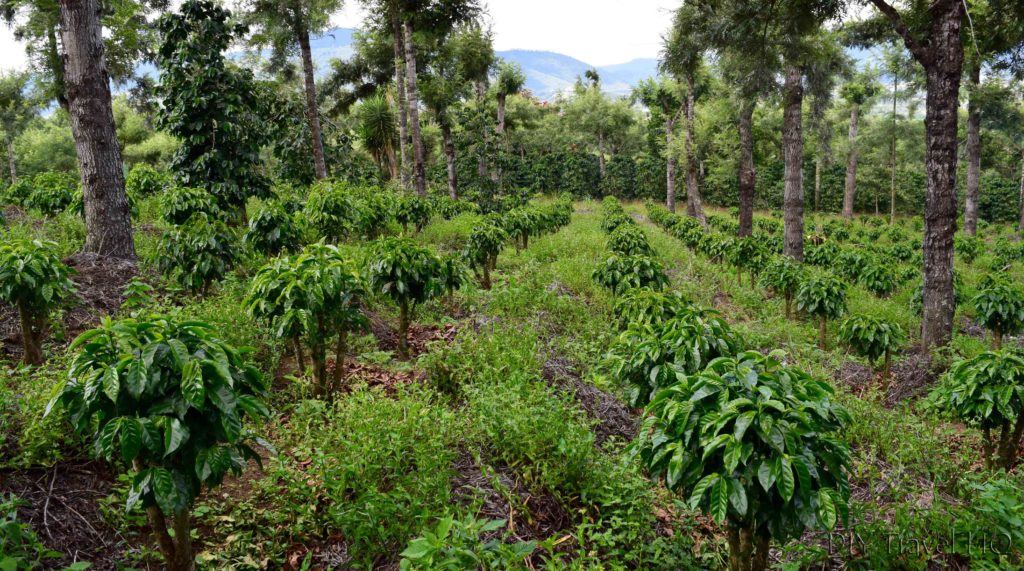 Harvesting Coffee Plants
It takes 3-4 years before coffee plants are ready for harvest. In the meantime, farmers plant other crops like carrots and beans alongside the coffee plants to supplement their income.
Many farmers have also started growing large fruit trees in the plots, which not only provide important shade for the coffee plants, but are another source of income as they wait for the coffee plants to mature.
In the harvesting season family, friends, children, and employees of farmers spend long days in the fields handpicking coffee beans with a basket (known as a canasta) tied around their waists.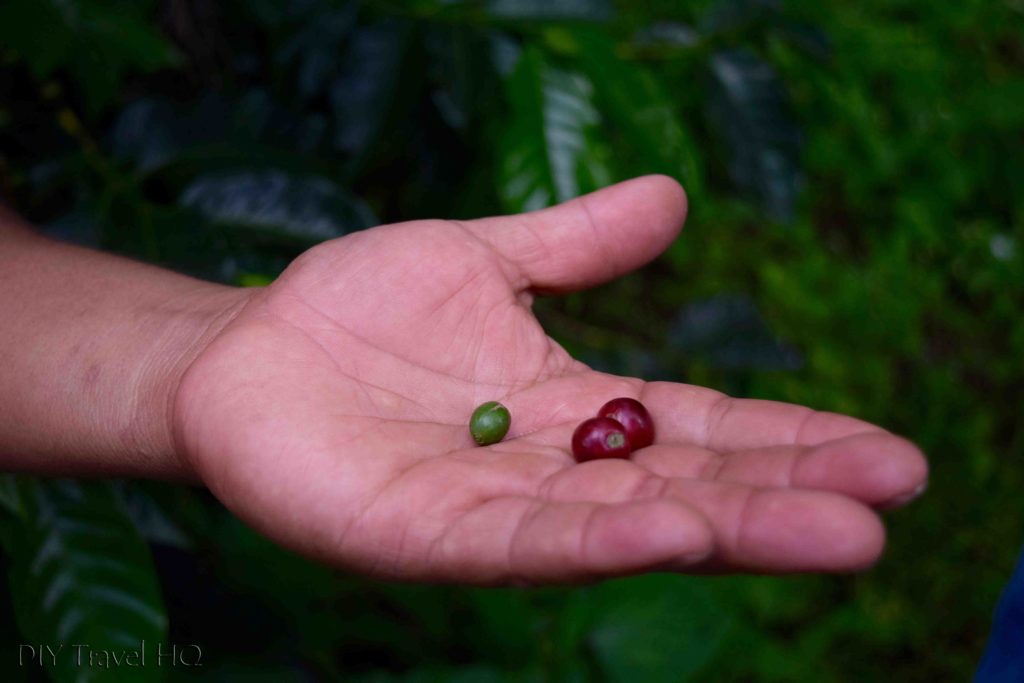 Quality and Compensation
Gustavo explained how he received very little for his harvest before he joined the cooperative.
De la Gente farmers are paid a lot more for their coffee, but they also work a lot harder and have higher standards to meet to produce a top quality product.
Farmers in the cooperative must adhere to much stricter standards than is otherwise necessary.
For example, only ripe, red beans will be accepted by De la Gente whereas farmers who are not in the coop are paid by the weight, whether the beans are fully ripe or not.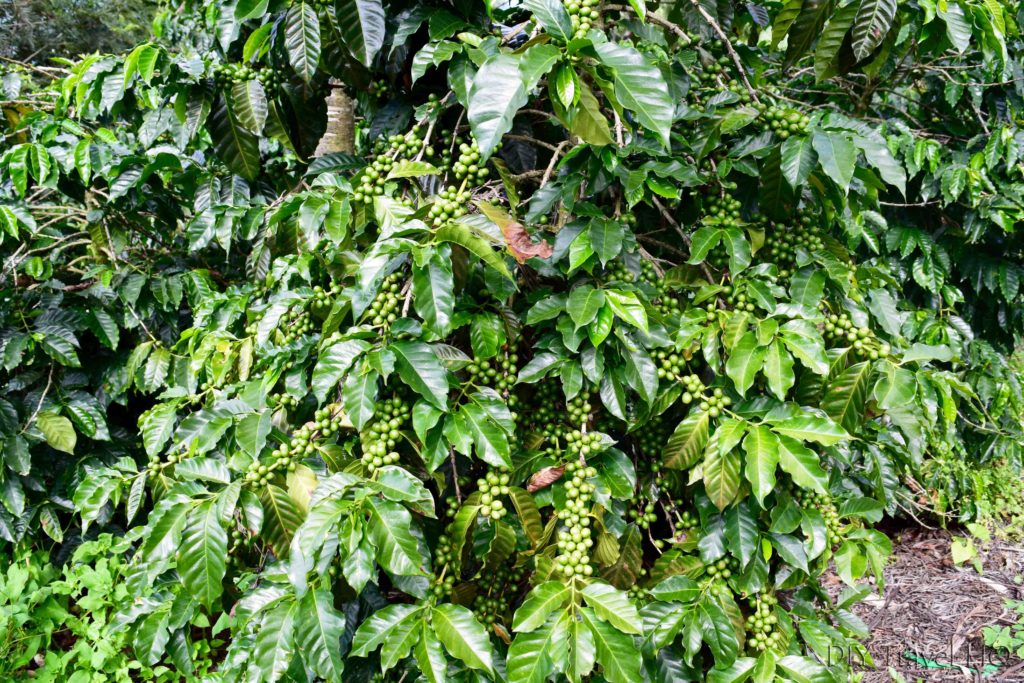 Return From the Fields
Gustavo also shared a lot of interesting facts about the local plants and birds in the area. Of course the countryside mountain scenery was superb.
It was a really interesting and informative walk and talk through the coffee fields with Gustavo and Joe. And between all of us in the group, we probably asked every question under the sun about coffee farming!
After about 2 hours under the sun, out in the fields, we started making our way down the volcano and back into town to Gustavo's house where we would learn about the next stage of coffee production.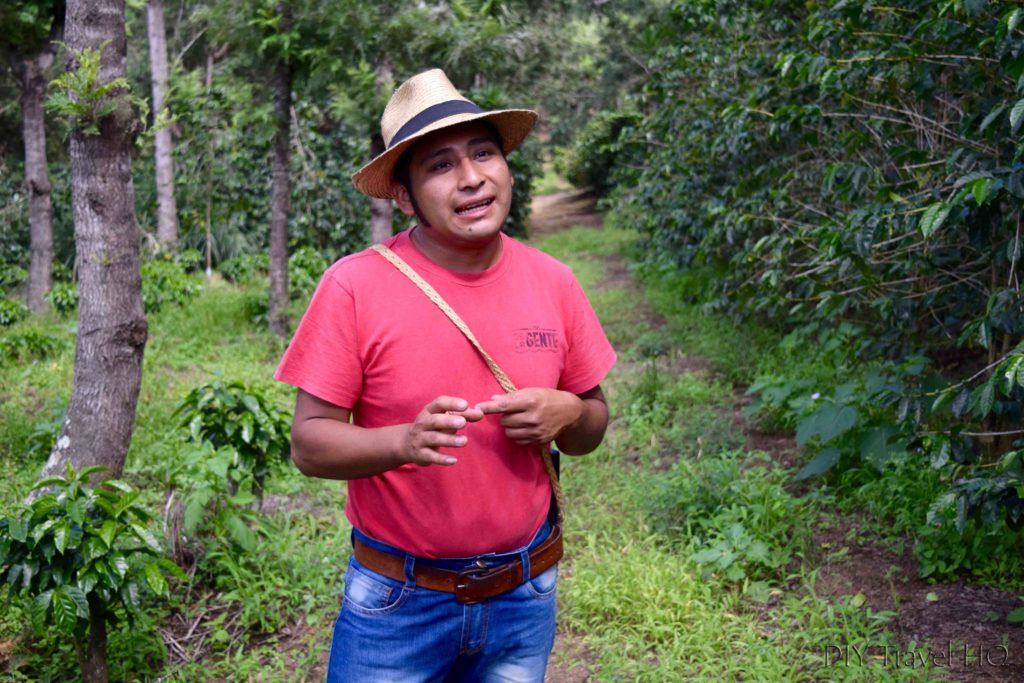 Visit to Farmer's Home
Gustavo welcomed us into his home where we also met his wife, Antonieta. We learnt about the traditional machinery still used today to process coffee in the Guatemalan highlands.
Processing Coffee
The local coffee production process involves:
One person dumps ripe, red beans into the funnel while the other person pedals the bicycle, removing the red shell
Put the beans into a burlap sack or concrete holding bin (with a water drain) to remove their sticky residue – this takes around 24-36 hours
Wash beans and lay them down on the floor or roof to dry for 5-14 days – rake periodically to prevent further fermentation
Put the beans through a dehusking machine, called a trilloadora, to remove the second, green husk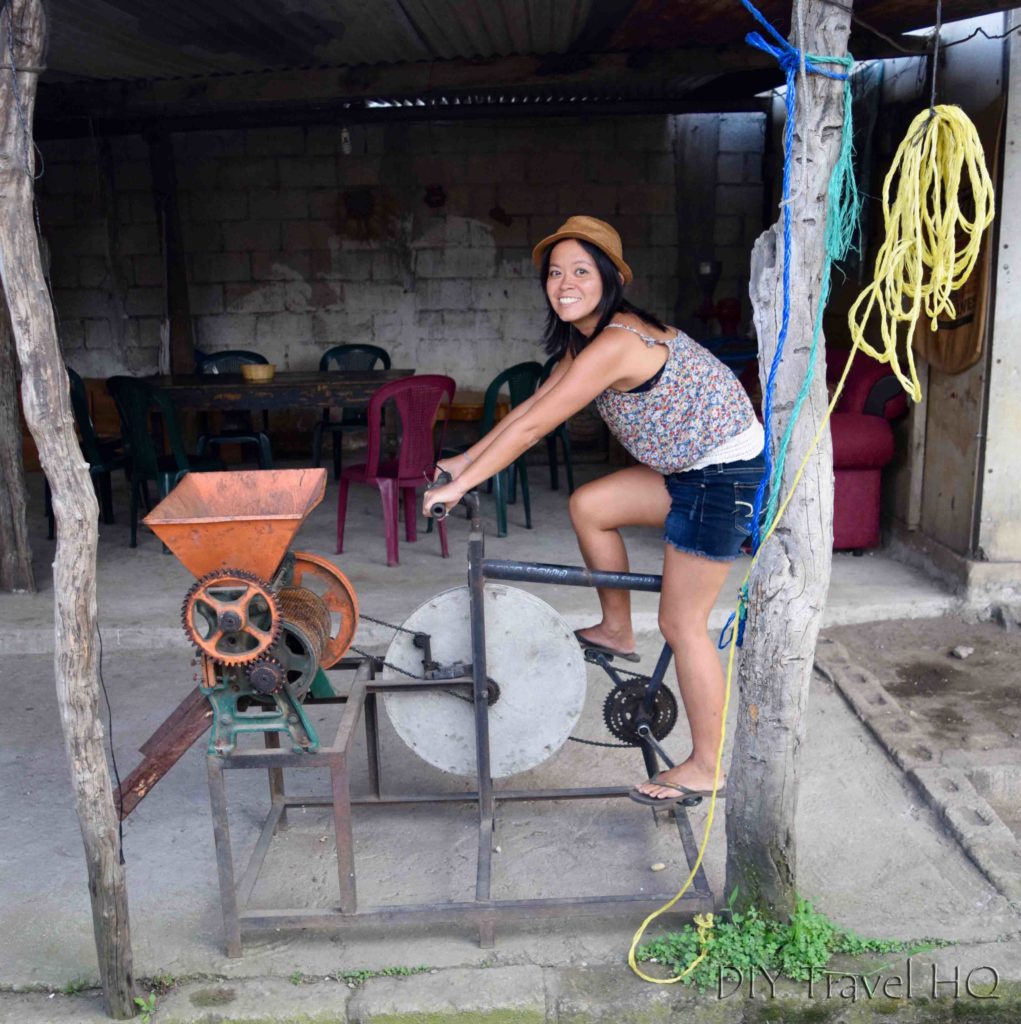 Sorting Coffee Beans
Next, the beans are sorted by size using a large sieve and then sorted by hand to remove all the defects (spotted, eaten by insects, cracked, etc.).
We had a taste of this and we can certainly appreciate how it's a very time-consuming process.
But a small amount of defective beans, along with the altitude the coffee is grown is the reason why De la Gente is classified as Specialty Grade coffee.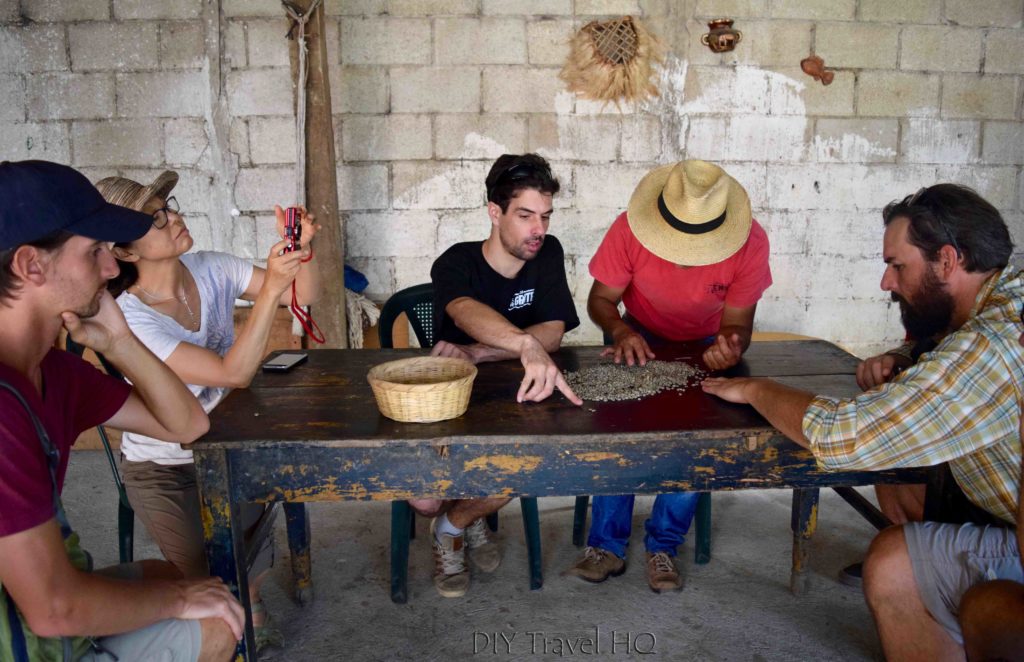 Roasting Coffee Beans
In Guatemala, the traditional way to roast coffee at home is over a fire on a hot cooking plate called a comal. We watched Antonieta do this in her kitchen and also helped to push the beans around.
Then we took turns grinding the roasted coffee beans with a stone. This was not at all as easy as Antonieta made it look! Fortunately, some of the De la Gente cooperatives have access to large roasting machines.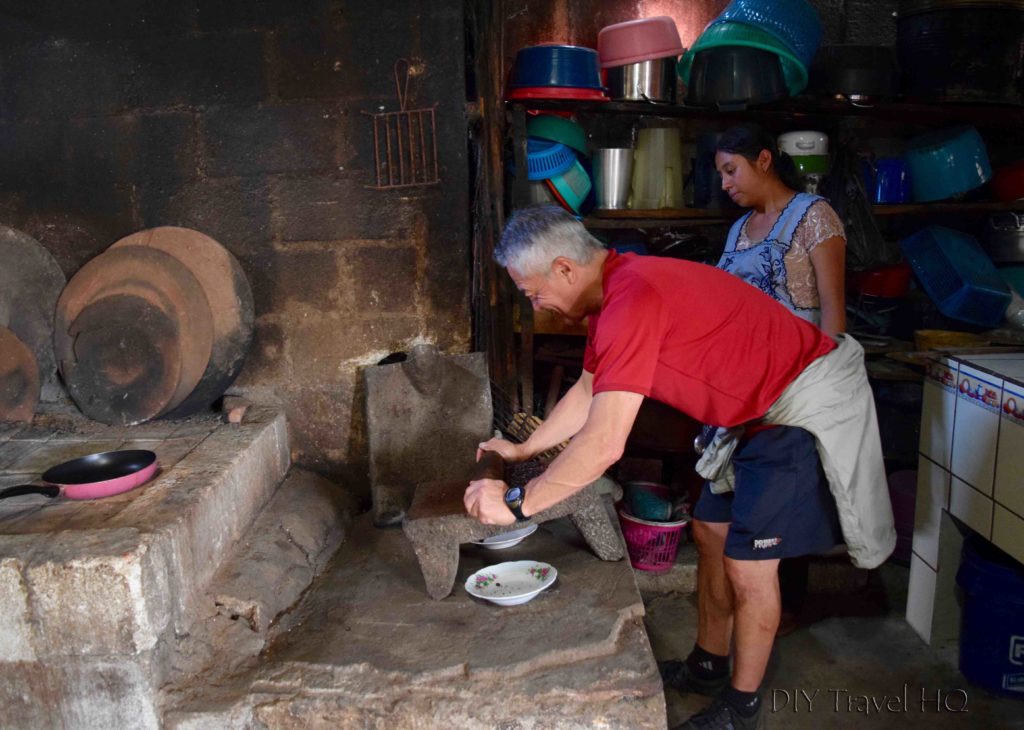 Tasting the Final Product
We finally got the chance to taste the fruits of our labor after roasting, grinding, and brewing our own coffee over a fire! Antonieta served us our coffee and it tasted fantastic.
Maybe it was our new sense of appreciation for the hard work that goes into a cup, but it was definitely the best coffee we had while backpacking in Guatemala!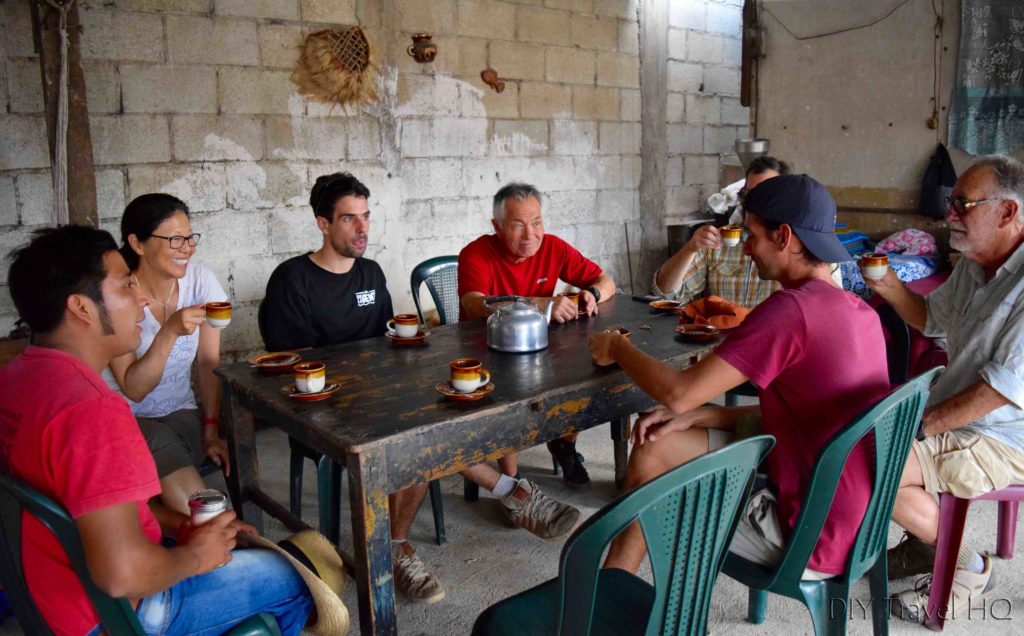 Coffee Tour Review
Taking a De la Gente Coffee Tour is an excellent opportunity to find out everything you ever wanted to know about coffee.
It's also a wonderful insight into the life of a Guatemalan coffee farmer and how a cooperative has improved the quality of life for many local communities.
For an authentic and meaningful cultural experience, don't miss the De la Gente Coffee Tour in Antigua, Guatemala. We guarantee that you'll never take a sip of coffee for granted again!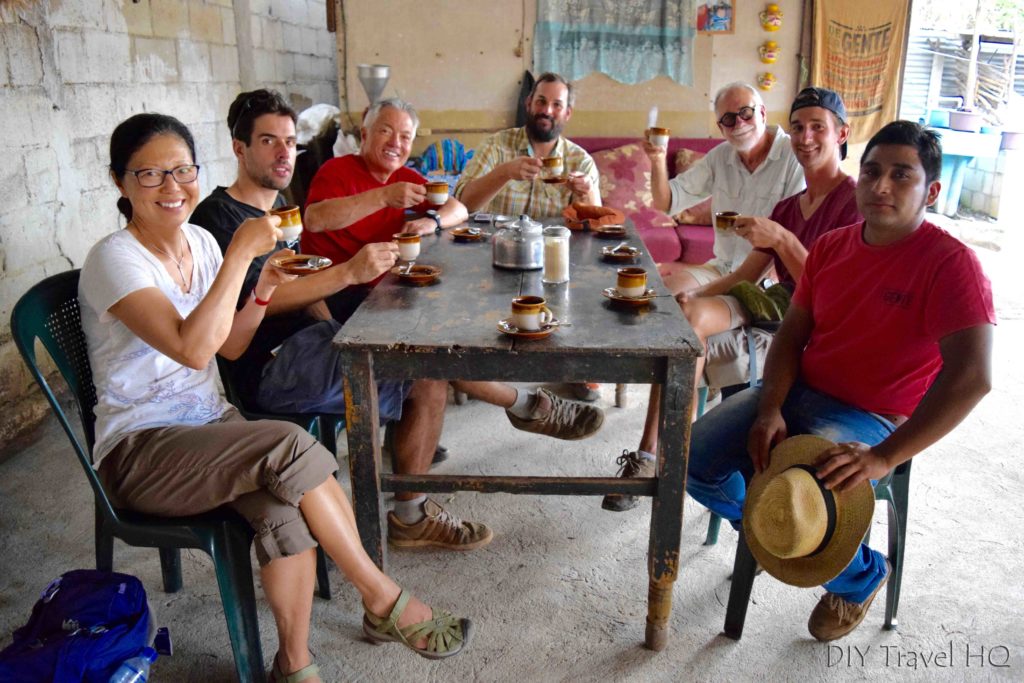 Know Before You Go
Location: San Miguel Escobar, Guatemala (10 mins from Antigua)
Price: Q200 for the Coffee Tour
Duration: 3 hours +
Other tours available: Cook Pepian, Peanut Butter Workshop, Huipil Bag Workshop, Burlap Bag Workshop, Woodworking, Iron Workshop
Contact:
The Final Word – Experience a day in the life of a Guatemalan coffee farmer with De la Gente!
Have you taken a coffee tour anywhere in the world?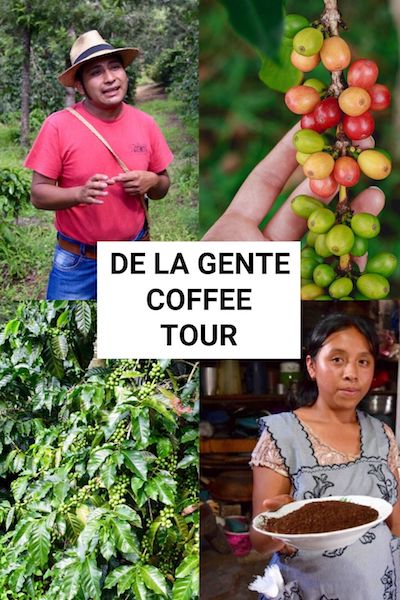 Thank you to De la Gente for hosting us!
Visited in October 2016
Updated in February 2020
Disclaimer: This post contains affiliate links which means that we receive a small commission if you click on a link and purchase something that we've recommended, at no extra cost to you.