Wondering where to go in paradise? We share our 1 month itinerary featuring the best places to visit in Costa Rica and what to do in each destination. Pura Vida!
Let's not beat around the bush – while there are many awesome places to go in Costa Rica, it's not a cheap country to travel in.
Not only is food, accommodation & transport expensive for Central America but anything you want to do comes packaged as a tour.
Thankfully, the beaches are still free – for now – and it's one of the safest countries in Central America.
With so many things to do in Costa Rica, we found ourselves very busy. But take away the zip lining, white water rafting, ATV riding, hot springs, diving, tree top climbing, canyoning, parasailing & nature walks and it's a country with little culture or soul – sorry, harsh but true.
All travelers in Centra America should definitely visit Costa Rica but it's best suited to those on short vacations & loose money belts, looking not for the best value but simply to have a good time.
Americans do this well, which explains why there are so many of them here. Another popular country nearby is Panama that is a little cheaper. If you are a budget traveler, choose whether Costa Rica or Panama is the better fit for you.
There are some notable places missing from our list of where to go in Costa Rica, which we skipped due to finances, accessibility or the wrong season, such as Tortuguero.
Pick up a guide book to help you plan your your trip and check out the list below. 10 sounds better in a list but we actually visited 11 of the best places in Costa Rica… Here they are in chronological order: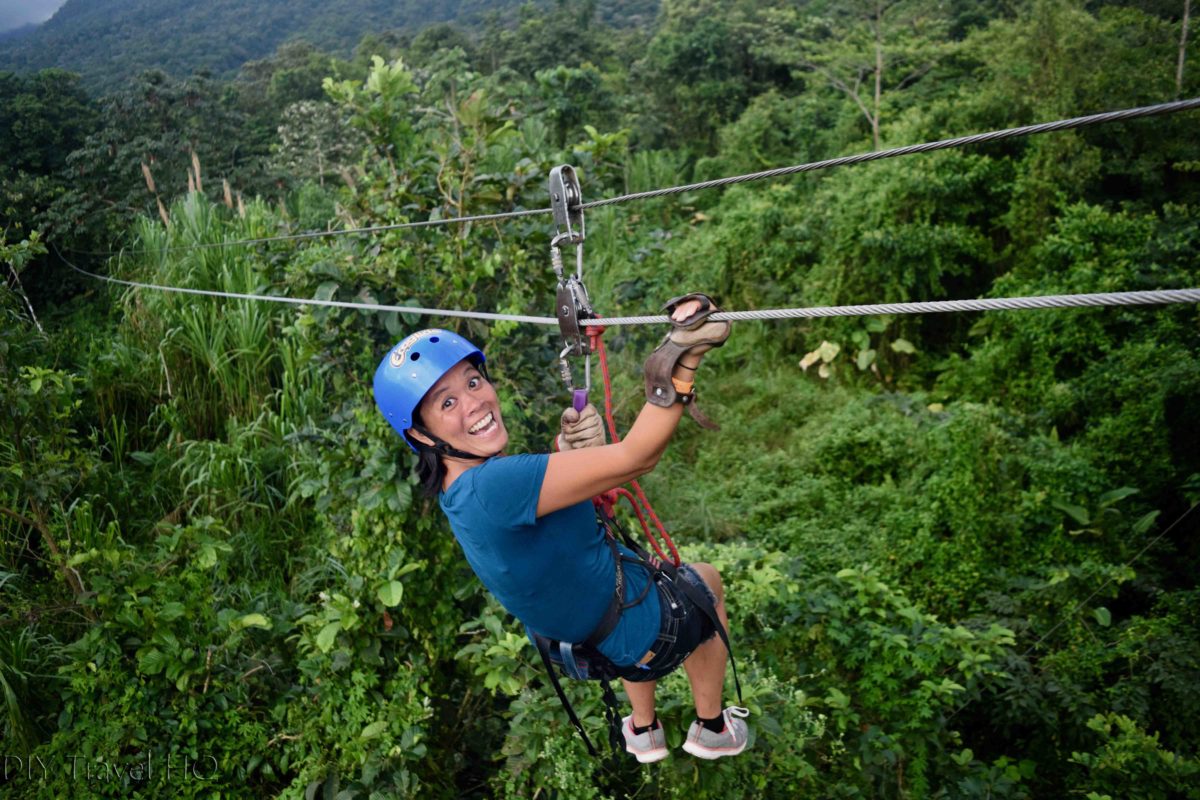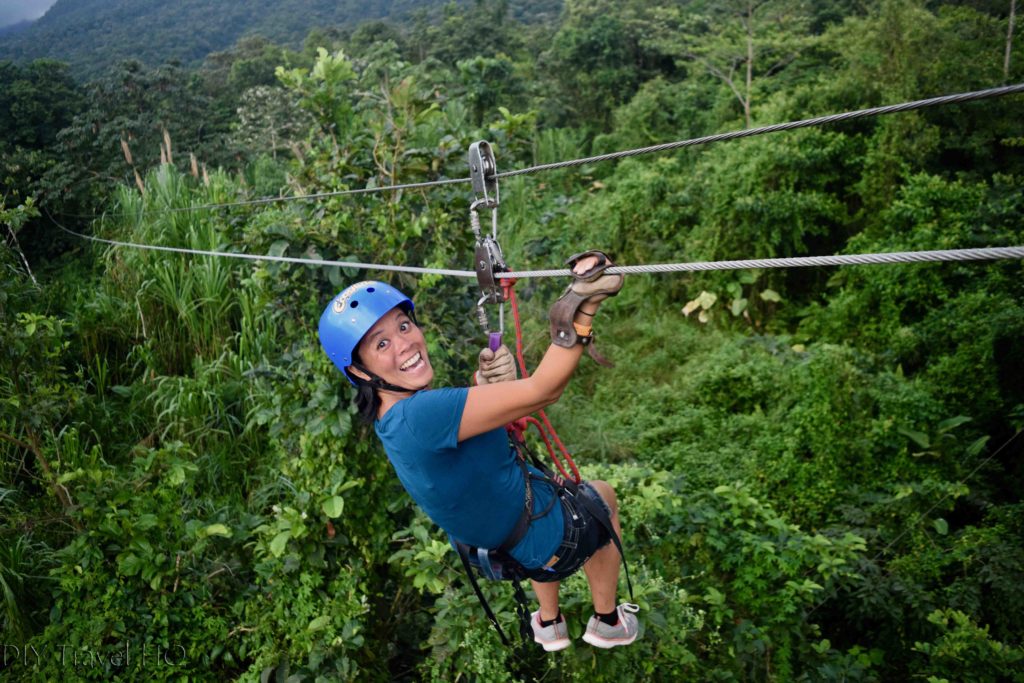 Best Places to Visit in Costa Rica
#1. Playa Samara
If you're not sure where to visit in Costa Rica Playa Samara is a fantastic place to start! Having crossed the border from Nicaragua, it was a fast introduction for us to expensive & litter-free Costa Rica.
Book accommodation in advance on weekends – the cheapest dorms we found available were $20.00, though this dropped sharply during weekdays.
There are a lot of hip bars & cafes but expect to pay close to US prices. Budget travellers should stay at a hostel with a kitchen & shop for groceries at Pali supermarket.
Playa Samara revolves around tourism but it still manages to exude relaxed, holiday vibes.
The main street leads to a long, wide sandy beach lined with palm trees. It's easy to see why it's one of the best beaches in Costa Rica. The sea is calm so it's also a popular place to learn to surf.
We walked over to Playa Carillo (you can also take a local bus) but it's nothing special, just quieter.
Be sure you're on the beach at Playa Samara for sunset – it can be quite a show!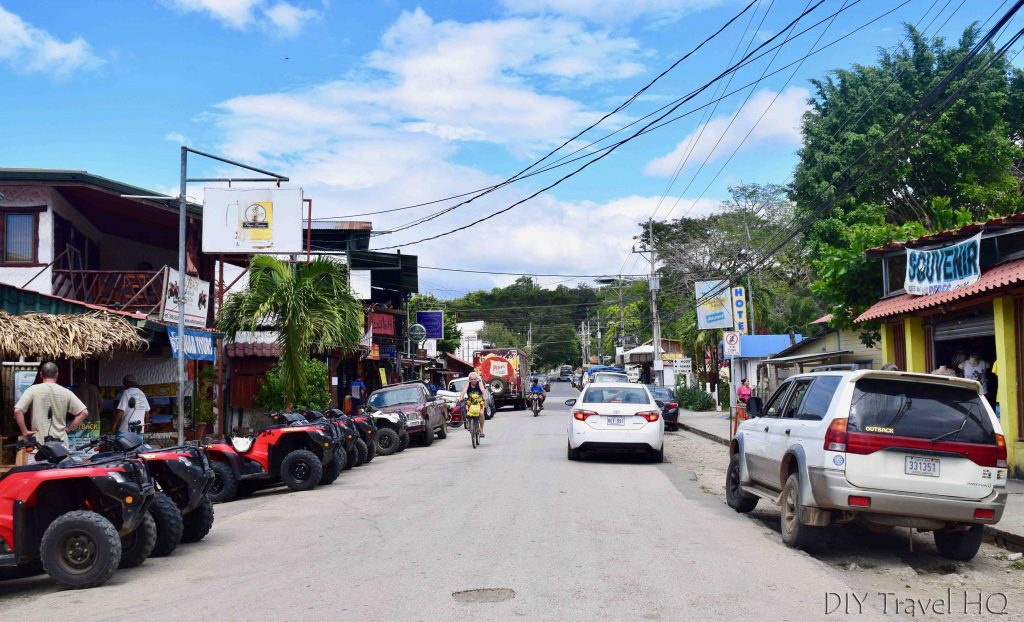 Things to do in Playa Samara:
Go surfing or take a lesson from one of the many surf schools
Watch sunset on the beach
Playa Samara is best for chilling out. Think beaches, yoga, cafes and bars…
Besides the beach there aren't many attractions but adventurous travelers will find lots of tours and activities on offer from quad bike riding to standup paddle boarding (SUP).
If you don't mind splashing out there are also a number of Central America cruises that depart from the Nicoya Peninsula going down to Drake Bay and into Panama.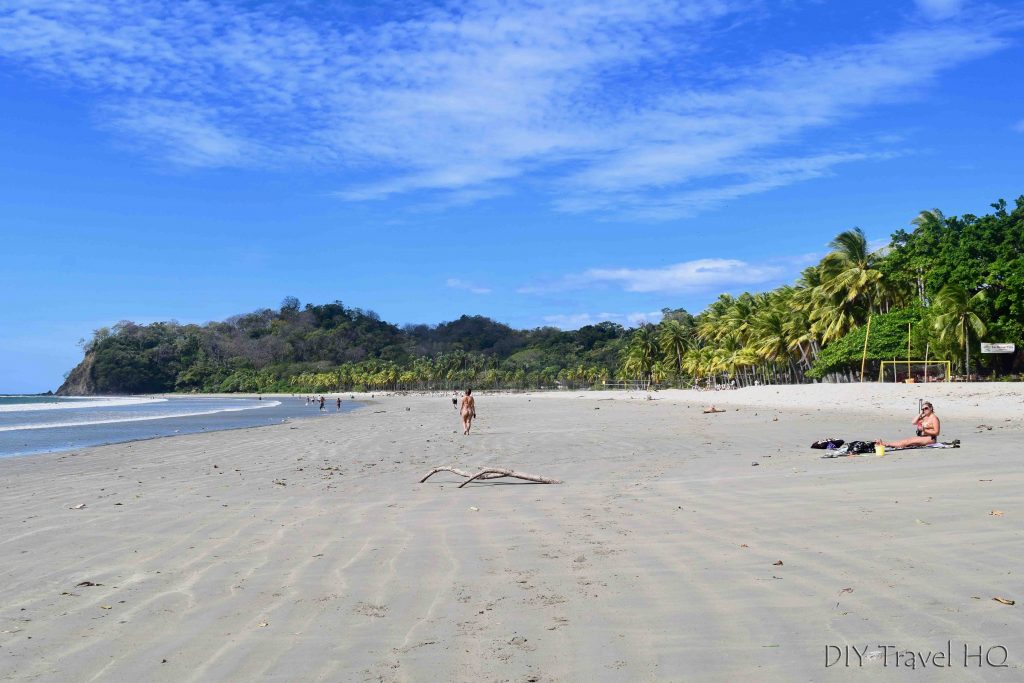 Food & Drink:
Soda: For cheap eats check out Soda La Perla which is off the beaten track. It's away from the main street but close to the Western end of the beach. It's a local hangout with typical Tico food and excellent ceviche.
Local restaurant:Casa Esmerelda is popular with locals for its fresh seafood good portions and reasonable prices. It's a simple hotel restaurant serving wholesome local food and pasta dishes.
Cafe: Roots Bakery & Cafe is a really popular spot. Drop-in for a coffee and some sweet and savoury treats; the delicious cinnamon swirls are to die for.
Accommodation:
Hostels: There are 6 hostels in Playa Samara. We stayed at Kiban's Surf Hostel which is right on the main street and a couple of minutes walk from the beach. Las Mariposas is another great choice and the most popular hostel in town. Dorm rooms start from $9 during the week but can double triple or more on weekends so definitely book in advance.
Airbnb: There are some 75 places listed on Airbnb. The average nightly rate is $74. Click here for $40 off your 1st booking.
Hotels: There are over 50 hotels in Playa Samara with room rates starting at $20 on weekdays and increasing on weekends. You can even have your own litte beach house at Oasis from $31. The town center is filled with budget options while the nice hotels are further away.
Check hotel prices now
#2. Playas del Coco
Playas del Coco is an old person's version of Cancun in Costa Rica, with lots of happy hours & American food.
It's not only one of the most popular Costa Rica destinations for seniors but for couples & families too, both foreign & local Ticos (the nickname for locals).
Playas del Cocos is also a great place to discover the country's indigenous culture.
Diving is one of the top things to do in Costa Rica and here it didn't disappoint. We went with under the sea with Sirena's Diving & the Viator site in particular was like jumping into an aquarium.
This was one of our favourite diving locations in Central America but if you don't dive, there are other beach spots with more to offer.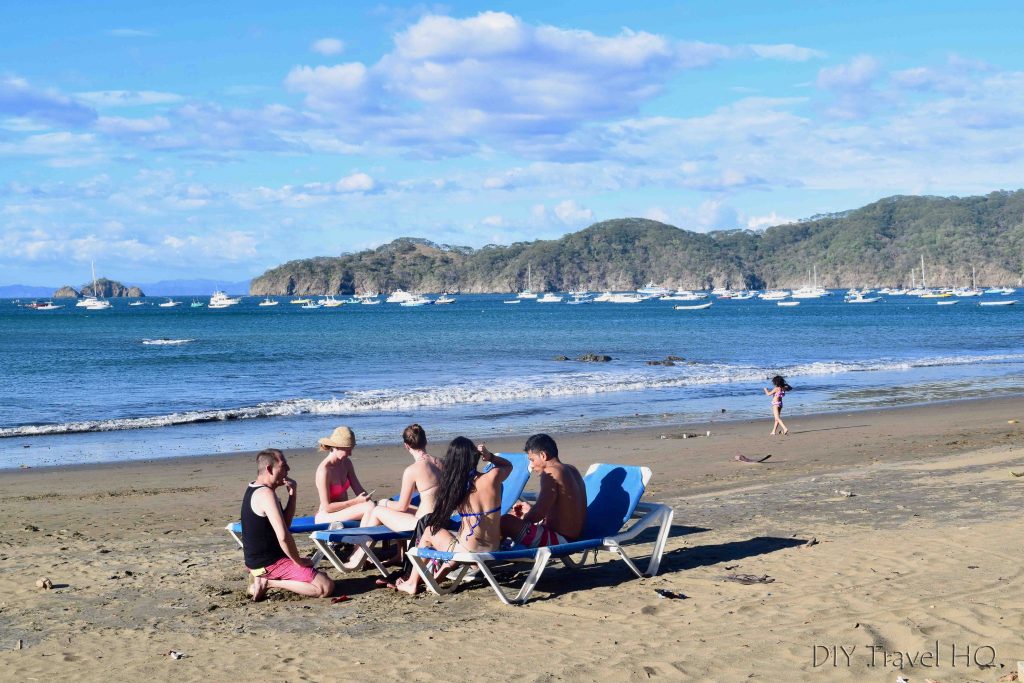 Things to do in Playas del Coco:
Dive at some of the best sites in Costa Rica
Watch the sunset on the beach
Enjoy Happy Hour at one of the many bars on the main street
Surf the Witch's Rock as seen in the movie 'Endless Summer 2'
If you're not diving it's not worth going out of your way to visit Playas del Coco. Nearby Costa Rica activities include zip-lining and whitewater rafting on the Tenorio River. You can see turtles at the nearby Las Baulas National Marine Park (45km away) and hike to bobbing mud pits at Rincon de la Vieja Volcano National Park (60km).
Food & Drink:
Soda: Soda La Teresita is one of the best local eateries in Playas del Coco. For around 3500 colon / $5.85 you can enjoy a typical meat or fish casado, with rice, black beans, plantains, salad and tortillas,
Splurge: It's worth making the drive up to the The Lookout. The views are spectacular and the seafood tastes fresh from the sea especially the raw oysters. It's the perfect spot to celebrate a special occasion or a romantic date.
Bars: You can drink craft beer at Coconutz a sports bar and microbrewery on the main street. All the gringos hang out at Zi Lounge which has sports DJ's live music and the best nightlife scene. Bar El Ancla is a relaxed spot right on the beach. Start at Happy Hour and see where the night goes from there…
Accommodation:
Hostels: Hostelworld has 1 listing for Playas del Coco but it's not a hostel. Rooms at Hotel M&M Beach House start from $53. It does however have fantastic reviews and an excellent location right on a little bay.
Airbnb: There aren't many options on Airbnb but you can find rooms in an apartment complex for $20.
Hotels: Budget accommodation is hard to come by in Playas del Coco but you can find a few places between $30-40. Cabinas Coco Alegre and Rincon Verde are the most highly rated of the cheapest properties.
#3. La Fortuna
If you're not sure what to do in Costa Rica, La Fortuna is the eco-adventure capital. You can:
Through collaborations with the blog, we were lucky to have the opportunity to do all of these activities. If you don't have the budget or interest, there's little reason to visit La Fortuna.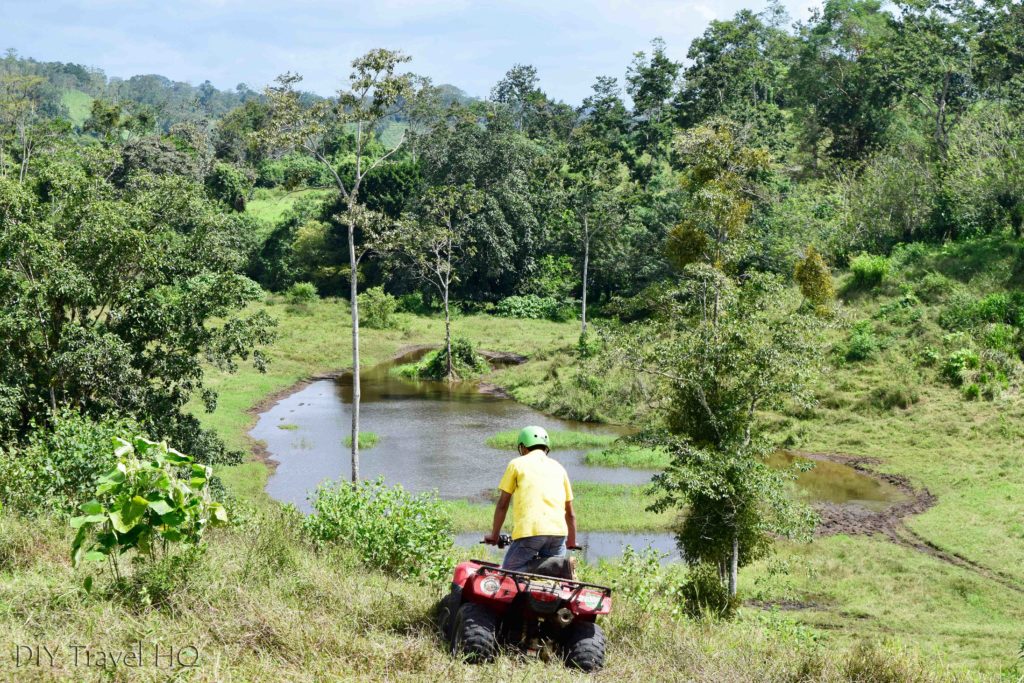 Things to do in La Fortuna:
You can take a taxi and visit these places on your own without a tour:
Arenal Volcano National Park (entrance fee $15)
La Fortuna waterfall ($15)
Arenal Hanging Bridges (from $26)
Tour option: Arenal Observatory
Food & Drink:
Soda: Soda a Hormiga and Soda Mima vie for the best gallo pinto and casado in town. You can have hearty breakfasts from 1600 colones / $2.65 and lunch from $2200 / $3.65 + drinks.
International: For a change of palette check out Chifa la Familia Feliz for Peruvian-style Chinese food – they also serve traditional Peruvian food such as like ceviche and lomo salted.
Cafe: Enjoy coffee and cake burgers or casinos at the popular Rain Forest Cafe. The cappuccino art is on point! It's pretty touristy but you'll find local hipsters here too.
Accommodation:
Hostels: With dorms from $10 La Choza Inn is the one of the cheapest hostels in town. Breakfast is included and they offer a free shuttle bus to the hot springs. For a few extra dollars you can enjoy 5 star hostel luxury at Arenal Backpackers Resort.
Airbnb: There are 45 listings on Airbnb starting from $10 for a shared room. The average nightly price in La Fortuna is $60.
Hotels: With over 190 properties there's no shortage of accommodation in la Fortuna. Campgrounds start from $10 (for 2 tents) and budget hotels from $20. Hotels with pools start from $45. We stayed at Hotel Las Colinas which was excellent value for $45. It included lovely rooms breakfast and an incredible view of Arenal Volcano.
#4. Santa Elena / Monteverde
If you're planning to visit Monteverde, you'll probably be staying in Santa Elena. Both names generally refer to the same place, so what's the difference?
Well, Monteverde is the cloud forest region as a whole & Santa Elena is the name of the nearby town, where most travellers will be based.
It's a very touristy place, where more of your eco-adventure dreams can continue to come true.
Many of actitivies in La Fortuna are also offered in Monteverde, so you may want to do some research on what's out there.
We tried something different we didn't come across in La Fortuna, which was tree top climbing & canyoning – it was awesome, especially attempting the 5 different ways to climb 1 tree!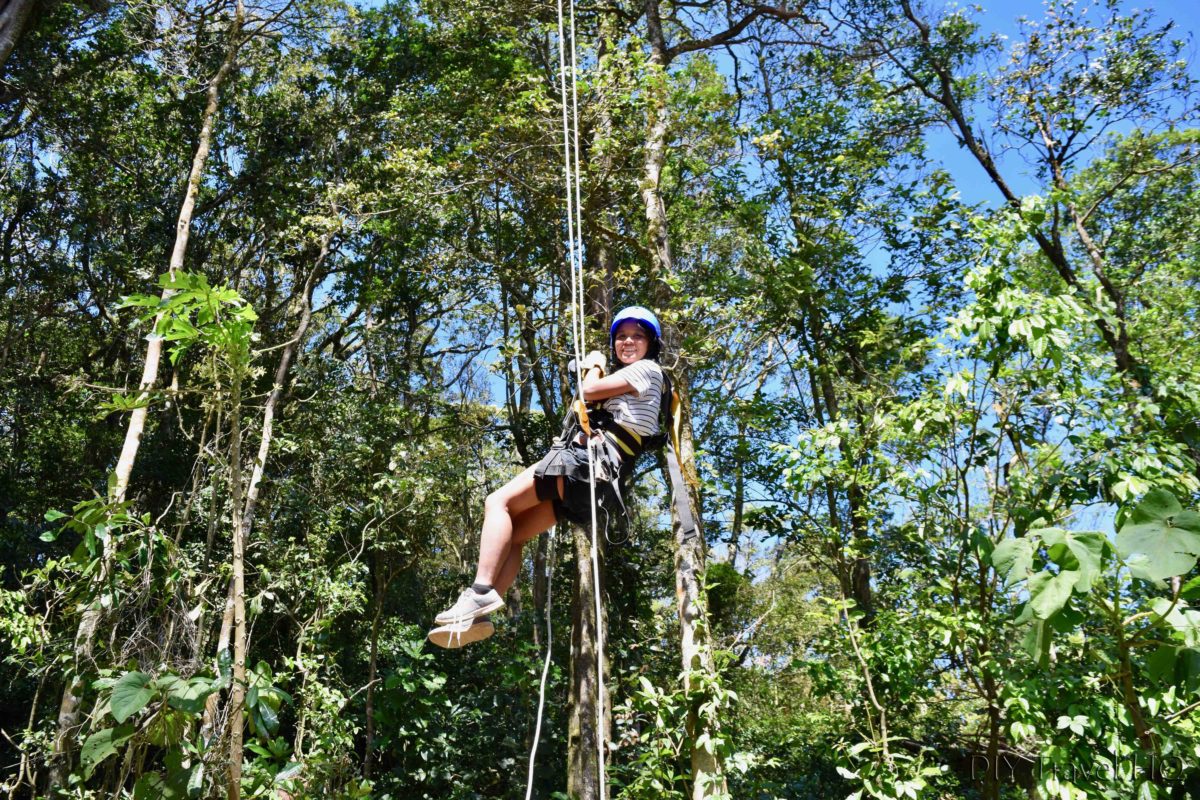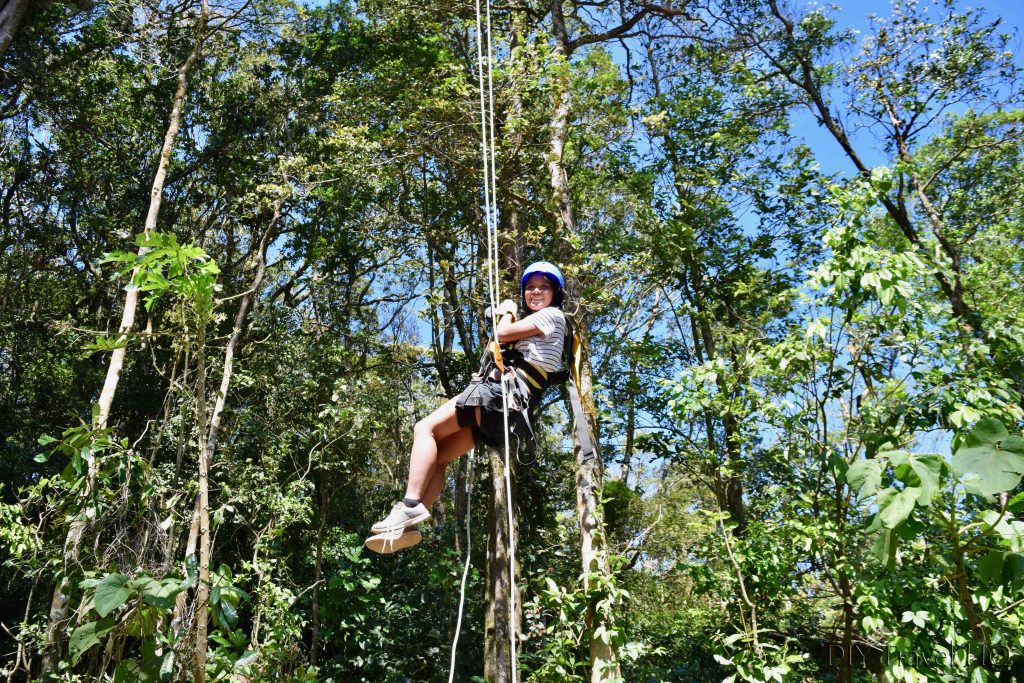 What sets Monteverde apart are the bird watching & wildlife spotting opportunities in the nearby parks: Monteverde Cloud Forest, Santa Elena Cloud Forest & Curi Cancha Nature Reserve. These are among the top Costa Rica attractions.
We did a guided nature walk at Curi Cancha, as you can miss out on seeing many birds & animals without having a set of trained eyes next to you.
But if you want to DIY, just look out for people standing in one spot with their eyes fixed – chances are they've spotted something!
The weather is another highlight on Monteverde – most of Costa Rica is hot & humid year-round so the the cool mountain climate is a welcome relief.
Things to do in Monteverde:
Like elsewhere in Costa Rica, everything costs money in Monteverde. The parks are the highlight however there are several attractions for kids and green thumbs:
Curi Cancha Reserve (entrance fee $15)
Monteverde Cloud Forest ($16)
Children's Eternal Rain Forest ($13)
Monteverde Butterfly Garden ($9)
Monteverde Orchid Garden ($12)
Monteverde Frog Pond ($13.50
See bats fly in an indoor enclosure at the Bat Jungle ($7-14)
Tour option: Monteverde Horseback Ride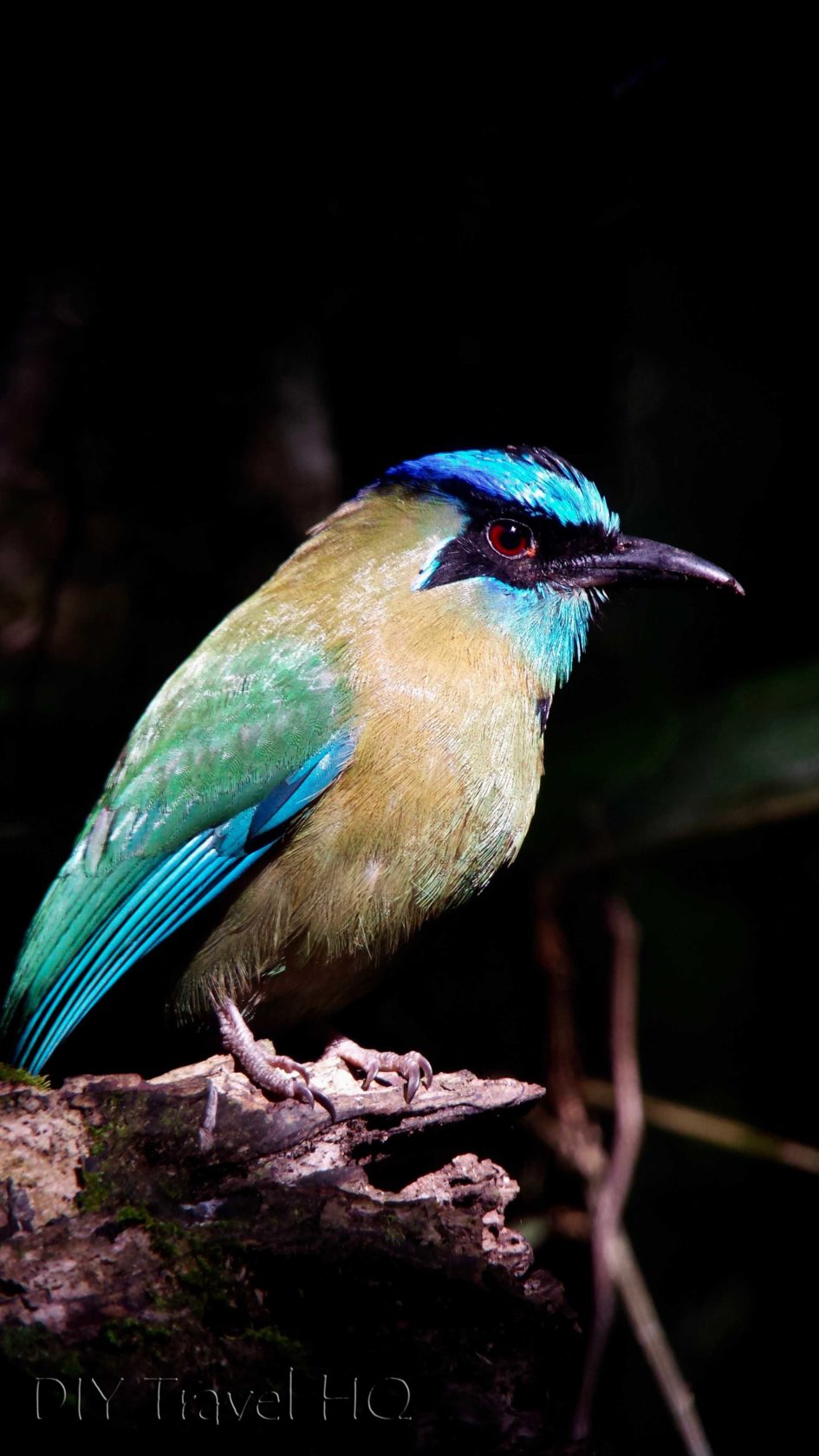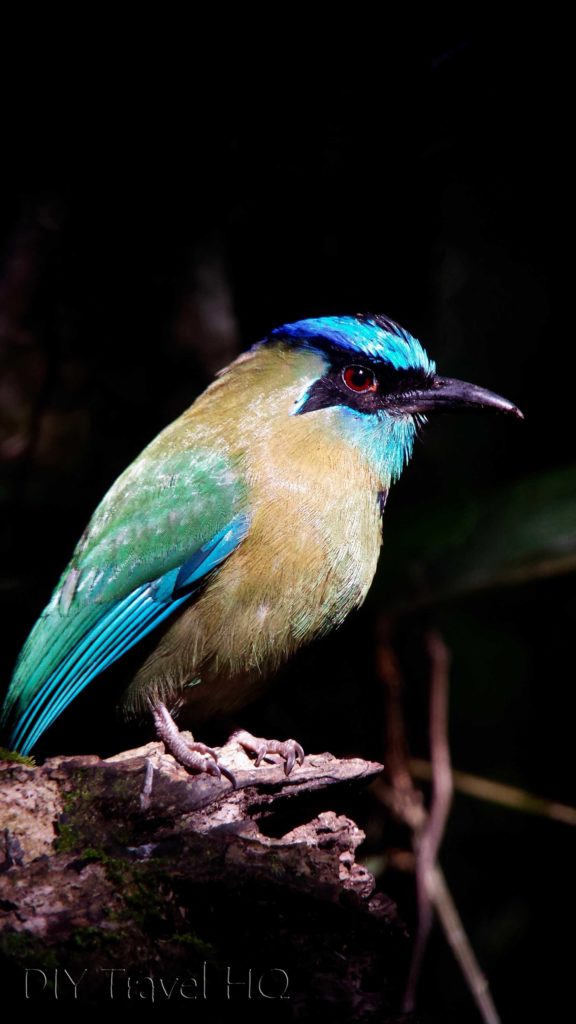 Food & Drink:
Taqueria: Get your taco fix along with a flight of craft beer at Taco Taco. There are many vegetarian options. Grab a table on the outdoor balcony for a feed with a view.
Local: Dig into typical Tico food at the much-loved Sabor Tico. The word is well & truly out so you'll find plenty of tourists amongst the locals but the casado plates are huge and tasty.
Unique: Sit around a huge ficus tree in the middle of Tree House Restaurant & Cafe. The setting and ambiance is fantastic but the overpriced food is nothing special. If you're on a budget come for a coffee or a drink and eat somewhere else.
Accommodation:
Hostels: There are 25 properties listed on Hostelworld half of which have dorm rooms from $6 at Mi Casa Tica. The most popular hostels are Sleepers Sleep Cheaper and Monteverde Backpackers from $12.
Airbnb: There are over 45 places to stay in Monteverde on Airbnb.Rooms start from $10 and the average nightly rate is $61.
Hotels: Choose from almost 200 properties on Booking.com. Very nice dorm rooms at Backpackers Hakuna Matata start at $11 and you can even get double rooms for $14. Expect to pay between $30-50 for comfortable accommodation. We stayed at Arco Iris which we would recommend for lovebirds and couples on their honeymoon in Costa Rica.
#5. Montezuma
The beaches of Montezuma are special as they lie at the intersection of sky, water, sand, rocks, jungle, streams & waterfalls.
It's the original hippie hangout of Costa Rica & it still retains that laid-back, good life feeling.
There aren't many free things to do in this country so be sure to hit up the Montezuma Waterfalls, where it's absolutely gratis to hike & swim – for now…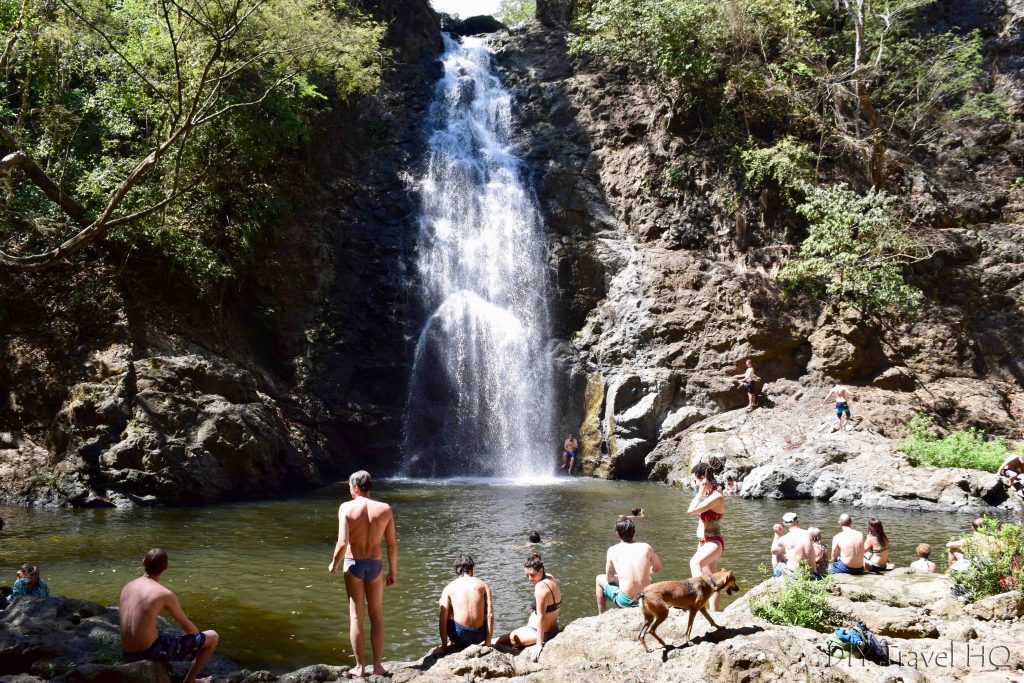 Reserva Cabo Blanco costs $12.00 to enter, where you can try your hand at spotting wildlife along the walking trails to a secret beach. It's nice but like many things in this country, overpriced.
Check the local bus schedules & try to time your visit with a trip across to Cabuya Island. The cemetery here is also only accessible at low tide.
Surfers can hang 10 at the neighbouring towns of Mal Pais & Santa Teresa.
Montezuma can be reached by ferry from Puntarenas – they depart approximately every hour. Fares cost ₡$810.00 / $1.50 & take around 1.5 hours.
Things to do in Montezuma:
Embrace your inner hippie at Montezuma where you can do as much or as little as your like. It's a popular place to chill do yoga and that kind of thing or get more active in the surrounding parks and beaches:
Relax or surf on Montezuma beach
Swim at Montezuma Waterfall
Hike in Reserve Cabo Blanco (entrance fee $12)
Walk across to Cabuya Island
Make day trips to Mal Pais & Santa Teresa
Tour option: Coffee Plantation Tour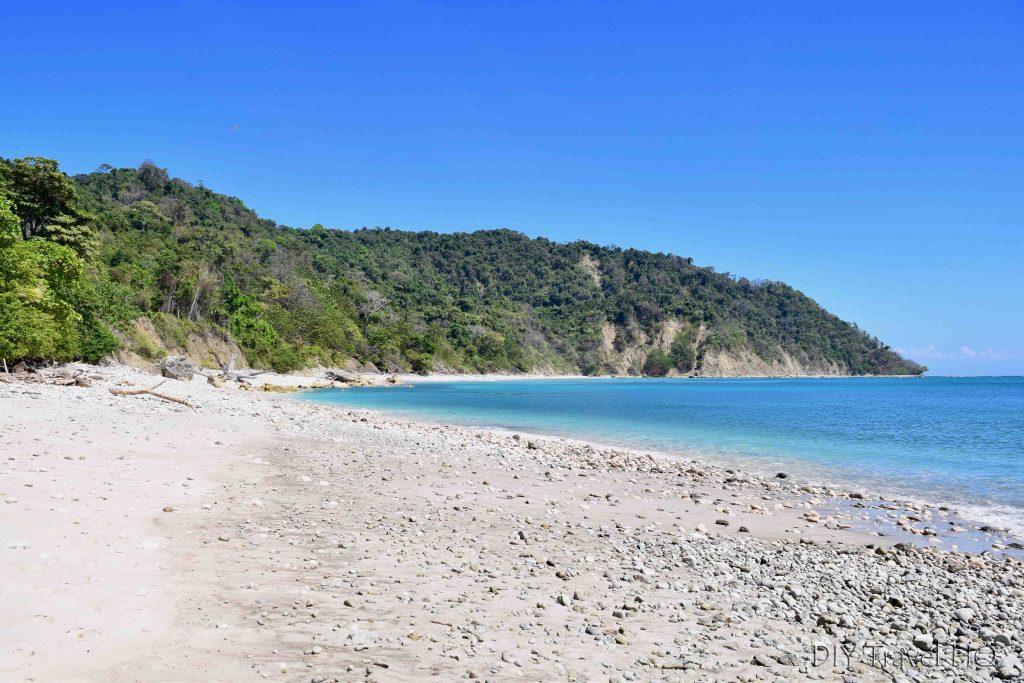 Food & Drink:
Soda: Feast on local food served on banana leaves at Soda Tipica Las Palmeras. Just don't come hungry as the service is quite slow even by Costa Rican standards. But you can stare out at the gorgeous sea view all day and try spotting monkeys in the trees.
On the beach: Take advantage of Happy Hour and watch the sun go down with a drink in your hand at Habaneros. It's the beachfront restaurant of the Playa Cielo hotel so food prices are high. Spoil yourself or just come for the $5 2-for-1 margaritas.
Unique: Enjoy a memorable meal at Clandestina restaurant in the Mariposario Butterfly Garden. The interesting menu has Latino favourites such as tacos and mole as well as craft beer and cocktails. Prices are a little high but the food is always fresh and the atmosphere is pretty special.
Accommodation:
Hostels: There are 2 hostels in town both with dorms for $15. Proyecto Montezuma Hostel is near the waterfalls and has a dreamy setting right on the beach. Downtown Montezuma Hostel is right in the centre of town and close to all the action. We stayed in Hotel Aurora which is the other property listed on Hostelworld.
Airbnb: The only listing is a private room in a cottage for $10.
Hotels: It's not that cheap to live like a hippy in Montezuma. Rooms start from $37 but there are over 150 options in town.
#6. San Jose
Like most Central America capital cities, San Jose not only has a bad crime reputation but little to offer for tourism.
Nevertheless, we like to tick of the capitals & actually had a relaxing time here on our one month in Costa Rica.
Always be aware of pickpockets. We recommend wearing a money belt with RFID blocking & traveling with an anti-theft backpack.
There are a few decent museums, including the Jade Museum which is world-class but costs $15.00 ($5.00 for nationals) so we didn't visit.
All bus connections transfer at San Jose but other than that, there's no reason to visit.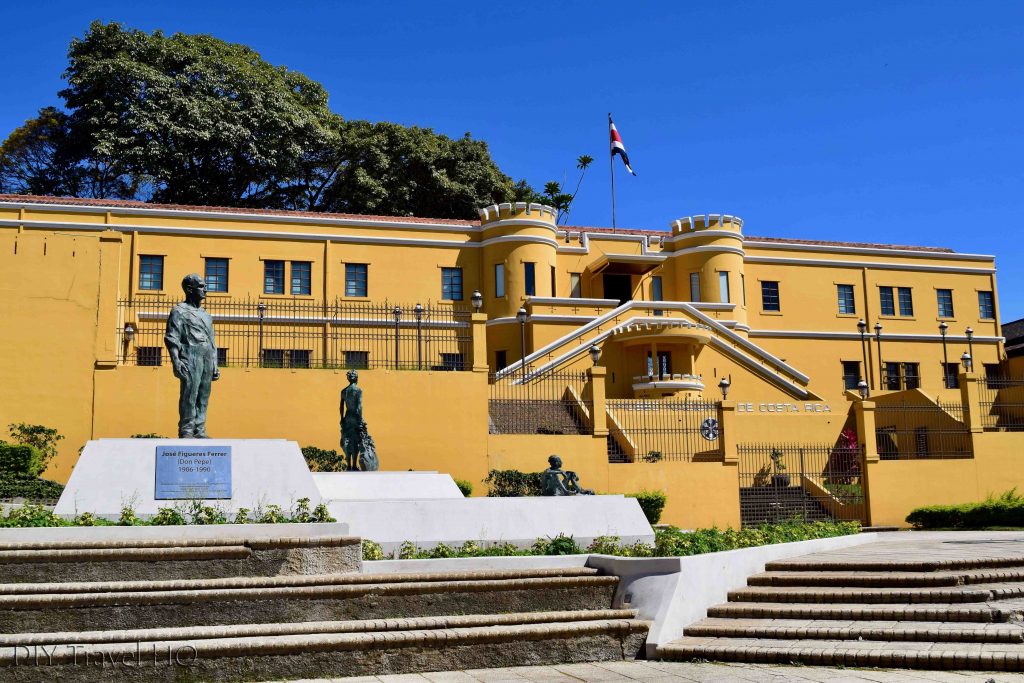 Things to do in San Jose:
Central Market
Arts & Crafts Market
National Theatre
Jade Museum (entrance fee $15)
National Museum of Costa Rica ($14)
Pre-Columbian Gold Museum ($11)
Children's Museum ($7)
If you don't want to pay for museums there's not much to do in San Jose. Just walk around soaking up the city vibes checking out the markets and people watching on the streets.
Food & Drink:
Vietnamese: Take a break from those big plates of casados and slurp a bowl of pho at Cafe Rojo. The Vietnamese-inspired food is fresh and flavourful and the coffee is pretty amazing.
Vegan: Detox with a vegetarian meal at Kula. It's all 100% organic and vegetarian with many vegan options. Things sandwiches and salads with fresh juices. The arepas are delicious.
Argentinian: Carnivores can eat their hearts out at Tenedor Argentino. Cut into a perfectly-cooked steak according to your preference. It's quite expensive but it's in the heart of the city with excellent people-watching views from the balcony and a cool decor inside.
#7. Puerto Viejo de Talamanca
Puerto Viejo is a fantastic beach destination on the Atlantic coast.
There's a strong expat & travel community, so you can count on good restaurants & a lively party scene here.
We stayed at Playa Cocles, with a fine beach on our doorstep, but it was 2.5km from town. Buses don't run too frequently so this spot is best suited to those who don't mind walking or taking taxis.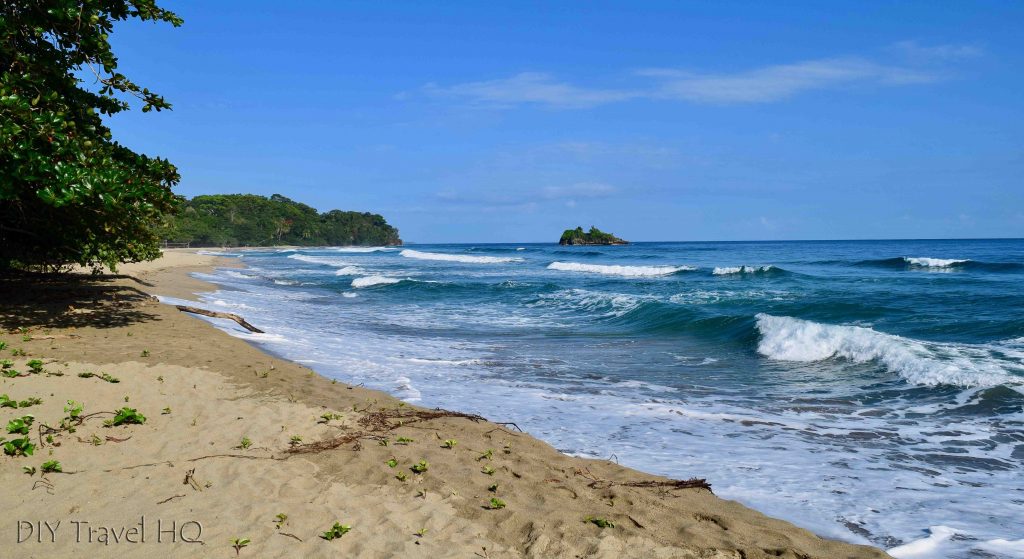 There are several wildlife sanctuaries in the region including the Jaguar Sanctuary in Puerto Viejo itself and Tree of Life & Sloth Sanctuary in Cahuita. They're among the top Costa Rica tourist attractions but they're expensive to visit.
Cahuita is 17km away & definitely worth visiting just for the excellent Cahuita National Park.
The main walking trail hugs the coastline so it's incredibly scenic and you're almost guaranteed to spot monkeys low on the ground & sloths high in the trees.
Snorkeling in the national park is only allowed on a guided tour, but walk-in snorkeling can be found at Punta Uva, Arricefe & Manzanillo.
* We recommend staying at Playa 506
Things to do in Puerto Viejo:
Hike at Cahuita National Park (entrance fee by donation)
Swim at Playa Cocles or Playa Chiquita
Snorkel at Punta Uva, Arricefe & Manzanillo
Tour the Jaguar Rescue Center ($20)
See sloths at the Sloth Sanctuary ($30)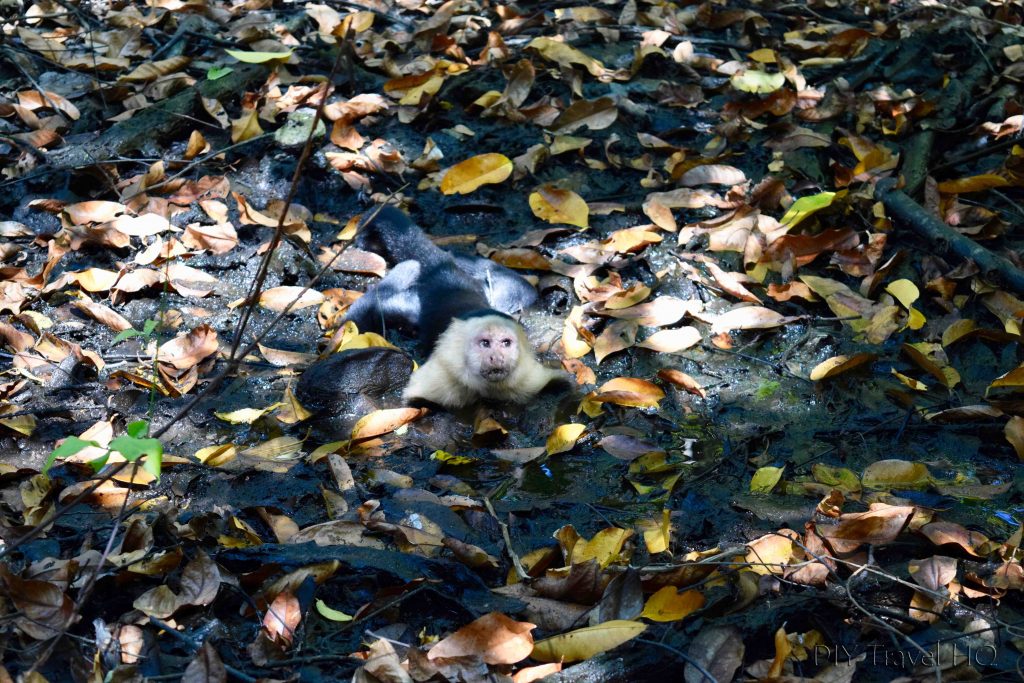 Food & Drink:
Fish: From a whole snapper to a filet of mahi mahi enjoy fish fresh from the seat at lazlo's Catch of the Day. There are no signs or menus at this eclectic simple eatery but fresh fish is guaranteed.
Caribbean: When in Puerto Viejo it's only fitting to try some Caribbean food and Restaurants Tamara is the best place for it. The portions are huge and the prices are good at this central eatery.
Cafe: Start the day with breakfast and freshly roasted coffee at Bread & Chocolate. Choose from pancakes and scrambled eggs or come in for sandwiches and salads for lunch. It's an open-air cafe with wooden furniture and floors; very rustic charming and popular.
Accommodation:
Hostels: There are some 15 hostels in Puerto Viejo. Dorms start at $11 though we stayed at Playa 506 which is $25. It was a very nice hostel right on the beach at Playa Cocles but being 2.5kms from the center it wasn't that convenient. Selina's is popular and somewhere in between.
Airbnb: There are no listings for Puerto Viejo.
Hotels: Rooms start from $23 with more than 120 properties to choose from. You can stay in some gorgeous cabins and hotels for around $50.
#8. Manuel Antonio
Manuel Antonio is all about Manuel Antonio National Park, the most popular in Costa Rica.
This is also the place with the best chances of spotting a sloths in the wild.
We heard mixed reviews: expensive, small & crowded.
We decided not to visit it, choosing to take a nighttime guided nature walk around the park instead.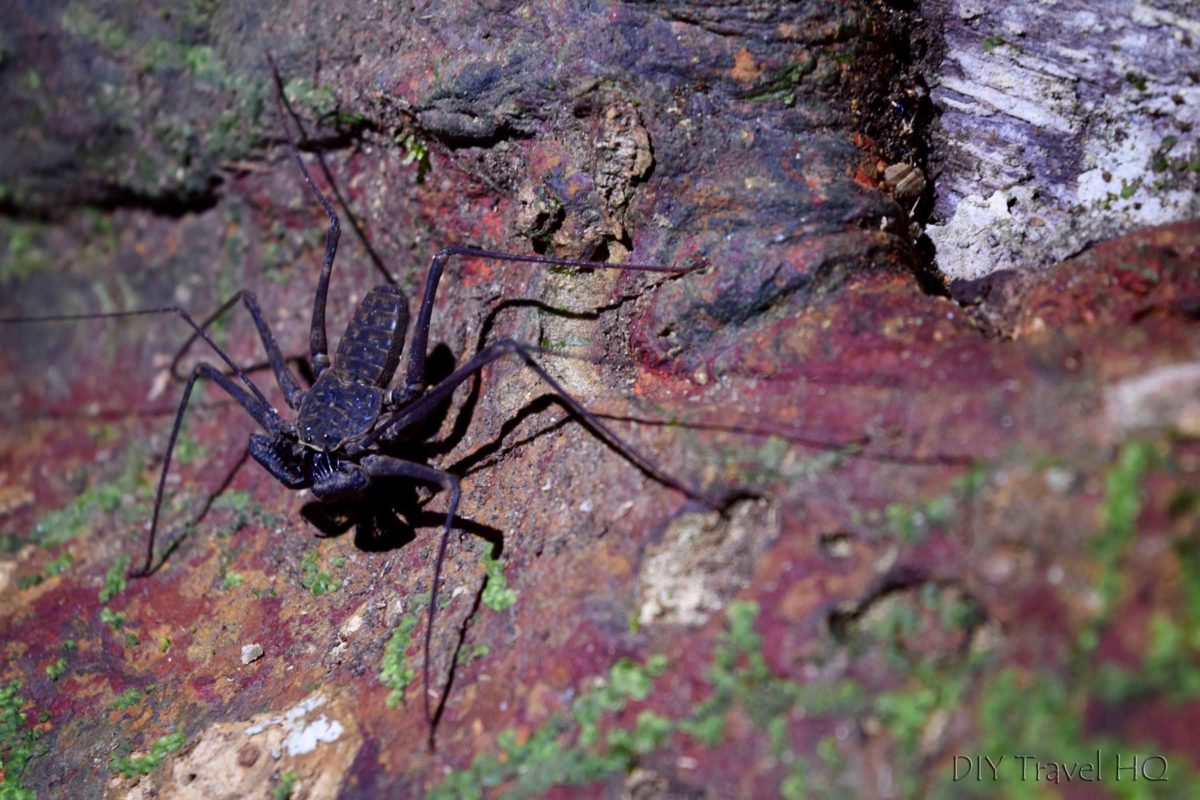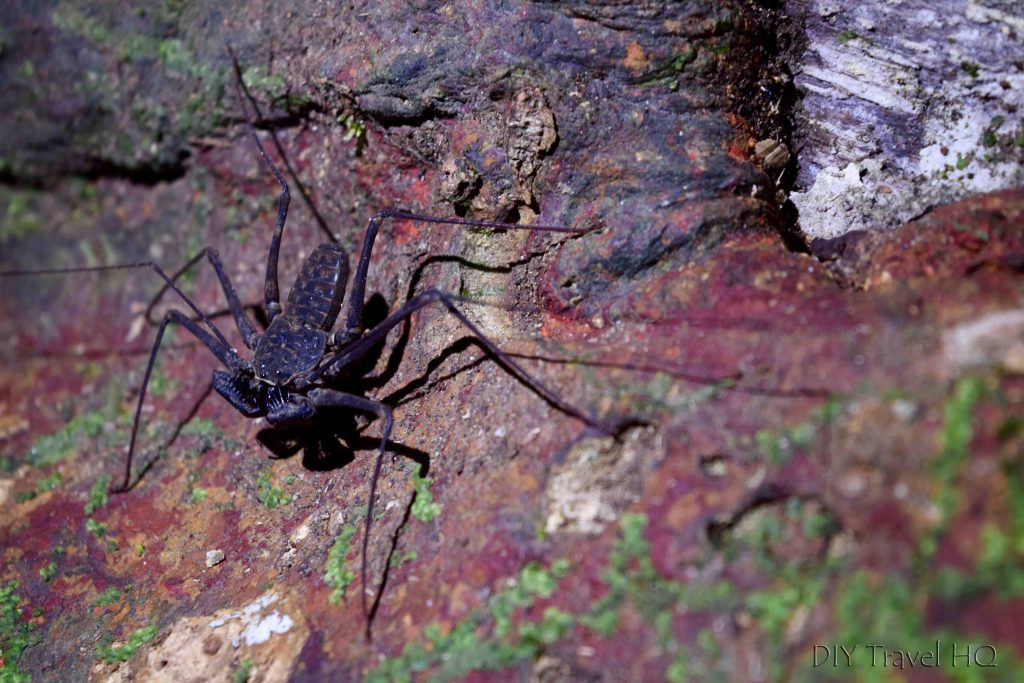 We also went parasailing on Manuel Antonio beach, which was surprisingly very picturesque & relaxing.
The beach take-off was thrilling, then we just kicked back & enjoyed the birds-eye views from 150m up in the air: fascinating rock formations, changing colours & depths of the ocean and the stunning jungle coastline of the nearby national park.
Local buses are ₡250/ $0.55 per ride, anywhere along the road from Manuel Antonio town centre to the National Park.
Things to do in Manuel Antonio:
The main reason to visit Manuel Antonio is to visit the small but sloth-filled Manuel Antonio National Park. Be sure to spend a couple of hours at the gorgeous beach while you're there.
Swim in Manuel Antonio beach
Spot sloths in Manuel Antonio National Park (entrance fee $16)
See animals up-close at Kids Saving the Rainforest Sanctuary (tour $60)
Tour option: Manuel Antonio National Park from San Jose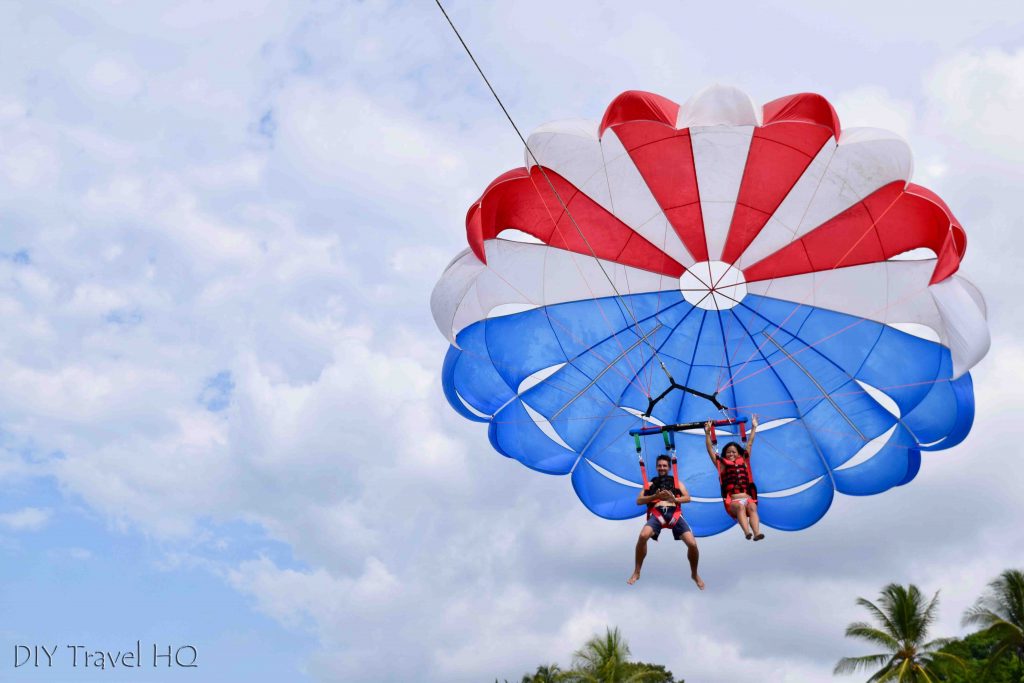 Food & Drink:
Falafel: Manuel Antonio Falafel Bar is not that cheap but it's one of the more economical options in town. The falafels and shawarmas are delicious. You can order them in a pita sandwich or on a plate. Vegetarians will also love the fresh salad bar.
Unique: Have a drink inside an airplane bar at El Avion. You can even go into the cock pit! If you want to eat the tables are under the plane's wingspan – sunset is the best time to dine. While the plane is the main attraction the seafood is pretty good too.
Cafe: Start the day with breakfast with a view at Emilo's Cafe. Go early to grab a table on the balcony – the views are truly to die for. Fortunately the food is pretty good too with local and international dishes including many types of curries.
Accommodation:
Hostels: There are 7 hostels in Manuel Antonio with dorms ranging from $10-16. Hostel Plinio is the most popular of the bunch with beds from $13 including breakfast.
Airbnb: There are only 2 listings on Airbnb. 1 is a dorm in a hostel for $14 and the other is a private room in a house for $10.
Hotels: Private rooms in guesthouses and hostel start at $24 but expect to pay over $40 for true hotel rooms. We stayed at Homel Mono Azul which was great value for a big room and 2 pools on the grounds. It was out of the city center but there was a bus stop nearby.
#9. Palmar Norte
We stopped in Palmar Norte to check out the Stone Spheres of Costa Rica but please don't try this at home – we made the mistakes of including this on our 1 month Costa Rica itinerary so that you don't have to…
They're just a few round balls scattered on the ground, around a playground
There's no protection or preservation in place, they are literally just part of the outdoor furniture.
Staggeringly though, these spheres are on the UNESCO World Heritage List, as the best examples of stone sculptures from the Isthmo-Columbian area.
They should belong on no bucket list.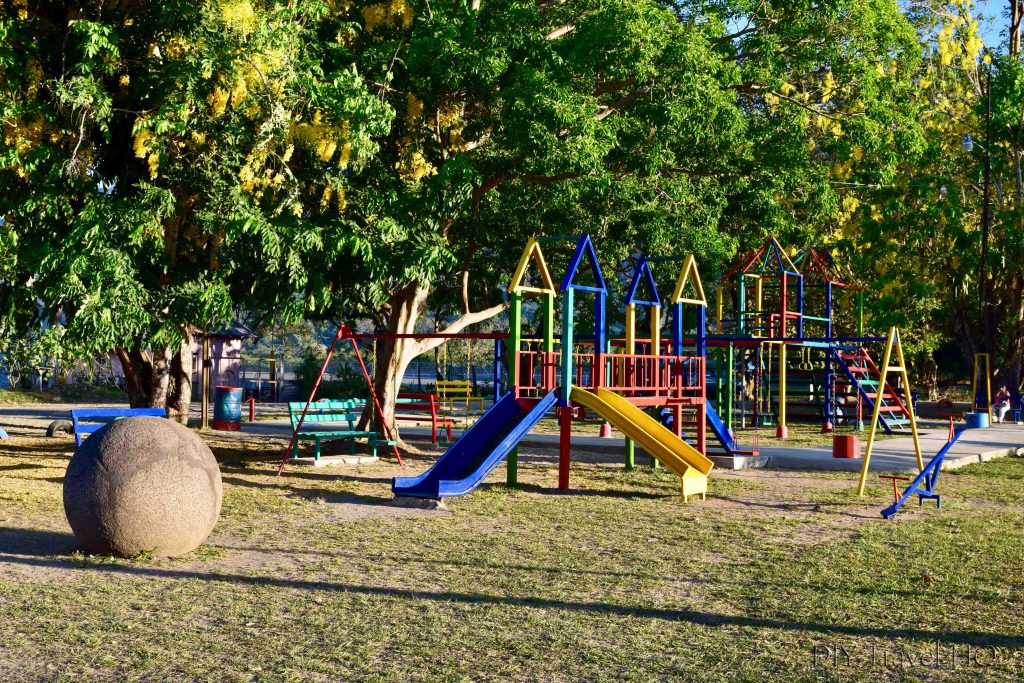 Things to do in Palmar Norte:
See the stone spheres in a park
Learn more about the spheres at El Sitio Museo Finca 6. You can also see spheres here (entrance fee is $6-8)
As we mentioned we wouldn't recommend going out of your way to visit Palmar Norte. There's not much to do and we didn't find the stone spheres very interesting at all.
Food & Drink:
For a small town there are a lot of inexpensive sodas and fast food joints in Palmar Norte. You won't go hungry or broke.
Restaurante y Heladeria Diquis is one of the nicer spots in town while you can get cheap chinese food at Restaurante Y Cabinas Hong Kong.
Accommodation:
There are no hostels or Airbnb listings in Palmar Norte.
Booking.com has 4 properties starting from $22. The best place to stay is Hotel Brunka Lodge where you can get rooms for $45. It has a pool!
#10. Puerto Jimenez
Puerto Jimenez is the jumping-off point for most trips to Corcovado National Park.
If you haven't already arranged a tour or guide – which is compulsory – you won't have any shortage of options here.
You should be somewhat flexible & allow at least a few days on your itinerary to arrange the necessary permits.
There are also hiking tours along the Osa Peninsula and kayaking & snorkeling in the Golfo Dulce, but Corcovado is the main game in town – if you're not planning on hitting up the park, you don't need to stop in Puerto Jimenez.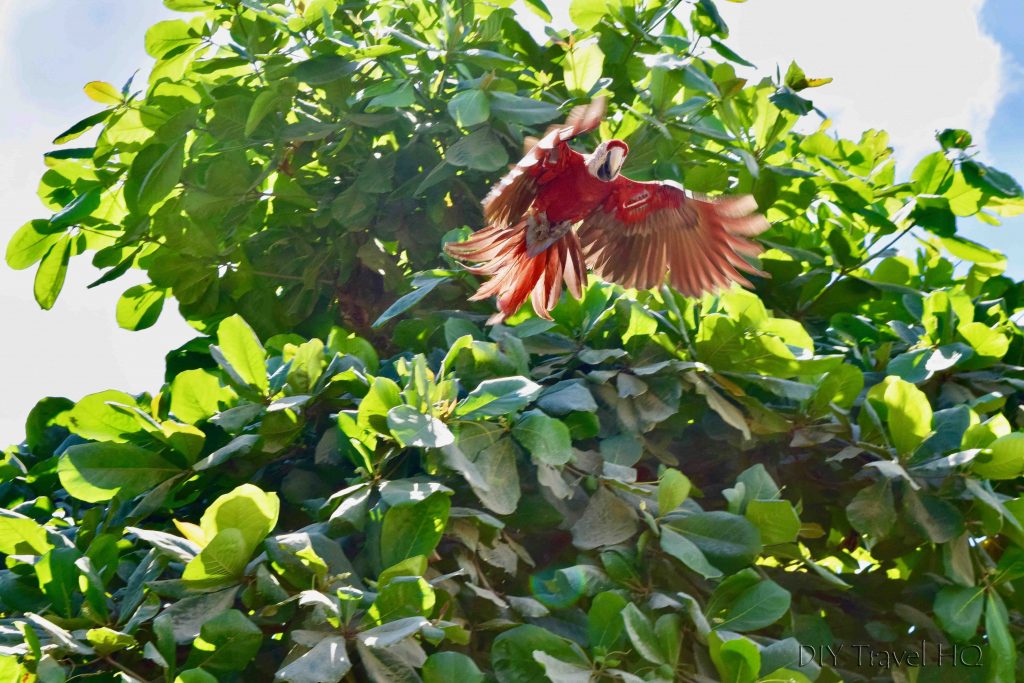 Things to do in Puerto Jimenez:
There's not really anything to do in the town itself but there are some places to visit around Puerto Jimenez:
Corcovado National Park
Osa Wildlife Sanctuary
Rancho Raices de Osa
Dolphin spotting on the Golfo Dulce
Food & Drink:
Soda: Enjoy local home cooking at the family-run Soda Jimenez. Chef Lily makes simple food taste amazing. This is where locals eat.
Local: Dine on the beach at Marisqueria Corcovado. Seafood is the specialty and the fish is fantastic. Large portions, moderate prices.
Cafe: Cafeteria Monka is a cute little cafe on the main street. The food is simple but tasty and there's free high speed wifi.
Accommodation:
Hostels: There are 3 hostels in Puerto Jimenez ranging from $11-15. Corcovado Wild Hostel is the most popular – it's pretty basic but it has a nice atmosphere outside of the town center.
Airbnb: There are a few cheap places to stay for around $12.
Hotels: Room start from $25 with many budget-mid range options. We stayed at Chosa Manglar Nature Retreat which was a beautiful property surrounded by lots of nature.
Bonus Destination
#11. Parque Nacional Corcovado
According to National Geographic, Corcovado National Park is "the most biologically intense place on Earth in terms of biodiversity."
As mentioned, you can no longer visit independently & while you don't need to join a tour, you most certainly need to hire a guide.
You can fly or take a boat in to Corcovado but we did it the tough/scenic way – a 20km hike from Carate to Sirena Station.
We have written about our experience extensively in other posts so just click on the 2 links & below for everything you need to know.
If you have any questions about Corcoado or travelling in Costa Rica, please don't hesitate to leave us a comment!
We recommend visiting Corcovado National Park with Surcos Tours – read our next post to find out more about our trip…
What to Expect in Corcovado National Park
Corcovado National Park tours are not cheap so we've done the research for you – from wildlife & flora to food & accommodation find out what to expect on the 3 day hike from Carate to Sirena Station in Costa Rica
Read more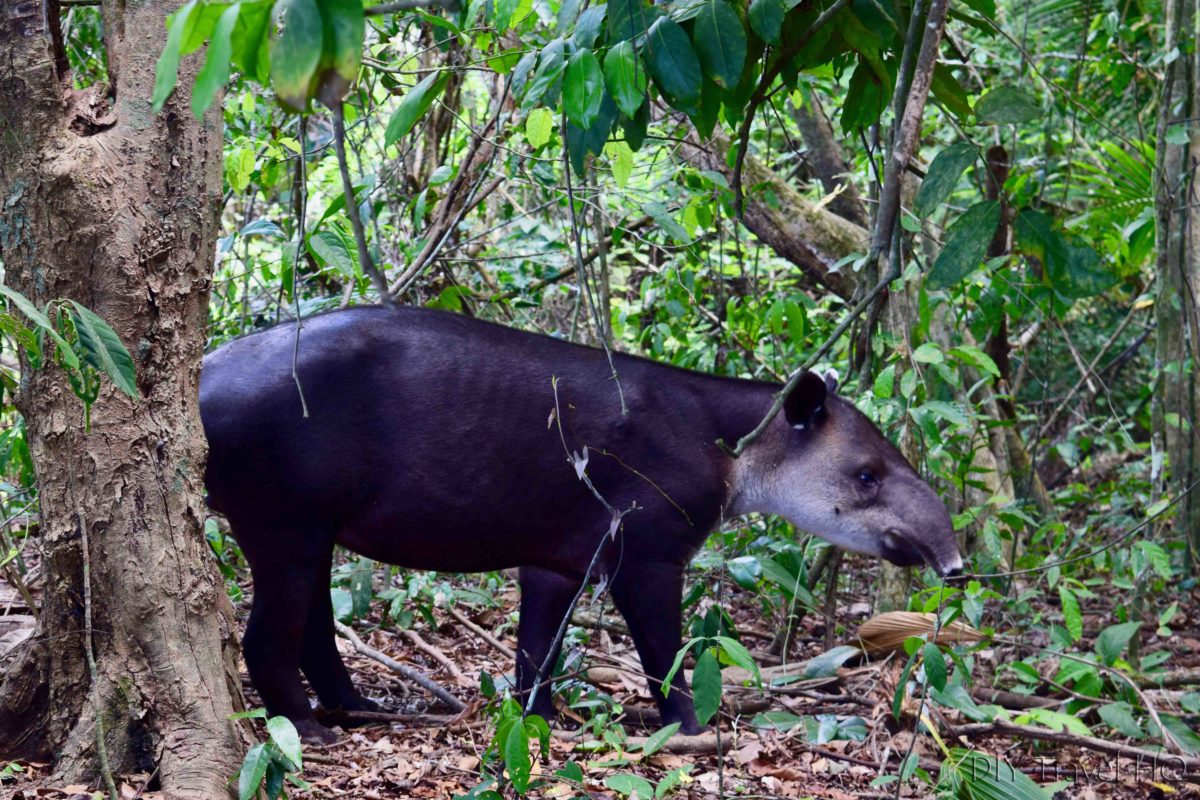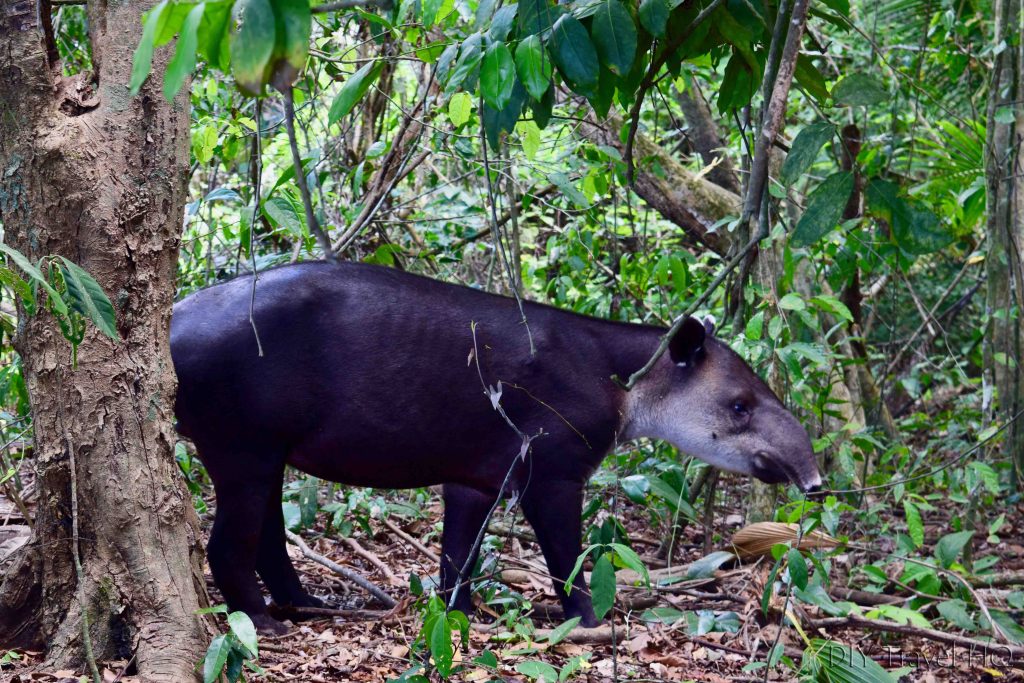 COSTA RICA SAFETY
As of mid 2019, the US Government has only placed the standard Level 1 travel advisory for Costa Rica advising travelers to exercise normal precautions. You can check the current travel advisory here.
Of course, you should consult your own government advice as well. Circumstances can change fast, especially during elections.
We still recommend purchasing travel insurance before any trip to Costa Rica. We've been using World Nomads through 80+ countries over the past 12 years and have been really happy with their coverage and services.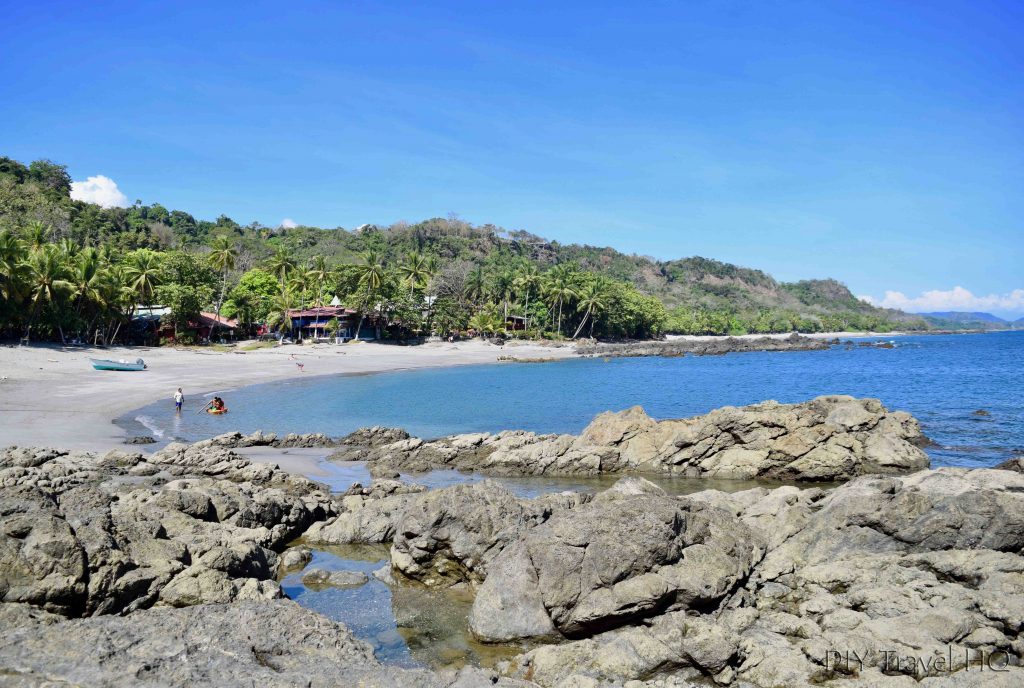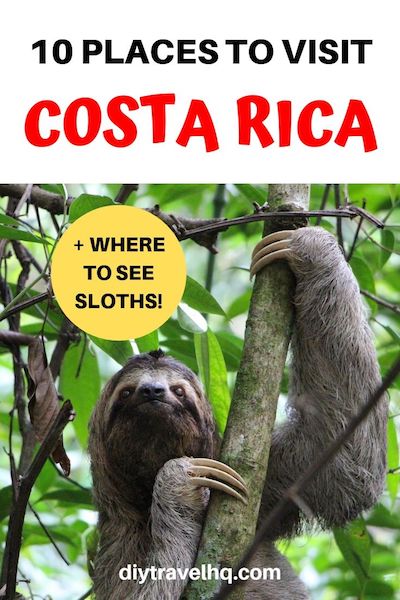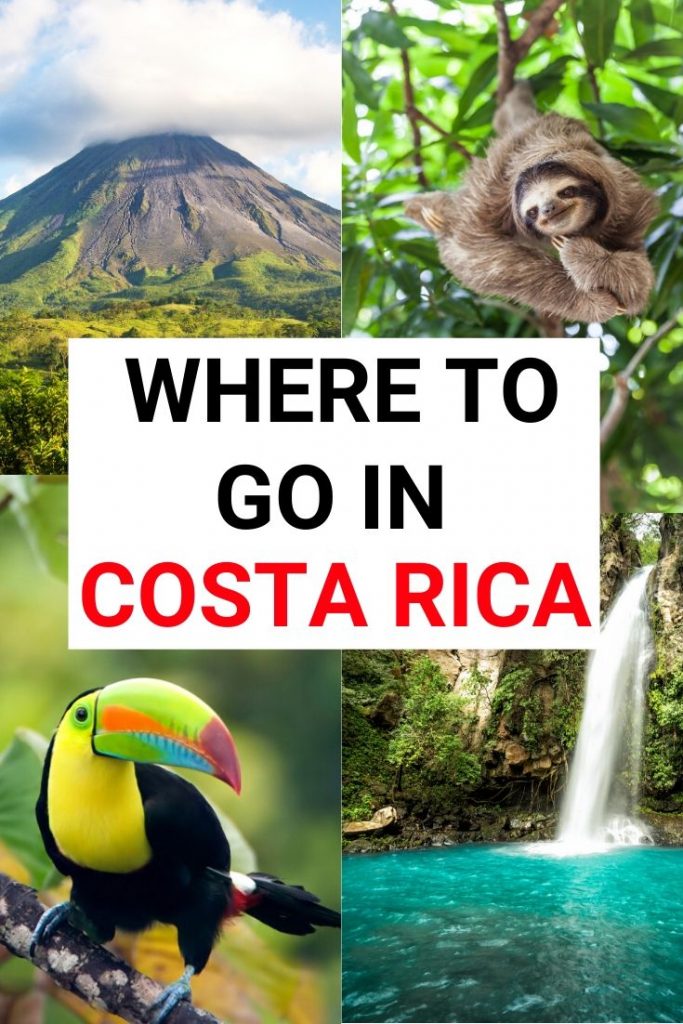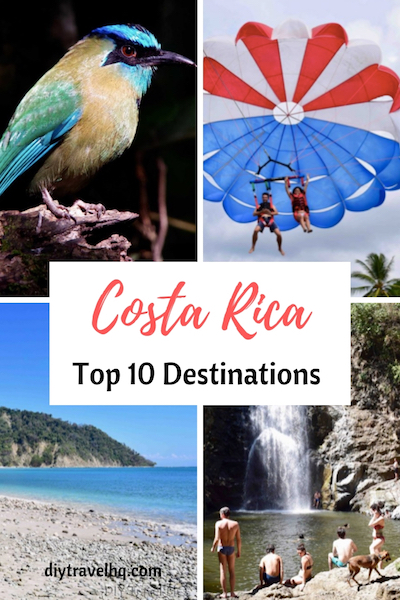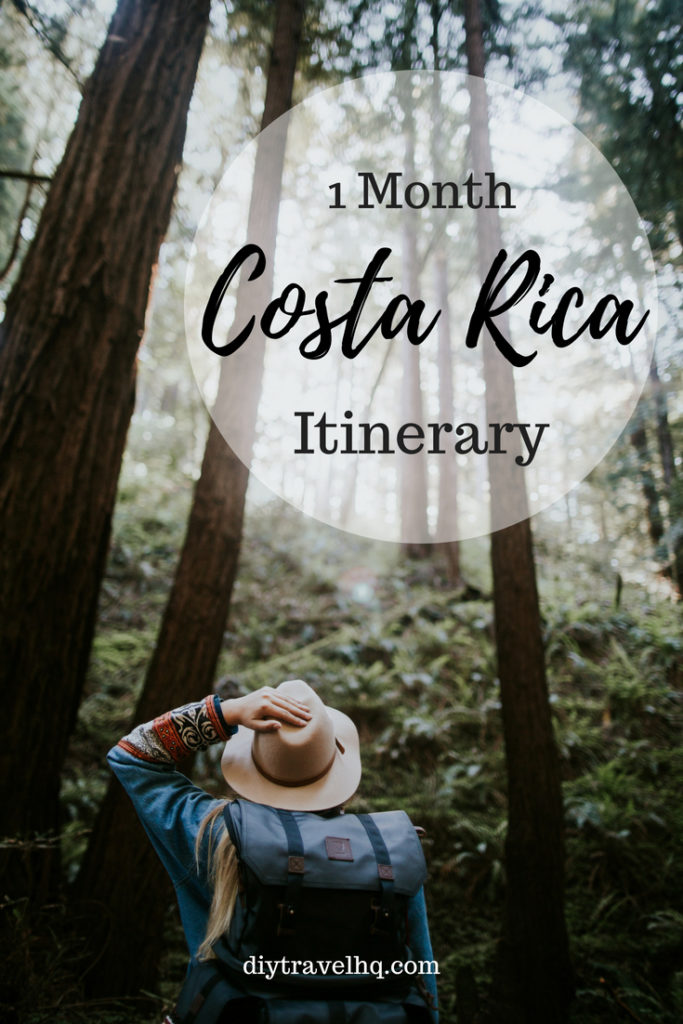 Disclaimer: This post contains affiliate links, which means that we receive a small commission if you click on a link & purchase something that we have recommended, at no extra cost to you.
Visited in January 2017
Updated in April 2019