From tapas to buffets & cocktails to craft beer, there's something for all tastebuds on our list of top restaurants in Kingston, NY & around. Get ready to feed your hunger & quench your thirst… let's go!
Top 5 Kingston Restaurants
#1. Keegan Ales, Kingston
Keegan Ales is a brewery, bar & restaurant close to the historic Stockade district in Kingston & our fantastic accommodation at Best Western Plus Kingston.
It's a large 2-room space with exposed bricks & ducts. The wooden floors, ceilings, kegs, tables & chairs completed the warehouse look.
We visited on a Sunday afternoon & the atmosphere was fantastic. There were a lot of happy, smiley people chatting, playing cards – all with a beer in their hands…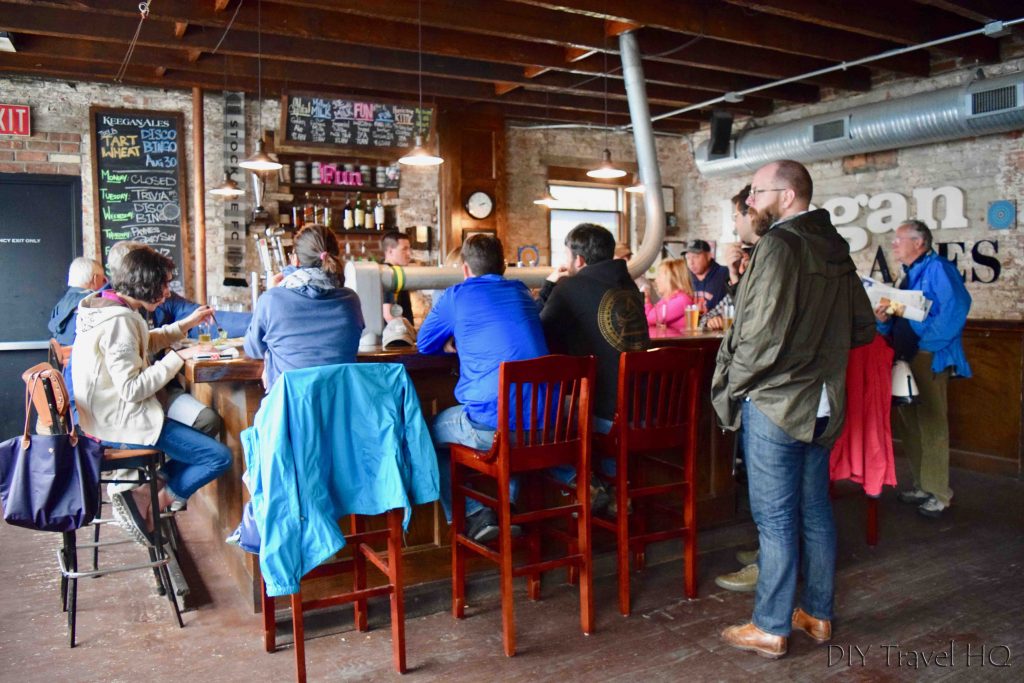 So you guys know that we love to take flight and that includes flights of beer!
We had the 6 sampler paddle at Keegan Ales. It was not only the best craft beer we tasted on our NYC weekend getaway to Kingston but it was also the best beer flight we've had anywhere!
For the craft beer lovers out there, here's a rundown of the brews:
Old Capital – Golden, crisp & refreshing (4% ABV)
Mother's Milk – Dark & creamy stout (5% ABV)
Joe Mama's Milk – Stout infused with a cold coffee extract (8% ABV)
Fun – Citra hopped IPA (7% ABV)
Little Bit of Fun – Lighter version of Fun (4.5% ABV)
Hurricane Kitty – Heavily hopped, copper IPA (6& ABV)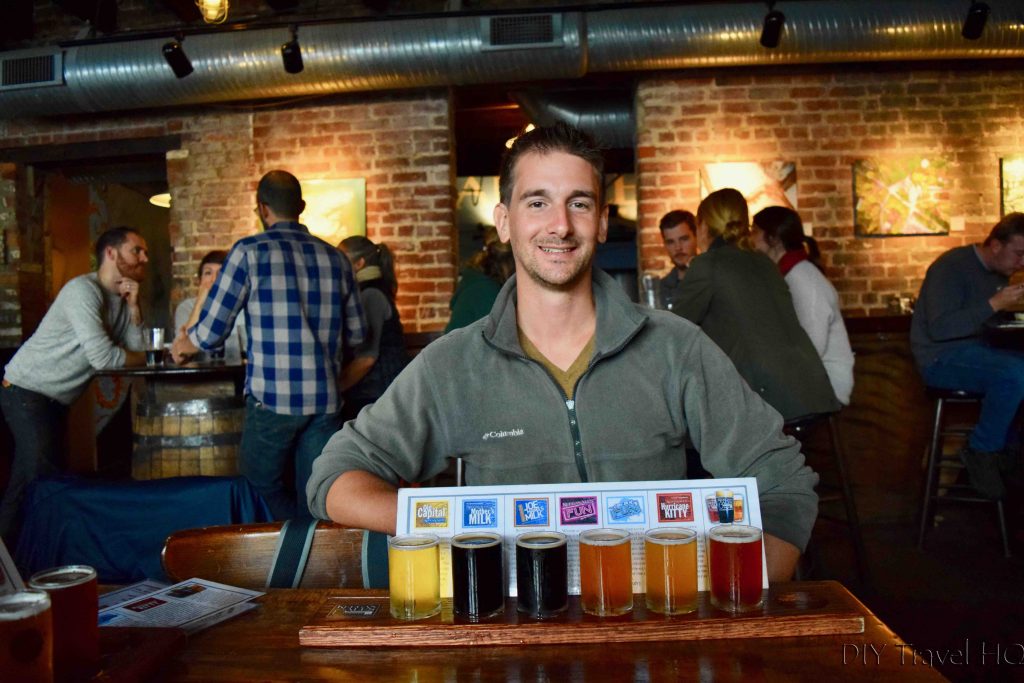 Keegan Ales is one of the most popular Kingston, NY restaurants so we had to taste the food too. The menu featured appetizers, snacks & salads but we decided on their staple sandwiches. I ordered the Grilled Portobello Mushroom with hummus which was an amazing combination.
FYI: Erik's mom joined us on our trip to Kingston. At Keegan Ales, mother & son both had the Pulled Pork Sandwich with Keegan beer braised pork shoulder, caramalized onions & house made bbq sauce.
The pork serving was very generous & while it was a little smokey for me, Erik & Joan enjoyed it a lot.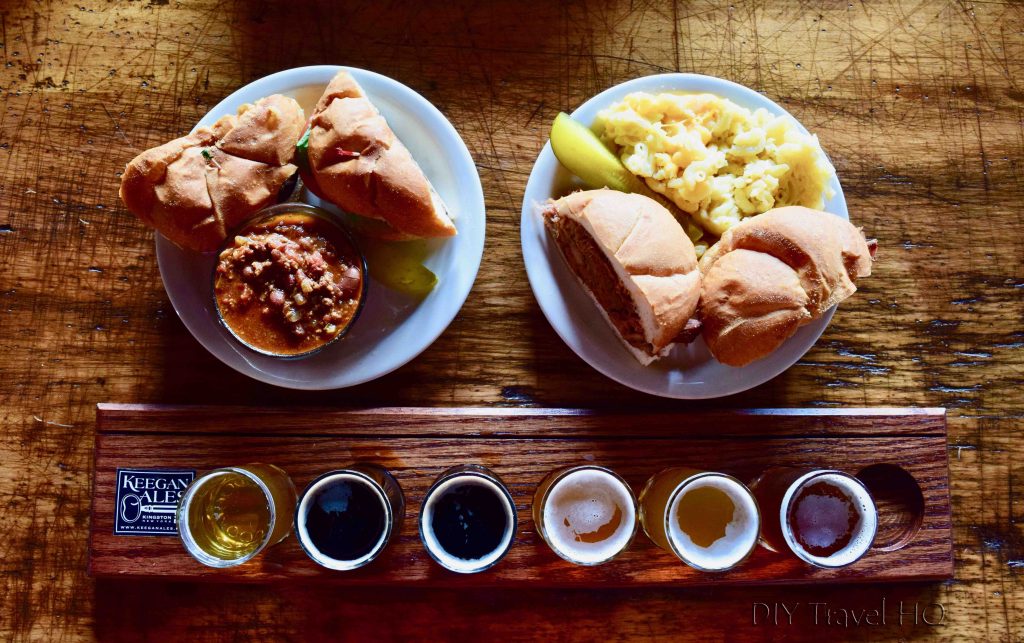 After lunch we took a tour of the on-site brewery with the owner Tom Keegan. He explained the brewing process & how he came to own the business, as we stared in awe of the huge beer kettles & aging tanks.
If tours aren't available when you visit, you can still see the brewery through a large window at the back of the bar/restaurant.
With a lively, casual atmosphere, great food & even better beers at fantastic prices Keegan Ales comes in at the #1 spot on our list.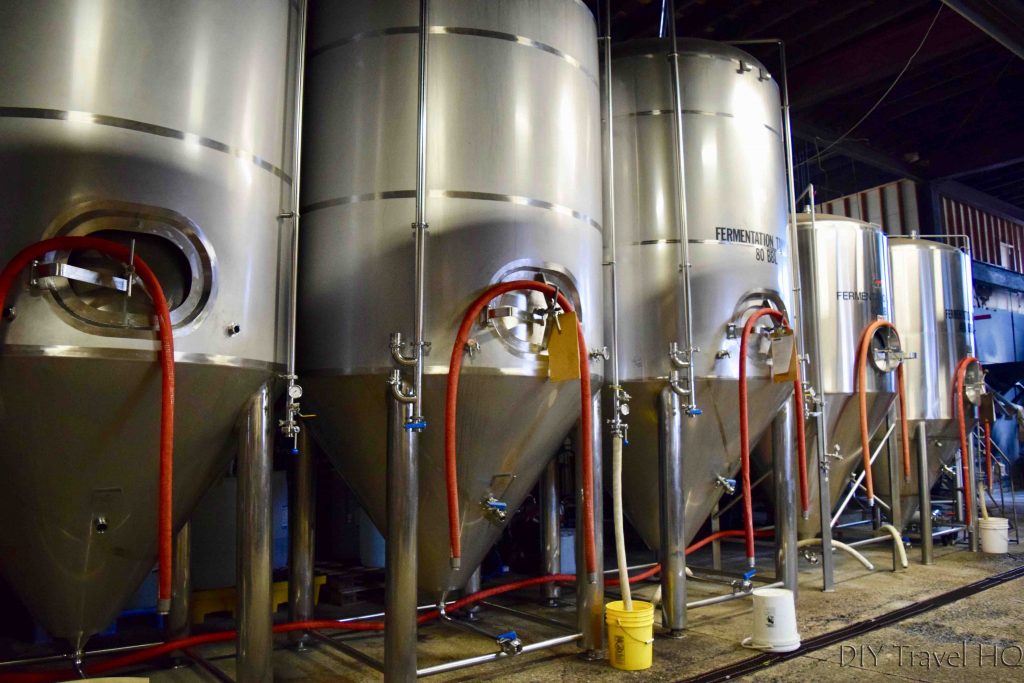 #2. Elephant, Kingston
Elephant is a European-style wine bar & restaurant in the heart of the Stockade district of Kingston. It's a cozy space with a large bar in the centre of the room & various seating options throughout.
The décor was minimal but there was still a lot of style in the lighting & flower wallpaper around the room. And don't forget to look up at the beautiful, decorative ceiling.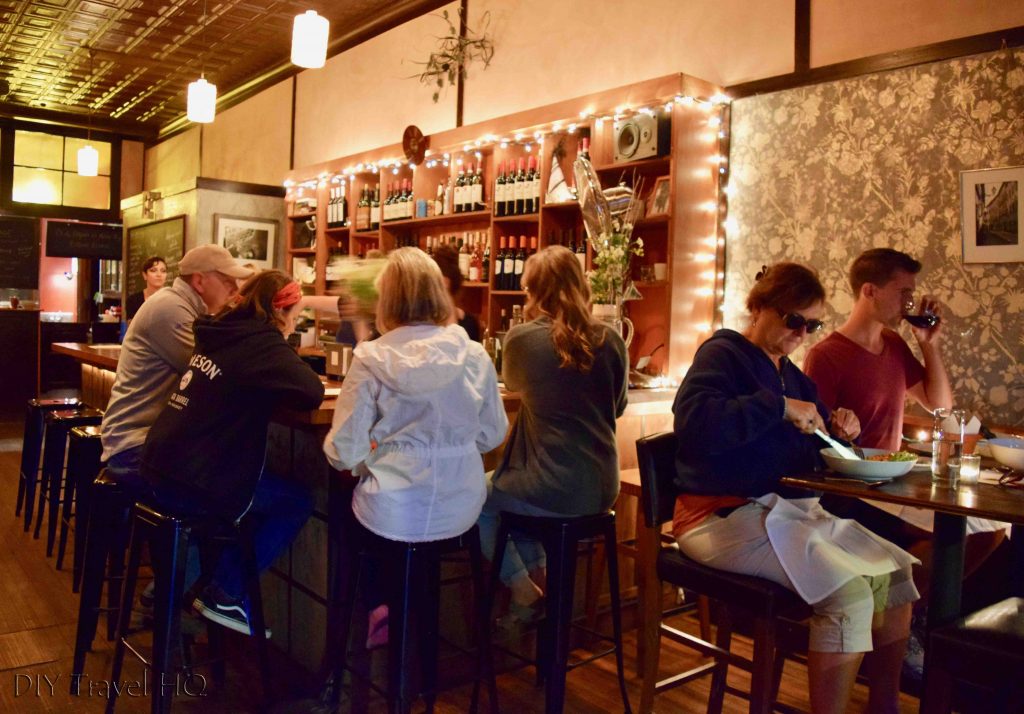 We started our meal with some lovely wine. I loved the robust taste of my SpanishTempranillo ($10.00) from Spain & Erik enjoyed his rich Italian Barbera ($11.00).
Elephants also offers a long list of beers & cocktails. Elephant offers an excellent selection of tapas plates with meat, seafood & vegetarian options as well as cheese & charcuterie platters.
Joan had the Local Peaches with Local Ricotta ($14.00) in a sherry-honey vinaigrette, sprouts & ham dust. It was light & fresh, reminding me of the last days of summer.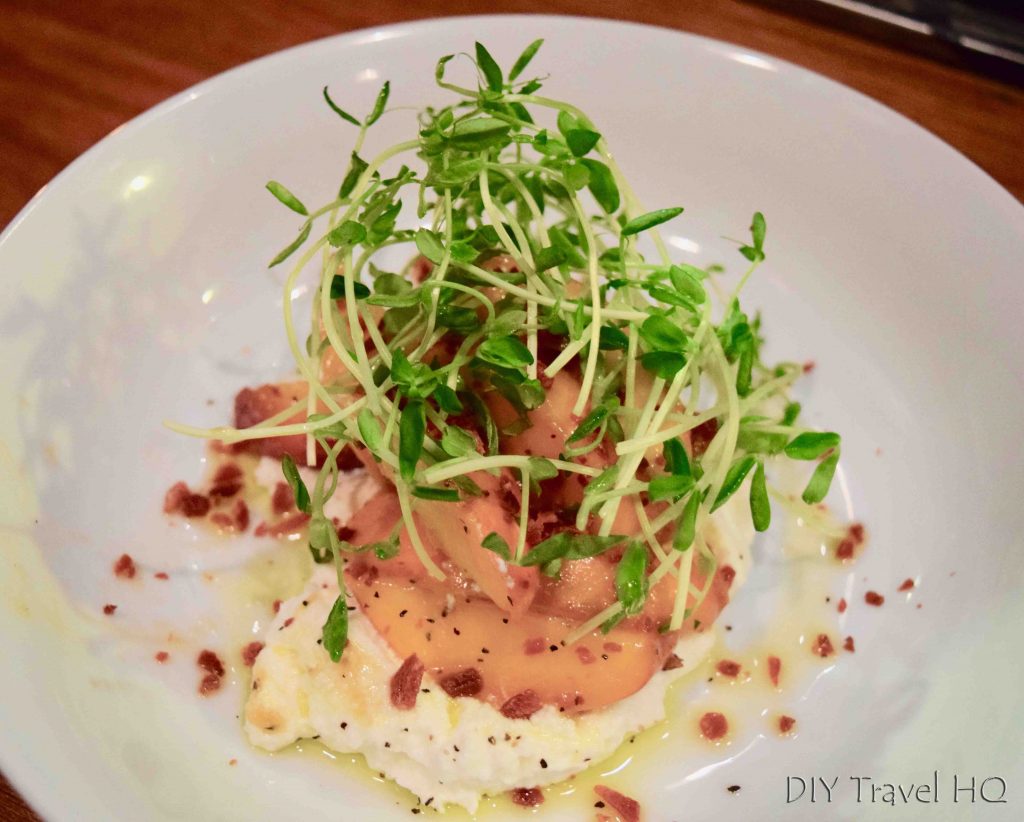 I ordered the Spanish Exotic Mushrooms ($14.00) with truffled egg yolk, Manchego cheese, parsley & garlic. Almost all my favourite ingredients in a bowl! The dish was presented with a perfectly round yolk in the centre. I mixed it together with the mushrooms & it tasted divine.
I also had the Maine Diver Scallop Crudo ($14.00) with lemon curd, poppy seed, chives & chilli oil. The large scallops were plump & soft – really fresh too as Maine is not that far from Kingston.The lemon curd wasn't so strong as to overpower the taste of the scallops.
Erik order the Duck Leg Confit ($16.00) with cider & warm potato salad. The meat fell off the bone & didn't last long on the plate despite confit typically being used to preserve meat!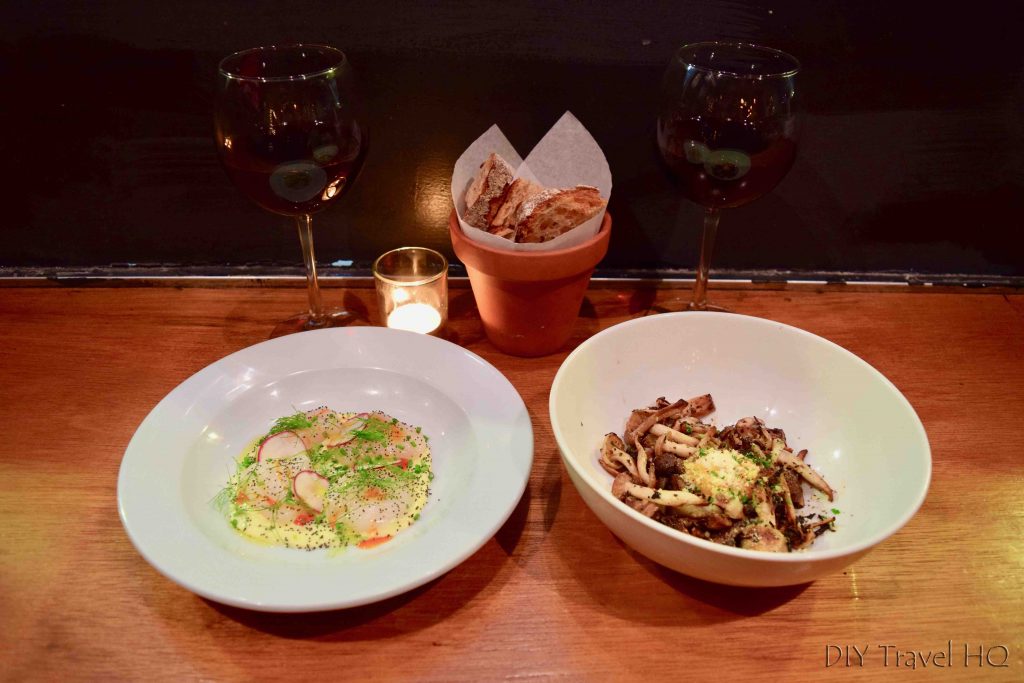 The portions of the plates were larger than a tapas serving but smaller than an entrée. Although we stuck with our own orders, the plates are perfect for sharing & I had a taste of everything.
The food at Elephant was delicious, creative & beautifully presented. The ingredients & fusions seemed to suit our palettes perfectly – I just wish the mushrooms & scallops weren't so salty.
The casual elegance, personable service & amazing food at Elephant makes it high on our list of the top restaurants in Kingston, NY & around.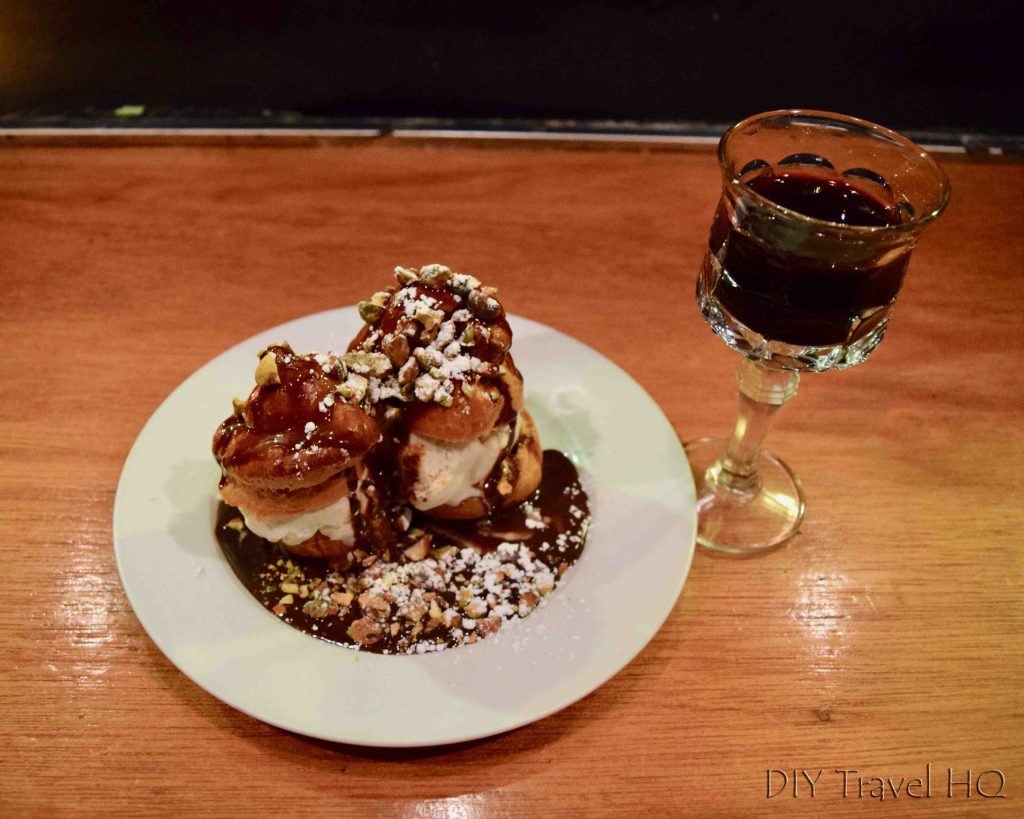 #3. Santa Fe, Woodstock
Santa Fe is a wonderful contemporary Mexican restaurant just outside the charming town of Woodstock, NY.
It's a 15 minute drive from Kingston & definitely worth the drive, though they also have a branch in the Stockade district (as well as in the town of Tivoli). Santa Fe is on the same site as the funky Hotel Dylan so combined they make a great base for a weekend getaway if you're looking for a chic stay with great food on your doorstep.
After we were seated, we were served a bowl of complimentary corn chips & salsa. The salsa was quite watery & dripped when we dipped the chips in so it would've been good to have some small plates at the table too.
Santa Fe offer a long list of specialty cocktails featuring 4 different types of Margaritas. We were all in the mood for frozen Margaritas so we each chose one of a different flavor: strawberry, black raspberry & mango.
They were colourful, delicious & strong – and they matched our bowl of chips! This made Santa Fe stand out from the crowd.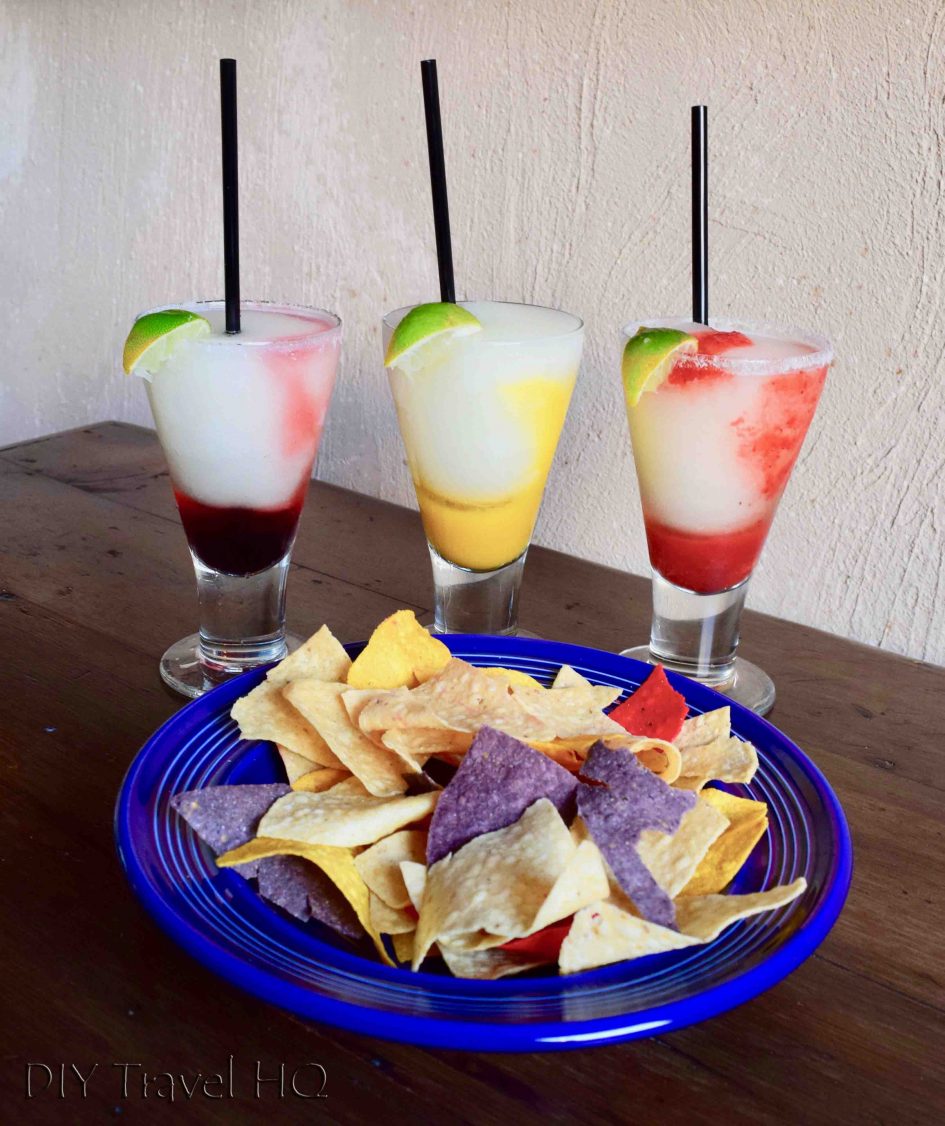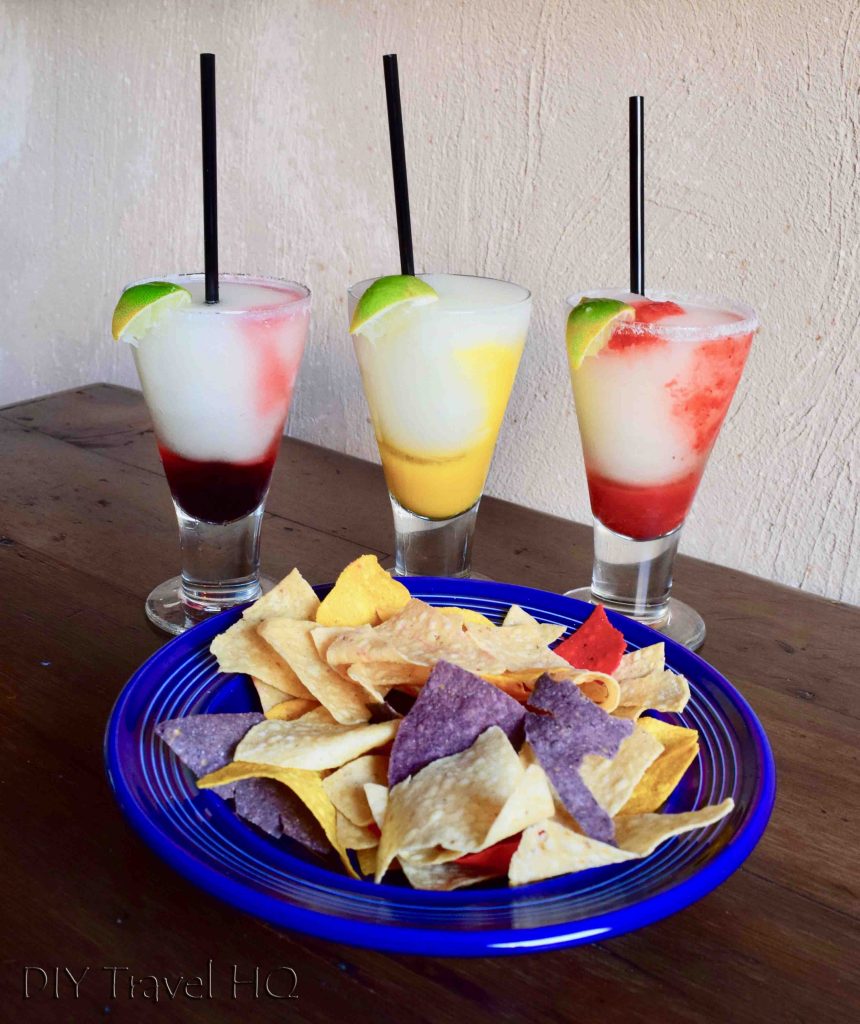 The menu features appetizers, quesadillas, dinner salads & burgers made with locally-sourced beef. We went straight for the entrée dinner plates with meat, fish & vegetarian options.
I ordered the Grilled Tacos de Pescado ($17.95) with salmon, guacamole, lime, cilantro & white cheddar cheese.The two tacos were stuffed with large pieces of perfectly grilled salmon, just how I like it.
Joan had the Chimichanga de Pollo ($18.95) with achiote marinated pulled chicken breast, black beans, fresh tomatoes, Spanish onions, queso fresco & white cheddar cheese. Chimichanga is a deep-fried burrito, more Tex-Mex than Mexican. It was tasty & very filling
Erik had the Grilled Oaxacan Tacos ($16.95) with char-grilled chicken, housemade mole poblano, cilantro, lime & white cheddar cheese.
We've had tacos & mole in Mexico but not together. The mole had an rich, authentic flavor, more smokey than chocolatey. Interestingly, Oaxaca state in Mexico is called "the land of the seven moles" though mole poblano is not one of them!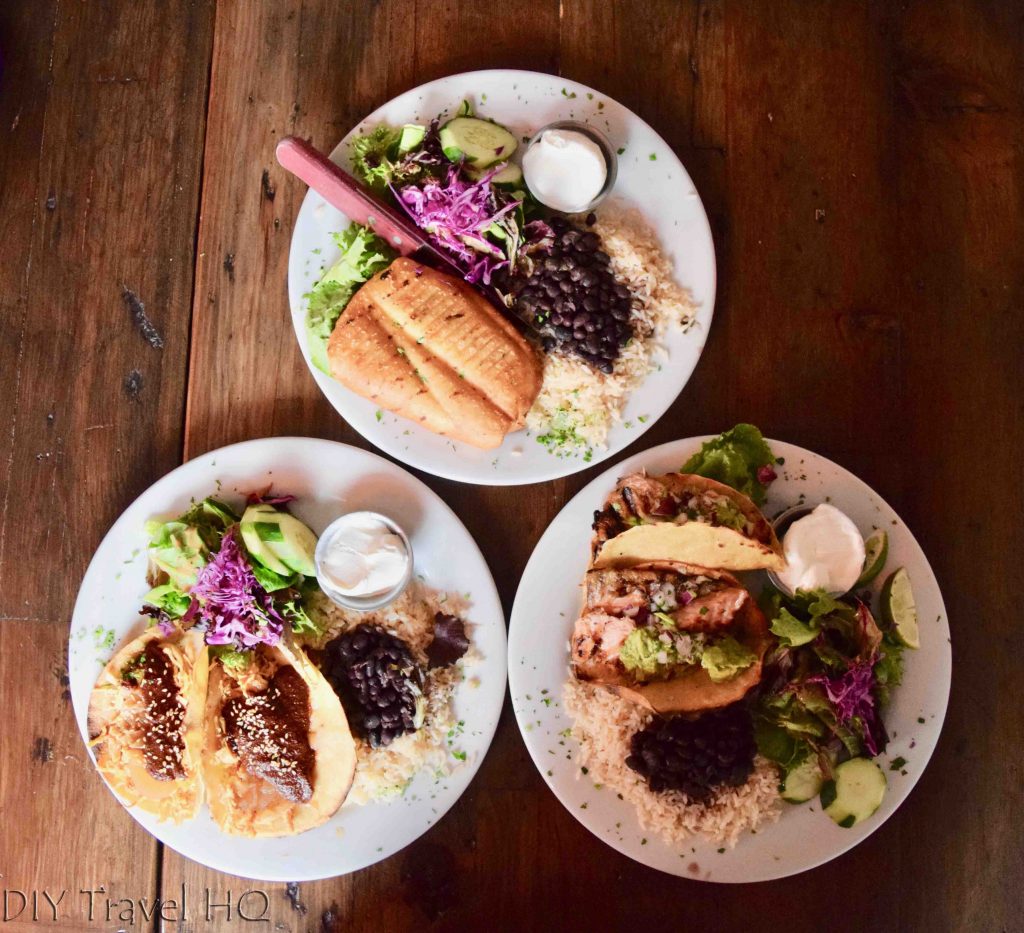 All plates came with mixed organic greens, seasoned rice & Santa Fe black beans. The portions were huge and after a late lunch, we all had to admit defeat & took the rest of our plates to go.
So you can probably guess that we didn't have dessert though options like crème brulee & key lime pie sounded good. You can also pop in for a drink & pull up a chair at the large wooden bar.
Santa Fe is a family business with a younger wait staff who naturally seemed a little inexperienced but they did a good job. It's a large, modern restaurant & the wide selections on the menu are particularly suited to families & groups.
The servings are generous for the prices & it's one of the best-value restaurants in Kingston, NY & around.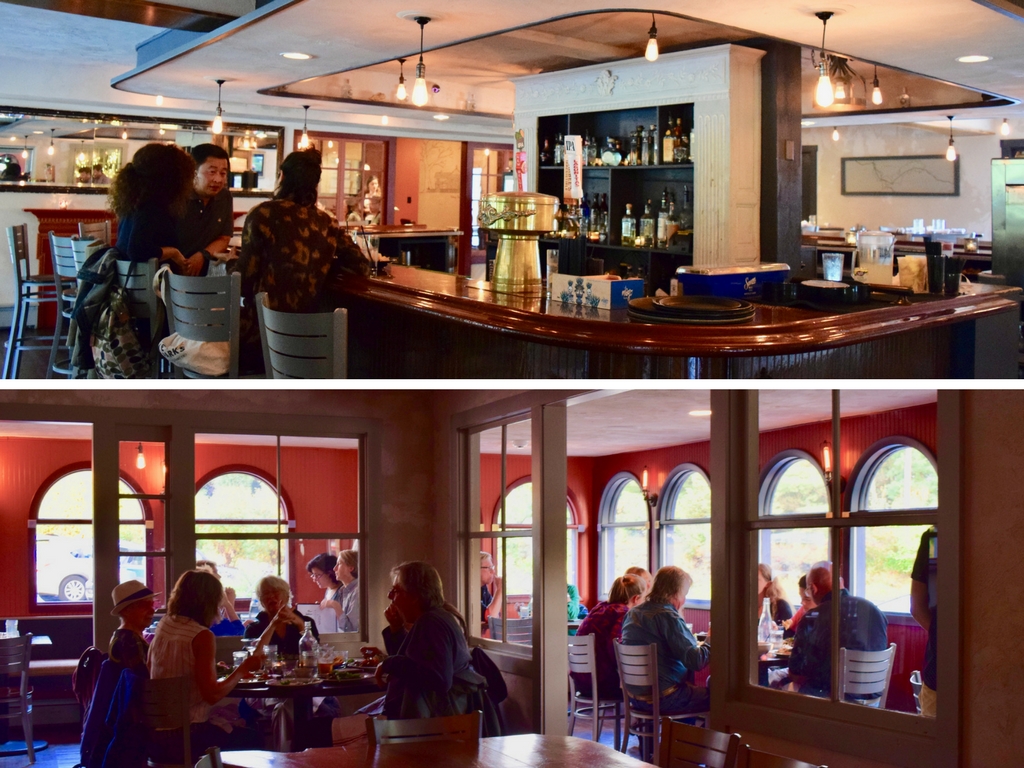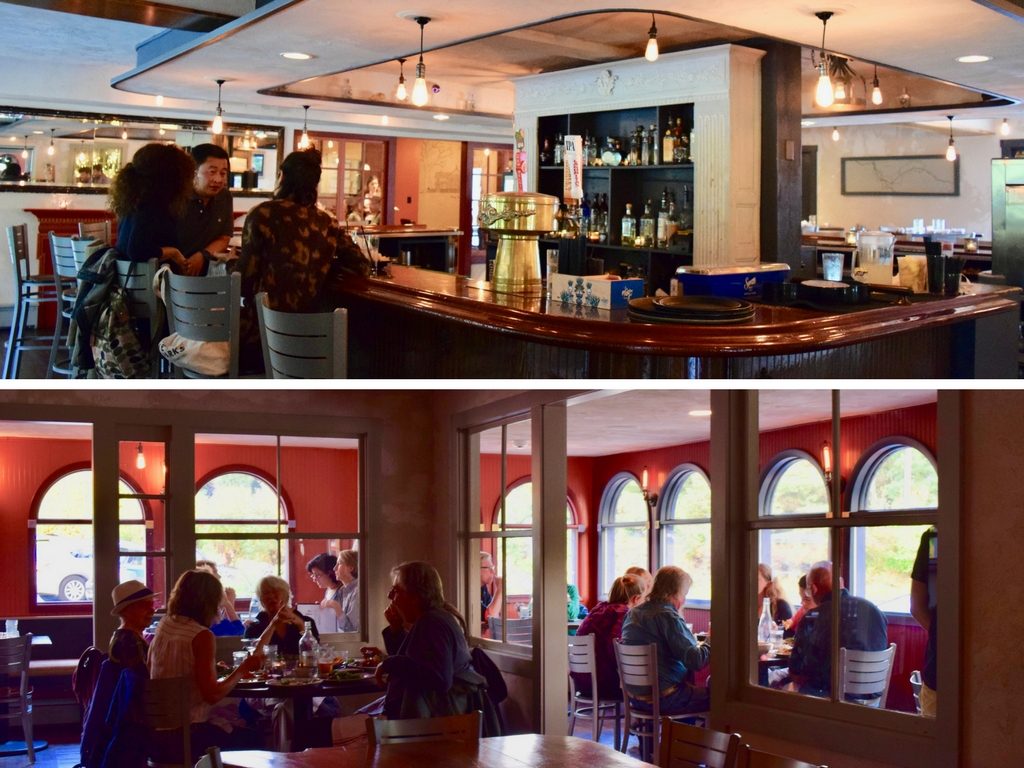 #4. Savona's Trattoria, Kingston
The best lunch deal in all of New York State is on the menu at Savona's Trattoria!
For $12.95, you get 3 courses + garlic bread + soft drink + coffee/tea – an unbeatable deal! And the food is delicious too though the meal got off to a shaky start with garlic bread sticks that were a little hard.
The 1st course was a choice of house salad or soup. I had the latter, which was a yummy Pasta e Fagioli, full of beans & flavor.
For the 2nd course, there were 9 pasta dishes to choose from. I ordered the Eggplant Rollatini & penne, which I'd never had before. Turns out that a rollatini is lightly breaded slices of eggplant covered with ricotta, rolled up & then baked.
It tasted great & made for a hearty dish with the pasta.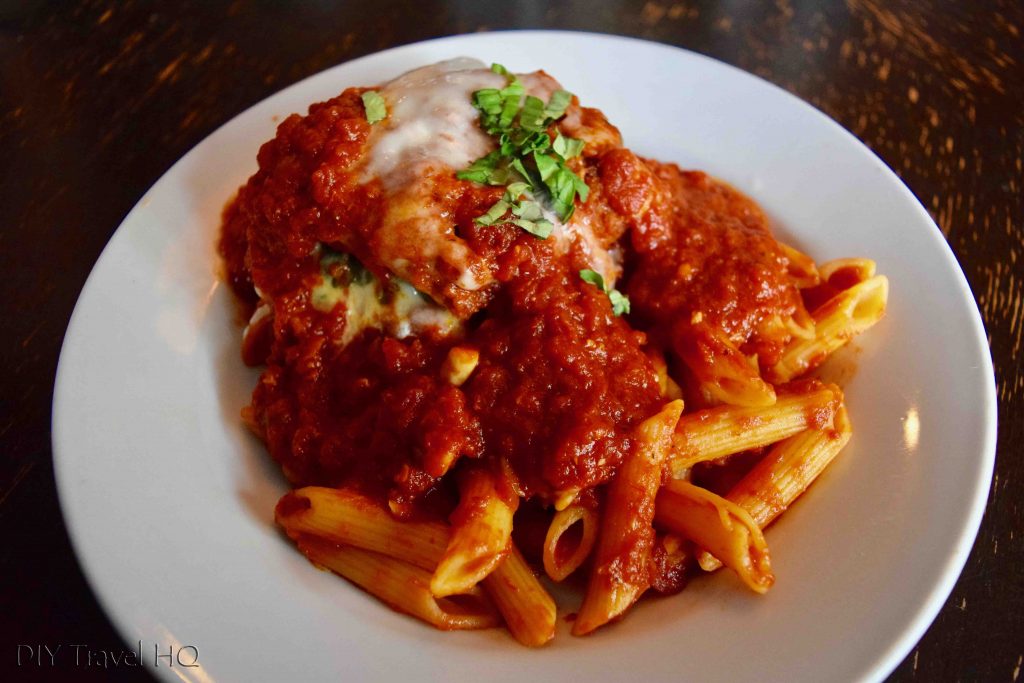 Erik had the Penne Alla Vodka & Joan had the Lasagna Bolognese. Mother & son both gave their dishes two thumbs up.
We were all pretty full at this stage but who can ever pass up dessert? Not us! Between us we tried the Cannoli & New York Cheesecake, both made in-house.
This was also my first ever cannoli & I loved it. I'm not a fan of cream but it was light & filled with chocolate chip. We would definitely recommend choosing it over the cheesecake.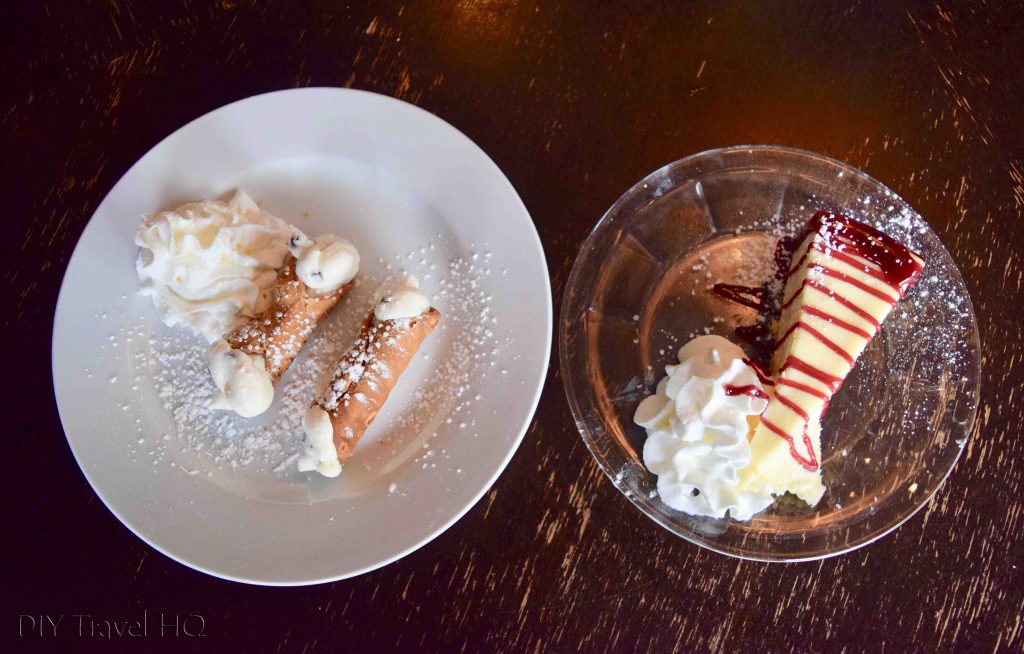 Savona's Trattoria is a casual Italian Restaurant close to the waterfront in Downtown Kingston. It's been owned & operated by the Savona family for almost 35 years, with recipes dating back to their old village in Sicily.
You can dine indoors or on the covered outdoor patio surrounded by large palms & hanging flower pots. If you just want a drink, pull up a chair at the bar.
You can't beat the Lunch Special for value for money but the rest of the menu was reasonably priced too. With modern décor & a fantastic atmosphere, we can see why it's one of the most popular Kingston restaurants.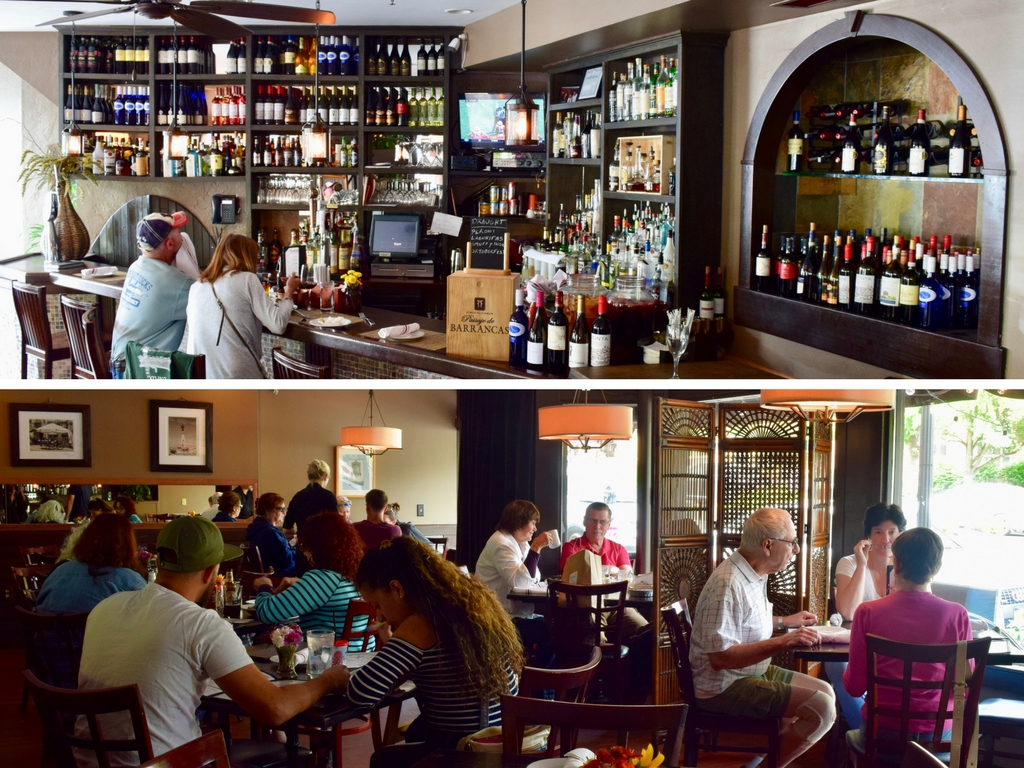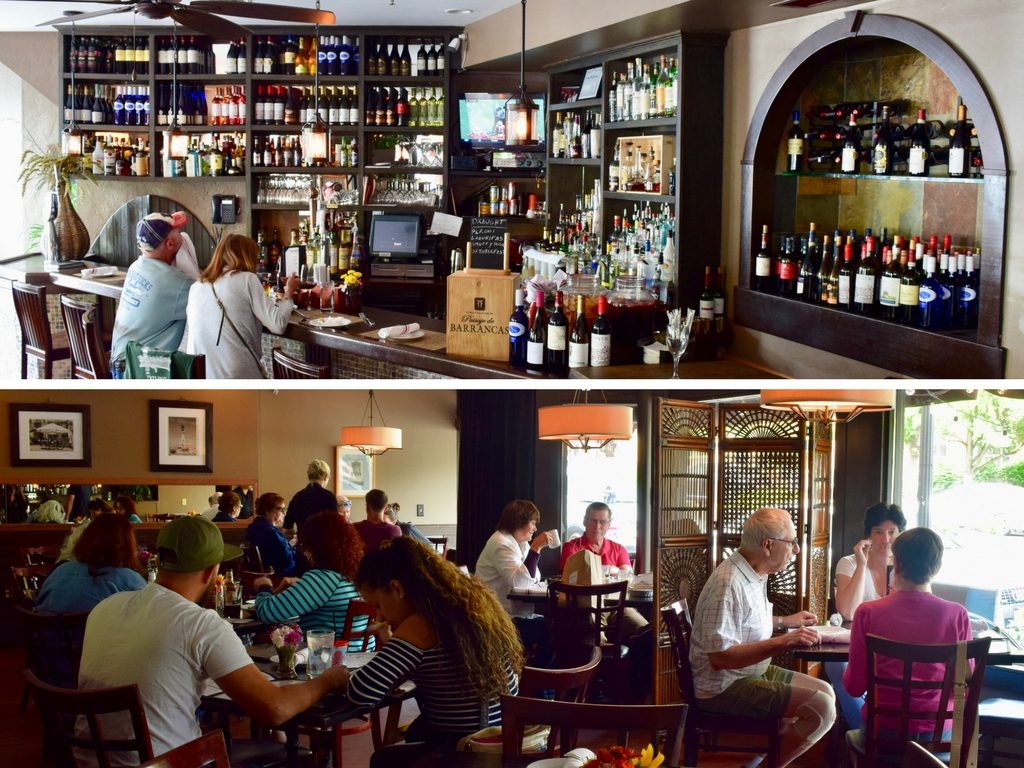 #5. DMZ Kingston, Kingston
As travelers who love to overland, the name itself puts DMZ Kingston on our list!
This quaint, hole in the wall bar & restaurant only holds 25 people but it's a gem. The décor is ecletic with a little bit of everything but items like flags & helmets tie in the No Mans Land theme.
The menu is Asian-inspired but it features dishes from all the world. I ordered the Negimaki Bowl ($14.00) that was different to what I was expecting. Negimaki is traditionally rolled strips of beef marinated in teriyaki & stuffed with scallions but the dish at DMZ Kingston was a deconstruction.
The steak & greens were there, in a bowl of vermicelli noodles & prawn broth. I loved the shitake mushrooms but I don't think the prawn broth & steak complimented each other. It was bland to my taste and could've used a lot more flavor & seasoning.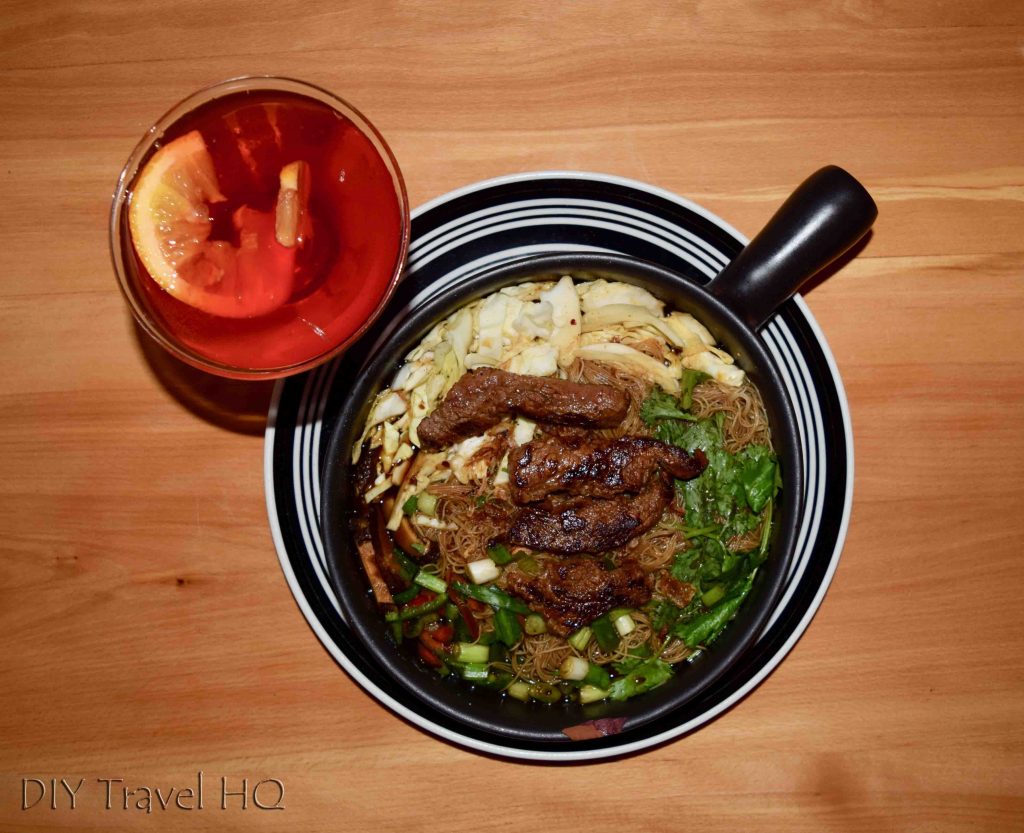 Erik ordered the Steak Sopes ($11.00) that were mini-tacos filled with beef, carrots, spring onions & cilantro. We've travelled a lot around Mexico so we're pretty familiar with sopes & all things tortilla.
Sope is known for its pinched sides but that was missing in our sopes at DMZ Kingston. Erik thought they tasted great though but wished that they came with a side of beans, corn chips or salsa.
Joan had the Cuban Sandwich ($15.00) filled with roast pork, ham, jarlsberg, dill pickle & Dijon mustard. Like the previous 2 dishes, there was a twist on the traditional… this Cuban Sandwich had prunes! It sounds unusual but the sweetness really worked. Everything was new to Joan anyway & she loved her 1st Cuban sandwich. I took a bite & it was tasty.
Did you know that you can't actually find a Cuban Sandwich in Cuba? Trust us, we travelled in Cuba for 1 month with none in sight – and that's because it originates from Florida!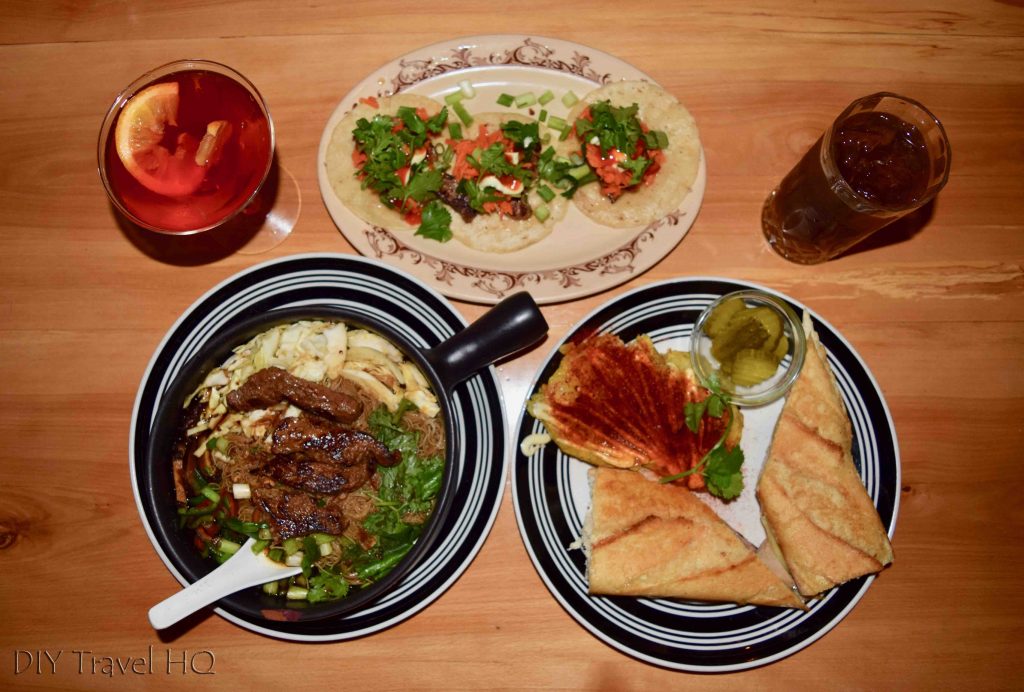 Overall in terms of presentation, the Negimaki Bowl looked fantastic but the other plating of the other 2 dishes could be improved.
We received great service at DMZ Kingston however it was the waitress' 1st shift & she wasn't familiar with the menu. One of the other staff members later stepped in & answered all of our questions.
We also tried a couple of the cocktails from the extensive menu, featuring old favourites & new concoctions. I ordered one of their signature cocktails, the Mon Chere ($11.00) with vodka, cherry-infused bourbon & chocolate liqueur. It was perfect! Erik & Joan both had well-made Long Island Iced Teas ($11.00).
DMZ Kingston is a cool, unpretentious space. For us it works better as a bar than a restaurant but we give them points for putting their own spin on the menu.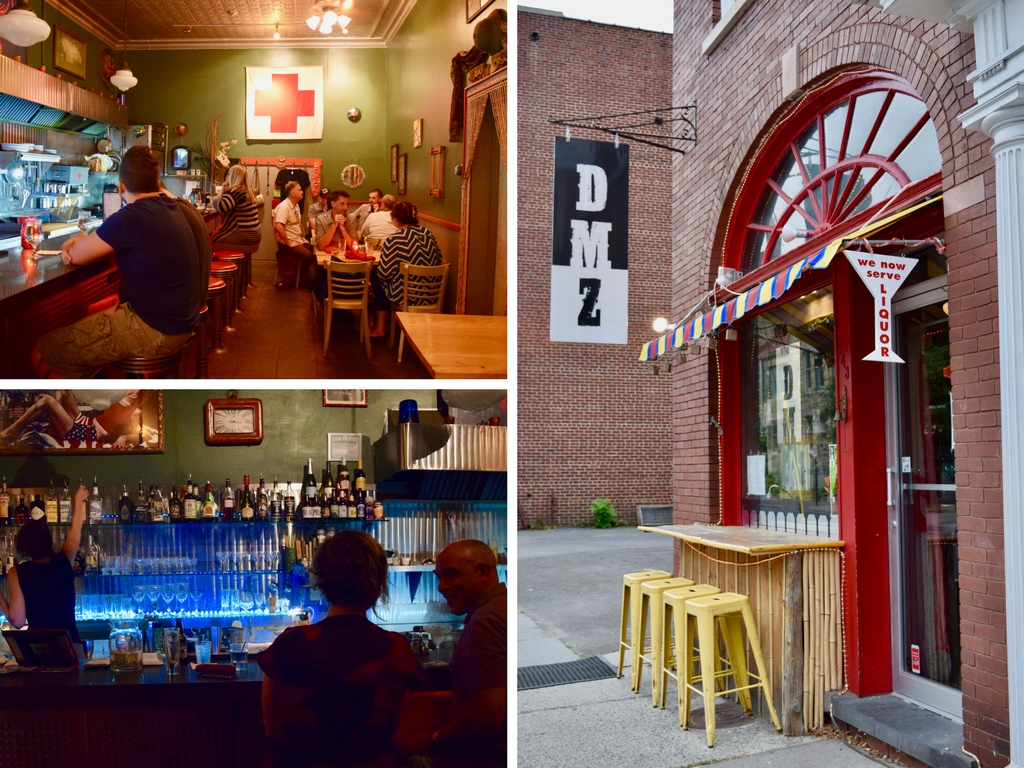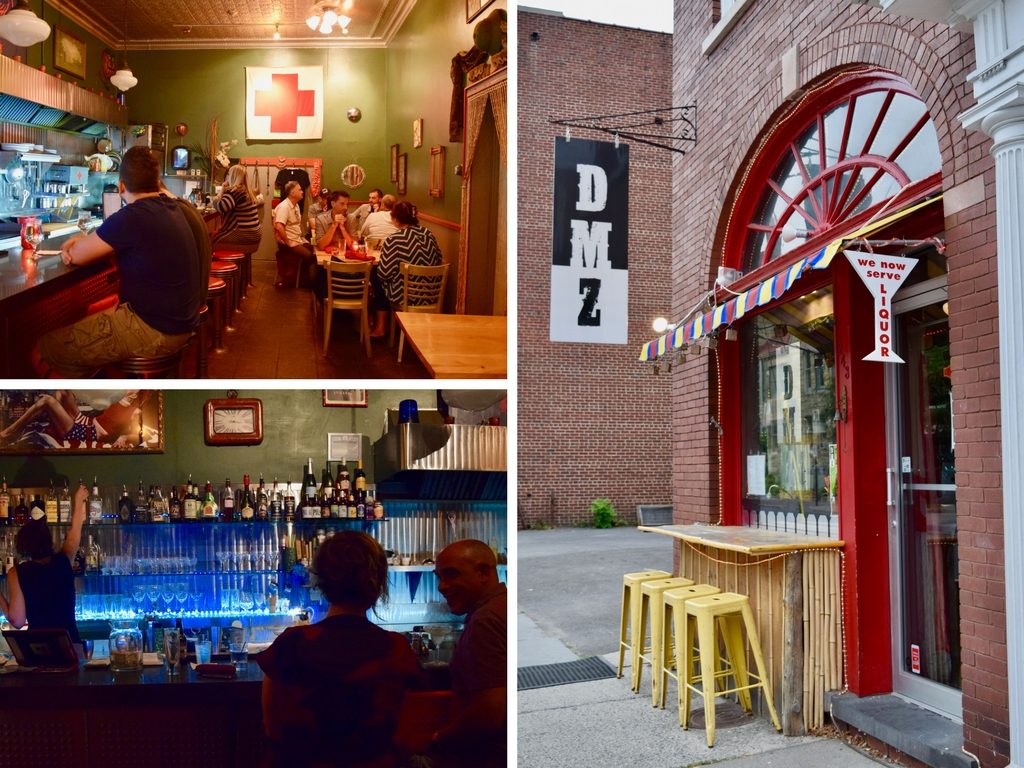 Honourable Mentions
Mohonk Mountain House, New Paltz
We enjoyed an upscale buffet lunch at the Mohonk Mountain House as part of a day package to the historic resort. The food was very high quality, locally-sourced Hudson Valley cuisine. The dessert bar was heavenly!
Check out our next post to find out more about our lunch & what else is on offer at Mohonk Mountain House…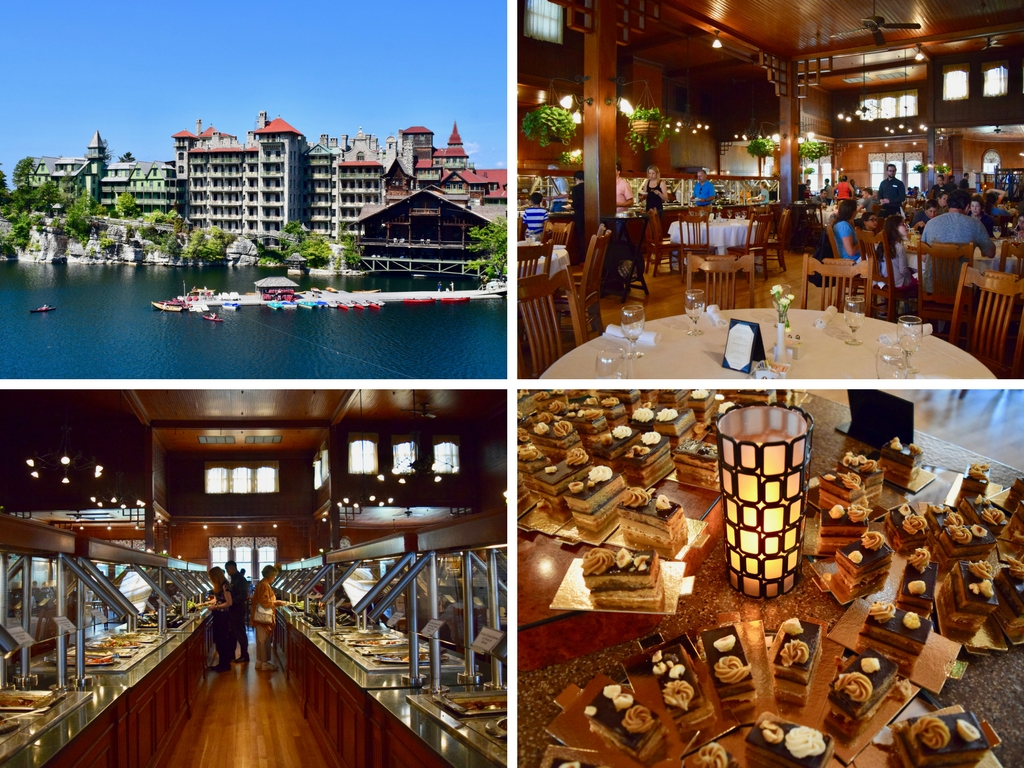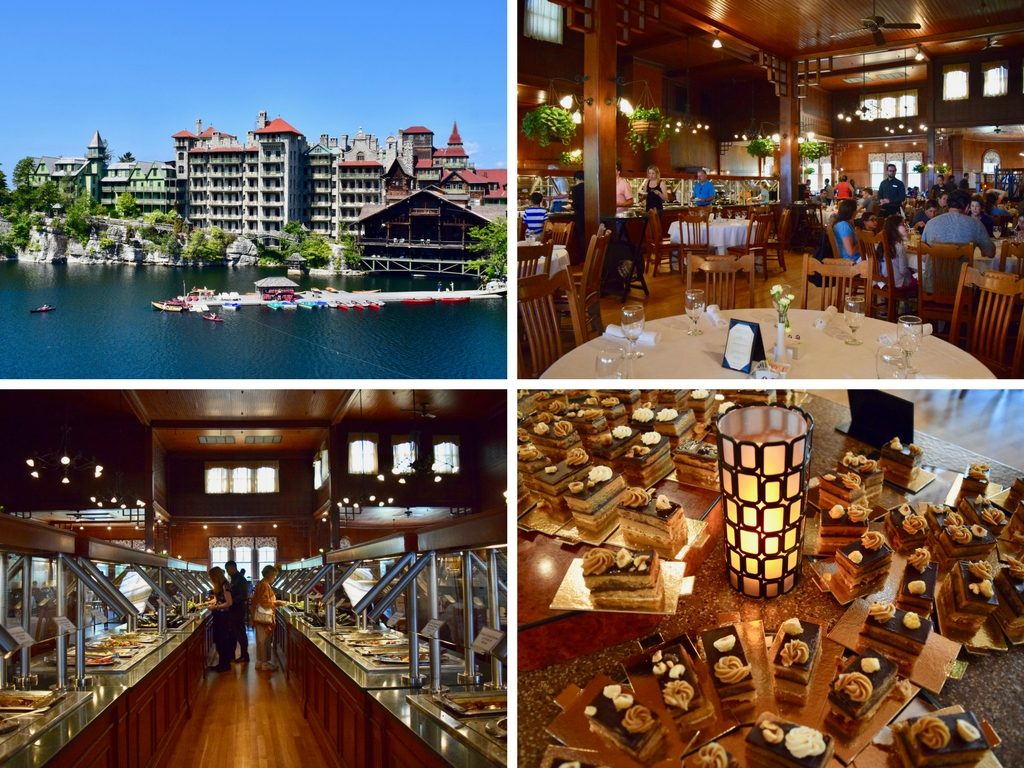 Stockade Tavern, Kingston
We didn't eat there but we certainly enjoyed the classic & contemporary hand-crafted cocktails at The Stockade Tavern!
We tried the Citybird ($12.00) & Dirty Banana ($10.00) with rum and Lo Mora Fizz ($12.00) with tequila but there are also vodka & gin cocktails amongst the many options. The bartenders can also make you a custom drink if you tell them your preferences. Or if you're after something lighter, there's also beer & wine.
The food menu is limited but charcuterie & cheese plates, olives & pickles and pretzel & donuts should keep the belly happy. With old-fashioned speakeasy vibes, the Stockade Tavern is a wanted throwback to the days of the Prohibition.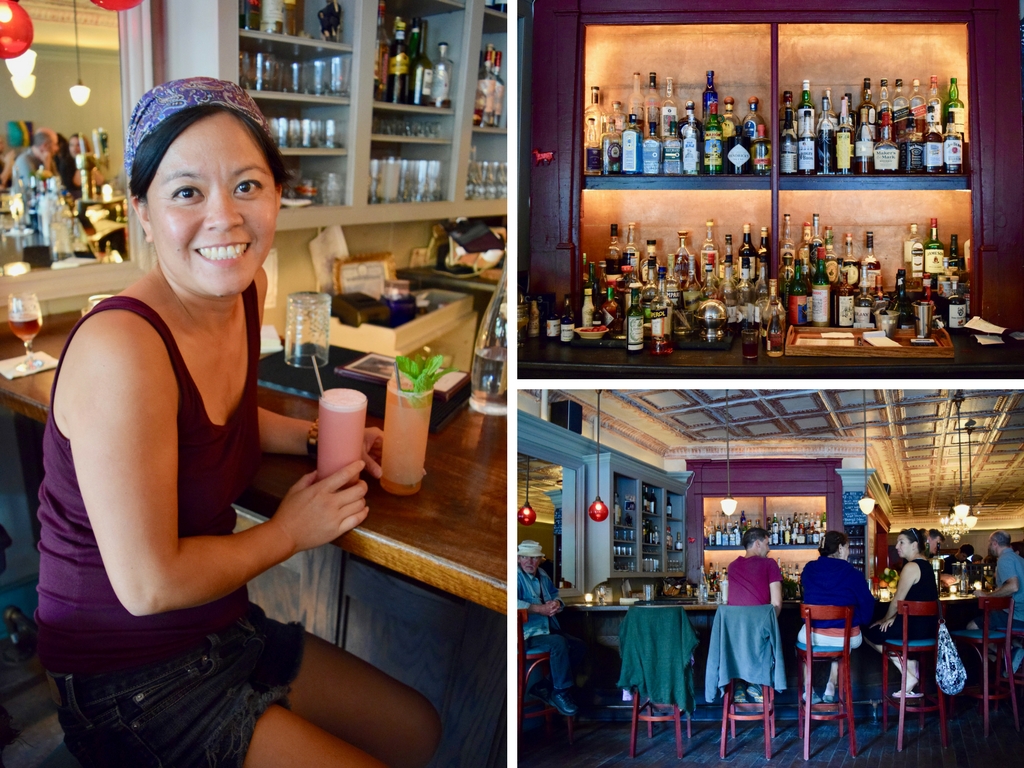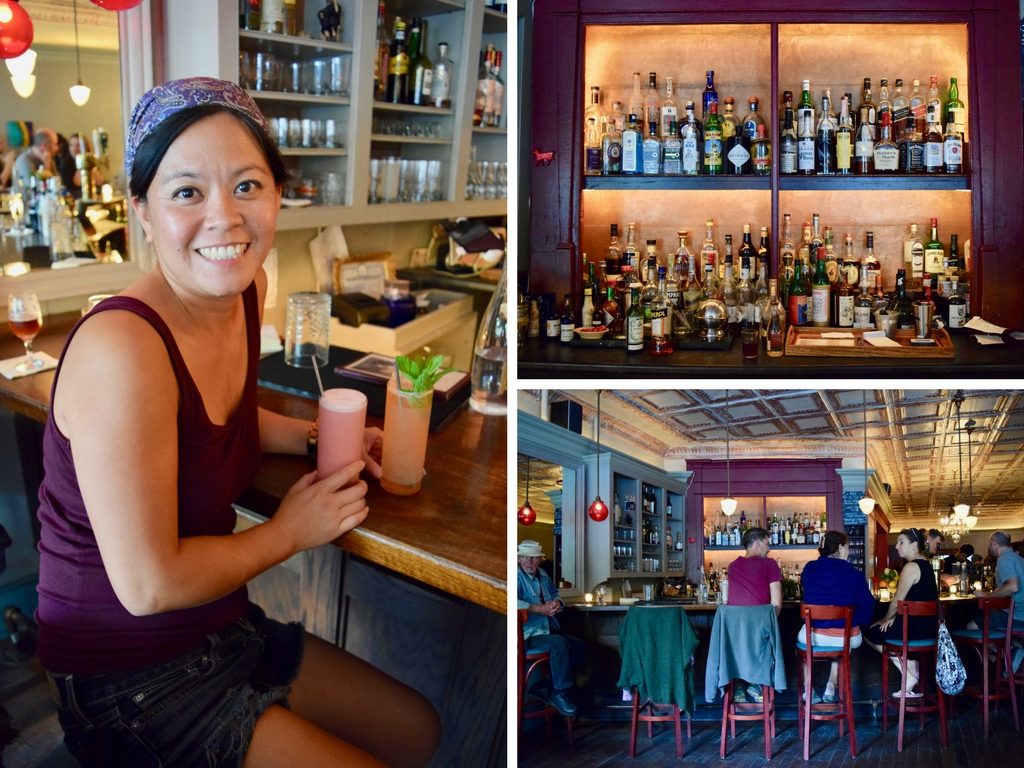 Where to Next?
Best Restaurants in the Catskills
The growing foodie scene in Upstate New York is all about local produce & craft beers – find out what's on the menu in the 5 best Catskills restaurants
Read more
We dined at these restaurants in Kingston, NY & around as guests of Ulster County Tourism. 
Visited in August 2017