The Northern Catskills is one of New York's most popular weekend getaway destinations – from attractions & hikes & food & drink, find out how to make the most of your time on our ultimate Catskills itinerary!
Catskills Itinerary – Day 1: Friday
6:00 pm – For most New Yorkers, weekends away from the City usually involve car rental… here at DIY Travel HQ that was no different for us & our Catskills getaway.
Don't forget to purchase travel insurance before any trip to the United States. We've been using World Nomads for over 10 years. It's the best-value provider we've found but there are other important things to consider.
We picked up our car rental in New Rochelle, where Erik works. Note that this is about 16 miles from Grand Central Terminal so add in an extra 1-1.5 hours if you're coming from Manhattan.
Ultimate New York City Itinerary
Follow our New York itinerary & find out how to visit all the major attractions & museums in the Big Apple in 1 week for under $75!
Read more
8:30 pm – Our 1st destination was Angela's Italian Bistro & Brewery. This was 114 miles away & we got there in about 2.5 hours. Angela's is also home to the Rip Van Winkle Brewing Company. It's a large casual restaurant with something on the menu for everyone & it made our list of the top 5 restaurants in the Catskills.
10:30 pm – We checked-in to The DeWitt Oak Hill at around 10:30 am, which we had arranged earlier. On 1st impressions, we found the vintage décor to be so charming & chic. It was a long day leaving straight from work so we had showers & went to bed.
9:00 am – Today started with breakfast in The Great Room at The DeWitt Hotel. We met the other guests, 4 girls also on a weekend away from the City. It was nice chatting about our Catskill plans over coffee, juice & a 3 course breakfast!
11:30 am – After a half hour drive, we arrived at the Henry Hudson Riverfront Park for our tour of the Hudson-Athens Lighthouse. We were actually booked to leave from Athens but we were able to take the 12 noon tour.
We took a short boat ride to the lighthouse where a guide gave us a brief overview. Then we were free to explore on our own. We just missed the return boat so we had to wait another hour.
2:15 pm – Back in the car, we drove across the bridge back to Catskill town & the Thomas Cole Historic Site. We really enjoyed learning about the artist & the Hudson River School through a tour of his home. It's one of the best things to do in the Catskills.
3:30 pm – We took a late lunch at Gracie's Luncheonette in Leeds, about 5 minutes from Catskill. It was awesome to see that a business that was once a food truck is now a spacious, beautiful restaurant/café.
5:00 pm – Most people hike from Bastion Falls to the base of Kaaterskill Falls but our GPS took us to a parking lot at the top of the falls.
This worked out great as we got to check out a couple of viewpoints & then a longer hike down to the base of Kaaterskill Falls. It definitely deserves to be the one of the top attractions in the Catskills!
8:15 pm – On the way back to The DeWitt Oak Hill, we stopped for dinner at Ruby's Hotel in Freehold. With hearty food, warm hospitality & lively energy we could easily see why it's a beloved local institution.
10:30 pm – Back at The DeWitt Hotel & in bed after a long but awesome day out!
9:00 am – We packed our bags & headed down to breakfast, the best part of the day at The DeWitt Oak Hill! Once again we were served 3 courses of delicious French-English-American food. We bid farewell & vowed to return one day to actually have time to spend in this wonderful guesthouse.
11:00 am – We arrived at the Zadock Pratt Museum just in time for a guided tour. It was more catered to locals who already knew about him so we left early so you won't miss much if you skip it.
11:30 am – A short drive took us to Pratt Rock, where we found information about its namesake. Yay! We hiked up the winding path, checking out the rock carvings along the way. There was a fantastic lookout at the top with some of the best views of the Northern Catskills.
1:15 pm – By this time, we were high over Hunter Mountain on the Scenic Skyride! Once we reached the summit, we enjoyed the views, found the Rip Van Winkle monument & did a short hike. Next time we'll come back for the highest & longest zipline in North America, one of the top things to do in the Catskills!
3:00 pm – Just down the road, we quenched our thirsts & hunger at the Hunter Mountain Brewery. The burger, mac & cheese and craft beers really hit the spot! If we hadn't just been out in the sun, we would definitely have dined outside on the wooden deck with mountain views.
4:15 pm – We drove on a little further & reached the quaint town of Tannersville. We strolled around the painted shops on the Main Street & did a wine tasting at Hudson-Chatham Winery. All the wines are produced with New York grapes so there were a lot of new varieties for us to try.
5:15 pm – A few minutes away by car, we took a walk around the Mountain Top Arboretum. We found it quite plain but it's always nice to be out in the fresh air.
6:15 pm – Finally, we hit up Catskill town, our last destination. The historic buildings & colourful cat sculptures all along the main street were a pleasant surprise.
We had dinner at the trendy The New York Restaurant & a toast to an awesome weekend in the Northern Catskills! We managed to pull off everything on our ultimate Catskills itinerary!
Check out Lonely Planet
for more New York road trip inspiration!
Did you enjoy reading our Catskills Itinerary?!
Pin it and help others find it too!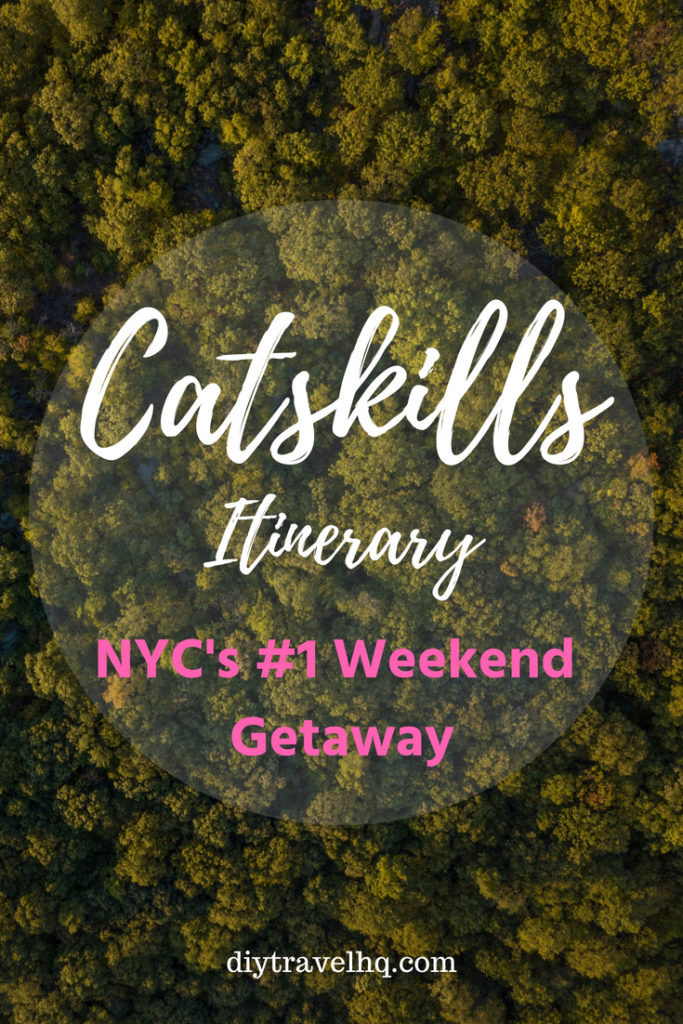 *** The Final Word – Follow our Catskills itinerary for a fantastic weekend away with a little bit of everything! *** 
Have you visited the Catskills?
Disclaimer: We were guests of the Great Northern Catskills & we thank Greene County, New York for hosting us.
This post may contain affiliate links which means that we receive a small commission if you click on a link & purchase something that we've recommended – at no extra cost to you. This helps us to keep our site running so we can continue to provide free content. Thank you for your support! 
Visited in August 2017