Bandelier National Monument camping offers a great base to explore the hiking trails, best cliff dwellings in New Mexico, and all the things you can do during your national park visit!
Don't you hate it when you visit a place only to find out you missed something awesome since it wasn't mentioned in any of your planning material?
We do too, and that is why we combined our Bandelier National Monument experience with thorough research to give you all the information you need in one place. Take a look below to jump to a section that interests you most.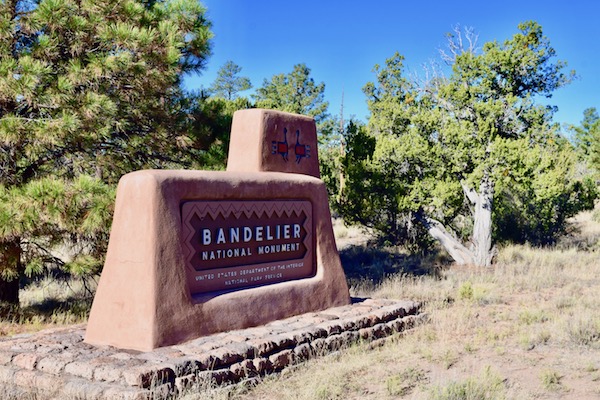 Bandelier National Monument Visitor Info
Bandelier National Monument can be visited in a few hours or over several days. Let's take a look at the basic information you need to know to plan your visit.
Bandelier National Monument Hours
Both Frijoles Canyon and Tsankawi trails are open dawn to dusk year round.
The Bandelier Visitor Center is open from 9 am to 5 pm except Christmas and New Year's Day.
Bandelier National Monument Fee
Each vehicle pays $25 for the Bandelier entrance fee, but we strongly suggest buying the America the Beautiful National Park annual pass for $80. It not only covers admission to per vehicle attractions, but up to 4 people at per person sites. The investment can easily pay for itself with just a couple National Park visits.
Other notable national parks in New Mexico that are worth visiting are listed below.
Carlsbad Caverns

White Sands

Gila Cliff Dwellings

City of Rocks
Bandelier National Monument Visitor Center
The Bandelier Visitor Center is a great introduction to the national monument as it displays information about 13 local Pueblos and their way of life during past settlement phases.
There is also a short film that reinforces these concepts and introduces you to the Bandelier ruins found on the Main Loop Trail.
The museum is included with park admission.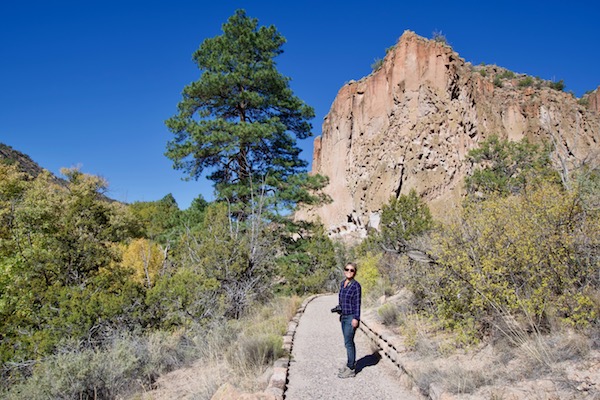 Bandelier National Monument Shuttle
From May 16 to October 16, park visitors are required to take the Bandelier shuttle from the White Rock Visitor Center during the hours of 9 am – 3 pm.
It runs every 30 minutes during the week, and 20 minutes on the weekends.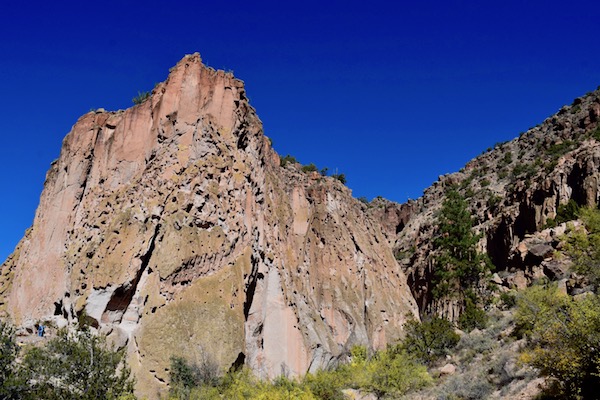 Bandelier National Monument Hiking
Most of the Bandelier National Monument hiking can be found in Frijoles Canyon, but nearby Tsankawi also has an excellent loop trail.
Frijoles Canyon Hikes
Below are the list of hikes in Bandelier at the Frijoles Canyon section. The majority of people complete the Main Loop Trail and the Alcove House before visiting Los Alamos, but there are plenty more hikes for those looking to explore Bandelier further.
Bandelier Visitor Center Trailhead
Remote Frijoles Canyon Hikes
Day Hikes and Overnight Hikes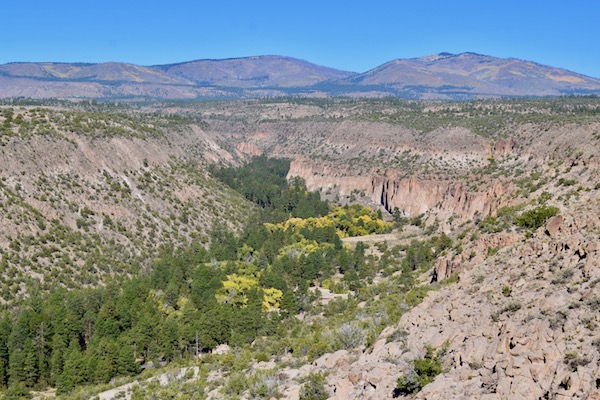 Main Loop Trail
The Main Loop Trail is the most popular hike in Bandelier National Monument by far, and for good reason. Along the trail you will find the best cliff dwellings in New Mexico, that are on par with those at Mesa Verde in Colorado. Both Bandelier and Mesa Verde are among the best US National Parks to visit in the region.
The 1 ¼ mile loop trail starts behind the visitor center and takes roughly an hour to hike. The first attractions on the Main Loop Trail is the Big Kiva followed by Tyuonyi. These are the remains of the communal gathering place, and over 400 rooms primarily used for storage that used to be two stories tall.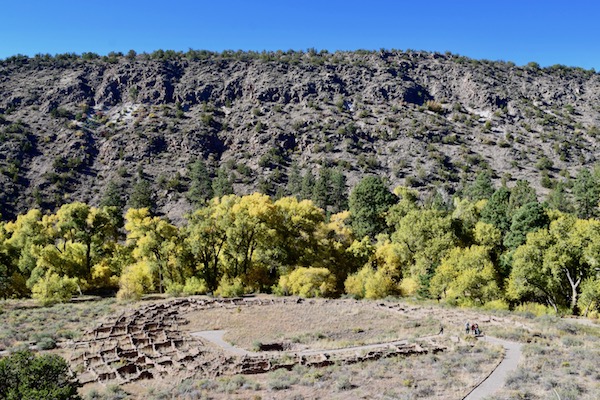 Following the path through Big Kiva and around Tyuonyi leads you to a nice viewpoint and the start of the Bandelier cliff dwellings. Here you can climb wooden ladders to gain access to cavates, which are small human-carved alcoves. The largest cavate open to visitors had three rooms that you could almost stand up straight in.
A Talus House was reconstructed along this stretch, which was common at the cliff base. These structures were built from rock debris in front of the cavates.
The Long House is an extreme example of this and the next section of the Main Loop Trail. The foundations can still be seen spanning the entire length of the cliff base, and used to be 3-4 stories tall. During our visit we also saw a groundhog burrowing at the end of the Long House.
Keep an eye out for the numerous petroglyphs at the Long House. They are scattered all over the cliff face with some easily identifiable objects. This is a great "eye spy" game to play with kids to not only see what they can spot, but how they explain it too!
From here you can complete the loop and head back to the visitor center, or take a detour to the Alcove House.
Length: 1.25 Miles
Duration: 1-2 Hours Return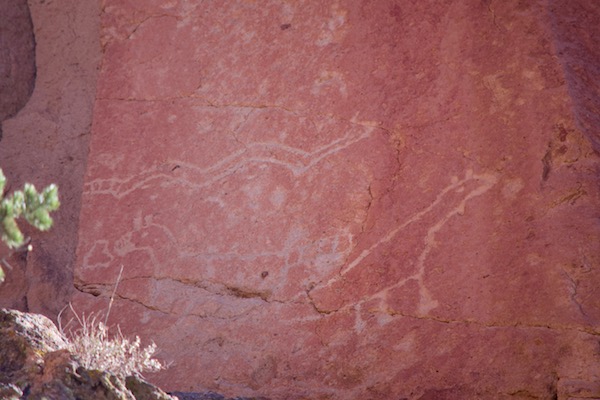 Alcove House
The Alcove House is a mile round-trip detour, but well worth it if you are mobile. In order to reach the Alcove House you need to climb four ladders that raise you 140' above Frijoles Canyon. This tends to be a bottleneck on busy days, but there are resting platforms between each ladder while you wait for your turn.
At the top, your attention is immediately drawn to the reconstructed kiva. If you look closely, you can also see the remnants of the houses for the 25 people that used to live up here. For most Bandelier guests, this concludes their visit after they return to the visitor center.
Length: 1 Mile Add-on to Main Loop Trail
Duration: 1 Hour Return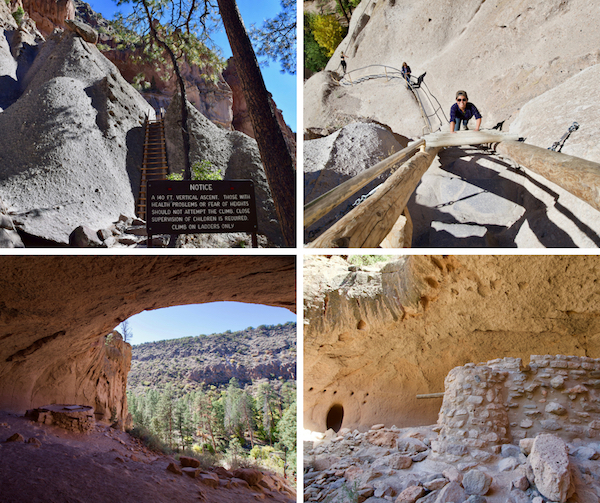 Falls Trail
The best time to hike Falls Trail to Upper Falls is in the spring after the snow has melted. This leads to an increased water flow at the falls and a safer walking path. The elevation descends 400' along the 1 ½ mile trail to Upper Falls forcing you to climb on the return.
Keep an eye out for tent rocks along the trail, and the many visible layers of volcanic soil on the cliff walls. This area was devastated by floods this century so the trail no longer continues to the Rio Grande.
Length: 1.5 Miles
Duration: 2 Hours Return
Frey Trail
Before there was an entrance road built to the Bandelier Visitor Center, the Frey Trail was the main path in and out of Frijoles Canyon. Walking along the canyon rim before descending offers good vantage points over Frijoles Canyon and Tyuonyi.
Today it is most useful for campers staying at Juniper Campground. They can descend 550' on the 1 ½ mile hike to the Main Loop Trail, and then take the Bandelier shuttle back to their campground during the summer.
Length: 1.5 Miles
Duration: 1 Hour One Way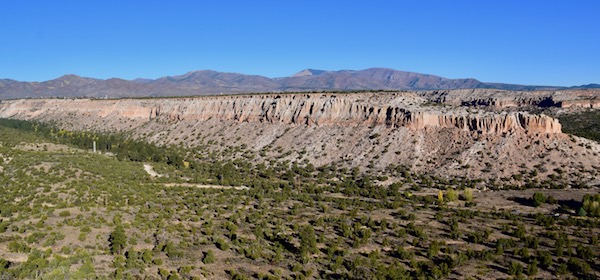 Frijolito Loop Trail
The 2 ½ mile Frijolito Loop Trail climbs the south side of Frijoles Canyon and offers restricted views of the cliff dwellings to put them in perspective. One of the main reasons to visit during the month of October, which works perfectly with attending the Albuquerque International Balloon Festival, is to spot mating tarantulas that are commonly seen at this time.
The trailhead is at the Cottonwood Picnic Area where switchbacks take you up the canyon to unexcavated Frijolito Pueblo. Follow the path right until you intersect with the Long Trail to return.
Length: 2.5 Miles
Duration: 2 Hours Return
Tyuonyi Overlook Trail
Another trail that starts at the Bandelier National Monument camping location is the 2 ¼ mile return Tyuonyi Overlook Trail. Sadly, this Juniper Campground hike dead ends, and can't be combined with the Frey Trail.
Along the hike you will spot ruins and an Alligator Juniper if you keep your eyes open. This tree is easily recognizable by its bark that resembles an alligator's scales. The culmination of this hike leads to great views of Tyuonyi and Frijoles Canyon.
Length: 2.25 Miles
Duration: 1-2 Hours Return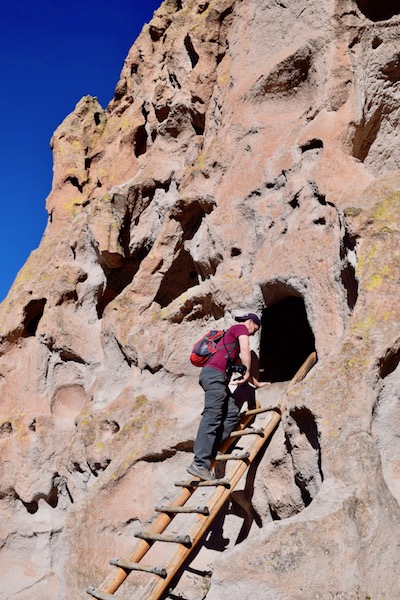 Burnt Mesa Trail
Burnt Mesa Trail can be accessed by heading west on Highway 4 from the Bandelier National Monument entrance. Locate it on Maps.me, which also shows all the trails for Bandelier.
The 5 mile return hike is great for viewing wildflowers, butterflies, and birds on the expansive flat terrain. Check with the visitor center to see what is in bloom before heading out.
Length: 5 Miles
Duration: 3 Hours Return
Cerro Grande Trail
If you've finished the cultural hikes and want a workout resulting in panoramic views, then Cerro Grande Trail is a great option. You climb 1200' over the course of 2 ¼ miles to the highest elevation within Bandelier National Monument at 10,199'.
Similar to Burnt Mesa Trail you can see wildflowers late summer, but the highlights are the views of Valles Caldera and Frijoles Canyon from the top. You may notice the results of a wildfire during your hike, showing just how important Smokey Bear's slogan is regarding wildfire prevention.
Length: 4.5 Miles
Duration: 3 Hours Return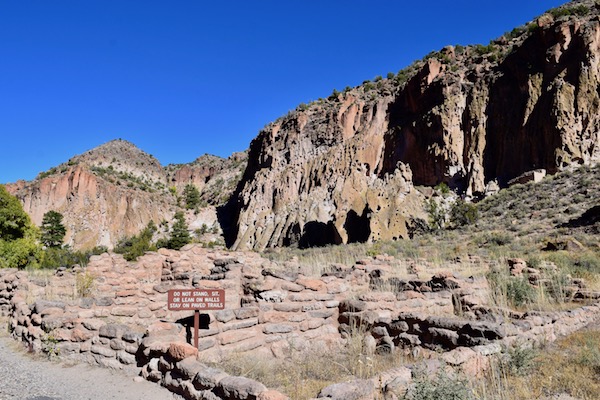 Alamo Boundary Trail
The least visited Bandelier day hike is Alamo Boundary Trail, but the 1 ¼ one way trail can be linked to other Valles Caldera National Preserve trails such as Coyote Call Trail.
Only New Mexico residents looking for a new hike should consider this since there are better options nearby. Expect to see meadows, wildflowers during the summer, and colorful fall foliage.
Length: 2.5 Miles
Duration: 1-2 Hours Return
Frijoles Canyon and Rim Loop Trail
A popular all day hike from the visitor center takes you along both the canyon floor and rim. Start the 13 mile hike by taking the Long Trail at the Cottonwood Picnic Area that leads to Frijoles Rim Trail and Upper Frijoles Crossing before returning on Frijoles Canyon Trail.
The main attraction is the Narrows with a small stream and stunning rock formations. This area has experienced recent wildfires and floods, but is regenerating nicely.
For those with two cars, you can shorten the hike to 8 miles by leaving one car at Ponderosa Campground and the other at the visitor center. On this trail variation, hikers descend from the Ponderosa Picnic Area through the canyon to the visitor center, passing the Narrows on the way.
Length: 13 Miles
Duration: 6-8 Hours Return
Painted Cave
Painted Cave is a beautifully preserved and visible set of petroglyphs inside an alcove. The downside is that the return trip is 14 ½ miles from the Dome Trailhead.
If you were left wanting more from the Main Loop Trail petroglyphs, then consider visiting La Cieneguilla Petroglyph Site near the Santa Fe airport for less effort.
Length: 14.5 Miles
Duration: 7-9 Hours Return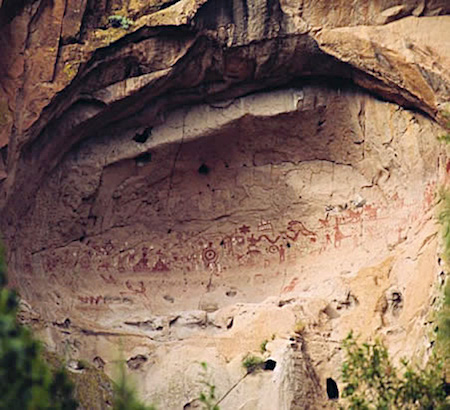 Tsankawi Hike
If you have limited time, consider making Tsankawi your third Bandelier National Monument hike after combining the Main Loop Trail and Alcove House in Frijoles Canyon. Tsankawi is in a different section of Bandelier, but 100% worth visiting.
This 1 ½ loop trail takes you to a mesa top where you can see ruins and still find pottery remnants while taking in amazing views. Climb the ladders and walk in the indigenous footsteps as you follow the worn trenches circling the plateau.
During the loop you will also discover cavates in the wall faces, and petroglyphs. It is an easy hike and explores a different aspect of Puebloan culture. Don't miss it!
Length: 1.5 Miles
Duration: 1 Hour Return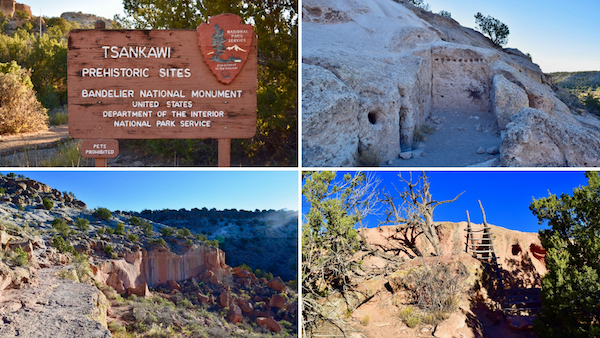 Bandelier Guided Hikes
Included with your Bandelier entrance fee are two options for ranger guided hikes. From July to September you can join a Main Loop Tour where a ranger will guide you through the historical and cultural significance of the New Mexico cliff dwellings.
The other option is a Backcountry Get Outdoors Hike. This ranger led program is meant to get the casual park visitor out of their comfort zone, and further from the safety of paved trails. Contact the visitor center for available hikes and times.
Best Time to Visit Bandelier
October is the best time to visit Bandelier National Monument, but the remainder of the warmer months are also great if you plan accordingly. Here is a rundown of what to expect each month.
November – March: There is a high probability of snow covering the trails making them dangerous. Only the Main Loop Trail is shoveled.
April – May: During these months the temperature starts to rise and wildflowers begin to bloom. Hiking the Falls Trail is a highlight with snow melt increasing the waterfall flow. The downside is that the weather is unpredictable from one day until the next.
June: June is the hottest month of the year so plan on starting hikes early.
July-September: Sudden afternoon thunderstorms make this a dangerous time for long or multiple hikes. Start early and watch out for flash floods that have become worse due to recent wildfires.
October: You can't beat October for visiting Bandelier. The temperature is moderate, and the rains have ended leaving blue skies most days. You also get the best chance to see tarantulas on the Frijolito Loop Trail.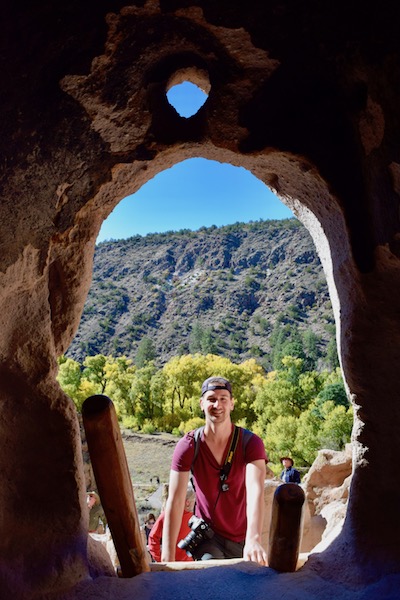 Bandelier National Monument Camping
Camping at Bandelier National Monument's Juniper Campground costs $12 per night with an 11:30 am check-out time. You can pay by card at the kiosks, or cash at the visitor center. Bandelier National Monument camping sites are on a first-come first-served basis, but rarely fill-up.
Each site has a picnic table and grill. The restrooms have running water, but do not include showers. If the lack of a shower is a deal breaker, check out the hotel options in a section below.
You can also camp for free in Bandelier backcountry, but there is little need since most hikes can be completed in a day or less. Your best bet to enjoy all the wonderful Bandelier day hikes is to stay at Juniper Campground. Both the Frey Trail and Tyuonyi Overlook Trail start here. Remember to plan around the check-out time if you were planning on doing any hikes your final day.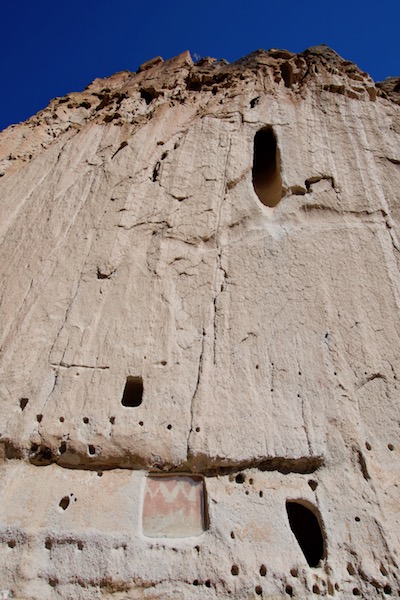 Bandelier National Monument History
Bandelier is the accumulation of volcanic ash from one million years ago. The adjacent Valles Caldera erupted numerous times depositing ash up to 1,000' thick before collapsing, leaving Bandelier on the caldera's outer slope.
The hot ash cooled to create tuff, which is a soft rock. Wind and water naturally eroded some portions of this away, which the Tyuonyi Pueblo inhabitants noticed and took advantage of. They used tools to create the cavates we see today, and the houses along the cliff base.
Bandelier was occupied from the years 1150 to 1550 AD by a former hunter-gatherer tribe. Their lifestyle changed when corn farming was introduced by indigenous Mexicans. They could then become more sedentary, and only left during a prolonged drought that forced everyone to move closer to the Rio Grande in nearby parts of New Mexico.
Food Options
Bandelier National Monument does not offer any options for eating within the park, but you can always pack a picnic or try one of the restaurants nearby.
Picnics
There are a few benches in the main parking lot by the visitor center for eating a prepared meal. Alternatively, try the adjacent Cottonwood Picnic Area or Juniper Campground.
Nearby Restaurants
Here are the best restaurants you will find near Bandelier.
Los Alamos – If you happen to be in Los Alamos for lunch, try Blue Window Bistro. The Duck BLT or Roasted Lamb Sandwich will hit the spot if you are looking for premium sandwiches.
White Rock – Pigs and Figs is a great place to stop for lunch. They serve tasty salads, soups, quiches, sandwiches, and wraps.
Hotels Near Bandelier National Monument
Unless you are camping, it is not possible to stay within Bandelier. Besides, Santa Fe is the hub for exploring this region of New Mexico! The capital city has excellent museums, galleries, churches, and restaurants. Santa Fe hotel prices start at $50, and are very competitive considering the cities popularity.
Alternatively, you can stay in Espanola if your main focus are the day trips since you will be closer to them. Hotel prices are marginally cheaper, and we chose to stay at Rodeway Inn at Espanola since we got a special multi-night rate.
Check hotel prices near Bandelier
Travel Insurance in the U.S.
Although the U.S. is a relatively safe country for travel, medical costs are high so if you're an international visitor we recommend purchasing travel insurance before any trip. We've been using World Nomads through 80+ countries over the past 12 years and have been really happy with their coverage and services.
For more details check out our Word Nomads review here.
Plan Your New Mexico Road Trip
There are plenty of excellent outdoor and cultural attractions in New Mexico – pick up a guide book and start planning! You can pick and choose, make a weekend out of it, or spend 9 days like we did taking in all the best that New Mexico has to offer.
On the same day as Bandelier, we also visited Los Alamos, White Rock Overlook and Puye Cliff Dwellings. If you want to do the same, you'll need to start early and take advantage of hikes that are open from dawn to dusk.
Find more inspiration in one of the New Mexico guide books below!
Know Before You Go
Hours: Trails – Dawn to Dusk; Bandelier Visitor Center – 9 am – 5 pm
Fees: $25 per vehicle
Duration: 2-3 Hours or more
Nearest Large City: Santa Fe at 60 minutes by car
Restaurants: Blue Window Bistro in Los Alamos; Pigs and Figs in White Rock
Hotel: Rodeway Inn at Espanola ($46); Motel 6 Santa Fe Central ($50)
Camping: Juniper Campground – $12/night
Website: National Park Service
Phone Number: (505) 672-3861 x517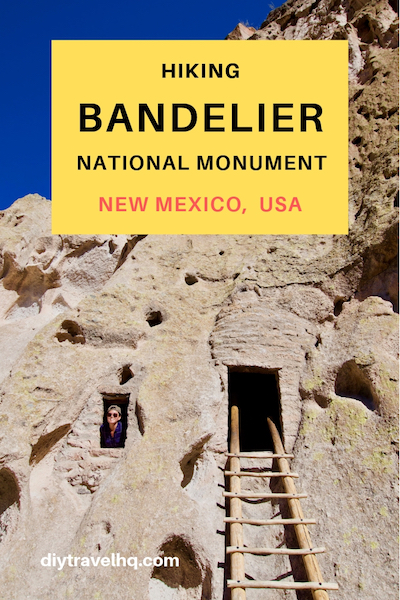 Disclaimer: This post contains affiliate links which means that we receive a small commission if you click on a link and purchase something that we've recommended, at no extra cost to you.

Visited in October 2018
Updated August 2019