Now that you have learned a bit more about the fascinating Komodo dragon in Fact or Fiction, let's explore how to see them in the wild at Komodo National Park.
No matter what you try to do, in order to see Komodo dragons, you'll inevitably end up in Labuan Bajo.
Visit How to Travel to Labuan Bajo by Land, Sea & Air and Labuan Bajo is a Dive for information on arriving and the town itself.
There are four key ways to see Komodo dragons in their natural habitat and all involve heading to Komodo National Park, which is only accessible via sea:
As part of a sailing cruise from Lombok
On a diving trip
On a snorkelling trip
Travelling independently by renting a boat
The Indonesian government recently ended the three day park permit, and replaced it with single entry tickets.
Komodo National Park Entrance Fees
Here is what you can expect to pay, for every day you plan to be in Komodo National Park (eg. snorkelling, diving, seeing Komodo dragons):
Monday to Saturday Park Entrance Fee: 150,000 IDR
Sunday Park Entrance Fee: 225,000 IDR
Komodo and Rinca Trekking Fee: 65,000 IDR
Trekking Guide (up to five people): 80,000 IDR
Diving Fee: 25,000 IDR
Snorkeling Fee: 15,000 IDR
If you joined the multi-day sailing cruise from Lombok, then a trip on land will surely be on your itinerary.
Most dive shops also offer the option to visit Rinca Island instead of performing a third dive – see our post Top 5 Dive Sites of Komodo National Park.
This is a great option if you are short on time, or want to avoid the park fees on a separate day. The downside is that most dive operators schedule this in the late afternoon when Komodo dragons are least active and/or in their burrows.
Several will still be lounging around the park ranger's kitchen, but this is only marginally better than seeing them in a zoo:
Depending on how many dives you sign up for, the cost to visit will be 350-400,000 IDR excluding the exuberant park fees. Divers Paradise Komodo requires the additional trekking fee, but will pay for the guide – see out post on Diving in Komodo National Park, coming soon.
The other two options are to join a tour that will include visiting Rinca Island and snorkeling for 350,000 IDR, or getting a group together and renting a boat for 700-800,000 IDR at the wharf with a similar itinerary. Both prices exclude the park fees.
Komodo & Rinca Islands
Although you may have dreamt of visiting Komodo Island to see your first Komodo dragon in the wild, virtually all tours will go to Rinca Island instead. Both islands have similar Komodo populations, but Rinca is much smaller and has no local villages.
You would have to walk for the better part of a day to find a Komodo dragon on Komodo Island, but can spot several within minutes on Rinca. If possible, visit Rinca in the morning and opt for the longer walk that is included with your fees:
You may even spot several Komodo dragons outside the ticket office in the trees or nearby before you start. A handful will probably be sitting outside the headquarters' kitchen. Take time to admire them before starting the tour as these may be the only dragons you see, especially if you're on an afternoon tour:
Armed with only a stick, a guide takes you on a tour around the island while another watches your back. Along the way you may spot deer or water buffalo, and see a burrow used by a Komodo dragon:
Towards the end of the tour you reach a grassy hill where Komodo dragons frequent in the morning, but only offers stunning views in the afternoon.
This concludes your tour. On the way to and from the boat, you may see monkeys playing in the mangroves as well.
No matter how you choose to visit Komodo National Park, you will never forget seeing these ferocious animals in the wild.
*** The Final Word: Visit in the morning when the Komodo dragons are much more active & abundant ***
Do you agree that Komodo National Park is overrated?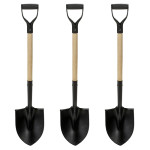 Accessible DIY travel to more distant locations via multiple connections or longer forms of public transport
Visited in October 2015