Learn about the royal mystery of the Last Shan Prince & his Austrian wife in the relaxed town of Hsipaw, before heading off on an easy trek around the surrounding villages & countryside.
With its laid-back vibe and affable atmosphere, Hsipaw is an increasingly mainstream alternative hub, especially for travellers with time on their side.
Synonymous with Mr Charles' guesthouse, Hsipaw also offers Mr Book's bookshop, Mr Food's restaurant and Mr Shake's cafe, along with a handful of other foreigner-friendly places with English names and picture menus.
For a small town, Hsipaw has a little mix of many things: pagodas and shrines, a 'little Bagan' and miniature Kyaitiyo Golden Rock, markets and trading tribes, cheeroot factories and nearby waterfalls.
Hsipaw is also home to one of Myanmar's more intriguing stories and histories.
A powerful royal-ruling Shan State, Hsipaw's last prince Sao Kya Seng studied in the United States where he met and fell in love with a fellow classmate, Inge Eberhard (from Austria).
After marrying in 1953, they returned to Burma, and it was only then – on sight of the awaiting crowds and fanfare – that the bride discovered her new husband was a prince.
Inge took to royal life with ease and enthusiasm, learning to speak Burmese and Shan, and quickly became popular with the local people.
The first few years were fruitful: the royal couple had two daughters, while working endlessly to improve living conditions in the State. Then in 1962, the military junta that had seized power in the country also captured the prince, a popular reformist and threat to the regime.
Princess Inge and her daughters were placed under house arrest, where she spent the next 2 years trying to discover the wherabouts of the prince. With no success, the family fled the country, returning to Austria and then back to the United States.
The Shan palace where the Prince and his family once lived was bombed and destroyed in World War II. A part of the residence survived, and is now lived in by the prince's nephew Mr Donald and his wife. They manage the palace, receiving visitors in the front quarters of their home to share their family's story.
No tours of the residence are offered, however the couple are generous and patient with their time, true living custodians of a remarkable story. A donation to the upkeep of the complex is appreciated.
Now Inge Sargent, the Princess remarried and has since been living in the United States, along with her 2 daughters. She has written an autobiography titled "Twilight Over Burma: My Life as a Shan Princess".
Having heard nothing from him since his arrest over 50 years ago, the family have long-assumed that the prince is dead.
Every year on the anniversary of his disappearance, the Princess and her daughters write to the government requesting information but have never received a response.
Trekking in Hsipaw
Hsipaw is the starting point for treks to the surrounding countryside and Shan villages. They can be organised at your hotel or guesthouse.
For travellers accustomed to trekking in Asia, the scenery is largely unremarkable, though the rolling hills and fertile soil, vegetable crops and rice paddies, were verdant and vivid in the monsoon season.
The route is easy, partly uphill, however the heat is strenuous. Before lunch, the night's destination of Pankham Village is reached, with relief.
Accommodation is in the Chief's home – the man himself away on business, his wife the ever-obliging, smiling hostess and chef. Home-cooked Shan food is simple, plentiful, varied and delicious.
The village consists of thatch and bamboo houses raised on wood stilts with corrugated iron roofs.
There's also a monastery and school. Throughout the days monks and children are observed passing one another by.
The children play, and work – on and off the land. As ever in Myanmar, the children are curious and delightful.
The afternoon is relaxing, followed by a walk through the village, and a local tea plantation and workshop.
The next day, a different route is taken on the way back to Hsipaw.
Accommodation in Hsipaw
$7 a night for fan single room or air-con 6-bed dorm, shared bathroom, wifi.
The price includes an amazing buffet breakfast of Shan noodles, pancakes , toast, fruit, soup, egg, coffee and tea. This was the only hostel we encountered in Myanmar, in set-up, feel & vibe.
How to Get to Hsipaw
There is an afternoon bus from Mandalay, it takes approximately 6 hours to arrive in Hsipaw.
For information on trekking in Myanmar, see our post 3 Day Trekking Tour from Kalaw to Inle Lake.
Did you enjoy reading Trekking in Hsipaw & Mystery of the Last Shan Prince? 
Pin it and help others find it too!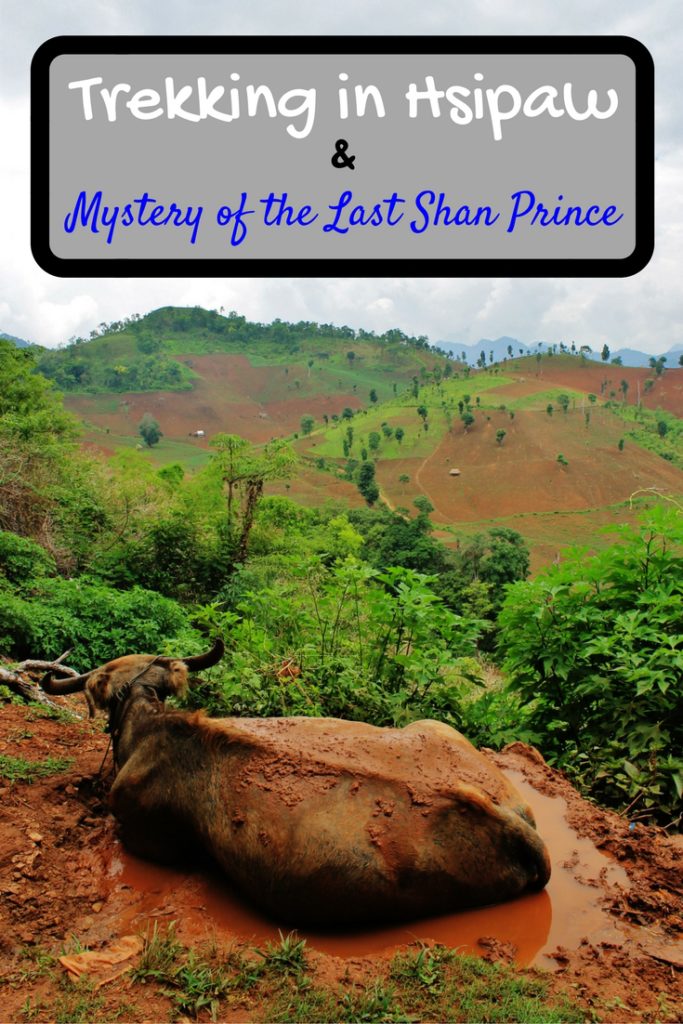 *** The Final Word – Hsipaw is a recommended for travellers who want to chill-out for awhile or those who enjoy trekking *** 
Did you do any longer treks around Hsipaw?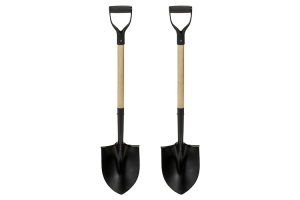 Not recommended DIY travel; take a tour instead
Visited in June 2014