Quirigua receives a lot less fanfare than Guatemala's other UNESCO listed ruins, Tikal. The highlights are the zoomorphs and stelae, including the tallest in the world at 10.6 meters! Find out what is carved on each inside.
Quirigua History
The history of Quirigua is closely tied to nearby Copan, Honduras who ruled over the region. It wasn't until Quirigua leader Cauac Sky decided to take matters into his own hands that Quirigua started making their own history. Rallying his troops, he was able to take Copan's King 18 Rabbit hostage, and executed him soon after. The next 40 years saw Quirigua stonecutters, under the guidance of Copan experts, carve numerous stelae and zoomorphs in his honor.
The region surrounding Quirigua and Copan has a large sandstone quarry in Rio Motagua. Sandstone is perfect for creating large stelae since the rock is soft at first, but dries hard. Today, you see the fruit of their labors.
Quirigua Archaeological Site
Don't plan on grand structures when you visit Quirigua Archaeological Site (Q80). The ruins here are largely unexcavated, and attention needs to be drawn to the intricately carved stelae and zoomorphs instead. This is one ruin where the micro supersedes the macro. We start our tour at the small on-site museum.
We never leave home without LifeStraw Go
, providing drinkable water wherever we roam. Buy it on Amazon.com
 now to help save yourself money and the environment! (Affiliate Link)
Quirigua Museum
At the entrance to the Quirigua Archaeological Site is a complex containing a museum, jade gallery, and bathrooms. The museum helps show what Quirigua would look have looked like, and offers explanations for the most important stealae and zoomorphs.
In a separate room is a jade gallery that walks you through different Maya uses before culminating in a gift shop. They showed the importance of jade in the use of weapons and tools, and how it even accented teeth as a status symbol. The gift shop doesn't offer this option, but does have more traditional jewelry.
Quirigua Layout
Quirigua Archaeological Site is comprised of two main areas. The most impressive is the Central Plaza that contains all the stelae and zoomorphs. The other area is the partially restored Acropolis. The east and south groups have yet to be excavated. Each carved rock is denoted by a letter, so let's learn our ABCs as we explore together.
Estela H
We decided to skip the most impressive stelae, and leave them for last. Continue down the main path until you reach Stela H on the right. This stela is noteworthy for the rare mat pattern hieroglyphs, which resemble weaving instead of traditional 'text'. We like it because of the creepy guy holding a spear.
Zoomorph M
Zoomorph M started the whole stelae and zoomorph frenzy, as this crocodilian marks Cauac Sky's bid for independence from Copan. Consider this the Declaration of Independence for Quirigua.
Zoomorph N
Directly to the right is Zoomorph N, which features a turtle shell with a skeletal head on both ends. One of the heads represents God N, an underworld deity.
Zoomorph and Altar O
Zoomorph O is combined with an altar depicting a lightning god. Despite Zoomorph O's poor rear condition, it is believed to be a crocodilian merged with a deer.
Zoomorph and Altar P
The most impressive Zoomorph at Quirigua is P. It measures 2x3x3.5 meters, and the entire surface area is intricately carved. That is 40 square meters! Weighing in at 20 tons, Zoomorph P is entirely dedicated to the turtle. It features Sky Xul sitting cross-legged in the jaws of a turtle, and holding the 'Manikin Scepter'. The other side features a cosmic monster.
Altar P depicts a deity performing a ritual dance before falling into the earth to be reborn.
Acropolis
An acropolis is a collection of buildings built on top of each other through the years. The purpose was more private, and restricted in nature. The rulers and priests used this area for residences and administrative purposes.
The area is only partially restored, and takes an imagination to picture it as it was. Several buildings line a recessed plaza. Wander around before taking a quick forest walk to more stelae.
Stela K
Stela K is dedicated to the last ruler of Quirigua, Jade Sky. The carvings tell us that he was a divine tree with his roots planted in the underworld, body among the living, and his head rising to the heavens.
Stela J
Standing 5 meters tall, Stela J consisted of a wrap-around style with hieroglyphs on multiple sides. The hieroglyphs tell the story of Cauac Sky beheading Copan's King 18 Rabbit. There is also a weird gingerbread meets Kenny from Southpark figure on one side.
Stela I
This may have been the last stela created in Quirigua before it was abandoned due to drought. The carvings on Stela I depict Jade Sky surrounded by abundance. Instead of depicting abundance at the time, it is thought that this was in hopes to returning to prosperity.
Zoomorph G
Zoomorph G was dedicated to Cauac Sky by his successor Sky Xul just 85 days after passing. The zoomorph is a very intriguing zoomorph. The left side features elements of a crocodilian, however the front nose looks like the snout of a jaguar. There is also an underlying frog appearance.
Stela F
Stela F stands a whopping 7.3 meters tall, and only comes second to Stela E in the world. The north and south sides depict Cauac Sky, with hieroglyphs on the east and west.
Stela E
Stela E is the monolith you came to see, and is 10.6 meters long. Roughly 3 meters is buried to keep it upright, but it still towers more than a 2-story building. After a heavy rain in 1917, this monolith fell over but stayed intact. Upon trying to lift the 65 ton stela back into place, the cables snapped and broke the sandstone into two. It has since been pieced back together. Cauac Sky is featured on this, and the hieroglyphs tell the tale of his crowning by the ruler of Copan.
Stela D
Stela D is similar to Stela K, but depicts Cauac Sky instead of Jade Sky. The main difference is an extra skull in the heavens and two faces representing fear at the base. This meant to display Cauac Sky as distilling fear from head to toe.
Stelae A and C
Stelae A and C are twins, and were dedicated the same day in 775 AD. Stela C hieroglyphs tell the story of Maya creation.
Zoomorph B
Zoomorph B is the most symbolic, and probably important zoomorph at Quirigua. The body is shaped as a turtle, but the front depicts three animals with shared features. They include a jaguar, snake, and crocodile. It also includes Cauac Sky and the three creation stones.
For more information and highlighted aspects for easy visualization, visit the amazing website UncoveredHistory.com. Save the web pages before visiting so you know what you are looking at.
Getting To Quirigua
Getting to Quirigua is easiest from Rio Dulce Town, and can be done as a stopover on the way to Coban. Catch a Fuente del Norte bus (Q25) around 8:30 am, and ask to be let off at the intersection. From there you can take a tuk-tuk (Q5 per person) to the entrance, or hitchhike like we did. Worst case, you can walk the 3.4 km in 40 minutes.
Once you get back to the main road, catch a bus going to El Rancho (Q40) for Coban (Q30). Walk along the road connecting CA-9 with CA-14 for the connecting microbus.
Did you enjoy reading Quirigua: UNESCO Worthy Stelae and Zoomorphs?
Pin it and help others find it too!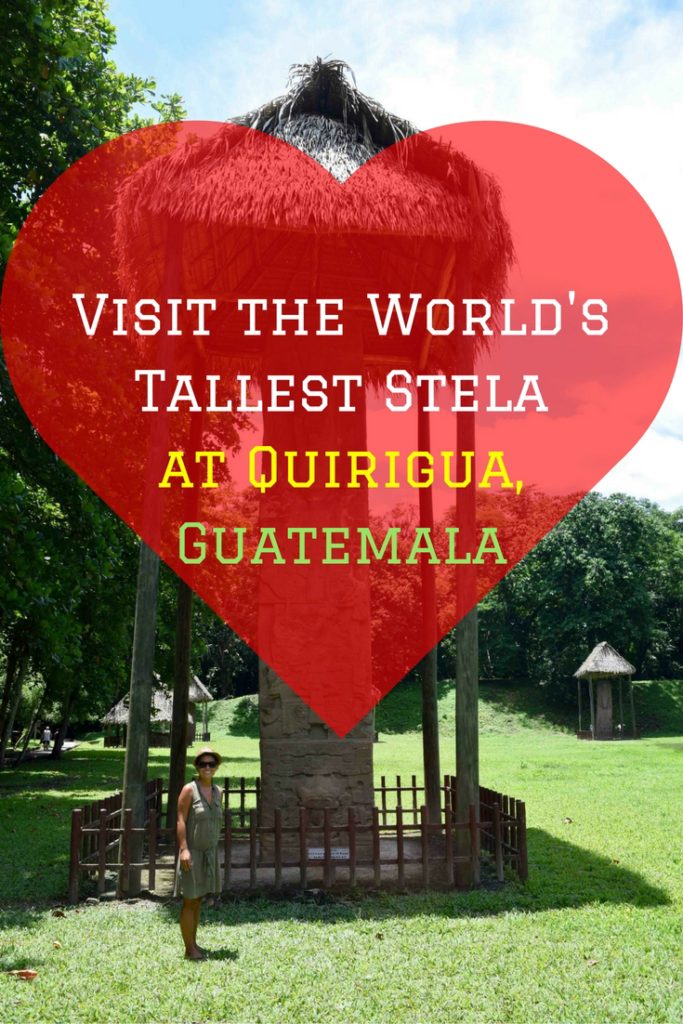 ***The Final Word – We were hesitant to visit with the Q80 admission knowing the site was small, but we can recommend it for those that like to admire finer details.***
What aspect of the stelae and zoomorphs interest you the most?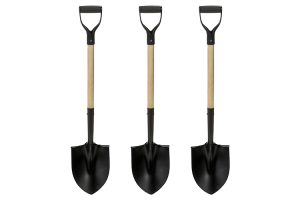 Accessible DIY travel to more distant locations via multiple connections or longer forms of local transport
Visited in July 2016
* This post contains an affiliate link for LifeStraw Go on Amazon.com. DIY Travel HQ stands behind each product we advertise, and we make sure it fits our independent travel niche. Clicking on the link costs you nothing extra, but we earn a small commission. Each post requires multiple hours if not days to publish, and affiliate links help us to be able to provide free material for you to enjoy! We appreciate your continued interest in our blog.