Hostal Cumbres del Volcan Flor Blanca is the 2nd hostel iteration in San Salvador for owner Malcolm. Find out his winning recipe for making backpackers leave with a smile.
Hostal Cumbres del Volcan Flor Blanca Location
Hostal Cumbres del Volcan Flor Blanca has a central location with easy access to public transportation. There is a bus that literally stops in front of the mansion to go downtown, and many other locations. Just ask at reception for any bus numbers since we chose to explore San Salvador on foot. Another option is to consult the 26 page information guide that includes everything you want to know about San Salvador, and how to get around.
For longer journeys, you can catch 101A/B from the north side of Parque Cuscatlan to go to Santa Tecla, or bus #102 that goes to La Libertad from the southeast corner. Both are 5 minutes away on foot. The useful Terminal Occidente is less than 2 km away as well.
Hostal Cumbres del Volcan Flor Blanca History & Décor
Hostal Cumbres del Volcan Flor Blanca used to be known as the Lopez Mansion. It was built in 1950, and furnished in 1951. You can still see some of the fine wood furniture in the house today. The remainder of the decor was selected to complement the history of the mansion.
Malcolm purchased the Lopez Mansion in 2015, and did extensive repairs to bring the property up to standards and customize it for travelers. He officially welcomed guests in May 2016, six years after opening the original Hostal Cumbres del Volcan in San Salvador.
Hostal Cumbres del Volcan Flor Blanca Common Areas
The common areas at Hostal Cumbres del Volcan Flor Blanca really shine, and are setup perfectly for mingling among guests. No matter where you turn, there is a different place to sit with a unique function.
Outdoor Lounge & Balcony
The exterior courtyard is adjacent to the dorm bathrooms and features a few tables with chairs. This setting is perfect for chatting under the night sky, and knocking back a few cold ones. There is also an upstairs balcony with a hammock if you want to lounge for a bit and turn a few pages during the day.
Kitchen
The kitchen is the highlight of Hostal Cumbres del Volcan Flor Blanca. Everyone has heard of his & her sinks, but now you have his & her kitchens. A breakfast bar island divides two identical kitchens. Each side has a fridge, stove, sink, and drying rack. In the drawers along the window you will find all the cooking accessories, with a few spices on the counter tops. Grab some ingredients while exploring San Salvador, and have a feast upon your return.
Dining Room & Courtyard
Just outside the kitchen is the dining room and courtyard. Grab your meal and take a seat at the wooden dining table or bar stand against the wall. The surrounding courtyard is filled with natural light and plants to create a pleasant ambiance.
Reception Area
Take a load off in the Hostal Cumbres del Volcan Flor Blanca reception area. Whether you are waiting to complete check-in registration, or just want a comfortable place to surf the net there is ample wicker seating to relax near reception. This is also a great place to learn from the staff what is on offer in San Salvador, and how to get there.
Entertainment Room
The entertainment room at Hostal Cumbres del Volcan Flor Blanca is right when you walk in. You can watch TV, listen to music, or make your own at the piano or with the guitar. This is another great place to read and enjoy a cup o' joe with seating around a coffee table.
Second Floor Lounge
If you are looking for something more comfortable & less confining, then consider the upstairs lounge. There is a futon lined with pillows that makes reading or doing work on a laptop luxurious with light originating from the two windows.
Hostal Cumbres del Volcan Flor Blanca Room & Dorm Options
Inside Hostal Cumbres del Volcan Flor Blanca there are four private rooms ($30-35), and a handful of dorms ($8/person). All dorm rooms have metal bunk beds with comfy mattresses. Most dorms consist of a max of 4 people, but there is an 8 bed dorm upstairs. The perk there is access to your own balcony.
Private rooms generally consist of two double beds, with the best room in the house being the Volcan Chichontepec room. This large room has a double bed, and access to their own private balcony complete with rocking chairs. Crack the windows for a cooling breeze, or turn on the powerful mini-fan to be blown away.
Hostal Cumbres del Volcan Flor Blanca Bathrooms
The main bathrooms for the dorms are adjacent to the outside courtyard. There are four colorful toilet and shower compartments, with two shared sinks. You shouldn't have to wait to use one at any time of day. Enjoy the hot water after a long day exploring San Salvador.
From what we saw, there are at least two private bathrooms that adjoin rooms. They come complete with your normal fixtures, but we especially loved the raised faucet so you don't have to run your hands against the sink while washing them.
Hostal Cumbres del Volcan Flor Blanca Amenities
Hostal Cumbres del Volcan Flor Blanca has your usual staples for accommodation, and then some. The Wi-Fi is fast, and reaches all corners of the house despite thick walls. There is also the option to do laundry at $2.50 per wash and dry, respectively. This is a nice option since El Salvador does not have many laundromats.
Some of the rare extras are Hostal Cumbres del Volcan Flor Blanca is pet-friendly, and there is free on-site parking. How many places offer those options in San Salvador?
Hostal Cumbres del Volcan Flor Blanca Security
Security in San Salvador is a concern, even though we felt safe our entire visit. A lot of precautions at Hostal Cumbres del Volcan Flor Blanca may not be necessary, but the owner has taken the extra step to prevent any problems. The excellent exterior security features include:
Perimeter gate and wall lined with barbwire at the top
Barred windows and courtyard
Locked main door with access granted by hostel receptionist
An armed security guard
In a Nutshell
Address: 6-10 Avenida Sur #1937; Colonia Flor Blanca, San Salvador, El Salvador
Prices: Dorms are $8, Private Rooms with Shared Bath are $30, and Private Rooms with Ensuites are $35
Contact Information:
Did you enjoy reading Hostal Cumbres del Volcan Flor Blanca in San Salvador?
Pin it and help others find it too!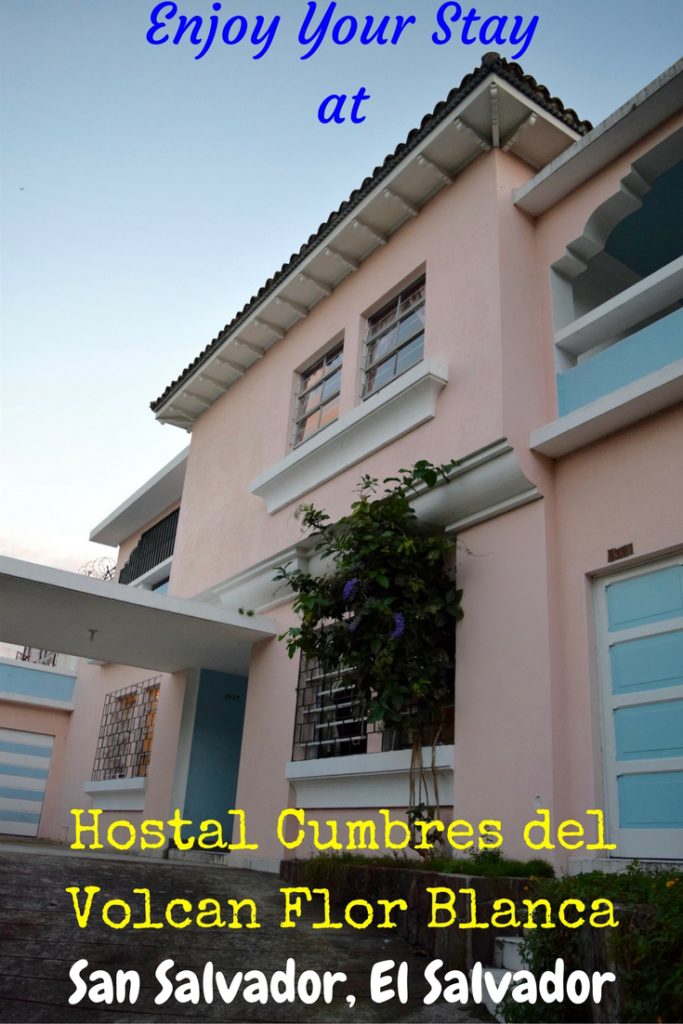 ***The Final Word – Hostal Cumbres del Volcan has two great locations to choose from, but both offer a secure environment & social atmosphere for backpackers.***
What amenities are most important to you when deciding which hostel to stay at?
* Thank you to Hostal Cumbres del Volcan Flor Blanca for hosting us. No compensation was received for this review however our stay was offered on a complimentary basis. As always, all opinions remain our own.
October 2016